When you make a purchase through our links, we may earn commissions from Amazon, REI and other retailers. You can learn more about our editorial and affiliate policy here.
---
Winner of Backpacker Magazine's Editor's Choice Award, the Jetboil MiniMo is a trustworthy stove that beginners and seasoned backpackers will enjoy.
The Jetboil MiniMo Cooking System is an efficient backpacking stove that's lightweight, versatile, and capable of bringing the heat when you need it. This all-in-one outdoor stove kit has everything necessary to cook and prepare a hot tent-side meal, minus the food and water, of course — that's on you.
What We Dig
Cooking simple outdoor meals has never been easier than with the Jetboil MiniMo. The current design has now been on the market for a few years and continues to be one of the bestselling cooking systems in its class.
We love that the compact MiniMo was engineered with Tetris-like storage into its design. All necessary components can be stored within its well-sorted housing, and there's even enough space for a 4 oz. fuel canister.
The insulated cooking cup keeps food warm longer than expected, and its heat-proof, foldable handles make holding the cup safe even when the cup's contents are boiling hot. The cup's lid holds securely in all scenarios, enabling you to sip freely from its pour spout or strain excess water without concern.
What We'd Change
In the past, Jetboil stoves were infamous for failing igniters. Newer Jetboil models like the MiniMo feature much-improved piezoelectric igniters, but we still had some trouble with our tester model.
The igniter would often spark properly on the first or second try, but there were a few times when we clicked the ignition button over a dozen times before the fuel ignited. There was one instance where we couldn't get it to flare up at all, and resorted to using a BIC lighter to get a flame started.
All of this testing was done in mild weather conditions at about 5,000 to 7,000 feet of elevation. Given how this is a well-known issue, we'd expect better performance from Jetboil in their latest models.
The Bottom Line
The Jetboil MiniMo Cooking System is an ideal choice for backpackers who are cooking for themselves and a partner. This full-featured outdoor kitchen is great for creating hot drinks and boiling water for dehydrated meals.
There are plenty of Jetboil peripherals ready to work with the MiniMo, such as a support for larger pots, a coffee press, and a frying pan. The all-in-one kit is enough to get most people started, and the extra components aid in personalizing your cooking style.
Other backpacking stoves on the market may be more ideal for extreme conditions and specific preferences, but the Jetboil MiniMo is a fantastic stove for most backcountry excursions.
Check Amazon Price
Check REI Price
Read more about the Jetboil MiniMo:
Field Test
The longest trip I took the Jetboil MiniMo on was a five-day, 90-mile adventure on the Pacific Crest Trail in Washington, where my wife and I skirted around the base of Mt. Adams and climbed high into the Goat Rocks Wilderness.
Along our journey we cooked several variations of oatmeal, boiled water for pre-packaged dehydrated meals, and made hot drinks like coffee and tea. The MiniMo performed admirably, efficiently heating up every breakfast and dinner we ate. The cooking process was quick and simple.
There was one section of the trail, in particular, that was surrounded by seasonal ponds and subsequently home to a host of mosquitoes. After speed-hiking many hard miles to outpace the bloodsuckers, my wife and I had to set up camp as dusk settled amidst a cloud of bugs. We were forced into our tent before the sweat had dried off our backs, with no time to cook up dinner.
Here is when I learned to appreciate how easy the Jetboil MiniMo was to operate and handle. I pieced together the stove just outside of my tent's mesh walls, sticking my arms through the small opening I had allowed in the zipper, and cooked a fantastic dinner without a hitch.
There was no wasted fuel, no spilled water, and not an ounce of unused food. The frustration I had developed over the annoying mosquitoes dissipated as I cooked and consumed my dinner.
We ate our food in peace inside our tent and laughed at the hungry mosquitoes with delight. It was a great way to end a hard day.

Product Details
The total MiniMo package weighs just a hair over 14 ounces, yet it pumps out a powerful 6,000 BTUs from the burner. The efficient design properly distributes heat through an advanced regulatory technology which provides unwavering performance, and the unparalleled simmer control you get with the finely-tuned twist valve is perhaps the best part.
Aside from the somewhat inconsistent results I experienced with the piezoelectric spark igniter, I found this stove to be incredibly streamlined and easy to use.
As mentioned, the entire cooking system packs together amazingly well.
The bottom flux ring cover also serves as a measuring cup and bowl. The top lid multifunctions as a drinking, pouring, and straining lid that also perfectly holds the foldable fuel canister stabilizer mount.
Inside the one-liter koozie-insulated cooking cup is a pouch to safely hold the stove and assorted peripherals alongside a small fuel canister within the cup. It all fits together so well!
The regulated stove is rated to perform well in temperatures as low as 20 degrees Fahrenheit. It's not a windproof cooking system like the MSR Windburner, but the flames are well-protected against minor breezes under 10 mph by the exterior structure and flux ring.

Takeaways
The MiniMo is Jetboil's best selling outdoor cooking system, perfect for solo backpackers and couples. Here are a few ways we think the MiniMo stands out from the crowd.
User-Friendly: The Jetboil MiniMo is easy to understand and use right out of the box. Opening up the packaging and disassembling the product itself is like unwrapping a multi-tiered birthday present.
As you pry into each element there are moments of surprise and understanding that add to the excitement, moments that make you unintentionally spout out "Ooohs" and "Aaahs" as you identify nifty features you didn't expect.
The MiniMo fits together so well and each part makes sense, even to those who are inexperienced in outdoor cooking. Each part connects with solidity and only where it should, and operation of the stove comes naturally to anyone who has ever used a conventional kitchen stovetop before. The wide stance made this easy to operate on the trail.
The Right Size: The one-liter capacity and squat dimensions of the MiniMo's cooking cup are ideal for a solo-cooking device that can also work great for two people.
The most unique feature of the MiniMo is its wide and short cooking cup. Many other similar stoves come with tall cooking pots, but the MiniMo's stocky design allows you to more easily access the scrumptious food within by providing better angles for your utensils. The wider base of this cup also makes more room for Jetboil's proprietary flux ring heat system to better disperse and insulate the cup for quicker cook times.
Adequate Heat Control: Not only can the MiniMo boil water fast, it's also capable of finely modulated simmer control.
Jetboil says that the regulated stove of the MiniMo can boil a liter of water in four minutes and six seconds, and that it actually performs better in cold weather due to the updated valve and diaphragm. In our on-trail testing, we confirmed this with all boil tests hovering around the four-minute mark.
Modulation of the flame strength comes at four turns of the easily accessible fuel valve. Though most of the cooking we did was at full blast, the simmer control was admirable and helped to keep our water hot when we didn't want to use it right away.
The heat-proof cup handles and simmer valve extend far enough away from the cup that you can access them even if you happened to leave the heat on high for too long and cause a boil-over. No hands were ever burnt or scalded in our testing. Hooray for happy hands!

Backpacking Stove Comparison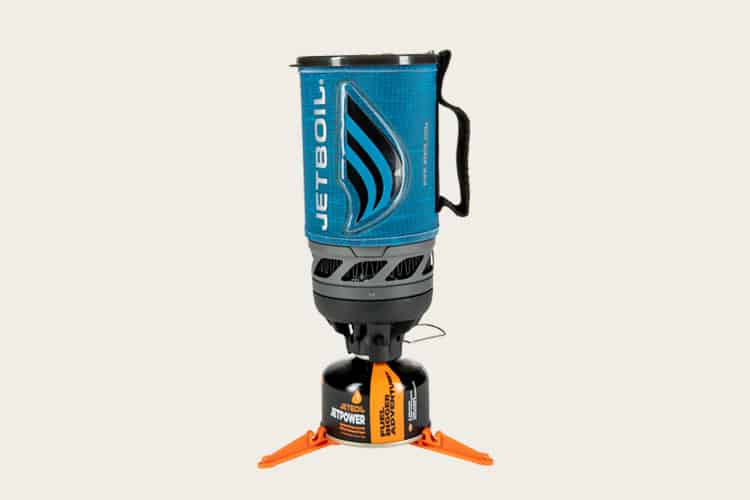 The Jetboil MiniMo is a great choice for backpackers who like easy-to-use equipment that's both stable and reliable. However, there are other great backpacking stove options to consider depending upon your needs.
Jetboil has a lineup of stoves that excel in different areas, such as the Flash with its fast cooking speed and the ultralight MightyMo.
Less complicated pedestal stoves like the MSR PocketRocket and Soto Windmaster are lighter and less expensive than most Jetboil models, but they can also be a little unwieldy and tend to burn through fuel fast.
For a detailed look at the MiniMo's competition, check out our Ultimate Guide to Backpacking Stoves and our in-depth comparison of MSR vs Jetboil.

Conclusion
The Jetboil MiniMo is the ideal beginning backpacker's starter stove. It's well engineered, well put together, and comes with everything you need to get started right off the store shelf. The stove's ease of use makes it so anyone can feel confident in cooking their first outdoor meal.
It's also pretty darn cute.
The MiniMo is an awesome cooking system for experienced backpackers, too. The packability, weight, and heat regulation go a long way in making this a well-rounded product that most users will fall in love with. Backpackers can personalize their MiniMo by digging into Jetboil's range of additional cooking accessories, picking and choosing the features that work best for how they prefer to cook at camp.
That said, those in need of a specialty outdoor stove won't find what they need in the MiniMo. Ultralight backpackers, extreme explorers, and gourmet outdoor cooks should look elsewhere to find stoves that better suit their unique requirements.
For the rest of us, the Jetboil MiniMo is a solid choice. The one knock I give this stove is the inconsistent igniter, but I always carry a small lighter for emergencies anyway.
I'm already looking forward to my next MiniMo meal.
---