Nothing tackles wet terrain like a waterproof duffel bag.
Whether you're kayaking the Kinnikinick or heading out on a two-week Grand Canyon rafting expedition, a waterproof duffel bag is the best way to keep your gear dry.
We're not talking about your typical gyms bags. A waterproof duffel bag is your adventure-seeking, thrill-riding, gear-hauling best friend. Built for the extreme, these bags can handle a few bumps and bruises while keeping your gear safe and dry.
From guppy to guide expert, there's a waterproof duffel bag for every type of water adventurer. Take a look at our top seven recommendations.
YETI Panga 50 Dry Duffel
If you consider the splash zone to be the bunny slopes, you'll appreciate what the YETI Panga 50 Dry Duffel can do for you. Earning the label "tough-as-nails", you can fully submerge this bag, drag it down the river, and still unzip it to find your gear completely dry.
The Panga is constructed with tough, high-density nylon and a virtually impenetrable HydroLok zipper. It's easiest to carry over your shoulder with the two long straps, or you can grab-and-go in a hurry with the dual handles on each side.
As with all things YETI, the bag comes equipped with some thoughtful bonus features including six lash points to clip on external gear and two mesh pockets for things like wallets and phones. This 50-liter torpedo shaped bag also has an EVA molded bottom to let it rest flat on the raft.
Strap this bad boy down tight and don't forget the soft cooler. It's going to be a wild ride!
Check Current Price
Related Read: ICEMULE Pro Insulated Backpack Cooler Review: One Cool Bag
NRS High Roll Duffel
Calling Moscow, Idaho home, employee-owned NRS has been dedicated to outfitting water adventurers since 1972. When headed out on your next river expedition, consider bringing along their High Roll Duffel bag.
This 70-liter dry bag is the supreme sidekick when it comes to keeping your possessions secure and dry. It's made from thick PVC that's known for being durable, flexible, and completely waterproof.
Aluminum closure cinch straps lock your gear down tight, while the heavy-duty zipper ensures nothing escapes. The web chains provide plenty of quick gear access and storage — a handy feature as no one wants to be fussing around with zippers when rapids lie ahead.
Ready to get thrashed about, this duffel bag is made for long and rough excursions.
Check Current Price
COR Waterproof 60L Duffel Bag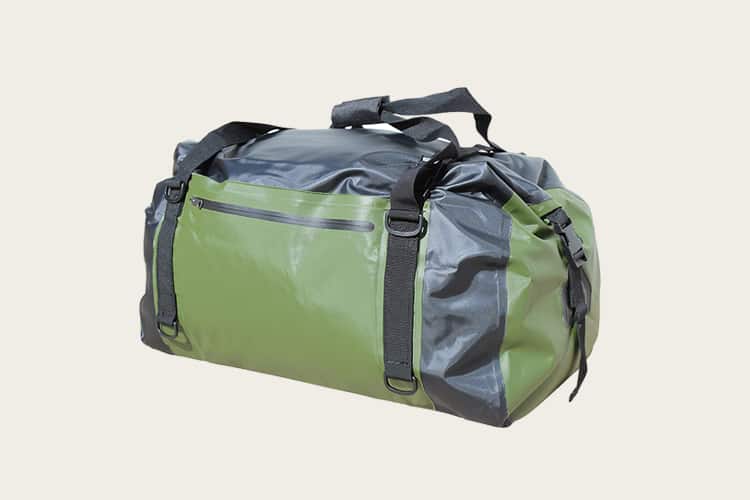 Family-run COR has come a long way since their OG-days of producing wooden surfboard racks. Now recognized as one of North America's largest suppliers of surfboards and SUPs, they're creating a wave of sustainably produced products made specially for the ocean-loving culture.
For your next paddle trip, consider stashing your gear in the COR Waterproof 60L Duffel Bag. The roll and click top makes it easy to stuff while the two compression straps lock in watertight. These two features combined are nice to force out and keep out excess air that leads to a bloated bag.
If you don't feel like rummaging through the entire bag, there's an exterior water-resistant zippered pocket with an additional interior pocket for quick access. There's also a padded shoulder strap and handle for extra comfort when you're lugging it down to the water.
Whether you're a surfer, SUPer, or simple water enthusiast, this duffel bag can serve you well on a tight budget.
Check Current Price
SealLine Zip Duffle Bag
The mere mention of SealLine gear being for the maritime industry lets you know you're in for some seriously rough baggage. One glance at their Zip Duffel Bag and any naysayers will be convinced.
Looking like seal blubber turned duffel bag, the Zip offers the ultimate protection for your gear. It's made from 19 oz vinyl-coated polyester and comes equipped with a dry-suit-style YKK zipper.
If that all sounds like more fancy specs, let's put it this way. You can submerge this sucker one meter down for 30-minutes and still keep your goods bone dry.
Easy to pack and even better for the long haul, it comes in 40-liters and 75-liters with the option of black or blue.
Check Current Price
Additional Read: Review: Low-Key Cool Spring Eddie Bauer Gear (And it's All On Sale)
Såk Gear DuffelSåk
Swedish for "forest, creek, coast", Såk produces a range of 100% vegan outdoor products with an emphasis on weather protection. If you want a durable bag to match your outgoing personality, take a look at their Gear DuffelSåk.
This waterproof duffel bag is constructed with 500D PVC and backed by high-frequency welded seams. Furthering its ability to withstand the elements, it sports the roll-down top design with additional clips for securing to your raft.
It's easy for smaller items to get lost in a duffel bag, so Såk installed two organizational interior pockets. Taking things a step further, they added two exterior splash-proof zip pockets.
With padded handles and a shoulder strap, you can sling it or haul it, then lock it down to your raft with the D-rings.
The Gear DuffelSåk is available in 40- and 60-liter models and comes in seven fun colors. Backed by their 100% satisfaction guarantee and lifetime warranty, you can trust you'll get your money's worth out of this bag.
Check Current Price
Aqua Quest White Water Duffel
In 1994, the founder of Aqua Quest produced the first waterproof money belt for his wild adventures. Now, their waterproof product line ranges from bags to bivies. With every design, they focus on minimizing waste while banning the use of PVC in return for lightweight, durable DWR and TPU.
If you're looking for a lighter bag, consider the Aqua Quest White Water Duffel. Coming in 50-, 75-, or 100-liter models, this bag surprisingly weighs only 1.8 to 2.7-pounds.
To stop water from entering and branches from tearing, the abrasion-resistant Oxford 420D RipStop fabric is coated with DWR and laminated with TPU. It's also backed by welded seams for extra protection.
Understanding that lugging around lofty duffel bags can be a tad cumbersome, Aqua Crest installed six D-rings for multiple carry options.
The White Water Duffel comes in six attractive colors and is backed by their two-year No Worries Warranty. For expert-level expeditions, we recommend going with the 100-liter model. For a week long trip, the 75-liter model will do the trick.
Note that this bag can't handle complete submersion, so if you foresee your bag diving off the deep end you may want to consider another option.
Check Current Price
Kwik Tek Dry Pack Waterproof
Not everyone is big on the frameless structure associated with the duffel bag. If you fall into this category, perhaps the Kwik Tek Dry Waterproof Duffel Bag is more your style.
Where most bags get their form from gear maxing it out, this duffel bag has a molded bottom for more structure. As for the rest of the bag, it's made from a heavy-duty vinyl and polyester laminate with welded seams.
The Dry Pack Waterproof duffel bag has the ever-so-popular roll-top and side buckle closure design, making packing and unpacking a breeze. It also comes with a removable, adjustable shoulder strap.
What's rather unique about this bag is that there's two zippered side pockets with the addition of a storm flap for extra protection. For less fuss finding gear, store smaller items in the clear pocket and the rest in the opaque.
The large version of this bag holds 70 liters of gear, which is a decent size for all the gear you'll need for a day out on the water.
Simple and clean in design, you can purchase this waterproof bag in black, blue, clear, or green.
Check Current Price
After you find the perfect waterproof duffel bag for your next adventure on the water, check out our article on the Best Backpack Coolers for Hauling Tasty Beverages. Whether you're cruising the lake, floating the river, or fishing at sea, a backpack cooler is the most convenient way to keep a cold one within reach at all times.
---