Lightweight, affordable campers and travel trailers have ushered in a new era of RVing, particularly for young travelers eager to hit the road. Here's how to make the most of your camper's weight and space.
Forget your grandpa's clunky behemoth: today's trailer manufacturers know there's a growing mass of travelers that don't want to spend a fortune on a bulky trailer or the gas-guzzling truck you'll need to pull it.
As a result, there's never been a better selection of lightweight travel trailers that can be pulled with mid-sized SUVs, and in many cases, large cars. The simplest of them are affordable for folks with limited recreational budgets, and many hold their resale value better than larger trailers.
Here's a look at 20 of our favorite small travel trailers and campers, from compact fiberglass teardrops under 2,000 pounds to more built-out, spacious models under 3,500 pounds. And if you're looking for something even smaller, check out our favorite DIY teardrop trailers.
Related read: 7 Best Campervan Rental Companies in Phoenix
Understanding Trailer Weights
A note about weight: we've organized trailers by their dry weight, or base weight, which doesn't include water and equipment you'll add for your trip.
The dry weight is typically much lower than the actual weight you'll travel with, as cargo can add up fast. When shopping for a trailer, it's important to consider the Gross Vehicle Weight Rating (GVWR), which is the maximum towing weight rating for your vehicle.
For example, the MeerKat below weights less than 1,000 pounds, but the GVWR is 2,000 pounds, which means your vehicle must be rated to tow 2,000 pounds in order to tow the trailer.
Even if the actual (wet) weight of your MeerKat ends up around 1,500 pounds after water and cargo's added, the trailer manufacturer still recommends the higher 2,000-pound GVWR. Visit Changin' Gears to learn more about various RV weights.
Related read: How to Start a Successful Travel Blog This Year
Under 2,000 Pounds
1. The MeerKat
Dry weight: 920 lbs / Length: 13′
The MeerKat's 920-pound body is easy to move by hand and tow with nearly any 4-cyclinder vehicle. Standard features include a camp stove, cushions, sink, closet, icebox and more. Equipment like a fridge, awning or front storage box is optional but can add more weight.
Even with its small frame, the MeerKat offers plenty of standing and sitting space, and the table that transitions into a bed sleeps two comfortably. You'd be hard-pressed to find this much packaged in a smaller trailer.
Learn More
Related read: 15 Best Overlanding Vehicles for Off-Pavement Adventure
2. Happier Camper HC1
Dry weight: 1,100 lbs / Length: 13′
This fiberglass trailer is a social media influencer's wet dream. It's small, capable of getting into all those parks, cities and nooks where larger trailers can't, and maintains the retro vibe that made travel trailers cool to begin with.
Its Adaptiv™ modular interior setup makes it easy to customize based on your travel needs, and practical features make this trailer more than just a vintage-lookin' novelty.
Learn More
3. Taxa Outdoors Cricket
Dry weight: 1,732 lbs / Length: 15′
We had the opportunity to explore the Cricket in person and its body is as unique as the photos let on. Its alternative design makes a great use of the limited space inside, and the pop up roof really opens things up once you've hit camp.
The thoughtfully designed interior offers stellar organization and all the conveniences of home, all packed in an easy-to-tow trailer built for any adventure.
Learn More
Related read: AllTrails vs Gaia Reviews: Which Hiking App is Worth It?
4. Scamp 16′ Camper
Dry weight: 1,750-2,000 lbs / Length: 16′ 
Before new trailers like the Cricket popped up, small, lightweight options were generally limited to the Scamp, the Casita and similar models. Though you have more options on the market than ever, the Scamp still holds its place as a solid vintage investment.
It's available in 13-, 16- or 19-foot models, but we dig the 16-foot version for its balance of space and weight. The smallest model can feel cramped, and the 19-foot model is a fifth-wheel design that doesn't have the same convenience or aesthetic appeal.
Learn More
5. Safari Condo Alto R Series
Dry weight: 1,825 to 1,867 lbs / Length: 17′ 3″
Safari Condo's goal with the Alto was to create an ultralight trailer with the "lowest possible drag coefficient," and one look at the R Series proves they hit the mark.
This makes for a lightweight, spacious trailer that can be pulled by most vehicles. The retractable roof makes the interior feel far more roomy, but even the fixed-roof model has a sufficient air of comfort.
Learn More
Related read: 21 Best Non-Fiction Adventure Books to Read in 2022
6. nuCamp TAB Teardrop Camper
Dry weight: 1,826 lbs / Length: 15′ 
The TAB is known for its U-shaped seating design that maximizes space, which is scarce in a typical teardrop. You'll have everything you need – table, kitchenette and sleep space – and not much else.
nuCamp's craftsmanship is second to none, and if you don't need the extra space of a larger travel trailer, keeping things simple with a teardrop works great for many campers.
Learn More
7. Little Guy Mini Max
Dry weight: 1,993 lbs / Length: 17′ 2″
Like the TAB above, Little Guy's Mini Max offers a well-designed, if small, space in a vintage-but-modern exterior. It's a bit longer and heavier than the TAB, but for the extra weight you'll get a bit more room to unwind.
We're big fans of the Mini Max's window setup, which lets in more air and natural light than most teardrops on the market.
Learn More
Related read: 18 Beautifully Remote Cabin Rentals in the U.S.
Under 2,500 Pounds
8. Casita Liberty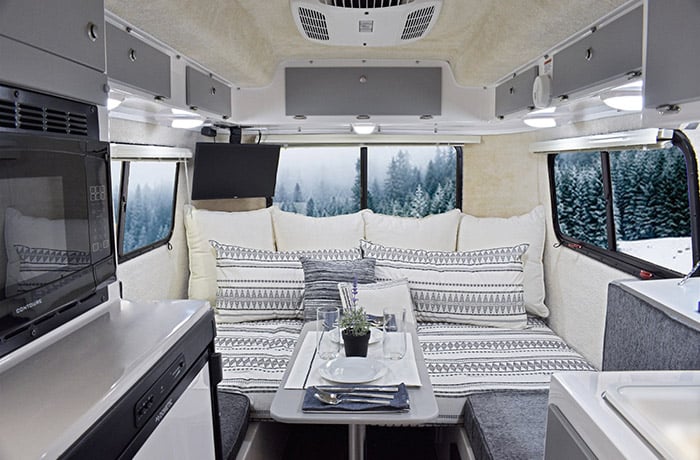 Dry weight: 1,970 to 2,480 lbs / Length: 16′ or 17′ 
The Casita's often compared to the Scamp and both have made design and construction changes over the years to meet demands of both brands' markets. The Liberty is a slightly larger, roomier version of the Scamp and can weigh more depending on upgrades and options.
There's an unending discussion about Casitas vs. Scamps online, so if you're considering either, it's helpful to see feedback from current and past owners of both trailer brands.
Learn More
9. Serro Scotty Trailer
Dry weight: 2,230 lbs / Length: 17' 2"
Two things you need to know here: Serro Scotty's roots date back to the 1950s, when John Serro began building travel trailers by hand in Irwin, Pennsylvania. Second, there's a dog on the side of trailer.
Firmly in the over-2,000-pounds range, the classic Serro Scotty offers a comfortable living space that doesn't feel constrained. At just over 17 feet, it's still agile and versatile enough to tow with an SUV and park in many a campground.
Learn More
Related read: 45 Fun & Entertaining Camping Activities for Adults
10. Hymer Touring GT
Dry weight: 2,480 lbs / Length: 18' 11"
The Touring GT's no-frills exterior and comfortable interior focus on simple, minimalistic living that's easy to customize based on your traveling needs.
The German-based trailer's had decades of success and growth in Europe, but is just now hitting US shores as a popular alternative to similarly small travel trailers. The Touring has all the classic makeup of a vintage trailer with modern conveniences like a pop-up roof, practically designed kitchen and organization galore.
Learn More
11. The 17 Foot Escape
Dry weight: 1,970 to 2,400 lbs / Length: 17′ 
The Escape joins the Scamp and Casita as the "three fiberglass amigos," as they're known in the RV world. We don't know if this is true or not but it sounds okay.
The Escape's 17-foot model offers slightly more room than the 16-foot Scamp and according to some owners, a nicer interior than its competition. Its construction, resale value and overall material quality make it a popular choice among RVers who want more than a barebones trailer but less than "here's my entire house on wheels."
Learn More
Related read: 11 Best Places to Go Camping Near Water in Arizona
12. Forest River r•pod
Dry weight: 2,342 lbs / Length: 18′ 4″
Learn More
Forest River's been in the RV game since the mid-90s, and their r•pod is a more traditionally designed trailer compared to some of today's newer manufacturers.
With tons of floorplans and optional upgrades, you can make this trailer as luxurious or basic as you'd like, and even with extras you can still keep the r•pod under 2,500 pounds.
Under 3,000 Pounds
13. Jayco Hummingbird
Dry weight: 2,535 lbs / Length: 18′ 10″
We are now officially in travel trailer country. Lighter campers can't have everything, so there's a delicate balance between form, function, space and features.
In this weight class, you'll get just about everything you need while keeping your trailer under 20 feet. The Hummingbird might not have the cool factor that more modern, hip trailers have, but it's a practical, well-built camper that'll provide years of reliability on the road.
Learn More
Related read: 11 Epic Winter Camping Spots in California
14. Airstream Basecamp
Dry weight: 2,585 lbs  / Length: 16′ 3″
Airstream's departure from larger campers was named RVBusiness™ Magazine's 2017 RV of the Year, and it's opened up Airstream life to a brand new market. Though it's still more expensive than comparable trailers, the Basecamp is more accessible than the brand's larger signature models with its lower price tag and lighter base weight.
The smaller package doesn't exclude much: a kitchen, bathroom, lounge area and sleeping space somehow all work together in this sub-17 foot trailer, and it feels surprisingly roomy for the square footage.
Learn More
15. Lance 1475 Trailer
Dry weight: 2,600 lbs / Length: 19′ 8″
Like the Jayco Hummingbird, the Lance 1475 is a more traditionally designed travel trailer with an upgraded interior and plenty of room to relax.
The standard model is stacked, but options include better interior packages, a backup camera, solar panels and an all-weather package suited for more hardcore travels.
Learn More
Related read: The Ultimate Portland to Seattle Road Trip Itinerary
Under 3,500 Pounds
16. Starcraft Satellite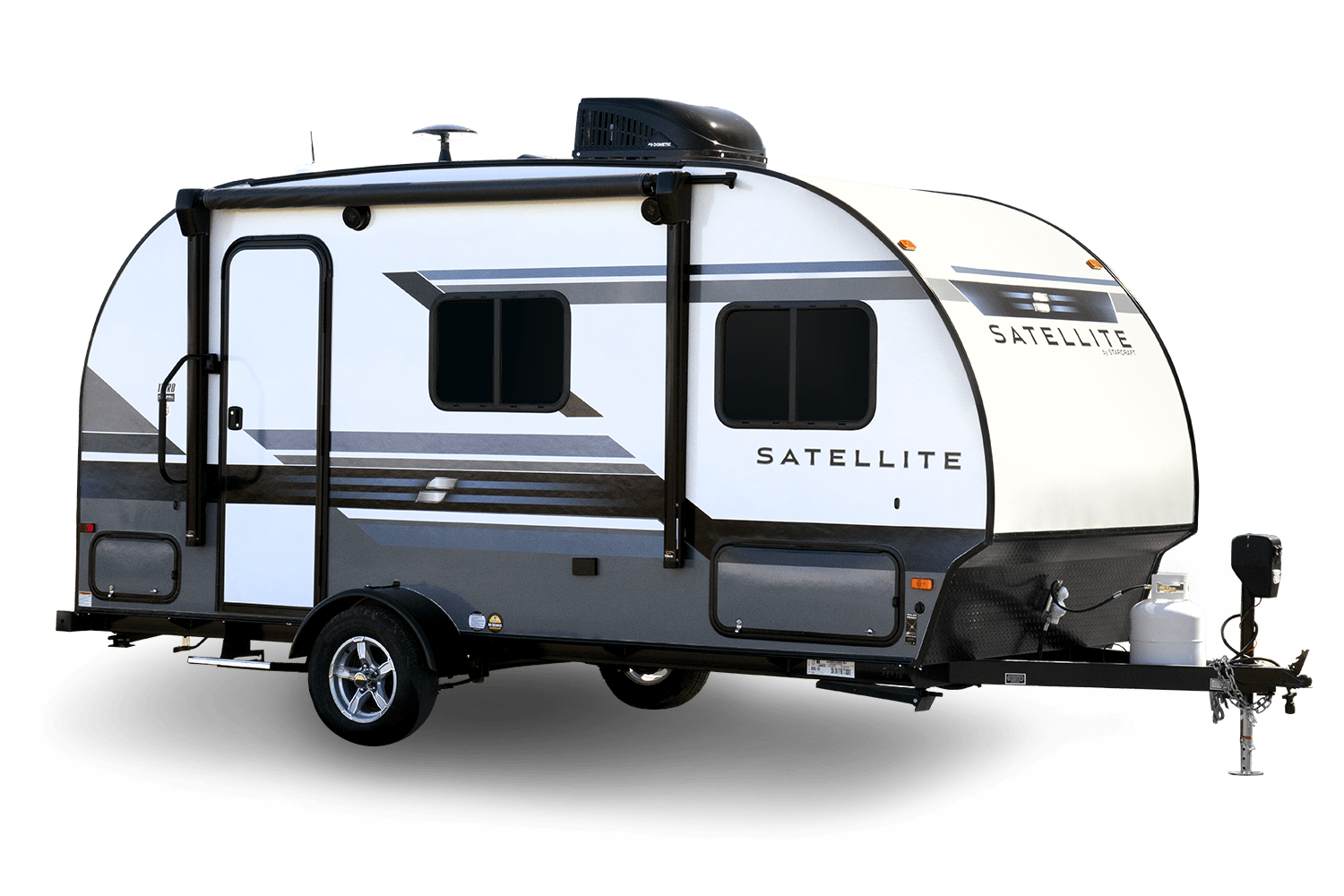 Dry weight: 3,040 lbs / Length: 20′ 2″ 
In this weight range, you can expect 20-foot trailers that are still capable of being pulled with mid-sized and large SUVs. The GVWR of these trailers is typically in the 3,500 to 4,000 range, and the base weights of the three Satellite models range from 3,040 to 3,195 pounds.
The Satellite's about as comfortable as they come at this weight and length, and owners are surprised by the condo-esque feel of the interior. With a TV, stereo, stellar heating and air conditioning, comfort and entertainment are top-notch here.
Learn More
17. Little Guy Max
Dry weight: 3,140 lbs / Length: 21′ 
The Little Guy Max is a larger version of the Mini Max, though it still retains the vintage charm of a teardrop trailer.
As usual, these guys make excellent use of the interior space, and touches like maple cabinetry and 58 cubic feet of storage make this feel more like home than most small campers. The entertainment features with the Max include exterior speakers and TV mount, 3-zone audio and bluetooth capabilities.
Learn More
Related read: 11 Best Scenic Drives in Southern California
18. inTech RV Sol
Dry Weight: 3290 to 3375 lbs / Length: 19′
The largest of inTech's models uses a unique "tilt-forward" design that makes use of the space above the trailer's frame. It's a bold move that gives the Sol its signature look and offers more square footage than campers that aren't as structurally efficient.
The interior blows away nearly everything else at this size – you won't be "roughing it" in the Sol, but that's exactly what makes it one of the best small trailers under 3,500 pounds on the market.
Learn More
19. Airstream Nest
Dry weight: 3,400 lbs / Length: 16′ 7″
Airstream acquired Nest Caravans in 2016 and immediately went to work improving the company's sole trailer model. Today, the Nest is a popular alternative to Airstream's bullet-style campers that have come to define the brand, though this little number sports the same quality and craftsmanship.
Two floorplans offer different seating and sleeping arrangements, but both have a kitchen, bathroom and sufficient storage for long road trips. It's a high-end small camper, but for those with the budget, it's hard to beat the unique styling and function of the Nest.
Learn More
Related read: 11 Best Campgrounds in Death Valley National Park
20. Oliver Legacy Elite
Dry weight: 3,400 lbs / Length: 18′ 5″
The biggest of our favorite small campers still clocks in under 3,500 pounds, though its GVWR is 5,000 pounds. The double-hulled fiberglass exterior is reminiscent of the Scamp and Casita, though it tends to have more upgraded features than its competition.
The "elite" in the trailer's title means the standard options are ideal for most owners, but optional upgrades include a solar package, better power options and a wifi package to stay connected on the road.
Learn More
Hit the Road
Sign up for Weekend Wanderer to join 10,000+ readers getting epic travel ideas every week.
---