We research, test and evaluate outdoor gear based on a number of factors, including our writers' experience and expertise, trusted user reviews and more. We may earn a commission when you make a purchase through our links. See our editorial policy to learn more.
---
When you splurge on a premium camera, a bag to carry your camera, lenses, and accessories is a must. And if you're shooting outside in inclement weather or near water, you better make sure that bag is waterproof.
Of course, there are several styles of camera bags you can choose from, including messenger bags, slings, backpacks, and hip packs.
Messenger bags are probably the most popular type of camera bag, but if you're expecting to do a lot of walking or climbing with your camera equipment, we'd recommend a backpack.
Whether you're walking around a park or hiking to a scenic lookout, you'll find a backpack's straps and weight distribution far more comfortable than a messenger bag.
A good waterproof camera backpack isn't cheap, but it's a small price to pay to protect your camera equipment from adverse weather.
Trust me — few experiences can compete with the soul-crushing realization that your $1,000 DSLR camera and $600 lens have been ruined by the rain.
Waterproof vs Water Resistant Backpacks
When you're purchasing a new camera backpack, consider the weather conditions that you expect to face in the field.
Will you regularly be out in the rain, or are you just being careful in case an afternoon rain shower sneaks up on you? If rain is a consistent issue, are we talking about light drizzles (I'm looking at you, Pacific Northwest) or heavy downpours?
It's safe to say that most people will be just fine with a water resistant camera backpack. These backpacks may not be stormproof, but they'll weather light rain and snow like a champ thanks to thick exterior materials, tight zippers, and possibly a DWR (durable water resistant) or polyurethane (PU) coating to top it off.
View this post on Instagram
If the risk of getting caught in a heavy downpour is giving you anxiety, consider upgrading to a fully waterproof backpack. The upgrade may cost a little extra, but it's worth the peace of mind when severe weather is in the forecast — especially if you're carrying thousands of dollars worth of camera equipment.
Another viable option is to purchase a water resistant backpack that comes with a matching rain guard. These helpful accessories have many different names — rain cover, rain fly, weatherguard, rain shell, rain bag — but the idea is always the same: a waterproof bag that wraps around your backpack to create a stormproof shell.
Our list of the best waterproof backpacks includes all three of these options, offering a wide variety of backpacks to fit any style and budget. Whether you're looking for an affordable backpack for casual weekend hikes, a versatile city bag for urban photographers, or an all-weather workhorse to accompany you to remote locations, we've got you covered.
The Best Backpacks Under $125
Chrome Industries Niko Messenger Bag
The Niko Messenger Bag from Chrome Industries isn't your average messenger bag. It's meant to be worn like a sling-style backpack, providing convenient swing-around on-body access to your camera equipment. While not ideal for hiking, it's an excellent choice for bicyclists and urban photographers on the move.
The Niko Messenger Bag is built with a 1050-denier nylon outer shell and PU-coated zippers. The weather-resistant bag features Chrome Industries' iconic quick release buckle and bottle opener, a quick-access top loading camera compartment, and a customizable interior organization system.
Check Amazon Price
Check Backcountry Price
Vanguard Havana Backpack
The Vanguard Havana Backpack is a versatile camera backpack with a removable camera insert, equally at home in the city and in the wild. When rainy weather rolls in, deploy the total coverage rain cover and you'll enjoy full waterproof protection.
The removable camera insert provides space and organization for a DSLR with an attached lens, 2-3 extra lenses, a flash, accessories, and a 15-inch laptop. Remove the insert and you've got a great daypack for your next hike.
Looking for a dedicated backcountry camera backpack? Consider upgrading to Vanguard's Alta Sky backpack for more storage space, upgraded materials, and a more comfortable design that's geared for long days in the field.
Check Amazon Price
Case Logic CPL-108 Backpack
Looking for a slim-profile solution? Check out the Case Logic CPL-108 Backpack.
This backpack keeps it simple with just enough space for a DSLR camera, 2-3 additional lenses, a flash, and a few accessories. There's also a dedicated iPad compartment, an internal memory card slip pocket, side straps for your tripod, and an integrated weather hood that stuffs into a dedicated compartment at the bottom of the back panel.
Check Amazon Price
BagSmart Boston Camera Backpack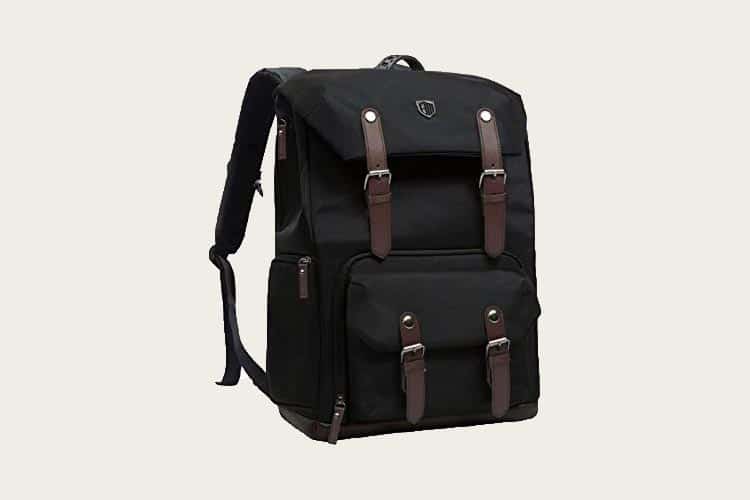 The Boston Camera Backpack from BagSmart looks great and functions even better. The side and front compartments provide quick and easy access to your camera equipment, while the flexibly divided interior has plenty of space for your camera, 3-4 lenses, and some clothing. There's a hidden tripod pocket, and a rain cover concealed in the bottom zippered pocket.
The polyester fabric and rain cover are water resistant, but the manufacturer doesn't recommend taking this backpack out in heavy rain. So, consider this a good camera backpack for light rain and snow.
Check Amazon Price
USA Gear S17 Camera Backpack
The S17 Camera Backpack from USA Gear presents an excellent value for shoppers on a budget. Thanks to weather-resistant materials and a deployable rain tarp, it's built to handle everything from light rain to heavy storms.
The S17 is constructed with high-quality and heavy duty zippers, handles, and buckles. It's reinforced with thick padding for extra protection. There's a side door for quick camera access, and the tuck-away shoulder straps let you convert the backpack into a sling for greater mobility.
Check Amazon Price
Ape Case Pro 1800
The Ape Case Pro 1800 is the most compact camera backpack in the Ape Case Pro line, providing just enough room for a full-frame DSLR with an attached lens, two extra lenses, a handful of accessories, and an iPad.
The Ape Case Pro 1800 features an ultra-tough, water resistant ballistic nylon exterior that's built to handle rain, dirt, mud, and snow. The covered zippers keep water from seeping into the interior, and there's an attached pull-over rain shield you can deploy when severe weather strikes.
Check Amazon Price
The Best Backpacks Under $200
Hex Ranger Clamshell DSLR Backpack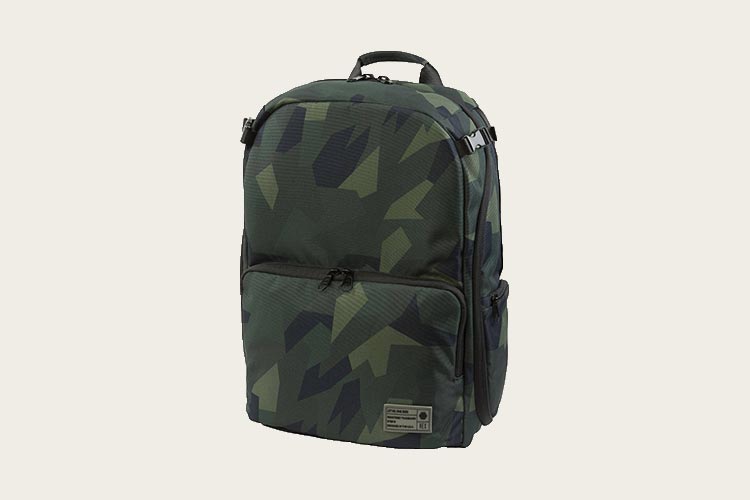 The Hex Ranger Clamshell DSLR Backpack is an excellent choice for urban photographers. The patent-pending clamshell design lets you control how the bag opens, seamlessly switching from side-open to top-open while the integrated compression buckles keep everything in place.
The interior is nice and plush, featuring fleece lining in the padded main compartment and faux fur lining in the 15-inch laptop compartment and phone pocket. The EVA foam partitions are configurable and removable, so you can easily tailor the layout to your needs.
On the outside, the Ranger Clamshell DSLR Backpack features water-resistant 900-denier ballistic nylon and hardy YKK zippers with custom metal pulls. There's a waterproof rain cover stashed under the front pocket, ensuring you'll never be caught unprepared when an unexpected storm rolls in.
Check Amazon Price
Manfrotto Pro Light
The Pro Light collection of camera backpacks from Italian designer Manfrotto has garnered design awards from Red Dot, iF, and TIPA. The popular backpacks are available in a variety of sizes and interior layouts, so you can easily customize it to fit your equipment needs.
Pro Light camera backpacks are made with lightweight and durable materials that are naturally water resistant. It comes with a fold-out rain protector that's fully waterproof, and the specialized Camera Protection System delivers the highest level of protection and shock resistance to keep your gear safe when the bag takes a tumble.
Check Amazon Price
Thule Covert DSLR Rolltop Backpack
The Thule Covert DSLR Rolltop Backpack is a versatile pack with customizable storage for a DSLR camera, two lenses, a flash, a few accessories, a 15-inch laptop, and an iPad. The spacious rolltop compartment provides ample space for personal items. It's built with durable two-tone Oxford fabric that's water resistant, with an ergonomic chassis system for all-day comfort.
Check Amazon Price
Check Backcountry Price
Burton Zoom Camera Backpack
The Burton Zoom Camera Backpack is specifically designed for snowboarders and skiers. Armed with an arsenal of features that make camerawork quick and easy, it's a solid pick for any type of backcountry photography. There's even an oversized beverage stash where you can store your, uh, Gatorade.
Check Amazon Price
Check Backcountry Price
Brevitē Rolltop
The Brevitē Rolltop is a large backpack with more than enough space for your camera equipment and personal gear. With a 25L volume, you could fit a camera, three lenses, three days' of clothing, and a few personal items inside.
The Brevitē Rolltop is water-resistant, and there's a built-in waterproof rain cover you can pull out when the storm clouds roll in. The backpack features a removable modular camera insert, YKK zippers, a laptop sleeve, a quick-access door, tripod holders, and a removable lens cap cover.
Check Current Price
Tenba DNA 15 Backpack
The Tenba DNA 15 Backpack is a do-anything, go-anywhere camera backpack. It was designed for seamless transitions between photojournalism and sports photography, adventure travel and urban exploration, and any type of social event, even when you're traveling sans camera.
This DNA 15 Backpack delivers year-round, rugged all-weather performance on the outside, with a thoughtfully designed interior to protect and organize your gear. It incorporates many of Tenba's signature features, including a body armor base panel, removable padded camera insert, Fidlock magnetic clip, and an Airflow and Pivot-Fit backpack harness.
The DNA 15 Backpack features water-resistant 600-denier Helix fabric, ripstop nylon, YKK zippers, and reinforced stitching. When severe weather strikes, throw on the rain cover for complete waterproof protection.
Check Amazon Price
Miggö Agua Stormproof Versa Backpack
The Agua Stormproof Versa Backpack delivers stormproof protection with an IXP3 waterproof rating. The backpack is built to handle extreme weather with a double layer of lycra and tarpaulin with water-resistant zippers.
The Agua Stormproof Versa Backpack offers three carrying options as a right sling, left sling, and backpack. Switching is fast and easy thanks to the quick-release buckles, and the versatility delivers a lightning-fast three-second camera draw time.
Check Amazon Price
Tamrac Anvil Slim Camera Backpack
The Tamrac Anvil Slim Camera Backpack was designed from the ground up with 10+ optimized foams for the perfect balance of weight and protection. It's lightweight and durable, featuring a large main compartment capable of housing multiple pro-sized DSLR cameras and a full range of lenses, flashes, and accessories.
The Anvil is built with water-resistant 500-denier Cordura nylon fabric and 840-denier polyester Dobby fabric, both of which feature a double PU coating. When heavy rains strike, pull out the seam-sealed protective rainfly for complete weatherproof protection.
Check Amazon Price
The Best Backpacks Under $300
Peak Design Everyday Backpack
The Everyday Backpack from Peak Design is an incredibly versatile backpack that you can use for photography, travel, commuting, and everyday carry. It's highly customizable with three FlexFold dividers that are easily removable.
The Everyday Backpack is amazingly well-designed, featuring the company's patented MagLatch buckle system, dual side-loading, integrated luggage carry, internally padded accessory pockets, a 15" laptop compartment, and a massive external-carry capacity.
The Everyday Backpack is made with a weatherproof 400-denier nylon canvas shell with high-density padding that's DWR-impregnated and PU-coated twice on both sides. The bag includes premium weatherproof exterior zippers, hypalon-reinforced and bar-tacked stress points, and custom anodized aluminum hardware.
Check Amazon Price
Check REI Price
Vinta Type-II Camera Backpack
The Type-II Camera Backpack from Vinta Supply Company looks like it belongs in a GQ photoshoot. Inspired by 19th century British hard packs, the impeccably designed backpack has the sophisticated style to turn heads in the city and the weatherproof grit to handle the rigors of the great outdoors.
The Type-II Camera Backpack provides ample space for two cameras and five lenses, plus your charging cord and accessories. The compact Field Pack is removable, so you can convert it to a versatile everyday backpack when you don't need your camera. Whether you're packing camera equipment or your mobile office, the waterproof coated twill and stormtight zippers will keep your gear high and dry.
Check Current Price
Langly Alpha Globetrotter Camera Backpack

Langly bags are known for their durability and rugged good looks, and the Alpha Globetrotter Camera Backpack is no exception. This is the bag that does it all, delivering maximum functionality and organization for the modern photographer.
The Alpha Globetrotter features waterproof body fabric and YKK zippers for ultimate weather protection. The reinforced camera inserts in the front-loading lower compartment can house your camera and up to five lenses, while the cavernous upper compartment has space for a 15-inch laptop and some extra gear.
Check Current Price
WANDRD PRVKE
The WANDRD PRVKE Pack's innovative design and premium materials have drawn a lot of attention, earning recommendations from the likes of National Geographic, Forbes, and USA Today. On its own, it's a killer everyday backpack. With the Photography Bundle — which includes the backpack, rainfly, camera cube, waist straps, and accessory straps — it's a strong contender for the #1 minimalist camera backpack.
The PRVKE Pack comes with magnetic tote handles, an expandable roll top, a water bottle/tripod pocket, and quick-draw side access. The rainfly attaches in three locations to keep your backpack watertight during torrential downpours, and you can store the rainfly in a dedicated pocket at the base when it's sunny.
Check Amazon Price
Check Backcountry Price
Mountainsmith Borealis
Part of Mountainsmith's Andy Mann Signature Series, the Borealis Backpack is built for rugged photo adventures on trails, slopes, and remote locations. It's been tested in some of the world's harshest environments, earning a solid stamp of approval professional photographers and explorers in the field.
The Borealis is designed to help you move smoothly and safely through the backcountry, combining the protection and organization of a camera bag with the comfort and efficiency of a technical backpack. There's extra storage space for your personal essentials, and a waterproof rain cover that'll keep your gear safe in severe weather.
We also like the Mountainsmith Descent, a shoulder-sling with a lightning-fast draw time that keeps your camera within reach at all times. Where the Borealis shines on long backcountry shoots, the Descent is better for short hikes and quick shoots where you don't need a ton of equipment.
Check Amazon Price
Check Backcountry Price
Gitzo Century Traveler
The Gitzo Century Traveler is a premium camera backpack with sophisticated detailing and genuine Italian leather. The backpack features a DWR coating for water resistance, and there's a fold-out rain protector for complete waterproof protection in heavy rain.
Inside the Century Traveler you'll find a 15-inch laptop compartment, SecureLock zips for safe storage of personal items, and custom-designed, modular Flexi Dividers that adapt to your needs. The dividers are removable if you need to use the backpack as a general daypack, and there's a trolley connect for convenient luggage transport.
Check Amazon Price
CineBags CB23 DSLR Backpack
CineBags calls their CB23 DSLR Backpack "the perfect location backpack," and it's easy to see why. Large enough to pack an entire camera package yet small enough to qualify as a carry-on, it's highly versatile with a fully customizable interior.
The CB23 DSLR Backpack allows back entry to the main camera compartment, so you don't have to worry about anybody stealing your gear in crowded spaces. The rear-entry also places the 15-inch laptop compartment to the front, so you won't have a stiff laptop up against your back on long hikes.
Check Amazon Price
The Best Backpacks Over $300
Boundary X-PAC Prima System
The Boundary X-PAC Prima System is a modular camera backpack that's highly versatile. It comes with a 35-liter backpack, a Verge Case for your camera and accessories, and a Fieldspace to hold your 17-inch laptop, iPad Pro, notebook, and tech accessories.
Everything in the X-Pac Prima System is constructed with X-Pac material, a custom technical fabric that's ultra-durable and completely waterproof. The fabric features X-GRID lamination with Kevlar fibers for reinforcement and slash protection. Insider, there's a nylon liner that's water- and stain-resistant.
The X-Pac Prima System features magnetic auto-lock buckles, YKK Stormguard zippers, Hypalon abrasion-resistant panels, and LFT Foam shoulder straps. There's an RFID Safehouse passport pocket, a padded NYWOOL sunglasses pocket, a charging pocket, and a luggage pass-through opening. Everything is manufactured using BlueSign fabrics, factories, trims, and packaging.
Check Current Price
Lowepro DryZone 200
The Lowepro DryZone 200 is the world's first soft-shell camera backpack that's completely waterproof. It's basically a drysuit for your camera equipment, even floating when fully loaded, so you can ford rivers and kayak across the lake with complete confidence.
The DryZone 200 features an IXP7 waterproof rubberized nylon dry pod with sealed seams. You'll access your gear through a patented TIZIP EasySeal zipper that keeps the dry pod watertight. The padded camera compartment has an adjustable divider system with enough space for a professional DSLR or video system with 4-5 lenses, a flash, and accessories.
Fair warning — the DryZone 200 comes with a hefty price tag. If you don't need the dry bag functionality, consider opting for the ProTactic, Hatchback, or Fastpack, all of which come with Lowepro's quick-deploy All-Weather AW Cover. They can't take a dip in the lake like the DryZone 200, but they'll hold up just fine in heavy rain and snow.
Check Amazon Price
MindShift BackLight Elite
The BackLight Elite from MindShift is a professional-grade camera backpack that's engineered to take you deeper into the backcountry. With 45 liters of available space, there's plenty of room for camera gear, adventure equipment, and essential electronics.
The BackLight Elite features stormproof construction with waterproof/tearproof Sailcloth, YKK AquaGuard zippers, a waterproof Tarpaulin base, and a seam-sealed rain cover.
If the BackLight Elite is more than you need, check out the MindShift Rotation180 series. These smaller backpacks also have water-resistant materials and a waterproof rain cover, and they feature a unique sliding belt system that lets you draw your camera from the side of the backpack in a removable water-resistant case.
Check Amazon Price
Pelican U160 Urban Camera Backpack
The Pelican U160 Urban Camera Backpack is even tougher than it looks. Built with rugged 900-denier ballistic nylon, it's waterproof and crush-proof with an aluminum S-curve spine.
The U160 Urban Camera Backpack comes with a plush, molded EVA liner with moveable dividers, a generous upper storage area with a tablet pocket, and multiple side pockets for optimal organization. The adjustable load lifters keep the weight close to your back, making it easier to carry heavy equipment without straining your back.
Check Amazon Price
Explore More Gear
Sign up for Weekend Wanderer to join 10,000+ readers getting epic travel ideas every week.
---