Being in the wild is dope, and so is keeping it clean for future generations. If you're hiking, camping or backpacking, you can minimize your impact on the environment with Leave No Trace principles and ensure everyone has a good time with basic trail etiquette tips. Now let's get wild.
Was this article helpful?
---
In a juxtaposed world of reality TV shows showcasing the dire straits of nude adrenaline junkies, and doll-faced influencers cooking up elaborate picnic table banquets with ridiculously expensive overland kitchen setups, the average outdoor enthusiast may feel "plain Jane" with their typical campground menu of roasted marshmallows and white-bread turkey sandwiches.
In reality (NOT reality television), camping food can be as exotic or utilitarian as you want it to be. The trouble is that a lack of refrigeration can severely limit your camping food imagination.
There are countless tastebud-tingling camping food options for you to choose from that don't require refrigeration. In modern society, we've become so accustomed to grabbing our food straight from the fridge that it can be hard to come up with several days worth of meals and snacks that don't require a constant chill.
That's why we've put together this list of backpacking and camping foods that do not require refrigeration to give you an idea of what to pack for an overnight camping trip or multi-day backpacking adventure.
Below we've separated our suggested no-refrigeration-required backpacking foods and camping foods into their own categories. Everything in the backpacking category will also work for car campers without a hitch, but the camping specific foods may be a bit too difficult for most to cram into their backpacks. So grab a camping table and prep your workspace: it's go-time.
We hope these camping food ideas inspire your inner outdoor chef! What new food combinations will you come up with? You might also dig our recipe guides to easy camping meals and easy camping side dishes too.
Camping Food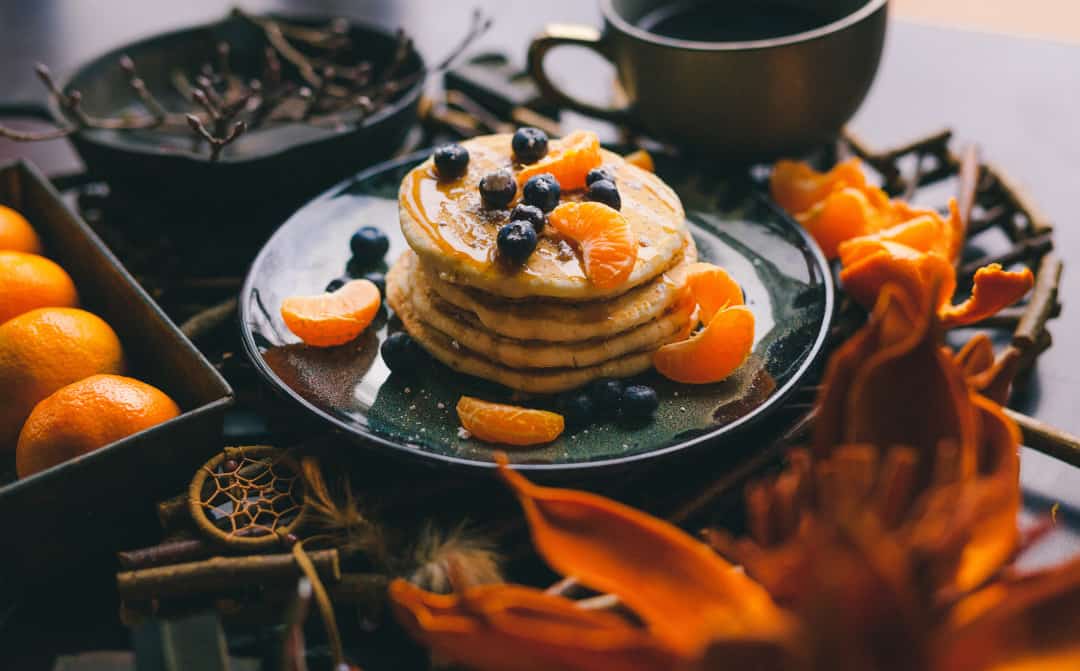 Pancake Mix
Pancakes are a fantastic camping treat. Be sure to check the label on your pancake mix, though — you want a dry mix that doesn't require any eggs. Here are four ways to make camping pancakes that won't suck.
Bread
You can backpack with bread, but it makes better sense as a traditional camping food. Bread, like some of the other below items, can be too bulky or get squished too easily while backpacking.
A car camping staple, bread is a versatile food that can be used to create delectable sandwiches or eaten with delicious spreads.
Mac and Cheese
Despite popular belief, you don't need milk to create a tasty bowl of mac and cheese. Whether it's Kraft or homemade, Mac and Cheese is a popular dinner option the whole family will enjoy.
Butter
We're starting to list items that require oil or butter, and butter does not need to be refrigerated. You probably have some on your kitchen counter right now.
You'll be able to grease up a pan or turn your dinner into something worth savoring with a few slabs of butter, so why not bring some to the campground.
Related read: 24 Delicious Vegetarian Camping Foods for Your Next Weekend in the Woods
Muffins and Other Baked Goods
Make them at home and then bring them to the campsite! Muffins, banana bread, brownies, cakes, and doughnuts are fantastic campground treats that do not need to be refrigerated. Some of these items may get a little gooey if the weather is warm, but they'll still taste amazing.
Popcorn
You've surely brought along the butter and salt, but have you ever tried to turn your popcorn into something spectacular? Kids will love dressing their own popcorn in melted chocolate, caramel, cinnamon, and any variety of flavors you can come up with.
Canned Goods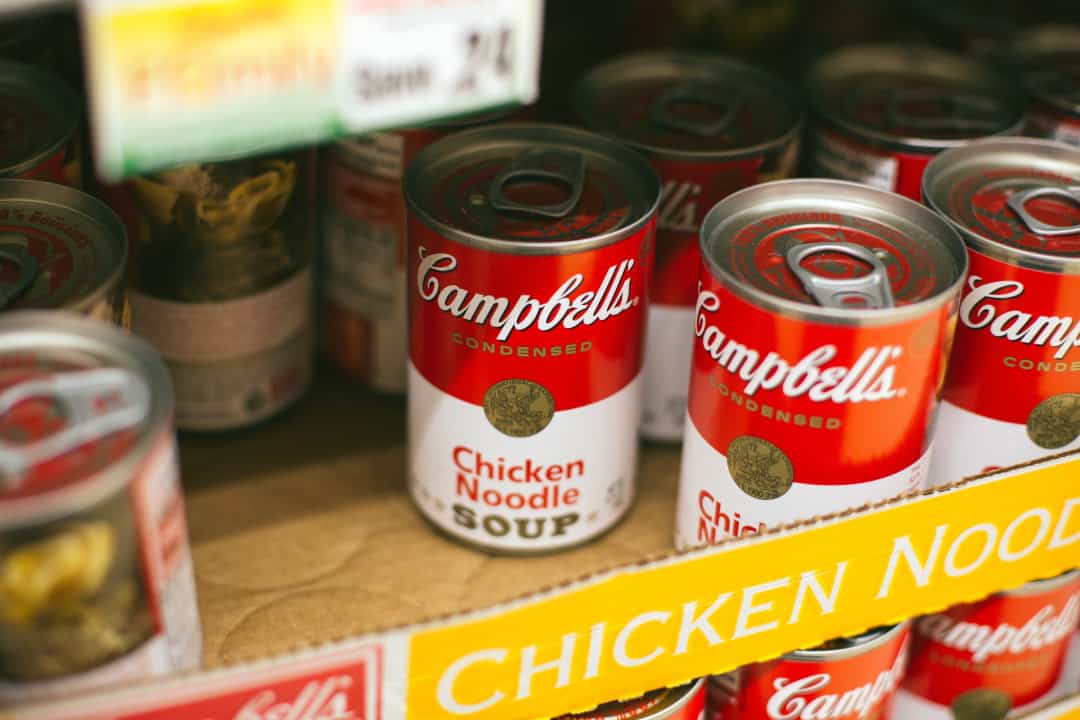 Dolmas, soup, and chicken can be found in the canned food aisle. These items would be too heavy and bulky for the average backpacker, but from the car to the campsite you can carry and entirely canned Thanksgiving dinner. Just don't forget your can opener!
Pasta
Echoing the mac and cheese sentiment, pasta of all sorts makes for good camping food. Contrary to popular opinion, jarred sauces and grated parmesan cheese do not need to be refrigerated.
Fresh Fruits and Vegetables
Sure, they'll last longer in your crisper or cupboard, but all fruits and vegetables were originally brought to life in the great outdoors. Bring along some apples and bananas for snacking throughout the day, and then bust out the potatoes and broccoli for dinner.
Eggs
Farmers find their chicken eggs in nests and laying about the fields — in other words, they were born for the outdoors. Eggs are fragile, so you will have to take care when transporting them, but they can survive outdoor exposure just fine.
If you're worried about cracking your eggs before they make it to camp, you can always scramble them ahead of time and seal them away in an air-tight container.
Prepared Meals
There are innumerable dishes you can cook at home in preparation for a weekend in the campground. Soup, chili, baked ziti, and many of your homemade favorites can be transported in Tupperware to the campground.
Many meals do require refrigeration, but most can survive a day or two without spoiling in mild weather, especially if nighttime temperatures dip into the chilly zone.
Backpacking Food
Trail Mix
It goes without saying that trail mix is a tried-and-true backpacking delight. With a wide variety of nuts, chocolates, pretzels, and more to mix in, the combinations are endless. This is a great way to pack in some protein and fat into your backcountry diet, and you can customize it any way you want it. Extra M&Ms for me, please!
Crackers and Chips
Delicious on their own or when paired with dips and toppings, these crispy crunchy morsels may be the most versatile foods on the trail and in a campground. My personal favorite for long backpacking trips is Pepperidge Farm Goldfish crackers because they store away well and are great for munching at any time of day.
Granola and Oatmeal
Granola and oatmeal are essentially the breakfast variants of trail mix. Again, you can mix and match flavors and ingredients to your heart's content! Instant oatmeal is the oatmeal variety of choice for backpacking as you don't need to actually cook it.
Nut Butter
Any nut butter, most commonly peanut butter, will likely be the most nutrient and calorie-rich food item in your backpack. It may be a heavy item to carry, but it's worth its weight in nourishment. Great for crackers, oatmeal, or straight out of the jar, nut butter is a hiker's best friend.
Jellies and Jams
These preserved sugary spreads satiate your sweet tooth and work in a variety of applications.
Instant Foods
We've already mentioned instant oatmeal, but I'm going to lump the majority of other instant foods under this banner. Instant noodles, instant potatoes, and instant rice are all excellent, lightweight food options that can be quite filling and tasty. Just add water and you've got yourself a meal!
The best part is that most of these instant foods don't actually require hot water, so you can use cold water in a pinch if your stove breaks down or you prefer not to carry one.
Pre-packaged Backpacking Meals
A necessity for many contemporary backpackers, pre-packaged backpacking meals like those from Mountain House or Food for the Sole grace the shelves of every outdoor retailer under the sun. Their meal varieties are quite impressive with options ranging from fettuccine alfredo to garlic green bean stir-fry.
Dehydrated Refried Beans and Chili
Check the "survival" section of your local Wal-Mart Supercenter for a large selection of dehydrated goodies. The dehydrated refried beans and chili are some of my favorites because they rehydrate as if they were freshly cooked and work well in a variety of meals, especially when combined with the next couple of items on this list.
Tortillas
Flour tortillas are popular among long-distance backpackers because they pack well and last a long time. Rehydrate some refried beans and slather them on a tortilla with sliced cheese and avocado for a sumptuous trailside burrito.
Bring some Taco Bell condiment packets along for your hike and you're going to feel like a backcountry Michelin Chef. Tortillas also work well with a variety of sweet and savory items. What combination of foods can you turn into a trail taco? Or is it a sandwich? Or a crepe?
Cheese and Cheese Whiz
Loaded with preservatives, products like Cheese Whiz and Velveeta will remain edible long after your hike is done. They hang out on store shelves for who knows how long and are just fine to consume.
Real cheese is a little more questionable, but, for the most part, it serves as an excellent backpacking food. Just about any cheese can survive a night out on the trail, but harder, drier cheeses can last for days without issue.
Choose solid blocks over pre-sliced for added longevity.
Honey
It's made by bees and is stored in their hives. Honey's going to hold as well as any other food on this list. Have you ever tasted a peanut butter and honey tortilla? Give it a go and you can thank me later.
All the Bars
Clif Bars, Epic Bars, Kind Bars, Odwalla Bars, Gatorade Bars, Luna Bars, Lara Bars — the list goes on and on. Buy them literally anywhere, or try and make some yourself!
Carnation Breakfast Shakes
Ok, this one is stretching backpacking food into backpacking drinks, but since it's a good breakfast replacement I decided to include it on this list. Pour an Instant Breakfast Packet into your water bottle, swirl it around, and tada! You've got breakfast.
Jerky
Jerky makes for a quick and tasty protein snack. Just be sure to bring along some floss, too!
Cured Meats
Salami and pepperoni are great meat options that aren't quite as tough to chew as a thick strip of jerky. Another alternative is the chunky grocery store summer sausage.
A whole summer sausage can be quite heavy, so only the most ravenous carnivores should consider hefting one of those bad boys up a mountain trail.
Powdered Soup Broth
This may sound odd, but soup broth can make for a wonderful backpacking drink. On a cold night when you want to hang outside of your tent just a little longer to watch the stars, a hot cup of broth will enhance the experience and warm your insides.
Hard backpacking can also deplete your body's electrolytes, and a salty cup of broth can help restore those reserves. There are plenty of camping cups to choose from, but I like the simple design of the Ziploc Twist N' Loc containers.
Related Read: 8 Excellent One-Pot Camping Meal Ideas
Lentils and Beans
Rehydrated or straight from a can, lentils and beans are quite filling and packed with protein. Hopefully you won't be sharing a sleeping bag after a bean-filled dinner, but do what you've gotta do.
Oil
Olive oil is a calorie-rich food that will make your Ramen and Idahoan Potatoes taste just a little bit better. You don't need much for a multi-day backpacking trip. I suggest filling an empty eye-dropper bottle or a travel-size liquid container so that you can add a few drops at a time to your favorite foods.
Pop Tarts
Part of a healthy breakfast! Well, part of a tasty breakfast, at least. Pop Tarts are perfect for a quick morning meal when you don't want to fuss with cooking equipment.
Pre-packaged Tuna Fish and SPAM
The numerous flavors of pre-packaged tuna and Spam make for a variety of great lunch items. You can roll these meats into a tortilla or mix them into your noodles.
Sometimes you'll just want to eat them straight out of their packaging, and for this, I suggest a long spoon like the Sea-to-Summit Alpha Light Spoon.
Cookies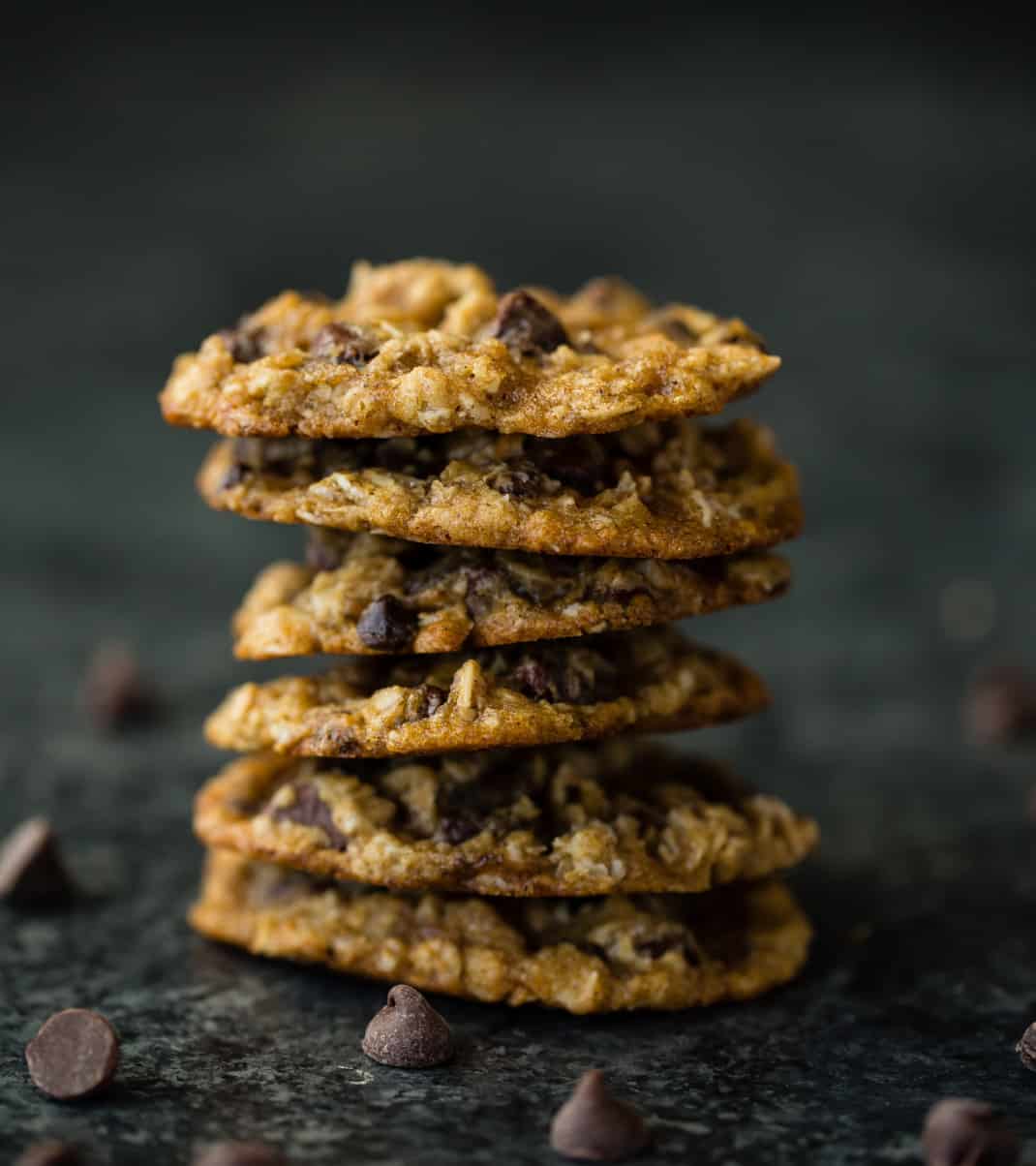 Everyone knows how great cookies are. Store-bought or homemade, they're all tasty and amazing. I prefer the convenience of the resealable Snack-Saks when I go backpacking. If you're looking for trail cookie recipes, Sierra has you covered.
Related Read: 19 of the Tastiest Hiking Snacks to Fuel Your Adventures
Pocky
I've yet to meet someone who doesn't like Pocky Biscuit Sticks. They've available in a variety of flavors, and are a great snack while you're on the trail.
Sauce and Condiment Packets
You may be thinking, who needs ketchup on the trail? Well, chances are somebody in your group will ask for the Heinz when you set up camp the first night.
More likely, though, mayonnaise, mustard, salsa, soy sauce, sriracha, and hot sauce will be the preferred condiments. They're an easy way to add a little zing to your meal.
Candy
That's right, candy is a viable food option on the trail. Beware of chocolate, though. Anything that will easily melt is better left at home. You don't want a sticky food bag.
Gas Station Pastries
Little Debbie and Hostess pastries may not be the healthiest backpacking food choices, but they'll survive the heat of the sun and supply you with plenty of much-needed calories.
Related Read: 18 Delicious Vegan Camping Food & Drink Ideas
Seaweed
Full nori sheets are another tortilla-like alternative for wrapping your food into easy-to-eat tube form. Smaller seaweed snacks are extremely lightweight. Not only is seaweed tasty, but it's packed full of nutrients too!
Powdered Milk and Pudding
You either got excited or scowled at the thought of powdered milk and pudding. To each their own, I guess. Take care if you're carrying multiple powders on one backpacking trip, though.
I once poured powdered milk into a bowl of rehydrated chili thinking it was instant potatoes. Boy, was I wrong — and yes, I ate it anyway.
Leftover Pizza
Probably the best backpacking food of all, leftover pizza is a luxury on the trail. You know you've left last night's pizza on the counter and ate some the next day anyway. This is no different. Drop those last few slices in a Ziploc bag and take them for a hike! You'll be happy you did.
Perfect Your Camp Kitchen
If refrigeration isn't a major concern and you have some cooler room to spare, take a look at our list of 20 Easy Camping Breakfast Recipes for mouth-watering ideas of what you can make during your next camping trip.
Also check out our favorite backpacking stoves, campfire cooking essentials and classic enamel camp mugs to go with your meals.
Sign up for our free email to join thousands of readers getting epic travel, hiking, camping and gear ideas every week.
Was this article helpful?
---