Grip, strength, and quality of the blade are just a few factors to consider when you're shopping for a knife. If you're hoping to find your next one, check out our favorite American-made knives below.
My first knife was a gift from my father in the late 1980s. It was a small folding knife without a brand name on it, and it was aged and weathered. I carried that for years as one of my Ten Essentials in my backpack, but the standout features weren't its great qualities. The dull blade was difficult to open, the handle was small and didn't give me any grip, and there was no pocket clip or sheath.
Nostalgic as it may be to carry my grandpa's knife, it was not an ideal outdoor knife. Now that I've been testing and writing about knives and tools for more than seven years, I have strong opinions about what makes a knife worthy of outdoor adventures.
With thousands of options out there, the task of picking one can be daunting. Here are the best American-made knives on the market.
Our Top Picks: Best American-Made Knives
Best Overall American-Made Knife – Benchmade Bugout
Company Founded: 1979 – Most knives made in Oregon City, Oregon
Benchmade Bugout: Benchmade touts that the Bugout as one of its best, and our testing shows just that. Tester Brady Kirkpatrick from Gun Made praises it for its versatility – from skinning deer to slicing apples – and plans on passing it down to the next generation.
Its versatility helps in a number of situations, as one of our testers discovered. Jason Boyle, an REI adventure guide, says that this knife is on him at all times while guiding. In fact, he uses it to prepare meals, create wood shavings to start fires, cut rope, and handle other chores. The Bugout is one of three customizable Benchmade knives with freedom to design to your liking. For example, Jason chose a neon-yellow handle since it stands out at camp when things are a bit chaotic..
Tech Specs:
Weight: 1.85 oz

Open Length: 7.46 in

Closed Length: 4.22 in

Blade Length: 3.24 in

Blade Composition: S30V Steel
Pros and Cons:
Pro: Slim design

Pro: Lightweight

Pro: Lanyard hole

Pro: Reversible clip

Pro: You can customize it

Con: Expensive
Most Customizable American-Made Knife – Gerber Assert
Company Founded: 1939 – Most knives made in Portland, Oregon
More customizable than a chameleon. That's the secret behind the Gerber Assert, the latest folding knife that features dual-adjustable thumb studs for easy opening. Made of S30V stainless steel—known as a 'balanced steel'— and a nylon handle, its weight barely reaches two ounces. We're not saying that's lighter than a feather….but it's pretty darn close.
With Gerber's newly-launched customization program, users can build several knives and tools with their specific preferences. For example, you can choose your own blade graphics, hardware, or clips. In testing, I used the Assert for nearly one month, and I'll admit: it's beginning to rival my Benchmade Bugout.
Tech Specs:
Weight: 1.87 oz

Open Length: 6.95 in

Closed Length: 3.97 in

Blade Length: 2.98 in

Blade Composition: S30V steel
Pros and Cons:
Pro: Lightweight

Pro: Extensive customizable options

Con: Expensive
Most Durable American-Made Knife – Columbia River M16-04DB
Company Founded: 1986 – Only a small selection of knives are made in the USA in Tualatin, Oregon
A knife is only good if it's useful – and it's only useful if it's long-lasting. The Columbia River M16-04DB has staying power, as our tester Alisha McDarris knows. She has been using the M16-04DB for more than a decade, and it's still going strong. Her favorite feature: the full-metal construction with a seamless opening and closing mechanism.
McDarris also loves its ease of use. She notes that she has clipped the knife to her pocket on hiking and backpacking trips all over the world, and never had an issue with it falling off. From crafting kindling to extracting splinters and popping open cans of beans around the campfire, the M16-04DB has maintained its sharpness—even with her admittedly frequent clumsy drops and tosses.
Tech Specs:
Weight: 6.8 oz

Open Length: 9.31 in

Closed Length: 5.34 in

Blade Length: 1.25 in

Blade Composition: Steel D2 – Stonewash
Pros and Cons:
Pro: Durable

Pro: Assisted opening with flipper

Con: Heavy
Best Budget American-Made Knife
Gerber Principle
It's a rarity to get a high-quality knife for less than $100, but the Gerber Principle manages to deliver on both quality and value. The Principle has a 7.5-inch fixed blade that comes with a sheath, and it's super versatile. Not only is it perfect for hunting, but it does great work for fishing, camping, and bushcraft.
In testing, I strapped this blade to my backpack as a means of transportation. Thanks to its lightweight composition, I never even noticed it was there – but I could still grab it in an instant. It has a full tang design which means the blade extends through the handle. While this does make it a bit heavier, it also adds a lot of balance to the knife. The tough steel blade is easy to sharpen and never rusts.
Tech Specs:
Weight: 3.7 oz

Open Length: 7.5 in

Blade Composition: 420HC steel
Pros and Cons:
Pro: Affordable

Pro: Sturdy design

Pro: Easy to clean

Con: Sheath not the best design
Lightest American-Made Knife – SOG Ultra XR
Company Founded: 1986 – Products Assembled in USA but made from parts produced in China
It's light and it's versatile for anything I need. That's the mantra behind the SOG Ultra XR, my absolute favorite knife for everyday outdoor adventures. I've had it for years and I love its slim design and astonishingly low weight: 1 ounce. And no, that's not a typo. In testing, I never once noticed it in my pocket.
True story: Thanks to its featherweight nature, I'd literally forget I was carrying the Ultra XR….even while traveling in airports. This is the reason that TSA in the Denver Airport now sadly owns one of my favorite knives.
Tech Specs:
Weight: 1.2 oz

Open Length: 6.4 in

Closed Length: 3.6 in

Blade Length: 2.8 in

Blade Composition: S35VN Steel
Pros and Cons:
Pro: Slim design

Pro: Extremely lightweight

Pro: Carbon fiber handle

Pro:Titanium pocket clip

Pro: Can often find on sale

Con: So small you could lose it
Best of the Rest
Benchmade Osborne
Tester Tanner Smithwick, an upland bird hunter from Montana, has been using and loving the Benchmade Osborne for a couple of years, claiming that it holds an edge for a very long time—even when cutting rope or carving wood. It effortlessly fits his hand while opening and closing with a flick.
Tech Specs:
Weight: 2.44 oz

Open Length: 7.87 in

Closed Length: 4.47 in

Blade Length: 3.4 in

Blade Composition: S90V Steel
Pro and Cons:
Pro: Ergonomically correct

Pro: Stays sharp

Pro: Lightweight

Con: Expensive
Leatherman Signal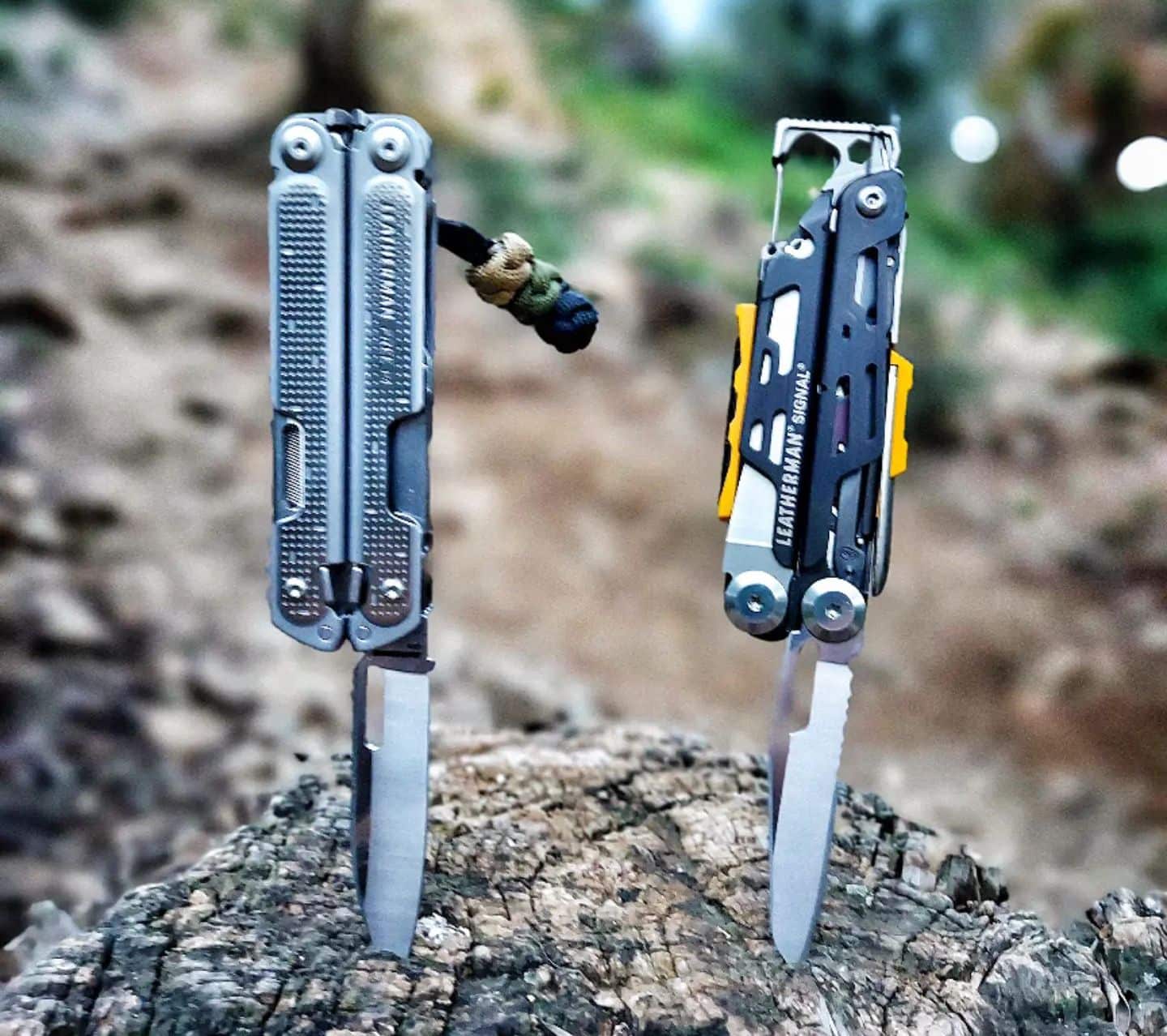 I have been carrying the Leatherman Signal multitool for years, and it has helped me get out of so many tricky situations with its pliers, wire cutters and awl. Once I even fixed a broken stay on my backpack when I was 1000 miles into my thru hike. This 7.5-ounce lifesaver boasts 19 different tools, along with a carabiner to hang it on your pack, hip belt, or harness.
Tech Specs:
Weight: 7.5ozs

Open Length: 6.75 in

Closed Length: 4.5 in

Blade Length: 2.73 in

Blade Composition: 420HC Stainless Steel
Pros and Cons:
Pro: 19 tools

Pro: Includes unique tools like: whistle, fire starter

Pro: Has belt clip and carabiner clip

Pro: Affordable

Con: Carabiner clip can get in the way
Spyderco Manix 2 CPM s30V
Our tester Jeff Laskie from New Mexico has been carrying the Manix 2 CPM blade for nearly eight years while working at a Seven Springs Fish Hatchery in Jemez Springs. He reports the high-quality steel has stayed sharp without any rust while working in a wet environment. The pocket clip keeps it tightly secure. If he loses it? He'll just buy another one—that's how much he loves this knife.
Tech Specs:
Open Length: 8.03 in

Closed Length: 4.66 in

Blade Length: 3.37 in

Blade Composition: S30V steel
Pros and Cons:
Pro: Lightweight

Pro: Half serrated blade

Con: Expensive

Con: Takes some practice to open and close it smoothly
Tops Backpacker Bowie
Tester Peter Rives, our thru hiker from North Carolina, embraces the Backpacker Bowie as a well-built bomber blade that offers great grip and secure finger guard for heavy duty tasks. Never once has his hand slipped on the textured handle with finger placements. The tip of the knife has an indentation, which allows him to pick up heavy pot lids with it. The hard-sided sheath has a rotating belt clip, which is a nice bonus touch.
Tech Specs:
Weight: 10.23 oz

Full Length: 10.25 in

Blade Length: 4 in

Blade Composition: Stainless steel
Pros and Cons:
Pro: Hardsided sheath with rotating belt clip

Pro: Durable

Con: Heavy

Con: Expensive
Best Brands for American-Made Knives
After nearly a decade of testing and using knives as a guide in Alaska and a gear tester, I can promise there are a lot of high-quality American knife manufacturers out there. Benchmade is arguably the king with their uber-popular Bugout knife. But, many other brands such as Gerber, Columbia River, SOG, and Leatherman all make high-quality products. For some, American's propensity towards bushcraft makes us especially interested in tools like knives; maybe it's in our DNA.
What To Consider When Buying An American-Made Knife
Blade type

Handle construction

Ease of opening
Knives can literally be a lifesaver in the backcountry, but they are more nuanced than people realize with the blade type, handle construction, and ease of opening/closing. Here's a few factors to consider.
Blade Type
There are several types of blades and these are the most popular descriptions you'll see on the market.
Drop point

– The blade slopes from the handle to the tip.

Tanto

– The top and bottom of the blade are straight, but the bottom sharp edge angles toward the tip on a 45 degree angle.

Bowie

– Typically more than 6 inches long, the fixed blade is long and tapered to a point.

Straight Back

– The back of the blade is straight for hand force, while the cutting edge is round.

Sheepsfoot

– The back edge is straight and has a curved edge at the end, while the sharp edge is straight.

Spear Point

– Both sides are sharp and come to a point at the end.
Ease of Opening
There are several ways to open and close a knife, but it comes down to personal preference. Here are a few options.
Flipper

– A extended bump on the back of the blade that allows you to flick the blade open.

Thumb stud

– Two metal studs on both side of the blade allows you to use your thumb to push the blade out.

Nail nick

– You open the knife using your fingernail in a small cutout on the blade.

Button

– Flick open the blade with a simple button that you push to enact some type of spring loaded mechanism.
Handle Construction
Knife handles can be made of carbon fibers like micarta or G10, wood, titanium, carbon fiber, stainless steel, and bone. There could be textured grooves on the handle for better grip.
Explore More Gear
Get epic travel ideas delivered to your inbox with Weekend Wanderer, our newsletter inspiring thousands of readers every week.
Was this article helpful?
---