We research, evaluate and select travel destinations based on a number of factors, including our writers' experience, user reviews and more. We may earn a commission when you book or purchase through our links. See our editorial policy to learn more.
---
One of the biggest mistakes first-time hammock campers make is using a traditional sleeping bag in their hammock.
Whether you're sporting a $50 bargain bag or a $500 premium goose down mummy bag, the results are predictable: painfully challenging entry and re-entry, tossing and turning all night trying to get comfortable (to no avail), and the dreaded cold butt syndrome.
Nobody wants to hear you cursing like a sailor all night. Do yourself (and your fellow campers) a favor — ditch the sleeping bag and invest in a top quilt.
Buyer's Guide
The problem with using traditional sleeping bags is when you're laying in a hammock, the constant pressure between your body and the hammock compresses the insulation in your sleeping bag until it loses its insulative properties.
Your upper half may be warm, but you'll feel every breeze and icy chill throughout the night on your backside. Add the struggle of maneuvering a full-length zipper while you're swinging in the air, and it's no surprise to see first-timers swear off hammocks before they get a chance to really enjoy it.
The trick to a great night's sleep is to create a cocoon of insulation around your hammock. To do that, you'll essentially be cutting the traditional sleeping bag in half. The bottom half (the underquilt) straps to the bottom of your hammock, while the top half (the top quilt) serves as a comforter on top. This separation preserves the loft in the insulation, and makes it easy to enter, exit, and move around without being constrained by zippers.
Temperature Ratings
As you're sifting through top quilts, you'll often come across labels like "three-season" and "four-season." In a nutshell, four-season quilts are equipped for winter weather, three-season quilts are good from spring to fall, and one-season quilts are built for warm summer trips.
Pro tip: take seasonal ratings with a grain of salt, and focus on the temperature ratings. Pick a quilt with a temperature rating that matches your expected environment. For basic reference, a good three-season quilt should be able to keep your warm to 20℉ to protect against sudden cold snaps, while winter quilt should be rated closer to 0℉.
Insulation
Once you go down, you don't go back. Whether it's goose down or duck down (we'll save that battle for another day), genuine down insulation will always beat out synthetic insulation when it comes to weight, warmth, and portability. Down is lightweight, delivers superior insulative capabilities, and compresses to a more compact size that's easier to pack. For ultralight backpacking, down insulation is the only way to go.
For those of you unfamiliar with fill power (fp), here's a quick rundown. In simplest terms, fill power determines the loft and overall "fluffiness" of the down. Higher fill power indicates greater insulative capabilities to keep you warm and comfortable. It carries a premium price tag, but it's worth the upgrade.
The drawback to down insulation is that down loses its insulative properties when wet — and it takes a while to dry. The easiest solution is to protect the down with a good outer shell that's durable and water-resistant shell, so pay attention to the fabric and look for labels like DWR (durable water resistant) finish. You can also tackle the challenge on the inside with hydrophobic down that's treated to resist moisture. DownTek is a great example — this treated down is 30% more resistant to moisture and dries 60% faster than traditional down.
Baffling
One of the most important features you'll notice on premium top quilts is specialized baffling designed to reduce down shifting. There are a variety of ways to do it, and every manufacturer will tell you that their design is best. It comes down to personal preference and style in the end, so we won't tell you which is best — that decision is ultimately up to you. When you find a top quilt you like, just make sure the manufacturer employs a reliable form of baffling to keep the down in place.
Footboxes
When you're camping in warm weather, it's nice to have a versatile, comforter-like top quilt that's open around your feet for better ventilation. When cold weather hits, however, it's better to have an extra layer of insulation around your feet to keep drafts out. Ergo, many manufacturers include an option to add a footbox.
The most versatile top quilts offer a convertible footbox that can be buttoned, zipped, or cinched with a drawstring when cold weather strikes. These are an excellent choice for summer backpacking trips and hot sleepers. Three-season campers and cold sleepers may prefer a sewn-through footbox with extra insulation and maximum protection against drafts. The right choice for you depends on your sleep style and climate needs.
Our Picks For The Best Hammock Top Quilts
We've selected a sampling of the best four-season, three-season, and one-season top quilts, ensuring there's a quilt for every type of adventure. Whether you're backpacking Aravaipa Canyon in May or the Appalachian Trail in January, we've got you covered.
Most of these top quilts come from cottage companies specializing in ultralight backpacking gear and hammock insulation. They offer higher quality, attention to detail, and more customization options, often for less than you'll pay for comparable products in big-box stores. Check the lead time when ordering and be prepared for a longer wait, but trust us when we say it's worth it for handcrafted, American-made gear that'll last for years.
Editor's Choice: UGQ Outdoor Bandit
The UGQ Outdoor Bandit ties the Warbonnet Diamondback for best overall top quilt. If the functional design and premium materials aren't enough to convince you, just listen their extensive fan club online. You'll be hard-pressed to find so many 5-star reviews for a big-box hammock company, let alone a cottage company.
The Bandit is a highly customizable top quilt engineered to deliver maximum warmth with minimum weight. You can choose from four different exterior materials — M10, MRS20, illume15, and HD1.0 — renowned for their durability, ultralight weight, and water resistance. UGQ uses M10 for the interior lining for a superior finish and satin-like feel. For insulation, you can choose from Ultima 800 fp duck down, Ultima 900 fp goose down, or Ultima 950 fp goose down. UGQ automatically overstuffs to 130%, and you can up the overstuff even more if you're a cold sleeper.
UGQ introduced the concept of isolated chambers in the torso and footbox years ago with their popular Renegade top quilt, and the Bandit continues that tradition with zone-filling options allowing you to place additional down where you need it most. The combination of vertical and horizontal chambers delivers a snug fit with an exceptional drape that eliminates dead air for better thermal performance.
The down chambers are constructed with ultralight nano-mesh baffles for maximum loft and superior thermal convection between chambers. Each nano-mesh baffle is purposefully placed to concentrate the down in areas that need it most and allow for better heat transfer between your core and extremities.
Footbox fans will be thrilled with the Bandit's versatility. The standard zipper / draw option lets you create a footbox when you need it, or keep it open for ventilation on warmer nights. Cold sleepers can upgrade to a boxed flat-sewn footbox, or an even more luxurious insulated sewn footbox that delivers a snug, efficient fit.
Check out our in-depth field test in our UGQ Bandit Review.
Check Current Price
Tech Specs
Temperature Rating – 50℉, 40℉, 30℉, 20℉, 10℉, 0℉
Insulation – 800 fp duck down, 900 fp goose down, 950 fp goose down
Material – M10, MRS20, illume15, or HD1.0 ripstop nylon
Length – 66", 72", 78", 84"
Width – 50", 55", 60", 65"
Weight – 10 oz – 28 oz
Editor's Choice: Warbonnet Outdoors Diamondback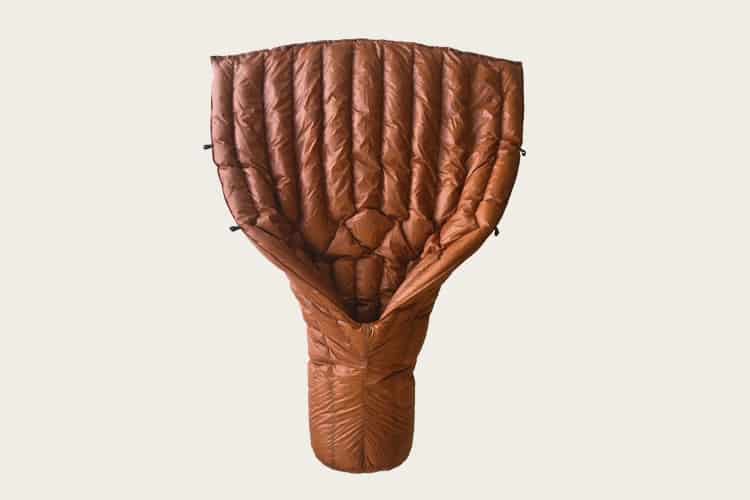 Warbonnet Outdoors is one of the leading cottage companies in the hammock camping industry. They handcraft their quilts in Evergreen, Colorado, and inspect every stitch before the product leaves the shop. Their gear is thoughtfully designed, comfortable, and built to last.
The Warbonnet Outdoors Diamondback top quilt utilizes vertical baffling that conforms to your body. To avoid down shifting (a common problem with head-to-toe baffling), it employs a proprietary constriction-point baffle pattern that effectively isolates the torso from the leg sections. You can manually shift the down through the constriction points for custom fluffing, but the down can't pass through on its own. The constriction points allow you to overstuff the top and bottom sections separately, so you can tailor the insulation to your liking.
Warbonnet Outdoors uses RDS-certified Hyper-Dry goose down, with premium 850 fp, ultra-premium 950 fp, and overstuff options available. For the material, go with their 10D nylon for an ultralight shell, 20D ripstop nylon for greater durability, or 15D ripstop nylon for a compromise between the two.
The Diamondback features a proprietary compound-taper, and a neck-snap closure with elastic drawcord with dual exit points near your ears to keep the cord out of the way. Cold sleepers and winter campers will prefer the sewn footbox, while summer campers can opt for a zippered/drawstring footbox for more versatility in warmer weather.
Be sure to check out our other Editor's Choice winner, the UGQ Bandit.
Check Current Price
Tech Specs
Temperature Rating – 50℉, 40℉, 30℉, 20℉, 10℉, 0℉, -20℉
Insulation – 850 fp or 950 fp Hyper-Dry Goose Down
Material – 10D, 15D, or 20D high-thread-count DWR ripstop nylon
Length – 66" (short), 72" (regular), 78" (long)
Width – 50", 55", 60"
Weight – 9 oz – 38 oz (see size chart)
Kammok Firebelly Trail Quilt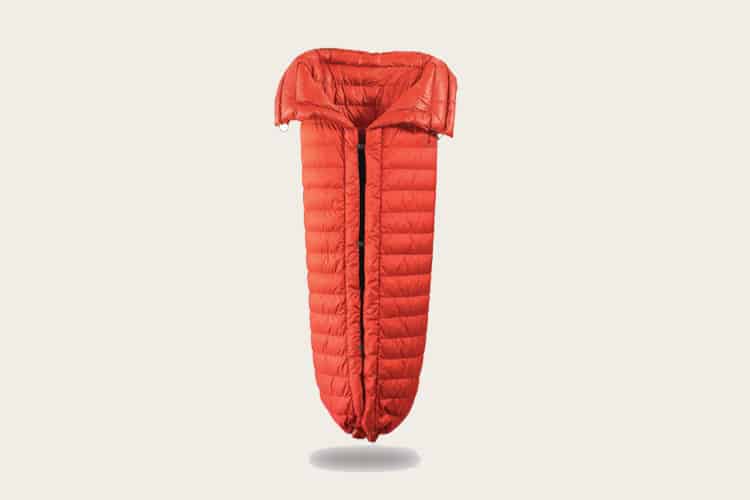 The Kammok Firebelly is a versatile 4-in-1 trail quilt designed to adapt to any cold-weather environment as a top quilt, underquilt, comforter, or minimalist sleeping bag. As you're winding down around the campfire after a long hike, drape it around your shoulders like a blanket. When it's time for bed, use the YKK button snaps and shock-cord ends to create a cozy footbox for your top quilt, or keep it open for better ventilation. Should you decide to ditch the hammock for traditional ground-sleeping, you can easily strap the Firebelly to a sleeping pad for a lightweight alternative to the traditional sleeping bag.
The Firebelly is larger than the average top quilt with an 88" wingspan, yet it manages to pack into a compact 7" x 12" stuff sack that's great for backpacking. On the outside, the quilt's Atmos X 15D nylon ripstop fabric hits the sweet spot between weight and durability. Inside, the Firebelly's honeycomb-like structure of insulation gates evenly distributes the 750 fp DownTek and eliminates cold spots.
Like the versatility of the Kammok Firebelly, but looking for something a bit more affordable? The Bobcat Trail Quilt offers the same premium fabric and DownTek insulation as the Firebelly in a more affordable one-season package.
Check Amazon Price
Check REI Price
Tech Specs
Temperature Rating – 30℉
Insulation – 750 fp DownTek
Material – Atmos X 15D ripstop nylon
Size – 54" x 88"
Weight – 24 ounces
Western Mountaineering AstraLite Baffled Top Quilt
Western Mountaineering has a reputation for producing some of the best down sleeping bags in the industry. It took the San Jose company awhile to embrace quilt-style sleeping bags, but they finally answered the call with a killer pair of ultralight top quilts — the three-season AstraLite, and the one-season NanoLite.
The AstraLite was designed with backpackers in mind. The top quilt uses a proprietary 7D acrylic kiss-coated nylon fabric and lightweight 850 fp European goose down to eliminate bulk and minimize weight. The result is an ultralight 16-ounce quilt that'll keep you toasty down to 26℉ and stuffs into an easily packable 6" x 10" stuff sack.
The AstraLite features an insulated draft yoke, an elastic lacing bottom closure, and a sewn-through footbox to keep you toasty in the backcountry. It works best when paired with an underquilt (like the Western Mountaineering SlingLite), but you can attach it to any backpacking sleeping pad using its flat elastic loops.
Check Backcountry Price
Tech Specs
Temperature Rating – 26℉
Insulation – 850fp+ European down
Material – 7D acrylic kiss-coated nylon shell, 10D acrylic kiss-coated nylon liner
Length – 68" (regular), 76" (large)
Weight – 16 oz – 17.5 oz
Upgrade Pick: Katabatic Gear Sawatch 15℉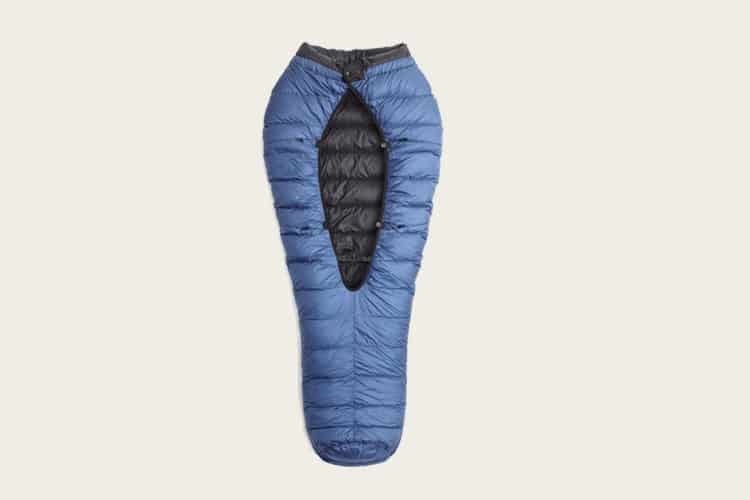 Aaron Martray started Katabatic Gear with a simple goal — to create the best damn ultralight sleeping bag on the mountain. Spend a night in the Sawatch 15 and we think you'll agree that he hit the mark.
The Sawatch 15 features a differential cut, continuous baffles, and comfortable, stretchy edges. The trapezoidal footbox is engineered to enhance warmth, comfort, and efficiency, with oversized baffles to provide extra insulation for your feet. Katabatic Gear offers traditional goose down for purists and HyperDRY hydrophobic down that's treated to provide additional protection against moisture. The pillowy down is wrapped in a comfortable fabric that's been described as "sensual" (not your average compliment for a sleeping bag), so you know you're in for a good night's sleep.
While the Sawatch 15 is an excellent choice for hammock camping, it was actually designed with ground-sleepers in mind. Should you decide to swap your hammock for a sleeping pad, the Sawatch 15 utilizes a patented pad attachment system that's widely considered the best on the market for preventing drafts. It also comes with removable webbing straps for a minimalist sleeping bag without a sleeping pad.
Check Current Price
Tech Specs
Temperature Rating – 15℉
Insulation – 850 fp HyperDRY duck down, 900 fp goose down, 900 fp HyperDRY goose down
Material – Pertex Quantum ripstop shell, Pertex Quantum taffeta lining
Length – 66" (small), 72" (regular), 78" (long)
Width – 52" (standard), 58" (wide)
Weight – 23 oz – 31 oz
Loco Libre Ghost Pepper
You may chuckle at this cottage company's unique moniker, but the Ghost Pepper top quilt is no laughing matter. It's one of the most comfortable, reliable top quilts on the market, delivering superior warmth with a touch of style. With enough customization options to satisfy the pickiest hammock swingers, it's a great pick for anyone with their sights set on the backcountry.
The Ghost Pepper uses reliably sourced down from DownTek, with options for 800 fp duck down and premium 900 fp goose down. Continuous baffling with chevron-style baffles help to limit down shifting by catching it in the corners that form where the baffles change direction. This effectively eliminates cold spots, and makes it easier to keep the down on top where you need it to stay warm.
Speaking of the cold, this beast can handle everything from warm summer swings to frigid winter expeditions with temperature points ranging from 50℉ down to -40℉. Given the lower end of that scale, the Ghost Pepper takes home the blue ribbon for the warmest top quilt on the market.
The Ghost Pepper uses Argon 90 material for its outer shell — a premium ripstop nylon blocking out wind and water while remaining surprisingly breathable. Argon 90 is the standard interior lining, though we'd recommend upgrading to the buttery-soft Argon 67 for an even more comfortable finish. Other optional upgrades include a neck draft collar, an insulated "Hot Box" footbox, Dee Ring pad attachments, and up to 2 ounces of overfill.
Check Current Price
Tech Specs
Temperature Rating – 50℉, 40℉, 30℉, 20℉, 10℉, 0℉, -10℉, -20℉, -30℉, -40℉
Insulation – DownTek 800 fp duck down, DownTek 900 fp goose down
Material – Argon 90, Argon 67
Length – 70" (small), 75" (regular), 80" (long), 85" (extra long)
Width – 52" (standard), 55" (wide)
Weight – 23 oz – 31 oz
Editor's Choice: Enlightened Equipment Revelation
Enlightened Equipment is a thriving hammock gear company hailing from Winona, Minnesota. Since launching in 2007, they've grown from a small basement operation to a massive 50,000 sq.ft. facility, so they're living the cottage company dream. Don't let the size fool you into thinking they've become a big-box brand, though — these guys still hand-stitch all of their products in-house, demonstrating exceptional attention to detail and providing excellent customer service.
The EE Revelation hits the sweet spot between weight and functionality. Designed to meet all of your needs without any unnecessary weight, the Revelation features a 20" zipper and drawstring that you can use to create a warm footbox on cold nights, or leave open for a quilt-like blanket on summer outings. The snap and drawstring neck-closer fits securely around your shoulders for better draft control, and you can cinch down the sides with the pad attachment system for a tighter fit in cold weather.
The standard 10D material is a lightweight, durable nylon delivering optimal breathability and comfort. You can upgrade to a 20D ripstop nylon for increased comfort, rugged durability, and better water resistance, or you can opt for the ultralight 7D micro ripstop nylon for the lightest possible setup. Inside, you can choose from premium 850 fp DownTek or ultra-premium 950 fp DownTek insulation. The quilt employs U-shaped baffles to keep the down where you need it, with a half-taper design that minimizes weight while reflecting the natural shape of your body.
Check Current Price
Tech Specs
Temperature Rating – 50℉, 40℉, 30℉, 20℉, 10℉, 0℉
Insulation – 850 fp DownTek, 950 fp DownTek
Material – 7D, 10D, or 20D ripstop nylon
Length – 66" (XShort), 72" (Short), 78" (Regular), 84" (Long), 90" (Xlong)
Width – 50" (Slim), 54" (Regular), 58" (Wide), 64" (XWide)
Weight – 10 oz – 39 oz
Jacks R Better Sierra Sniveller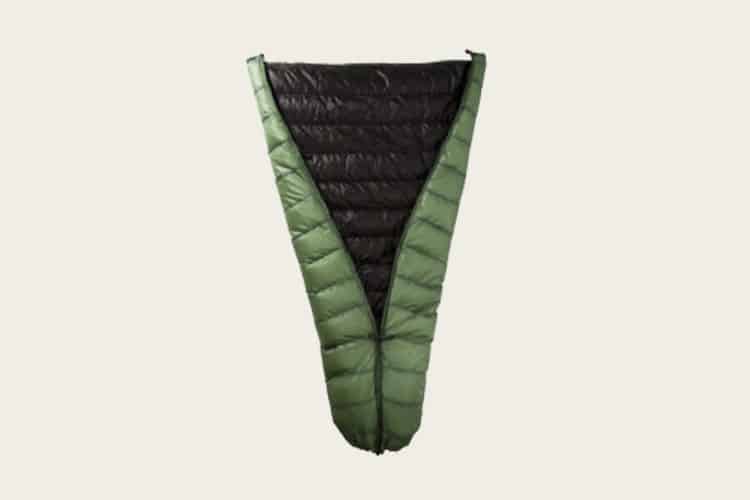 Jacks R Better makes ultralight gear for the hardcore backpacker. Designed, handcrafted, and extensively field tested by two retired Army officers, their gear is all about quality and simplicity.
The Sierra Sniveller features a functional design that's easy to vent for year-round temperature control. The quilt is wider from the shoulders to the hips to eliminate drafts, then tapers to a snug fit around your feet with an extra-long footbox for better tuck control. On the outside, the 20D ripstop nylon is durable, lightweight, and water resistant. On the inside, the 800 fp Activ-dri goose down features a hydrophobic treatment to keep the down dry without any adverse effects on warmth retention, fill power, or loft.
The Sierra Sniveller is designed for ground sleepers, with six lacing tabes on the sides to secure the quit to a sleeping pad. It's a favorite in the hammock camping community, though, especially when paired with a Jacks R Better underquilt like the Mt. Washington or Winter Nest. When you're not swinging in your hammock, try using the Sierra Sniveller as a makeshift serape using the non-sagging, mixed hook & loop resealable head hole.
Check Current Price
Tech Specs
Temperature Rating – 20℉
Insulation – 800 fp Activ-dri goose down
Material – 20D ripstop nylon
Length – 78" (Regular), 86" (Long)
Weight – 24 oz (Regular), 26 oz (Long)
Rumpl Puffy Down Blanket
Summer hammock campers looking for a lightweight top quilt will love Rumpl's line of Puffy Down Blankets. Inspired by a desire to create a go-anywhere, do-anything blanket that's ultralight and easily packable, Rumpl has been a crowd favorite since their Kickstarter campaign launched in 2014 and reached 100% funding within hours.
The Puffy Down Blanket is Rumpl's premium line of outdoor quilts, delivering maximum warmth and minimum weight. It weighs just a pound, and compresses down to 5" x 6" in the DWR nylon stuff sack. The durable nylon fabric does an excellent job repelling water, dirt, stains, and odor, while the 600 fp goose down keeps you toasty-warm without wasting weight. By some miracle, it's machine washable and dryable, so there's no need to buy a tub and washboard for handwashing out back.
The Puffy Down Blanket comes in a variety of color options and prints, all showcasing the signature Rumpl design aesthetic inspired by patterns found in nature. Our favorite design features original artwork by Jeremy Collins, with a winding river, jagged mountain peaks, and a red sunset sky.
Check Current Price
Tech Specs
Temperature Rating – 40℉
Insulation – 600 fp goose down
Material – 20D ripstop nylon
Size – 50" x 70"
Weight – 16 ounces
Best Value: Hammock Gear Economy Burrow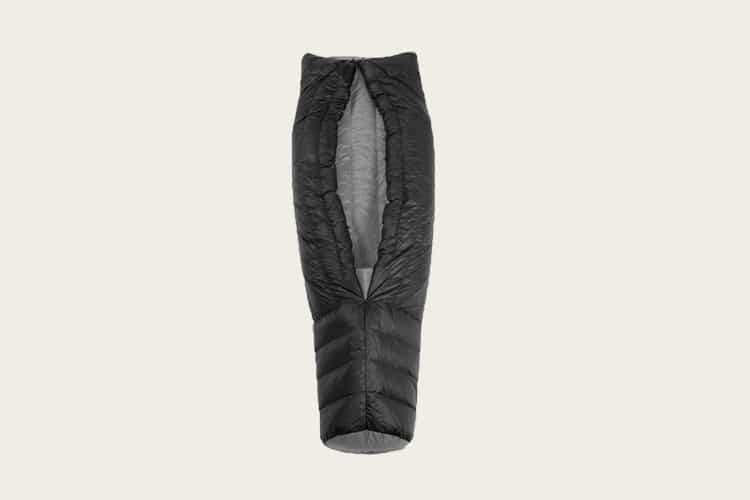 When your wallet is the primary decision-maker, go with the Economy Burrow from Hammock Gear. It's a few bucks more than popular alternatives like the ENO Spark, but well worth the upgrade. The minor extra investment will upgrade you from a mediocre synthetic quilt to pillowy-soft 800 fp duck down with a more-durable 20D calendared nylon taffeta shell. You'll sleep warmer, your quilt will last longer, and in the end, your wallet will agree you made the right call.
The Economy Burrow features a half-taper design with vertical torso baffles to ensure proper side coverage down to your hips. The tapered footbox saves weight, keeps your feet warmer with a tighter fit, and allows you to choose between a zippered or sewn design. The zippered footbox is more versatile with the option to increase the airflow on warm nights, while the sewn footbox is best for cold sleepers and cold-weather adventures. It's designed specifically for use with a hammock and underquilt, though it includes standard grosgrain loops along the sides that you can use to attach to a sleeping pad for ground sleeping.
Check Current Price
Tech Specs
Temperature Rating – 40℉, 30℉, 20℉, 10℉, 0℉
Insulation – 800fp duck down
Material – 20D calendared nylon taffeta
Length – 67" (Short), 74" (Regular), 79" (Long)
Weight – 16 oz – 31 oz
Hammock Camping Nirvana
Sign up for Weekend Wanderer to join 10,000+ readers getting epic travel ideas every week.
---