We research, test and evaluate outdoor gear based on a number of factors, including our writers' experience and expertise, trusted user reviews and more. We may earn a commission when you make a purchase through our links. See our editorial policy to learn more.
---
Nobody likes soaked gear and a soggy sandwich.
Keeping your gear dry is a challenge for every type of outdoor activity. Even if rain isn't in the forecast, we all know Murphy's Law — whatever can go wrong, will go wrong. If life hasn't taught you that lesson yet, just be patient.
A standard waterproof backpack should be enough to keep your gear dry if you get caught in the rain, but basic waterproofing is no match for prolonged exposure to water. At a certain point — whether it's an Arizona monsoon or an accidental tumble into the lake — water tends to find a way to seep through standard waterproofing.
Unless, of course, you have a dry bag. With an airtight zipper, hardy fabric, and a welded construction, a dry bag will keep your gear safe and dry through anything Poseidon throws at you.
Here's the thing with dry bags, though: they ain't cheap. At least, the good ones aren't. It takes some serious engineering for a bag to be fully submersible, and quality materials and craftsmanship don't come cheap. Think about it — if you're gonna stash a $1,000 smartphone, a $600 DSLR camera, or a $1600 laptop in your bag, isn't it worth investing in a little extra protection?
As long as you're nodding your head yes, keep reading. We took a look at all the self-proclaimed dry bags out there, and scratched out the ones that don't fully live up to the name. In short, if it couldn't take a dip in the lake, it didn't make the cut.
Unsurprisingly, what started out as a pretty long list wound up with just 7 worthy contenders. We won't tell you which one is best for you — that depends on your needs, personal preferences, and budget — but rest assured that if you purchase any of these dry bags, your gear will be as dry as the prohibition. Spend a little extra on one of the premium dry bags on our list, and that promise will extend for years of outdoor adventures.
YETI Panga Backpack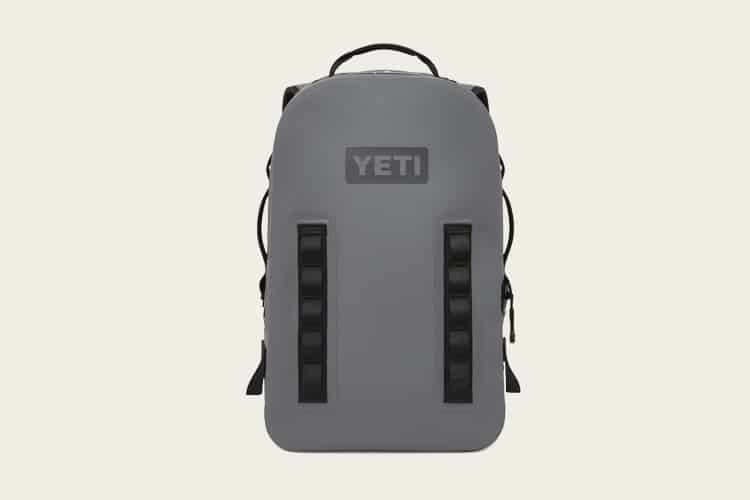 YETI dominates every market they waltz into, so it shouldn't come as a surprise that the company's Panga Backpack is the #1 dry bag backpack on the market. It won't keep your drinks cold, but it's designed to be just as airtight and indestructible as their world-famous YETI coolers.
The Panga Backpack is 100% waterproof and fully submersible. The HydroLok™ Zipper locks out water to keep your gear bone dry, while the terminal end of the zipper features U-Dock™ technology for an airtight seal. The ThickSkin™ Shell is constructed with high-intensity nylon and thick TPU lamination for an abrasion- and puncture-resistant finish.
With a 28-ounce capacity, the Panga Backpack is the perfect size for a day pack. Inside, you'll find a stowaway mesh pocket to keep your valuables safe, dry, and tucked away, as well as an interior sleeve for organizing on-the-go essentials.
On the outside, the Panga Backpack features QuickGrab™ Lash Points and custom MetalLock™ Hardware that's tough as nails. The ergonomic DryHaul™ Shoulder Straps are as durable as they are comfortable, and the chest straps and waist belt are both removable.
While you often have to pay a steep premium for the YETI name, the Panga Backpack is actually priced on par with the other premium dry bag backpacks on the market. If you need greater carrying capacity, consider upgrading to a Panga Duffel — available in 50L, 75L, and 100L capacities — all of which can be worn around your shoulders like a backpack.
Check Amazon Price
SealLine Boundary Dry Pack
For the best value, go with the Boundary Dry Pack from SealLine. These guys started making waterproof bags for the maritime industry in 1986, so they know a thing or two about keeping gear dry when you're on the water.
The Boundary Dry Pack is a simple, durable waterproof portage pack. It's fully submersible thanks to 100% waterproof materials, welded seams, and an updated DrySeal™ roll-top closure. The 35L model secures with a single top buckle, while the 65L and 115L models utilize side compression straps for an even better seal.
The Boundary Dry Pack features an all new suspension system designed to lighten the burden of hauling your gear from the canoe to the campsite. The padded shoulder straps are comfortable, and the straps and harness are completely removable for convenience. Inside, the light-colored interior makes it easy to identify the contents and find what you're looking for in a hurry.
You can find dry bag backpacks that are cheaper than the Boundary Dry Pack, but that's the problem — they're cheap and unreliable. The Boundary Dry Pack may cost a little more than the budget bags at Walmart, but it's worth it for a reliable waterproof seal. Consider this the minimum standard for dry bag backpacks.
Check Amazon Price
Watershed Westwater
When you need a monster waterproof backpack that can store several days' worth of gear and supplies, go with the Watershed Westwater. It's fully submersible, and there's plenty of interior space to outfit extended rafting trips.
The Watershed Westwater is constructed with PU-coated nylon ripstop, and has an airtight roll-top closure system to ensure water doesn't sneak in when the pack plunges into the water. The top lug handle is mighty durable, and the straps and waist belt are removable.
Looking for a smaller day pack that's fully submersible? Downshift to the 21L Watershed Big Creek. It's just as rugged and reliable as the Westwater, but in a smaller size that's perfect for a few towels and a camera.
Check Amazon Price
Dakine Cyclone II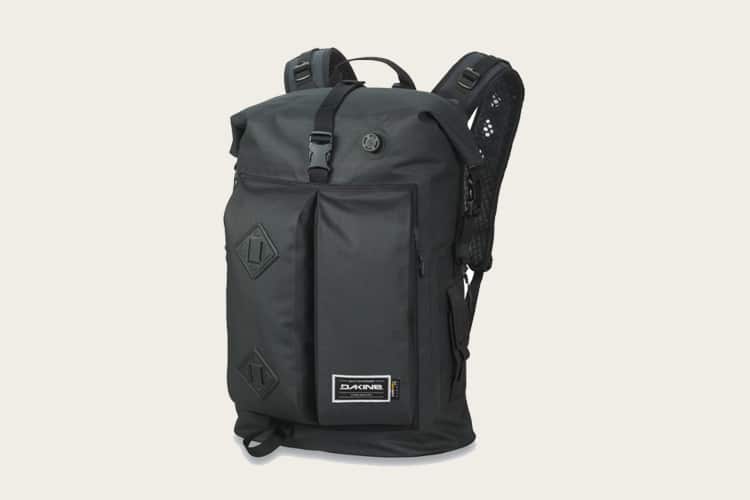 For a more casual dry bag backpack that's perfect for biking in the rain or a day at the beach, check out the Cyclone II from Dakine. The Dakine brand is ubiquitous with surfing, so it'll look right at home sitting in the sand while you catch a few waves.
The Cyclone II keeps stormy weather and rising tides from soaking your gear thanks to a welded construction and roll-top closure. The roomy 36-liter interior features a non-padded laptop sleeve that can hold a 15-inch laptop. There's also a two-way purge valve, allowing you to compress the bag to fit into small spaces or pump it up to float if you drop it in the lake.
On the outside, the Cyclone II features outer stash pockets with water-resistant, PU-coated zippers to protect your valuables from splashes. There's also a mesh side pocket where you can stash a water bottle or extra layer. Keep in mind that neither of these are waterproof like the main compartment, though, so if your bag takes a dunk your outer gear may get wet.
The Cyclone II delivers a comfortable carry with a breathable, ergonomic back panel and shoulder straps. When you're sporting a hefty load, use the sternum straps to provide some balance. The Cyclone II also features an integrated board carry system that mates with Dakine travel board bags.
Check Amazon Price
Patagonia Stormfront Backpack
Patagonia makes some fantastic waterproof gear, and their Stormfront Backpack represents the highest level of waterproof protection in the lineup. It won't stop your kayak from capsizing, but it'll keep your gear perfectly dry if you find yourself treading water.
The Stormfront Backpack is fully submersible thanks to a TIZIP® closure, welded construction, and a burly 100% nylon exterior that's double-protected with a single-sided TPU coating and DWR finish. Whether you're biking through the rain or camping creekside, you'll never have to worry about water seeping into this bad boy.
On the inside, the Stormfront Backpack is large enough for a 15-inch laptop and more, with a glued-in zippered mesh pocket to organize your valuables. On the outside, there's a convenient water-resistant stash pocket and two exterior web loops that can hold a rod tube. The back panel and shoulder harness are ergonomic, and the latter is fully adjustable with tool attachment and storage capabilities. There's a removable waist belt, and the backpack is compatible with Patagonia's Convertible Fly Fishing Vest.
Check Backcountry Price
Simms Dry Creek Z Fishing Backpack
When the rains fall and the waters rise, you can trust the Simms Dry Creek Z Fishing Backpack to keep your gear safe and dry. The fully waterproof, welded design seals out every drop of water, and the rugged exterior can take a backcountry beating. It's puncture-resistant, scratch-resistant, and fully submersible thanks to the TIZIP® zipper.
Organization is key for fly fishers, so Simms included plenty of organizational features to keep your pack squared away. There are stretchy interior pockets to cut down clutter and keep your valuables in one place, and exterior lash points and stretch cording for wet storage. You'll also appreciate the roll-up strap retainer that reduces line catchers on the adjustment straps.
Whether you're on the river for a few hours or a full day, the Dry Creek Z Fishing Backpack won't cramp your comfort or style. The cushioning on the shoulder straps is comfy and breathable, and the water-resistant back panel will keep your back cool all day long.
Check Current Price
NRS Bill's Bag Dry Bag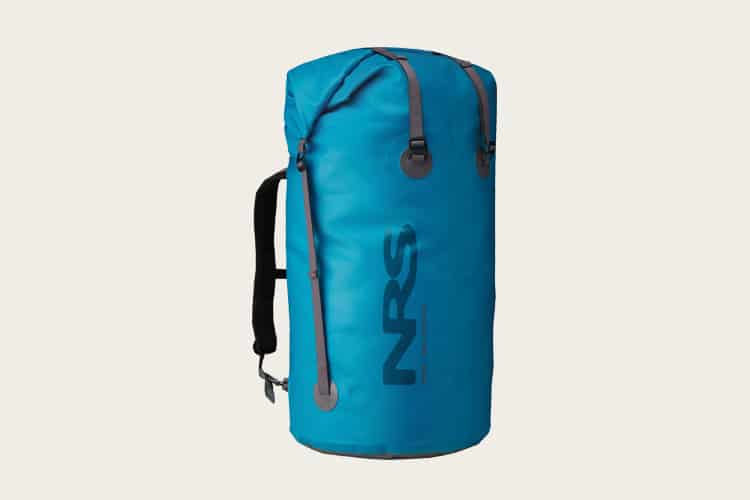 Outfitters, guides, and weekend warriors have been trusting the NRS Bill's Bag Dry Bag to keep their overnight gear dry since 1977. Trip after trip, year after year, this workhorse continues to withstand the test of time. It's built to outlast a generation of adventures, and there are plenty of satisfied customers out there who can attest to that.
The Bill's Bag Dry Bag is constructed with a heavy duty 21-ounce TobaTex body and reinforced 34-ounce TobaTex bottom. The StormStrip™ closure system delivers a confidant seal while allowing for easy top-loading access. The aluminum fasteners on the compression straps seriously boost the bag's durability by eliminating the hassle of busted buckles.
With a gargantuan storage capacity of 110L, the Bill's Bag Dry Bag has more than enough room for your clothes, sleeping bag, and supplies. It's expandable to maximize storage capacity, and can be cinched down with four compression straps to stabilize your gear. The backpack harness straps are adjustable and removable, and the padded shoulder pieces make carrying your gear long distances fairly comfortable.
Check Amazon Price
Explore More Gear
Sign up for Weekend Wanderer to join 10,000+ readers getting epic travel ideas every week.
---