We research, test and evaluate outdoor gear based on a number of factors, including our writers' experience and expertise, trusted user reviews and more. We may earn a commission when you make a purchase through our links. See our editorial policy to learn more.
---
No campfire ring? No problem. Thanks to portable fire pits, you can bring the campfire with you.
Every outdoor setting is better with a toasty fire to gather around. From cooking to keeping warm, there's something about the relaxing crackle of a fire that instantly makes the experience more enjoyable. Backyard barbeques, beach bonfires, and the quintessential campfire cookout are best matched by an open flame.
The problem is, there isn't always a campfire ring around. Enter: the portable fire pit.
Portable fire pits are just that — portable. These fire pits are fully packable, meaning you can easily transport them with the rest of your gear. Keeping in line with the motto pack it in, pack it out, they can also help you leave no trace.
Let's be clear: Solo Stove is probably the most popular and highest quality portable firepit on the market, but it's also good to see options at other price points for more variety.
Ready to bring the heat? Here's a look at our top picks for the best portable fire pits, and the best Solo Stove alternatives and competing fire pits.
Related read: 12 Best Cold Weather Tents for Winter Camping
1. Fireside Outdoor Pop-Up Pit
Lightweight and packable, the Campfire Defender Pop-Up Pit from Fireside Outdoor is an excellent option for the car camping family looking to roast some s'mores and get in some quality bonding time. From setup to tear-down, this portable fire pit delivers at an affordable price.
At a glance this stainless steel fire pit may not look like much, but don't be fooled. Clocking in at eight pounds, the fire pit is remarkably strong and can hold up to 15 times its weight — 125 pounds to be exact. Take it out of the carrying case and you can have it set up and ready to go in 60 seconds flat.
Once lit, the proprietary Fire Mesh allows air to flow through the fire, increasing burn efficiency while decreasing the smoke factor.
One of the features we particularly enjoy about this fire pit is its exceptionally fast cool-off time. In a mere 90-seconds, this portable fire pit can go from burning hot to completely cool. That means there's no need to hang around camp when you're ready to go.
Check Amazon Price
2. Flame Genie
While the Solo Stove reigns supreme, the premium price isn't for everyone. For a more affordable option, we're digging what the Flame Genie has to offer. A similar concept to the Solo Stove Bonfire, this portable fire pit comes at a fraction of the cost.
The patent-pending Flame Genie consists of a two-cylinder design that optimizes air intake and utilizes secondary combustion much like the Solo Stove. This in turn produces a clean, practically spark- and smoke-free fire.
Unlike the Solo Stove, the Flame Genie is fueled by wood pellets rather than firewood. Toss in 17-pounds worth of pellets and this 19-inch diameter stove will burn for up to 3-hours.
Weighing in at about 27 pounds, the Flame Genie is available in a black galvanized finish or stainless steel.
Check Amazon Price
3. Snow Peak Pack and Carry Fireplace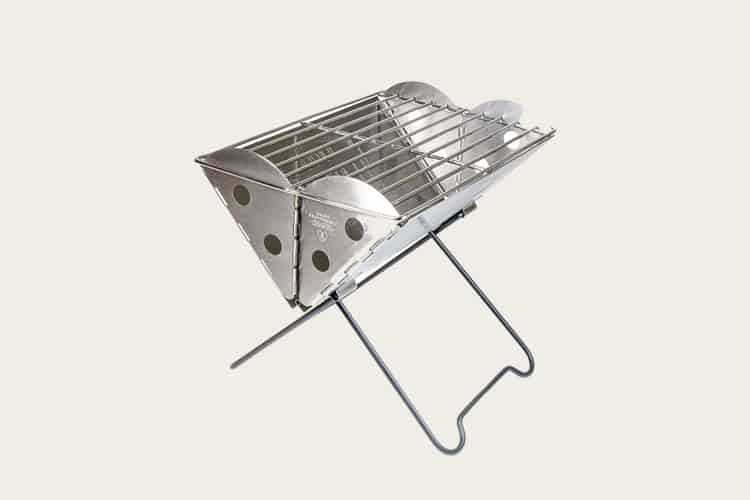 Known for producing lightweight outdoor cookware, Snow Peak offers one of the most packable fire pits around with the Pack and Carry Fireplace. Leaving the bulk to the wood, the Pack and Carry Fireplace features a slim construction that's just begging to be brought along for every adventure.
Folding down flat, the Pack and Carry Fireplace is incredibly compact in comparison to its competitors. Pack it in with the rest of your camping gear and you won't have to think twice.
Made with stainless steel, this portable fire pit is as easy to set up as it is to carry. Simply unfold, load up the wood, and start burning. There are also a variety of grilling accessories should you choose to fire up this bad boy for your dinner.
Available in small, medium, and large, the weight will range from roughly 4- to 12-pounds, making it perfect for practically all of your outdoor activities. While we wouldn't typically carry a fire pit on a backpacking trip, it's worth considering the small 4 pound option for casual, short-distance trips.
Check Amazon Price
4. Primus Kamoto Open Fire Pit
Having been on the block since 1892, the folks over at Primus know a thing or two about outdoor cooking. If you're looking for some heat as well as an open flame to cook over, take a look at the Primus Kamoto Open Fire Pit.
This fire pit operates on wood and charcoal, so it's easy to load it up, get the fire started, and cook over an open flame. The Kamoto comes equipped with a cooking grate, while the powder-coated steel bottom plate serves as an ash collector so you can clean up the mess without leaving a trace.
As for the fire pit itself, it weighs at just under 14 pounds and folds up for easy transport. It also comes with built-in handles for convenience.
Constructed from stainless steel, the fire pit offers side wind protection as well as an elevated base for proper airflow to better fuel the fire.
Check Amazon Price
5. UCO Flatpack
UCO Gear has called Seattle home since it came on the scene in 1971. Standing for "Utility, Comfort, and Originality," they create useful outdoor, home, and emergency preparedness goods.
The UCO Flatpack is a 2-in-1 portable grill and fire pit that's packable in every sense of the word. At 3.2 pounds it's exceptionally lightweight and folds up to less than 1.5-inches thick.
The UCO Flatpack is built with quality stainless steel, so you won't find it rusting or corroding after repeated use.
Taking a mere 30-seconds to set up, you can toss the grill on top and get cooking. The sides act as a windbreak while the base keeps the whole set sturdy.
Compact and extremely portable, this fire pit is an affordable option for the outdoorsy couple in need of a little heat.
Check Amazon Price
6. Pyro Cage Mini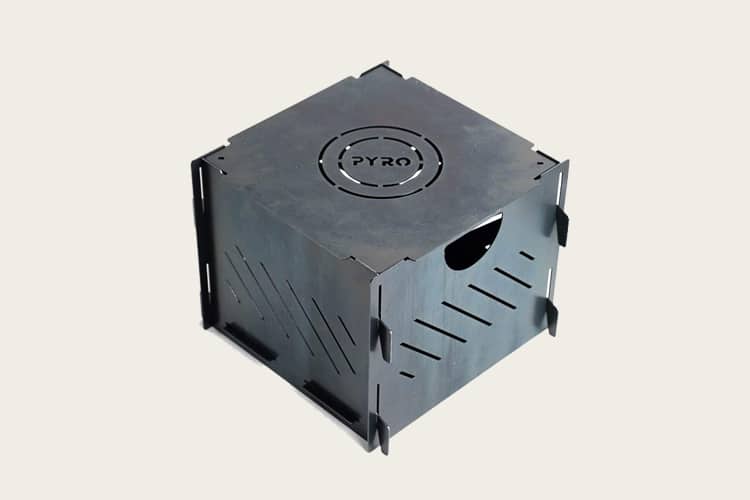 With a name like Proud Pyro, you know you're in for some heat. This family-run business operating out of Pittsburg, Kansas, specializes in steel-made products. From concept to shipment, they take part in every part of the process for the products they sell.
If you want fire, Proud Pyro has you covered. Their Pyro Cage Mini is one of the most intriguing portable fire pits we've seen. Featuring a unique boxed design, this fire pit fully contains the burning contents inside.
Folding down flat, it's comprised of four slotted panels that piece together like a puzzle to construct the 3D design. Once assembled the box measures 13.75″ x 13.75″, so it can burn logs up to 13 inches long. This fire pit is also constructed from 14-gauge stainless steel so it can withstand a beating.
Keeping all the wood, embers, and ash inside, this fire pit is an excellent option for the fire starter who wants to optimize packability while also ensuring the fire is secure.
Check Price
7. Outland Firebowl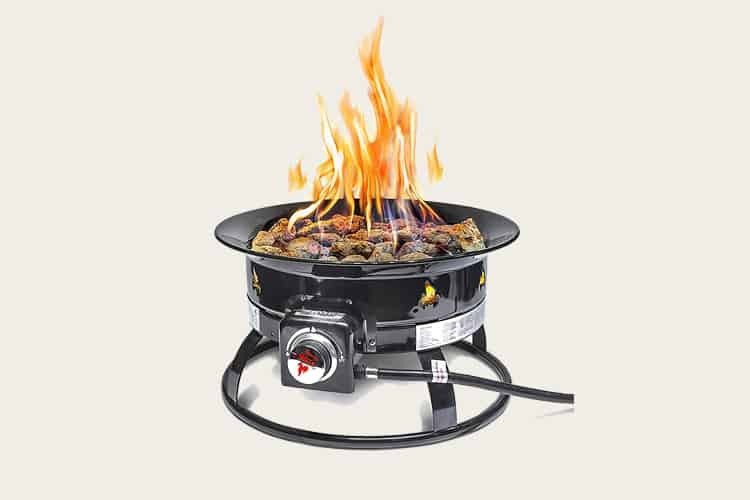 If burning firewood isn't an option, you can still sit around a warming fire with the Outland Firebowl. Unlike the other fire pits on this list, this one runs solely on propane, so there's no need to worry about sparks or leftover ash.
While it may not produce the same effects of a real fire, the Firebowl still looks like one. The stainless steel fire pit comes with about four pounds of lava rocks that make the flames to dance as the stainless steel burner produces a flame.
To power up the Firebowl, attach a standard propane tank (not included) to the attached 10-foot hose and light it up. There's an adjustable chrome valve attached to the front so you can go for the full bonfire effect or smoldering embers ambiance.
By leaving the wood out of the equation, there's a good chance you can still have a fire even during a burn ban. Just be sure to check what the restrictions are in place before turning up the heat.
Check Amazon Price
8. Stahl Camper
Based out of Portland, Oregon, Stahl Fire Pit has found a niche in the market with their "modern, clean, and simple" metal firepits. In particular, it's their Camper that beckons us like a moth to the flame. One look and you'll agree this fire pit has got style.
Adding flare to the ambiance, the Stahl Camper has a sleek modern look with a portable design. It's constructed from five lightweight aluminum plates that slide together for easy setup — no screws required.
At 8″ x 20″ x 20″, the Camper is Stahl's smallest portable fire pit and just the right size for the couple looking to stay warm. You can also opt for the additional Grill Plate to cook up some grub.
Check Current Price
Discover More Outdoor Gear
Sign up for Weekend Wanderer, our free email newsletter offering thousands of readers epic travel ideas every week.
---