We research, test and evaluate outdoor gear based on a number of factors, including our writers' experience and expertise, trusted user reviews and more. We may earn a commission when you make a purchase through our links. See our editorial policy to learn more.
---
Wood-burning stoves aren't for every backpacker, but they do offer a low-tech cooking method fed by the good stuff: natural fuel.
Today's backpacking brands — MSR, Jetboil and Snow Peak, among others — are constantly finding new and innovative ways to cook backcountry meals.
But for backpackers looking for a more primitive angle, using a wood-burning stove is a great way to cut the space used by fuel canisters and rely on the biomass mother nature provides.
They're not ideal for all environments, including areas with fire bans (our dear Grand Canyon) or consistently wet conditions, but for the right scenario the best wood-burning stoves offer an old-school alternative to common fuel-fed ones.
Here's a look at 7 of our favorite options out there today.
1. Solo Stove Lite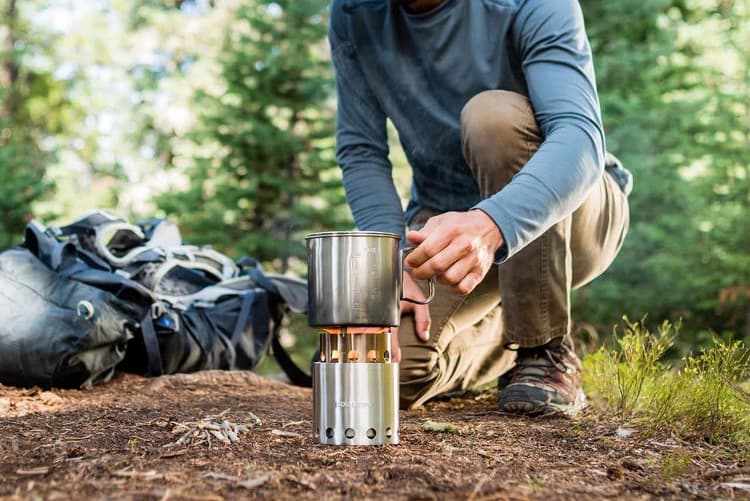 Solo Stove has been around for less than a decade, but their rabid fanbase would suggest they've been churning out the goods for far longer. The Solo Stove Lite is their smallest and lightest stove available, and at 9 ounces and 4.25" high, it won't take up much room in your pack.
The Lite is made from a durable 304 stainless steel that's made to go through the ringer — and then some. Double-wall construction and strategically-placed air holes at the bottom makes it easy to get your fire going. The stove's design maximizes flame efficiency too. If you've cooked over a large, open campfire, you'll appreciate the way the Solo Stove Lite laser-focuses heat and energy.
"It burned nice and hot, and in less than a minute the added airflow from the holes in the top had a nice flame as shown on the videos," said one reviewer. "It reminds me of a catalytic converter on a wood stove."
Despite its moniker, the Lite isn't the lightest option we reviewed, and it's also good to use for more than one person, depending on the meal and weather conditions. Its ventilation design creates little smoke and the ring on top makes for a solid windbreaker.
Solo Stove doesn't pull any punches: a lifetime guarantee and hundreds of glowing reviews speak for themselves, and for those reasons it's often considered the go-to option for backpackers across the country.
For accessories, check out the Solo Stove Pot 900, and for larger groups, try the Solo Stove Titan, a heavier, slightly bigger option that's still portable enough to haul into the backcountry.
Check Current Price
2. Bushbuddy Stove
Like the Solo Stove Lite, Bushbuddy uses a double-wall design and construction for an efficient, slow-burning but hotter fire that uses its fuel efficiently. Their performances are similar, but the Bushbuddy Stove has a few things going for it: it's nearly 3 ounces lighter (6.4 oz) and made in the USA.
For some backpackers, that's enough convincing to go with the Bushbuddy, but it also comes with a slightly higher price tag. Bushbuddy claims to be the first "double-walled and heat-shielded stove" that doesn't need batteries, and their history suggests they've been working at it for more than 20 years.
To this day, they build their stainless steel stoves by hand in a place that's about as remote as it gets for a company shipping worldwide: Tok, Alaska.
Check Current Price
3. Littlbug Junior Stove
The Littlbug Junior may seem humble in name, but don't get it twisted: this is ounce-for-ounce one of the most effective, highest-rated wood-burning stoves in production today. It's the lightest of our recommend stoves (5.1 oz) and designed to be easily packed away with a sleeping pad.
Founder Kent Hering began his quest for a lightweight stove after exploring the northern Minnesota wilderness in his 40s. Today, Hering makes a small line of stoves and goods – including a larger Senior stove – that combines form and function where most stoves miss the mark.
The Junior breaks down into four stainless steel semi-circular panels that are thin enough to seem insubstantial – until you put it together. The base and pot holder are sturdier than they appear, and the diameter of the stove offers plenty of space for larger fuel materials. It also works well with alcohol and other fuels, though there's a primitive pleasure in seeing good ol' twigs, leaves and dry fuel fill this bad boy up in flames.
The stove held its own in a test conducted by Backpacking Light, and if that's not convincing enough, 10% of profits from the American-made Junior Stove goes to outdoor charities like Wilderness Classroom Educational Adventures and Wilderness River Expedition Art Foundation (WREAF).
Check Current Price
4. EmberLit UL Original Titanium Stove
"In my opinion, a good outing means coming home with dirt under your nails and the smell of campfire in your clothes," says Emberlit founder Mikhail Merkurieff. With their UL Original Titanium Stove, you might also add full belly to that list.
This wood-burning stove clocks in at 6.9 ounces and unlike cylindrical stoves, disassembles into panels for flat, easy storage in your pack. An all-titanium build keeps things light and able to deal with corrosion well even with heavy use, and the stove's shape helps it hold pots and pans that may be unstable on smaller stoves.
It's made in the USA, backed by a lifetime guarantee, and works well with other fuel sources like alcohol or fire starter bricks.
Check Current Price
5. Vargo Hexagon Wood Stove
The Vargo Hexagon forgoes double-wall construction for a simple, cone-shaped product that's about as close to a mini campfire as you'll get. Simply snap in the panels, lay it on the right surface and add tinder for a quick and easy fire.
A small door on the side controls air flow and heat, and the cone design pushes heat up efficiently toward your pot. The Hexagon is ideal for solo backpackers and those looking for something straightforward, but it lacks some of the design efficiencies of the Solo Stove Lite.
Still, it's a lightweight wood-burning stove — 4.1 ounces in titanium, 7.4 ounces in stainless steel — and capable of breaking down flat, so it won't add bulk to your pack. The titanium version cools faster, but it's also less dense, making the stainless steel a durable long-term option.
"I watched a lot of gear videos before deciding to purchase this stove for my North Country Trail 100 mile challenge hike," said one reviewer. "If you know how to build a fire, this stove performs admirably."
Check Current Price
6. Bushbox Outdoor Pocket Stove
The Bushbox is a versatile, relatively light (9.5 oz) stainless steel wood-burning stove that also works well with fuel stoves, fire starters and Esbit tablets. It breaks down easily, provides plenty of structure for larger pots and pans and for backpackers on a budget, is one of the least expensive quality stoves on the market.
For having such structured walls, the Bushbox offers plenty of ventilation and air flow to keep your fire burning efficiently, and the grill plate makes containing your blaze easy.
The Bushbox is made by Bushcraft Essentials out of Germany and in their words, "comes with a few scratches from production." Don't we all.
Check Current Price
7. Firebox Nano Ultralight Stove
Versatility is the name of Firebox Nano's game: along with wood, it's the perfect size for Trangia Spirit Burners and other fuel sources. If you're going all-natural, there's plenty of ventilation and floor space to keep a small blaze going strong, and the squared-off body offers great stability to cook with all types of pots and pans.
Firebox uses "thicker material than any of our competitors," but the stainless steel frame still folds down to a quarter of an inch. The hinged design means easy assembly and storage, and its price makes it an attractive alternative to the Solo Stove or Bushbuddy. The lower cost, however, comes with a 30-day return policy rather than a lifetime guarantee.
Check Current Price
Common Questions, Casually Answered
Why go with a wood-burning stove when fuel canisters are so damn easy? 
If we're talking ease of use, wood-burning stoves aren't the way to go. After a long day of backpacking, the allure of a canister stove is obvious. They're quick and painless, and today's fuel-fed options aren't as heavy as they used to be.
But there's a reason some folks prefer charcoal grills over gas, or vinyl records over Spotify. There's a nostalgic appeal to winding back the clock that's not about efficiency — it's about doing something the way it used to be done. There's a feeling of accomplishment that comes with building a fire — albeit a small one — that doesn't usually come from a fuel canister.
That said, there are a few good reasons to go with wood — you won't have to bring fuel, and you won't have to deal with a canister that'll run out after a few hours. They're great for long thru-hikes that would otherwise require you to cache fuel along the way, and lighter stoves can even cut a few ounces from your pack.
Should I go with stainless steel or titanium?
The majority of our recommended stoves are stainless steel because it's thicker, more dense and handles heat like a boss. Titanium is lighter, less dense and may warp after some time, but it's not usually enough to affect the performance of your stove. Titanium also cools faster, if you're into that sort of thing.
In general, both types of stoves can handle the average backpacker's cooking regimen, so it really comes down to your preference for the stove's construction and design. If you anticipate using the stove heavily, go with stainless steel to avoid potential warping down the road.
Anything else we should know?
Some stoves only hold pots and pans to a certain size, so it's worth checking inventory of your cookware before committing to anything. Be sure to also stock on proper fire starting supplies and potential backup fuel sources in case weather conditions limit your options.
Explore More Gear
Sign up for Weekend Wanderer to join 10,000+ readers getting epic travel ideas every week.
---