We research, test and evaluate outdoor gear based on a number of factors, including our writers' experience and expertise, trusted user reviews and more. We may earn a commission when you make a purchase through our links. See our editorial policy to learn more.
---
Sleeping bags are great for cold overnights, but it's tough to beat wool camp blankets when you're chilling around the campsite.
A durable all-natural fiber, wool has proven itself time and time again to be one of the warmest fabrics around. Turn it into a camping blanket and you've got yourself mother nature's recipe for fighting off the bitter cold.
Do a quick search and you'll notice wool camping blankets come at a hefty price, but we're here to tell you the benefits are well worth the investment.
As long as you follow the care instructions to preserve your investment, you'll have an ultra-durable, magnificently comfortable camp blanket for years to come.
Why Wool Rocks
In case you're not familiar wool, there's a plethora of reasons you should (and probably will) love it.
Wool has this amazing ability to react to your body temperature, which means you stay warm in the winter and cool in the summer.
It's breathable, odor-resistant, moisture-wicking, 100% renewable, and fire-resistant. Wool is also wrinkle-resistant, though wrinkles aren't usually the first worry on our minds when you're camping.
Combine all these features and wool makes the perfect fabric for a camping blanket, or a travel blanket when you're cozying up in a treehouse on Airbnb or enjoying a Southwest road trip.
Whether you're looking for a thick wool blanket to stay warm during a burn-ban or want a cozy space to sprawl out on, there's a wool blanket out there for you.
Here are our top picks for the best wool camping blankets.
Alpaca Threadz
When Covid-19 forced entrepreneurs and world-travelers LeAnn and Brandon Morris to pivot away from their successful travel company, the result was Alpaca Threadz, a fair-trade brand supporting traditional blanket-making communities in Peru and Ecuador.
Today, the business not only helps support these talented artisans, but introduces campers from around the world to the beauty, warmth and durability of alpaca wool. Their blankets are made using traditional techniques and equipment, like 100-year-old looms, and each pays homage to the wool-craft's storied Andean roots.
If you're skeptical about alpaca wool's perks, don't be: the fibers are lightweight yet strong, insulating but flexible. According to Sewport, alpaca wool is "is considered to be one of the warmest types of animal fibers. In addition, this type of wool is highly water-resistant, and it is hard to set on fire."
If that doesn't scream camping-appropriate, we don't know what does.
One of their newest collections is the Alpaca Camp Throw, a thick but lightweight wool camp blanket that's just as nice around the house as it is around the campfire. It's folds down easily and the light fibers make it easy to haul around or keep in the car. It may be a camp throw, but it begs to be used just about everywhere you'll go.
PROMO: use code TerritorySupply25 to save 25% on your next Alpaca Threadz blanket.
Check Price
Arcturus Military Wool Blanket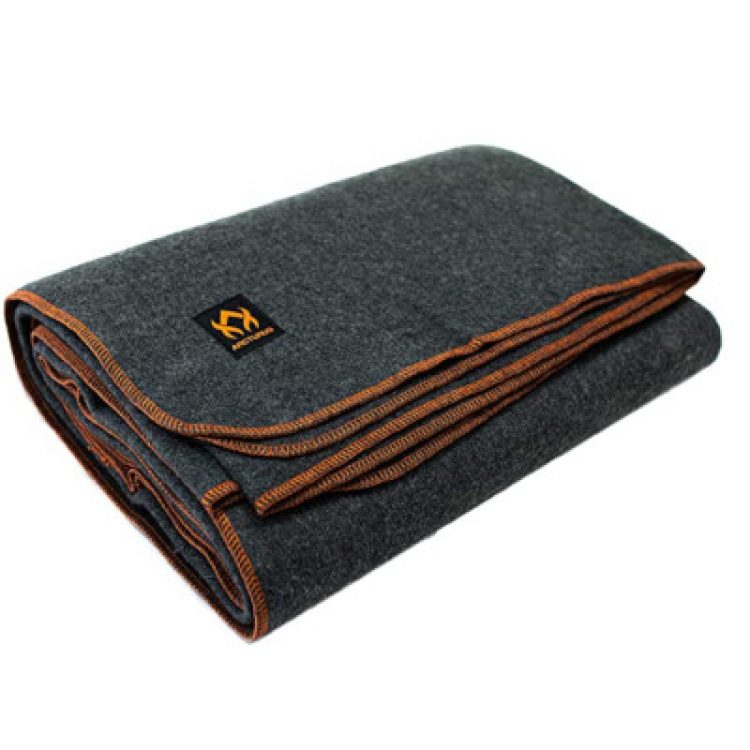 If you're shopping on a budget, consider this low-key military blanket from Arcturus — it's 80% wool and used by thousands of campers as a go-to alternative to more expensive throws.
Despite its low cost, it's still a high-quality wool blankets and future customers should expect even better results, as the latest version of the blanket was updated with plenty of feedback from past users. It may not be a recognizable household brand name like Woolrich or Pendleton, but this blanket gets the job done, and for some campers, that's all that matters.
Check Amazon Price
Best Wool Camping Blanket
Pendleton Yakima Camp Blanket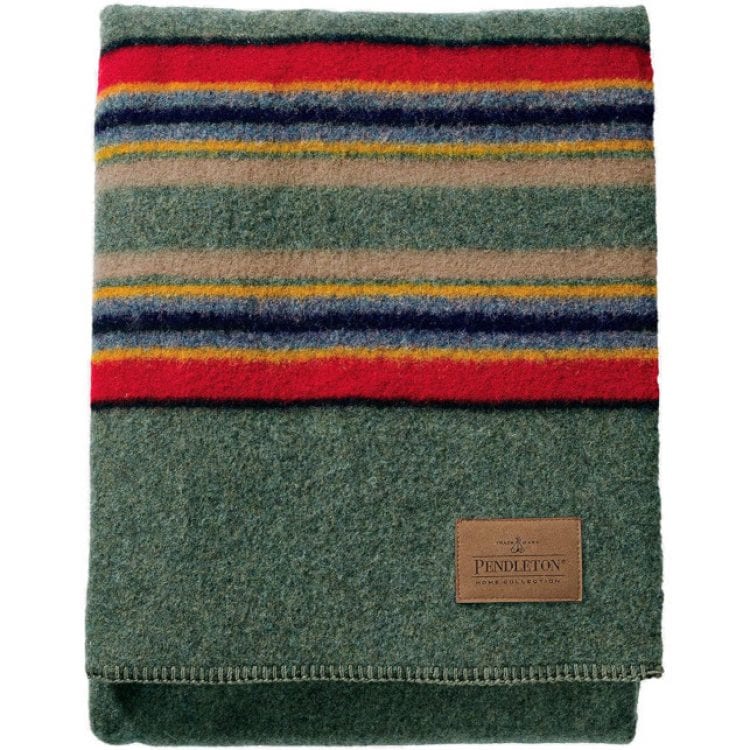 You can't talk wool camping blankets without mentioning Pendleton, a legendary manufacturer that's been weaving wool for well over 100 years. Highly esteemed for quality and easily recognized by their Native American-influenced patterns, they've become the gold standard in the industry.
Their Yakima Camp Blanket is the archetype of all wool camping blankets: it's the OG that "can't stop, won't stop." The Yakima is 86% wool and 14% cotton, designed for durability and warmth when you need it on cold starry nights.
It's available in several colorways – green heather, lake and mineral umber – and as a twin or queen-sized blanket. The Yakima's woven in the USA at Pendleton's iconic mills in the Pacific Northwest and made to last for years of camping trips.
Check Amazon Price
Best 100% Virgin Wool Camping Blanket
Filson Mackinaw Wool Blanket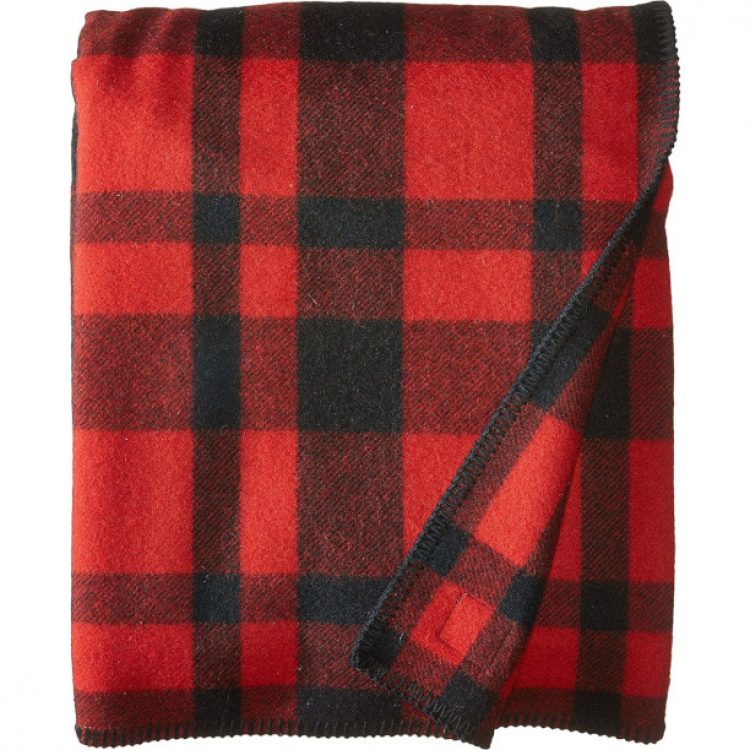 C.C. Filson was a pioneer in the outdoor outfitting industry. In 1897, he got his start supplying goods for the gold-thirsty hunters of the Klondike Gold Rush. Since then, his business has expanded into a thriving enterprise known for reliability and durability.
The timeless red and black buffalo plaid of the Filson Mackinaw Wool Blanket speaks to the inner lumberjack in us. This wool blanket is comprised of 100% virgin Mackinaw wool and completely sourced from the USA.
Dense and water repellent, this wool blanket will keep you warm for stargazing all night long. The edges are serged so they won't fray and the durable nature of the wool means this blanket will be around for a lifetime of camp-filled memories.
Check Amazon Price
Woolly Mammoth Explorer Blanket
Whether you're an emergency prepper or backcountry explorer, the Explorer Blanket from Woolly Mammoth Woolen Company is a solid piece of gear to have on hand. Their Explorer Collection of wool blankets is simple yet rugged, and built with the outdoors in mind.
Weighing in at 4 pounds, the Explorer Blanket stretches out to 66″ x 90″. It's made from 80% virgin merino wool and constructed with a twill weave to make it more durable. This is strengthened further by a nylon/polyester blend.
To increase longevity, Woolly Mammoth Woolen Co. incorporated a double-stitched overseam and whipstitch edging. Available in earth tones like hunter green, tan, and grey, you can use this blanket for extra insulation at camp without drawing unwanted attention to yourself.
Check Amazon Price
Pendleton Motor Robe
If your idea of camping involves mild weather, a good lightweight alternative to the Yakima is Pendleton's Motor Robe. It includes a leather carrier and we can only assume that if John Muir carried around a Pendleton, it might look something like this.
The Motor Robe is based on blankets that were once used during chilly carriage rides, so it's ideal for road trips, camping weekends and anything in between. It's an excellent mild-weather cover-up that won't weigh you down with stiff, heavy wool fibers.
Check Amazon Price
Lumberlander Camp Blanket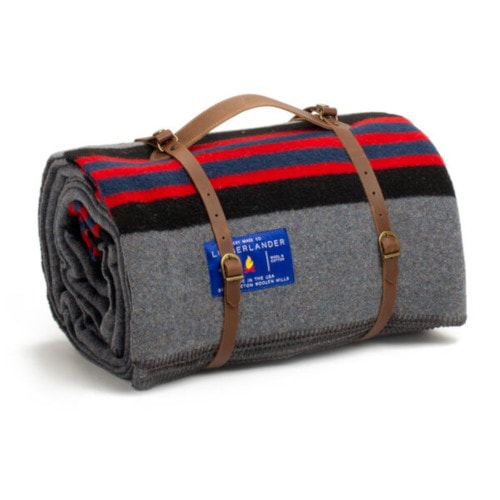 Based in New York City, the Best Made Company is inspiring city folk to get out into nature with their line of outdoor goods and apparel.
When heading to camp, bring the Lumberlander Camp Blanket along. A collaboration with Pendleton Woolen Mills, this wool blanket has all the warmth and room you need to sprawl out around camp.
The Lumberlander Camp Blanket is made in the USA and measures 72″ x 66″. It's comprised of 86% wool and 14% cotton, held together by a whipstitched top and bottom finish. The blend of cotton gives it a softer feel while the domestic wool keeps you warm outdoors.
For easy carry, this wool blanket includes a leather sling so you can roll it up and throw it over your shoulder when carting it to and from camp. Cozy up with it in your favorite camp chair or spread it out on the ground for an afternoon picnic and bask in the sunshine.
Check Price
Faribault Lakefront Wool Blanket
Faribault Woolen Mill Company still operates out of the original 1892 mill with the help of their hardworking fifth-generation craftspeople and modern technology. If you're looking for an earthy wool blanket with a clean design, keep the chill away with their Pure & Simple Alpine Wool Blanket.
As the name suggests, this simple and sleek wool blanket is your ticket to keeping toasty when cool weather strikes. This wool blanket is on the lighter end of the spectrum at nine ounces per square yard. It's made with 100% merino wool, a coveted lightweight fiber that's renowned for its breathability and moisture-wicking properties
Soft and warm, this blanket is made in the USA and is available in twin, queen, and king sizes. Whether you choose black, moss, gray, or natural, this wool blanket looks good and feels even better outdoors.
Check Price
Bouffi Blanket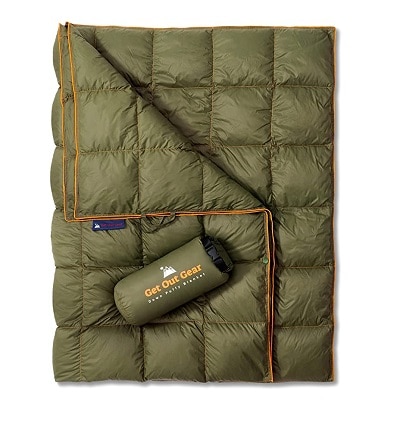 Wool blankets are great for providing warmth and comfort while camping, but there's no shortage of good camping blankets made with down fill and other materials. The Bouffi Blanket is one such throw, designed to get dirty, trap heat and offer versatile uses for all types of car camping trips.
The nylon exterior holds up well even with rugged use, and as a lightweight, easily compacted blanket, it's easy to haul around camp or home. If you've never used a down camp blanket, you may be skeptical of its warming power, but brands like Rumpl, REI and more are proving that down blankets are just as capable as their wool and cotton counterparts.
Check Amazon Price
Gear Up For Your Next Adventure
Sign up for Weekend Wanderer to join thousands of readers getting epic travel and Airbnb ideas every week!
---