We research, evaluate and select travel destinations based on a number of factors, including our writers' experience, user reviews and more. We may earn a commission when you book or purchase through our links. See our editorial policy to learn more.
Was this article helpful?
---
Ditch your tent and embrace the comfort of sleeping on air.
Inspired by Central and South Americans who have been sleeping in hammocks for thousands of years, more campers are giving the ancient practice a try. Hammock camping continues to pick up traction as people realize how much fun (and comfortable) it is to swing between a couple of trees under the stars.
Whether you're a backpacker trying to shed pack weight or just an adventurer looking for something new, you're likely to find hammocks surprisingly comfortable. They're an excellent alternative to sleeping on the hard ground, and open up a range of new campsites by allowing you to camp over rocky terrain, steep inclines, and even water.
Oh, and those ground ground bugs, snakes, and critters that like to invade your campsite? Forget about it since you'll be blissfully above it all. You'll probably want a bug net to keep the mosquitos at bay, but even with a bug net a hammock setup is still usually lighter in weight than a backpacking tent.
Whether you're sold or skeptical, take a look at our favorite hammocks and picture yourself swinging between the trees in one of these. We're pretty sure you'll like it—especially if you opt for one of our winners below.
Editor's Choice: Warbonnet Blackbird XLC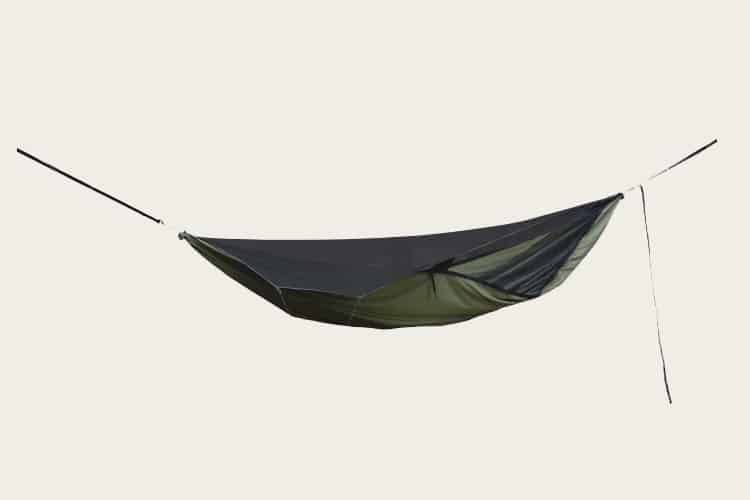 Warbonnet Outdoors is one of the best cottage companies in the business. They hand stitch their products in Colorado, employing a rigorous step-by-step quality control process to ensure everything is perfect. You'll pay a little more for their products, but believe us — you get what you pay for with these guys. Their versatile hammocks are built to supply your adventures for years to come.
Warbonnet makes a few gathered-end hammocks, but the Blackbird XLC is our favorite. This extra-long hammock has plenty of space for a 6'6" sleeper, and includes a premium No-See-Um mesh mosquito top. If you're shorter than 6' you can downgrade to the Original Blackbird and save a little money, but we like the extra room you get in the XLC model.
For the Blackbird XLC, Warbonnet uses a specialty 40D nylon ripstop fabric they call Dream-Tex. Built specifically for hammocks, Dream-Tex combines the traditional ripstop weave with a bias-directional diamond grid for maximum comfort and a cotton-like texture. The fabric delivers an excellent strength-to-weight ratio with a little bit of stretch.
The Blackbird XLC features a modular design that allows you to switch out different tops and accessories. When the temperatures drop, swap a winter top for the mosquito net to block out the wind and cold. For maximum winter coverage, try zipping a Warbonnet underquilt protector directly to the top to create a weather-resistant micro climate.
Comfort is king with the Blackbird XLC, so Warbonnet includes an array of features to keep you cozy. There's a 7" strip of fabric/netting across the tops to raise the canopy's edge height above your face, which lets you lay right up to the edge of the zipper while still enjoying plenty of headroom. When the bugnet is attached, it creates a footbox at the bottom for maximum legroom, and elastic side guylines to pull the netting away from your face. There's also an easily accessible storage shelf adjacent to the hammock with two square feet of storage space, keeping your personal items within reach at all times.
Check Current Price
Tech Specs
Asymmetrical design
Dimensions: 112" x 62"
Weight: starting at 1 lb. 6 oz.
Capacity: depends on configuration
Bug Net: included
Cover: not included (coordinates with the Warbonnet Superfly Tarp)
Straps: optional add-on
Best Custom Hammock: DutchWare Chameleon
Hammock hangers who know exactly what they want will love the custom DutchWare Chameleon. Every component on this 11-foot hammock is developed in-house to create a versatile, modular hammock that adapts to any environment. With all of the interchangeable accessories, the Chameleon is the only hammock you'll ever need.
The Chameleon features a special zipper system that makes it easy to change between the bug net and vented top cover. On a cloudless night, go with the nanoweave bugnet that blocks out the tiniest parasites while maintaining great visibility. When inclement weather strikes, zip on the Argon 90 top cover to create a wind-proof, water-resistant microclimate.
The secret to the modular system on the Chameleon is DutchWare's patent-pending toothed zipper. The first of its kind, two zipper pulls can be positioned in any place for easy access. You don't have to reach to the top of the hammock to open it, and you can adjust your underquilt from inside the hammock. You can enter and exit the hammock from either side, and it's a piece of cake to remove one accessory and switch to another.
The Chameleon also features a unique tie out system. With adjustable tie outs at the head and feet, the Chameleon achieves the perfect symmetrical shape for a comfortable diagonal sleeping position. There are also tie outs on the sides to maintain tension and keep the bug net off your face, and both are adjustable from inside the hammock. If you want to change the hammock direction, just unsnap the tie outs from the D-rings and move them to the other side.
Check Current Price
Tech Specs
Symmetrical and asymmetrical options
Dimensions: 132" x 58"
Weight: starting at 11 oz.
Capacity: depends on configuration
Bug Net: optional add-on
Cover: optional add-on
Straps: optional add-on
Best Insulated Hammock: Superior Hammock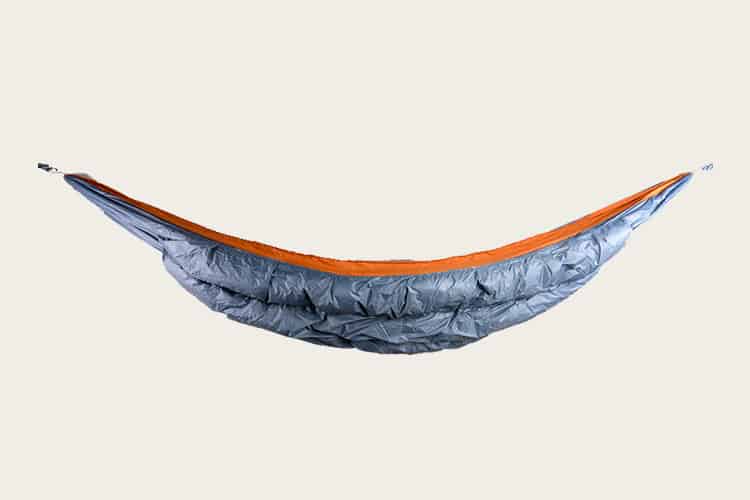 Tired of complicated hammock systems, long setup times, and the infamous Cold Butt Syndrome, Danny Warnock envisioned the ultimate hammock that could eliminate all of these troubles. After years of testing and tweaking prototypes, he finally came up with the hammock of his dreams — the down-insulated Superior Hammock.
Thanks to luxurious and lightweight 800fp goose down, the Superior Hammock can keep your backside warm and cozy down to 30℉. It can get a little toasty on warm summer nights, but it's perfect for anything below 70℉. There's no need for an underquilt when the weather drops, so you can effectively kiss Cold Butt Syndrome goodbye.
The Superior Hammock is designed for an excellent diagonal lay to enhance comfort. There's an adjustable built-in ridgeline, making it easy to dial in the perfect hang angle every time. For a unique twist, the stuff sack doubles as a reversible pillow — just stuff your jacket inside and you're good to go.
While the Superior Hammock doesn't require an underquilt, you'll definitely want a top quilt to stay warm when the weather cools off at night. To help with that, the Superior Hammock comes with a special Snap System that's designed to pair perfectly with their Superior Comforter, Superior Blanket, and even the reversible stuff sack/pillow. Just snap in the accessory, and you won't have to worry about losing your toasty top quilt or pillow while you toss and turn during the night.
Check Current Price
Tech Specs
Symmetrical design
Dimensions: 123" x 58"
Packed Size: 13" x 6.5"
Weight: 2 lbs. 2 oz.
Capacity: 400 lbs.
Bug Net: optional add-on
Cover: not included (coordinates with the Superior Shelter)
Straps: optional add-on
People's Choice: ENO DoubleNest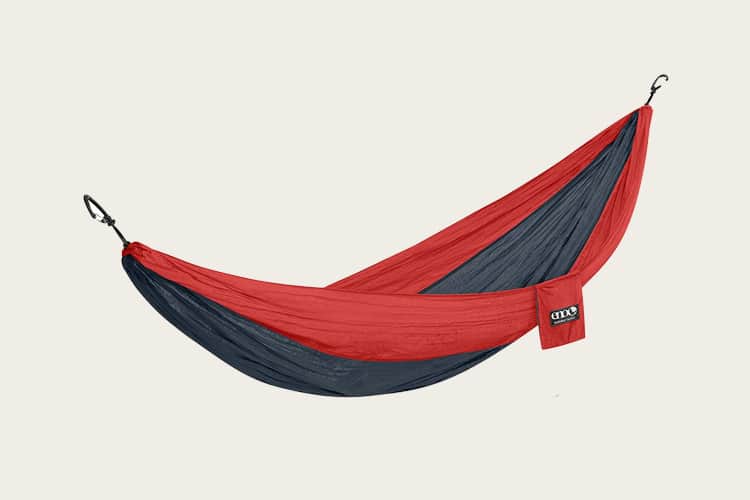 The ENO DoubleNest is easily the most popular hammock on the trail. A great starter hammock for beginners, the DoubleNest is lightweight, packs small, and sets up in seconds.
Thanks to triple-stitched interlocking seams and heavy-duty 70D nylon taffeta fabric, the DoubleNest can easily support up to 400 pounds. It's technically rated for two, but you don't have to share — it's better to stretch out enjoy the palatial hammock all to yourself.
Setting up the DoubleNest is a piece of cake with the lightweight aluminum wiregate carabiners. You'll have to purchase a suspension system separately, but the universal carabiners clip to any solid anchor points and are compatible with most third-party straps.
When you're ready to hit the trail, the DoubleNest stuffs into an attached compression sack. The DoubleNest packs down to the size of a grapefruit and only weighs 19 ounces, making it a perfect choice for backpackers with an eye on pack weight and size.
Check Amazon Price
Check REI Price
Tech Specs
Best Value: Kammok Roo Double Recycled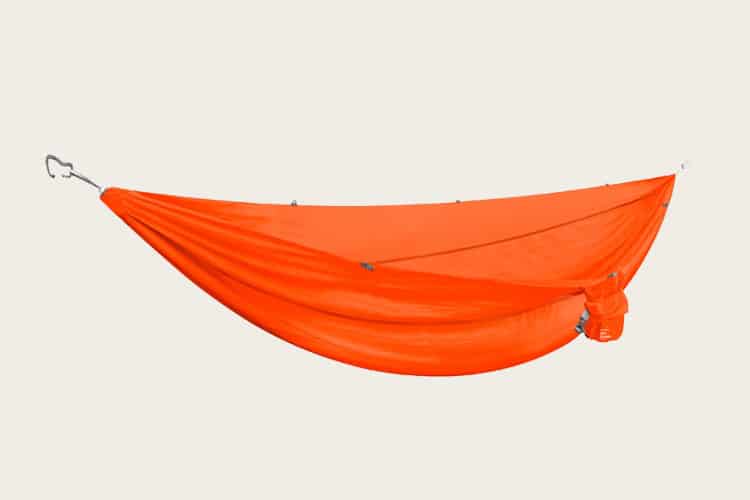 The Kammok Roo Double actually costs a couple bucks more than the popular ENO DoubleNest, but it delivers far more bang for your buck.
The Roo Double uses a proprietary, 100% recycled 40D ripstop nylon fabric called Gravitas™ that's lighter, stronger, softer, and more breathable than the average hammock fabric. Kammok applies a proprietary crinkle treatment that ensures a silky-soft finish and easy packability with the water-resistant stuff sack.
Thanks to a fluorocarbon-free DWR finish, the Gravitas™ fabric fights sweat absorption and eliminates condensation to create a no sweat zone. The fabric's durable, dense weave is abrasion-resistant, and Kammok adds a UV inhibitor to maintain your hammock's bright color season after season.
Designed to ensure the safest and most comfortable sleep off the ground, the Roo Double features a climbing-grade suspension system. The Racer Slings™ are constructed with Dyneema, an ultra strong synthetic fiber that's pound-for-pound 15-times stronger than steel. The patented Kanga Claw™ carabiners are engineered to support up to 5,000 lbs. of force, while the double wire gates ensure your hammock doesn't slip during the night.
In a nutshell, the Kammok Roo may look a lot like the ENO DoubleNest, but it's softer, lighter, stronger, and more comfortable.
Check REI Price
Tech Specs
Ultralight Pick: Hummingbird Single+ Hammock
Designed by an FAA Certified Parachute Rigger, the Hummingbird Single+ Hammock brings parachute tech to the hammock industry for the first time. The result is an unbelievably lightweight hammock that packs down into a ridiculously compact stuff sack — the perfect combination for ultralight backpackers.
Hummingbird makes the Single+ Hammock with uncoated 1.1 oz. calendared ripstop nylon PIA-C-44378 T4. That's FAA-certified parachute reserve material, and it's only manufactured in the USA. It's thin, but with a minimum tensile strength of 50 lbs per square inch it can hold up to 350 lbs. The uncoated fabric keeps it from feeling clammy against your skin, while the fabric's natural windproofing keeps cold breezes at bay.
Those FAA standards apply to the stitching, too. Hummingbird products are lock stitched using mil spec bonded nylon thread. With 7-11 double-stitched seams per inch, you'll get a longer stitch that's less likely to unravel over time. Should a seam ever become compromised, the surrounding stitches pick up the slack.
The Single+ Hammock employs a unique Button Link attachment system to eliminate the bulk and weight that traditionally follows metal carabiner attachments. The result is a lighter, more compressible attachment system that's as easy to assemble as buttoning your pants.
Finally, the Single+ Hammock uses 1500 lb Spectra cord (the same material used in their Tree Straps). Spectra is stronger than steel and ultralight, so it's the ideal choice for weight savings, durability, and long-term reliability.
There's one caveat with this one — while it's unbelievably lightweight and strong, the Single+ is barely big enough to sleep comfortably. It's great for ultralight backpackers who can sacrifice a little comfort to save weight, but there are more comfortable hammocks for campers who are primarily looking for a good night's sleep.
Check Amazon Price
Tech Specs
Hennessy Expedition Zip
Recognizing that Central American hammock hangers usually sleep diagonally in their hammocks, Hennessy created a line of Zip hammocks with an asymmetrical design that's perfect for diagonal sleepers. The patented integral ridgeline allows you to lie level across the diagonal with more support under your lower back and knees, and provides additional space for your shoulders.
The Hennessy Expedition Zip comes with everything you need to hang: a hammock, an integrated bug net, a rainfly, and straps. It's an all-in-one package that eliminates the need to piece together your own setup, saving you time and money. It's a little shorter than most of the hammocks on our list, but it's perfect for anybody up to 6' and 250 lbs.
The Expedition Zip uses oxford nylon for the hammock and polyester No-See-Um mesh for the integrated bug net. The mesh bug net does a great job of keeping the bugs out while letting fresh air in, and also helps block some of the wind. It's easy to enter the hammock from the side using the #10 heavy duty zipper, and the double sliders let you remove the bug net completely when you don't need it.
The Expedition Zip comes with a 70D catenary-cut polyester ripstop rainfly that's lightweight and wrinkle-free. You can tilt it to any angle, roll it up for partial coverage, or remove it altogether to sleep under the stars.
For suspension, the Expedition Zip uses 10 feet of 1500 lb. low-stretch polyester core ropes with a polyester cover. The polyester webbing straps extend the life of your straps, while also protecting the tender bark of the trees you use for support.
Check Amazon Price
Check REI Price
Tech Specs
Asymmetrical design
Dimensions: 100" x 48"
Packed Size: 7" x 10"
Weight: 2 lbs. 13 oz.
Capacity: 250 lbs.
Bug Net: included
Cover: included
Straps: included
Best Bridge Hammock: Warbonnet Ridgerunner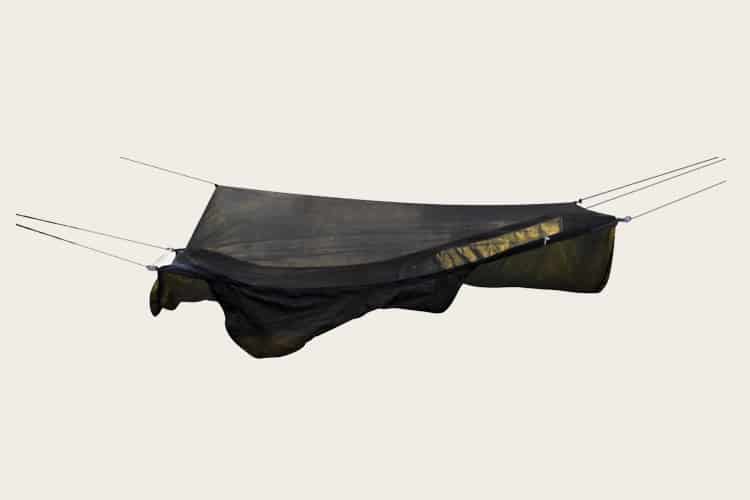 The Warbonnet Ridgerunner is the best bridge-style hammock on the market. Given Warbonnet's focus on functional design and their attention to details, it's the perfect choice for campers who can't find a comfortable position in traditional gathered-end hammocks.
Like the Blackbird XLC, the Ridgerunner uses Warbonnet's proprietary Dream-Tex fabric to achieve the best strength-to-weight ratio. The 40-denier fabric has a little bit of stretch and a cotton-like texture that's nice and comfortable.
With the bridge-style design, the Ridgerunner delivers a flatter lay with built-in head and neck contours for greater comfort. You'll find large saddlebags on either side for gear storage, and you can use the baggy end caps for additional storage space.
The bug net unzips along both sides and the head, making it easy to enter and exit from either side. There's a storage pocket near the foot section where you can store the bug net when you don't need it.
The Ridgerunner allows for a variety of suspension systems, most of which you can add at checkout. The modular, interchangeable nature makes it easy to customize on your own with third-party products, too.
Check Current Price
Tech Specs
Dimensions: fits users up to 6'4"
Weight: 2 lbs.
Capacity: 200 – 250 lbs.
Bug Net: included
Cover: sold separately (compatible with the Warbonnet Spindrift)
Straps: sold separately (compatible with a wide range of straps)
Lawson Blue Ridge Camping Hammock
The Lawson Blue Ridge Camping Hammock is another great option in the hybrid hammock-tent market. The hammock has received rave reviews from top publications like Outside and Backpacker, and offers a more affordable price point than the Clark NX-270.
The best part about the Blue Ridge Camping Hammock is its versatility. When you can't find two trees to swing between, just lay the hammock on a ground cloth to function as a waterproof bug bivy. Either way, the shock-corded aluminum arch poles create a nice canopy with plenty of headroom.
Lawson crafts the Blue Ridge Camping hammock with ripstop nylon and polyester pack cloth. The No-See-Um mesh bug net does a great job of keeping the bugs out, while the waterproof rainfly eliminates the need for a tarp and stakes. There's also a waterproof nylon border around the canopy to protect against water blowing up underneath when the rain rolls in.
As you're swinging between the trees, the strong spreader bars and pole system keep the bed taut and flat. This can be a lifesaver for those who struggle to find a comfortable position in a banana-shaped hammock, as it's more like sleeping on a cot than a traditional hammock.
The Blue Ridge Camping Hammock is comfortable and easy to pitch. It also features two interior storage pockets and an O-ring in the ceiling where you can hang a light. The only downside is its weight. At 4 lbs 4 oz. (not including the straps), this hammock is great for car camping but may be too heavy for backpacking.
Check Amazon Price
Tech Specs
Dimensions (interior): 90" x 42"
Packed Size: 22" x 6"
Weight: 4 lbs. 4 oz.
Capacity: 275 lbs.
Bug Net: included
Cover: included
Straps: sold separately (compatible with the Lawson Suspension Straps)
Best Group Tent Hammock: Tentsile Connect Tree Tent
Before you read our review of the Tentsile Connect Tree Tent, take a quick break and scroll through the company's Instagram feed. We have to hand it to their marketing team — Tentsile Tree Tents look incredibly fun.
Where the Clark NX-270 and Lawson Blue Ridge Camping Hammock are great solo hammock-tents, you'll miss out on the camaraderie that comes with sleeping in a tent. Tentsile aims to bridge the gap with group-friendly hammocks that can support two to six campers, while providing the same protection from bugs, wind, rain, and snow that a tent provides.
Delivering the perfect combination of form and function, the Connect Tree Tent offers a spacious two-person platform with a mesh canopy, four doors, and four pockets for storage. The 70D PU-coated waterproof polyester rainfly does a great job of keeping the wind, rain, and snow at bay, and it's easy to boost ventilation by staking out the fly.
While you're hanging high and dry between the trees, the Connect Tree Tent creates a 50 square foot "covered porch" underneath. It's a good place to stash your gear, shoes, or bike, and a great spot for your canine companion to sleep at night.
One place the Connect Tree clearly outpaces the competition is with headspace. The dual 8.5mm anodised aluminum alloy poles create a peak height of 48 inches — easily enough room to sit upright while you're getting situated in bed.
The Connect Tree Tent is pretty easy to pitch and takes about 15 minutes. Honestly, the hardest part is finding three 10"-thick trees to form your triangle. Once you've found the right spot, the three heavy-duty straps and ratchet buckle system let you tension and suspend about four feet off the ground.
The Tentsile Connect Tree Tent shouldn't replace your everyday camping hammock, but it's a fun addition to your camping arsenal for group outings.
Check Amazon Price
Tech Specs
Dimensions: 156" x 108"
Packed size: 25" x 10" x 10"
Weight: 14 lbs.
Capacity: 880 lbs.
Bug Net: included
Cover: included
Straps: included
What Do You Need to Start Hammock Camping?
While your new hammock has what it takes to kick your old backpacking tent to the curb, the bad news is you may have to replace your old sleeping bag. To avoid the cursed Cold Butt Syndrome, you'll want to invest in an underquilt that attaches to the bottom of your hammock and a top quilt to use inside the hammock.
As matter of fact, we've got buyer's guides for all the main components of a hammock camping setup:
What Type of Hammock Do You Need?
Gathered-End Hammocks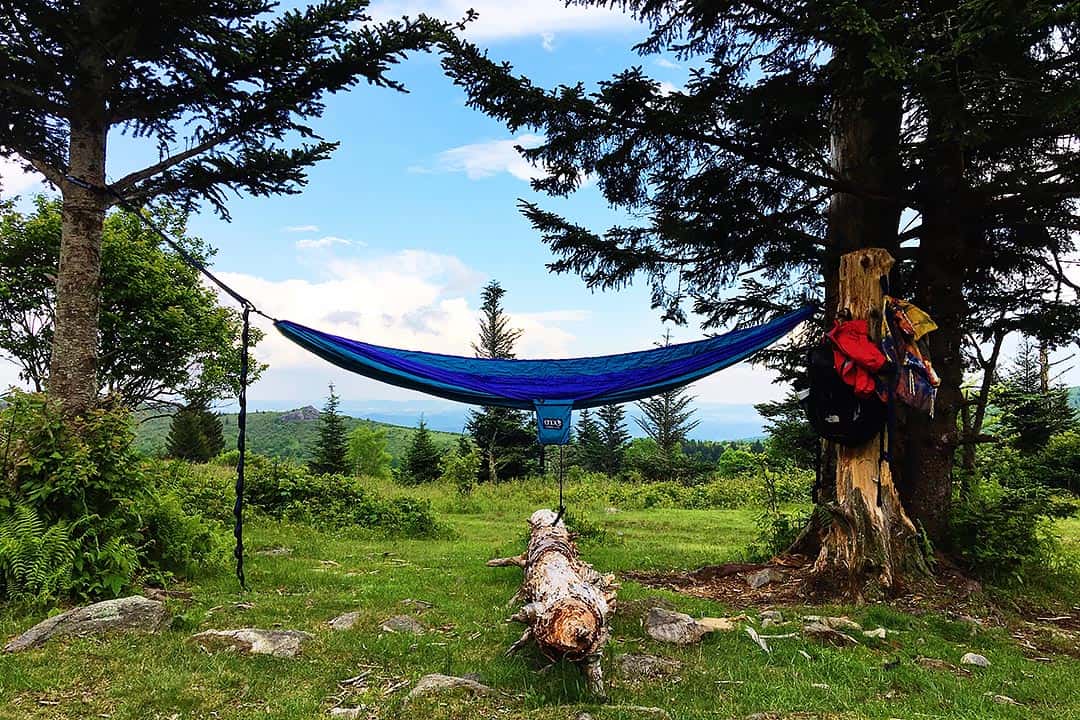 Gathered-end hammocks take a rectangular piece of fabric and bunch up the shorter ends. They're as simple as a hammock can get, with a low center of gravity that makes it easy to maintain your balance when climbing in and out.
Gathered-end hammocks are the most popular hammock design on the trail thanks to their simplicity and affordability. They're fairly inexpensive, user-friendly, and easy to set up — perfect for first-time hammock campers.
Single vs. Double
Gathered-end hammocks are often labeled as a single or double. Keep in mind that these designations refer to the width, not necessarily the occupancy. You could theoretically squeeze two into a double hammock with a higher weight capacity, but co-sleeping in a gathered-end hammock is rarely comfortable. For hammock camping purposes, single hammocks are generally too small for comfort, while doubles are just great.
Symmetrical vs. Asymmetrical
One thing to watch for with gathered-end hammocks is symmetrical vs asymmetrical design. When you lie diagonally in your hammock (this is how you'll achieve a flat sleeping surface), symmetrical hammocks tend to create some pressure around your feet. With an asymmetrical hammock, the manufacturer opens up the areas around your head and feet to relieve this pressure. Therefore, most hammock campers find asymmetrical designs more comfortable.
Of course, symmetrical hammocks are easier and cheaper to produce, and come at a cheaper price. Most first-time hammock campers choose simple symmetrical hammocks because it's a lower-cost investment, and they're a little simpler to set up too.
Big Box vs. Cottage Makers
Big-box brands like ENO, Kammok, and Hennessy are the biggest manufacturers of gathered-end hammocks. That said, you'll find the best quality and overall comfort in a hammock from a "cottage company" — an industry term for small businesses that handcraft hammocks and accessories.
These micro-companies charge a premium for their products and sometimes take a few weeks to build and ship, but you're paying for top-notch hammocks that are hand-stitched in the USA. We highly recommend going with a cottage company if you have the extra dough to splurge on one.
Pros – Gathered-End Hammocks
Easy to set up
Lightweight
Packs small
Affordable options
Cons – Gathered-End Hammocks
Only for solo sleepers
Doesn't always come with a bug net (though it's easy to buy one separately)
First-timer learning curve for finding the right sleeping position
Bridge Hammocks
While gathered-end hammocks have been around for millenia, bridge hammocks are a modern entry to the field. Bridge hammocks are engineered like a suspension bridge, relying on a spreader bar to create a flat lay while the fabric curves around your body.
Bridge hammocks are great for side sleepers and campers who dislike the catenary curve of a gathered-end hammock. However, the use of a spreader bar makes them more wobbly than a traditional hammock. The design also tends to have a narrower sleeping area, which can be problematic for people with broad shoulders.
Pros – Bridge Hammocks
Provides a perfectly flat sleeping surface
Easy for first-timers to get comfortable
Generally comes with a bug net or cover
Cons – Bridge Hammocks
Harder to set up than a simple gathered-end hammock
Heavier than gathered-end hammocks
Larger pack size
Narrow sleeping area
Tent Hammocks
Tent hammocks effectively eliminate the need for a rainfly. As the name suggests, these hammocks are a hybrid solution that bridge the gap between hammocks and tents. They provide an all-weather, all-terrain camping solution that can tackle rain, wind, and snow.
Thanks to the inclusion of a pole-supported canopy, you can suspend a tent hammock between the trees or pitch it on solid ground. That's simply not an option with traditional camping hammocks, which can be problematic when you're exhausted after a long hike and can't find a suitable spot to hang your hammock. A tent hammock functions like a bug bivy on the ground, simply requiring a ground cloth and a flat surface.
Pros – Tent Hammocks
All-weather hammocks that can tackle wind, rain, and snow
Can be used as a bug bivy on the ground
Creates a completely flat sleeping surface
Great for all sleepers — back, side, and stomach
Generally comes with a bug net and cover
Cons – Tent Hammocks
Takes longer to set up
Much heavier
Usually too large for backpacking
More expensive
Can be tippy
Was this article helpful?
---