Ditching your tent in favor of a lightweight hammock can drop significant pack weight and improve your sleep quality, but you'll need to assemble the complete sleep system to ensure the best experience.
That's right, the rumors are true — hammock camping is revolutionizing the modern camping experience, delivering a comfortable backcountry bed that eliminates the need to pack a bulky tent.
That's good news for car campers looking for a fresh approach to sleeping outside, and even better news for backpackers looking to shed pack weight. Best of all, it's a godsend for those of us who struggle to get a good night's sleep on the ground.
Of course, hammocks aren't anything new. Modern designs have certainly improved them, but the traditional hammock goes way, way back. The ancient Mayans were using them in Central America over 1,000 years ago, and Christopher Columbus is credited with bringing the hammock to Europe when he returned from the new world.
So, hammock camping may feel like a modern trend popularized by millennials on Instagram, but those trendsetters are just embracing an ancient practice. It's definitely not a trend, either — hammock camping is definitely here to stay, even if it remains a niche in the greater world of camping and backpacking.
Everything You Need To Get Started
Hammock camping sounds simple, but it's surprisingly technical. There are several different types of hammocks (some of which aren't suited for camping) and multiple types of suspension systems to choose from.
You'll need some type of shelter to shield you from the elements, and a mosquito net to keep the bugs at bay —unless you're camping in winter, or in a dry area that doesn't have bugs.
You'll also have to address the challenge that traditional sleeping bags don't perform well in hammocks. Why? In a nutshell, you'll squish and compress the insulation underneath your body overnight to the point that the down retain heat.
The result is the dreaded Cold Butt Syndrome — the bane of many new hammock campers who fail to swap their sleeping bag for an underquilt and top quilt.
To ensure you have the best hammock camping experience, below we've put together a checklist of all the gear you'll need in your arsenal. As long as you have everything here, you're ready to start swinging between the trees.
Hammock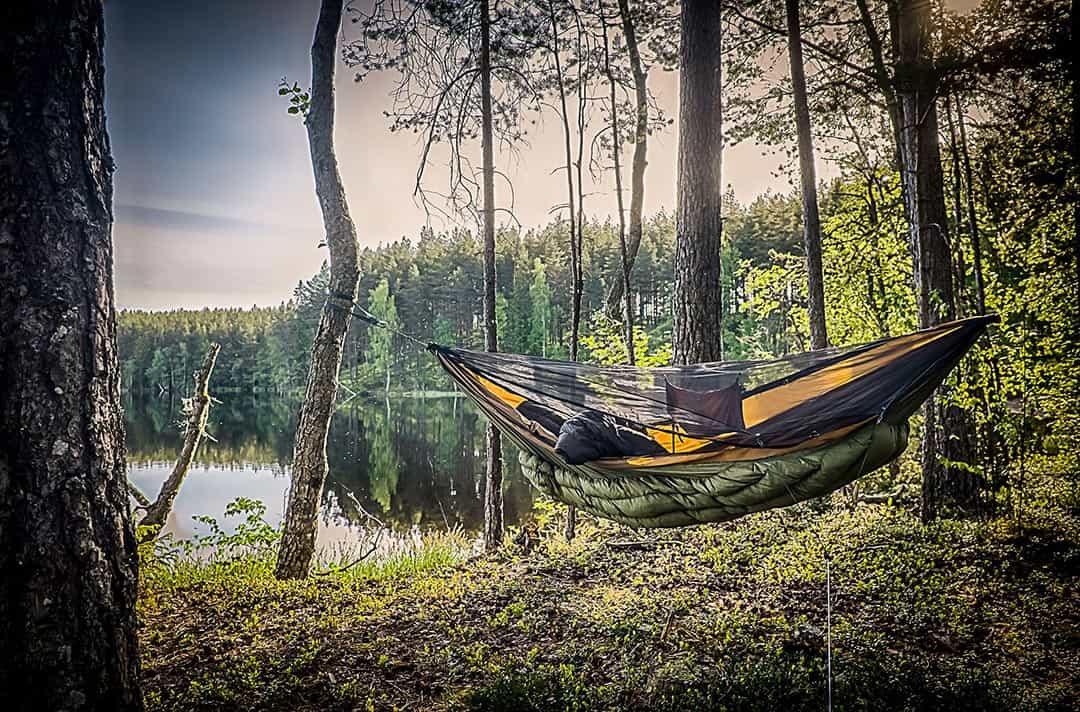 Buying a hammock should be the first item on your list. Resist the urge to snap up a deal on an underquilt, suspension system, or anything else until you've decided on one. That's kind of like getting tires before buying a car, and it's a sure way to spoil your experience.
Our article on the 12 Best Camping Hammocks provides all the details you need to choose your hammock, including a discussion of the different types, styles, and designs.
If you're looking for a few quick recommendations, our favorite camping hammock is the Blackbird XLC, or any hammock from Warbonnet Outdoors for that matter. If you're looking for super simple, check out the popular Kammok Roo Double or the ENO DoubleNest.
Suspension System
There's one piece of equipment that most often leads to headaches for new hammock campers, and that's the suspension system. Most of those migraine-inducing moments are due to pairing the wrong straps with your hammock, or choosing a complex systems above your skill level.
Instead, do yourself a favor and read our guide to Choosing the Best Hammock Straps.
Here's the Reader's Digest version. If you're a beginner, stick to basic daisy chain straps. Check out the Kammok Python and ENO Atlas, both of which are user-friendly and easy to nail the perfect hang angle. Most car campers won't even need to consider anything else.
For the backpackers, once you have a few hammock camping adventures under your belt, consider upgrading to an ultralight whoopie sling suspension system like the ENO Helios straps.
Underquilt
Remember our discussion about how using a normal sleeping bag in a hammock is a problem? Here's the solution.
By cutting the traditional sleeping bag in half to create two quilts, you can wrap one quilt under the bottom of the hammock (an underquilt) while wearing the other quilt on top like a comforter (a top quilt).
The underquilt is wrapped around the bottom side of the hammock, avoiding the problem of compressed insulation which keeps your backside toasty warm.
Most underquilts are fairly universal, though they're built to match a specific style of hammock — typically gathered end or bridge.
Like a sleeping bag, be sure to pay attention to temperature ratings. Most underquilts can be adjusted to let in air if you get too toasty, but you're backside will freeze if you take a 40 degree underquilt into cold weather. As such, it's better to err on the side of a heavier underquilt than a lighter one.
Also be sure to pay special attention to the size and style when you buy an underquilt.
Example: If you buy a torso length underquilt, you'll save money, weight, and space — but you'll need to bring along a piece of foam to go under your calves and feet. On the other hand, a full-length underquilt will cover your whole body without fail, but the extra material around your calves and feet are overkill while adding weight and bulk to your pack.
You don't have to go with the same brand for your hammock, underquilt, and top quilt, though doing so often makes a match made in heaven.
Our article on the Best Hammock Underquilts features 13 of our favorite underquilts, including the versatile Kammok Firebelly, the ultralight Western Mountaineering Slinglite, and our top pick, the UGQ Zeppelin.
The article also takes a deep dive into buying considerations like temperature ratings and insulation types, so it's worth a quick read if you're unsure about down vs synthetic insulation.
Top Quilt
Now that your backside is covered, let's make sure you're snug as a bug in the right top quilt.
At first glance, a top quilt looks like an unzipped sleeping bag — and to be honest, you can actually use a fully unzipped sleeping bag as a top quilt if you don't feel like splurging on a dedicated quilt. Just be aware that your sleep system will be a little heavier this way, you'll have to deal with a extra material (think sleeping on a single mattress with a king-size comforter), and the hood will drape awkwardly over your face.
The nice thing about a top quilt: it's perfectly suited for hammock camping. By eliminating the backside of the bag you'll shave off unnecessary weight and eliminate excess material. Top quilts also tend to have special features to keep cold drafts at bay, like a footbox at the bottom and a draft collar at the top.
Like your underquilt, pay attention to temperature ratings. 40 or even 50 degree quilts should be fine for most summer trips, shoot for 20 or 30 degrees for "3-season" use, while winter quilts may go as low as 0 degrees.
Something else to consider when looking into top quilts — you can use them for ground-sleeping when paired with the right sleeping pad. It's actually a popular strategy for ultralight backpackers looking to shed unnecessary pack weight.
For insights into the best top quilts, check out our article on the 10 Best Top Quilts for hammock camping. Some of our favorites include the Warbonnet Outdoors Diamondback, the Western Mountaineering Astralite, and the Enlightened Equipment Revelation.
Tarp
One of the primary benefits of hammock camping is to eliminate the need for bulky, heavy tents, but you still need some type of shelter from the elements. A good hammock, underquilt, and top quilt combo will keep you warm, but you'll want a tarp overhead if rain or snow are in the forecast — not to mention blocking the wind.
While other parts of the hammock camping sleep system can be a little technical, tarps are about as simple as it gets. The only major decision you'll need to make is whether you want a simple overhead shelter like the Kammok Kuhli or a tent-like shelter (built for winter camping) with doors such as the Warbonnet Outdoors Superfly.
From there, it's just a matter of how much you're willing to pay for quality. You can keep it affordable with the ENO ProFly, or splurge on an ultralight option like the DutchWare Dyneema Hex Tarp.
For a full list of our favorites, check out our article on the 9 Best Hammock Tarps for Inclement Weather. Don't forget to grab guylines and stakes if they aren't included in your tarp kit!
Mosquito Net
Many camping hammocks come with a built-in mosquito net, so you can check this box automatically if your hammock already has one. If it doesn't, you'll likely want to invest in one to keep the bugs at bay.
This is one of the few areas where you really need to be brand-loyal. Instead of shopping around for the best mosquito net, just go with the one from the brand that makes your hammock. You can flip a coin with a third-party product, but you're definitely at risk it won't be a perfect fit when you try to pair them together.
If you choose a premium hammock from a cottage company like Warbonnet Outdoors, DutchWare, or Dream Hammock, you can also opt for an all-weather cover. In addition to blocking out bugs, these zip-on shells protect you from wind, rain, and snow, essentially wrapping you in a weatherproof cocoon. They're a must-have if you're planning to go hammock camping in the winter.
Need suggestions? Here's our top choices for add-on hammock bug nets.
Additional Read: 9 Best Budget-Friendly Hiking Boots & Shoes
Ready To Hit The Backcountry?
Now that all of the boxes are checked, it's time to plan your first hammock camping trip. Check out our location guides to the Best Camping Near Bend OR, 9 Free Camping Spots in Oregon, the Best Camping in Arizona Near Water, 5 Spectacular Backpacking Destinations in Colorado, or the Essential Guide to Hiking the Oregon Coast Trail.
We've got plenty more gear recommendations to outfit your next camping or backpacking adventure, too. Check out our guides to the best backpacking stoves, trekking poles, camping lanterns, folding camp chairs, backpacking water filters, headlamps, camping hatchets, and cheap backpacking gear.
Was this article helpful?
---