There's an overwhelming number of choices out there for backpacking stoves, but two products stand out from the competition – the Jetboil Flash and the MSR Pocket Rocket 2.
Though both models use gas canisters for fuel, these are two very different stoves.
Follow along as we explain the differences between these two popular backpacking stoves and compare them to competing options so you can choose the best one for your next backpacking adventure.
Jetboil Flash: Built For Speed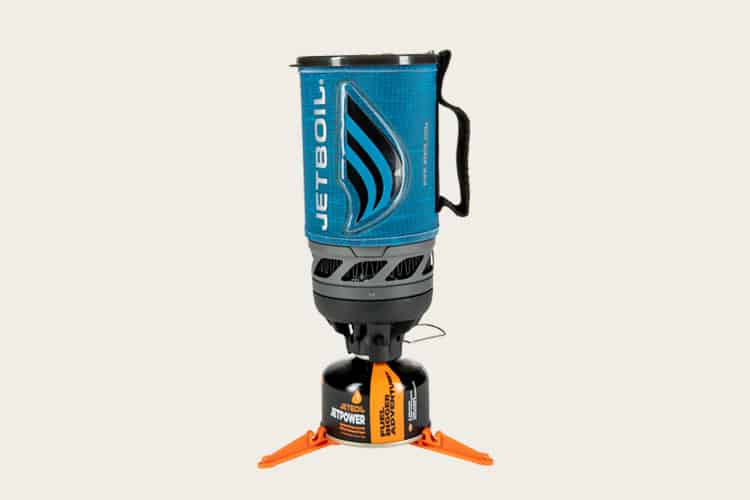 Classified an integrated canister stove, the Jetboil Flash is an all-in-one solution that integrates the cooking pot into the stove.
The stove portion screws into a gas canister filled with a mixture of isobutane and propane, and the cooking container then securely and seamlessly attaches to the stove portion. Add water to the pot, fire up the stove using the built-in igniter, and you'll have boiling water in about a minute and a half.
Given the rapid boil time, the name "Flash" makes a lot of sense.
Jetboil claims the Flash can bring two cups of water to a rolling boil in 100 seconds flat. We tested it at several different temperatures and found the claim spot on, with boil times ranging from 92 seconds to 106 seconds.
While the fast boiling time is a huge draw here, the downside is that simmering food isn't on the menu.
The Flash is relatively heavy at 13.1 ounces, but the package does include both a burner and a cooking vessel. If you want to trim some weight, consider the Jetboil Zip, which uses the same integrated design but has a smaller cooking vessel.
Other perks of the Flash include the ability to add accessories like a coffee press and a frying pan. Best of all, you can store a 100g fuel canister inside the cooking vessel to save pack space.
Check Amazon Price
MSR Pocket Rocket 2: Light and Versatile
The MSR Pocket Rocket 2 is a pedestal stove that screws onto an isobutane/propane gas canister just like the Jetboil. Instead of an integrated pot, the Pocket Rocket 2 has three small supports that unfold and provide a platform to hold a pot or a pan.
You can use any size pot or pan, though you have to be careful with large cooking vessels as they may cause the stove and its contents to tip over.
The Pocket Rocket 2 has a quick boil time, though it's not as fast as the Jetboil Flash. We tested it on a backpacking trip, and found that it takes about 2.5—3 minutes to boil two cups of cold stream water.
One significant advantage the Pocket Rocket 2 has over the Jetboil Flash is the ability to simmer food. So, while it boils a little slower, you'll have more backcountry cuisine options at your disposal.
The Pocket Rocket 2 a basic, reliable, no-frills stove that'll suit most backpacking needs as long as you know its limitations. It does not have an igniter, so you'll have to remember to pack matches or another source of ignition.
The Pocket Rocket 2 doesn't have a regulator or wind shield, so it's best for three-season backpacking.
Check Amazon Price
Head to Head Comparison
Boil Time
The winner in this category is the Jetboil Flash.
At 9,000 BTU, the Flash delivers a powerful flame that can boil two cups of water in 100 seconds. The Pocket Rocket 2 boil time is fast when compared to other types of stoves, but the three-minute wait to boil two cups is noticeably slower than the Jetboil.
If speed is one of your must-have features, then the Jetboil Flash should be your first pick.
View this post on Instagram
Fuel Efficiency
The Jetboil Flash isn't just faster than the Pocket Rocket 2 — it also wins in fuel efficiency.
Under ideal conditions, the Jetboil Flash boils approximately 10–12 liters of water per 100-gram canister, while the Pocket Rocket 2 boils 7–8 liters. Fuel efficiency varies considerably based on conditions, though. Using the stove with colder water to start, at colder temperatures or in windy conditions will consume more fuel.
Weight
If you want to go as light a possible, stick with the Pocket Rocket 2. The Pocket Rocket 2 may not boil as fast as the Jetboil Flash, but at 2.6 ounces it won't weigh your pack down like the 13.1 ounces of the Flash.
Of course, you still have to add in the weight of a cooking vessel to the Pocket Rocket 2, but at least you can decide how heavy or light you want it to be.
With the Jetboil Flash, you must use the included 1L cooking vessel and cannot swap it out with something lighter.
Price
At first glance, the $45 Pocket Rocket 2 is much less expensive than the $100 Jetboil Flash. That price difference narrows when you consider the cooking vessel, though.
If you purchase the Pocket Rocket 2, you will need to add a cook pot to your shopping cart. You can pay as little as $20 for a lightweight pot or as much as $100 for a complete cookset.
Depending on your choice of a cooking vessel, the cost can be similar so we will call this one a draw.
Cold Weather Performance
Both the Jetboil Flash and the MSR Pocket Rocket 2 are unregulated stoves, which means their power output will decrease as the pressure of the gas inside the can decreases.
In cold weather and low fuel conditions, expect the pressure inside your gas canister to decrease. There is less fuel going to the burner, and boil times will slow down.
View this post on Instagram
If you enjoy backpacking in cold temperatures, you should instead consider the Jetboil MiniMo or the Pocket Rocket Deluxe.
Both the MiniMo and Pocket Rocket Deluxe have regulators that deliver a steady amount of gas even when it is cold or the fuel canister is low.
Capacity
The Pocket Rocket 2 excels in this area because you can pair it with any cooking pot you want as long as you don't go too big.
We've found that a 500ml or 1L vessel is optimal, but you can go higher or lower if you wish.
On the other hand, the Jetboil Flash can boil 16 ounces of water at a time and can hold up to 1L of liquids, making it the ideal size for two people. The integrated cooking vessel means you can't downsize for a solo adventure or upsize for a group trip.
The Competition
MSR Windburner
The Jetboil Flash is the top canister stove, but it has some stiff competition from, you guessed it, MSR.
The MSR Windburner is an all-in-one stove with an integrated pot and a powerful burner for boiling. Unlike the Flash, the Windburner has better wind protection and a regulator for cold temperatures.
It takes about twice as long to boil water as the Jetboil Flash, but that's partly because the Windburner has a larger capacity.
Check Amazon Price
Jetboil MightyMo
The Jetboil MightyMo is a pedestal stove that goes head-to-head against the Pocket Rocket. The MightyMo is heavier than the PocketRcoket, but you get a regulator for cold temps and an igniter for convenience.
It also has serrated pot-supports with a shelf portion that makes them much more stable than the Pocket Rocket models.
Check Amazon Price
Pocket Rocket Deluxe
New in 2019, the Pocket Rocket Deluxe builds upon the success of the original Pocket Rocket and the Pocket Rocket 2.
The Pocket Rocket Deluxe offers a regulator for consistently fast boil times, an igniter that works most of the time, and a wind-blocking lip to improve performance when it's windy. It's outstanding at simmering as well as boiling.
Check REI Price
Soto Windmaster
The Soto Windmaster is a pedestal stove that lives up to its name by performing admirably in windy conditions.
Similar to the Pocket Rocket Deluxe, the Windmaster has a regulator and an igniter that rarely fails. It's a reliable stove with four pot supports to provide extra stability.
Our only gripe – it doesn't simmer as well as the Pocket Rocket Deluxe.
Check Amazon Price
Soto Amicus
Low budget doesn't always equate with low performance, and the Soto Amicus is living proof.
The low-cost pedestal stove delivers high performance with a concave burner for cooking in the wind, an igniter for convenience, and four pot supports for rock-solid stability.
Weighing only 2.9 ounces, the Amicus is barely heavier than the Pocket Rocket 2.
Check Amazon Price
BRS Ultralight Stove
If you want light and cheap, you can't go wrong with the BRS Ultralight pedestal stove. Weighing just an ounce and costing under $20, you cant go wrong with this affordable option.
The BRS Ultralight doesn't deliver the reliability of a Jetboil or the MSR stove, but it works well enough for casual backpackers who don't want to spend too much on their gear.
Check Amazon Price
Explore Backpacking Gear
Sign up for Weekend Wanderer to join 10,000+ readers getting epic travel ideas every week.
---