We research, test and evaluate outdoor gear based on a number of factors, including our writers' experience and expertise, trusted user reviews and more. We may earn a commission when you make a purchase through our links. See our editorial policy to learn more.
Was this article helpful?
---
From carrying lunch (or drinks) to the office or out on the trail, every man needs a reliable lunch box.
We all remember our favorite Superman lunchbox growing up, and all probably remember our high school and college days too when the idea of a lunchbox was seriously uncool. But in adulthood we rediscover the brilliance, convenience, and under-appreciated simplicity of a great lunchbox or bag.
Whether you're commuting to the office, taking a road trip, spending a day on the boat, or hitting the trail, the classic and often-relegated lunchbox is the perfect companion for keeping your food and drinks hot or cold. With great insulation, some of these can even keep your items insulated for hours on end.
The Rundown
YETI Daytrip Lunch Bag
What we dig: YETI leverages their temperature-regulating tech to deliver reliable insulation that'll keep your food hot or cold for hours.
Perfect for keeping a lunch hot or drinks cold, YETI's day trip lunch bag is the perfect companion for the daily commuter or anyone taking a day trip in the car or on the trail. The YETI Daytrip Lunch Bag employs Coldcell Flex™ foam insulation for superior temperature-holding power. It works both ways, keeping your soup warm or your club sandwich chilled for hours.
The lunch bag locks in the temperature with a Thermo Snap magnetic closure, and the metal buckle attaches to MOLLE loops at multiple points to ensure a snug fit. Better yet, it's got a water-resistant lining, making it perfect for any kind of adventure.
Colony Co. Waxed Canvas Lunch Bag
What we dig: A heavy-duty waxed canvas lunch bag that's stain resistant, easy to clean, plastic-free, and vegan-friendly.
The Waxed Canvas Lunch Bag from Colony Co. is simply classy. Paying homage to the classic brown bag lunch, it's an under-the-radar adult lunch bag that doesn't scream for attention but is undeniably cool.
Made with only two ingredients – cotton canvas thats lined with beeswax to make it water-repellent, stain resistant, and even anti-microbial – this bag isn't just cool and functional, it's also super green and eco-friendly.
NutSac Man-Bag, Dammit
What we dig: A versatile, compact bag that you can use as a lunch box and EDC bag for your daily essentials.
The NutSac Man-Bag, Dammit isn't actually a lunch box — but that's what makes it so awesome. It's the perfect size to serve as your lunch box Monday to Friday, and versatile enough to use as a compact sling on the weekends.
The Man-Bag, Dammit is constructed with heavy-duty Martexin American waxed canvas, full grain leather, and durable cotton webbing. It's built in the USA and guaranteed for life, two rare bonuses that don't normally accompany men's lunch boxes.
Stanley Classic Lunch Box
What we dig: A retro classic that's just as cool today as it was when your grandpa took it to work decades ago.
If you're looking for a lunch box with a healthy dose of nostalgia, check out the Stanley Classic Lunch Box. The steel lunchbox is backed by a lifetime warranty, so you can pass it on to your kiddo when he's ready for his first day of work down the road.
Purchase a matching Stanley vacuum-sealed thermos and you can stash it in the domed top using the sturdy metal brackets. Plus, the company has a lifetime warranty on all their products.
FEED Lunch Bag
What we dig: A stylish, utilitarian lunch bag that feeds your belly — and 15 hungry kids.
We like the clean aesthetic of the FEED Lunch Bag, and we love the fact that every purchase buys 15 meals for kids in need. It's the best of both worlds — a stylishly simple lunch bag that's well-worth the price tag.
The FEED Lunch Bog features a 100% cotton exterior, insulated PVC interior, and straps for hands-free carrying. It's stylish design makes it perfect for taking to the office, or on a trip.
YETI Daytrip Lunch Box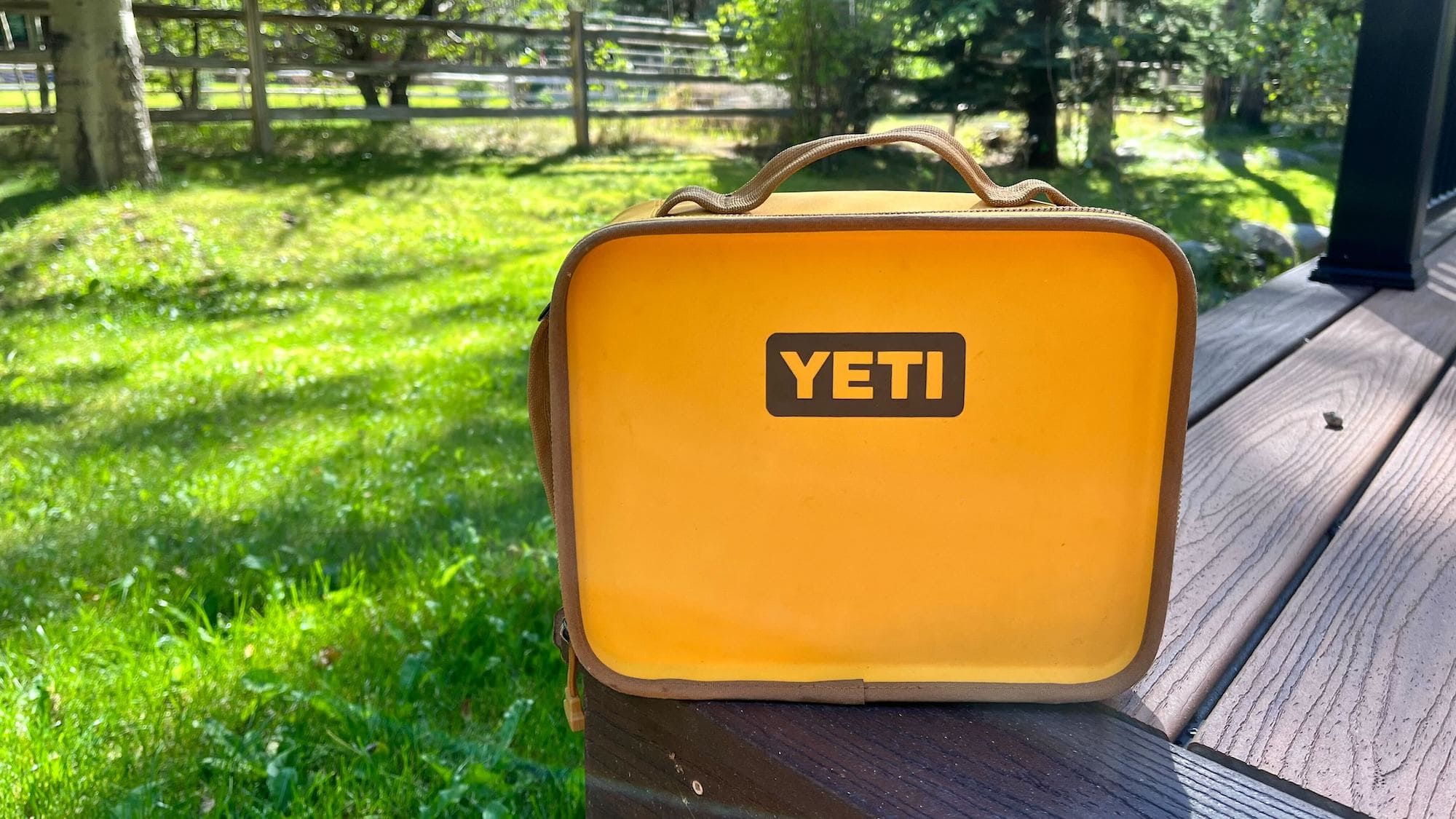 What we dig: Like the previously mentioned YETI lunch bag, this comes with incredible insulation, but also a hardshell.
On top of the incredible insulation power YETI is known for, the Daytrip lunch box is also water-resistant and is designed to keep its shape, which is perfect for protecting your lunch (or drinks) on the go.
It also has an EVA-molded bottom, which helps give the contents inside a bit of cushion and also helps ensure liquid doesn't seep out in case something starts to leak.
Buy on YETI
OtterBox Lunch Cooler
Big enough for six cans and complete with its own ice pack, OtterBox's lunch cooler is the epidemy of versatility. It's so well-insulated it can store ice for up to two days! It also has a handle and a removable shoulder strap, so you can carry it whichever way is easiest for you.
So whether you're bringing ice to the family reunion, bringing the beers for a day by the lake, or storing your lunch for your daily commute to work, the OtterBox lunch cooler can literally do it all. On top of all that, it's made with the quality that OtterBox is known for, complete with a water-repellent outer liner, FDA food-grade inner lining, and water-resistant zippers so nothing leaks.
Buy at OtterBox
More Top-Rated Gear For Guys
Sign up for our free email to join thousands of readers getting epic travel, hiking, camping and gear ideas every week.
Was this article helpful?
---