In most hiking and backpacking gear categories, $100 won't get you far – but it's enough to snag a solid entry-level daypack, including the Osprey Daylite Plus.
Today's most popular hiking daypacks come loaded with convenient and comfortable features, and though some of them can run you $150 or more, there are plenty of options for those looking to minimize their spending.
Best Daypacks Under $100
We've rounded up eight packs ideal for entry-level hikers just getting started, or experienced hikers looking to cut the frills and stick to the basics. Either way, you'll find a range of sizes and options that can fit your activity level, capacity needs, hiking gear, and of course, your budget.
Osprey Daylite Plus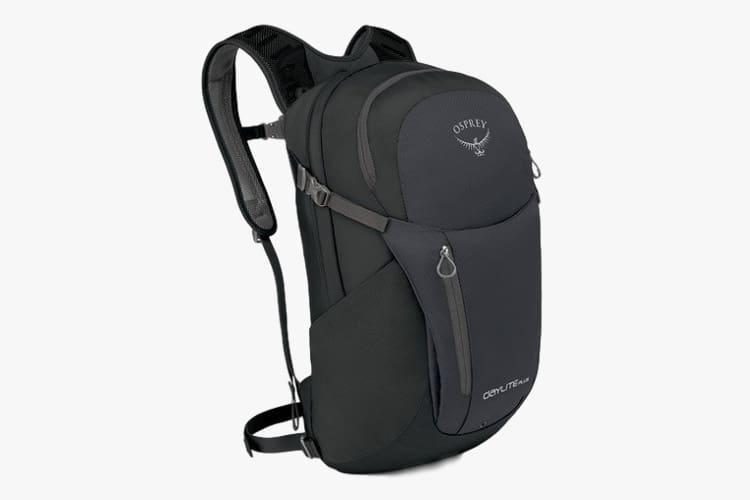 Osprey holds quite the reputation when it comes to packs. Outfitting hikers since 1974, their attention to detail from pockets to stitching easily put their packs at the top of any wishlist. At the top of ours is their Daylite Plus. Beyond the price point, when determining the right daypack you'll want to consider comfort, weight, durability, and ease of use. The Daylite Plus checks all boxes.
It features padded spacer-mesh straps and a mesh die-cut foam back with ventilation for comfort, an easy-loading main compartment, a front Shove-It pocket, 20 ounces of pack weight, and quality construction. Another feature that comes in handy is the versatile interior sleeve, which can hold an Osprey hydration reservoir or a laptop. While ours mostly hauls water, it's nice to have options.
Buy at Amazon
REI Co-Op Flash 22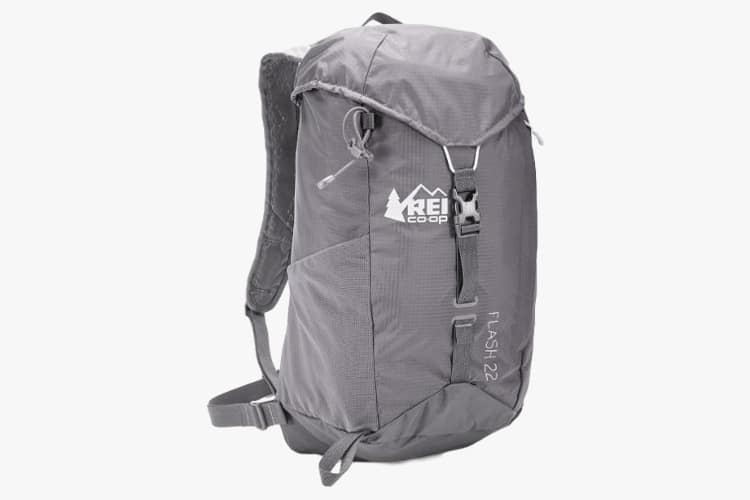 Performance on a tight budget can be hard to find. That's when we turn to REI. When designing their own product line, they rummaged through closets to find what every outdoor enthusiast had in their collection. Discovering no outdoor brand offering a line specifically tailored toward those essentials, they found their niche and based their Co-Op line on those needs. The Flash 22 is part of that niche.
Like other pieces in their 'cooperatively designed' line, this pack delivers at a reasonable price. It's top-loading, to provide ease of use while the storage capacity is rather roomy at 22-liters. The comfort level fits the price with lightly padded straps and a breathable padded back included.
"Probably wouldn't use it for my Everest Base camp dream hike but for what I'm doing these days it's perfect," said one reviewer. While anyone who's drooled over ultra-light gear will tell you it costs a pretty penny, the Flash 22 fits into this category within your budget making it an excellent choice for a daypack.
Deuter Speed Lite 20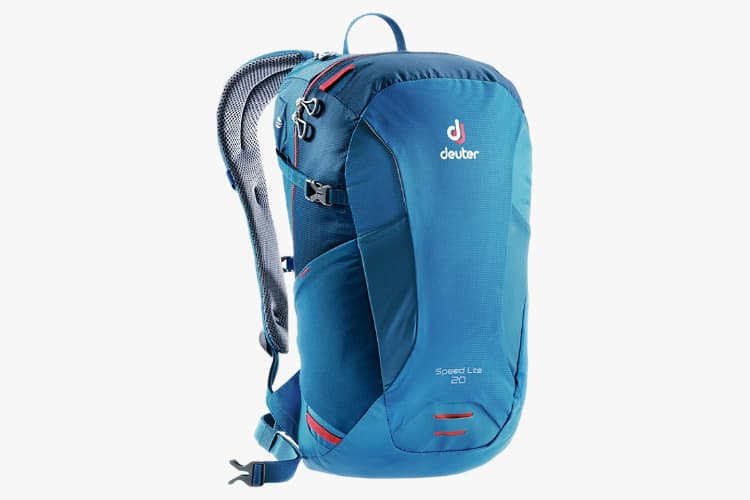 Deuter got its start in 1898 when founder Hans Deuter equipped the Bavarian Royal Mail with carrying sacks. Now, they're supplying modern outdoor enthusiasts with packs designed to perform.
If you're the type who spends day hikes scrambling around boulders or beating the FKT (fastest known time) on the ascent, you'll want something agile. The Deuter Speed Lite 20 is your answer.
This lightweight pack was purely designed for movement. The ergonomic S-shaped straps contour to your body while the clever athletic V-shape keeps the load in check. It's recommended you keep your load light to medium for optimum performance. If you're going on a long trek you may want to consider another option.
Topo Designs Y-Pack
Topo Designs invokes a warm feeling of nostalgia. Longing for the gear they grew up with, founders Jedd Rose and Mark Hansen decided to focus on turning timeless classics into useable gear for the modern-day man. From style to durability, Topo Designs offers gear like it was made back in the good ol' days.
If you find yourself reminiscing like Rose and Hansen, you'll be delighted by their Y-Pack. Minimalism at its finest, this pack harkens back to a simpler time when all you needed was your trusty pack and a map to get you there. We've tested the Y-Pack in the field and found it to be one of the most versatile, easy-to-use daypacks out there.
The flap-style pack opens up to a drawstring closure and spacious main compartment to keep you out in the wilderness until you're ready to hit the hay.
With a few simple features, this canvas pack keeps organization a breeze while the padded straps keep you comfy. While we do admit we love ripstop as much as the next guy, there's something to be said about a thick nylon pack.
Topo Session Pack
Unlike Topo's other packs, which are known for their straps and buckles, the Session Pack (full review) is perfect for anyone who wants the look and feel of a more traditional backpack. It's also a little smaller than most of Topo's other bags, making it a great choice for anyone wanting something lightweight and portable – this bag is perfect for casual adventurers who are spending an afternoon on the trail or a day by the lake.
But this bag is still 100% Topo, made with durable materials, ethical standards, and the brand's famous MAP Guarantee, which offers a lifetime warranty for manufacturer defects. Complete with three compartments (the large main one, a smaller front pocket perfect for keys and your wallet, and a padded laptop sleeve) and two bottle holders on the side, the Session Pack isn't just small and lightweight…it's ready for action.
Osprey Women's Tempest 9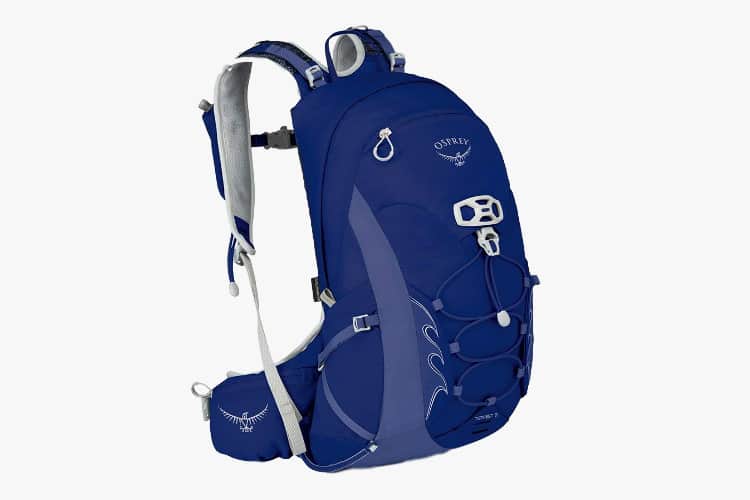 Finding a backpack with shoulder straps and a hip belt offering a snug and comfy fit when trekking up elevation can be a challenge. May we present the Osprey Women's Tempest 9.
Light and fast, Tempest 9 is specifically designed to fit the contours of the female figure. The Biostretch harness features shoulder straps made for a woman's body, while the die-cut foam continuous wrap hipbelt adds extra support around the hips. Together, the two provide stability and comfort so you can spend your time enjoying the adventure instead of worrying about your pack.
If you're the adventurous type, and we're betting you are, you'll appreciate this multi-sport backpack that comes with all the bells and whistles, including an external hydration sleeve, front bungee storage, dual-zippered main compartment, trekking pole and bike helmet attachments, compression carry straps, extra zipper slash pocket, and hipbelt pockets.
Plan Your Next Big Hike
Get epic travel ideas delivered to your inbox with Weekend Wanderer, our newsletter inspiring thousands of readers every week.
Was this article helpful?
---