We research, test and evaluate outdoor gear based on a number of factors, including our writers' experience and expertise, trusted user reviews and more. We may earn a commission when you make a purchase through our links. See our editorial policy to learn more.
---
In a world where you get what you pay for, Patagonia delivers premium products for premium prices.
The wisdom of the crowd says that Patagonia gear is a good investment. Patagonia apparel is ubiquitous in the backcountry, and it's a popular choice for casual attire when the weather turns cold, wet, and windy.
Everyone clearly likes the brand, but you have to ask yourself — are people just paying for the brand name, or is it actually a good product? And, if Patagonia makes good gear (spoiler alert, they do), why is it so damn expensive?
The answer, it turns out, has very little to do with business profits, and everything to do with Patagonia being good stewards of the environment.
Related read: 10 Best Hard-Shell Rooftop Tents for Overlanding
About Patagonia
Patagonia is obviously a for-profit business, so we're not naive to the fact that the company is in business to make money. What's impressive is the core values that drive the company to design and manufacture the best gear on the market, and what the company does with their profits.
To understand what we're talking about, take a look at the company's mission statement. At its core, Patagonia is driven by four guiding principles:
Build the Best Product
Cause No Unnecessary Harm
Use the Business to Protect Nature
Don't Be Bound by Convention
All four of these principles fall under the company's mission to be good stewards of the environment. By building the best products, Patagonia gear lasts longer so customers don't need to replace it as often. The best products are recyclable and reusable, too, further reducing Patagonia's long term carbon footprint.
View this post on Instagram
Causing no unnecessary harm and using the business to protect nature have an obvious positive impact on the environment, and both require Patagonia to buck conventional wisdom and manufacturing practices.
The company's focus on innovation has led to some fantastic new products over the years, but more importantly it's led to more sustainable sourcing, manufacturing, and general business practices.
Five Reasons Patagonia Gear Is Expensive
Now that we understand Patagonia's guiding principles, let's talk about how that translates into the higher dollar value you see on the price tag.
1. Patagonia Uses Premium Materials
Check the product description for any Patagonia product and you'll find premium raw materials are the foundation of everything they make. Even better, grab a Patagonia product and feel the quality for yourself.
2. Patagonia Products Are Built To Last
Durability is a core priority in the design and manufacturing of every Patagonia product. Patagonia gear and apparel is engineered to outlast the competition, so you don't have to make as many trips to the store in the long run to replace worn-out gear.
That saves you time and money, and it benefits the environment by reducing the number of manufactured products you'll need to buy in the long run.
View this post on Instagram
When Patagonia's durable products finally reach the end of their lifespan, they're designed to be repairable or recycled. The easy repairability lengthens the product's lifetime, again saving you time and money.
The ability to recycle goods is even better for the environment, reducing the amount of raw materials Patagonia needs to manufacture new products.
3. It's Everything You Need And Nothing You Don't
Patagonia keeps things simple with a minimalist mindset. Their products are designed to deliver everything you need and strip away everything you don't need to eliminate bulk, weight, and waste.
Patagonia products are also designed for optimal functionality for outdoor activities. They offer purpose-built gear and apparel for climbing, surfing, winter sports, trail running, mountain biking, and fly fishing, where you'll notice the difference in the details.
Climbing has always been at the heart of Patagonia, so it's safe to say that most of their general outdoor apparel is ideal for climbers.
4. Patagonia Is Always Innovating
Innovation requires a healthy R&D budget, and Patagonia isn't afraid to mark up their products to fund their research into better materials, designs, and practices.v
View this post on Instagram
This focus on innovation has paved the way for many of their products that use recycled materials, and it's helped the company reduce their carbon footprint over the years as they attack inefficiency and waste in the supply chain.
Even if you don't give a hoot about sustainable business practices, you'll still benefit from Patagonia's innovative designs. Their products often outrank the competition thanks to proprietary technology and exclusive features, so you'll enjoy a superior product that performs better and lasts longer.
5. Positive Environmental Practices Aren't Cheap
Patagonia always keeps an eye on the company's impact on the environment. When there's an opportunity to change something that benefits the planet, they're not afraid to raise their prices a little to account for a slightly more expensive way of doing things.
Sure, that costs you a few extra bucks, but in the end it's consumers who benefit from sustainable business practices, so the cost is rightfully on us.
Is Patagonia Worth The Premium Price?
We're not going to tell you to go out and spend more than you can afford (Instagram already does a fine job at that), but if you have the means to splurge, Patagonia products are worth the investment.
Notice our word choice there — you don't just buy Patagonia gear, it's an investment. In return for a higher price, you'll get a product that's built to look good, function perfectly, last longer, and eventually be recycled or reused.
You're also supporting a company that prioritizes sustainability and positively impacting the environment. Don't expect the sea turtles and baby seals to pat you on the back for that, but there are plenty of grassroots organizations around the world who will.
In short, you'll pay a little more for Patagonia gear, but you're getting a better product from one of the best companies in the business.
Our Favorite Patagonia Products
Everything from Patagonia is great, but there are a few pieces of gear and apparel that particularly stand out. Here are some of our favorite Patagonia products, bestsellers that are sure to please whether you're splurging on yourself or buying a gift for a fellow outdoor enthusiast.
Down Sweater Jacket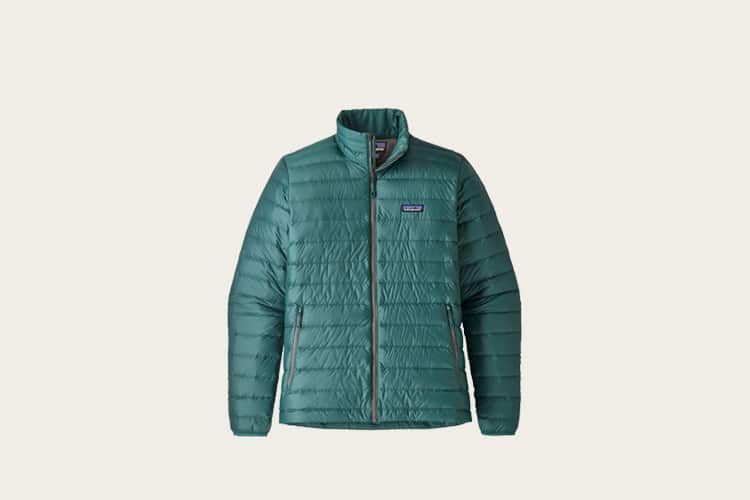 The Down Sweater Jacket delivers the perfect level of warmth for just about any cold-weather activity. Wear it as an outer shell in cool weather, or layer under a hardshell jacket when severe weather strikes.
The Down Sweater Jacket features 800fp Advanced Global Traceable Down wrapped in a 100% recycled polyester ripstop shell. It's lightweight and windproof, with a DWR finish to repel water and snow.
Shop Men's
Shop Women's
Nano Puff Vest
The Nano Puff Vest providers shiver-proof protection in a small package. It's warm, windproof, and water-resistant, featuring PrimaLoft Gold Insulation Eco synthetic fibers wrapped in a recycled polyester ripstop with a DWR finish.
This lightweight, compressible vest uses a shaped fit and drawcord at the hem to lock in the heat. There's a wicking storm flap inside to keep the water out, a zipper garage at the chin to prevent chafing, and the internal chest pocket doubles as a stuff sack for convenient storage and portability.
Shop Men's
Shop Women's
Better Sweater Fleece Jacket
Thanks to a sweater-knit face and moisture-wicking fleece interior, the Better Sweater Jacket is a versatile jacket that you can wear straight from the office to the backcountry. It's warm, soft, and bulk-free, made with 100% polyester fleece that's ridiculously comfortable.
Patagonia gets all of the details right with this jacket. There's a zipper garage at the neck to avoid chafing, raglan sleeves for pack-wearing comfort, and shape-holding, abrasion resistant micro-polyester jersey trim at the collar, cuffs, and hem.
The Better Sweater is available in full-zip, quarter-zip, and vest styles. There's also a Performance Hoodie that's ideal for brisk mornings when you're working up a sweat on the trail.
Shop Men's
Shop Women's
Torrentshell Jacket
The Torrentshell Jacket is engineered to keep you dry through hurricane-force wind and rain. It's durable, lightweight, and versatile, with a 2.5-layer H2No Performance Standard shell that's waterproof and breathable.
The difference between the Torrentshell Jacket and other lightweight rain jackets is all in the details. The Torrentshell Jacket features a two-way adjustable hood with a laminated visor that rolls down and stows away with a simplified cord-and-hook design.
The center zipper has minimal-welt exterior and interior storm flaps, and the ventilating pit zips include storm flaps and DWR-treated zippers. The neck is lined with microfleece for comfort, and there's a zipper garage to protect your chin from getting scratched.
Shop Men's
Shop Women's
Fjord Flannel Shirt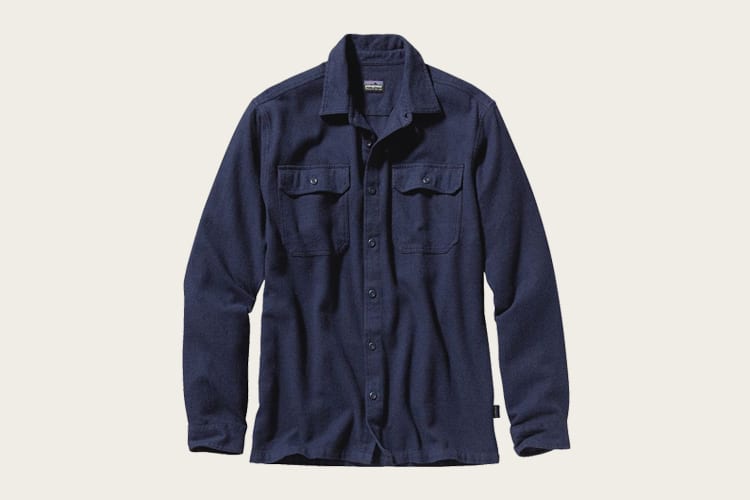 Every outdoor enthusiast should have a flannel shirt in their wardrobe. If you're looking to expand your cool-weather arsenal, check out the Fjord Flannel Shirt. It's built for cool nights around the campfire and spring snow flurries, with a heavyweight 100% organic cotton fabric that's soft and thick.
Shop Men's
Shop Women's
Capilene Cool Daily Hoody
The Capilene Cool Daily Hoody is our favorite long-sleeve shirt for sun protection when you're on the water or the trail. It's warm enough to keep you comfortable on cool days, and breathable enough to prevent overheating when it's hot.
Thanks to 50+ UPF sun protection and Polygiene permanent odor control, you'll be safe from the sun and stink from sunrise to sunset.
Shop Men's
Shop Women's
Quandary Pants
The Quandary Pants are a versatile set of hiking pants that are equally comfortable on the trail and in the city. They're made of a strong, lightweight, quick-drying nylon/spandex blend with a DWR finish that resists moisture and provides 50+ UPF sun protection.
The Quandary Pants are light, technical, and movement-oriented. The curved waistband follows the contours of your hips for a personalized fit, and the gusseted crotch enables a full range of motion.
The Quandary Pants are also available in shorts for warm-weather hiking.
Shop Men's
Shop Women's
Nine Trails Shorts
The Nine Trails Shorts are engineered for heart-pounding hikes and trail runs. They're versatile, tough, and breathable, made with a lightweight blend of recycled polyester and spandex fabric with four-way stretch.
The exterior of the shorts features a DWR finish to repel moisture, while the interior features a supportive and wicking polyester liner made with Capilene Lightweight fabric with Polygiene permanent odor control. All three pockets close with zippers, and there's a drawcord at the waist to fine-tune the fit.
Shop Men's
Shop Women's
P-6 Trucker Hat
A contemporary nod to Patagonia's roots, the popular P-6 Trucker Hat is a classic mid-crown trucker hat with a polyester mesh back and adjustable snap closure. The front and bill are made with 100% organic cotton canvas, and there are plenty of fun color options to suit your style.
Shop Now
Black Hole Duffel Bag
The Black Hole Duffel Bag is a true workhorse, with various sizes that can outfit everything from a day at the lake to a week-long camping trip. The shell is constructed with 900D polyester ripstop with a TPU-film laminate and DWR finish, making it extremely weather-resistant and ruggedly durable.
Shop Now
Lightweight Travel Mini Hip Pack
The Lightweight Travel Mini Hip Pack is perfect for trail runs and quick hikes where you don't want to carry a day pack. It's lightweight but durable, featuring 70D nylon ripstop fabric with a PU coating and silicone finish for durability and water resistance.
The main compartment has a key clip to keep your keys in place while you're on the move, and the security pocket doubles as the bag's own stuff sack for convenient transportation.
Shop Now
Explore More Gear
Sign up for Weekend Wanderer to join 10,000+ readers getting epic travel ideas every week.
---