We research, test and evaluate outdoor gear based on a number of factors, including our writers' experience and expertise, trusted user reviews and more. We may earn a commission when you make a purchase through our links. See our editorial policy to learn more.
Was this article helpful?
---
Ready to ditch the pillow-walk for shoes that allow you to connect with the ground?
Minimalist sandals are the answer. After all, they're close to a slice of perfection: enough protection to keep you safe from sharp objects while allowing for a natural gait and foot strike—just the way nature intended.
Unlike your typical footwear, minimalist sandals lack the traditional norms of arch support, cushion, and sturdy soles. Instead, they offer a more natural approach featuring a minimal midsole with zero-drop. It's a funky term, but it means that your heel and forefoot are equal heights above the ground.
Editor's Choice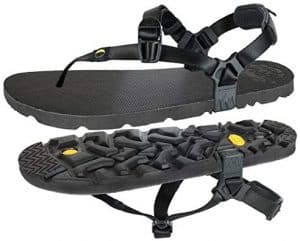 Luna Sandals Mono Winged Edition
Lightweight performance
Flexible, adaptable minimalist sandals built for any outdoor adventure, from hiking to urban exploring.
Check Price
Advocates of minimalist footwear claim that it allows for more range of motion and full foot splay. They also believe that a zero-drop shoe causes you to land on your mid-foot or forefoot rather than the heel, mimicking barefoot movement.
If you decide to try a minimalist shoe, here's a thought: start slow. Most of us are very accustomed to shoes with at least 4-6mm of drop, meaning we usually have more cushion beneath our heels than our forefoot. If you're ready to make the drop (see what we did there?) into minimalist shoes, transition slowly to avoid sore achilles and calf muscles.
Ready to give minimalist sandals a shot? Here are our favorites to get you started.
Editor's Choice: Luna Sandals Mono Winged Edition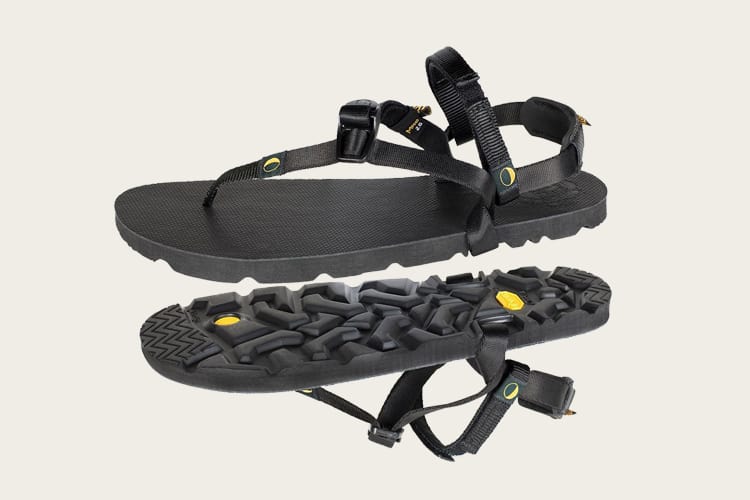 In 2009, Christopher McDougall sparked a minimalist movement in the running industry with his New York Times best-seller Born to Run.
In the book, he chronicles ultra-marathon runner Barefoot Ted's quest to run pain-free and the time he spent with the legendary huarache (sandals) endurance runners of Mexico — the Tarahumara. After receiving a pair of the traditional huarache from a local runner, Barefoot Ted was inspired to create Luna Sandals.
While we can't guarantee you'll become an ultra-marathon runner like the Tarahumara, you can run their style with the Luna Sandals Mono.
Made in Seattle, the Mono has a Vibram sole that's flexible and lightweight. It features Luna's Monkey Grip Technology, which increases traction in wet conditions while reinforcing toe and ankle holes.
The Mono also uses Luna Sandals' patented Performance Laces 2.0 to secure your foot in place whether your trail running or strolling leisurely around town.
For the minimalist looking for a sandal that does it all, the Mono 2.0 is a prime choice.
Check Amazon Price
Upgrade Pick: Bedrock Sandals Cairn 3D Adventure Sandals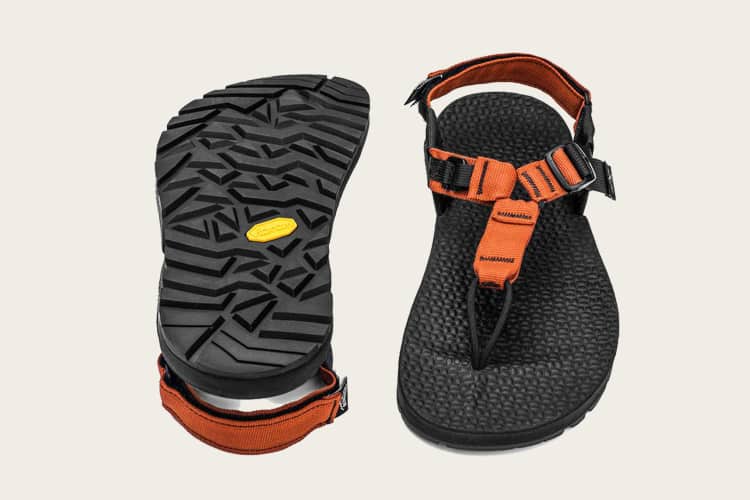 Crowd-funded Bedrock Sandals is getting back to nature while giving back 1% of sales to environmental non-profits. Based in Richmond, California, this group of outdoor-minded folks is pumping out premium sandals designed for an active lifestyle.
Their award-winning Cairn 3D Adventure Sandal is a testament to their dedication to producing the most durable, capable sandal ready to tackle your next adventure.
Their most advanced sandal to date, the Cairn 3D Adventure Sandals offer additional arch and toe support with an anatomically sculpted footbed. Even with the added support, this sandal is still zero-drop.
The outsole features Vibram® XS Trek Regolith designed for optimal traction, durability, stability, and comfort on rugged terrain.
Meanwhile, the patent-pending Y-strap has three adjustment zones and sole-hugger wings for a snug, secure fit. The unisex sandals are available in seven attractive colors, so there's a style for everyone.
Check REI Price
Xero Shoes Z-Trail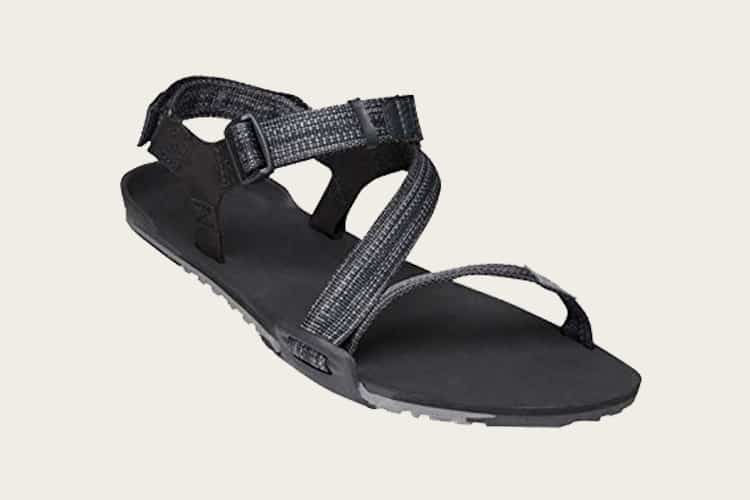 Taking up sprinting again after thirty years, Steven Sashen found he was constantly experiencing injuries. Inspired by a friend who suggested he read Born to Run, Sashen made his own huaraches and soon found his injuries ceased.
Like Barefoot Ted, he was inspired to launch his own line of minimalist shoes and sandals. With the help of his wife Lena, Xero Shoes was born.
The Z-Trail is Xero Shoes' "ultimate trail-friendly" sandal. It's versatile enough to be worn for any outdoor activity, on land or sea.
The Z-Trail's flexible 10mm-thick sole focuses on comfort as much as protection with its lightweight 3-layer FeelLite™ sole. The proprietary technology features their FeelTrue® rubber on the bottom to handle ankle-busting terrain while providing excellent grip.
The TrailFoam™ mid-layer takes on force absorption, while the BareFoam™ top layer optimizes comfort.
Backed by Xero Shoes' industry-leading 5,000 mile guarantee, you can trust your Z-Trail sandals are built to last through year after year of outdoor adventures.
Check REI Price
Best Value: Xero Shoes Cloud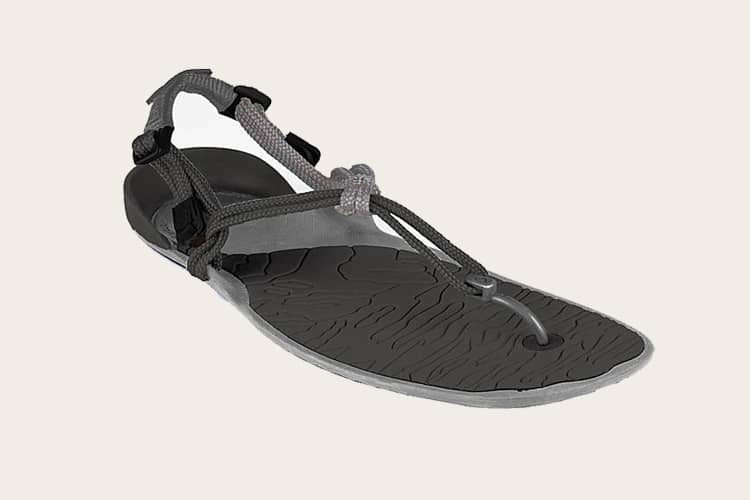 Fans of the Xero Shoes Z-Trail who want to go even more minimal will love the company's Cloud Sandals. Scaling down the soles as well as the straps, you'll feel earthier with these puppies on your feet.
The Cloud has a 6mm FeelTrue® Outsole to protect you from jagged surfaces and a 3mm BareFoam™ insert for additional forefoot comfort. At 4.6-ounces, it's lightweight enough to keep you agile yet flexible enough to enable proper ground-feel.
The lacing system is easily adjustable, making slipping them on or off a breeze. While this may cause concerns for slippage when in motion, there's an additional heel cup to keep your foot in place and block kicked-up debris.
As a bonus, the toe post is soft to the touch so it can handle movement without causing the irritation you sometimes get with ordinary flip-flops.
Check REI Price
Earth Runners Circadian Adventure Sandals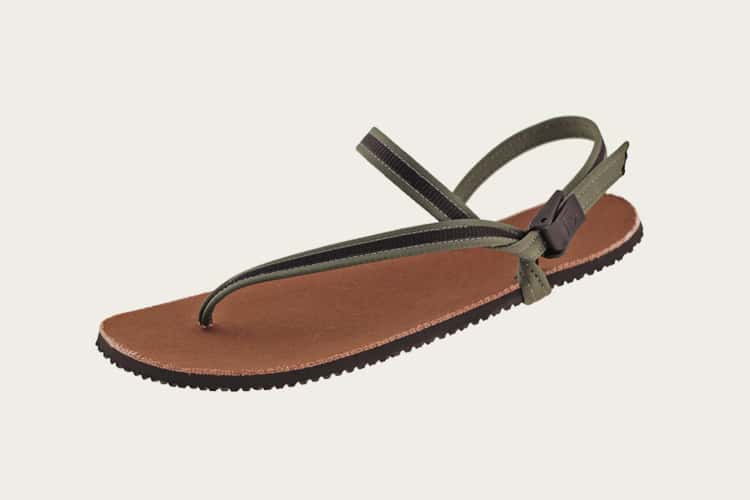 Earth Runners' mission is to return to healthy bipedal mobilization through the art of rewilding. Handcrafted in San Francisco, California, the company's Circadian Adventure Sandals are designed to keep you in touch with mother nature every step of the way.
Inspired by the Tarahumara huaraches, these six-ounce minimalist sandals help you regain a natural movement while still protecting the soles on your feet.
The sandals are equipped with a 9mm Vibram Gumlite Outsole and Earth Runners' own cotton canvas Earth-Grip footbed for increased all-weather traction, offering the reinforcement you need while still enabling a good ground-feel.
When you come across unstable ground on the trail, the sandal locks in place around your foot with 9/16-inch Performance Laces.
This means the Circadian Adventure Sandals have a tighter fit, so those looking for additional comfort may prefer their Earth Runner's Lifestyle Sandals instead.
Check Current Price
Unshoes Wokova Feather Sandal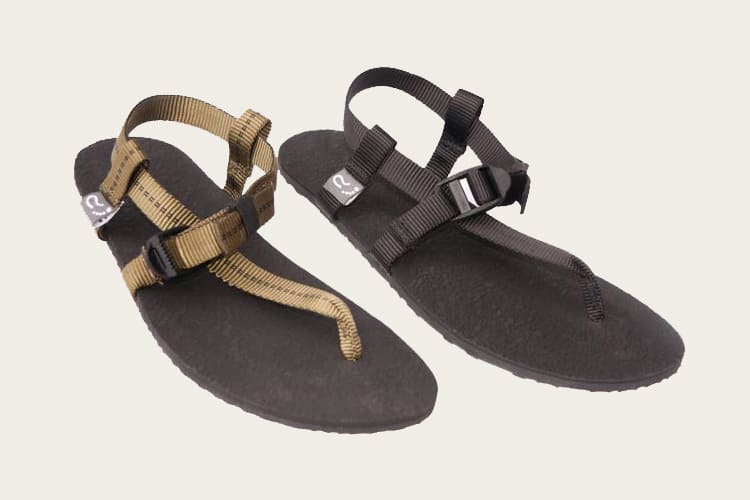 When the concept for Unshoes emerged, there were only two huarache companies and their sandals only came with laces.
Wanting a more active sandal with straps, Terral Fox turned to duct tape, rock climbing webbing, and shelf foam to create his first prototype. When he finally created what he was looking for, Unshoes was born.
Trail runners who like the concept of ancient sandals but need a more athletic, contemporary design will love the Wokova Feather Sandals. With a thin 8mm sole and a zero-drop, you'll be able to move freely while still maintaining stability.
Even the pickiest customers are sure to be pleased, as the Wokova sandals are also available in a customized fit to suit advanced minimalist needs.
Check Current Price
What to Know Before Going Minimalist
Ready to hit the ground running? Not so fast. Before you strap on your sandals, there are some important aspects of going minimalist you need to be aware of.
First, the transition from normal footwear to minimalist should be gradual to avoid injury. You wouldn't run a marathon without increasing your stamina first, right?
Like stretching before a run, try some foot strengthening exercises before making the transition. Then, acclimate your feet by walking in your new minimalist sandals and slowly increasing your distance. It's recommended that you wear them an hour a day in your normal routine, then introducing them to your fitness regime when you feel comfortable.
You'll also want to pay attention to outside temperatures. Hot pavement and frozen ground aren't exactly fun to run on with razor-thin soles.
Lastly, stay in tune with your body. When your aching muscles tell you to stop, listen. Even when following proper protocol, you may have underlying health issues that are better suited by traditional sandals or shoes.
Find Your Next Adventure
Sign up for Weekend Wanderer to join 10,000+ readers getting epic travel ideas every week.
Was this article helpful?
---