When you make a purchase through our links, we may earn commissions from Amazon, REI and other retailers. You can learn more about our editorial and affiliate policy here.
---
Of all the hiking boots on the market, only a handful are still made in America. After comparing the top models, we recommend the Danner Mountain Light as our favorite hiking boots made in the USA.
Whether you're hitting the trail or working outside, a solid pair of hiking boots will keep your feet comfortable and secure from sunrise to sunset. Hiking boots offer superior waterproofing for wet and rainy days, and they provide the traction you need to handle any type of terrain.
When premium quality is at the top of your list, you can't beat the quality craftsmanship of American-made boots.
Top Pick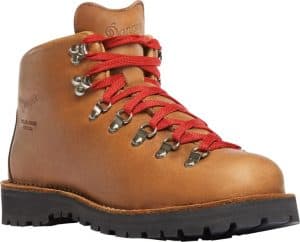 Danner Mountain Light
An American-Made Classic
The classic leather-and-red-lace-up boot that's come to represent USA-made hiking boots over the years.
Check Amazon Price
Call us old-fashioned or overly patriotic (both would be correct), but we love to support local companies who have been outfitting adventurers like us for decades.
There aren't many American-made hiking boots on the market, so our list is short and sweet. They're all from American companies with a rich history of manufacturing quality boots, so you won't be taking a chance on a newbie brand just dipping their boot toe in the water.
In fact, many of these timeless designs have been in production for decades, so they're tried-and-true legends built to last.
Related: The Keen Ridge Flex Boot: Cool Tech at a Great Price
1. Danner Mountain Light
The Danner Mountain Light has inspired countless competitors over the last 30 years, but nobody has been able to dethrone the original. The modern Danner Mountain Lights honor the classic style, and continue to provide unmatched comfort and support.
The Danner Mountain Light's most striking feature is the retro one-piece leather upper.
By design, the minimal seams and lack of openings around the tongue area excel at keeping water and debris out of the boot. The full-grain leather is also the strongest, most durable type of leather that Danner could get their hands on, so it's guaranteed to last.
Like the Danner Light II hiking boots, the Mountain Lights feature Gore-Tex liners, Vibram Kletterlift outsoles, and Danner's legendary stitchdown construction.
They come out of the box with two lace options (because you can never have too many laces), and are recraftable to extend their lifespan.
The Danner Mountain Light is available in men's and women's sizes. The EE width is designed to fit an average-size foot, similar to a D width.
The 650 EE last is engineered for a more relaxed, casual fit, and the style runs a little long, so you should order a half-size down for the best fit.
2. KEEN Durand
The KEEN Durand delivers comfortable, dependable support for the longest hikes.
They're built to resist breakdown with a waterproof nubuck leather and breathable mesh upper, a dual compound rubber outsole, a direct-attach PU midsole, and hydrophobic mesh lining.
They're nice and cozy, too, with a metatomical footbed design that's anatomically engineered to provide optimal arch support and cradle the natural contours of your feet.
Assembled in Portland, Oregon, KEEN Durand hiking boots are built with wet trails in mind.
They're fully waterproof, with a proprietary KEEN. Dry breathable membrane that vents the vapor from inside your boots without letting any water in. They also feature a contoured heel lock and a TPU stability shank.
KEEN Durand hiking boots are available in men's and women's sizes. They run a little small, so KEEN recommends ordering a half-size larger than your standard shoe size.
3. Danner Light II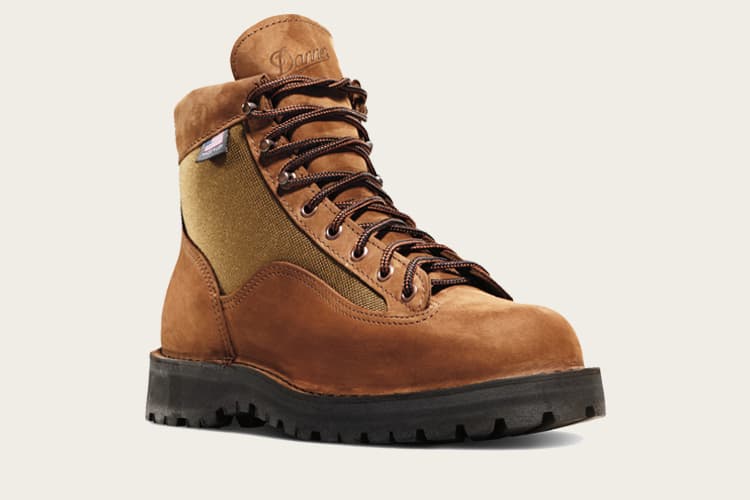 The Danner Light II hiking boots feature a full-grain nubuck leather and 1000 Denier Nylon upper for superior resistance to abrasions and scuffs, and excellent protection in cold and wet environments.
The Gore-Tex liner is waterproof and breathable, and allows sweat and moisture to vent while ensuring water from the outside doesn't get in.
The Danner Airthotic molded polyurethane instep cups your heel and supports your arch for comfort and support, and its half-length shape includes perforations to boost the air flow inside the boots.
For the outsole, the Danner Light II hiking boots use a Vibram Kletterlift outsole that's specifically designed for comfort and durability.
The heel provides superb shock absorption, and the rubber compound delivers superior traction and stability on wet and dry surfaces. The stitchdown construction is handcrafted to create a wider platform, which also increases stability on the trail.
The Danner Light II is available in men's and women's models. They run narrow, so you'll want to order a wide (EE) if you have a broad foot.
4. Merrell Wilderness
Over 30 years ago, Randy Merrell started building handcrafted custom boots for a small group of outdoor enthusiasts.
Thanks to Randy's no-compromise approach to bootmaking, his boots quickly garnered a reputation as "the best hiking boots ever made." That reputation still stands today.
Merrell Wilderness hiking boots may take a little time to break in, but they're built to last a lifetime.
All of the boots are made in the USA with premium materials, including a full grain waterproof leather upper, Italian metal hardware, Tesivel 3-bar knit lining, and a high-performance Vibram rubber outsole.
The boots feature a Norwegian welt construction, a dual density footbed, a microporous rubber midsole, a 5mm leather/TPR insole, and a bellows tongue to keep debris from invading your boots. They're even compatible with strap-on crampons.
They're true to size, so feel free to order your traditional shoe size.
5. Original L.L.Bean Boot
When you're working in wet weather, you can't beat the Original L.L. Bean Boot.
These boots have been handcrafted by expert stitchers in Brunswick, Maine, since 1912, so they've had over a century to perfect the design. These guys are renowned for their attention to detail, and you can see it in every stitch.
The Original L.L. Bean Boot features a waterproof, breathable Gore-Tex lining that's proven to keep your feet dry and comfortable in extreme weather.
The leather upper naturally repels rain and snow, and the Thinsulate Insulation keeps your feet warm in even the coldest weather (we're talking -35 degrees).
On the base, the boots employ a supportive steel shank and L.L. Bean's original rubber chain-tread bottom for unmatched comfort and support.
The Original L.L. Bean Boot is available in men's and women's sizes. The fit can be a little tricky, and it depends on how thick your socks will be.
With light or medium-weight socks, order a full-size down. With heavyweight socks, order your standard boot size. The Original L.L. Bean Boot only comes in whole sizes, so you'll need to round down if you're normally a half-size.
6. Thorogood OMNI™ Series 6" Boot
Weinbrenner Shoe Company is an employee-owned company that's been crafting quality footwear in Wisconsin since 1892.
Their Thorogood-branded boots represent the best of American Heritage footwear, with over 125 styles handcrafted by Union Tradespeople in American factories. Simply put, they're workhorse boots built for American workers who need reliable job-ready boots.
The Thorogood OMNI Series 6" Boots are designed for working in wet conditions outdoors. They're constructed with tumbled full-grain leather that's fully waterproof and ages like a fine wine.
The X-Stream waterproof, breathable lining is guaranteed to keep your feet from getting wet, and the removable single-density polyurethane footbed will keep your feet comfortable all day.
The Lug outsole provides excellent traction on any surface, and they're particularly grippy on wet terrain thanks to the bob lugs that flex like independent claws on contact with hard surfaces.
The boots also feature an omni outsole, a fiberglass shank, and direct attach construction.
7. Oak Street Bootmakers Summit Boot
For our upgrade pick, we went with a fashion-forward set of hiking boots from Oak Street Bootmakers. These guys preserve the heritage of fine shoemaking with thoughtfully-designed, attentively-crafted footwear.
All of their boots are handcrafted in the USA by master shoemakers with renowned Horween Chromexcel leather. They're durable, comfortable, and built to last a lifetime with completely replaceable outsoles.
Oak Street Bootmakers' Natural Dainite Summit Boots may stretch your budget, but they're worth every penny.
You're not just buying a kick-ass pair of trail-ready boots — you're getting premium American-made hiking boots that you can wear from the office to the backcountry.
The Natural Dainite Summit Boot is crafted with Dainite outsoles and heels for exceptional comfort and grip. They don't attract or store dirt, and the soles can easily be wiped clean.
The boots feature a true Goodyear Welt construction, storm welt, padded upper, full calfskin lining, hand-riveted D-ring eyelets, and a gusseted tongue.
These boots are truly timeless, as they're just as stylish and practical now as the day they were introduced in 1894.
Final Thoughts
All seven of these American-made hiking boots pack the features you need to keep your feet comfortable and secure on the trail, so the final decision comes down to your budget and style preferences.
The KEEN Durand is the best budget pick, though we'd recommend upgrading to the Thorogood OMNI Series 6" Boot for the best overall value and a few extra style points.
For fashion-conscious buyers who want versatile hiking boots that kill the competition on the trails and look good with a pair of jeans on the weekend, go with the Danner Light IIs, the Danner Mountain Lights, or the Merrell Wilderness boots.
Better yet, splurge a little and spring for the Oak Street Bootmakers Natural Dainite Summit Boot, and you'll be the most dapper gentleman on the trail and in the office on casual Fridays.
More of the Best Gear
Sign up for the Weekend Wanderer and join thousands of readers getting epic travel ideas every week.
---