We research, test and evaluate outdoor gear based on a number of factors, including our writers' experience and expertise, trusted user reviews and more. We may earn a commission when you make a purchase through our links. See our editorial policy to learn more.
Was this article helpful?
---
Roll-top backpacks have historically been the daypack of choice for outdoor enthusiasts and travelers, but today's roll-tops have everything it takes to wear straight from the office to the backcountry.
Few backpacks can kick it old school as well as the roll-top rucksack.
There's something distinctly American (and a pinch of British) about this heritage bag that makes it a timeless classic.
Whether you're looking for an all-weather commuter bag, rugged daypack, or airport-ready travel pack, we've got you covered. Here's a look at 11 of our favorite roll-top backpacks on the market right now, along with a quick reference guide on what to look for to help you pick the perfect one for you.
What to Look For
1
Capacity: The average roll-top backpack clocks in around 20 liters, but you can easily size up or down to fit your carrying needs
2
Durability: Backpacks take a beating over the years, so choosing a durable fabric is critical. Look for high-denier nylon, waxed canvas, and leather.
3
Water Resistance: If you plan to spend a fair amount of time outdoors, ensure your backpack can withstand unexpected rain showers
4
Organization: For commuter packs, the laptop sleeve should be large enough to fit your tech. For travel and outdoors, look for exterior stash pockets and rear panel access
The Best Roll-Top Backpacks Under $100
Timbuk2 Tuck Backpack
What we dig: Our top pick for roll-top backpacks under $100
If we had a $100 budget for a roll-top backpack, we'd pick the Tuck Backpack from Timbuk2. The San Francisco designer consistently churns out premium bags that stand out in a crowd, and the affordable price point makes it a hell of a value.
The Tuck Backpack uses Cordura nylon canvas that's strong, durable, and water-resistant. It fits a 15-inch laptop in the 20-liter main compartment, and there's a rear-entry zip where you can access your gear without opening the roll top.
The standard model is available in 10 color combinations. You can also order a custom Tuck Backpack if you're looking to max out your style points.
Burton Export 25L Backpack
What we dig: Old-school character and simplicity with a classic roll-top closure
The Export 25L Backpack from Burton blends heritage details with modern style.
Inside, the Export features a stealth laptop sleeve and rear-entry back panel. Outside, the roll-top backpack offers lash points and daisy chains for a functional exterior.
The Export is built to withstand the rigors of outdoor adventures, and there's even a built-in emergency whistle if you lose your way in the wilderness.
CamelBak Pivot Roll-Top Backpack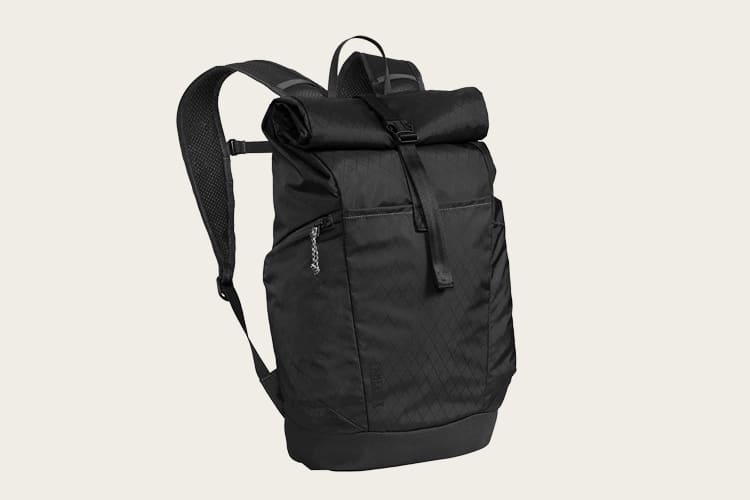 What we dig: Lightweight and versatile — perfect for commuters and hikers alike
The 20-liter Pivot Roll-Top Backpack from CamelBak is an excellent choice for adventurous souls seeking a trail-ready backpack.
You can wear this roll-top backpack straight from the office to the trail on Fridays — just swap your laptop for a two-liter water reservoir (sold separately) and you're ready to go.
The Best Roll-Top Backpacks Under $200
Chrome Industries Barrage Cargo Backpack
What we dig: A 100% waterproof backpack that's built for functionality and utility
Take one look at the Barrage Cargo Backpack from Chrome Industries and you'll quickly see why it's such a popular choice for bicycle commuters. The cargo net is the perfect size for helmets, and with so many straps and pockets, there's ample exterior space for your U-lock, water bottle, and EDC essentials.
The Barrage is completely weatherproof thanks to a durable nylon shell and a welded waterproof liner, so it's also a solid choice for afternoons at the lake or pool.
WANDRD PRVKE Pack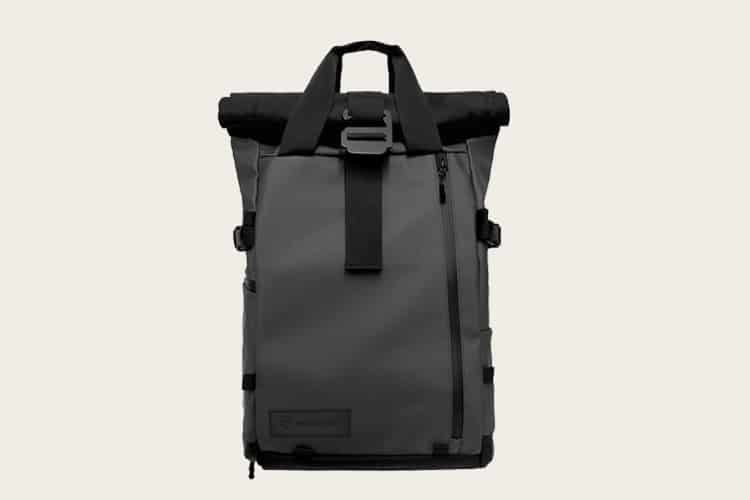 What we dig: An award-winning travel backpack with a modular interior that's perfect for on-the-go photography
The WANDRD PRVKE Pack is just plain sexy. It's loaded with innovative features from top to bottom, including magnetic tote handles, quick-draw side access, and a rainfly stashed in a dedicated pocket on the bottom.
The PRVKE Pack boasts an unbelievably durable exterior made with water-resistant tarpaulin and ballistic nylon, so you'll never have to worry about whatever's tucked away inside.
You can also purchase a removable camera cube to organize your photography gear and provide additional protection for expensive equipment.
The PRVKE Pack is available in two sizes, 21-liter and 31-liter, so you can easily size up or down to meet your capacity needs.
Thule Paramount Daypack
What we dig: A rugged backpack that's built for urban adventures, with top of the line protection for your electronics
Thule is renowned for their ultra-durable travel gear, so you know you're getting a ruggedly reliable backpack with their Paramount Daypack.
Available in 24-liter and 29-liter models, the Paramount Daypack features a dual-density laptop sleeve with secure flap closure and SafeEdge construction for maximum corner protection.
There's a protective slip pocket for your tablet with a soft interior lining, and you'll enjoy two-way access to both your laptop and tablet through the top-loading compartment and side zipper.
On the outside, the Paramount Daypack keeps your gear safe and dry with 420-denier nylon material and a DWR finish. The welded bottom panels protect your gear even further in case your backpack finds itself sitting on soggy ground.
Alpin Mountain Co. Metro Pack
What we dig: An American-made roll-top backpack that's versatile enough to go from the office to the backcountry
The Metro Pack from Alpin Mountain Company is engineered for day hikes. Sure, it'll do the job as a commuter pack with its 15-inch laptop sleeve, but this roll-top backpack shines the brightest when it's on the trail.
The Metro Pack is fully weatherproof, built with ultra-durable 600-denier Cordura material and waterproof zippers. It's handmade in California and field-tested in the Sierra Nevadas, with an ergonomic frame that adjusts to your body as you're bouncing along the trail.
Millican Smith Roll 25L Pack
What we dig: A versatile rucksack designed for guys on the move
The Smith Roll 25L Pack from Millican is one of the most popular roll-top backpacks that you'll find at REI. It's surprisingly versatile, packing everything you need to take hiking, biking, commuting, and airport hopping.
This lightweight, weatherproof backpack prioritizes organization with five exterior pockets and a spacious main compartment. The padded laptop sleeve can house a 15-inch laptop, and the external attachments are great for everything from hiking poles to tripods and bike locks.
The Best Premium Roll-Top Backpacks
Defy VerBockel Rolltop Backpack
What we dig: A jet black, ballistic nylon backpack with a badass aesthetic to match your Harley
The Defy VerBockel Rolltop Backpack is designed and crafted in Chicago, making it one of the best American-made roll-top backpacks on the market. It looks best when you're straddling a motorcycle, but don't worry — it'll still boost your street cred if your bike is a Schwinn.
The VerBockel Rolltop Backpack is available in two fabric options — heavy waxed canvas or 1050-denier ballistic nylon. Both are water-resistant, though the latter is the way to go if you're expecting stormy skies.
The roll-top backpack boasts a 28-liter capacity with a dedicated laptop compartment that'll fit a 15-inch MacBook Pro. The padded laptop section keeps your tech secure with closed-cell foam, while the YKK Aquaguard Water-Repellant Zippers ensures everything inside the bag stays high and dry.
Tanner Goods Koru Rucksack
What we dig: An heirloom-quality backpack that pays homage to the classic roll-top rucksack
Tanner Goods does an incredible job at upgrading time-honored, classic silhouettes, and their Koru Rucksack is no exception.
Like everything else Tanner Goods makes, the Koru Rucksack is built to weather years of use as a core member of your EDC arsenal. It's crafted with Japanese-milled Konbu fabric that's renowned for its military-grade durability and lightweight properties.
This roll-top backpack is on the larger end of the spectrum with a 34-liter capacity and numerous organization pockets, with a dedicated laptop sleeve for 15-inch laptops.
Take a gander at the exterior and you'll notice aircraft-grade aluminum hooks and tension locks, English bridle leather, and a DWR coating to keep the elements at bay.
Filson Roll-Top Backpack
What we dig: A handsome twill backpack sporting a cinch-down roll-top closure and fully lined interior
The Filson Roll-Top Backpack demands to be taken on a safari — though if that can't be arranged, it'll settle for a weekend in the mountains.
This devilishly handsome backpack is built to last with 100% cotton Rugged Twill, 15-ounce oil finish Tin Cloth, 6-ounce cotton lining, and bridle leather trim. It's handcrafted right here in the USA, with a 31-ounce capacity that's more than spacious enough to outfit your next backcountry adventure.
More Top-Rated Backpacks And Bags
Sign up for our free email to join thousands of readers getting epic travel, hiking, camping and gear ideas every week.
Was this article helpful?
---