We research, evaluate and select travel destinations based on a number of factors, including our writers' experience, user reviews and more. We may earn a commission when you book or purchase through our links. See our editorial policy to learn more.
Was this article helpful?
---
Sleeping under the stars is one of the best parts about hammock camping — until the mosquitos show up. If your hammock doesn't already have a built-in bug net, check out the top-rated add-on nets.
Bugs have a special way of souring your camping experience. Sometimes, I swear they fly straight into my ear just for the spectacle of my knee-jerk reaction — which usually involves smacking myself in the head and stringing together my favorite expletives.
The blood-sucking parasites are always playing the long game, too. When you wake up the next morning with bug bites all over your body, you know you're in for a few maddening days of itching and scratching to no avail.
Annoyances and inconvenience aren't the biggest issues with bugs, though. Disease-carrying insects should always be on your radar, as they can cause serious and sometimes fatal illnesses.
To keep the bugs (and associated problems) at bay, it's best to take a two-pronged approach when hammock camping: bring a bug net, and shower everything with a liberal coating of bug spray.
Choosing The Right Bug Net
There are two ways to add a bug net to your hammock camping sleep system. You can buy a hammock with an integrated bug net that just covers the top, or you can get a full canopy-style bug net that envelops the entire hammock to create a spacious bug-free zone.
Hammocks from cottage makers like Warbonnet Outdoors usually come with a zippered bug net, so you shouldn't have to worry about a bug net if you buy your hammock from a cottage company.
It's usually the larger brands like ENO, Kammok, and the innumerable knock-off versions you find on Amazon that require purchasing a separate bug net. That's not a bad thing, it's just an added cost to keep in mind when you're buying a simple hammock like the ENO Doublenest.
If you're looking for a zip-on bug net that pairs perfectly with your individual hammock, check the manufacturer's website. Trying to merge a zip-on bug net and hammock from two different brands rarely works out. It's not really a matter of the "best bug net" in such cases — the most important factor is simply buying the zip-on bug net that's made specifically for your hammock.
For the purpose of this article, we're going to focus on universal bug nets that work with any hammock. These canopy-style bug nets drape around your entire hammock rather than zipping directly to the hammock, so they're easy to pair with any style or size of hammock.
Our list of the best bug nets includes a range of options from big-box brands like Kammok and ENO to smaller cottage companies like Warbonnet Outdoors, Dutchware, and Arrowhead Equipment. Whether you're looking for a budget-friendly bug net or a handcrafted product that's made in America, you'll find the perfect bug net for your hammock camping adventures right here.
Upgrade Pick: Dutchware Birds Nest Bug Net
One of the biggest downsides to hammock camping is sleeping alone. For couples who enjoy backcountry canoodling, it's tough to trade a roomy double sleeping bag for solo hammocks.
The Dutchware Birds Nest Bug Net can't solve the solo-capacity dilemma, but it does provide a fun way for couples to set up their hammocks under the same canopy. When paired with a 32-inch spreader bar, the Birds Nest Bug Net provides plenty of space for two in a spacious bug-free zone.
Not only does the Birds Nest Bug Net completely enclose two hammocks, it features a waterproof fabric bottom so your furry friend can sleep in the bug-free zone. Alternately, you can stash your gear down there to keep your backpack and shoes off the wet ground.
The Birds Nest Bug Net features dual zippers on each side of the net, so it's easy to access the canopy from either side. It's also relatively lightweight for such a large bug net, weighing a hair under 15 ounces.
Check Current Price
Best Value: Arrowhead Equipment Hug Half Bug Net
Winner of our Best Value award, the Hug Half Bug Net delivers massive weight savings and an unrivaled packed size by eliminating netting where you don't need it. It weighs just five ounces, packs to the size of than orange, and still manages to deliver full bug protection where you need it.
The Hug Half Bug Net is manufactured by Idaho cottage maker Arrowhead Equipment, but it was actually designed by Derek Hansen, author of The Ultimate Hang (our favorite how-to book for hammock camping). Hansen had the following to say about the unique design:
"After hammock camping with my kids, I wanted a net that I could exit quickly without fumbling for time-consuming zippers or drawcords. The solution was a design that hugs the hammock with a simple toggle system and drapes on top for easy entry and exit. For those looking for a lightweight, simple solution to seasonal bug issues, I believe the Hug is a perfect match."
The Hug Half Bug Net saves weight by deliberately taking advantage of different components in the hammock camping sleep system. It focuses exclusively on providing bug protection for the upper half of the topside of your hammock, assuming that your lower half is protected by your top quilt and your entire backside is covered by your underquilt.
The Hug Half Bug Net works with and without a fixed ridgeline, and it's designed to let you easily climb in and out of your hammock without fumbling with zippers or getting tangled up in excess material. Given the simplicity, effectiveness, weight savings, and compact size, this is an excellent choice for backpackers.
Check Current Price
ENO Guardian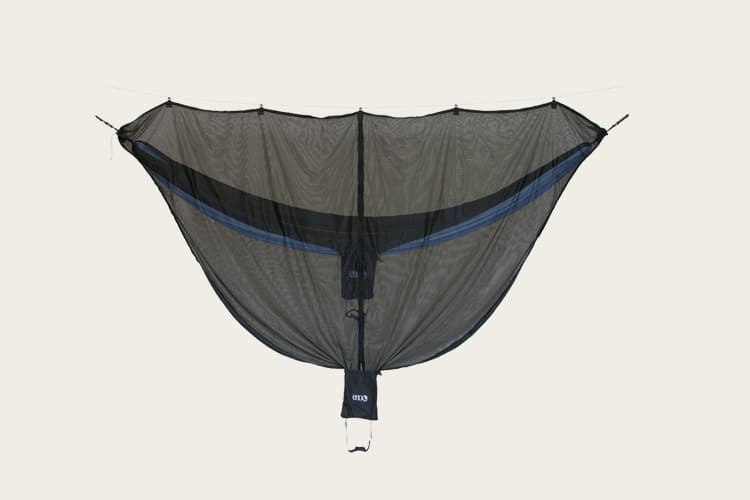 ENO has been a standard-bearer in the hammock camping industry for a long time, so you know you can trust their Guardian Bug Net. It's designed specifically for use with ENO hammocks, but the universal design works with most commercially available hammocks.
The ENO Guardian is constructed with proprietary SkyWeave™ no-see-um mesh. There's a full-length zipper for easy entry, and you'll find the spacious interior offers ample headroom.
Setup is quick and easy with the ENO Guardian, and the bug net comes with a built-in compression stuff sack for convenient transport.
The standard Guardian Bug Net weighs about 16 ounces. For a lighter, more streamlined bug net, try the Guardian SL Bug Net that shaves off 7 ounces. You can also upgrade to the Guardian DX for a dual-entry bug net that's about 3 ounces lighter and doesn't sacrifice headroom.
Check Amazon Price
Check REI Price
Therm-a-Rest Slacker Hammock Bug Shelter
The Therm-a-Rest Slacker Hammock Bug Shelter works with most third-party hammocks, but it's a match made in heaven when paired with the Therm-a-Rest Slacker Hammock. The bug net clips directly into the Slacker Hammock's suspension points, so setting up is a breeze.
The Slacker Hammock Bug Shelter delivers full protection from anything creepy and crawly with no-see-um mesh and a 70D nylon PU-coated bottom. There are reinforced guy points that you can pull out to maximize the interior space and protection, and the exposed webbing ridgeline offers a convenient place to clip in lights and gear. Getting in and out of the bug-free zone is easy thanks to the large zippered entry.
Check Amazon Price
Check Backcountry Price
Warbonnet Outdoors Travel Net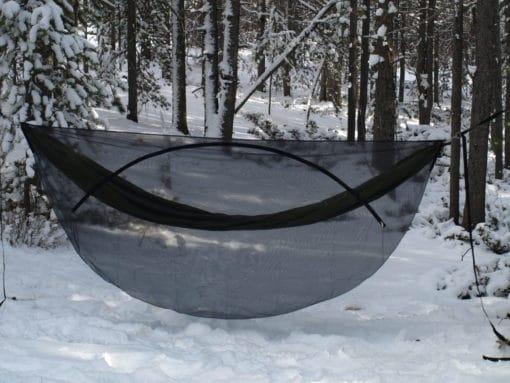 Most Warbonnet Outdoors hammocks come with an integrated bug net that zips directly onto the hammock, but they do offer a standalone bug net — the Warbonnet Outdoors Travel Net. It's designed to go with their Traveler Hammock (their only netless hammock), but it'll go with most any third-party hammock.
The Travel Net is available in two sizes. The regular fits any 10-foot hammock with a 101" ridgeline, and the XL fits any 11-foot hammock. Both are constructed with 0.9-ounce polyester no-see-um netting, and they're ultralight at 7.5 ounces (regular) and 9.35 ounces (XL).
Check Current Price
Hummingbird Hammocks Warbler Bug Net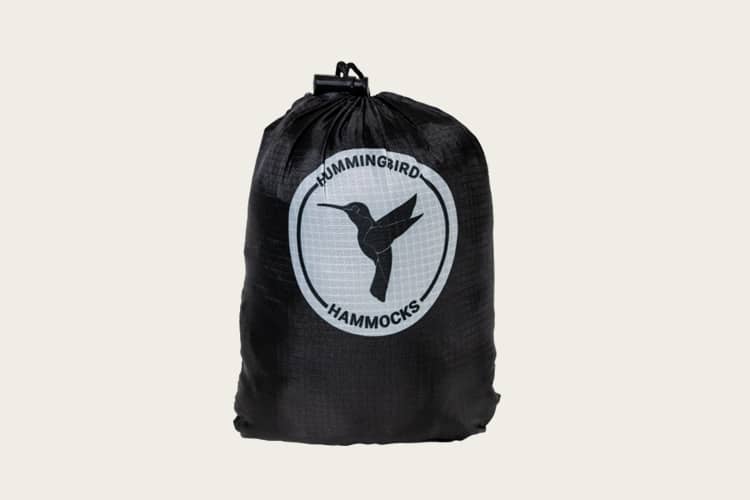 Hummingbird Hammocks is all about applying FAA parachute rigging standards to hammock products, and the Warbler Bug Net is no exception. The bug net is constructed with durable 0.6-ounce no-see-um netting, reinforced ends, and lock stitched with military spec nylon thread. It's super light at eight ounces with a low pack volume, making it a popular choice for ultralight backpackers.
The Warbler Bug Net protects against the smallest bugs and parasites while maintaining visibility, durability, and airflow. Zipping up the bug net creates a powerful cocoon with 360° protection, so you don't have to worry about bugs invading any part of your personal bubble.
The Warbler Bug Net features a full height, ultralight zipper with dual pulls for easy entry and exit. The netting also includes a section of reinforced fabric where the Warbler meets your hammock, delivering a reliable seal to keep the bugs out while also improving the durability of the bug net.
Check Amazon Price
Sea to Summit Hammock Bug Net
The Sea to Summit Hammock Bug Net features a unique design with a collapsible spreader pole for a more spacious interior. The design also eliminates the need for a ridgeline, so there won't be a bulky rope impeding your stargazing experience at night.
The Sea to Summit Hammock Bug Net is constructed with breathable, high-visibility black polyester mesh. There are 500 holes per square inch, so you'll enjoy good visibility while keeping pesky insects at bay.
The right-angle zipper opens wide, making it easy to get in and get out. It pairs perfectly with Sea to Summit hammocks, and works well with most third-party hammocks.
Check Current Price
More Hammock Camping Gear
Sign up for Weekend Wanderer to join 10,000+ readers getting epic travel ideas every week.
Was this article helpful?
---