We research, test and evaluate outdoor gear based on a number of factors, including our writers' experience and expertise, trusted user reviews and more. We may earn a commission when you make a purchase through our links. See our editorial policy to learn more.
---
For most guys, the allure of a well-designed field watch is that you can wear it to work on Friday and into the woods on Saturday. The Bertucci A-2T Original Classic is our top field watch for the sub-$200 budget.
It's difficult to narrow down the must-haves of a good field watch because they can serve so many purposes.
Will you wear your watch around water? Climb around rocks and boulders that could scratch the surface?
Can you see the watch face in low light conditions? Will you wear it in the city or for bushwhacking and spelunking?
Related: Gear Review: The Vaer C5 Watch
Fortunately, there's no shortage of serviceable field watches. We did our own survey of the field, seeking out options for every walk of life.
Here's a look at the best field watches on the market for under $200.
Bertucci A-2T Original Classic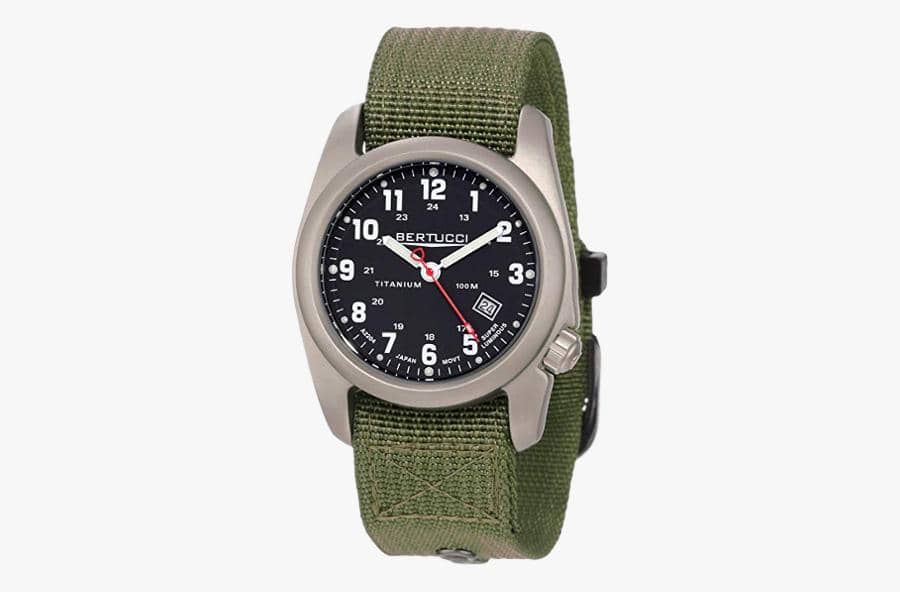 Bertucci is an American watchmaker exclusively producing field watches — and they're damn good at it. Their watches have been field tested by military, law enforcement, deep sea divers, and mountaineers, earning top marks in every field.
Why are they so dependable? Bertucci is the world leader in manufacturing solid titanium watches, using a hardened mineral crystal built with scratch-resistant and water-resistant up to 100m.
The design is topped off with a long-lasting A-2T Original Classic heavy-duty nylon band, though you're welcome to swap out the traditional field band for a Montanaro B-Type leather band if you're looking for style points. This is a go-anywhere and do-anything field watch with everything you need and nothing you don't.
Check Amazon Price
Timex Expedition Scout
The Timex Expedition Scout is a rugged watch that's built for any adventure. It's water-resistant up to 50m, so it's suitable for a dip in the lake, rafting down the river or braving a summer storm.
You can choose between 12 and 24-hour time settings with luminescent hands, a distinct arrow second hand for precise measurements, and a calendar widget to track the date. We're partial to this particular style with the 40mm black brass case, mineral glass window, and army-green nylon band. The Expedition Scout collection even offers 16 configurations to match your color preference.
Check Amazon Price
Timex Weekender Chronograph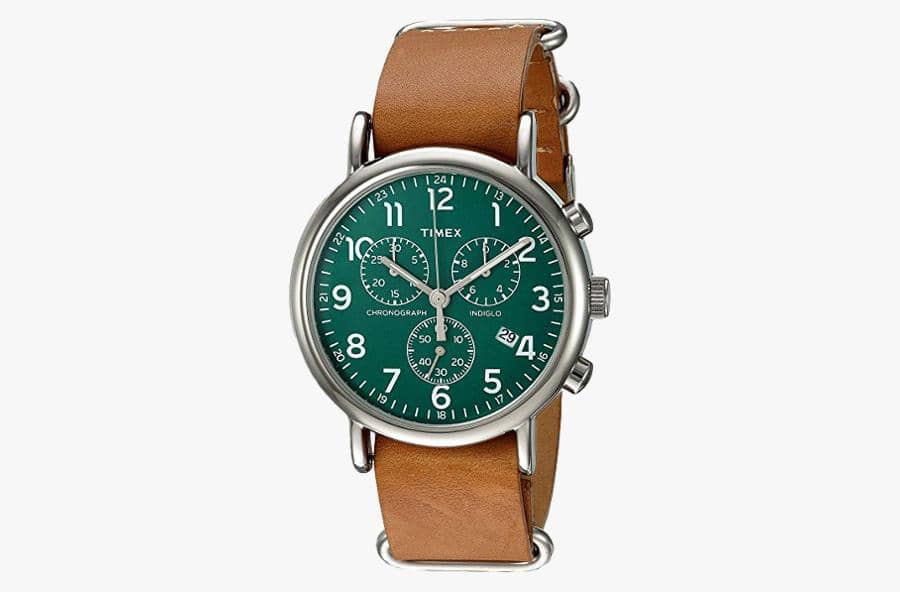 If you're a fan of Timex but prefer a chronograph, check out the Timex Weekender Chronograph. It's just as durable as the Expedition Scout with a fabric double-layer strap and quartz movement, and it's water- resistant up to 30m.
The chronograph subdials let you measure with an accuracy of 1/20 of a second — or they just look cool for those of us who aren't running the finish line at the race track.
Like the Expedition Scout, the Weekender Chronograph also uses Timex Indiglo light-up tech to keep the watch face easy to read in low-light conditions, and it includes a date indicator to remind you of how many days you've been roughing it in the wild. Choose from 11 style options and consider getting an extra leather band to swap out on days you feel like dressing it up.
Check Amazon Price
Citizen BM8180-03E Eco-Drive
How about a watch that doesn't need a new battery every year? Citizen's Eco-Drive line of watches are powered by a solar panel on the watch face, so you never have to worry about swapping the battery. Give the watch a little sunlight from time to time and it'll keep ticking until it's time to pass it on to the next generation.
The Citizen BM8180-03E is a military-inspired timepiece with a stainless-steel case, Japanese-quartz movement, mineral crystal dial window and a woven canvas band that can withstand generations of use and abuse. The watch is water-resistant up to 100m too, so you can take it on your next snorkeling trip.
Check Amazon Price
Seiko 5 Men's SNZG09K1
Seiko is better known for high-end timepieces that'll set you back $500 or more, but they have a great line of casual watches delivering top-quality and style at an affordable price. Case in point: the Seiko 5 Men's SNZG09K1.
It offers a large 45mm face, a 10-bar seal that's rate up to 100m in water, and a sturdy canvas band that can handle any outdoor activity you throw its way. In addition to the standard date window, there's a day tracker to remind you to go back to the office Monday morning.
Check Amazon Price
Momentum Atlas 38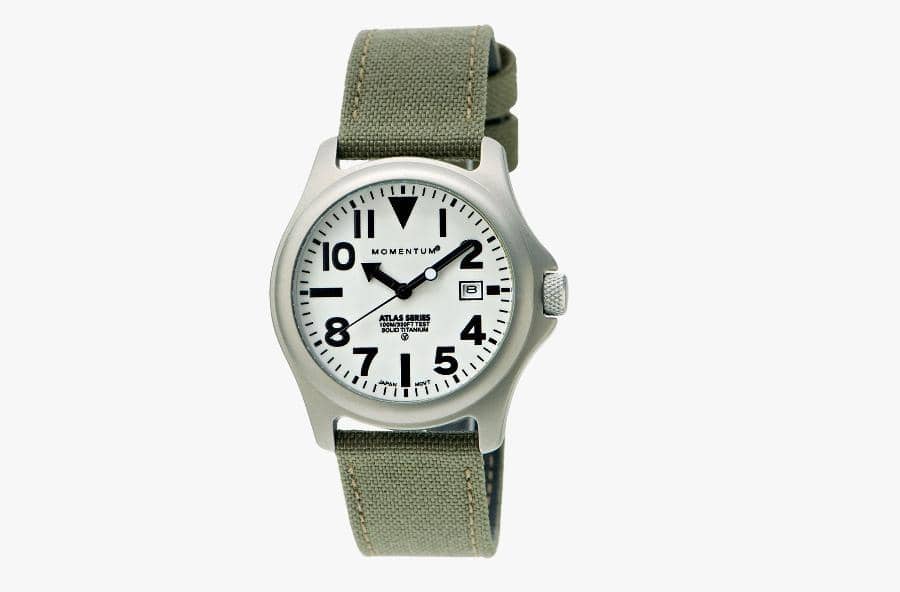 The Momentum Atlas 38 is made of solid titanium, so it's extraordinarily durable but surprisingly light. Its screw-down crown is water-resistant up to 100m, and the long-lasting battery will keep the watch ticking for up to 5 years.
It has more of a minimalist design with a smaller 38mm face, but still includes the standard date widget. You can also upgrade to a sapphire crystal face, which we highly recommend if you're like us and tend to get scratches on your watch face over time.
Momentum lets you choose from two 20mm fabric bands: the classic Cordura band or the Snowboard nylon band. The regular nylon band is crafted with genuine Cordura — a soft, non-allergenic liner that's water and sweat-resistant, with tone-on-tone hand-stitching that delivers a clean and simple look.
The Snowboard nylon band has a heavier weave with a more tapered shape designed to look like a heavy-duty band. We prefer the look of the contrast stitching and holes reinforced with steel grommet, but both are great options.
Check Current Price
Vaer Field Watch
Vaer is another great American watchmaker producing top-of-the-line field watches. These guys are focused on functional simplicity and the freedom that comes with throwing complexity out the window. Their watches are meant to tell the time and work anywhere, in any conditions — that's it. Based on the rave customer reviews, they've succeeded.
The Vaer Field Watch is the second edition of their classic field watch. Thanks to customer feedback, they've made improvements such as a 5-jewel Swiss made movement, increased lume strength, improved lug and crown ergonomics, and a more refined case design.
The watch is water-resistant up to 100m thanks to a rotating case-back with a round rubber gasket, a threaded screw-down crown, and an extra-thick sapphire crystal face (which also does a killer job of avoiding scratches).
One of the best parts about the Vaer Field Watch: it comes with two watch bands right out of the box. The primary strap is made with American Horween leather, which is some of the highest quality leather in the world. The backup strap is a heavy-duty nylon slide-through-band that's ridiculously durable and a better fit for wet environments. Between these two bands, you won't need to purchase another watch — you'll look stylish in the city and well-equipped in the wild.
Check Current Price
Nixon Corporal
If you're set on getting a watch with a leather band, check out the Nixon Corporal. It's a bit pricier than some of the other watches here, but with price comes quality, and you're definitely getting better construction here.
We love the modern stainless-steel case, oversized 48mm face, and jumbo numerical indices with luminous hands for easy night-viewing. The standard leather band is a solid option, or you can spring for the Horween leather band if you prefer a luxury finish.
Like most of the other watches we've reviewed, this timepiece is water-resistant up to 100m, so you can show it off rain or shine.
Check Current Price
Wenger Attitude Heritage
Is it too much of a pun if we say that the Wenger Attitude Heritage watch is a timeless piece? One look at this modern Swiss Made watch will tell you that it's durable enough to last for decades, and when you pass it on to your kid down the road the watch will still be in style.
Even better, the Swiss movement means it'll work just as well 20 years from now as it does today, and the sapphire coated mineral crystal will make scuffs and scratches irrelevant.
In terms of features, the Wenger Attitude Heritage keeps it simple. The date widget displays the day and date (in case you get carried away in the wild), and the luminous hands make it easy to read in low-light conditions.
Check Current Price
Jack Mason Camp Watch
When two friends started Jack Mason in 2013, they set out on a month long tour across the US to showcase best-in-class watches and leather goods.
In the process, they inadvertently disrupted one of the most traditionally divided industries in the world and found their sweet spot in the space between heirloom timepieces and trendy modern watches. They continue that tradition today with their exceptional timeless-quality watches.
The Jack Mason Field Watch Collection is a combination of practicality, durability and iconic design. The Camp Watch keeps it simple with a 38mm stainless-steel case, easy-to-read SuperLuminova markings, and a single chronograph sub-dial.
The forest green watch face complements the classic Italian leather band perfectly, though you can purchase alternate band styles to suit your preference (it's compatible with any 18mm Jack Mason watch strap).
For bonus style points, Jack Mason includes subtle references to the company's roots in Dallas with a Texas star on the crown, a red-white-and-blue mini-flag on the second hand and an etching of the iconic Jack Mason Airstream on the screw-down case.
Check Current Price
Marathon General Purpose Quartz
The Marathon General Purpose Quartz offers the durability of a military-grade watch with the accuracy of Swiss craftsmanship. The watch was originally developed as a field watch for infantry personnel, so it adheres to strict military standards (such as a passive matte finish that eliminates reflective surfaces and won't give away your position).
It's constructed with a highly durable fiber shell that's remarkably lightweight, water-resistant up to 30m, and employs a special acrylic crystal that's exceptionally durable against stress and impact.
The back of the watch is made with 316L surgical grade stainless steel — an alloy with low carbon content that won't corrode over time. It also uses MaraGlo photo-luminescent paint that can absorb a charge and light the hands and dial markers for up to 8 hours.
Every Marathon watch, including the General Purpose Quartz, is proudly made in La Chaux de Fonds, Switzerland, where Marathon has been constructing quality timepieces since 1939.
The high-torque 3 jewel ETA F06 Quartz movement is accurate within -0.3 to 0.5 seconds per day. When it's time for a new battery, the watch's End of Life (EOL) indicator will advance the second hand once every four seconds as a warning, so you never get caught in the field with a dead battery.
Check Current Price
CWC British Military G10
This next watch comes in just a bit over $200, but it's worth the extra cost if your budget has some wiggle room. Cabot Watch Company (CWC) outfitted British Forces with the first military-issue quartz watch back in 1980, a model that's since been nicknamed the "Fatboy."
The new British Military G10 hearkens to the original Fatboy, and it's still the standard issue for British Forces — they manufacture about 10,000 a year just for the British Forces. The modern G10 may be smaller than the original Fatboy, but it's just as rugged and dependable.
The watch uses a luminova light source, acrylic glass, and a Quartz ETA 955.102 movement. It's Swiss-made with Swiss parts built to British military specifications, and it's water-resistant up to 50m. The standard setup includes a NATO-issue 18mm strap, though you can specify a different color with your order.
Check Current Price
Hamilton Khaki Field Watch
Okay, we realize you're looking for a field watch under $200 and this watch is more than twice that amount — but no list of the best field watches would be complete without a Hamilton.
Simply put, it's the gold standard of field watches. They command a significantly higher price because they are of indisputably higher quality. If you're looking for the best of the best, the ultimate field watch that meets military specifications, this is it.
Any Hamilton field watch is a fantastic choice, but we particularly like the Hamilton Khaki Field Watch. It represents a fair price point (higher but fair), and it's a masterful combination of Swiss precision and American outdoor spirit. The Hamilton Khaki Field Watch is simple, no-nonsense and rugged. Whether you wear this timepiece on the boardroom or in the field, you're guaranteed to impress.
Check Current Price
Explore More Gear
Sign up for Weekend Wanderer to join 10,000+ readers getting epic travel ideas every week.
---