Territory Supply is reader-supported and may earn a commission when you book or purchase using our links. See our editorial process to learn more.
---
The waxed canvas revival is real, and backpack brands are making the hardy, old-school material more accessible and versatile than ever. Leading the way is our favorite canvas pack: Fjällräven's Räven 28.
Known for its water-resistant and tough-as-nails durability, waxed canvas was a staple of England and Scotland's sailing culture.
Today, innovative companies across the globe are putting their own take on the fabric, and we're not complaining.
We've hauled all kinds of canvas packs on camping, paddling and backpacking trips, and there's nothing that feels as hardy as solid cotton canvas.
Here's a look at some of the best waxed canvas backpacks for all your adventures at home, in the office or in the field.
Top Waxed Canvas Backpacks
Here's a look at 3 of our favorite packs on the market today.
Fjällräven Räven 28
Editor's Choice
A modern, school-style canvas pack made from recycled materials.
Duluth Pack Deluxe Roll-Top Scout
Upgrade Pick
These guys have been making American-made waxed canvas packs for generations – and it shows.
Roger Williams Vintage Canvas Backpack
Value Pick
A durable, rugged canvas pack that won't break the bank.
Fjällräven Räven 28
The Räven 28 is ideal for students wanting the classic schoolbag look of a Jansport with the durable water-resistance of waxed canvas.
It's made with an eco-version of Fjällräven's G-1000® made from recycled polyester and organic cotton, and maintains the same ruggedness of their original waxed fabric.
A padded sleeve fits 15" laptops and there's no shortage of organizational options. Because it's often stiff and difficult to work with, waxed canvas usually lends itself to simple bags, but not here.
The Räven 28 has enough zippered and internal pockets to hold everything you need for class, work, and more.
Two exterior side pockets can hold slim water bottles and even with a heavier load, the main compartment won't weigh down the padded shoulder straps to the point of discomfort.
A nice foam sheet on the back gives the bag structure without making it feel heavy and inflexible. It's available in all sorts of bold colorways, but we dig the dark olive with its minimalist vibe.
Check Amazon Deals
Duluth Pack Deluxe Roll-Top Scout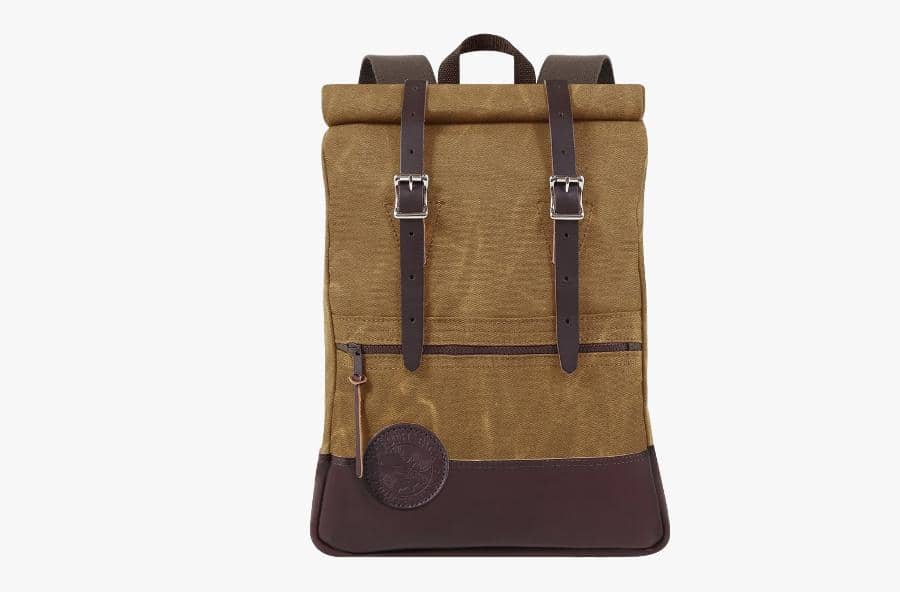 The Deluxe Roll-Top Scout is a smaller version of Duluth Pack's famed canoe pack patented in the late 1880s. The concept was brought to life when a prominent fashion writer requested a smaller bag, and Duluth Pack delivered.
Today, it retains its heritage vibe and scoutmaster look, from the classic rolltop to the leather straps and buckles keeping things on lock-down.
Duluth Pack's signature leather emblem makes for distinct but not over-the-top branding, and the slim profile looks good in the city or the field.
The Deluxe version of the Scout pack adds more leather, including a hearty leather bottom that keeps your pack more protected out in the wild.
A side-access zipper also makes getting to the main compartment incredibly easy, where most canvas bags only offer top-closure access.
Check Amazon Deals
Roger Williams Vintage Canvas Backpack
Check Amazon Deals
Fjällräven Kånken No. 2
When Fjällräven launched the Kånken in the late '70s, their goal was to alleviate back problems in Swedish schoolchildren. We don't know the state of those kids' backs now, but we do know the Kånken is now ubiquitous for students and adults around the world.
The Kånken 2 is a double-waxed version of the original, offering superior water-resistance and a rugged but clean look that works just as well for hiking as it does school.
At 16 liters, it's one of the smaller, lighter packs on our list, but that doesn't mean it lacks substance.
The back's more padded than most canvas packs you'll find, and Fjällräven's iconic and simple ergonomic design makes it easy to wear for long hours or miles.
It's a solid urban option for those who don't need the larger, outdoorsy capacity of the Stubben (below) but still want the G-1000® waxed fabric construction.
Check Amazon Deals
Bradley Mountain Day Pack
If you're not looking to drop $300 on a pack, consider Bradley Mountain's Day Pack, an amazing value considering it has the same impeccable craftsmanship and materials as their Biographer.
It's slightly smaller, and as the name suggests, is ideal for short day trips and jaunts around your favorite hikes and watering holes.
It's made with 18.9-ounce canvas and though a leather-and-canvas combo can sometimes seem weighty, the Day Pack is surprisingly light and nimble.
It carries just enough supplies without being uncomfortable, and wears easy on the shoulders, even without the canvas padding that the Biographer sports.
It's a solid choice for those looking for a heirloom-quality bag while staying on a budget. If you're looking for other Bradley Mountain options, check out their fold-top Scout Pack.
Shop at Bradley Mountain
Trakke Assynt 28
Trakke designs and makes all their bags in Glasgow, Scotland, and their waxed canvas packs are a reflection of the landscape and elements of the region.
The Assynt 28 is a valiant salute to old-school mountaineering, and despite updates in technology – a metal ring zip puller, lightweight steel hardware – the Assynt 28 maintains a decidedly retro feel.
The bold canvas colors offer a refreshing take on a product normally dominated by field tans and browns, and the 28-liter capacity works well for city and mountain alike.
A drawstring top and waxed interior makes the bag more water-resistant than you'd expect, which makes sense considering its birthplace.
A 15-inch laptop sleeve makes the bag great for work or pleasure, and you can add modular pouches to increase space as needed.
Shop at Trakke
Bradley Mountain Biographer
Tyler Axtell began Bradley Mountain in his Ocean Beach garage in 2012, setting out to "help people in practical ways have a simple set of tools to tackle their dreams and goals."
One of the company's crowning achievements is The Biographer, a rugged yet sleek waxed canvas rolltop that's decorated with oiled leather, brass hardware and detail where it counts most.
Bradley Mountain makes The Biographer in San Diego, and their team of four craftsman offers this bag in field tan (pictured), brush brown, charcoal and black.
It's a little smaller than some packs, offering between 10.5 and 13 liters depending on how open the rolltop is, but the quality of The Biographer is second to none.
The waxed canvas contrasts well with the organic leather that's dyed and oiled in-house, and the straps are lined with a nice wool padding that makes The Biographer as comfortable as it is distinguished.
Put all this together and you get one of the best waxed canvas packs on the market.
Shop at Bradley Mountain
Tanner Goods Wilderness Rucksack
Portland, Oregon-based Tanner Goods holds itself to high expectations, and we are all the better for it.
Consider the Wilderness Rucksack, a waxed canvas rolltop that looks like if it had to spend an extended weekend in the Yukon, it would be just fine with that.
The 18-ounce twill canvas brings character and a distinct look to the Wilderness Rucksack, which at 20 liters works for the daily commute, weekend trips and adventures in between.
It's been heavily field tested and came back with a practical, simple nature that looks soulful, yet rugged.
The bags are made in the US and come detailed with brass rivets and hardware, as well as vegetable-tanned Cambara English bridle leather, which is as fancy as it sounds.
A wool laptop compartment and internal leather pockets proves that Tanner's commitment to quality and craftsmanship isn't just skin deep: you'll love the inside of this bag as much anything else.
Shop at Tanner Goods
Bedouin Foundry Delireis
Bedouin Foundry got its name from Bedouin tents, used by nomadic people to cross deserts and other hostile environments. The tents, though practical and durable, were clean, luxurious and comfortable inside.
In the company's words, "our bags follow the same metaphor, rugged and durable on the outside… inside, printed linings and padded compartments provide secure storage for your personal possessions."
The Delireis is an example of this metaphor in action: its simple exterior is brought to life by details and lines that are playful yet functional.
The rolltop body has an Austrialpin cobra buckle, vegetable-tanned leather accents and nicely padded straps that offer more support and comfort than some leather-only options.
The waterproof 14-ounce waxed canvas comes courtesy of Halley Stevensons of Scotland, which has been in business since 1864.
Inside, you'll find fun fabric linings and organization that brings more life to the basic rugged-outdoors look of more simple rucksacks.
Gorgeous branding appears in all the right places inside and out, and the finishing touches on this pack are typical of high-quality English luggage makers.
The Delireis is handmade in England and available in navy, black, olive, plum and khaki.
Shop at Bedouin Foundry
Winter Session Roll-Top Pack
Husband and wife Roy Katz and Tanya Fleisher run Winter Session from their Denver storefront, and their Roll-Top Pack captures perfectly the couple's approach to craftsmanship and quality.
Made from durable 20-ounce waxed canvas, the Roll-Top has subtle but powerful design features that only get better with time.
Case in point: vegetable-tanned leather straps that'll darken with age, and a canvas body that shows its history in the best way possible.
Pleated exterior pockets give the pack plenty of room to take on trips, and the body's construction is slim enough to use around the city.
Brass hardware is used only as needed, giving the Roll-Top a clean, simple vibe that's easy on the eyes.
Shop at Winter Session
Fjällräven Rucksack No. 21 Large
In 1960, Fjällräven became the first company to sell framed backpacks, and hikers have swooned to the Swedish company ever since. Their No. 21 Rucksack isn't framed, but it is as tough and durable as the rest of their collection.
Made with their in-house waxed G-1000 fabric designed for water-resistant, windproof and UV-protected use, the No. 21 is a simple, clean-looking pack that uses naturally toned leather at all the right spots.
Laptop and thermos pockets on the inside make the bag extremely practical for hiking and work, and a slide-out seat pad makes it ideal for weekend getaways in the woods.
At 30 liters, it's bigger than most of the other waxed packs we've highlighted, but its simple design keeps it close to your body and avoids feeling overly large.
It's available in 15 colors, from the dark olive above to more bold choices like ochre and lake blue.
Check Amazon Deals
Fjällräven Stubben Backpack
Fjällräven launched their signature waxed G-1000® fabric back in the 1960s, but it's still a staple of their product line today. They offer five different G-1000® options, including the heavy duty version that forms the exterior of their Stubben Backpack.
The cotton-polyester material is treated with the company's Greeland Wax, a durable paraffin and beeswax blend that offers long-lasting water-resistance, though they recommend you reapply wax from time to time (directions here).
The Stubben is a structured daypack with an internal frame and the ability to act as a padded chair when not in use.
Where many waxed canvas packs lack support and stability, the Stubben thrives on a comfortable frame that's ideal for all sorts of adventuring.
In wet climates, the water-resistance is enough to generally keep your stuff dry, but the pack has further features to minimize impact from the elements.
Case in point: a convenient snow lock on the top-loading main compartment.
It's the perfect day pack size at 27 liters, but if you need extra storage, check out easy-to-add side pockets. Padded straps and a comfortably-made backside make this a great ergonomic option for those who start to feel wear and tear out on the trail.
Check Amazon Deals
Best Made Co. Waxed Ditty Bag
Ditty bags have roots in sailing: "each man has one in which he keeps his clothes, and a little bag or reticule called 'a ditty bag,' containing all the implements of his housewifery," says the The Journal of Belles Lettres from 1833.
Since then, ditty bags have gone in and out of popularity, but Best Made Company's version is updated and, in our humble opinion, here to stay.
Made in the US with 10-ounce army duck canvas, the Waxed Ditty Bag is as functional as it is aesthetically pleasing. It's designed to hold essentials when space is more important than organization.
It's on the smaller side at 10 liters capacity, though a larger version is available.
Solid brass grommets and aged-looking hand-spliced cord help the Ditty Bag keep its maritime history, but subtle branding, beautiful hardware and a slim modern shape make the bag perfect for today's adventurers.
Includes tin of wax to keep the bag protected as it ages.
Shop at Best Made
Westward 23L Rolltop Backpack
We've been fans of United by Blue for a few years now, but their new Westward Collection takes things to a whole new level.
The collection is designed to combine the old-school stylings of waxed canvas with "modern world" functionality, and the market is better off for it.
Their Rolltop Backpack exemplifies this hybrid in the best way: it has the big, bold aesthetic of waxed canvas, but feels surprisingly lightweight and flexible.
Unlike traditional waxed canvas bags, the Rolltop uses a cotton and polyester blend of canvas, making it one of the more versatile bags of its kind.
Typically, our only complaint about canvas bags is the weight and rigidness of the material, both of which are trademarks of the product – but not always practical.
The Westward Collection's Rolltop solves these issues while keeping the traditional appeal of a canvas bag.
It's larger than you'd think, uber-comfortable and completed with beautiful aluminum hardware and leather accents.
The bag's organization and layout makes it clearly utility-driven, and in our field tests we found it much easier to keep gear in check compared to other models.
True to the brand's eco-roots, the lining is 100% recycled and every sale translates to one pound of trash removed from an ocean or waterway.
It's the most modern-looking bag on our list and ideal for adventurers looking to cut weight and snag modern conveniences while still sporting the nostalgia-driven look of waxed canvas.
Win-win-win.
Shop United by Blue
Frost River Summit Pack
Frost River may be known for their large, rugged canoe packs made for river life in the deep north, but they make a damn fine rucksack with the same quality and attention to detail.
The Summit Pack is made in Duluth, Minnesota from 18-ounce Martexin waxed canvas, premium leather from SB Foot Tannery and solid brass hardware that won't quit.
It's a no-frills, less-is-more number, which is exactly why we like it.
There's nothing here that shouldn't be, and all the features – padded shoulders, adjustable ring yoke, zippered lid pocket – serve a real, practical function. You won't find any bells and whistles, but you'll also know what it means to travel lean and nimble.
The 32-liter main compartment holds plenty of gear, and the adjustable drawstring up top keeps things cinched and tight.
Upgrade the shoulder straps to padded buckskin ($45) or add a sternum strap ($35) if you're looking to carry heavier loads.
The Summit is backed by Frost River's no-questions guarantee on hardware and workmanship, and these guys know how critical it is to be able to trust your gear in the wild – after all, their families have been doing it in the North Woods for several generations.
Shop at Frost River
Mission Workshop The Sanction
The Sanction from Mission Workshop features the brand's trademark Arkiv® closure system, a simple and silent alternative to cheap plastic hardware.
The buckle slips over a thick fold of nylon webbing and holds steady in place, even when the bag isn't full.
The pack's 10-ounce waxed canvas offers durability without feeling like too much weight, and it's the perfect way to show your daily carry use over time, as the canvas wears its wrinkles and colorations like scars.
Like all of Mission Workshop's bags, The Sanction is about practical use and function, and doesn't take any shortcuts to get there.
It's made in the US, backed by a lifetime guarantee on workmanship and materials and works well with a number of the company's accessories, like their Low-Profile waist belt.
The Sanction clocks in at 20 liters, 2.6 pounds and comes in olive, brown and black.
Shop at Mission Workshop
Explore More Vintage-Inspired Gear
Sign up for our free email to join thousands of readers getting epic hiking, camping and travel ideas every week.
---