We research, evaluate and select travel destinations based on a number of factors, including our writers' experience, user reviews and more. We may earn a commission when you book or purchase through our links. See our editorial policy to learn more.
Was this article helpful?
---
We've entered the renaissance of American watchmaking.
This may come as a surprise, but Swiss and Japanese watches aren't the only names in the game. In fact, there was a time when American watches gave the Swiss a run for their money.
Don't believe us? Check the dial on your great-grandfather's pocket watch and you'll likely find the name of an American watchmaker.
The United States manufactured millions of these heirloom-quality pocket watches during the golden age of American watchmaking, and the movements were built so well they're still ticking today.
A Brief History of American Watchmaking
Disappointed with the poor quality of European watches that made their way across the Atlantic, demand for well-built pocket watches launched the American watchmaking revolution in the 1850s. The first large-scale watch factories emerged in Waltham, Massachusetts — a natural birthplace as the area was the hotbed of the industrial revolution.
Thanks to American engineers who pioneered advanced machinery capable of cutting metal parts, American factories were able to manufacture premium watches on a mass-production scale. Harnessing this technology, Aaron Dennison launched the Waltham Watch Company in 1854 and built the first 100% American-made watch.
While many in the global timepiece industry turned their nose up at the Yankees shaking up the watch market, the Swiss wisely took notice. In time, a number of American innovations found their way into Swiss watchmaking factories, widening the global footprint of American watchmaking techniques.
American watchmakers fell on tough times during World Wars I and II, and most American brands failed to shift when the market demanded wristwatches instead of pocket watches. Only one company managed to survive the collapse of the American pocket watch market — the Waterbury Clock Company, which you now know as Timex.
The fall of legendary watchmakers like Elgin, Illinois, Hamilton, and Waltham signaled the end of an era. American watch factories went dark for decades, though their legacy lives on through the family heirloom watches crafted a century ago that continue to tick faithfully today.
12 American Watch Companies Leading the Modern Revolution
Inspired by the rich history of American watchmaking, a handful of master craftsmen launched the renaissance of American watchmaking in the 1990s. It took some time for the movement to catch on, but the fires of innovation are spreading. Emboldened by the success of these pioneers, more entrepreneurs are joining the growing field of American watchmakers every year.
After doing some digging (and plenty of window shopping), we found 12 watch brands leading the charge for American-made watches. Most of these companies still have to source some parts from abroad, but they're all handcrafted right here in the USA. There are a handful of luxury brands that offer 100% American-made watches with American movements, cases, and bands, and believe us — they have what it takes to compete with the best watch brands in Europe.
Mercer Watch Co.
New Jersey-based Mercer Watch Co. draws its name from Hugh Mercer, a doctor and Brigadier General in the Continental Army. After emigrating from Scotland to the American Colonies, Mercer earned a place in George Washington's inner circle and played a major role in the Revolutionary War. Mercer's death at the Battle of Princeton (which took place a few miles from the Mercer Watch Co. headquarters) served as a rallying point for the Revolution.
Given their revolutionary namesake, it shouldn't come as a surprise that Mercer Watch Co. is on a path to revolutionize the watch industry. These guys design and produce custom mechanical timepieces that rival some of the best brands in the industry. They use the same premium parts and factories that churn out big-name watches, but unlike their competitors you won't have to sink a month's paycheck into a Mercer watch.
In short, Mercer Watch Co. delivers premier American-made timepieces at affordable prices. Given their classic, elegant styling and premium components, they're an exceptional value.
Our favorites:
Brew Watch Co.
For the Brew Watch collection, founder and designer Jonathan Ferrer draws inspiration from a universal experience we all know and love — coffee breaks. Whether you're taking a break from the daily grind with coworkers, meeting up for a casual date, or sipping silently in peaceful solitude, these moments are less about coffee and more about savoring the moment.
Brew models its collection on the the warm contrasting colors, brushing effects, and intricate styling of industrial espresso machines. This special blend of colors and textures emphasizes each component used to create their chic, modern timepieces. Brew designs their watches to celebrate and capture enjoyable coffee experiences in true New York fashion.
Don a Brew timepiece next time you swing by your local coffee shop for a social visit or a personal cup, and you'll catch a complement or two from discerning observers.
Our favorites:
Throne Watches
Throne watches harness the alternative subculture that shaped the company's founders. In their words, "we've always been a little bit different, and so are our watches." Take a look at their distinctly utilitarian watches and you'll agree — being different suits them.
Throne started with humble beginnings at a kitchen table in an East Village apartment. The idea was to make quality watch bands and pair them with vintage watches, so their initial emphasis was on bands. Their hobby quickly outgrew their apartment as demand exploded, and they skyrocketed to fame with the release of their flagship 1.0 watch in 2014.
Despite their widespread popularity and featuring in top publications from GQ to the New York Times, Throne is still a boutique watch company with an eye for ethical production, quality control, and excellent customer service. Best of all, they offer a diverse line of watches for men and women, where many American watch brands focus exclusively on men's watches.
Our favorites:
Martenero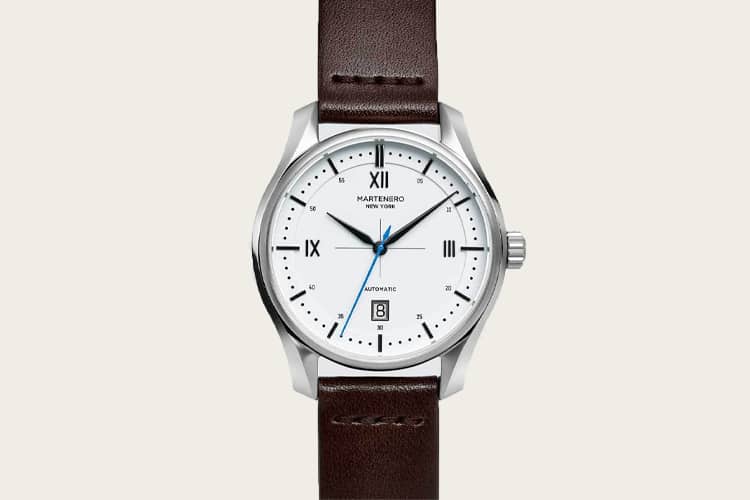 Rather than copying the classics, Martenero aims to refresh and build on classic timepieces. Inspired by heritage brands that have adorned the wrists of watch collectors for centuries, this American watch brand delivers a new take on tradition with unique designs and color combinations that demand your attention.
Martenero launched in early 2014, though that date doesn't account for the two years of research and designing invested in their first timepiece. Their watches are rooted in the tradition and craftsmanship of watchmaking, albeit with a distinctly modern perspective. Every Martenero timepiece is crafted to be worn for a lifetime before passing onto the next generation.
Original and contemporary, but always timeless, Martenero timepieces genuinely embody "tradition refreshed."
Our favorites:
Shinola
Detroit has always been a leader in American manufacturing, so it shouldn't come as a surprise that one of the best American-made watch brands hails from the Motor City.
Founded in 2011, Shinola is an American luxury brand with an unwavering commitment to crafting products that last. Their watches are the company's flagship products, though Shinola has a diverse product line including bags, accessories, jewelry, journals, speakers, clocks, home goods, and even bicycles.
Sourcing premium materials from the United States and abroad, Shinola designs and crafts all of their products in the USA. The company is remarkably dedicated to supporting American workers. They partner with legacy companies across the country to manufacture specialty items. They've also supplied the capital and connections to help key American suppliers expand their operations and grow with the Shinola brand.
Shinola's luxury timepieces and premium leather bands are all handcrafted in the company's watch factory on the fifth floor of the historic Argonaut Building in Detroit. A team of 200+ artisans assemble the watches and bands by hand, with more than 30 workers participating in the assembly of each timepiece. The production process combines meticulous hand-assembly with the most advanced technology available to ensure Shinola watches are built to last for generations.
Our favorites:
Detroit Watch Company
Shinola isn't the only watch company turning heads in the Motor City. Designers Patrick and Amy Ayoub leveraged their background in designing cars to launch the Detroit Watch Company, and their timepieces are a favorite of American watch collectors.
The Detroit Watch Company honors the city's rich history with a collection of timepieces that reflect specific eras and locations in Detroit. The City Collection 313 reflects the city's iconic area code with a rotary phone-inspired face. The B24 Liberator Aviator honors Henry Ford's Willow Run Bomber Factor, which miraculously cranked B24 Bombers at a rate of one per hour and helped turn the tide in the air war in WWII. Then there's the M1-Woodward, a classic timepiece that exudes the rich automotive history of Woodward Avenue, host of the annual Woodward Dream Cruise.
Whether you're a history buff who appreciates a timepiece with a story, or a serious watch collector that just has an eye for timeless style, you'll enjoy brandishing one of these expertly crafted timepieces in the boardroom.
Our favorites:
Weiss
For the best American field watch that money can buy, go with a timepiece from the Weiss Watch Company. Weiss is committed to restoring prestige to American watchmaking by resurrecting old industry practices that haven't been used in the United States for decades. The result is an heirloom-quality field watch that's as authentically American on the inside as it looks on the outside.
Weiss sources the finest materials for their timepieces, with a goal to use as many American parts and materials as possible. The cases, crowns, and buckles are machined from single blocks of 316L stainless steel for superior finishing and resistance to corrosion. The dials are machined from solid brass to prevent weak points. They use sapphire crystal on the front and back of the watch case, the gold standard for timepieces.
Unlike many American-made watches that rely on a Swiss or Japanese movement, Weiss watches use Caliber 1003 movements that are manufactured and assembled in the USA. The CAL 1003 is a manual wind mechanical movement, and doesn't require any batteries, circuitry, or computer chips. The movement is machined, hand-jeweled, plated, and finished in the Weiss workshop in Los Angeles.
Over 35 hours of labor go into every Weiss timepiece, with every process overseen by a Swiss-trained master watchmaker. A symbol of American ingenuity and integrity, a Weiss timepiece will last for generations when properly cared for.
Our favorites:
Oak & Oscar
Oak & Oscar watches are inspired by the experiences that surround heirloom timepieces. Whether you're looking for a watch for your wedding, a gift to mark a special occasion, or an heirloom that you can pass down from generation to generation, the guys at Oak & Oscar have you covered.
While the watch itself is produced, tested, and partially assembled in Switzerland, everything else comes from the US. The leather comes from the legendary Horween Leather Company in Chicago. The Horween leather is crafted into leather bands and watch wallets by Woodnsteel in Fort Wayne, Indiana. The waxed canvas watch wallet comes from Chicago menswear brand Stock Manufacturing. Finally, The Watchmaking Project handles assembly and servicing in New York City.
From start to finish, Oak & Oscar watches represent the best of American design. As a bonus, Oak & Oscar donates a portion of every purchase to One Tail at a Time, a dog rescue group in their hometown of Chicago.
Our favorites:
Vortic Watch Company
Vortic timepieces are for watch collectors who feel owning a story is more important than owning a watch. Inspired by the rich history of American pocket watches, this Colorado-based watchmaker pairs antique pocket watches with modern bands to create remarkably unique American wristwatches.
Here's how the process works. When someone sells their grandfather's antique pocket watch to a pawn shop, the store owner often removes the movement so they can cash in on the gold or silver case. By pairing classic watchmaking traditions with innovative, modern technology, Vortic is able to reverse-engineer antique parts for these orphaned movements. Ultimately, the American movements find a new home in a wristwatch case modeled after the original pocket watch.
In short, the watch case and band on your wrist will be new, but the American movement inside is the same movement that powered an antique pocket watch over a century ago. Whether it was a railroad conductor's standard-issue pocket watch or a gentleman's heirloom piece, you'll be wearing a piece of history. And just as that watch passed through a few generations to you, you'll have an heirloom-quality timepiece that you can pass to future generations in your family.
Our favorites:
RGM
Founded in 1992 by American watchmaker Roland G. Murphy, RGM produces some of the finest American-made watches in the world. Whether you're looking for limited edition collections, bespoke timepieces, or expert repairs, RGM's loyal fan base tells us you'll return to work with Roland Murphy again and again.
You'll find RGM's workshop in a small town in Lancaster County, Pennsylvania — an area with a rich history of American watchmaking. Given the area's storied past, it's no surprise Murphy finds inspiration for RGM timepieces in the history books of American and Swiss watchmaking.
RGM's mantra is "making history in watchmaking," and their processes are a testament to that dedication. Balancing the need to improve current methods while preserving traditional American watchmaking, their workshop blends modern manufacturing with antique, hand-operated machinery.
All RGM watch parts are manufactured in the USA and assembled in Pennsylvania. They're also one of the few premier watch brands that make their own American movements. The end result is a unique collection of timepieces that are distinctly American, inside and out.
Our favorites:
Kobold
Kobold was founded in 1998 in Pittsburgh as part of an entrepreneurship class at Carnegie Mellon University. They're one of two luxury watch companies credited with leading the resurgence of American watchmaking, and today they're one of the world's few remaining independent, family-owned luxury goods manufacturers.
Kobold has been a trailblazer since its inception. After becoming the first watch brand to sell its products online during the dotcom era, Kobold went on to release the first serially American-assembled watch in over a generation. Two years later in 2008, they followed with the first serially-made American watch case in almost 40 years. They continue to craft their own watch cases in-house at Merry Oaks Farm in rural Northwestern Pennsylvania's Amish Country.
Kobold is also responsible for the legendary Seal watch designed by the late actor James Gandolfini. After over a decade in production, the Seal continues to inspire watch designs around the world and has been emulated by some of the greatest luxury watch brands in the industry.
Kobold's credo speaks for itself: "embrace adventure." You'll find Kobold watches on the wrists of some of the world's greatest explorers, mountaineers, divers, and trailblazers.
Our favorites:
DEVON
Last but certainly not least is DEVON — the first American watch brand to receive a nomination for the esteemed Gran Prix d'Horlogerie de Genéve.
DEVON timepieces are by and large the most unique watches made in America. Using a mesmerizing display of interwoven time belts, DEVON timepieces display hours, minutes, and seconds in a way that's truly one of a kind. These guys don't just make watches, they reinvent them.
From top to bottom, DEVON develops and manufactures their timepieces in the United States. These feats of American engineering exemplify the American spirit, merging the country's rich histories in watchmaking and automotive engineering. For watch collectors who prize ingenuity and innovation, you can't get any better than this.
Our favorites:
Honorable Mention: Timex
Back in the golden days of American watchmaking, the Waterbury Clock Company was one of the original heavyweights that led the industry. In the 1850s, they pioneered mass production in the United States almost 40 years before Henry Ford's Model T factory opened.
By the turn of the century, they had sold over six million Yankee pocket watches. They introduced the world to the Mickey Mouse wristwatch at the 1933 Chicago World's Fair, and it's been a staple on kids' wrists ever since.
When the historic Waterbury Clock Company became insolvent after WWI, it reformed into Timex and managed to carry on as the only surviving American watch company.
Since then, Timex has been forced to relocate their manufacturing plants overseas in order to remain competitive in the global watch market. The company closed their last American manufacturing plant in 2001, marking the somber end of an era for such an iconic American brand.
Given the fact that Timex watches aren't manufactured with American parts or labor, they didn't make the cut for our list of the best American-made watch brands. However, Timex remains a great American heritage brand with a rich history of watchmaking in the United States, and that's certainly worth an honorable mention.
Our favorites:
Explore More Gear
Sign up for Weekend Wanderer to join 10,000+ readers getting epic travel ideas every week.
Was this article helpful?
---