We research, test and evaluate outdoor gear based on a number of factors, including our writers' experience and expertise, trusted user reviews and more. We may earn a commission when you make a purchase through our links. See our editorial policy to learn more.
Was this article helpful?
---
The biggest challenge with a 3-person backpacking tent is finding the sweet spot between weight and functionality. The Marmot Limelight 3P is our pick to hit everything you need at an affordable price, while the Big Agnes Tiger Wall 3 is the best ultralight option.
When everything you need for your trip is strapped to your back, you don't have the luxury of going with a 100 square foot Costco tent with a queen-size inflatable air mattresses and a blow-up jacuzzi. Every pound of pack-weight counts, so you'll have to decide which features are essential and which you can do without.
Buying a premium backpacking tent can be an overwhelming process when you don't have a lot of experience or when you're planning a trip in a new environment.
How much floor space do you need? How much extra weight can you handle in your pack? Which type of fabric and construction best fits your style of backpacking?
To help take some of the guesswork out of the buying process, we've compiled a list of the best 3-person backpacking tents that cater to a wide variety of needs, conditions, and budgets. Many of these are considered ultralight tents, so they're guaranteed to help keep your pack light.
Included are a few heavy-duty options to consider for backpacking in severe weather, plus budget-friendly options that won't break the bank.
Each is highly reviewed, widely recommended, and guaranteed to enhance your backpacking adventures for years to come.
Related read: MSR Carbon Reflext Featherweight Tent Review
1. Marmot Limelight 3P
Perennial bestseller with a huge fanbase.
Key Features:
Max weight of 6 lbs. 11 oz. with a packed size of 22" x 8", trail weight of 6 lbs. 0.5 oz.
Offers 42.5 square feet of floor space with a peak height of 48 inches
Vertical walls and strategic clip placement for a larger interior volume
Color-coded "easy pitch" clips and poles for quick setup
Includes a Marmot footprint
The Marmot Limelight 3P is the most popular 3-person backpacking tent on the market. If you're looking for easy setup, a roomy interior, or a lightweight tent that won't weigh you down, this tent checks all of the boxes. Even better, it delivers all of these perks at a fantastic value.
The Marmot Limelight 3P utilizes a zone pre-blend construction to create vertical walls, which translates into a roomier interior with more headspace. With two entry points — a super-sized double door at the front and a D-door in the back — each doorway provides a vestibule for gear storage when the fly is up. It's surprisingly breathable, too, with No-See-Um Mesh on the upper walls and ceiling, and airflow vents built into the fly.
Inside the tent, you'll find plenty of pockets for small gear storage. There's also a lamp shade pocket to hold your headlamp at night for better ambient lighting — we've all kicked the lantern on the floor enough to understand the benefits here. All of the seams are fully taped and sealed, so you'll never have to worry about any rain or moisture seeping into the tent except in the most rugged of storms.
Check Price
2. Big Agnes Copper Spur HV UL3
Industry-leading versatility and ease of use.
Key Features:
Max weight of 4 lbs. 5 oz. with a packed size of 6.5" x 21", and a trail weight of 3 lbs. 14 oz.
Eliminate the non-essentials for a fast-fly setup that's just 3 lbs. 2 oz. (footprint not included)
43 square feet of floor space, 18 square feet of vestibule space, and a peak height of 44 inches
Plenty of interior storage with 8 interior pockets, 2 media pockets, and gear loft loops
The Big Agnes Copper Spur HV UL3 line boasts an almost cult-like status on trails, mountains, and back countries across the world. It's a tried and true, do-it-all backpacking tent backed by thousands of loyal customers and a trophy case full of awards. Whether it's the ultralight weight, sturdy construction, or superior waterproofing, there's no shortage of praise for this tent.
The standard packed weight of the Copper Spur UL3 Classic is just 4 lbs. 5 oz. — on the light side considering the trail weight of the average tent. The pack sheds 7 ounces when you remove the nonessential elements, and clocks in at barely over 3 pounds when you opt for the minimalist fast-fly setup.
Whichever setup you choose, it's a piece of cake to put together with pre-cut, ready-to-pitch guy lines, tensioners attached to the fly, DAC Pressfit poles with lightweight hubs, ultralight plastic clips, and 8 DAC superlight aluminum J stakes.
The interior of the Copper Spur UL3 Classic features 8 interior storage pockets, multiple gear loft loops, and 2 media pockets above the sleeping area. Double your pleasure with two oversized drop doors with easy-grip zipper pulls, two vestibules with storm flaps on the vestibule zippers, and two fly vents for optimal air flow.
Check Price
3. Big Agnes Tiger Wall Platinum 3
Ultralight performance that packs a punch.
Where most 3-person backcountry tents' packed weights range from 4 to 7 pounds, the Tiger Wall 3 Platinum weighs less than 3 pounds total, putting it in an ultralight class all its own. It also packs down smaller than nearly anything else on the market at this size, so if you're looking to maximize space and weight in your pack, the Tiger Wall's the way to go.
Of course, shedding weight and bulk at this scale means you'll pay for it, but for backpackers with the budget, they'll have invested in a long-term gear commitment. The tent's nylon and mesh walls are structured by a strong ripstop floor that's on the smaller side – 38 square feet – but still offers plenty of space to unwind after days on the trail.
All the Tiger Wall's lightweight elements don't sacrifice durability, fortunately, which makes this an ideal backpacking tent for extended stays and thru-hikes. Just ask Katie Henley, who took the Tiger Wall 3 on her 100-plus day trek through Australian bush country without issue.
"The Tiger Wall 3 Tent by Big Agnes held up to what we asked of it," she writes, "and honestly, we asked A LOT of this tent."
Check Price
4. MSR Mutha Hubba NX 3
High performance that won't weigh down your pack.
Key Features:
Ultralight with a max weight of 5 lbs. and a trail weight of 4 lbs. 9 oz.
Optional "Fast & Light" setup drops the packed weight to 3 lbs. 11 oz.
39 square feet of floor space, 14 square feet of vestibule space, and a peak height of 44 inches
You can fold the 21" x 7" pack and secure it with compression straps to make it compact
Includes a rainfly kickstand vent to provide fresh air and minimize condensation
We love the versatility of the MSR Mutha Hubba NX 3. Only 5 lbs. at its maximum weight, you can fold the 21" x 7" pack in half with the attached compression straps for easy, compact storage.
When weight is an concern and your coverage needs are minimal, you can opt for the "Fast & Light" setup with just the fly, supports, and footprint. Either way you go, the unified hub-and-pole system with color-coded clips makes setup and takedown easy.
The MSR Mutha Hubba NX 3 features two large D-shape StayDry doors with built-in rain gutters, making it easy to enter, exit, and access gear. The tent and fly sport ventilation features to provide fresh air, including a rainfly kickstand vent to minimize condensation. Made with durable high-tenacity nylon fabrics,  both the fly and bathtub-style floor are coated in Durashield for maximum protection from the rain.
Check Price
5. NEMO Dagger 3 Ultralight Backpacking Tent
Spacious interior with ultralight performance.
Key Features:
Max weight of 4 lbs. 4 oz., with a trail weight of 3 lbs. 12 oz.
Packed size of 19" x 6" with the ability to split between two packs using the Divvy Stuff Sack
44 square feet of floor space, 23 square feet of vestibule space, and a peak height of 42 inches
Proprietary Light Pockets that turn your headlamps into ambient lighting
The NEMO Dagger Ultralight Backpacking Tent hits the sweet spot with weight and interior space. Where other ultralight backpacking tents often struggle to provide more than 40 square feet of floor space, the NEMO Dagger ups it to 44. This tent also offers double the average vestibule space with 23 square feet, so there's plenty of room to stash your gear outside and free up interior space.
The NEMO Dagger comes with a few proprietary features you won't find anywhere else. They've solved the packing dilemma with their Divvy Stuff Sack, a solution allowing the user to split up tent gear for an even distribution of weight between backpackers.
NEMO tents also incorporate an overhead pocket — dubbed a Light Pocket — which holds your headlamp to create ambient lighting inside the tent. Finally, the inner tent features a built-in privacy panel for extended coverage and security when you need to block out the No-See-Um Mesh.
Check Price
6. Zpacks Triplex Tent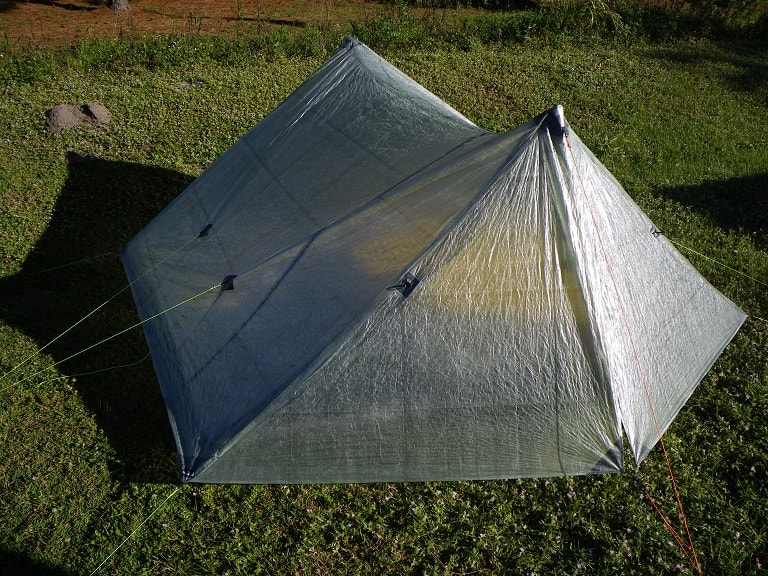 When we say ultralight, we mean ultralight.
Key Features:
Trail weight of 1 lb. 6.5 oz. (doesn't include stakes, which must be purchased separately)
37.5 square feet of floor space, two vestibules, and a peak height of 48 inches
Made with DCF that's naturally waterproof and wind-resistant
The tent provides natural ambient light during daylight with DCF's semi-transparent nature
The lightest 3-person backpacking tent on the market
The Zpacks Triplex Tent is hands-down the #1 tent for ultra-light backpackers and those otherwise concerned with pack  weight. Indisputably the lightest backpacking tent on the market, the Triplex Tent clocks in at just 1 lb. 6.5 oz.
That's three times lighter than the average lightweight backpacking tent, and less than half the weight of the minimalist fly-and-footprint approach. Even better, the Triplex Tent offers superior waterproofing and longevity, so you're not sacrificing functionality or durability for weight savings.
How does the Triplex Tent pull off such a magic trick? The secret is in the fabric. Zpacks tents are made with Dyneema Composite Fabric (DCF), a material that's naturally waterproof and offers a high strength to weight ratio built to handle high winds without tearing. DCF doesn't stretch, absorb water, or require any chemical coating. In the rare case of a tear, you can repair the rip in seconds with DCF tape.
Apart from the magic fabric, this tent employs all of the standard features for keeping water and bugs outside. Four storm doors tie open for views outside and latch shut to keep out the wind and rain.
The canopy overhangs the bathtub floor by 4–5 inches so the rain naturally cascades away from the base. All of the seams are stitched and taped, and the tie-outs have bonded reinforcements for maximum strength.
Check Price
7. Hilleberg Nallo 3

All-season protection without the added weight.
Key Features:
Max weight of 5 lbs. 12 oz., with a trail weight of 4 lbs. 14 oz.
36 square feet of floor space, 15 square feet of vestibule space, and a peak height of 41 inches
A true all-season, all-weather lightweight backpacking tent
The best choice for long trips in severe weather with heavy gear where every pound counts
When you're gearing up for a fast-paced backpacking or mountaineering trip in severe weather, The North Face VE 25 might be a little too heavy. That extra five pounds may not sound like much now, but we promise you'll feel once you get your feet on the trail. Instead, consider a lightweight all-weather backpacking tent like the Hilleberg Nallo 3.
The Hilleberg Nallo 3 is a popular choice for professional climbers, long-distance hikers, wilderness photographers, hunters, and other adventurers who need to haul heavy gear over long distances.
The tent offers complete year-round protection from rain, snow, wind, and cold, and it does this at almost half the weight of the VE 25. In fact, with a trail weight of 4 lbs. 14 oz., the Hilleberg Nallo 3 is just as light as many lightweight backpacking tents that are limited to three season use.
Check Price
Explore Backpacking & Camping Gear
Sign up for Weekend Wanderer, our free email newsletter offering thousands of readers epic travel ideas every week.
Was this article helpful?
---