When you make a purchase through our links, we may earn commissions from Amazon, REI and other retailers. You can learn more about our editorial and affiliate policy here.
2023 REI Co-op Member Rewards are here! Click to see yours now.
---
Before it clothed us, waxed canvas was a precious resource used to coat sails and protect sailors from the salty seas. Naturally waterproof and impervious to the elements, this stuff is tough.
So tough that clothing brands from well-known to who the heck are you are taking advantage of waxed canvas in their lineups.
Vintage and rugged, there's nothing quite a waxed canvas jacket.
If you're the type to work hard, play hard, and want to look good while you do it, take a look at our top picks for the best waxed canvas jackets to invest in this fall and winter.
Flint and Tinder Flannel-Lined Waxed Trucker Jacket
Flint and Tinder's damn near responsible for single-handedly changing the canvas jacket market with their flannel-lined trucker. Crafted from 7-ounce waxed canvas from Fairfield Textiles in New Jersey, the jackets are cut and sewn in California and shipped worldwide to thousands of people every year, like clockwork.
You'd be hard-pressed to find a more popular canvas trucker, and the bulk of this jacket's 1,600-plus reviews are glowingly positive.
It's no secret why: the tailored cut brings a modern edge to a typically traditional outerwear piece, and the construction doesn't slouch either. Nine colorways offer plenty of selection, and with both sides of the canvas being waxed, it holds up surprisingly well in cold and wet conditions.
For colder climes, there's a wool-lined version with thicker canvas and a recycled wool interior that keeps bodies even more insulated. The most popular colorways of both jackets sell out quickly each year and stock can be limited, so your shopping window may not extend too late into the season.
Check Price
Taylor Stitch The Long Haul Jacket
The Long Haul Jacket takes what can traditionally become a bulky outerwear piece – the trucker jacket – and makes it firmly up-to-date and contemporary. Gone are boxy cuts and angles, replaced with a well-fitted frame that hugs without feeling constricted.
Editor's Choice
The Long Haul Jacket
Modern take on a classic piece
The Long Haul Jacket's made with Taylor Stitch's trademark attention to detail and premium materials.
Check Price
It's a lighter jacket ideal for fall and spring, but still blocks the cold and wind in the winter when layered properly. Taylor Stitch may be a relative newcomer to the waxed canvas game, but teaming up with Halley Stevensons gives them instant credibility and a leg up on cheaper jacket options.
There aren't any corners cut when it comes to materials or construction, and the zealous reviews for the Long Haul Jacket are the ultimate testament to its blend of form and function.
Check Price
Taylor Stitch The Lined Long Haul Jacket
With its 13-ounce blanket liner made from wool and nylon, The Lined Long Haul Jacket makes wearing a waxed trucker an all-year affair. The additional layer adds warmth and depth without sacrificing range of movement, so it's still an ideal work jacket in the field.
Best for Cold Weather
The Lined Long Haul Jacket
Cold-Weather Classic
A 13-ounce blanket liner makes this waxed canvas jacket perfect for harsh winter conditions.
Check Price
Typical Taylor Stitch details and a comfortable, easy-to-break-in silhouette makes this a heirloom-style wardrobe piece that'll age gracefully, no matter how many rough winters you put it through.
Check Price
Taylor Stitch The Lombardi Jacket
One of Taylor Stitch's more recent additions to their waxed lineup is The Lombardi Jacket, a coach jacket done in true TS spirit: adherence to detail, focus on materials. It's a lighter jacket compared to the above options, but that doesn't make it impractical – most wearers recommend pairing it with a light flannel or sweater for colder conditions.
Best Coach Jacket
The Lombardi Jacket
Functional Daily Wear
The Lombardi's a refreshing take on a coach jacket that fits as nice as it looks - something that's not always easy to find.
Check Price
The herringbone weave forms a solid barrier against wind, and the waxed canvas acts as advertised. In the wrong designer's hands, The Lombardi could get weighed down by excess fabric, but this jacket's lighter and more flexible than expected thanks to a modern cut and raglan sleeves.
Check Price
Buffalo Jackson Laramie Jacket
Buffalo Jackson's Laramie might be the prototypical waxed canvas jacket: built to protect from the elements without feeling cumbersome and bulky. Its boxy cut tapers at the waist, and the length makes it ideal for work in the field or around the house.
Best Bang for Your Buck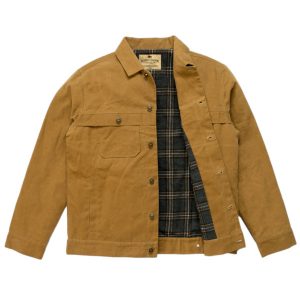 Laramie Waxed Canvas Trucker
Classic rugged canvas styling
It's not a coincidence this jacket's namesake comes from the rugged mountains and sweeping valleys of Wyoming: it's built to withstand all that and more.
Check Price
The poly-cotton plaid liner provides warmth without much extra weight, and the classic aesthetic means it'll still look good in ten years from now. Like most Buffalo Jackson goods, the jacket's bound to get better – and tailored to your contours – with age, making it a long-term staple you can be proud to own.
Bexley Jacket, Peregrine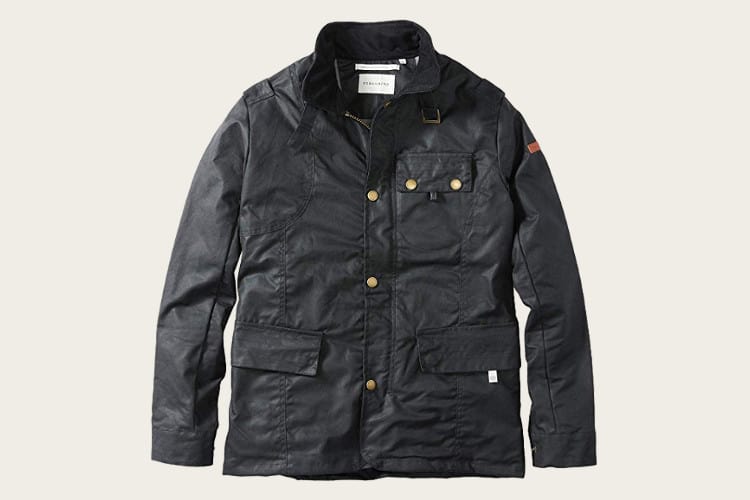 Peregrine is a UK based family owned and operated clothing manufacturer that's been in business for well over two centuries. Take a look at their Bexley Jacket and you'll find this waxed canvas jacket is just as badass as the Peregrine history.
The utilitarian style Bexley Jacket is produced from British Millerian 8-ounce waxed cotton. If you're new to Millerian let me put it this way, they are the O.G. of waxed cotton.
Made for all seasons, the Bexley Jacket is water repellent and durable. Just be sure to throw on more layers during frigid weather, as this jacket is not lined.
Check Amazon Price
Maple Grove Canvas Jacket, Patagonia
Patagonia is well known for their top-of-the-line outdoor recreational apparel, but their work line deserves as much attention. The Patagonia Men's Maple Grove Canvas Jacket is a testament to this.
The Men's Maple Grove Canvas Jacket is a Fair Trade Certified™ warm and durable option for the working man. The 100 percent polyester fleece lining and 60-g Thermogreen® 100% polyester insulation packs in your body heat.
The stretch canvas and bellows-style pleats mean you'll have ample range of motion. Meanwhile, the antibacterial and durable water repellent finish keeps you working hard despite some precip in the forecast.
To top it off, Patagonia incorporated five strategically placed pockets and a stowaway hood.
Check Price
Tin Cloth Jacket, Filson
We get it. You need something tough. Something warm. Something that will endure. This is why we recommend Filson's Tin Cloth Jacket.
In 1897, Filson began outfitting those looking to strike it rich during the Klondike Gold Rush.
Facing cold, harsh conditions, Filson helped keep these gold driven stampeders alive.
Since then, they've produced durable goods designed for the outdoorsman. The Tin Cloth Jacket is a testament to this.
Abrasion-resistant as well as rain-repellent, this jacket was made for working, or playing, in bad weather. Bend, reach or stoop, you'll enjoy the full mobility design.
The working outdoorsman needs easy access pockets and they kept this in mind.
There are not only one but two utility pockets, a front flap pocket, and two waist pockets to keep your hands toasty. For added warmth, the collar is made with 100% virgin wool.
As a bonus, Filson backs this and all their other products with a lifetime guarantee.
Check Amazon Price
30-13 Jacket, Encampment Co.
The Encampment Company may be one of the newer guys around the block, but they aren't to be discounted. Started in 2015 by Mike Ranta and Matt Baker, they focus on creating mindful products they are proud to wear from start to finish.
Made in Wyoming, the 30-13 Jacket is made for the man who likes to throw some weight on his bones. The heavy exterior 13.5 oz waxed cotton screams durable as it boasts being wind and water resistant.
The hand-hammered copper rivets are an added touch.
While the design may be more simple than other waxed jackets on the market, there's something about the textured material that catches the eye.
To add to their character, Encampment has made a commitment to getting you their product in a timely manner while also taking the bill on the shipping fee.
That right there speaks like a true gentleman.
Check Price
Waxed Mountain Jacket, Kuhl
In a time when neon and DWR dots the trail, Kuhl is utilizing old-school technology to breathe new life into hiking wear with the Waxed Mountain Jacket.
The Waxed Mountain Jacket sports a technical design with an attractive fit, making it ideal for town or trail. A few of the main highlights include the oversized mesh lined front zip pockets, reinforced hood brim, and alpine collar.
Blending bees and synthetic wax, the cotton Waxed Mountain Jacket is weather-resistant and trail-ready.
Check Price
Mission Workshop Eiger
When it comes to fashion, Mission Workshop certainly knows a thing or two.
For more than 20 years, Mission Workshop has been pumping out stylish threads deep in the heart of San Francisco.
Together, the company's founders' experience runs the gamut of producing everything from technical cycling gear to combat apparel for Navy Seals. Impressed? We sure are.
That's why we had to give a shout out to their Eiger jacket, where sleek meets practical.
The waxed material is a product of manufacturer Halley Stevensons who made their name by outfitting Scottish fisherman with durable rainwear.
Lined with quick-drying cotton and sporting a 3-point adjustable hood, this jacket is at the top of its class.
While we know the price is a bit on the high side, don't think of it as buying just another jacket. Think of it as an investment.
Check Price
Jane Motorcycles The Driggs
If you're looking to ride in style, then take a hint from the crew over at JANE and go with The Driggs.
Made in New York, these experts not only produce a jacket that makes you look cooler than James Dean, but they make the ride to go along with it. How's that for expertise?
The great thing about The Driggs is the versatility. Most riding jackets were made for just that, to ride.
The Driggs, on the other hand, is so much more. Whether you're taking an epic white-knuckle ride through the Tail of the Dragon or cruising to work, it's got your back.
It's tough enough to take a tumble while the comfort is unmatched.
It features water-resistant waxed cotton on the outside, satin and lambskin lining, and removable D30 armor for extra protection. For those looking for an alternative to leather, this is it.
Check Price
How To Care For Waxed Canvas
Every new crease in your waxed canvas jacket tells a story. A story that builds character and only gets better with time. But like aging, to keep your worthy investment in top shape, you'll have to give your jacket a little bit of love every now and again.
Here's the breakdown on how to care for and renew your waxed canvas jacket.
Hand Wash Garments
First off, avoid the washing machine. For some dudes this is like music to your ears. Your jacket may be able to tackle inclement weather like a champ, but the washing machine is it's worst nemesis.
Rather, to clean and maintain the integrity of your waxed canvas jacket, hand rinse it with cold water and use a brush to remove any built up grime. Then let the jacket air dry.
And soap? Like your trusty cast iron skillet, soap can be entered into the equation if things are really funky. Just be sure to use something mild.
Rewaxing Your Jacket
Did the water stop beading up on your jacket? It's time to rewax.
How often you rewax will depend upon how frequently you use your jacket. This will vary from dude to dude, but generally speaking, every couple of years is a decent estimate.
As for the wax, we recommend using the same wax as the manufacturer or one specifically designed for waxed canvas jackets. Otter Wax is a great place to start.
Ready to wax on? Here are the steps to follow.
Clean and dry your jacket.
Lay it on a flat work surface, preferably with some plastic sheeting underneath.
Slap on some latex gloves and apply wax to the fabric in small amounts in a circular motion.
Continue the wax application until the entire jacket is fully coated.
Go over the jacket with a hair dryer so the material can absorb the wax.
Wipe any excess wax and let the jacket dry overnight.
Explore More Gear
Sign up for the Territory Supply Newsletter and join thousands of readers getting epic travel ideas every week.
---