We research, test and evaluate outdoor gear based on a number of factors, including our writers' experience and expertise, trusted user reviews and more. We may earn a commission when you make a purchase through our links. See our editorial policy to learn more.
---
It's been 10 years since The Ridge Wallet began on Kickstarter, and after selling 2 million wallets worldwide, it's still considered one of the best minimalist wallets on the market.
After using The Ridge Wallet for more than four years, my opinion is that The Ridge Wallet is worth the money, and here's why: the construction, materials and design make it a long-term investment that'll still function well after years of daily use.
I've used two Ridge models since 2019, testing them out along with other minimalist and traditional wallets, and whenever I switch back to The Ridge, I remember why it was so appealing in the first place: it does the job it's supposed to, and little else.
Here's my hands-on review of The Ridge Wallet, including pros and cons, and why it may or may not be worth the price, depending on your budget and needs.
Pros
Stays functional after months and years of use
Elastic stays strong and tight over time
Durable exterior shell keeps cards and cash protected
Small frame makes it easy to store in front pocket
RFID-blocking technology works as tested
Backed by lifetime guarantee
Cons
Takes a little time to get used to
Elastic band can pill or fuzz over time
May feel stiff if you're used to flexible leather wallets
Surface can scratch easily depending on use
Can be expensive compared to off-brand alternatives
Specs
Materials: aluminum, titanium, carbon fiber, forged carbon, 24 karat gold, stainless steel
Weight: 1.6 to 3.5 oz depending on material
Dimensions: 86 x 54 x 6 mm frame
Warranty & returns: lifetime warranty, free domestic returns and exchanges within 99 days of purchase
The Verdict
There's a reason The Ridge is still around a decade after its inception. It's a damn good wallet made with quality materials, and the simple design means not a lot can go wrong. And if it does, The Ridge provides a lifetime guarantee so you don't have to work about manufacturing defects (scratches and normal wear and tear aren't covered).
That said, I recommend The Ridge Wallet for users who want a simple setup, carry minimal cards and cash, and want something that works well in front pockets. It may be pricy, compared to knockoffs and competitors, but in my experience, The Ridge doesn't skimp on quality, and if I have to pay $75 to $100 for something I'll use daily for years, that's well worth the price for peace of mind.
The Ridge Wallet is particularly helpful for today's modern consumer who doesn't need to carry a lot of cards – maybe they use Apple Pay and other digital wallets — and wants a wallet that's just bigger than the credit cards it holds.
If you're looking for the cheapest slim wallet, or consistently need to carry a lot of cash or cards, I wouldn't recommend The Ridge Wallet as a first option. Yes, it can hold up to 12 cards and 20 bills, but if you're maxing out both spaces, you'll have a wallet that's just as bloated and wide as a traditional one, defeating the purpose of the Ridge's sleek design.
Shop The Ridge Wallet
The Ridge Wallet Review
I first bought The Ridge Wallet in 2019, and used it on and off for several months before testing other minimalist wallets. I opted for the Royal Black aluminum model with a Cash Strap, and later bought a Gunmetal aluminum version as well.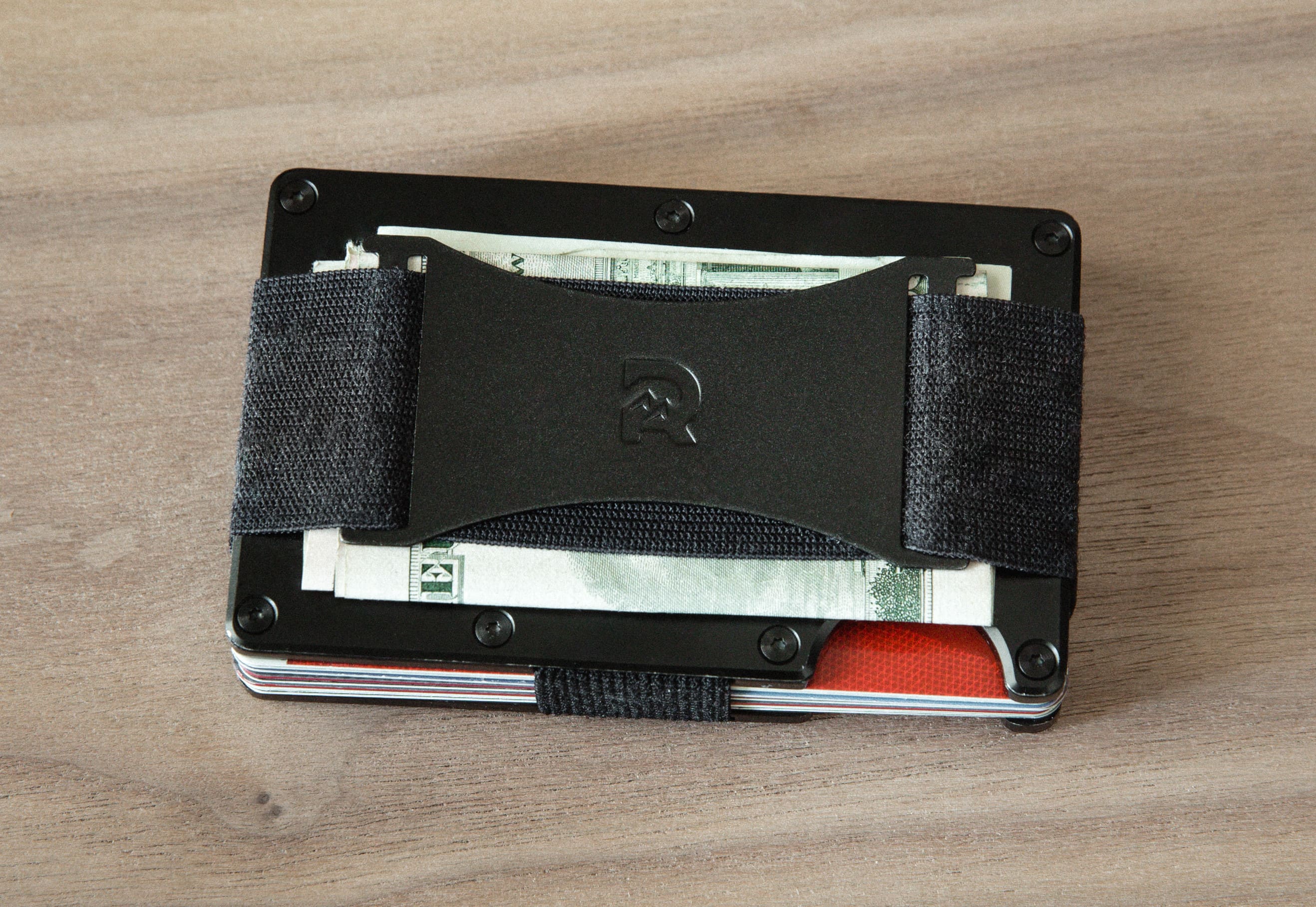 In the time I used the wallet, I routinely held about 4 to 6 credit cards and at the most a few dollar bills. I typically stored it in my front pocket, but also kept it in my car, backpacks, desk, gym bag and other places in order to get a good idea of how functional the wallet was in all aspects of daily life.
This review is based on 4+ years of use and testing, and focuses on:
Durability
Ease of Use
Functionality
Aesthetics
Value
Before jumping into the review, here's a look at some of The Ridge Wallet's most appealing features.
Features
The Ridge Wallet is designed to be a minimalist wallet that avoids the clutter and bulk of traditional wallets. It employs a straightforward design focused on an exterior shell made from different materials, and an elastic band that keeps the wallet held tight.
The Ridge holds between 1 and 12 credit cards and features RFID-blocking technology to keep your cards secure. It's available with a Cash Strap or Money Clip, both of which can hold up to 15 to 20 bills, though as I'll point out later, you probably won't want to hold that much at once.
Ridge offers a lifetime guarantee on their wallets, and you'll get a 99-day risk free trial to make sure you like it, and if you don't, their customer service is helpful. Most of the wallets weigh 2 ounces or less and are just slightly bigger than the credit cards it holds, so it's a sleek, lightweight wallet that really does cut down on the bulk you need to carry around.
A number of accessories and add-ons, like AirTag compatible straps, make it easy to customize, and after years on the market, Ridge has more materials and models than ever. But as much as the brand's grown, they've stuck to their core mission of helping people "carry less and live more."
Review Factors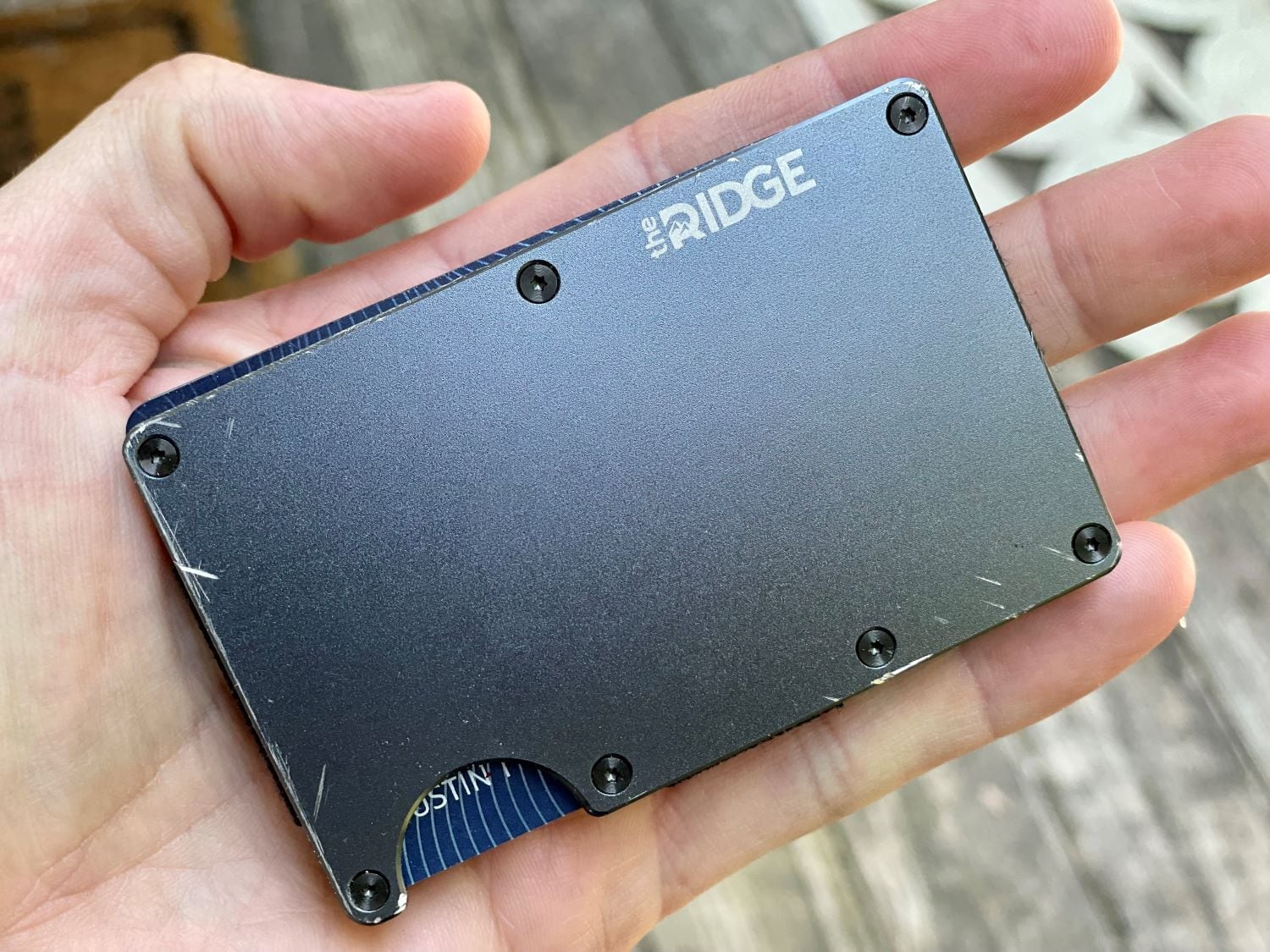 In the years I've used The Ridge Wallet, I focused on how well it held up under various conditions, how easy it is to use, and if that functionality changes over time.
I also looked at how the aesthetics of the wallet change, and after years of use, what kind of value The Ridge Wallet really offers. After all, it's not the cheapest wallet on the market, and at this point, there are plenty of knock-offs available.
Durability
Durability and The Ridge Wallet are pretty much synonymous, so if you're looking for something that'll hold up over time, The Ridge delivers. Before using it, I had a handful of leather wallets that would work for several years before losing stitches or tearing at corners.
All well and good, and to be expected, but The Ridge's durable exterior frame brings a level of protection and longevity that most wallets lack. You'll sacrifice the flexibility of a traditional wallet, but you'll get peace of mind knowing you won't have to worry about your wallet lasting however long you need to use it.
The Ridge will develop scratches and obvious signs of wear, but it won't break down the functionality of the wallet. And if for some reason you do run into issues, you can take Ridge up on their lifetime guarantee.
Ease of Use
In my experience, this is the Ridge's weakest area, and it can take some time to get used to the wallet, but the learning curve's not all that bad. To fan out your cards, you'll need to push them up using the wallet's cutout, then expand the two shell sides to create space between the cards.
Not rocket science, but it does take some practice to get the move down smoothly, especially when you're standing in line and trying to hurry through a transaction.
Although the Ridge holds up to 12 cards, I've found that the ease of use peaks (for me) at about 4 to 6 cards. At that amount, it's easy to fan and identify the cards without having to skim through each one and rifle through a stack.
With about 4 to 6 cards, it's easy to see what's in there quickly, pick it out and put back in without hassle. Any time I have more than 6 cards, which I typically don't, it just takes me a bit longer to get to what I need. Of course, I've tested out using 12 cards to see how that works, and it's more than doable to hit the wallet's max capacity and still be able to use it just fine.
So you can fit just about as many cards as you want in there, but in my experience, the "sweet spot" for ease of use is about 4 to 6 cards.
Functionality
If the main function of The Ridge is to eliminate clutter in your wallet, it works without a hitch. Having limited space forces you to pick what's really necessary to carry, and to ditch the rest. In that sense, the Ridge Wallet is extremely functional and sticks to what it knows best.
In my experience, the only time functionality is affected is when I carry more cards and cash than I actually need. Maxing out both spaces can make the wallet much wider than it needs to be, and gets further away from the minimalist carry mindset.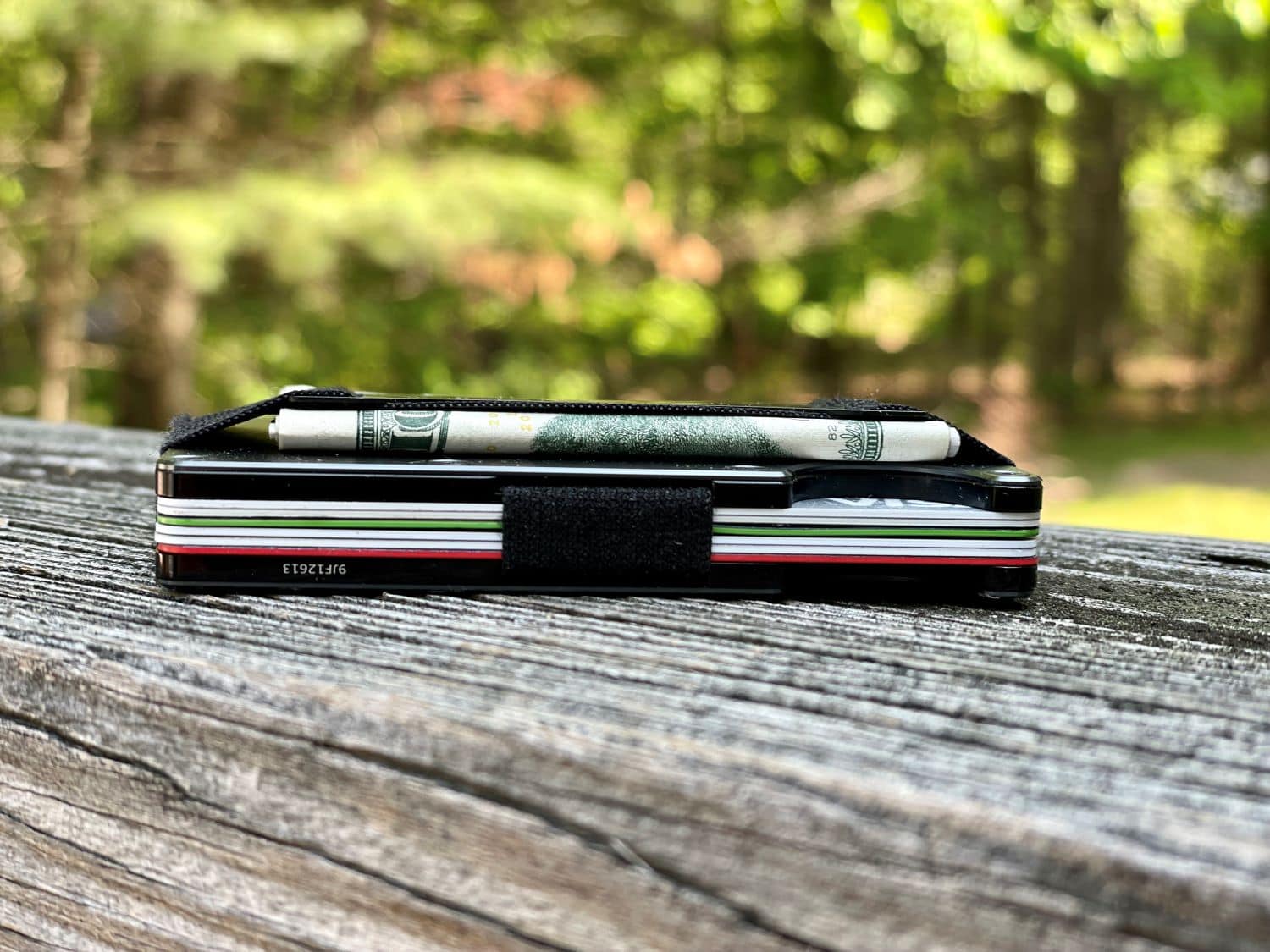 So although it can hold up to 12 cards and 15-20 bills, if you're consistently pushing those numbers, you might not get the same level of functionality as you would with 5 cards and 2 bills.
Here's what the Ridge looks like with different amounts of credit cards and cash.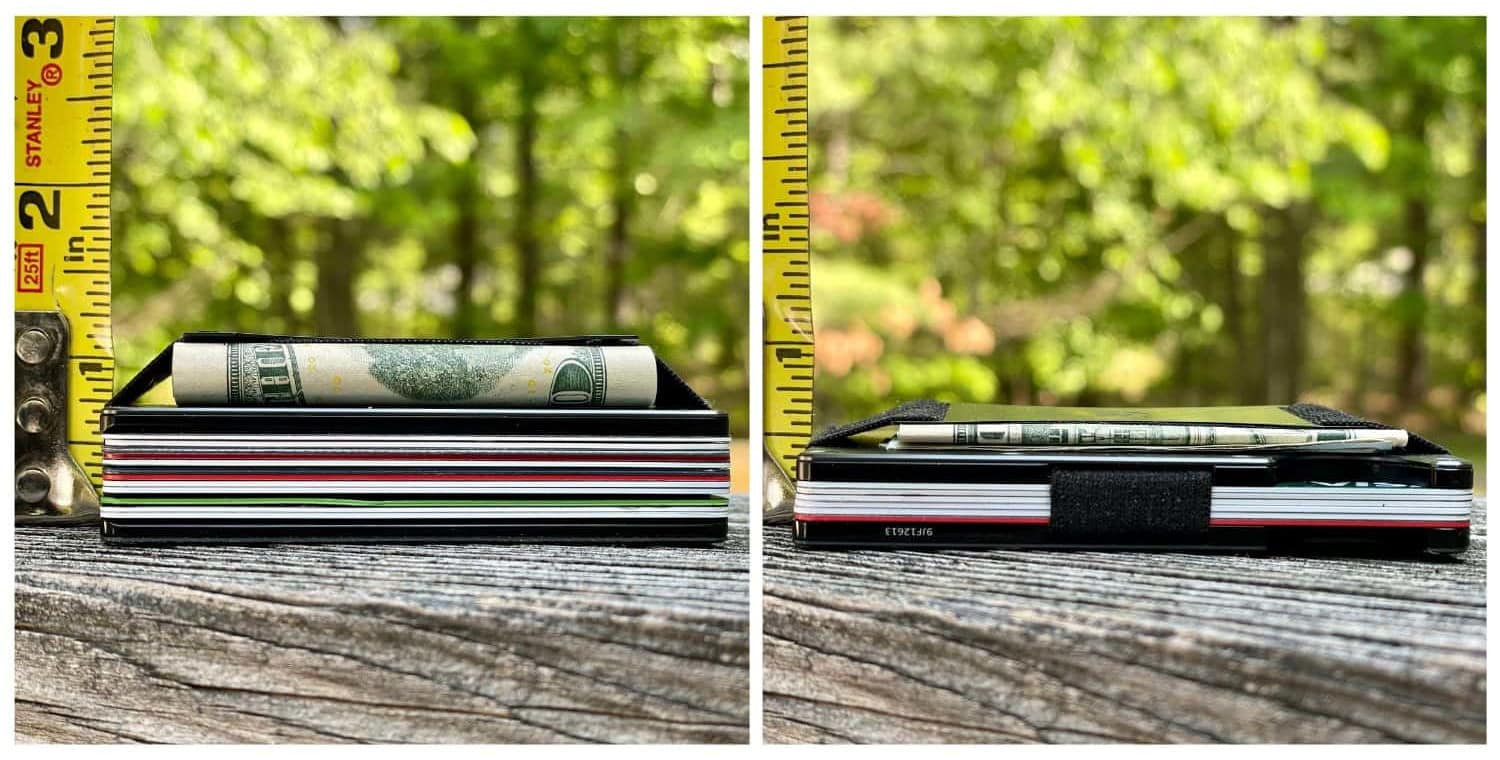 Aesthetics
I like the simple design and frame of The Ridge Wallet, and aesthetically it's easy to find a colorway that matches the rest of your carry items — it's easy to go all black with your phone, wallet and knife, for example. The only complaints I have is that despite being scratch resistant, the surface of the aluminum model does scratch more easily than I expected.
Not a huge deal for me — the functionality of the wallet outweighs the scratched look — but it is something to be aware of if you're looking for a metal wallet to stay in perfect shape. Between work, working out, playing with kids and hiking and camping, my Ridge Wallet's hit the ground more than a few times, and it does start to show on the edges and corners.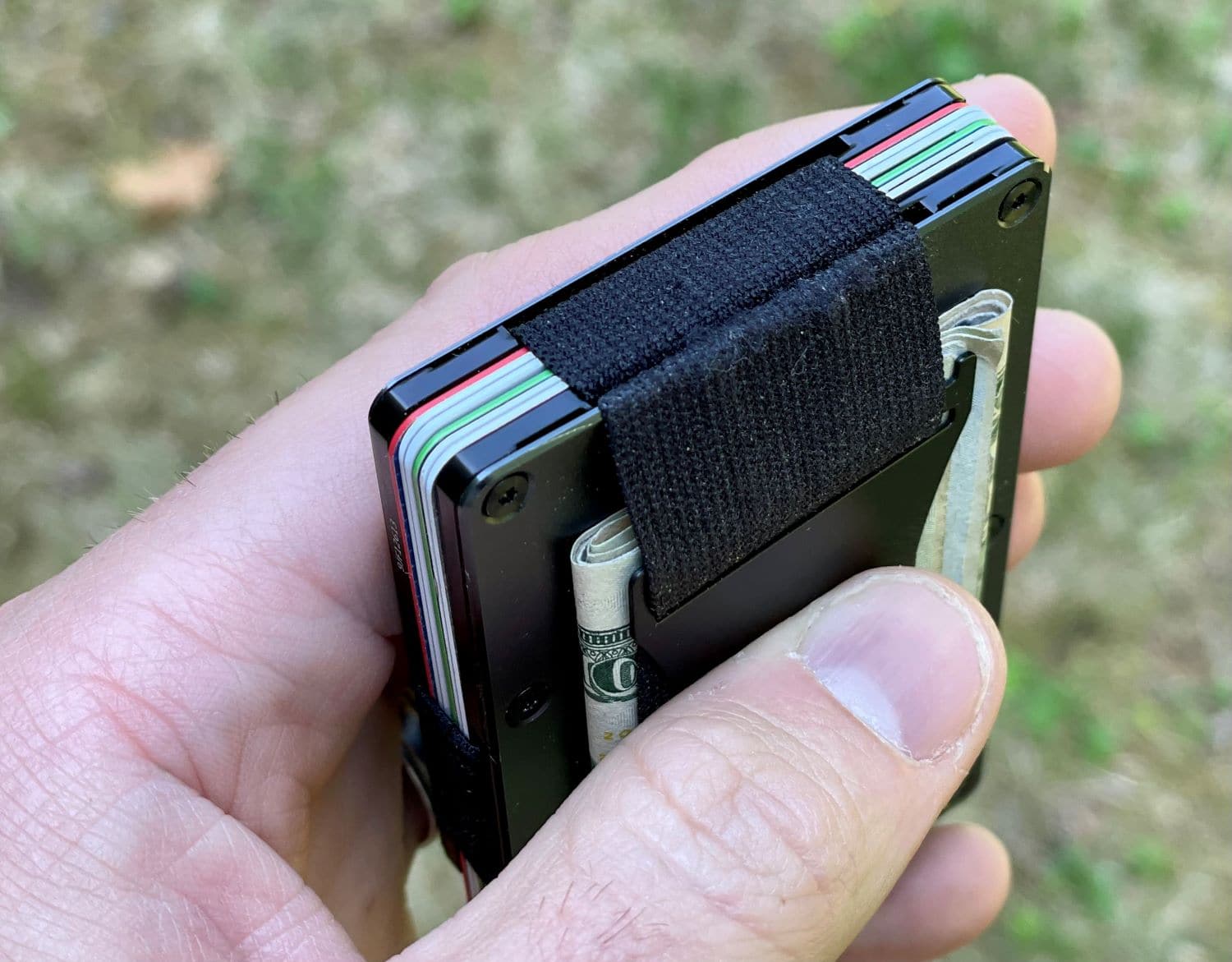 The elastic also tends to pill and fuzz over time, again not a huge deal for me, but aesthetically it's definitely not as "clean" looking as when I first purchased it. This is to be expected, and you can make an effort to clean up the elastic from time to time. I believe the Money Clip, though not my ideal choice, would offer a look that stays cleaner over time.
One last thought: with leather wallets, the patina that develops over the years can give it a worn, vintage look that only gets cooler over time. With the Ridge, or any metal wallet for that matter, it doesn't develop the same "better with age," vibe — it just gets more dings and scratches. So if you're looking for an aged look, I'd consider a leather minimalist wallet over the Ridge.
Value
Depending on the time of year and current sales, you can usually snag an aluminum Ridge Wallet for about $75, though the models I got MSRP for about $95. The premium models — carbon fiber and titanium — can range from about $125 to $140, and the 24 karat gold model retails or $250.
In my experience, the aluminum model is well worth the money: for something you use daily, it's an investment in the physical protection of your cards and focusing on a minimalist mindset. If you have a particularly demanding job or daily routine that requires your wallet go through the ringer, it's definitely pays for itself, especially if you keep it around for years at a time.
For the higher priced models, you'll get some added advantages: the carbon fiber, for example, doesn't scratch as easily as the aluminum does. But "value" is subjective, and it may be that Ridge customers opt for the higher priced models for aesthetic reasons.
In any case, if you don't want to have to worry about the functionality of your wallet after years of daily use, the Ridge Wallet offers value despite its price tag.
Overview
Considering its durability, functionality and aesthetics, I recommend The Ridge Wallet for anyone who wants to slim down their EDC game without sacrificing ease of use. I don't recommend it for anyone who's looking for the absolute most budget-friendly minimalist wallet — check out Amazon for some of the most affordable alternatives.
FAQs
Is the Cash Strap or Money Clip option better?
Both the Cash Strap and Money Clip are popular choices, but I opted for the Cash Strap in order to get the most flexible option. I rarely carry cash, so I didn't want the Money Clip to add width to the wallet, even when I didn't have cash (which is most of the time).
With the Cash Strap, it lays flat when I don't have cash or cards, but when I do add bills, its flexibility means it only adds as much width as the bills themselves. If I do carry cash, it's never more than a few bills, and the cash strap has held those in place just fine. The strap itself can move around laterally, but it's never enough that it affects its functionality.
The main downside of the Cash Strap is that its elastic can pill over time, and even minor pilling on the elastic sides can make the wallet look aged. If you do carry cash often, the Money Clip's probably a good way to go to provide more structure and a cleaner look. With either option, you'll need to fold bills twice to get them to fit the size of The Ridge.
If you can't decide, Ridge has a great solution: get both! They now offer the option of getting a Cash Strap wallet with a Money Clip on the side so you can decide for yourself which option works best.
How many credit cards does the Ridge Wallet hold?
The Ridge Wallet holds up to 12 credit cards, but in the years I've used it, I've found the ideal amount of cards to be between 4 and 6. You can fit 12 cards in there, and the wallet will stretch to accommodate them, but if you're consistently carrying 12 cards around, you may not be as interested in a minimalist wallet.
In my experience, having any more than 6 cards in the wallet makes it a little less easy to quickly get the one I'm looking for, so I shoot for about 4 to 6 cards and change those up depending on what I need for the day or week. If I'm on vacation, for example, I'll throw in a few extra cards that I might need for emergencies and so on.
On the flipside, if I'm trying to go real minimal, the wallet works just as well with just one or two cards, like a driver's license and credit card. If I'm going for a hike or camping trip, that's often what I'll narrow it down to in order to travel light.
How many bills does the Ridge Wallet hold?
The Ridge Wallet's Money Clip and Cash Strap both hold up to 15 to 20 bills, but in my experience, anything over 5 bills feels bulky. That said, I've kept up to 10 bills in the Cash Strap and it feels completely secure, but because the cash is folded over twice, it doesn't feel like a minimalist wallet anymore.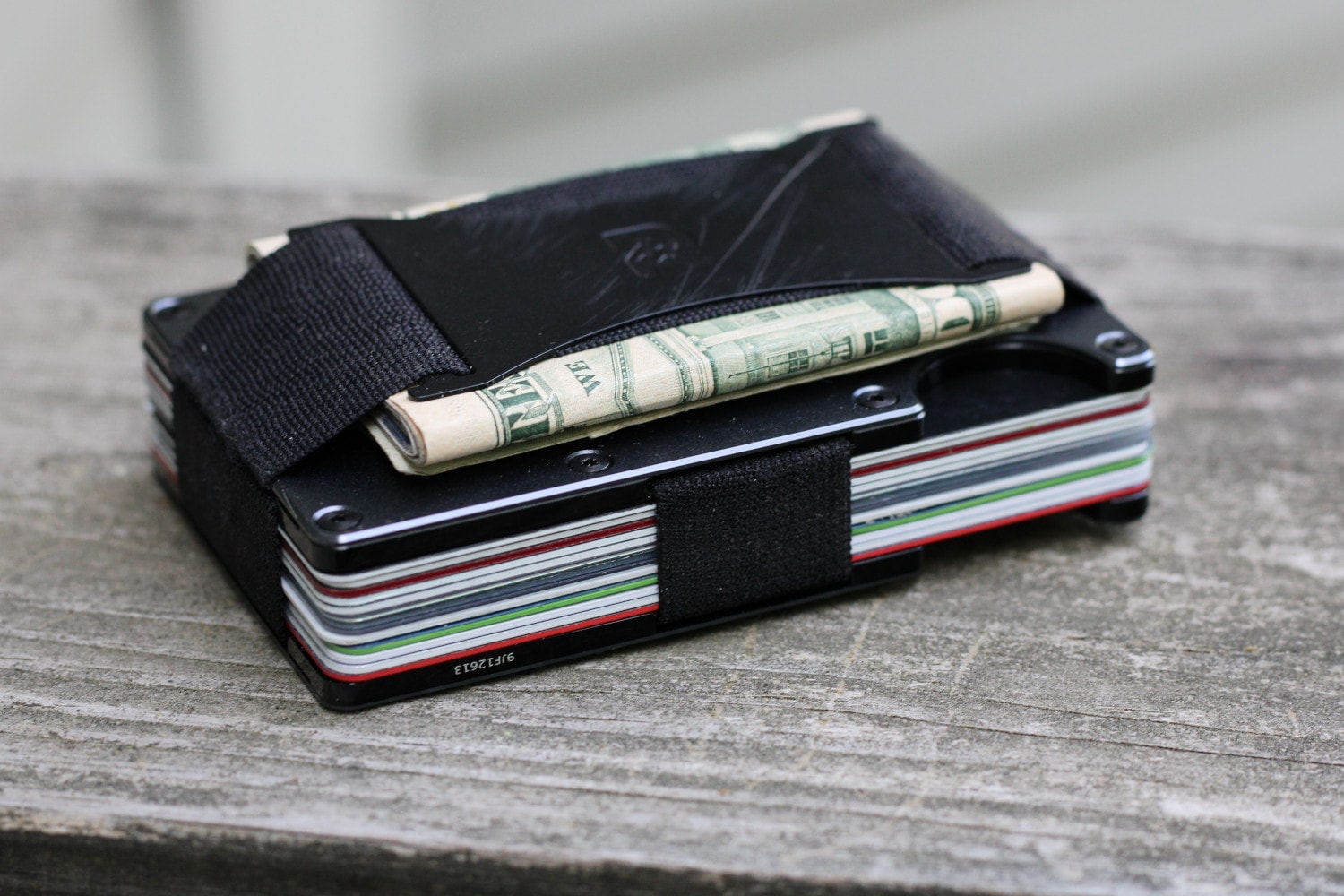 For me, the sweet spot is about 3 to 5 bills, but again, I don't carry a lot of cash. If you're looking to consistently carry 10 or more bills, I'd consider the Money Clip option.
What pocket is best for the Ridge Wallet?
The Ridge Wallet is designed to be used in your front pocket, but I've also used it in my back pocket with no issues. Because of its small size, it tends to move around more in my back pocket, where storing it in my front pockets allows the wallet to stay in place more.
If you tend to sit on your wallet, The Ridge is best used in your front pocket so the hard exterior case doesn't cause issues with your back, bottom and posture. According to an article on Men's Journal, sitting on a wallet in your back pocket over time can "eventually cause nerve irritation and pain from the nerve to travel through the glute and down the leg," and a host of other spine and back issues.
If I had to choose, I'd say the Ridge is best suited for front pocket use.
How long do Ridge Wallets last?
I've used two different Ridge Wallets since 2017 and each is still in perfect working order to this day. There are scuffs, scratches, pilling and dulled edges, to be sure, but they still function just fine.
In my experience, Ridge Wallets can last years with no issues, and likely more than several years depending on what kind of conditions you put it through. If you have a job or daily routine that requires a lot of hands-on use of the wallet, it might not last as long, but plenty of heavy users have reported their wallets lasting for years.
Is Ridge Wallet safe for credit cards?
The Ridge Wallet is safe and designed for credit cards, and with RFID-blocking features, it's also meant to be a safe storage option for credit cards. The only thing that's not ideal about the Ridge and credit cards is the fact that over time, the cards may be scratched or rubbed down due to the friction between cards.
This doesn't happen to every card, and they can be organized to make this less likely, but in my experience I have had several cards that were worn away because of constant abrasion. The issue isn't enough to avoid the Ridge, just something to be aware of. If you really need a card to be in perfect shape, you can also store it in the cash strap or money clip along with bills.
Are Ridge Wallets worth the price?
In my experience, The Ridge Wallet is worth the price because of its durability and longevity. There are knockoffs that are cheaper, but in order to drive those prices down, many of these competitors use weaker materials that decrease the lifespan of their products.
The Ridge Wallet may be pricier, but the quality aluminum, titanium, carbon fiber and other materials used in the products nearly guarantees that they're going to last longer, making them a better deal in the long run. And with their lifetime guarantee, there's more assurance that your wallet is going to be worth the price you pay.
It's also worth considering how much use you'll get out of the wallet over time. If you constantly use cash and cards in your daily routines, the $75+ you'll pay for a Ridge Wallet is a relatively low price to pay for a safe, slim and convenient EDC option that'll last years. So yes, there are cheaper alternatives out there, but as a long-term investment in your everyday carry arsenal, The Ridge Wallet delivers.
Discover More Gear
Sign up for the Territory Supply Newsletter and join thousands of readers getting epic travel ideas every week.
---