When you make a purchase through our links, we may earn commissions from Amazon, REI and other retailers. You can learn more about our editorial and affiliate policy here.
2023 REI Co-op Member Rewards are here! Click to see yours now.
---
The Ridge Wallet grew into one of the most popular minimalist wallets on the market, spawning countless knockoffs and competitors. There's a good reason why.
After testing out several slim, minimalist wallets over the years, we've eventually come back to The Ridge Wallet as my current wallet of choice, though this wasn't always the case.
We've worn through lesser minimalist options in just a few months, where The Ridge Wallet barely showed its age or use after more than a year of daily use.
We still love leather when it comes to wallets, but if you're going with something hard-cased, The Ridge is the way to go.
Top Pick
The Ridge Wallet
Award-winning minimalism
A slim EDC favorite built to withstand daily abuse and backed by a lifetime guarantee.
Check Price
What We Dig
Stayed tight even after 16+ months of use
Backed by lifetime warranty
What We Don't
Learning curve to getting cards out
Elastic band built up some fuzz over time
Can feel stiff if you're used to flexible leather wallets
The Specs
Materials: aluminum, titanium, carbon steel, Damascus steel
Weight: 1.6 to 3.5 oz depending on material
Dimensions: 3.39″ x 2.13″ x .24″
Warranty & returns: lifetime warranty, 45-day returns
The Verdict
Because the elastics stays strong and tight over time, and the body's built to take a beating, we recommend The Ridge for anyone looking for a minimalist wallet that'll last.
And if for some reason it doesn't? Take up Ridge on their lifetime warranty.
The Ridge Wallet Breakdown
After nearly two years of use, we have a solid understanding of the wallet's pros, cons and things you should know before you buy. Here's a rundown of everything you need to know.
Is The Ridge Wallet good?
"The Ridge re-evaluates your everyday carry and gets rid of the bulk," says the company's website — and that's no joke.
The wallet's slim design holds between 1 and 12 cards without stretching, and when you're on the lower end of that scale, the wallet's lack of bulk is extremely noticeable.
For those switching from a thicker traditional wallet, this can take some time to get the hang of, but I found it easy to work with a much sleeker wallet right away.
I felt like I carried less weight on me, and pulling it in and out became much less chore-like.
Sitting in my leather valet, the wallet's aluminum casing looks amazing even after a lot of daily use, and the elastic stayed true throughout the time I used it.
Its compact design is far and away the wallet's biggest draw, so if space (86 x 54 x 6 mm) and weight (2 ounces) are your main considerations, The Ridge should do you right.
I purchased the money clip version, which holds bills and extra cards as needed. Even with the clip, the wallet still didn't feel bulky, and with a few bills in place it still took up far less room in my pockets than my previous wallet.
The money clip, though useful, was one of the first things I noticed as a main drawback for my particular needs.
Folding Bills 2X
The Ridge Wallet is just barely larger than the cards it contains, small enough that dollar bills have to be folded twice in order to fit within the boundaries of the wallet.
This might not seem like a big deal, and for those who only carry the occasional twenty, it isn't.
But I tend to have quite a few smaller bills to cover daily travel, food, tipping and other expenses, and I found that at a certain point, having to double-fold bills added too much thickness to the wallet, and it significantly reduced the slimness of The Ridge.
If you're the cashless type, or only need bills here and there, then the money clip (spring steel) or cash strap (elastic band) won't bother you.
But for those who routinely need plenty of cash on hand, The Ridge won't be quite as sleek as it would be otherwise.
Does The Ridge Wallet scratch cards?
The Ridge Wallet can hold up to 12 cards, but somewhere around 5, those cards get more difficult to get in and out smoothly. There's a technique to fanning out the cards when you need it, but when they're not in use, the cards are butted up against each other for the duration.
After a few weeks, I discovered that one of my cards was getting scratched by the others, and even when I rearranged them, it was still getting dinged up from those around it.
Eventually, this minor wear and tear made it more difficult for machines to read the chip in that card, so I had to replace it after a while.
This might be something that comes with the territory of a minimalist wallet, and it may have to do with the individual card, but whatever the cause, it was inconvenient enough to make me reconsider using The Ridge on a daily basis.
The last problem I had with the wallet is actually one of its strongest draws: the RFID-blocking technology that prevents wireless identity theft.
Unfortunately, it also prevented me from using my office key card, which I need to use several times daily to get in and out of the office. From all other angles, the RFID is great – and seems to work well.
Looking at user reviews of The Ridge Wallet, it's clear that my issues with the wallet are based on my own personal needs and everyday carry preferences rather than anything inherently wrong with the product itself. The majority of users seem to love the wallet, and there's a reason it's developed such a loyal following.
Its craftsmanship is top-notch, and the company, started by father and son team Daniel and Paul Kane, has done an excellent job of incorporating high-quality materials into something that's functional and stylish.
Ridge Wallet Alternatives
There are a handful of alternatives to The Ridge that we suggest considering if you're looking for an affordable, long-lasting minimalist wallet.
Here's a look at some of the top options on the market and why recently they've each taken a bit of The Ridge Wallet's market share.
Dango T01 Tactical Wallet
The T01 Wallet from Dango offers the best of both worlds: slim, minimalist presentation along with more traditional wallet elements like genuine top grain leather.
If you're not ready for a fully carbon fiber or aluminum product, this is a great way to minimize your wallet's thickness while still having classic wallet stylings.
But the best part of the T01 Tactical Wallet is its functionality: 14 built-in tools, including hexes, a paracord cutter and serrated edge make this a go-to option for outdoor enthusiasts and those who need practical features.
The high-carbon stainless steel multi-tool can also be removed for travel if needed (TSA compliant without it).
Even with all that, the T01 clocks in at just over 2 ounces and 0.3 inches thick with 6 cards, making it ounce-for-ounce one of the most useful wallets on the market. It's made in the USA, backed by a limited lifetime warranty and has stellar reviews from users across the world.
Dango D01 Dapper Wallet
If the multi-tool functionality of the D01 isn't your thing, consider the D01 Wallet, a cleaner, more sleek version that's focused on aesthetics more than tools.
The D01 maintains the same slimmed down profile as the T01, but sports clean lines and a silhouette that makes it more appealing to professionals and others who don't need the rugged look of  Dango's tactical wallet.
Like the Tactical Wallet, the D01 holds up to 12 cards, weighs a hair over 2 ounces and keeps a thin profile even with 6 or more cards.
It has RFID-blocking technology and a chasis made from 6061 aerospace grade aluminum that's built to work for the long haul. It's also made in the US and guaranteed by a limited lifetime warranty.
Trayvax Element Wallet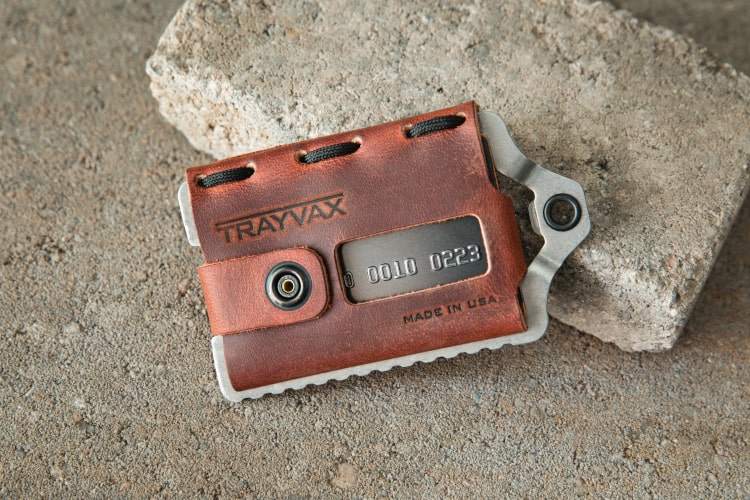 Like the Dango wallets, the Element from Trayvax incorporates more traditional wallet materials like top-grain tanned leather.
Throw in the raw or black stainless steel frames and you get an interesting combination of new and old, aesthetic and function.
The Element includes built-in tools you'll actually use, including a bottle opener and "integrated" money clip. It's made in the USA and has become a staple for outdoor types who want something that'll hold up during daily and longer excursions.
At 5 ounces, the Element is heavier than some of its competition, but those who appreciate the small touches and attention to detail won't mind the added weight.
If you're looking for an ultralight, super-minimalist wallet, the Element won't do it for you, but if you're into a dirty-lookin' leather and metal combo that rolls with the punches, this wallet from Trayvax will do the job.
It's backed by an ironclad guarantee and available in 8 colorways, including tobacco brown, canyon red, stealth black and Mississippi Mud.
Check out our Trayvex Element Wallet review for our in-depth analysis.
Next Up in Everyday Carry
Sign up for our free email to join thousands of readers getting epic travel, hiking, camping and gear ideas every week.
---