We research, test and evaluate outdoor gear based on a number of factors, including our writers' experience and expertise, trusted user reviews and more. We may earn a commission when you make a purchase through our links. See our editorial policy to learn more.
Was this article helpful?
---
Make road trips more fun with the comfort and convenience of a hard-shell rooftop tent.
Hard-shell rooftop tents are a relatively new piece of gear on the North American overlanding scene, but adventurous vehicular explorers have been using them for decades in other parts of the world. After all, the hardshell component makes the tent burlier and more rugged against abrasions and scratches. And, if you know you'll be camping in harsh weather, that hardshell will insulate you better than a non-hardshell rooftop tent.
Most vehicles are perfectly capable of carrying most rooftop tents. Some heavy-duty models require extensive hardware and big trucks to carry them, but there are plenty that fit well on modern crossovers and sedans. For alternative options, check out the best truck bed tents.
But you know what the best adventure vehicle is? The one you already have. There's certainly a hard-shell rooftop tent on the list below to perfectly fit your car.
Related read: 15 Best Overlanding Vehicles for Off-Pavement Adventure
The Best Hardshell Rooftop Tents of 2023
Best Four-Person Rooftop Tent
iKamper Skycamp 2.0
What you'll dig: The folding storage design means this tent is compact while driving but expansive when at camp.
Tech specs:
Weight: 160 pounds
Mattress: 1.8" thick memory foam
Person capacity: 4 adults
Dimensions closed: 86″ x 54.5″ x 12.5″
Dimensions opened: 86″ x 82.5″ x 43.5″
Best for family camping trips and group outings, the iKamper Skycamp 2.0 features a fold-out king-size mattress that can comfortably accommodate up to four people. The double-layered and fiber-reinforced shell is insulated with air to keep your crew comfy during the night.
A quilted interior layer of insulation adds to the coziness and the two insulating layers protect campers not just from extreme temperatures, but from sound as well. it'll mute the sounds of rain, hail, and wind so you can sleep peacefully.
Improved in many ways over the original Skycamp, this 2.0 model is a marvel of rooftop tent engineering. It is exceptionally lightweight for its size. This tent can be carried by any vehicle and works with most of the common factory and aftermarket roof crossbars.
The tent's fold-out design means it's compact during road travel, keeping it within an acceptable width for even the smallest cars to haul. When unfolded, though, the Skycamp 2.0 expands into a backcountry palace.
Setup and tear down both take less than a minute, and the tent has a sturdy fold-out telescoping ladder plus a fold-out honeycomb aluminum floor panel. The fold-out floor panel expands the overall floor space to make room to sleep four people.
You can buy a variety of additional accessories to enhance this tent's capabilities and comfort. You can expand your tent with an additional annex, reduce wind noise and increase your mpg with a wind deflector, or create an organized space for dirty hiking boots with a shoe rack.
If you really like the features of the iKamper Skycamp 2.0, but don't quite need enough space to sleep four people, check out the two-person iKamper Skycamp Mini.
Check Price
Best Two-Person Rooftop Tent
Eezi-Awn Stealth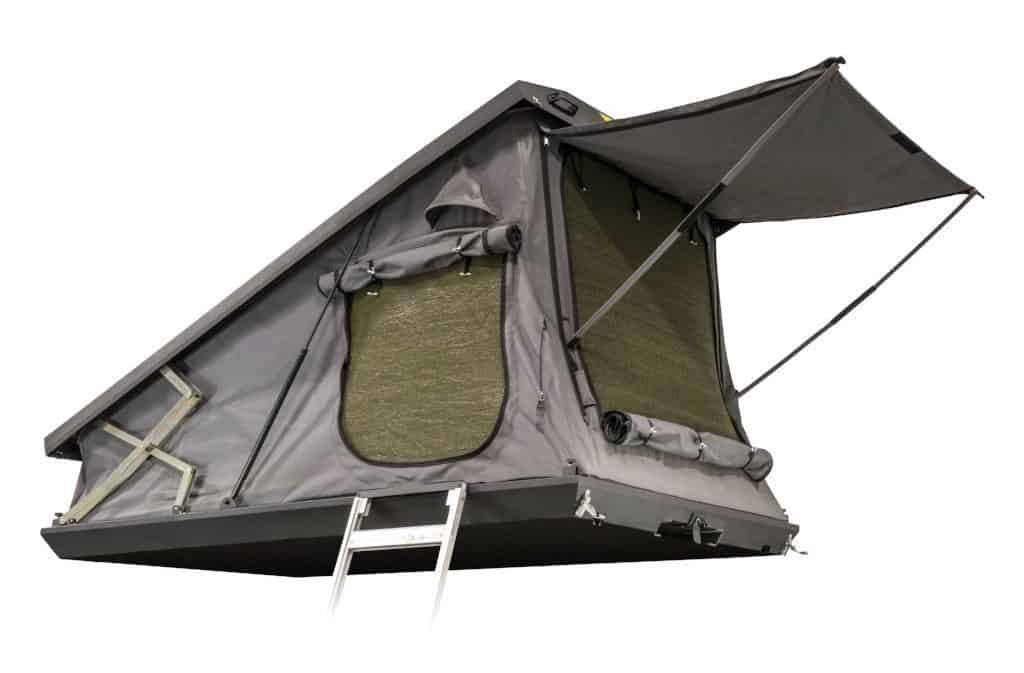 What you'll dig: The patented mechanisms make setup a breeze and create a spacious sleeping area.
Tech specs:
Weight: 220 pounds
Mattress: 3.5″ thick quilt-top high-density foam
Person capacity: 3 adults
Dimensions closed: 87″ x 57″ x 12″
Dimensions opened: 87″ x 57″ x 56″
Dollar for dollar, there's no better rooftop tent for couples than the Eezi-Awn Stealth. The powder-coated aluminum outer shell is both durable and lightweight, and the interior is nearly as inviting as your bedroom at home.
Even if you're not quite ready to sacrifice your home bed just yet, you'll likely agree that the Eezi-Awn Stealth's comfort goes above and beyond any ground tent. It provides the best sleeping experience of any rooftop tent on this list.
Stainless steel latches lock the tent down tight while your vehicle is in motion and its slim, aerodynamic shape is ideal for travel at highway speeds. When you're ready to set up camp, all you have to do is flip the four latches and give it a push. The gas struts and scissor mechanism will do the rest.
At 87 inches long (including the raised footwell provided by the scissor lift) there's plenty of room for even the tallest campers to stretch out. At 57 inches wide, you can fit three people side-by-side, but it's more comfortably sleeping two with room to spare.
The two side entryways feature privacy panels and mosquito netting with a third entryway in the rear you can open as a sun-blocking awning.
One of the best features is the built-in collapsible aluminum ladder that conveniently stores away underneath the tent. Other awesome features include integrated USB ports, LED interior lighting, and a quilted mattress with piped edging.
Check Price
Bundutec BunduTop Super King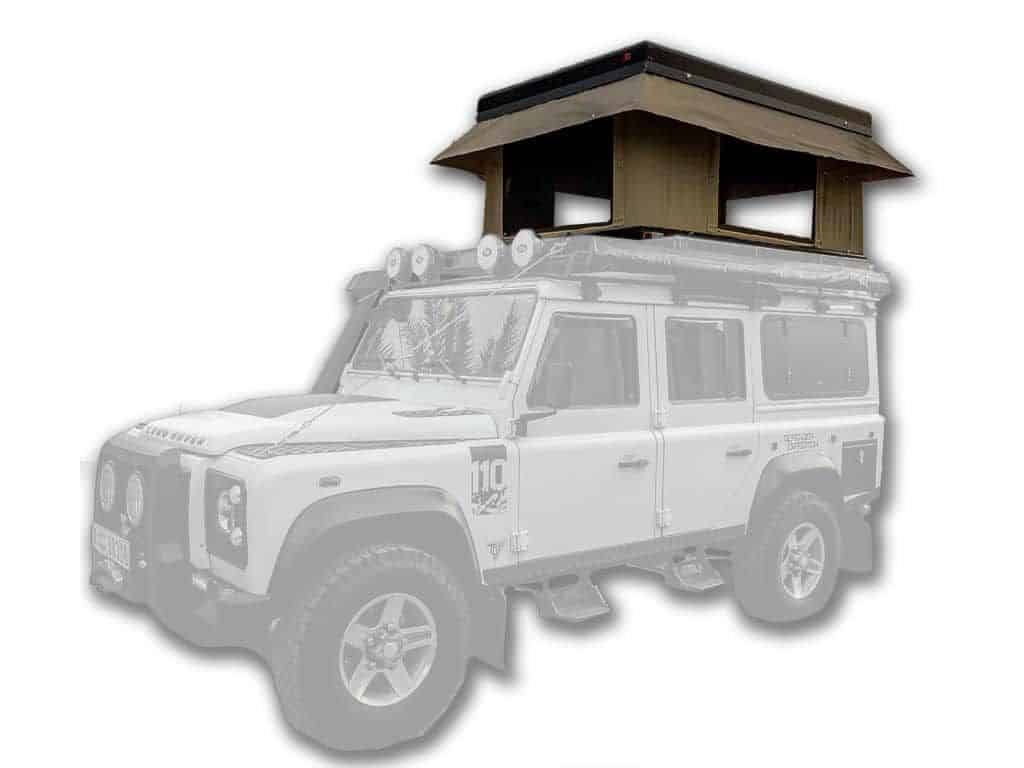 What you'll dig: An electric motor raises and lowers the tent at a push of a button, and it's pre-wired for solar panels.
Tech specs:
Weight: 176 pounds
Mattress: 4" thick high-density foam
Person capacity: 4 adults
Dimensions closed: 118″ x 63″ x 12″
Dimensions opened: 118″ x 63″ x 40″
Built to survive the harsh conditions of overlanding in Africa while also providing extreme comfort at camp, the Bundutec BunduTop Super King is a lavish and hard-wearing rooftop tent. If you compared it to an off-road vehicle, this tent would be akin to a Mercedes-Benz G-Class. It's the ultimate combination of luxury and capability.
The outer shell is raw aluminum. It's heavy, but it's also durable and provides the best heat-reflection available in a rooftop tent. But you won't need to worry about the weight as the tent is raised and lowered with an electric pulley system with the push of a button. And because the tent already has a battery for the motor, Bundutec went ahead and equipped its interior with a 12-volt outlet and LED lighting.
Additionally, the roof is pre-wired for solar paneling. Bundutec couldn't have made it any easier for campers to power their devices and keep the party going into the night at camp.
They also tested the Riptech ripstop canvas and rubber-coated mesh materials to withstand all sorts of foul weather, including 50 mph winds and heavy snowfall. The foam-backed roof lining helps reduce condensation and a 360-degree rain and shade awning protects the windows and doors from the elements.
The BunduTop comes in the three different sizes, and the Super King, detailed here, is the largest and most expensive. The smaller King and Standard models are more affordable.
Check Price
The Best of the Rest
The following hardshell rooftop tents are also noteworthy options. Though they didn't get a "best of" label, they're still worth your consideration.
Alu-Cab Expedition 3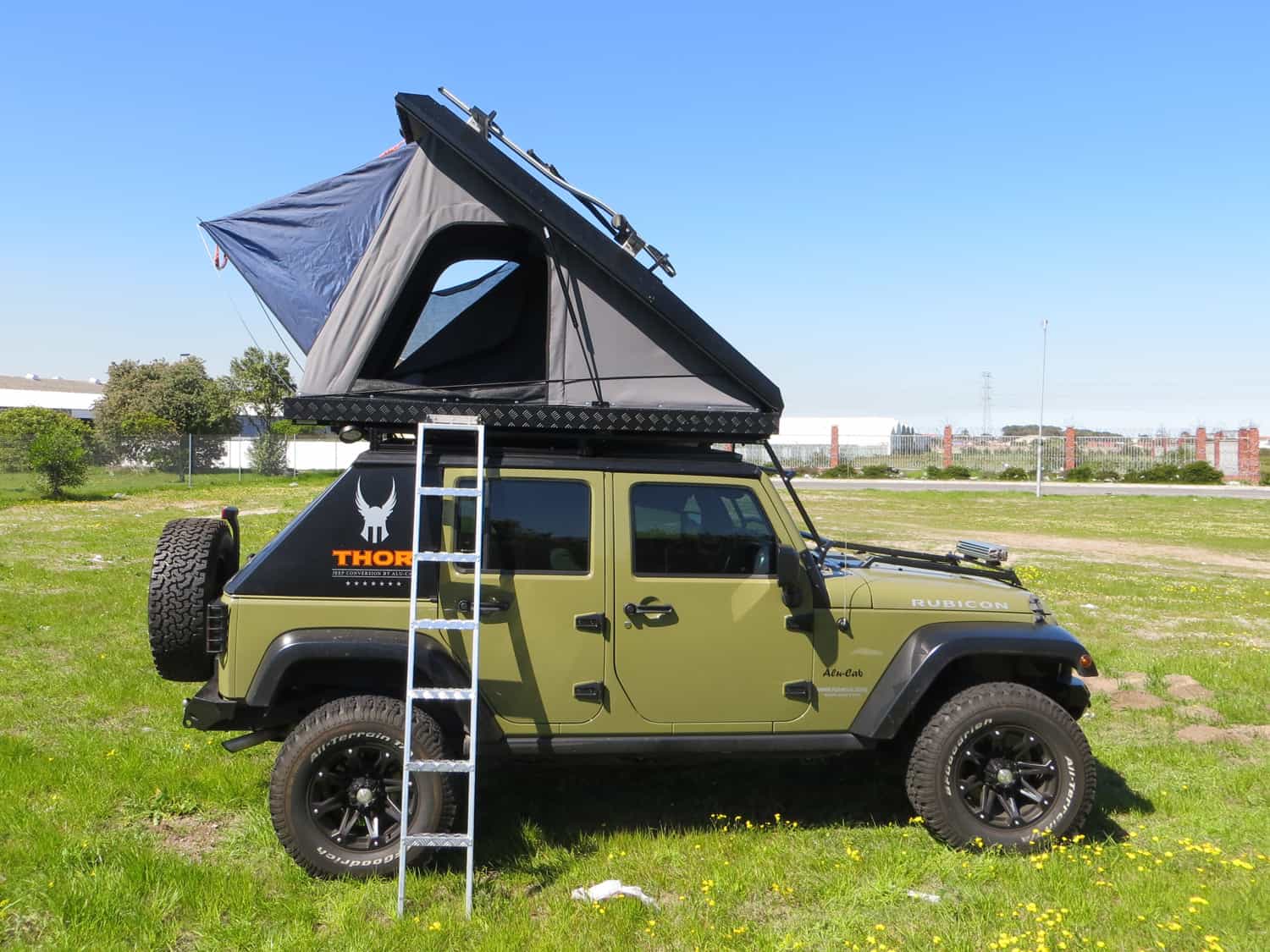 The Alu-Cab Expedition 3 is constructed of aerodynamic, durable aluminum capable of carrying heavy loads. It's equipped with handy features such as internal USB ports, a 12-volt power socket, a reading light, and an assortment of storage pockets.
This tent will hold up well against extreme temperatures and foul weather. Closed-cell polyethylene foam insulates the roof and floor to keep you cozy, and the waterproofed ripstop fabric walls will keep you dry.
Multiple accessories like rain covers, a roof rack tray, solar panels, and other awesome goodies are available to kit out your tent to meet your specific needs.
Tech specs:
Weight: 194 pounds
Mattress: 3" thick memory foam
Person capacity: 2 adults, 1 child
Dimensions closed: 90.5″ x 55″ x 11″
Dimensions opened: 90.5″ x 55″ x 78.5″
Autohome AirTop
Priced competitively and loaded with luxury touches, the Autohome AirTop is the right choice for those who want plush comfort without the premium price tag. The fiberglass shell is ultralight but well insulated, and there are multiple color options available.
The acrylic tent fabric is waterproof and exceptionally breathable, featuring entryway rain covers, mosquito nets at every opening, and five windows, three of which can open.
The AirTop comes with a comfortable rubber sponge mattress and plush pillows. There are small, medium, and large sizes available; the tech specs below are for the large.
Tech specs:
Weight: 170 pounds
Mattress: 3" thick high-density rubber sponge
Person capacity: 2 adults, 2 children
Dimensions closed: 84.5″ x 65″ x 13″
Dimensions opened: 84.5″ x 65″ x 33″
James Baroud Discovery
Visibility, ventilation, and versatility are the three Vs of the James Baroud Discovery, though a bonus fourth "V" is apparent in the tent's triangle-shaped clamshell opening. This is James Baroud's most compact rooftop tent model and is a very practical choice for most campers.
When erected, this tent provides a sweeping 270-degree view from your pillow. The tent walls are solar-reflective and waterproof aluminized-polyester. Tested to withstand winds of up to 72 mph, this tent is one of the truest all-weather rooftop tents on the market.
Unique to James Baroud tents is a built-in solar-powered electric ventilation fan. When fully charged, the fan can run continuously for up to 24 hours. Additional air vents with inboard dust filters are positioned on the sides of the tent to ensure maximum ventilation.
Tech specs:
Weight: 145 pounds
Mattress: 3" thick high-density foam
Person capacity: 2 adults
Dimensions closed: 79″ x 55″ x 13″
Dimensions opened: 79″ x 55″ x 44″
Roofnest Sparrow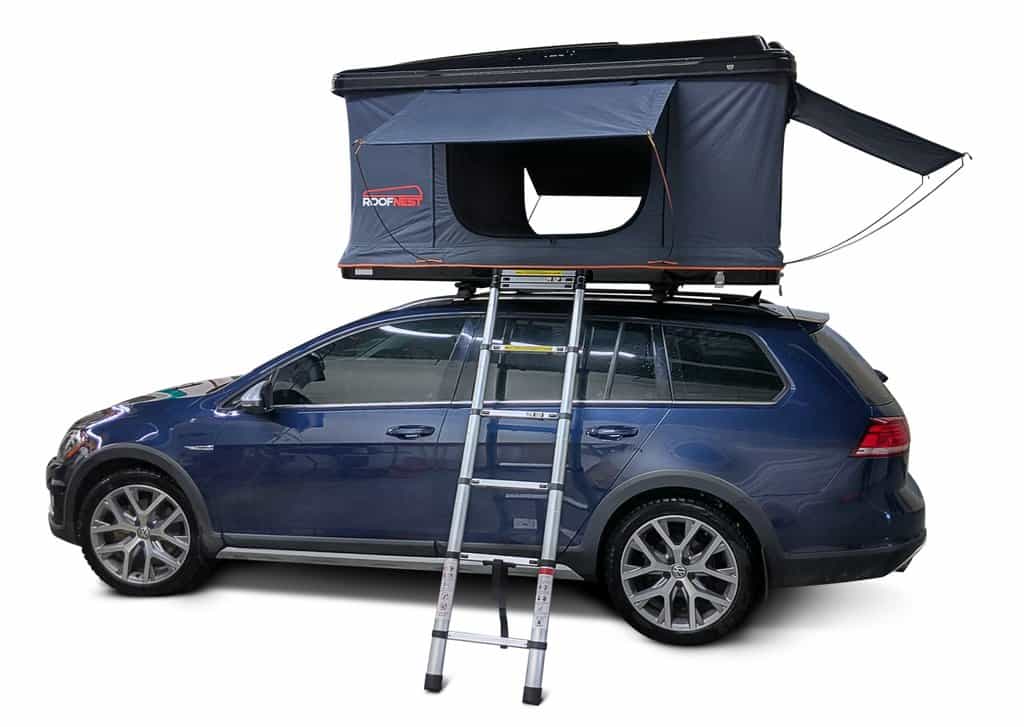 A lightweight rooftop tent, the Roofnest Sparrow is easy to install and won't dramatically affect your vehicle's fuel economy. This tent can secure onto standard or aftermarket crossbars on any vehicle.
To make the Sparrow rigidly strong but lighter in weight than much of its competition, Roofnest uses lightweight  plastic to build the exterior shell and reinforces it with fiberglass by hand in high-stress areas.
The exterior features mountain for solar panels and a storage bag mounting platform. Inside, you'll find a comfortable mattress and an anti-condensation mat. There's a ceiling gear loft and removable storage pockets that attach to the interior or exterior.
Tech specs:
Weight: 130 pounds
Mattress: 3" thick memory foam
Person capacity: 2 adults
Dimensions closed: 85″ x 50″ x 11″
Dimensions opened: 85″ x 50″ x 40″
TentBox Hard-Shell Roof Tent
Designed to fit nearly any vehicle and accommodate two adults, the TentBox Hard-Shell Roof Tent is ideal for adventurous couples. Its classic design is simple, functional, and reliable.
The durable ABS shell erects easily with the help of air-assisted struts. Setting up the tent takes only 30 seconds, and taking it down is just as quick.
The tent walls are tough ripstop canvas lined with a waterproof membrane. Sealed seams provide for weather protection, the zippers are waterproof, and the tent can withstand winds up to 38 mph.
Tech specs:
Weight: 144 pounds
Mattress: 2.5" thick memory foam
Person capacity: 2 adults
Dimensions closed: 85.5″ x 49″ x 11″
Dimensions opened: 85.5″ x 49″ x 39″
Buying Advice
When shopping for a hardshell rooftop tent, there are a few technical details to consider.
Be sure to choose a rooftop tent that will fit your vehicle. Different vehicles have different load (weight) ratings for how much cargo they can carry on their roofs.
Likewise, different factory-made and aftermarket roof racks and crossbars have their own weight limits; even if your car holds 1,000 pounds, you can't load that much if your crossbars are only rated to 500 pounds.
Next, consider how many people you'll need to comfortably sleep in the tent. Most rooftop tents fit two people, but some can accommodate three or four with relative comfort
Finally, be sure that a hardshell rooftop tent is worth the financial investment for you. They aren't cheap and if you don't need the extra insulation or durability, it may be better to consider a non-hardshell rooftop tent.
Upgrade Your Gear
Sign up for our free email to join 50,000+ readers getting epic travel, hiking, and camping ideas every month.
Was this article helpful?
---