We research, evaluate and select travel destinations based on a number of factors, including our writers' experience, user reviews and more. We may earn a commission when you book or purchase through our links. See our editorial policy to learn more.
Was this article helpful?
---
No matter what, camping is a lot of work. So when it comes to cooking, you want camp meals that are easy and tasty too.
Don't worry, we've got you covered. Below you'll find our list with 15 of our favorite easy camping meals, with most of them keeping the prep time under 30 minutes. From grilled chicken to dutch oven lasagna to loaded potatoes roasted over the campfire, there's a wide variety to recipes to chose from here.
Just need some camping snack ideas? Here's our guides to 40+ camping foods that don't require refrigeration and 17 easy camping side dishes.
If you need some new wares, check out our guides to the best camping stoves for easy meals and the best campfire cooking tools & essentials.
Related: 10 Amazingly Simple Camping Recipes for Kids
15 Easy Camping Meals for the Family
1. Spicy Jambalaya with Orzo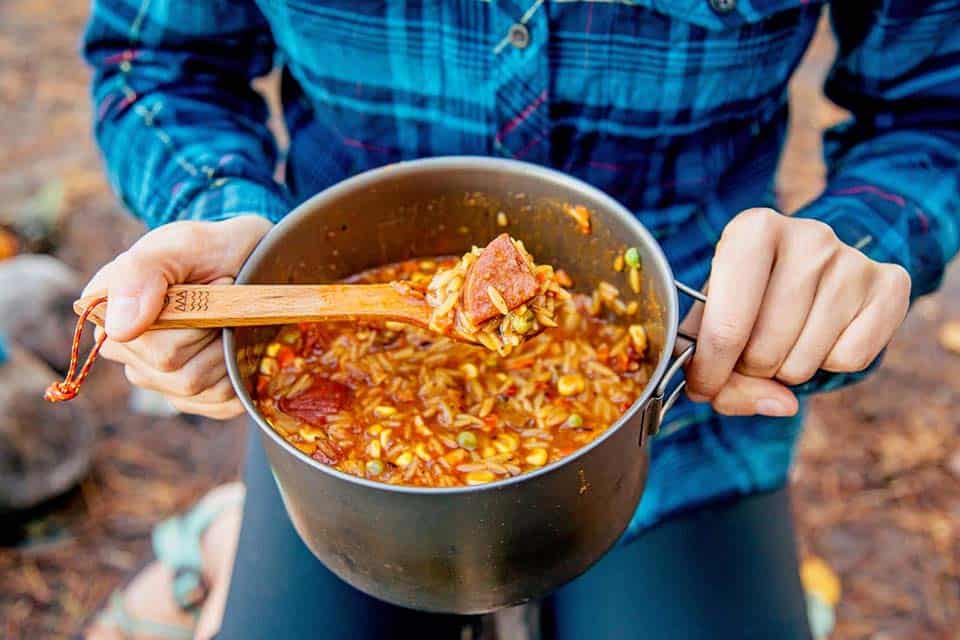 On any camping trip, I always bring at least one meal that can instantly warm me up if we encounter any rain. And Jambalaya has been the winner for years! It's a great meal packed with protein, carbohydrates, and spice to bring you back to life after some defeat by rainy weather…or if you just want some Jambalaya!
Fresh off the Grid has come up with a wonderfully tasty recipe anyone can make in a pinch.
2. Campfire Pizza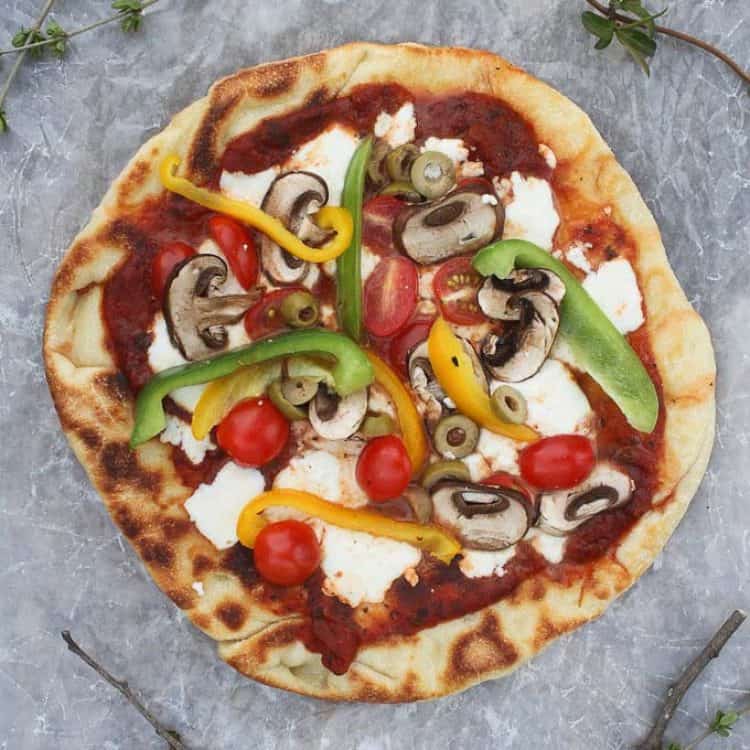 If you're looking for a good ol' fashion family meal around the campfire, this pizza recipe by Sarah with Champagne Tastes has you covered!
We all know pizza is a great family or group meal, but making it at camp will surely get everyone involved. It's also easy to make and very customizable, allowing everyone to be happy (even picky kiddos).
I love this recipe because it involves ready-made pizza dough vs. precooked naan flatbread. The flatbread is a less messy alternative, but I have had issues with the bread charring before the toppings are melted. With the dough, however, you're given more cook time for everything to really come together!
Related Read: 19 of the Tastiest Hiking Snacks to Fuel Your Adventures
3. Pho Ramen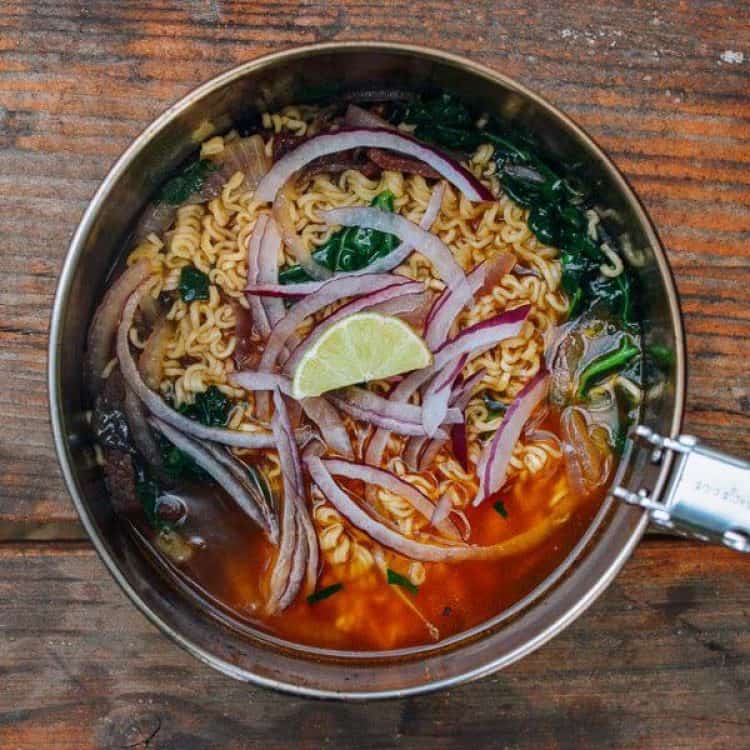 Instant Ramen packs might have a bad reputation, but when it comes to camping meals it's one of the most versatile (and cheap) ingredients you can find. Anything from stir-fry to soup, and just plain Ramen can be quite tasty around a campfire.
The Woks of Life have put together a great recipe for a makeshift Pho soup that uses the ease of instant Ramen noodles. The best part? It's a one-pot recipe and takes a grand total of 10-15 minutes to cook.
This is an easy recipe to adapt to your liking and experiment with. For optimal ease, prep the veggies ahead of time to save room and time. You can also find sing-serve packs of rice noodles you can cook up instead of Ramen if you'd like.
4. Tomatillo Chipotle Skillet Enchiladas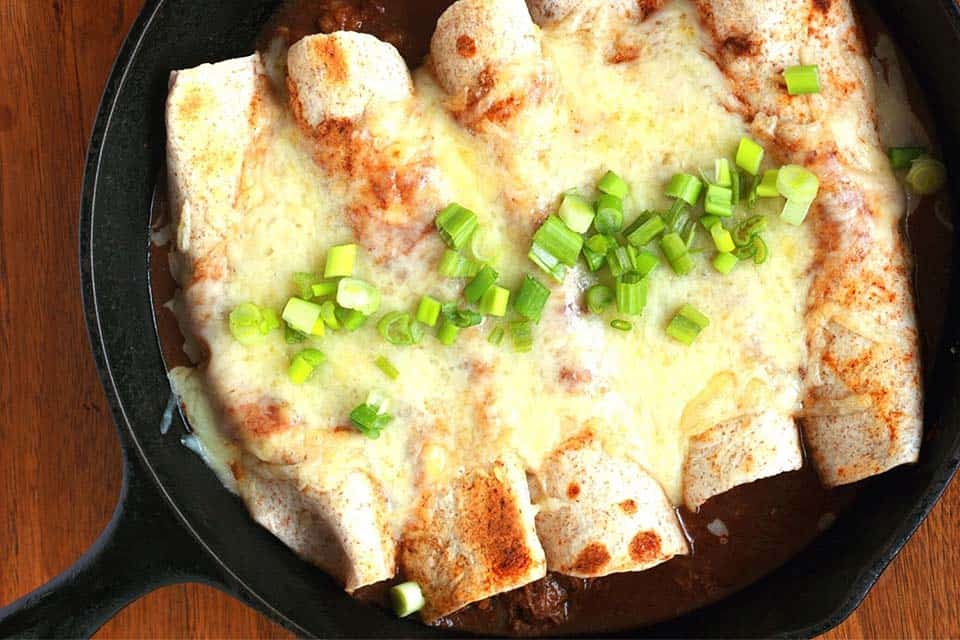 I feel like this title makes more sense on a restaurant menu than a camping meal list — but that just goes to show you the skills found at Dirty Gourmet.
If you're like me, you love camping with a group of friends. But sometimes, it can be lame if you're all making separate, individual meals. Skillet Enchiladas are the perfect solution to bring everyone together and relax around the fire! The best part about group meals? Everyone can pitch in to help with the purchasing, prepping, and cooking.
Related Read: 8 Excellent One-Pot Camping Meal Ideas
5. Backcountry Bacon Carbonara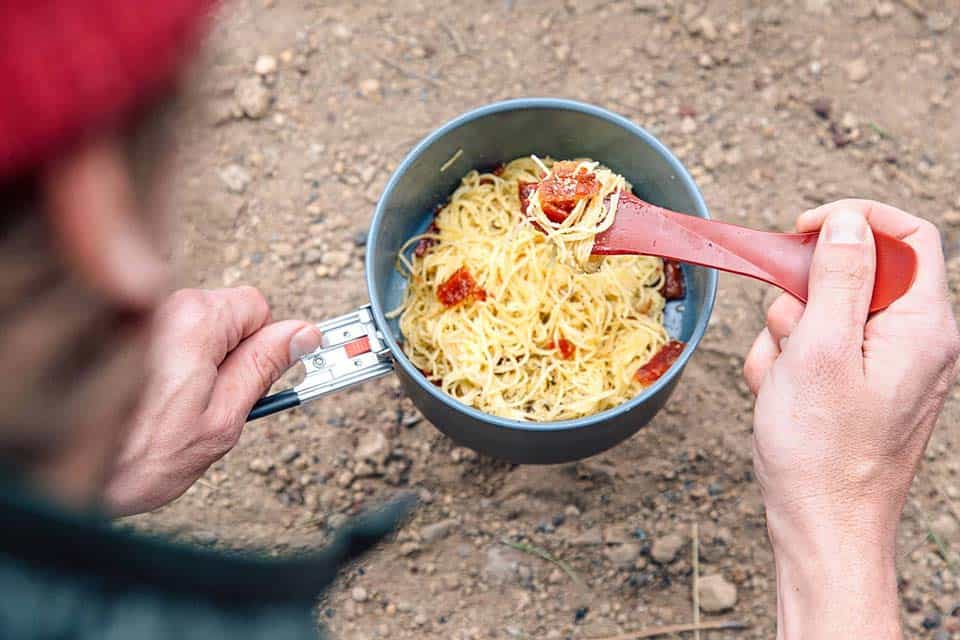 Pasta meals are always great and easy camping meals. Simple, cheap, and packed with carbohydrates and other nutrients make it perfect for backcountry adventures. But the usual veggies, canned chicken, and maybe some red sauce don't even come close to this delicacy.
The genius backcountry chefs of Fresh off the Grid have truly outdone themselves with this one! With a little innovation, they have figured out how to make this coveted Italian meal in the backcountry.
This recipe has been created with lightweight backpacking in mind, so some ingredients (powdered eggs for example) aren't the freshest options. If you are car/RV camping and have a cooler or fridge, feel free to substitute fresher ingredients and real eggs for a luxurious restaurant-worthy meal.
6. Campfire Macaroni & Cheese
No meal list in America would be complete without this classic home style meal! Packed with cheesy goodness, this meal is a win with the kiddos. But let's be honest, no one ever grows out of loving Mac & Cheese — you simply learn how to make it better! From the young ones to the adults, everyone will love this meal!
Aimee with Simple Bites has come up with a dutch oven recipe that you can just leave over the fire, relax, and occasionally stir something in. It's a super simple recipe for a complex dish of cheesy delight.
7. Sriracha Sesame Noodles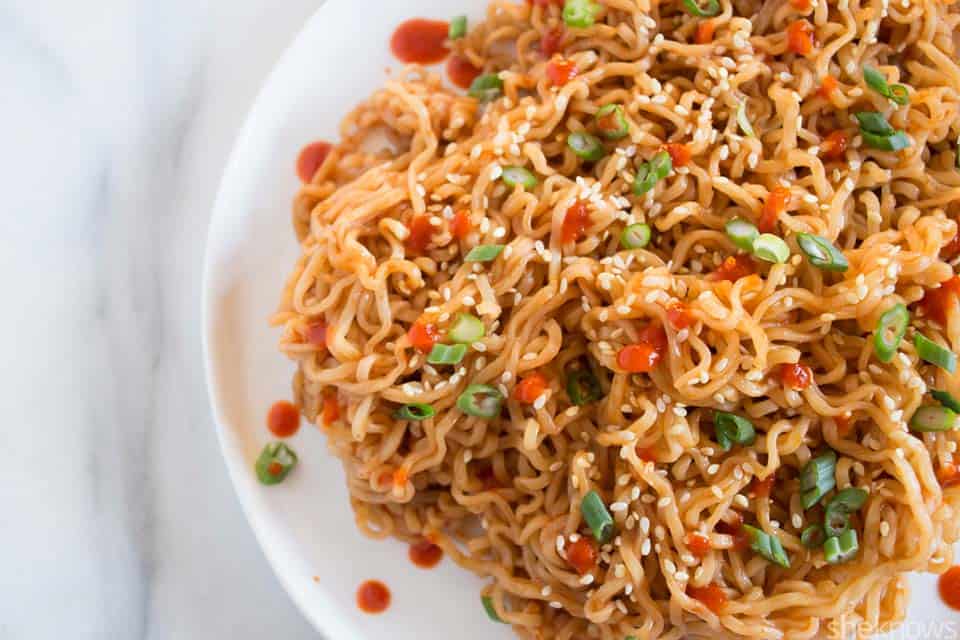 I used to live in Hawaii, where a food truck would sell Sesame Noodles and Fried Noodles near my high school. Needless to say, I became a little enamored and needed to figure out how to make this myself. I was blown away by how simple these dishes can be. And I have yet to find an easier or faster comfort food dish!
So easy, in fact, that you can make them at camp! This particular recipe from She Knows isn't labeled as a camp recipe, but there's literally nothing you need to change about it to make it camp-worthy!
Related Read: 18 Delicious Vegan Camping Food & Drink Ideas
8. Loaded Campfire Potatoes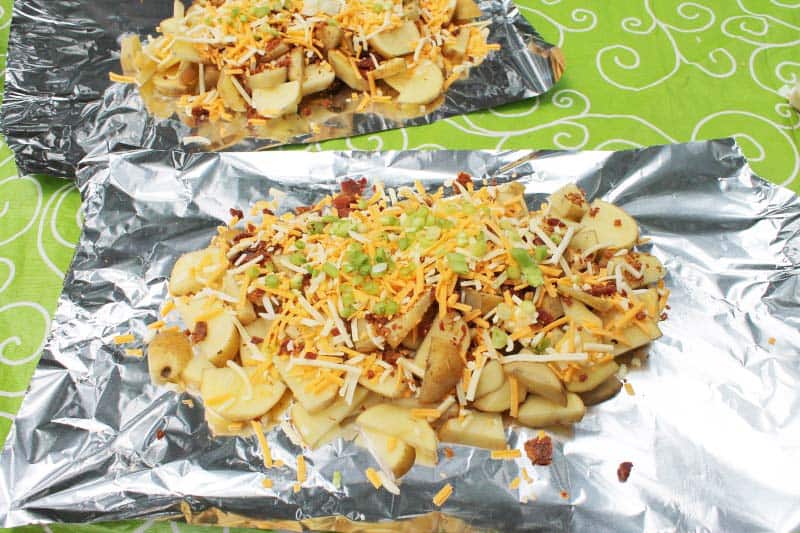 All I can really say about this one is it's definitely coming with me on my next trip.
Baked potatoes are just packed with savory and cheesy goodness — you can't go wrong with them. Not only would it taste good, but this dish would certainly restore protein and energy lost during a long day of outdoor activities.
Did I mention it's a foil pack? In other words, no dishes? Thank you Homemade Heather for putting this one together!
9. Cilantro Lime Chicken Tacos
Okay, I'll admit tacos are one of our "lazy" meals at home whenever we're out of ideas. They're fast, easy, and always good. And because we're pros at making them in a pinch, tacos have become one of our go-to car camping meals.
We all might have our own camp tacos recipe, but I know mine does not involve a marinade of this caliber. Because holy cow this dish looks amazing! The folks from Fresh off the Grid have paired with REI to bring you a taco recipe complete with a citrus chicken marinade you can easily do at camp.
For a tasty alternative (or if you can keep what you fish wherever you are), I could easily see this being a great fish-tacos recipe.
10. Panang Curry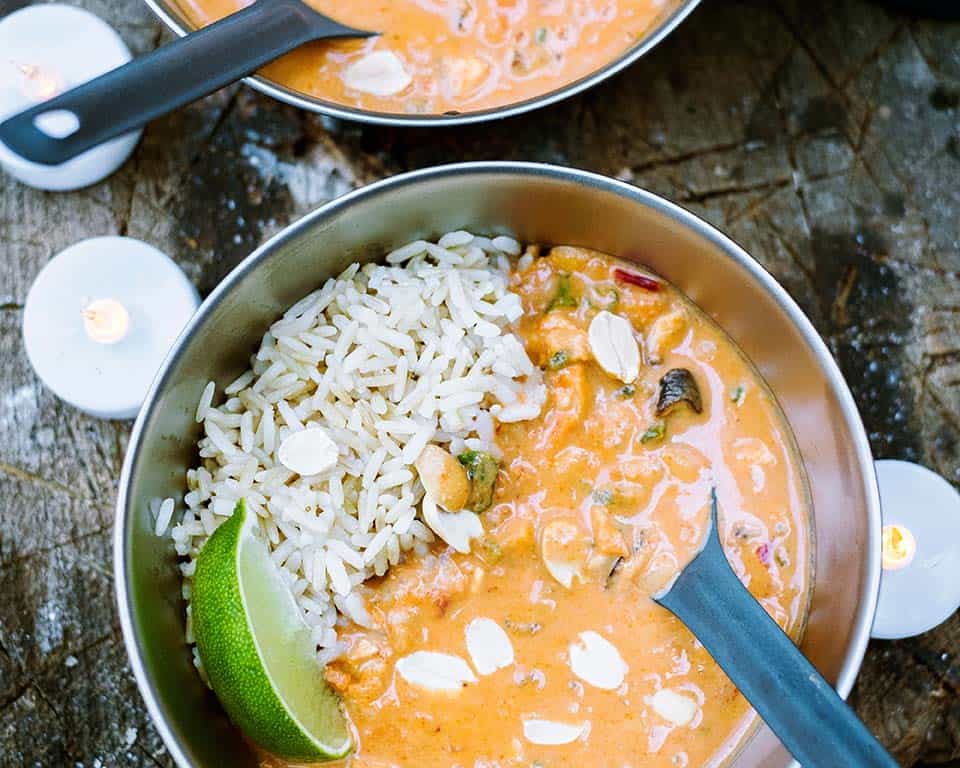 Who doesn't love a good curry? Of course, this might not be up to snuff compared to your favorite Thai restaurant, but it'll certainly do in the backcountry!
The outdoor culinary experts behind Dirty Gourmet had this gem published on Sunset Magazine. I say gem, because I expected this recipe to be limited to car/RV camping…but this is a recipe you can easily make on the trail!
11. Dutch Oven Lasagna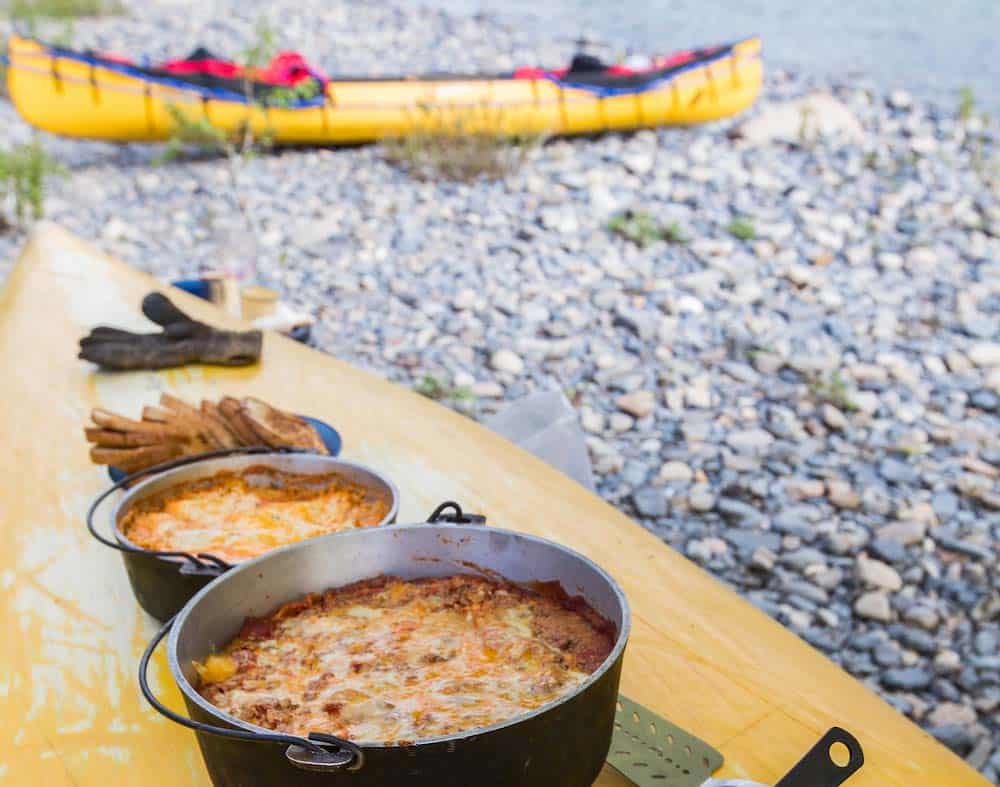 Lasagna can be an intimidating meal to take on just at home. So, my first thought when I saw this recipe was that it would be super involved and difficult. However, Debbie at The Dyrt has made this for a few years now and has simplified Lasagna for all of us!
This recipe is great because it is easy to do yourself, but you can also get everyone involved and helping out! This one is definitely coming with me on my next car-camping adventure!
12. Zaatar & Lemon Grilled Chicken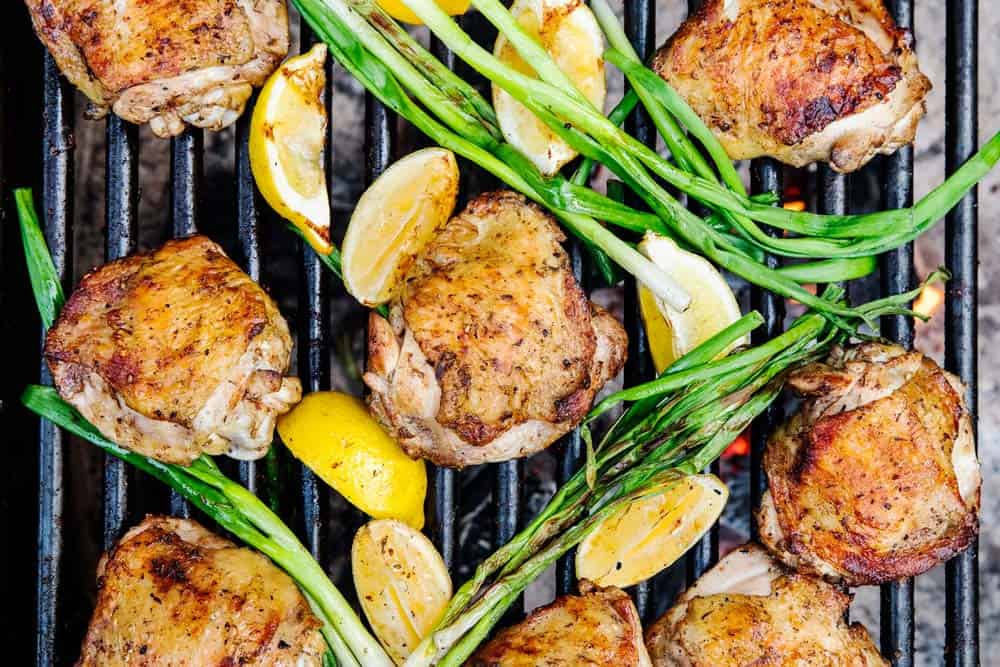 Believe it or not, you can make this meal at camp! Prep the chicken and veggies in the marinade before leaving for your trip, store in a cooler, then simply throw over the fire or grill!
The folks at Sunset Magazine have truly found a winner with this one. Pair with a good (prep at home) pasta salad, and you've got one of the easiest and most delicious camp meals.
13. Dutch Oven Braised Beef & Summer Vegetables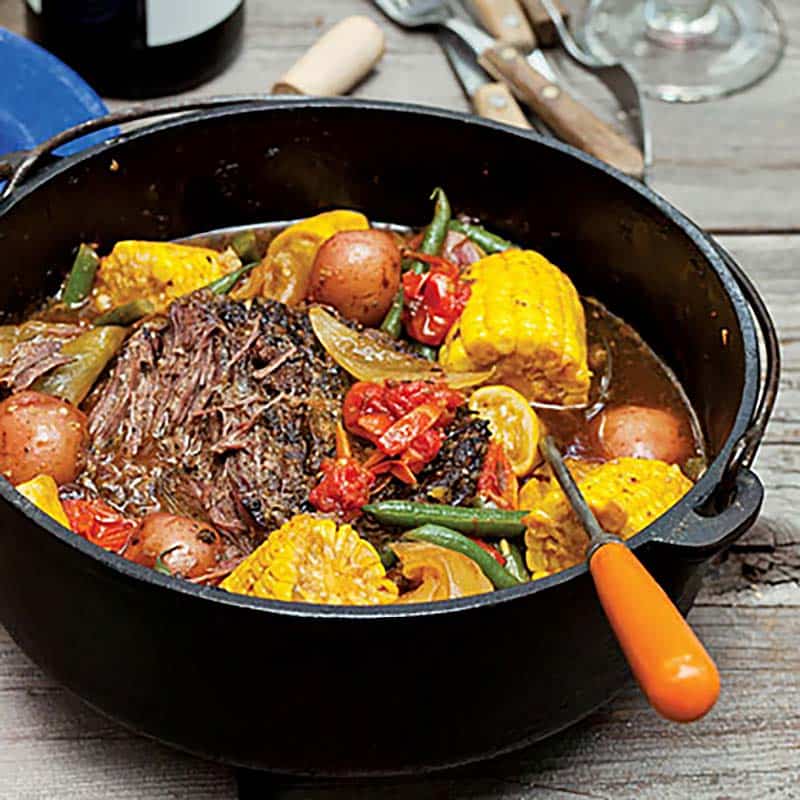 Boy, oh boy, is this meal packed with protein! Certainly enough protein to end the most adventurous days around camp.
Adam Sappington with Sunset Magazine clearly loves a good meal, and loves finding ways to make home style meals in the backcountry as easy as possible. This tasty stew is a one-pot, Dutch Oven meal. In other words, prep everything at home, dump it in the Dutch Oven, and let it sit in the fire until done…and that's it!
14. Gaucho Steak with 4-Herb Chimichurri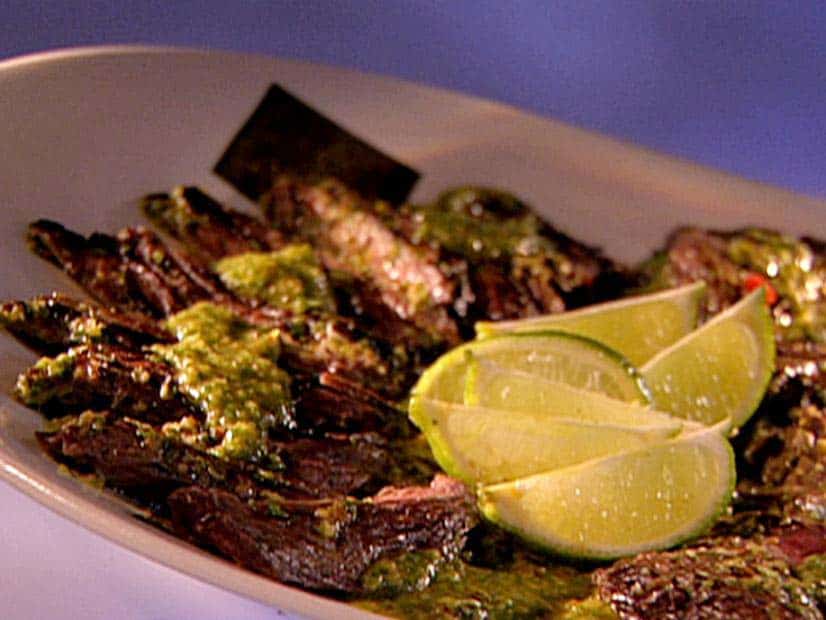 Guy Fieri. Does that entice you enough?
Guy's steak recipe is absolutely doable at camp, and boy will everyone be happy! Easy enough to marinade before you leave the house, just place on the grill when you're getting hungry, and voila! You've got a bonafide steakhouse worthy meal in front of you!
Pair with a good pasta or some grilled veggies, and you'll be the camp hero!
15. Tempeh (or Beef) Stew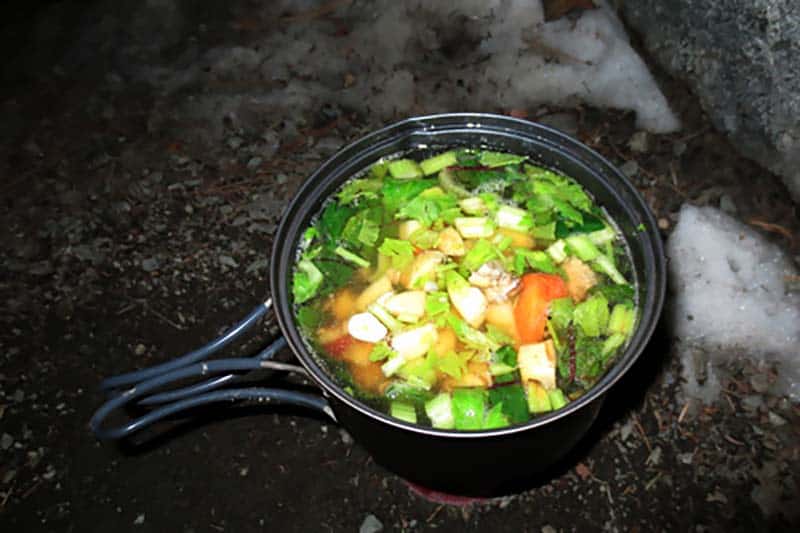 If you're into cold weather camping, this recipe will certainly warm you up after a long day! I mean, I make beef stew just to cozy-up at home, so I can only imagine how wonderful this meal is while camping!
This particular recipe from Dirty Gourmet includes a vegetarian Tempeh alternative to beef. While you can use either, I would only suggest using beef if you are able to store it in a cooler or fridge. That being said, using the Tempeh with beef bouillon cubes will keep this recipe backpack friendly, and hearty.
More Camping Ideas
Sign up for our free email to join thousands of readers getting epic travel, hiking, camping and gear ideas every week.
Was this article helpful?
---