When you make a purchase through our links, we may earn commissions from Amazon, REI and other retailers. You can learn more about our editorial and affiliate policy here.
---
Embarking upon the road toward your next adventure can be as exciting as the trail itself.
There's a certain amount of excitement, like electricity in the air, that comes with sorting out your gear and stowing it in your vehicle as you prepare for the journey ahead.
The best adventure vehicles are smooth on the highway, capable of traversing uneven terrain, and can hold their own during a wicked storm. As outdoor enthusiasts, we're prepared to tackle whatever mother nature throws our way, and we need vehicles that can match our gusto.
Along with that dirt-worthy capability, our vehicles also need to be practical. For many of us, our weekend warrior adventure vehicles are also our daily drivers. Comfort, safety, and storage capacity are just as important as grip on gravel roads.
That's why modern crossovers and SUVs make the most sense for many adventure seekers and outdoor enthusiasts. They're well-rounded machines, though a select few are far more off-road ready than the rest of the pack.
We've put together this guide to help you choose your next outdoor ride, whether you're driving to your next treehouse Airbnb or hitting dirt roads to your favorite Arizona swimming holes. There are a few key aspects you should consider when purchasing your next adventure vehicle, such as those we've detailed below, and we've compiled a list of our favorite crossovers and SUVs to give you a head start on your search.
Good luck finding the best adventure vehicle to fit your lifestyle!
AWD vs 4WD
Nowadays, the terms All Wheel Drive (AWD) and Four Wheel Drive (4WD) are interchangeable with one another as far as vehicle marketing is concerned. At their core, both systems transmit the engine's power to all four wheels via either electronically or mechanically locking differentials.
Locking differentials allow a vehicle to distribute the engine's torque specifically to the wheels that have traction. A locking center differential enables the vehicle to split torque as needed between the front and rear axles while locking front and rear differentials can split that torque to the left or right wheels as needed.
In vehicles where all differentials can be locked, 100% of the engine's power can be applied to a single wheel in the event that the other three wheels have all lost traction.
Mechanically locking differentials create solid, physical locks that allow this to occur, whereas electronic systems use brake-actuated locks and torque vectoring to power all four wheels individually.
Though mechanical systems remain a bit more capable than electronic systems, the real difference between AWD and 4WD systems comes into full view when 4WD Low gearing is employed in a vehicle.
The benefit to low gear ranges is that an engine's torque is multiplied, allowing for more control and power at slow speeds. Low gears enable better crawling speeds and contribute to an even distribution of power across all four wheels which can be useful in slippery conditions such as mud, snow, and loose sand.
Related read: 12 Epic Outdoor Summer Vacation Spots in the U.S.
Ground Clearance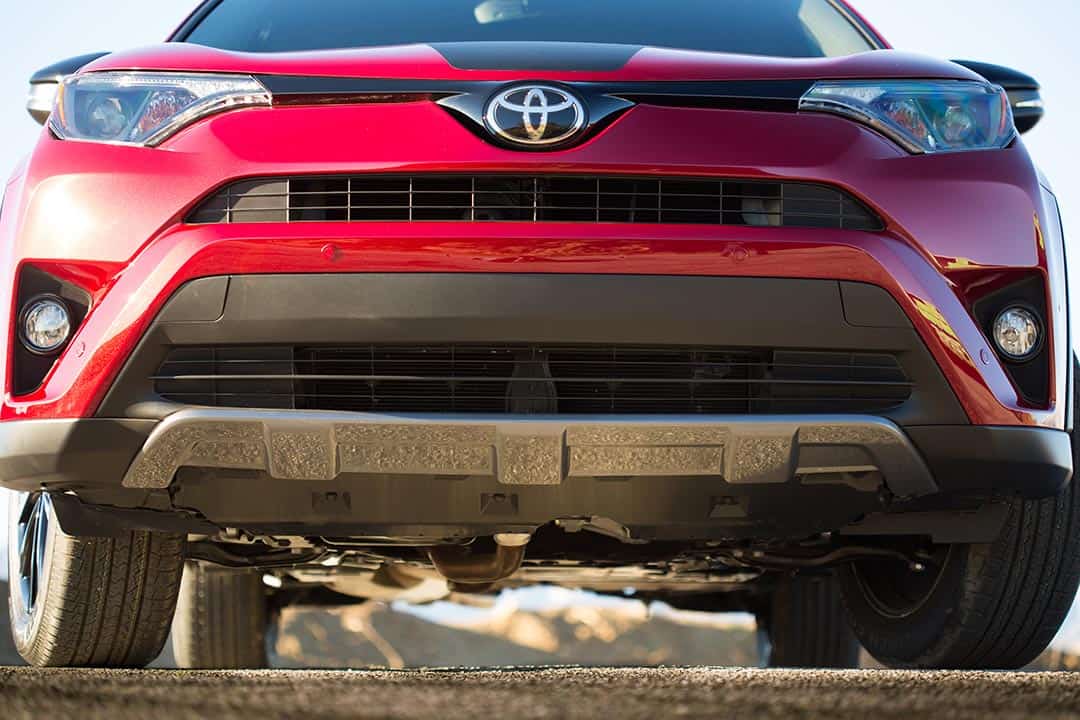 This is what separates sedans from crossovers, among other things. Your vehicle's ground clearance is the space between the car's underbody and the dirt. Better ground clearance means you can drive over bigger rocks and dirt mounds without scraping your vehicle's undercarriage.
This is why people lift their trucks. Not only can you clear a pumpkin patch full of plump gourds with enough ground clearance, but it also allows you more room for bigger tires (which can increase your clearance even further), and it improves your approach and departure angles which are vital for driving across uneven terrain.
Proper Tires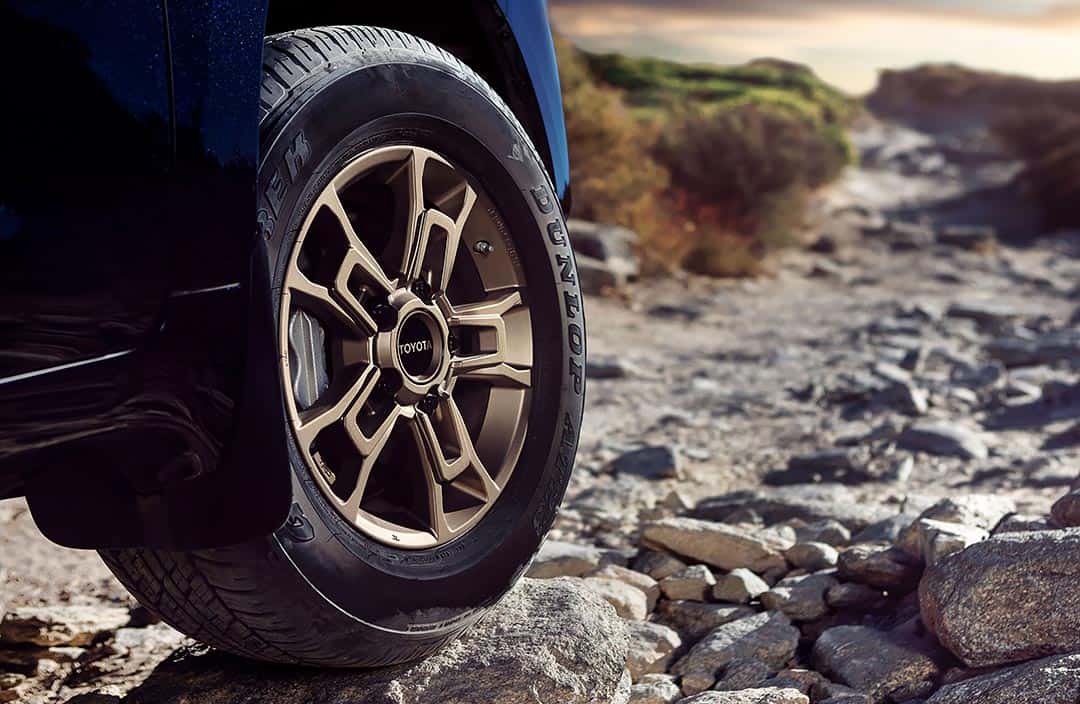 Far and away the most important aspect of any vehicle's off-road or foul weather capability is its tires. Your vehicle's tires are where the power meets the pavement (or dirt), and they're the only part of your vehicle that is actually keeping you on the road. Most vehicles come equipped with summer or all-season tires that are awful in mud and snow.
A FWD Toyota Camry with proper winter tires will handle much better in the snow than an AWD Subaru Outback with all-season tires. Every vehicle that sees winter snow or consistent freezing rain should equip a proper set of winter tires for maximum capability and safety during the proper time of year.
The same can be said for your adventure vehicle that sees dirt, mud, and rocks every weekend. Your summer tires aren't going to cut it out beyond where the pavement ends. No matter your vehicle, make sure it's wearing a good set of all-terrain or mud tires if it often sees the dirt.
Recommended Equipment
Despite proper ground clearance and tires, you still may find yourself stuck out in the wilderness where few others will see you. It's best to be prepared for every adventure, even if you're only driving a few miles down a dirt road to your favorite trailhead.
Self-recovery is a vital skill that every driver who ventures off the beaten path should be prepared to employ.
A versatile tire repair kit can save your weekend when a flat tire would have otherwise stranded you in the middle of nowhere. A tire repair kit's safety seals and tire plugs can get you going again in no time flat. At the very least you should carry an emergency can of Fix-A-Flat to get yourself out of a rut and back onto the main road.
Sometimes you won't have a flat tire, but you'll be stuck anyway. A set of traction mats are worth their weight in gold whenever the dirt road turns slick. Every experienced off-road driver keeps a set of traction mats in their vehicle for whenever they turn off the pavement.
And perhaps the handiest piece of equipment you can carry is a jump starter with an integrated air compressor like this powerhouse from DieHard.
Jumper cables alone will do you no good when you're the only person for miles around. A jump starter will breathe life back into your vehicle, pump up your tires, and act as a battery that can charge your smartphones, laptops, and other devices.
Related read: 15 Best Overlanding Vehicles for Off-Pavement Adventure
The Best Adventure Cars & Vehicles
The truth is that just about any vehicle can get you to 90% of the best hiking trails in any national forest or national park, but just because a Honda Civic is capable of hauling you and your fishing gear to a backwoods lake doesn't mean that it's the best vehicle to do so.
In the event of bad weather or unexpected off road hazards, you're going to want a vehicle that is capable of safely maneuvering over and around obstacles so that you can get back home.
While there are other vehicles that are totally capable of getting you out into the wilds beyond, we believe these are the best SUVs and crossovers that offer not only the most off road ability, but also the most practicality for adventurous people, their dogs, and their families.
All of the vehicles in this list will be able to get you to 98% of the trailheads you seek, but those near the bottom of this list can carry you to incredibly remote places that few vehicles could ever hope to reach. Make sure you read to the end to see our top-tier adventure vehicles.
1. Volkswagen Golf Alltrack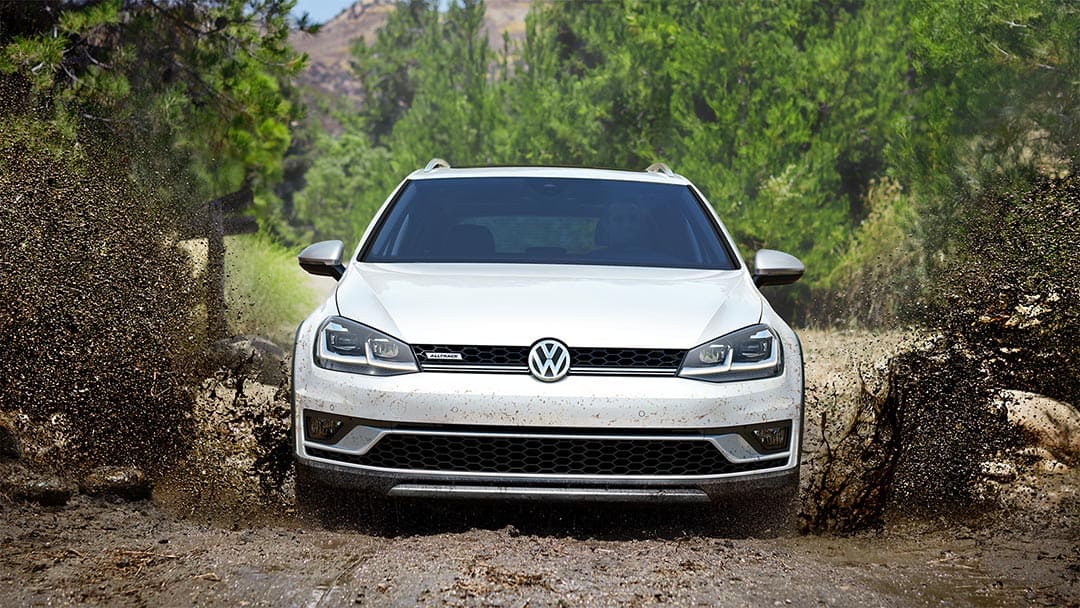 The Golf Alltrack is Volkswagen's answer for outdoorsy people who live active lifestyles. VW's impressive and capable 4motion AWD system comes standard on this lifted station wagon that sports 6.9 inches of ground clearance and composite cladding which protect the lower bits of the car from trail damage.
Praised for its sporty handling, fast-shifting DSG transmission, and responsive steering feel, the Alltrack is perhaps the most fun on road vehicle on this list.
With decent off road credentials, this is a good vehicle choice as a dual-purpose commuter car with a little bit of sporty spunk that can haul a boatload of gear to the campground on the weekends. Beware venturing beyond rutted dirt roads and plowed sno-parks as the Alltrack does have its limits.
Related read: 11 Best Things To Do in Kanab, Utah
2. Subaru Outback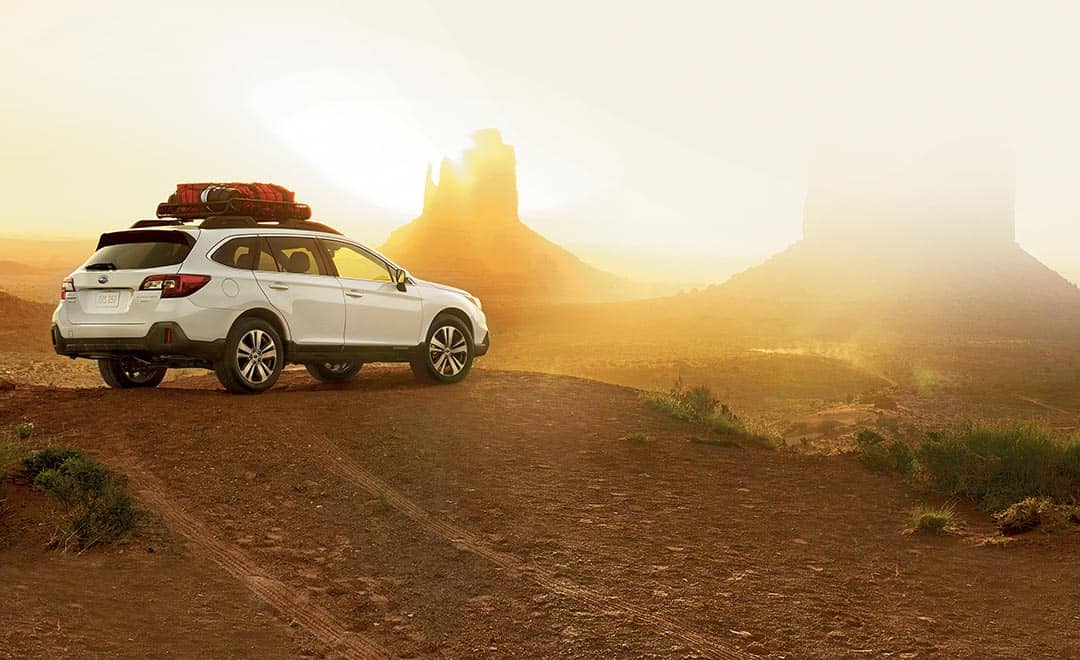 Be honest, you knew the Outback was going to make it onto this list. Subaru has a decades-long reputation of building supremely capable and fuel-efficient vehicles that secretly would love to have John Muir quotes tattooed onto their tailpipes. I can see it now. "The mountains are calling, and I must go."
Lump the Subaru Forester and Ascent into this listing as well since they're all equally as capable as the Outback. Fit with 8.7 inches of ground clearance and Subaru's proprietary X-Mode AWD system, each of these adventurous vehicles can travel far beyond what any other sedan or wagon is capable.
Starting in 2020, Outback's will be set upon a sturdier frame that is equipped with a more powerful engine and an advanced 2-tier X-Mode that improves the vehicles off road prowess.
3. Toyota Rav4 Adventure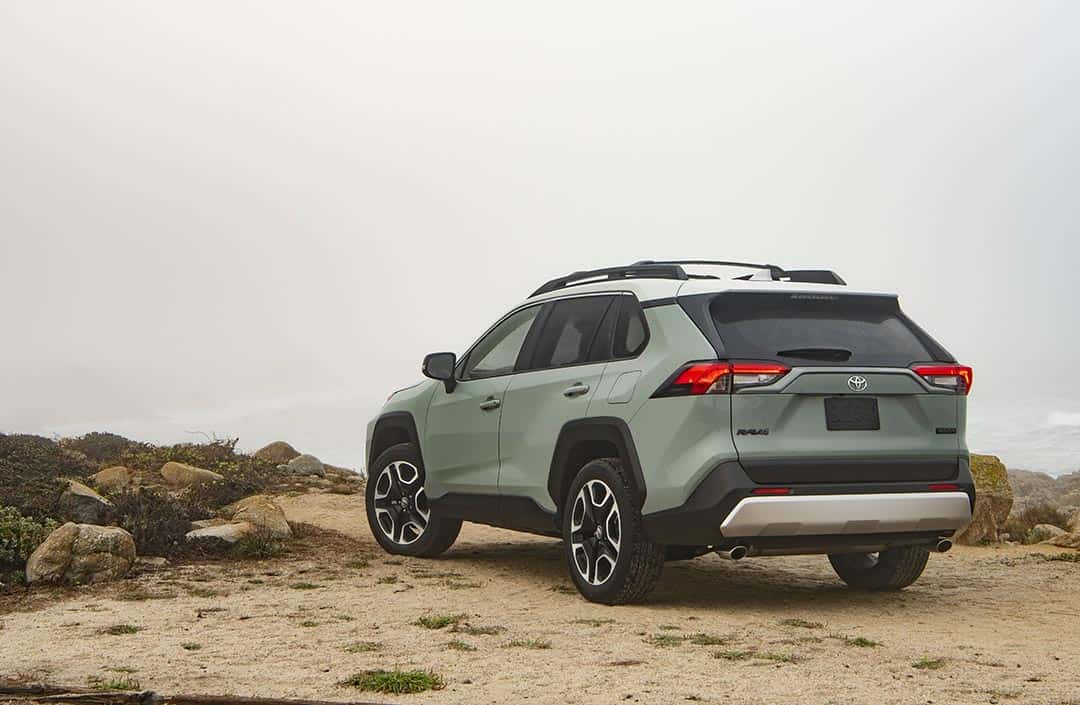 Set as a direct competitor to the Outback, the Toyota Rav4 Adventure is a compact crossover with a go-anywhere-attitude in its heart. It has 8.6 inches of ground clearance and just as much body cladding as the Outback or Alltrack, but it also features a more robust AWD system.
There are six different modes in its Multi-Terrain Select AWD system. Choose from snow, mud, sand, and other options to prepare the AWD tech for the terrain you are traversing.
Additionally, the Rav4 Adventure is the first vehicle on this list to utilize torque-vectoring power rather than brake-actuated torque transfer — meaning that the AWD system sends additional power directly to the wheels that need it, rather than using the brakes on slipping wheels so that the engine's power is transferred to the wheels that can most use it. This is more efficient and it'll save you money on brakes in the long run.
Related read: 6 Scenic Drives Near Denver for When the Mountains are Calling
4. Jeep Renegade Trailhawk
The first Jeep on our list, the Renegade Trailhawk is truly at the top of the subcompact crossover segment as far as off road capability is concerned. Jeep's Active Drive AWD system is lightyears ahead of the competition with advanced terrain-management that other vehicles simply cannot compete with.
Protective skid plates, tow hooks, and 8.7 inches of ground clearance round out this baby Jeep's class-leading features. The Trailhawk trim also is equipped with a 4WD Lock ability that mimics an actual low range by locking the vehicle into first gear, giving the vehicle a 20:1 crawl ratio that'll make rock climbing a cinch.
Did I mention that this cute little 'ute can ford up to 19 inches of water? It can splash through puddles and cross streams like nobody's business, allowing you to travel deeper into the backcountry than most other vehicles could ever attempt.
5. Honda Passport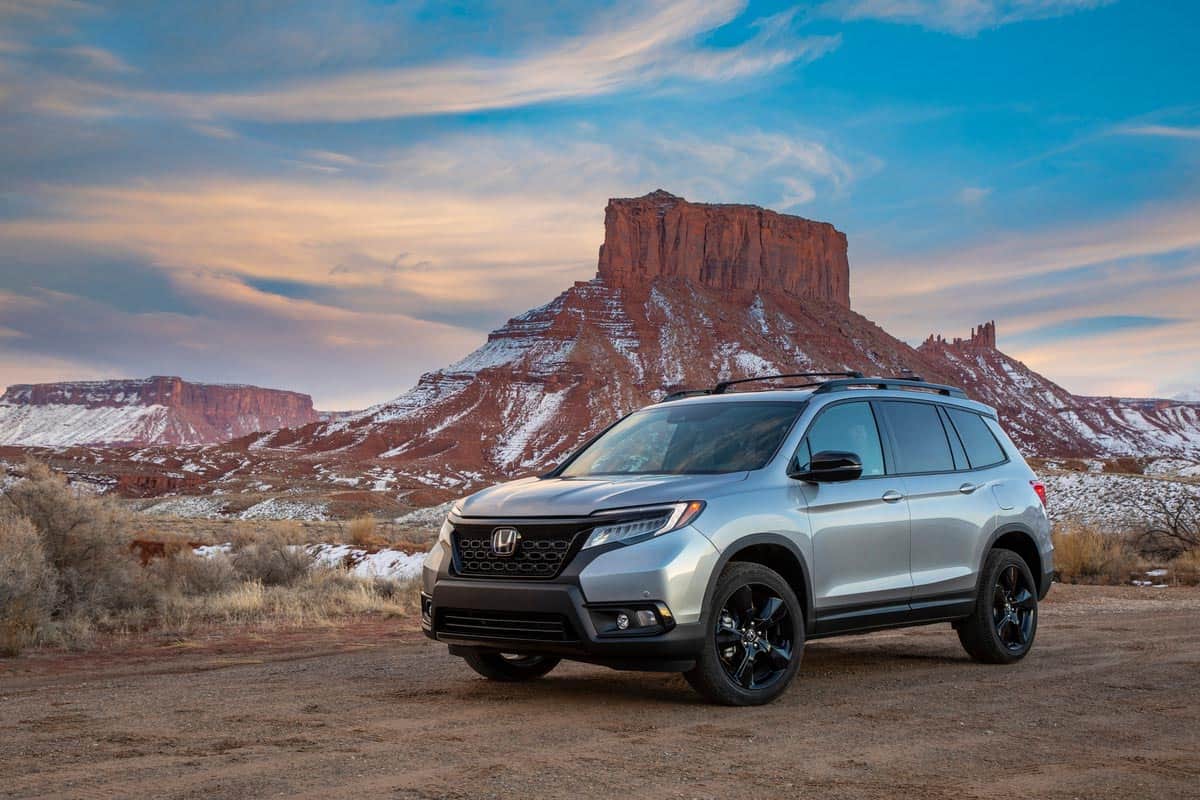 When the words "practical" and "vehicle" are both mentioned in the same sentence, it's also a sure bet that "Honda" will also make its way in before the period hits its mark. The Honda Passport is an expectedly practical vehicle that'll suit urban living as good as any other, and it'll also handle moderate offroading like a champ.
The AWD versions of the Passport receive a modest 8.4 inches of ground clearance, and that comes backed with a supremely capable AWD system that can send up to 70% of engine power to the rear axle and transfer all of that power to a single rear wheel if necessary.
Ultimately, the ground clearance is the limiting factor with the Passport. This vehicle is able to drive over anything it can get a wheel on top of and it has cargo capacity like that of moving truck. There's so much room!
Related read: 6 Phenomenal Backpacking Trails in Joshua Tree National Park
6. Kia Telluride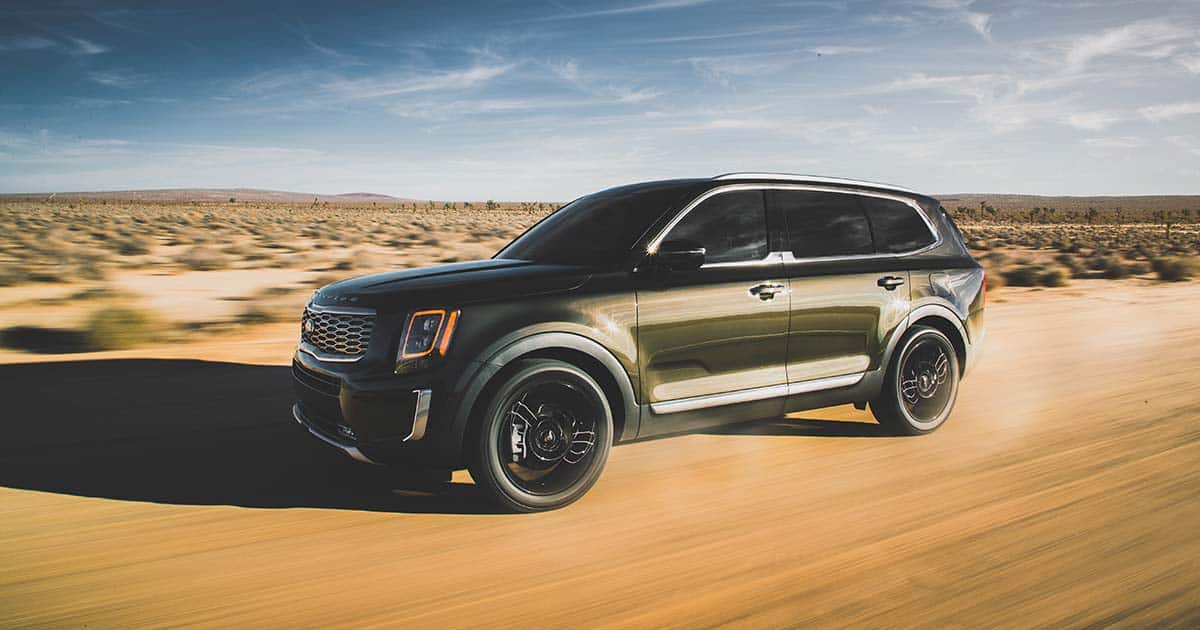 Those with big families or way too much gear should look at the Kia Telluride as their next adventure-ready steed. This big, three-row SUV sits on top of 8 inches of ground clearance and a fully locking center differential.
We're getting mechanical, baby! That center locking differential allows for full power split between the front and rear axles while electronic sensors dictate and manage side-to-side torque split. Under the hood, the 8-speed transmission is home to such steep gearing that no low range is necessary to take this big boy where it wants to go.
The Telluride has no skid plates, so underbody damage is a real threat, but as long as you choose your driving lines carefully this Kia will take you places that many other SUVs dare not go.
7. Jeep Cherokee Trailhawk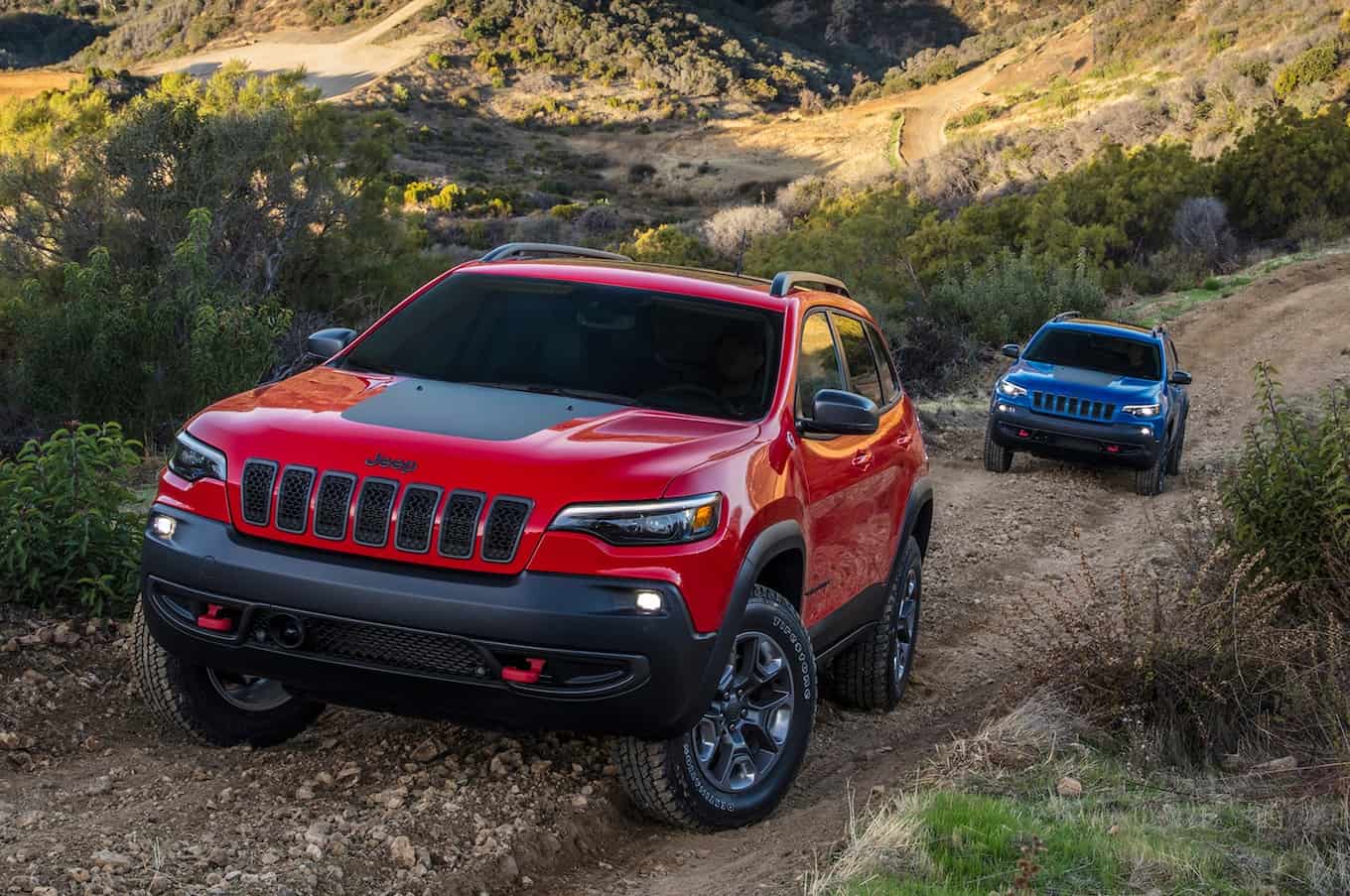 Now we're beginning to step into the big leagues. There are other trims of the Jeep Cherokee with as much off road capability as the previous vehicles on this list, but the Trailhawk has a true 4WD Low Range and a locking rear differential that together make it a true off roader capable of crawling over almost anything.
This isn't the biggest vehicle on our list, nor the cheapest, but if you want an SUV that feels truly stable and capable on just about any surface, the Cherokee Trailhawk is the one for you. Those who crave an abundance of cargo room need not apply.
Like the other Trailhawks on our list, tow hooks and skid plates are abound. 8.7 inches of ground clearance is enough for most anything besides hardcore Moab-esque rock crawling, and the low range with lockable differential can get you out of nearly any sticky situation.
Related read: 12 Best Places to Visit in Colorado for Unforgettable Adventures
8. Jeep Grand Cherokee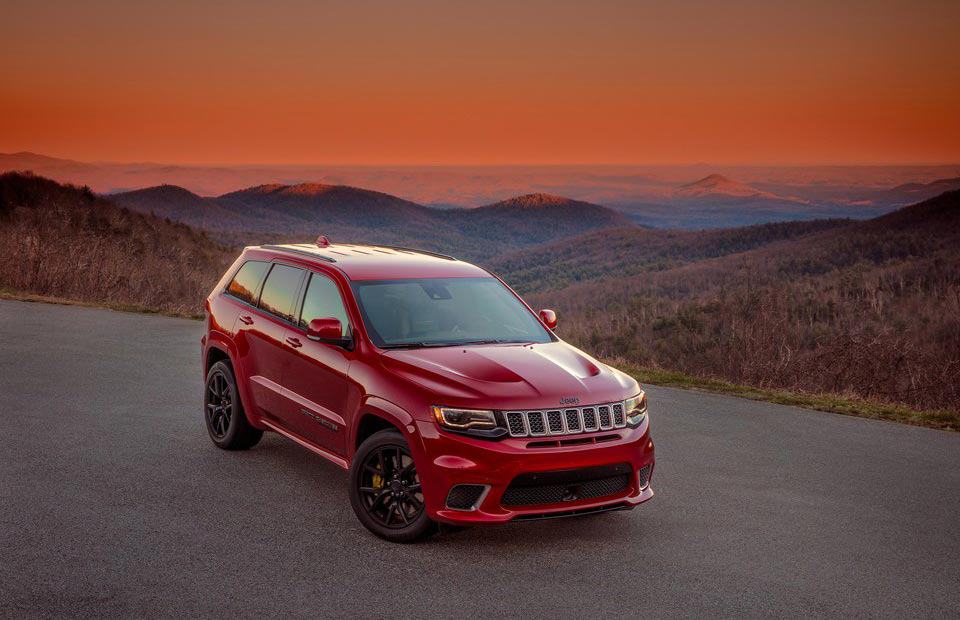 Big daddy Jeep rolls in with an adjustable air suspension that is supremely comfortable over bumpy dirt roads and raises the vehicle to a maximum 10.8 inches of ground clearance.
There are options galore to choose from for the Jeep Grand Cherokee. Whereas the other Jeep crossovers require the Trailhawk trim to become truly off road capable, the Grand Cherokee has capability up the wazoo in a number of choice trims.
You'll be able to choose from Trailhawk to Overland editions, from V8 to diesel power, and a wealth of terrain management systems, locking differentials, and other off road goodies. This Jeep is the most livable of them all with plenty of interior space and cargo room for all of your camping companions and their gear.
9. Toyota Land Cruiser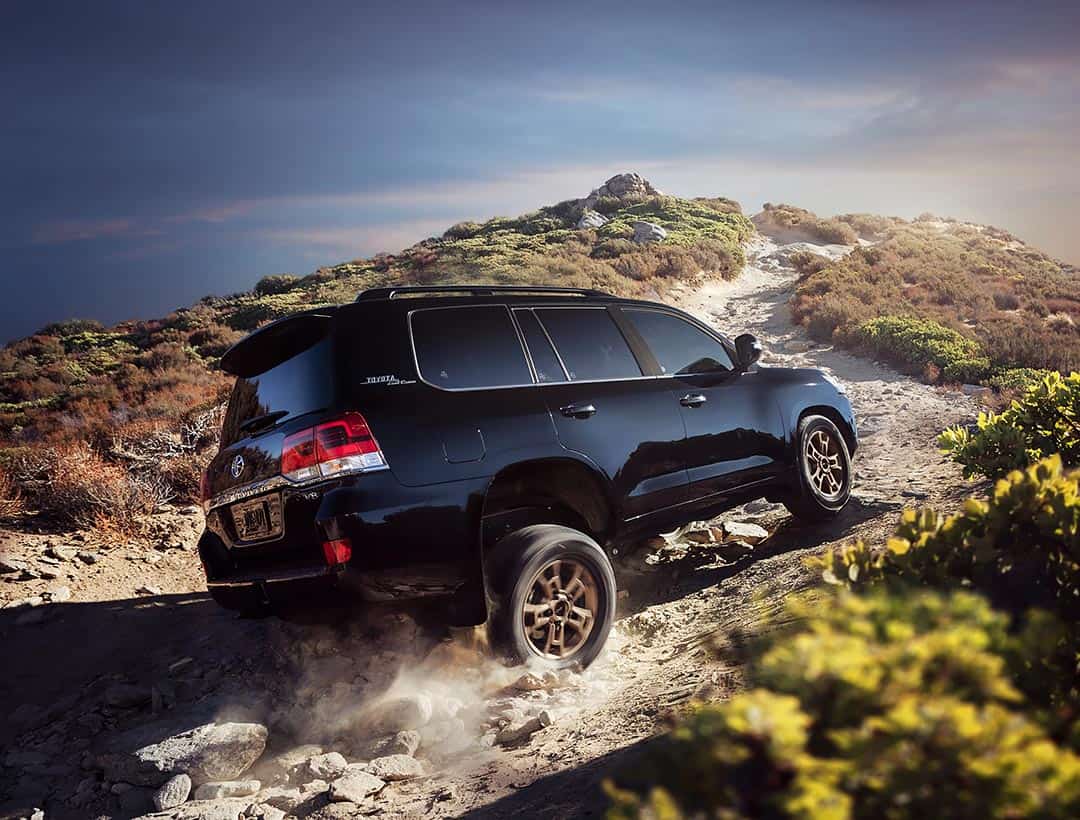 History shows that the Toyota Land Cruiser is the king of overlanding. The vehicle's outstanding reliability and capability are unquestioned.
Over the years, the Land Cruiser has lost some of its legendary off road prowess in favor of some luxury accoutrements, but it's still a worthy expedition vehicle that just so happens to be loaded with creature comforts.
With just about 9 inches of ground clearance and 90 square feet of cargo capacity, the Land Cruiser is quite a beast, but that's part of what makes it so town to trailhead capable. You can store everything you need, and with a true low range and locking differential, you'll get where you're going with no problem, albeit slowly.
Advanced automatic crawl control will help you inch up and down sketchy hills as you lumber about on your way to the trail. The heft of the Land Cruiser, paired with its lofty air suspension, creates a level of ride comfort so relaxing, even on harsh dirt roads, that you'll step out onto the trail feeling like you've just woken from the best sleep of your life.
Related read: 15 Best & Most Unique California Airbnb & Vacation Rentals
10. Land Rover Range Rover
If price factors into your definition of practicality, you're starting to realize that these supremely capable and comfortable off road machines are starting to get supremely expensive. Though, other than price, the Range Rover is a wonderfully practical SUV that is arguably the pinnacle of town to trailhead vehicles.
Luxury in town, and capability in the wilderness. What more could you ask for? Yes, you could request a lower price, but that's what Jeeps are for, silly!
Speaking of Jeeps, the Range Rover is highly configurable like the Grand Cherokee. You get to choose just how in town or out of town capable the rig really is, but all in all this is a stupendous off road machine with excellent ground clearance, wheel articulation, low range gearing, and an assortment of other goodies.
11. Toyota 4Runner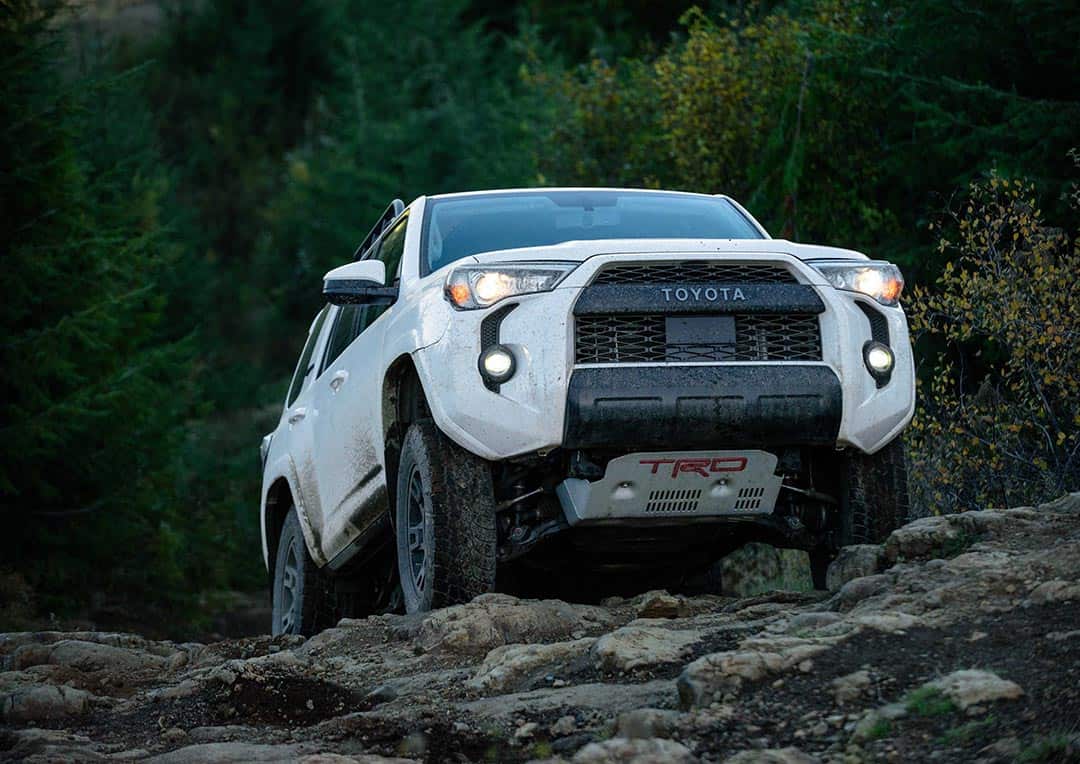 The Toyota 4Runner is quietly becoming the classic American adventure vehicle. The rest of the world gets the highly-acclaimed mountain-conquering Toyota Hilux, while here in the States we are instead gifted the step-child 4Runner who shies away from the limelight and performs like a workhorse regardless of recognition.
For the price, this is the best overlanding vehicle in North America. Incredible off road prowess is paired with substantial cargo space, ample people space, renowned reliability, and a smooth highway ride.
Simple in design, though feature-rich with nifty goodies like hill descent control and a power tailgate window, the Toyota 4Runner is essentially a pickup truck with an enclosed bed. Our list doesn't feature trucks, so the 4Runner holds the responsibility of representing them all under its hood, but it does so with pride, and it represents them well.
Related read: 13 Secluded Cabin Rentals in Colorado for Remote Getaways
12. Mercedes-Benz G-Class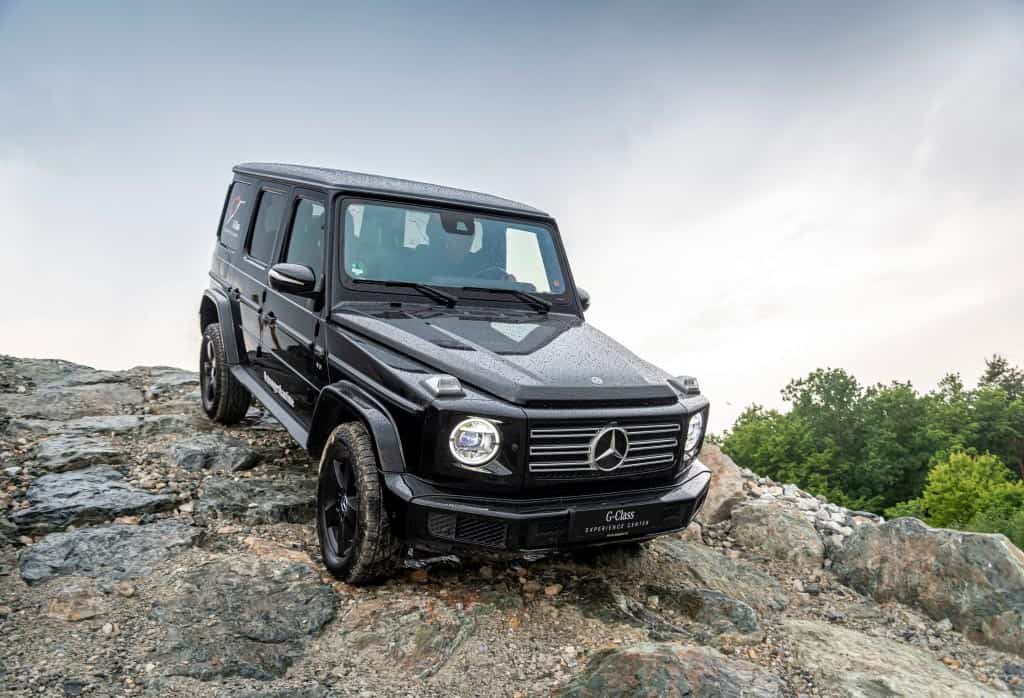 The G-Wagen is internationally known as a celebrity-driven sparkly city SUV, but it's actually one of the most capable vehicles for sale today, and worth every penny of its incredibly high price tag.
Newly redesigned for 2019, the G-Class has kept the retro boxy SUV look of its previous generation while updating every other aspect of the vehicle to contemporary comfort and safety standards.
Three locking differentials, a low gear range, incredibly refined computers, and great ground clearance make this one of the most direct-from-the-dealership capable vehicles ever made.
Its design also lends to ample storage space and an assortment of high-tech creature comforts that you cannot find in less expensive vehicles. Honestly, this is one of the best trail vehicles around. No joke!
13. Jeep Wrangler
The Grand Poobah of the offroad world, the Jeep Wrangler is the ultimate go absolutely anywhere vehicle. Practicality has been a hard sell for Wranglers of the past, but the newly redesigned Wranglers, especially the four-door Unlimited models, are absolutely practical for outdoor enthusiasts of all types.
Wranglers were once notorious for their harsh highway ride, but that has been fixed in the latest generation. All Wrangler models have grown in size, too, increasing their ability to carry people and cargo.
Because the Wrangler has the largest aftermarket modification market of any vehicle in the world there is a never-ending list of ways to trick out your Wrangler to make it your ideal trail-finding vehicle. Add in all of the off road ability, cargo capacity, and long-term livability you need one piece at a time. It's like your own adventure vehicle Lego set.
Related read: 10 Best Hard-Shell Rooftop Tents for Overlanding
Where to Take Your Adventure Vehicle
Get epic travel ideas delivered to your inbox with Weekend Wanderer, our newsletter inspiring more than 10,000 readers every week.
---