We research, test and evaluate outdoor gear based on a number of factors, including our writers' experience and expertise, trusted user reviews and more. We may earn a commission when you make a purchase through our links. See our editorial policy to learn more.
---
Release your primitive side and go wild cooking over an open flame.
Cooking over an open flame is a major luxury when you're car camping. There's a certain sense of accomplishment and peace that comes with the sights and smells of your food cooking over the campfire, with nothing but nature all around.
Whether it's as simple as hot dogs roasting on a stick or an elaborate five-star gourmet meal, there's something about the campfire that just makes meals taste better.
Of course, none of this is possible without the right campfire cooking tools and essentials to go along with it.
We've sorted through the mess kit to break down all the basic campfire cooking tools and essentials you need in your camp kitchen. Make your list and check it twice, because you won't want to leave any of these at home.
Related: 10 Amazingly Simple Camping Recipes for Kids
Wood
First, let's start with the fundamentals. This is a little obvious, but no wood — no fire.
The type of wood you choose matters, too. For a clean burning fire, choose dry, seasoned wood like hickory, maple, and oak. They'll burn hot and add a nice touch of  flavor to the meal.
Lighter and Matches
Unless you feel like testing out your survival skills all weekend, pack some matches and a lighter. It'll make your life easier, and you'll be able to get cooking much faster. While either or will do, it's a good idea to pack both just in case one option gets wet or you run out of butane.
Shovel
Along with finding the right wood, you'll want to pack a compact shovel. When the coals get hot, a shovel will let you concentrate them in one place so you can direct the heat to the bottom of your pan. A shovel will also help you practice good fire safety by completely covering the campfire when you're done cooking.
Hatchet
To build your campfire, you'll need some quality tinder and smaller logs to use as fuel. Smaller pieces of wood let you control the flame to keep it nice and steady until your meal is done.
When it comes to chopping tinder and small logs, nothing beats a hatchet.
A good hatchet will have a steady handle and a sharp blade, like the 14" Estwing Camper's Axe. This hatchet has a firm rubber grip and is designed for chopping up small pieces of firewood — perfect for campfire cooking.
Cast Iron Skillet
A campfire cookout isn't complete without a cast iron skillet. Burly, durable, and built for the open flame, cast iron skillets are by far one of the most important tools for campfire cooking.
While Teflon and non-stick skillets work fine on your camping stove, they'll get scorched over an open flame. They also can't handle high temperatures quite like cast iron.
So, if you're going to fry up some eggs or sear some steak, cast iron is the way to go. Cast iron builds up seasoning over time, which protects it against rust and is the best match for the high heat of an open flame. It also helps that soap isn't necessary to clean — which, let's face it, is a major bonus in the outdoors.
Dutch Oven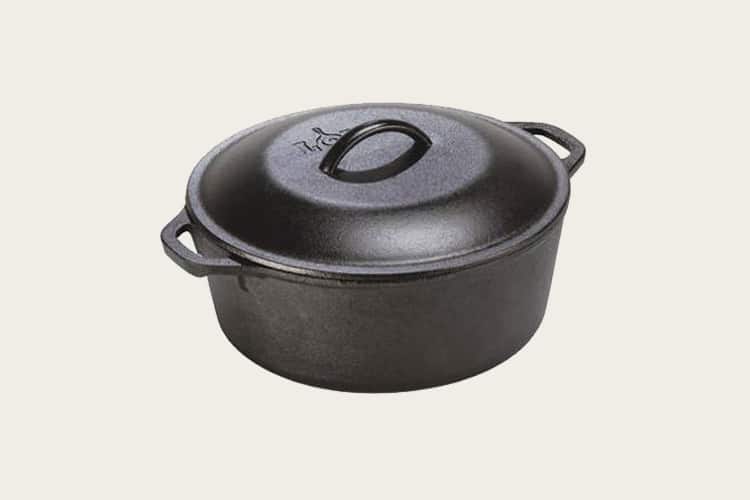 What can you do with a Dutch oven? It's literally too much to count.
From Dutch baby pancakes to deep dish pizza, this is one of the most versatile essentials in a camp kitchen. A Dutch oven can boil, bake, fry, and braise all in the same pot.
For the creme de la creme, it doesn't get any better than Le Creuset. That said, when you're camping, you may not want to have your most prized kitchenware outdoors.
In this case, leave the Le Creuset at home and opt for the Lodge Cast Iron Dutch Oven instead. It's more affordable, and it's purpose-built for camping.
Percolator
Using a pot to make Cowboy coffee will get the job done, but it tends to leave unwanted sludge in the bottom of your mug. Leave the thick mud behind and opt for a percolator for your morning cup of Joe.
Not every percolator is campfire ready, though. Anything that contains plastic will obviously melt, and the less durable the material, the more likely it is to break.
On product that's worked for us time and time again is the Coleman Enamelware 9 Cup Percolator. This durable percolator has a wide, sturdy base, and is made from enamelware that's a good heat conductor. Plus, you get nine cups of coffee out of a single pot, and we're all about efficiency.
Cooking Grate
Like your stove at home, you'll need something to elevate your food above the flame so it doesn't wind up burned to a crisp. For this, you'll want a cooking grate.
A cooking grate provides a spot to rest your cast iron skillet, coffee percolator, and all you scrumptious food. It doubles as a grill so you can plop your burgers, catch of the day, and corn on the cob right on top and get cooking.
A collapsible cooking grate is best, though it's pretty easy to stack some rocks around the fire to elevate a standard cooking grate above the fire.
Tongs
Don't forget the tongs!
Whether you're rotating dogs or need to check on your foil packet meal, you'll want some tongues to help you out. Look for a durable pair with a decent length that can reach over a campfire flame without burning your forearm. You can also find a complete campfire cooking kit that may include tongs.
The GrillPro 20-Inch Professional Tongs are a good place to start. The 20-inch length is plenty long, and the price is well within budget.
Spatula
While tongs work well for pretty much everything, it's good practice to have a durable spatula on hand. Spatulas make flipping pancakes easier and can double as a spoon when you need to stir some stew.
Cooler
Freeze-dried meals and ramen are fine and dandy when you're backpacking, but when you're living large in your outdoor kitchen, you'll need a cooler.
Having a cooler for campfire cooking is a complete game changer when you're car camping. Eggs, meats, cheese, you name it — with a cooler, you can have it all. There's also the added bonus of enjoying a refreshing cold brew while you're cooking, just as mother nature intended us to.
Instead of sitting around the campfire salivating over what you wish you had, pack it in a cooler like the YETI Tundra 45. The YETI Tundra 45 is rugged, bear-resistant, has excellent ice retention, and is the perfect size for a weekend trip.
Although it's pricier than the average Coleman cooler, the longer ice retention means fewer trips to go get ice. It's also built to survive a nuclear blast, and speaking from experience, camping coolers tend to take a beating in the backcountry.
Related: Are YETI Coolers Worth the Money?
Folding Kitchen Table
It's really hard to do all your food prep when you're cutting board is teetering on top of a rock. A portable folding kitchen table is out of the question for backpacking, but when it comes to car camping, it's a necessary luxury that'll do wonders for your outdoor kitchen.
Small tables work just fine for the weekend camping couple who simply need a bit of elevated space. If you plan on feeding the whole family, though, you'll want more surface area. Bonus points if it comes with organizational storage compartments like the Mountain Summit Gear Deluxe Roll Top Kitchen.
Camping Stove
I know the whole point is to cook over an open flame, but you're gonna want some backup in the event of a torrential downpour.
Anytime you're camping, it's a good idea to have a camping stove on hand just in case. Plus, if the fire is crowded with a slow cooking stew, you can use the stove to heat up additional items like some cheesy jalapeño cornbread.
Anytime we head out on a car camping trip, we always pack our classic Coleman Two Burner camping stove. It's affordable, easy to transport, and gets the job done every time.
Level Up Your Camp Kitchen
To take your camping meals to the next level, check out these scrumptious 20 Easy Camping Breakfast Ideas & Recipes along with our recommendations for the Best Camping Stoves, Best Camping Hatchets, and these cool outdoorsy Old-School Enamel Camp Mugs.
---