One of the loudest complaints you'll hear from hammock campers is the cursed Cold Butt Syndrome.
It's an easy fix when you have the right underquilt, and thankfully there are plenty of cottage companies who specializing in hammock quilts that have stepped in to fill the gap and save your ass (pun intended).
We've picked out 13 of the best hammock underquilts for you to peruse, but first we'll cover some need-to-know info to consider while shopping.
Buyer's Guide
While traditional sleeping bags are great for camping on the ground, they can lead to miserable nights in a hammock.
The problem is that sleeping bags compress between your backside and the hammock, squeezing the life out of them until they lose their heat-retaining capabilities.
The solution to this problem is fairly intuitive: slice the traditional sleeping bag in half, attach one side to the bottom of your hammock as an underquilt, then use the other half as a comforter on top.
As long as the underquilt is snug against the base of the hammock, you won't have to worry about loss of heat. The fill retains its loft for optimal insulation, and you'll arise every morning with toasty cheeks.
Of course, there's more to underquilts than their ability to attach to the underside of your hammock. Choosing an underquilt that matches your hammock is the first (and easiest) step, but it can get a little complicated from there.
You'll also need to consider what temperature range your underquilt needs to perform in and what type of fill you prefer for insulation.
Temperature Ratings
Like traditional sleeping bags, hammock underquilts come with temperature ratings to guide their optimal usage. Mass-produced underquilts usually have a fixed rating, while cottage-brand underquilts often let you choose from various temperature points.
You'll want to tailor your purchase to the environments you'll be camping in, especially if you're a backpacker who needs to keep an eye on weight and size.
In addition to providing a temperature rating, some manufacturers throw in terms like "four-season," "three-season," and "one-season."
These can be confusing, as one-season means summer, three-season refers to spring through fall, and four-season really just refers to winter camping. You could use a four-season underquilt year-round, but you'll be sweating up a storm in the summer.
The temperature points for four-season, three-season, and one-season underquilts are certainly up for debate, but it's generally accepted that a three-season quilt should be comfortable down to 20℉, and a four-season quilt should keep you warm down to 0℉.
Some manufacturers improperly market their products for winter when they barely qualify for three-season use, so sometimes you have to take it all with a grain of salt.
Often, you'll get a more accurate picture of an underquilt's actual temperature capabilities from reviews and field tests.
Down vs Synthetic
When it comes to hammock insulation, down underquilts are preferred for being lightweight, compressible, and substantially warmer. In the ultralight backpacking community, choosing down over a synthetic fill is a no-brainer.
However, here are a couple drawbacks to using traditional down. For one, goose down is more expensive than synthetics.
Traditional down also loses its insulative properties when wet and takes a long time to dry. You should have a tarp to keep your hammock dry at camp, but rain and snow can definitely be an issue when your tarp isn't in the air.
With that in mind, it's no surprise that synthetic-filled underquilts are a popular alternative. Not only are synthetic fills less expensive, they generally hold up better when exposed to moisture.
Synthetic underquilts are often heavier and bulkier, but they're a great alternative for budget-minded hammock campers outside the ultralight fan club.
Another alternative is treated down. While still more expensive than synthetics, modern science has done a lot to boost water resistance for goose down.
For example, DownTek produces DWR-treated down that's 30% more water-resistant and dries 60% faster when exposed to moisture. Most of the premium underquilts we're spotlighting today use treated down, though there are some purists who still prefer traditional down.
The Best Premium Underquilts
Our list of the best hammock underquilts begins with nine premium options for the discerning hammock backpacker.
These represent the highest quality materials, and (with one exception) exclusively use down insulation. They're ultralight and portable, with many offering sub-freezing temperature options to keep you warm on winter adventures.
Editor's Choice: UGQ Zeppelin
UGQ is a small cottage company in Jackson, Michigan, that specializes in ultralight hammock gear. Their attention to detail, functional design, and friendly customer service has made them one of the most respected brands in the hammocking community, and a reliable source for premium gear.
The UGQ Zeppelin is a custom underquilt designed for maximum warmth with minimum weight. The outer shell is available in M10, MRS20, illume15, or HD1.0 DWR ripstop nylon — all materials carefully selected to strike the perfect balance between ultralight weight, durability, breathability, and water resistance.
For the inner lining, UGQ uses M10 for a superior finish with a satin-like feel.
Zeppelin underquilts feature dual differential-cut chambers with ultralight nano-mesh baffles to deliver maximum loft. The strategic location of each nano-mesh baffle concentrates the down in the areas that need it most and promotes thermal convection.
The vertical design of the torso chambers allows heat to naturally transfer between your core and extremities, and the chambers are filled to 130% density for optimal warmth.
The Zeppelin provides oversized draft collars on both ends to ensure a snug fit with your hammock. The draft collars are constructed with the same M10 fabric as the inner shell, and filled with the same fill-power UltimaDOWN as the underquilt.
The Zeppelin also features full-channel suspension with S-biner attachments, 10 secondary connection points, a removable secondary suspension, and foot/head draw cords. When you're ready to hit the trail, it packs into a 40D SilPoly stuff sack.
Check Current Price
Tech Specs
Temperature Rating – 40℉, 30℉, 20℉, 10℉, 0℉
Insulation – 800 fp UltimaDOWN , 850 fp UltimaDOWN , 950 fp UltimaDOWN
Material – M10, MRS20, illume15, or HD1.0 ripstop nylon
Length – 55" (¾), 66" (⅞), 77" (full), 83" (long)
Weight – 14 ounces to 32 ounces (depending on size and fill)
Ultralight Pick: Western Mountaineering Slinglite
Western Mountaineering specializes in premium sleeping bags and down garments. The company was formed by two California mountaineers with a vision of uncompromised excellence, and over the past 30+ years they've built a reputation for producing the highest quality down products with sustainable, ethically-sourced down.
These guys are known for their sleeping bags, and they leverage that expertise to make a killer underquilt. The Slinglite features 850 fp goose down with continuous baffle chambers (not sewn through) that'll keep you warm down to 20℉.
The lightweight materials are breathable on the inside and watertight on the outside. The ultralight underquilt weighs just 13 ounces and compresses to 5" x 10", so it's a solid pick for backpacking trips where portability is paramount.
The Slinglite is a universal underquilt that fits most commercial hammocks.
It's a piece of cake to connect to your hammock with the elastic drawcord and shock-corded end clips, while the side clips and sewn loops ensure you get a snug fit along the sides. The Slinglite also features corner-mounted cordstops for lateral position adjustment.
Check Amazon Price
Check Backcountry Price
Tech Specs
Temperature Rating – 20℉ (when paired with the AstraLite Baffled Top Quilt)
Insulation – 850 fp goose down
Material – 15D sil nylon taffeta
Length – 74″
Weight – 13 ounces
Sub-Zero Pick: Loco Libre Carolina Reaper
The Loco Libre Carolina Reaper is the most customizable underquilt on the market. With temperature points ranging from 40℉ down to -40℉, it'll keep you warm and cozy from summer camping trips to Alaskan winter expeditions. In fact, the the -40℉ option takes home the prize for the warmest underquilt you can buy.
Loco Libre uses responsibly sourced down from DownTek, with options for 800 fp duck down and 900 fp goose down. The outer shell is constructed with Argon 90 nylon, a cutting-edge material that blocks out wind and water without sacrificing breathability. For the interior lining, you can stick with the standard Argon 90 or opt for slightly softer Argon 67.
A true premium underquilt, the Carolina Reaper features chevron baffles, standard draft collars, and a secondary suspension system to block out the cold. The underquilt also comes with Beastee Dees for extra attachment points, a silnylon stuff sack, and a cotton storage bag to keep your gear safe between trips.
Check Current Price
Tech Specs
Temperature Rating – 40℉, 30℉, 20℉, 10℉, 0℉, -10℉, -20℉, -30℉, -40℉
Insulation – 800 fp DownTek Duck Down, 900 fp DownTek Goose Down
Material – Argon 90 nylon, Argon 67 nylon
Length – 50", 60", 70", 80" (option to add up to 9 more inches per tier)
Weight – 19 oz (40℉ version) to 43 oz (-40℉ version)
Most Versatile Underquilt: Kammok Firebelly Trail Quilt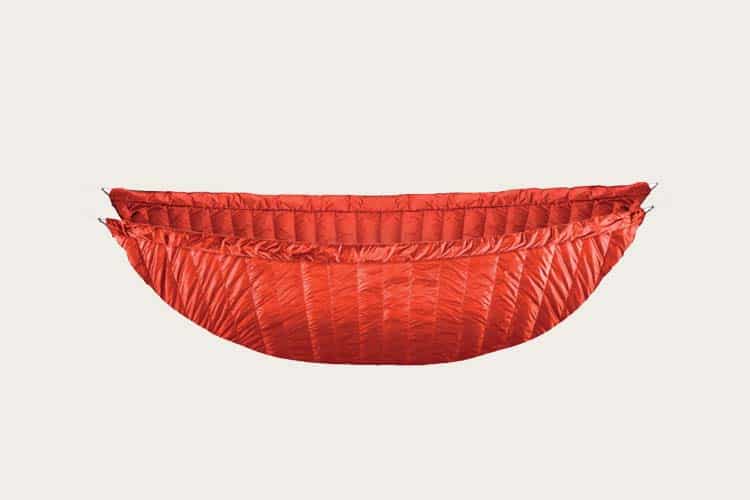 The Kammok Firebelly may become your go-to source of packable warmth for every outdoor adventure. A versatile 4-in-1 trail quilt, the Firebelly is designed to adapt to any environment as an underquilt, top quilt, minimalist sleeping bag, or comforter. Whether you're hammock camping, cozying up around a campfire, or lounging around the family cabin, the Firebelly will keep you warm down to 30℉.
The newest version of the Kammok Firebelly is 88" x 55" with an upgraded 15D nylon ripstop shell that's stronger, lighter, and buttery soft. The DWR-treated fabric is abrasion-resistant and does a great job at retaining body heat.
For insulation, the Firebelly uses 750 fp DownTek that absorbs 30% less water and dries 60% faster than traditional down. Kammok ensures even distribution of warmth with the quilt's Insotect Flow construction — a honeycomb structure of insulation gates that eliminate cold spots and keep the insulation in place.
The Firebelly is easiest to use with Kammok hammocks, though the integrated straps, shock cord ends, and underquilt conversion kit (included) ensure a universal fit with most third-party hammocks. You'll also get a polyurethane-coated stuff sack with Diamond Shell 40D diamond-weave ripstop nylon that packs down to 7" x 12".
Kammok also offers a one-season trail quilt called the Bobcat that's a great alternative for summer campers. The Bobcat uses the same Atmos X fabric and DownTek insulation as the Firebelly and is rated to 45℉. Like the Firebelly, the Bobcat is a versatile trail quilt that can be used as an underquilt, top quilt, or comforter.
Check Amazon Price
Check REI Price
Tech Specs
Temperature Rating – 30℉
Insulation – 750 fp DownTek
Material – Atmos X 15D ripstop nylon
Length – 88″
Weight – 24 ounces
Best Synthetic Underquilt: Arrowhead Equipment New River UnderQuilt
The New River UnderQuilt from Arrowhead Equipment takes the cake for the best synthetic underquilt. It costs a little more than some of the mass-produced synthetic underquilts, but it's worth an investment for the quality and attention to detail you get from a cottage company like Arrowhead Equipment. If you're planning a winter adventure on a budget, the four-season New River (rated down to 0℉) is a solid choice.
The New River UnderQuilt is designed to work with any end-gathered hammock, though it doesn't use the traditional shock cord perimeter. Instead, the New River employs a drawstring channel on each end with shock cord loops and mini-carabiners to attach the quilt to your hammock suspension. Each side offers three grosgrain loops to hold the quilt on the sides, providing a tighter cocoon-effect.
Thanks to its flat, rectangular design, you can use the New River UnderQuilt as a top quilt or camp blanket when it's not strapped to the bottom of your hammock. The New River is also available in a torso-length model, the Jarbridge.
Check Current Price
Tech Specs
Temperature Rating – 40℉, 25℉, 0℉
Insulation – APEX Climashield insulation
Length – 66" (small), 72" (regular), 78" (long)
Weight – 28 oz (short), 30 oz (regular), 32 oz (long)
Enlightened Equipment Revolt Custom
Enlightened Equipment has a simple mantra: ultralight, straightforward, affordable. These guys have grown from a small cottage company to a thriving outdoors brand thanks to their focus on quality craftsmanship, thoughtful design, and friendly customer service.
Their streamlined gear is the result of constant tinkering, modifications, and updates from the employees who handcraft their products in Winona, Minnesota. If you're looking for smarter, lighter hammock gear without any unnecessary frills, this one's for you.
Enlightened Equipment offers a stock version of its wildly popular underquilt, but it's worth the wait to go with a Revolt Custom. You can choose from a variety of prints and materials, including their lightweight and breathable 10D ripstop nylon, an ultralight 7D micro ripstop nylon, or their comfortable 20D ripstop nylon that's more durable and water-resistant. The standard 850 fp DownTek is more than enough to keep you warm down to 0℉, or you can upgrade to the 950 fp DownTek.
The Revolt Custom features differentially cut inner and outer fabrics to preserve the loft, with KARO baffles to keep the down where you need it most. You can adjust the shock cords at either end of the underquilt to control your base temperature, letting more air pass through when it's warm or opting for a snug fit when it's cold.
The Revolt Custom has an adaptable suspension that works with most hammocks, and is so easy to use you can even fine-tune the positioning while laying down.
Check Current Price
Tech Specs
Temperature Rating – 50℉, 40℉, 30℉, 20℉, 10℉, 0℉
Insulation – 850 fp DownTek, 950 fp DownTek
Material – 20D, 10D, or 7D ripstop nylon
Length – 45" (extra short), 55" (short), 65" (regular), 75" (long)
Weight – 8 oz to 24 oz (depending on size and temperature rating)
Jacks R Better Mt. Washington
Jacks R Better is a legendary cottage brand in the hammock camping community. These guys made the first commercially-available underquilt back in 2004 (The Nest), and they've been a favorite in the ultralight backpacking community ever since.
While the original Nest remains a great underquilt, it was specifically designed for use with the Hennessy Ultralite Backpacker A-sym with bottom entry. The Mt. Washington brings the best features of the Nest to a universal platform that fits any hammock. You can attach it to the bottom of your hammock in less than a minute with the Jacks R Better Suspension System (included), and when you're ready to hit the trail it stuffs down into an 8" x 9" silnylon compression sack.
The Mt. Washington underquilt is available in a three-season model (20℉ – 25℉) and four-season model (0℉ – 10℉). Both feature a dual differential-cut design that contours to your body, with constant-height radial baffles to protect the loft. All Jacks R Better quilts use active-Dri down with a hydrophobic treatment that protects against moisture impairment without sacrificing fill power, loft, or warmth retention.
Check Current Price
Tech Specs
Temperature Rating – 20℉ (3-season), 0℉ (4-season)
Insulation – 800 fp active-Dri goose down
Material – 20D ripstop nylon
Length – 77″
Weight – 21 oz (3-season), 28 oz (4-season)
Upgrade Pick: Warbonnet Outdoors Wooki
Warbonnet Outdoors is a Colorado-based cottage company with an eye on durability and comfort. Their first-class gear is designed to last a lifetime, and the overwhelmingly positive reviews show they deliver on that promise.
Every stitch undergoes a rigorous, step-by-step quality control inspection process to guarantee the highest quality finished goods. Warbonnet Outdoors products are uniquely designed with the customer in mind, ensuring their gear is comfortable, functional, and easy to use. It's no surprise these guys are one of the industry leaders in the hammock camping community.
The Warbonnet Outdoors Wooki is a custom underquilt with a wide range of temperature options from 50℉ all the way down to -20℉. It covers the entire bottom section of your hammock, with a 76" x 44" insulated section that tapers towards the feet.
The Wooki works best when paired with a Warbonnet Outdoors Blackbird, Blackbird XLC, Eldorado, or Traveler hammock, though its universal design should fit any end-gathered or mosquito-style hammock. The Wooki's set-it-and-forget-it setup makes it an ideal choice for beginners, but don't discount this as a beginner product — it's a field-tested favorite of seasoned hammock campers.
Warbonnet Outdoors makes a stock version of the Wooki, but we prefer the expanded options you'll find with the custom Wooki. You'll see more color options, more temperature points, and you can upgrade to their ultra-premium 950 fp goose down (with overfill available).
The custom Wooki also gives you more materials to choose from, with an ultralight 10D fabric, a heavy 20D fabric, and a middle-ground 15D fabric that hits the sweet spot between weight and warmth.
Warbonnet Outdoors makes a torso-length (¾) version of the Wooki called the Yeti that's designed for backpackers who carry a seat pad to supplement their underquilt. They also make a Wooki-style underquilt called the Lynx that's intended for bridge-style hammocks like the Warbonnet Ridgerunner.
Check Current Price
Tech Specs
Temperature Rating – 50℉, 40℉, 30℉, 20℉, 10℉, 0℉, -20℉
Insulation – 850 fp or 950 fp Hyper-Dry Goose Down (RDS certified)
Material – 10D, 15D, or 20D high-thread-count DWR ripstop nylon
Length – 76"
Weight – 16 to 31 ounces (depending on materials and fill)
Cedar Ridge Convector
Cedar Ridge Outdoors has been manufacturing premium, handmade hammock gear in the rolling hills of Tennessee since 2015. This is a true cottage brand, so you can expect superior customer service, attention to detail, and hand-stitched quality.
The Cedar Ridge Convector is a custom down underquilt with four-season, three-season, and one-season insulation options ranging from 50℉ down to 0℉. In addition to the standard shell colors, you can select from 50+ unique designs from DutchWare's Print2Fabric collection. Even if aesthetics aren't at the top of your list, it's a fun way to make sure your gear stands out on your next trip.
The Convector features a differential cut to maximize the loft of the DownTek 850 fp goose down, with primary and secondary quilt suspension to help you nail the perfect fit. It comes with a standard stuff sack, quilt hangers, and ridgeline quilt hooks. The Convector employs a universal design, so you can pair it with most third-party hammocks.
Check Current Price
Tech Specs
Temperature Rating – 50℉, 40℉, 30℉, 20℉, 10℉, 0℉
Insulation – DownTek 850 fp goose down
Material – 15D nylon shell, 10D nylon liner
Length – 60" (¾ length), 72" (regular), 80" (long)
Weight – 20 ounces
Value Underquilts
Premium underquilts are worth the investment if you can afford to splurge, but there are plenty of good underquilts that don't break the bank. We picked through the more-affordable options and found four underquilts that represent the best value for campers on a budget.
Therm-a-Rest Down Snuggler
The Therm-a-Rest Down Snuggler is a great choice for campers on a budget who won't settle for anything less than genuine goose down. The underquilt is constructed with revolutionary Nikwax Hydrophobic Down that's lightweight, packable, and reliable in wet conditions.
It lacks the higher fill power that you'll find in the premium down underquilts that we've discussed, but it'll keep you warm down to 32℉ without breaking the bank.
The Down Snuggler employs a universal design that'll fit most commercial hammocks, including some double hammocks. It's fully adjustable, contoured for better loft protection, and can be used independently as a camp blanket around the fire. With a total weight of just 18 ounces and a packed size of 10" x 12", the Down Snuggler is a great underquilt for backpackers.
If you're a fan of Therm-a-Rest products and are looking for a more affordable underquilt, check out the Down Snuggler's little sister — the Slacker Snuggler. For almost $100 less, the Slacker Snuggler uses the same 20D polyester ripstop material with synthetic EraLoft fill to keep your backside warm.
Check Moosejaw Price
Check Moosejaw Price
Tech Specs
Temperature Rating – 32℉
Insulation – 650 fp Nikwax Hydrophobic Down
Material – 20D polyester ripstop
Length – 80"
Weight – 18 ounces
Overall Best Value: Hammock Gear Economy Incubator
Were it not for the subtle distinction between goose down and duck down, the Economy Incubator from Hammock Gear would take the cake for best overall value in a down underquilt. With a vastly wider temperature range, three size options, five color options, and a generous 800 fp DWR down with overfill capability, you get far more bang for your buck with the Economy Incubator than you do with the Therm-a-Rest Down Snuggler.
The Economy Incubator features nine anatomically contoured, differential-cut baffles that run the length of the underquilt. The quilt's unique construction is designed to mimic the natural shape of your body when laying in a hammock, which helps stabilize the down to prevent shifting.
While the chambers are overstuffed by 15% to 20% to keep the down in place, the design allows for some manual shifting when necessary. Combined with the shock-cord suspension system, these features help to provide a snug fit with your hammock for optimal insulation.
Check Current Price
Tech Specs
Temperature Rating – 40℉, 30℉, 20℉, 10℉, 0℉
Insulation – 800 fp DWR Grey Duck Down
Material – 20D Calendared Nylon Taffeta
Length – 73" (short), 78" (regular), 83" (long)
Weight – 18 oz to 32 oz (depending on temperature rating and size)
People's Choice: ENO Ember
The ENO Ember is arguably the most popular one-season underquilt on the market. We wouldn't recommend stretching the 40℉ temperature rating when cooler spring and fall weather kicks in, but it's a good choice for summer hammock camping.
The Ember pairs perfectly with ENO's full line of hammocks, though its universal fit adapts to most hammocks from other manufacturers. Setup is a breeze with adjustable shock cords at each end of the underquilt, and it packs neatly into an 8" x 16" nylon stuff sack for storage and travel. The standard size fits a 6'6" camper from head to toe, so you shouldn't have an issue with exposed feet.
As with most underquilts in this price range, the Ember utilizes synthetic insulation. ENO's high loft polyester fill fairs well in the field, and the Ember's hammock-specific cut ensures the insulation is evenly distributed to avoid cold spots. The shape provides a tight fit, though it's still easy to climb in and out of your hammock.
If you're a fan of ENO products and looking for better insulation, check out the ENO Vulcan and the ENO Blaze. The Vulcan is ENO's premium synthetic underquilt, and the Blaze is their premium down underquilt. You'll get significantly better bang-for-your-buck from a cottage underquilt, but the Vulcan and Blaze certainly pair well with ENO hammocks if you're already invested in the brand.
Check Amazon Price
Check REI Price
Tech Specs
Temperature Rating – 40℉ to 50℉ (when paired with the ENO Spark)
Insulation – high loft polyester fill
Material – 40D ripstop nylon shell, 30D nylon taffeta lining
Length – 96"
Weight – 25 ounces
Budget Pick: Outdoor Vitals Roost Underquilt
Hammock campers on a tight budget will love the Roost Underquilt. Thanks to Outdoor Vitals' direct-to-consumer business model, you don't have to deal with retail markups. Instead, you get a premium synthetic underquilt for an affordable price that doesn't break the bank.
Some companies use the term "premium synthetic" loosely, but not here. The Roost uses StormLIGHT micro hollow filament insulation that compresses smaller than traditional synthetics while keeping you twice as warm for the weight.
Paired with its lightweight ripstop nylon fabric, the Roost has an excellent warmth-to-weight ratio, and is guaranteed to stay dry in rain and snow. It's also backed by a lifetime warranty — a rare feature in this price range.
The Roost is surprisingly versatile. In addition to functioning as an underquilt, you can use it as a hammock pod system (top quilt and underquilt in one), a technical blanket, a traditional sleeping bag, or a double sleeping bag (when paired with another Roost). When you're ready to pack up and hit the trail, it compresses into an easily packable 8" x 8" stuff sack.
Check Amazon Price
Tech Specs
Temperature Rating – 40℉
Insulation – StormLIGHT siliconized microfiber hollow filament insulation
Material – 20D Ripstop Polyester w/ VitalDry DWR
Length – 77"
Weight – 33 oz
Time to Get Hanging
If you're outfitting yourself for hammock camping, we've got buying guides for all the most important hammock camping items:
Get your gear together and get hanging.