We research, test and evaluate outdoor gear based on a number of factors, including our writers' experience and expertise, trusted user reviews and more. We may earn a commission when you make a purchase through our links. See our editorial policy to learn more.
---
The best 8-person tents can comfortably fit families and small groups looking for more space to lounge around camp. Here are some of our favorite options for 2023.
There's no shortage of camping tents designed to fit four to six campers, but if you're looking to go any bigger, you'll quickly find a more limited selection. Of the many tent models REI sells, for example, none are designed for more than six people.
Fortunately, there are enough large tents on the market to fit just about any camper's needs — you just need to know what you're looking for. Here's a look at some of the most popular 8-person tents for car camping based on budget, style, and included accessories.
Our Top Picks
Best Overall: The North Face Wawona 8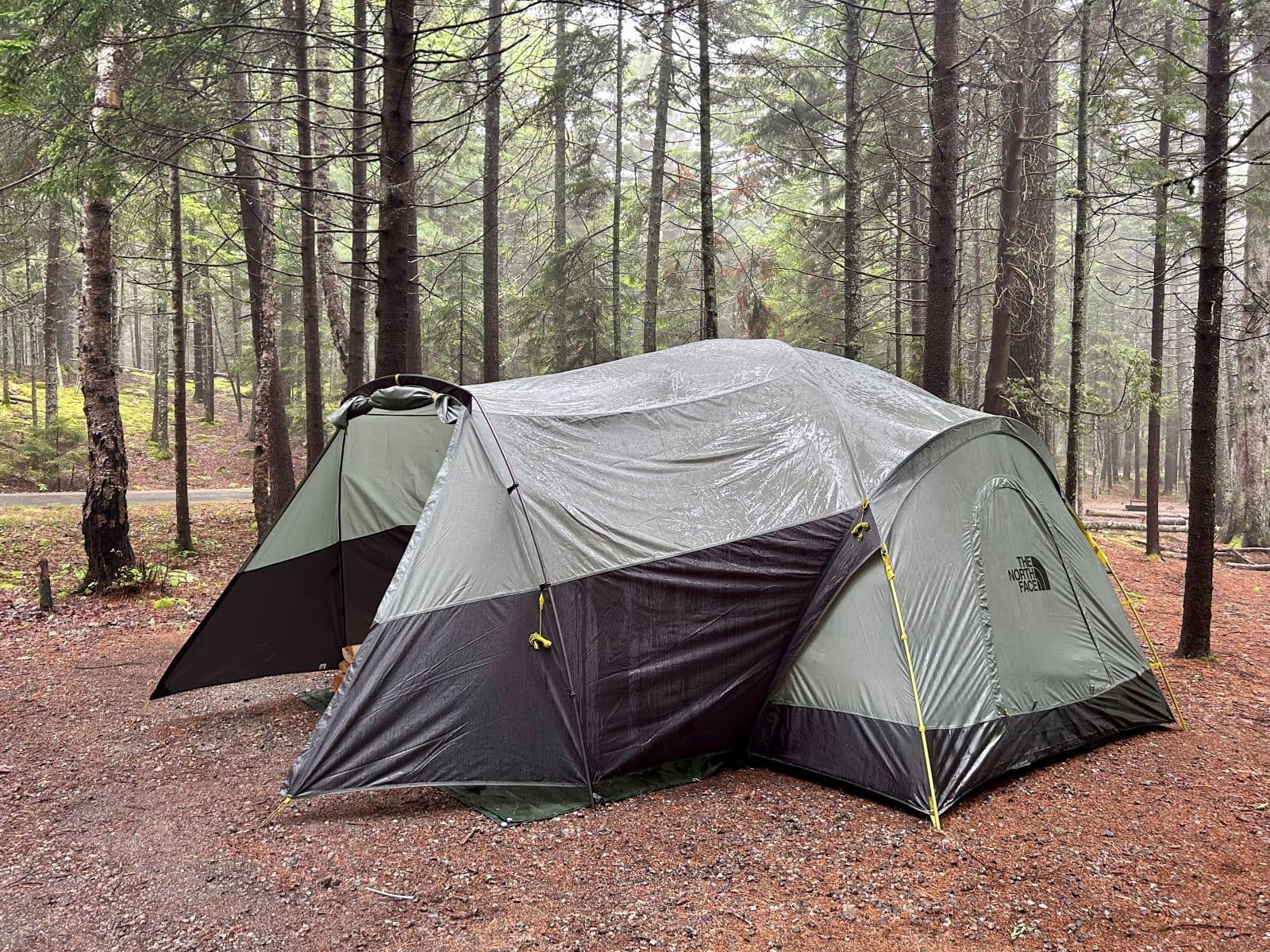 Why we recommend it: spacious interiors and excellent ventilation make this a perfect family tent for all kinds of weather.
The North Face Wawona 8 may not be the quickest tent to set up, but the extra time and effort are worth it for a shelter that's built to withstand just about anything. But stability doesn't hinder convenience – Three of the four tent walls have entrances, so it's easy to keep the Wawona 8 ventilated and accessible, which is helpful both for wet and hot conditions.
Inside, a massive living area can be divided into two rooms with a mesh divider, and interior pockets along the tent make it easy to stay organized in camp. In my experience with the Wawona 8, sectioning off the tent into rooms was ideal for camping with kids and keeping clothing and supplies out of the way.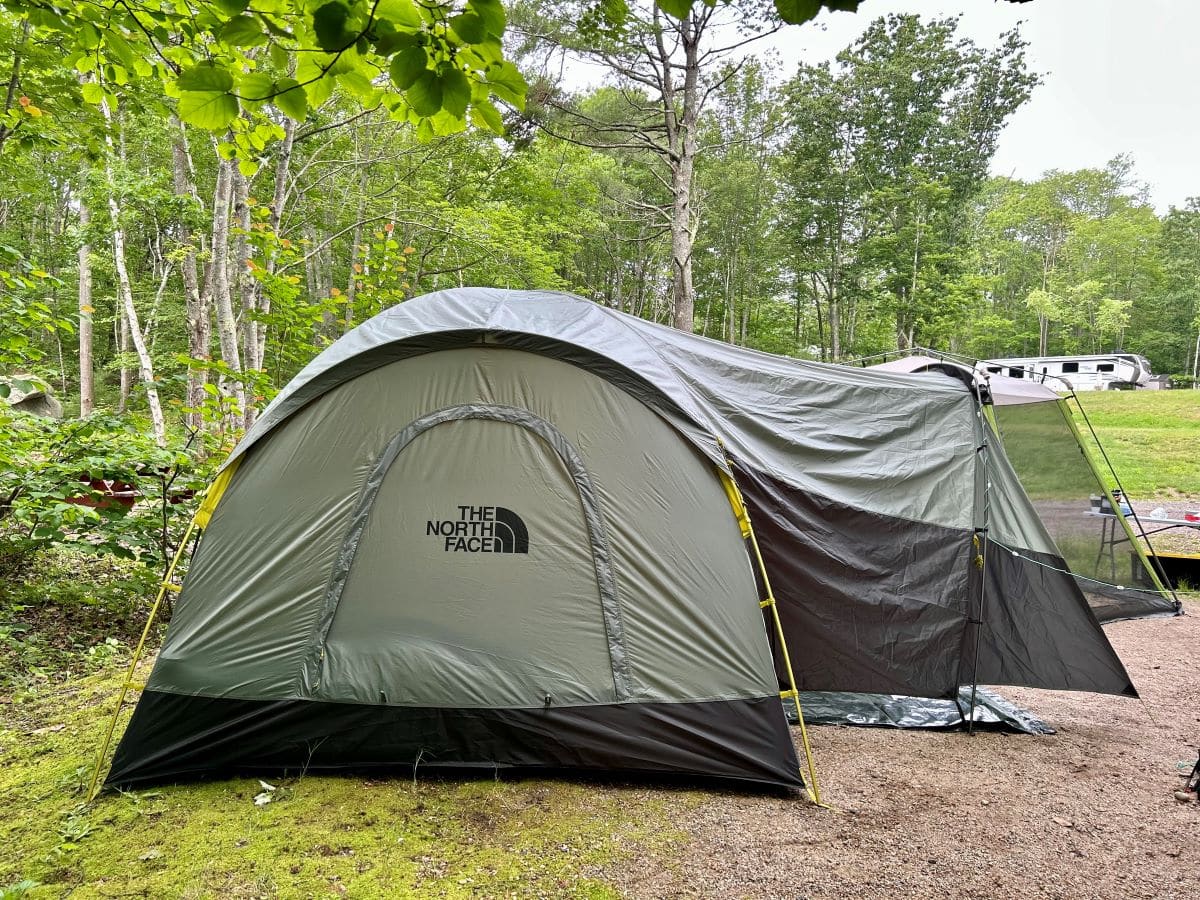 The tent's living space is further extended outside, where a unique rainfly setup offers a spacious vestibule area that doubles as a covered porch. If you camp in an area where the weather changes quickly (like the Northeast), it's a great space to hang while waiting out thunderstorms or enjoying morning coffee.
For as large as the tent is, the color-coded pole setup is straightforward, and although the setup isn't instant, the learning curve is fortuantely short. It's a quality shelter made with the craftsmanship you'd expect from The North Face, and it'd be difficult to find a better balance of size, performance, and price on the market.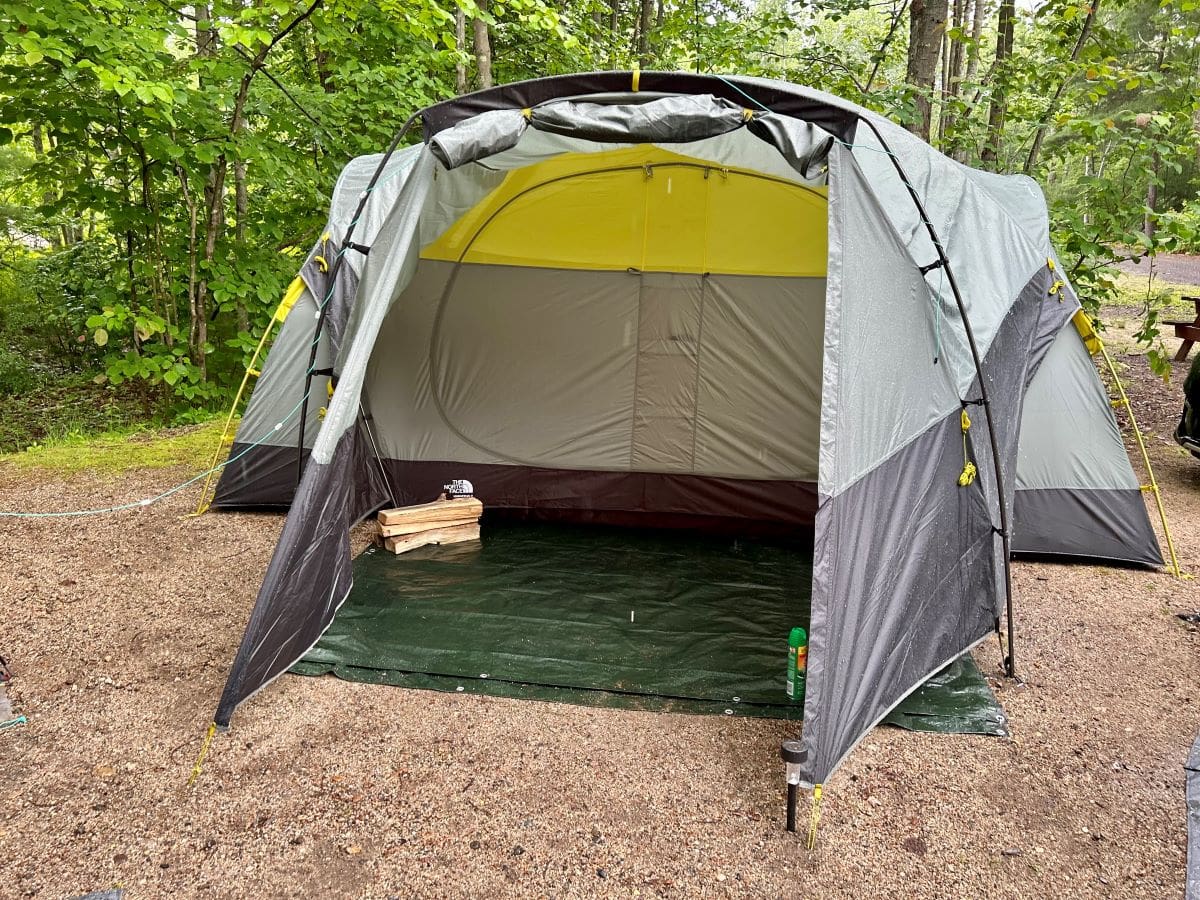 Pros
impressive amount of living space
spacious vestibule area
stands up to tough weather
spacious and well-ventilated
Cons
on the more expensive side
large rainfly can be difficult to get on quickly
Specs
Packaged weight: 19 lbs. 6.4 oz.
Floor area: 112 ft²
Vestibule area: 44.7 ft²
Peak height: 78 inches
Buy at Amazon
Related read: 11 of the Best Camping Gadgets For Your Next Adventure
Best Runner-up: Big Agnes Bunk House 8
Why we recommend it: open layout and extra height make the Bunk House 8 perfect for taller campers or families with older kids.
Big Agnes' lightweight tents and sleeping bags are typically designed for backcountry trips, but the Bunk House 8 proves their car camping game is just as strong. They take an "if it ain't broke, don't fix it" approach to a simple dome tent setup with two doors on opposing sides. A welcome mat and vestibule at each entry makes it easy to keep the interior clean while enjoying the outdoors through the all-mesh ceiling.
"Our first night out included a nice heavy thunderstorm. It rained solid and hard for over 6 hours, wind included," wrote one reviewer. "This tent didn't allow even a single drop of water inside!"
Pros
lightweight and easy to set up
ideal peak height for taller campers
can use in "Shelter Mode" with just rainfly, poles, and footprint
Cons
some users complained about performance in windy conditions
expensive compared to similar models
Specs
Packaged weight: 22 lbs. 15 oz.
Floor area: 104 ft²
Vestibule area: 25ft² + 25ft²
Peak height: 82 inches
Buy at Amazon
Best 4-Season Tent: Cabela's Alaskan Guide Model Geodesic 8-Person Tent
Why we recommend it: a heavy-duty shelter designed to withstand elements throughout the year.
In a crowd of three-season tents, Cabela's Geodesic tent stands out as one of the few specifically marketed to four-season campers. And while many of the tent's reviewers don't necessarily use it during the winter, most enjoy the fact that the shelter's "overbuilt" for all the other seasons.
"It was easy to set up and withstood the wind, rain, and other weather-related events of September in Alaska," said one reviewer. However, the extra protection comes at a cost – this tent weighs more than double the Wawona 8, so it's best for campers who'll take advantage of its cold weather capabilities.
Pros
excellent durability for all-year use
sturdy structure to handle heavy winds
good value for the price
Cons
much heavier than typical car camping tents
can feel too hot and humid in summer
may not be ideal in long-term heavy snow or ice
Specs
Packaged weight: 41 lbs. 8 oz.
Packed size: 31.9″ x 10.2″ x 11.4″
Peak height: 79 inches
Buy at Cabela's
Best Canvas Tent: Kodiak Canvas Flex-Bow Deluxe
Why we recommend it: next-level durability, designed for extended trips and the toughest conditions.
Most consumer tents are made of polyester or nylon blends that reduce the weight of a shelter while still providing waterproof protection. But if you're hunting or planning extended camping trips that require an extra layer of stability, consider the 10′ x 14′ Flex-Bow Deluxe from Kodiak Canvas, the country's bestselling canvas tent brand.
The Flex-Bow creates an insulated, secure interior that's well-suited for wet and cold conditions where nylon tents can falter. It's a heavier shelter, but the extra weight is a fair tradeoff for not having to worry about your tent's performance in adverse weather.
"It withstood 30-40 mph winds, freezing rain, and snow," wrote one reviewer of his trip with a Flex-Bow in Michigan's Upper Peninsula. "The tent stayed put and continues to keep me dry. Still very happy with the Kodiak Canvas 10'x14′ tent."
Pros
extremely durable and secure
good insulation for cold-weather camping
more floor area than most traditional nylon tents
Cons
can be difficult to set up (may need more than one person)
can be expensive depending on model and size
can grow mold over time if not cared for properly
Specs
Packaged weight: 79 lbs.
Floor area: 140 ft²
Vestibule area: sold separately
Peak height: 78 inches
Buy at Amazon
Best Budget Pick: Coleman Dark Room Skydome Camping Tent
Why we recommend it: budget-friendly model that performs well in three seasons.
The Coleman Dark Room Skydome may cost a fraction of the other tents, but that doesn't mean it skimps on quality. The dome-style tent offers Coleman's signature balance of quality and affordability and has features like a WeatherTec™ tub-style floor. The tent focuses on what matters: staying dry and safe outside.
It's not the lightest, tallest, or most spacious tent, but it does offer respectable dimensions, especially considering its under-$250 price tag. If you're looking to maximize your budget or are just testing the camping waters, this is a damn good place to start.
Pros
perfect for entry-level campers
easy to set up and tear down
stays cool with light-blocking material
Cons
not as durable as higher-end models
below-average floor space
ends of poles can fill with dirt during setup
Specs
Packaged weight: 22 lbs. 9.6 oz.
Floor area: 108 ft²
Peak height: 76 inches
Buy at Amazon
Best Floor Space: Eureka Copper Canyon LX 8
Why we recommend it: excellent floor space, peak height, and placement of large windows and entries.
The "near-vertical" tent walls of the Copper Canyon LX 8 give this shelter one of the largest usable floor spaces you'll find in a traditional polyester or nylon tent. "I'm 6'3″ and my partner is 6′ and we both fit easily, even with a queen-size air mattress on the floor," noted one reviewer. "There's also plenty of space left for bags, clothes, etc."
Like Coleman, Eureka caters to campers looking to balance cost and performance, and though it's several hundred dollars less than higher-end tents on this list, the Copper Canyon LX 8 performs admirably in most weather conditions. As one REI review said, "it does what it needs to do."
Pros
comfortably wide and tall interior
great size and quality for the price
consistently one of the bestselling 8-person tents available
Cons
no large vestibule area
floor of tent felt thin to some users
may have stability issues in heavy rain
Specs
Packaged weight: 34 lbs. 15 oz.
Floor area: 130 ft²
Peak height: 84 inches
Buy at Amazon
Best Storage: Magellan Outdoors Pro SwiftRise 8-Person Hub Tent
Why we recommend it: next-level tent organization and storage.
Without an organizational plan, camping can become a hot mess real quick. But that likely won't be the case with this hub-style tent with 33 interior pockets and two gear lofts to keep your stuff packed away 'til you need it. Keeping your gear off the ground also makes better use of the tent's average floor space.
The majority of reviews for the SwiftRise are stellar, but its few critical reviews mention leaks and waterproofing issues during storms. If you camp in dry areas like the Southwest, this is an excellent budget-friendly tent that's about as easy to set up as it gets.
Pros
crazy amount of interior pockets
well-designed corner entry
quick and easy setup
Cons
not as easy to tear down
not the best tent for heavy rain
some users reported quality control issues
Specs
Packaged weight: 36.5 lbs.
Floor area: 109.2 ft²
Peak height: 78 inches
Buy at Academy
Tent Buyer's Guide
What to Look For
Key Features
Most tents have many of the same standard features, but some have additional benefits that you may want to consider. Most of the tents on this list, for example, don't have a vestibule area that offers more sheltered space beyond the tent's frame.
But the Wawona 8 and Big Agnes Bunk House 8 both have spacious vestibules that can be valuable when it's raining and you need more space to store gear or hang out between storms. Other tents, like the Magellan Outdoors Pro SwiftRise, have more storage options than normal, which may be ideal for larger groups or campers with kids and lots of moving parts.
Size and Space
Many of the tents on this list are about the same size: the smaller traditional dome tents are between 19 and 36 lbs. and the larger canvas tents can weigh up to 79 lbs. If your storage is limited, you'll want to pay attention to the size of each tent when it's packed.
If you're more concerned with space in the tent, compare their floor spaces while also keeping in mind the overall structure of each tent. A cabin-style tent can sometimes offer more living space because the sides of the tent don't come in at the same angles. And if you're on the taller side, pay attention to the peak heights of each tent: there may only be a few inches difference between them, but those few inches can mean a lot.
Durability & Performance
A tent is an investment that should last many years, so it's important to select one that offers durability and performance in all types of weather. Depending on what regions and seasons you camp in, performance in inclement weather may be high on your priority list, which may point you to more durable options like tents from Kodiak Canvas, The North Face, or Cabela's.
If you typically camp in dry weather, or don't camp often enough to need something heavy-duty, an entry-level tent from Coleman or Eureka may suffice. In either case, you'll want to consider your camping plans for the future and compare tents based on how much use you're expecting and in what kind of conditions.
Why Trust Us?
Over the years, I've camped in a number of large-capacity tents with my family, using more affordable Coleman tents, as well as upgraded models like the Wawona 8. We've camped in dry conditions in the Southwest, and in wet conditions in the Northeast, on short weekend trips and longer summer getaways.
I've also backpacked many times on trips where weight and size matters, and although 8-person tents are designed for car camping, it's still good to consider how much weight and bulk you'll be lugging around with your camping setup.
Since I started Territory Supply in 2015, and in my 7+ years of family camping, I wholly recommend The North Face Wawona 8 because of its durability, ease of use and spacious design. As we continue testing other tent models, we'll update this review accordingly.
FAQs
1. How many people can really fit in an 8-person tent?
Although 8-person tents can sleep 8 people, the ideal group size is much smaller, like 4 or 5 people. In my experience, camping with a family of 5 works well in an 8-person tent, but if we ever camp with more than that, we bring a second tent for more room.
In most cases, assume the actual capacity of a tent is lower when it comes to real-world use. An 8-person tent even works well for couples and smaller groups who want an extra "room" or floor space for a table, chairs, or activities.
2. How hard is it to set up an 8-person tent?
Although packed 8-person tents can be bulky, most are just as easy to set up as smaller shelters. Most traditional dome-style tents use minimal tent poles for easy setup, and cabin-style tents use similar structures that can "pop up" even quicker.
The hardest tents to setup and tear down are canvas and 4-season tents — think Kodiak Canvas and Cabela's Alaskan Guide — that are bulky, heavy, and have weightier materials. Most retailers offer a link to their tents' owner's manuals, so you can get an idea of what setup and teardown look like before you make a purchase.
3. Can one person put up an 8-person tent?
The lighter and more affordable 8-person tents — from Coleman, Eureka, and Big Agnes — can usually be set up with one person. Heavier and more durable tents, especially made from canvas, may require more than one person to set up quickly.
In my experience with the Wawona 8, I was able to set up the tent and rainfly without help in less than 10 minutes. Of course, if you do have an assistant, the job can go faster.
4. Are 8-person tents too big and impractical?
Despite their capacity, most 8-person tents aren't all that much bigger than 4-person or 6-person tents. For example, the REI Co-op Base Camp 6 tent has a packaged weight of 20 lbs. 10 oz. — more than the Wawona 8 weighs. Again, most 8-person tents won't actually fit 8 people all that comfortably, so it's better to think of these tents in terms of weight, floor space, and peak height.
Explore More Gear
Get epic travel ideas delivered to your inbox with Weekend Wanderer, our newsletter inspiring thousands of readers every week.
---