The Black Diamond Storm isn't the cheapest headlamp out there — but that's the point. As the name implies, the Storm is built to weather anything Mother Nature throws your way on the trail.
The Black Diamond Storm is a feature-laden headlamp with an incredibly bright light, multicolor functionality, and waterproof housing. Whether you're late-night trail-finding or reading a book in your tent after dusk, this headlamp has the power and precision to keep you active long after the sun goes down.
What We Dig
With 350-lumen brightness in my tester model (and 375 lumens in the latest rendition) the Black Diamond Storm provides some serious lighting power. I felt like a full-fledged lighthouse walking down the trail with my headlamp set to maximum power.
For how impressively powerful the Storm is, the light can be dimmed down to a modest — nay, let's call it a puny — four lumens at its lowest setting, meaning you can go from lighthouse to nightlight pretty quickly.
That's quite a range of brightness levels, and the adjustability doesn't stop there. Red, blue, and green single LED lights can be switched on for the likes of hunters and stargazers. There's also a strobe function that can be activated when you want to annoy your friends.
All of this functionality comes at the push of a single button. The Storm operates with a series of different press patterns and a quick-access maximum/minimum light switch in the form of a touch-sensitive side button. It's incredibly versatile, and the functionality can be locked so that it doesn't waste your batteries when it bumps into an Epic Bar in your backpack.
What We'd Change
While it's amazing that all of the Storm's functionality comes at the push of a single button, it can also be frustrating. Since every light option is attached to a single button, you'll need to learn a number of patterns in order to properly operate the headlamp.
The paperwork provided with the Storm goes over this thoroughly, and a separate cheat sheet is provided so that you can practice your button mashing on the go.
That's exactly what I had to do on my first couple of outings with the Black Diamond Storm, and I found that the cheat sheet was an invaluable tool. I quickly learned that haphazardly pressing the button always resulted in the opposite type of light I wanted from my headlamp.
Imagine trying to cook at night, not knowing how to operate your highly capable headlamp. Dim red light? No, try again. Rave-ready disco strobe?! No! NO! Divine solar-infused blinding beacon of the heavens!? Arrgh! And hold to dim…ahh, there we are.
The Bottom Line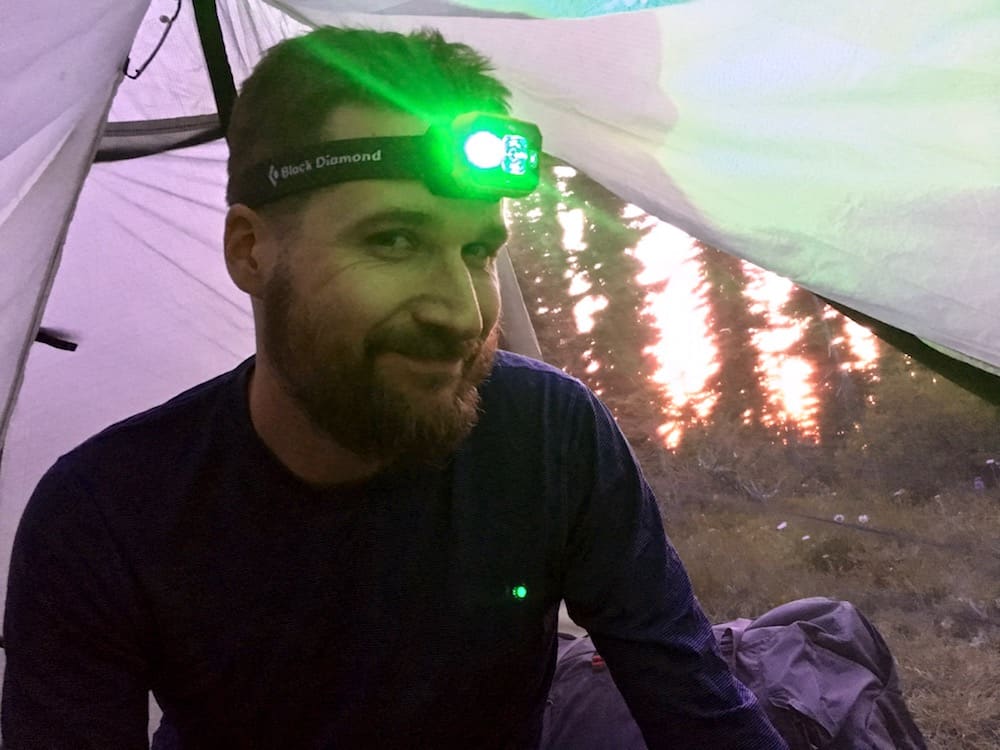 The Black Diamond Storm is a durable, versatile, capable headlamp with respectable battery life and a waterproof housing. It covers all the bases and, though its price point is a bit higher than the average headlamp, it's worth every penny.
You can feel the durability of this robust device the first time you operate it, and the quality materials are sure to last a long time to come.
Check Amazon Price
Check REI Price
Read more about the Black Diamond Storm:
Field Test
I ventured out on a number of evening hikes in the Eugene, Oregon area to get acquainted with the Black Diamond Storm and its functionality before taking it on a multi-day backpacking trip in Washington's Goat Rocks Wilderness.
Though the single button operation was confusing at first, it only took a couple of uses before I had the mechanics down.
While on evening strolls near town I never had to pump up the brightness to the maximum setting. On my backpacking journey, I found that the maximum brightness level added more width to the beam rather than length.
Regardless, the Storm can highlight a long stretch of trail in the darkness. The highest setting is so powerful that I doubt I'd ever need to use it unless I was searching for, or running from, something specific in the forest during a moonless night. I'm going to keep telling myself that Sasquatch isn't real, alright?
I mostly used the Storm to bring light to twilight trails and for close proximity activities, such as nighttime reading and cooking.
During the middle of the night when I had to get up or move around for one reason or another, I opted to turn off the white light in favor of the colored LED lights. The colored lights were bright enough in the dead of night to see a few feet from my face, and they were more fun to use than the typical white light would have been.
I imagined playing a team sport at night where each player had a headlamp LED color to match the rest of their teammates. That'd be fun.

Product Details
For a robust headlamp that requires 4 AAA batteries, you'd expect the Black Diamond Storm to be bigger and heavier than its competition. Luckily that's not the case here.
The Storm weighs in at an acceptable 3.9 ounces and is hardly larger than the batteries you have to load it with. The durable housing adds a bit of heft that's often sacrificed for weight savings in lesser headlamps.
Awarded an IPX7 rating, the Storm is fully dust-proof and waterproof for up to 30 minutes under one meter of water.
The extra battery adds weight as well. Most other comparable headlamps require 3 AAA batteries, but the extra electric power in the Storm pays off in dividends with an excellent battery life that can run five hours at maximum power and up to 160 hours on the lowest setting.
Equipped with an array of lighting options, including a light beam reach of up to 85 meters and multiple head-mounted ratchet angles, you'll never be disappointed with the Storm's capability.

Takeaways
The Black Diamond Storm is a well-rounded headlamp, and there are a few key features that make it shine brighter than the competition.
Versatile Functionality: Programmed with eight different light modes, an adjustable dimmer, a touch-sensitive intensity button, and brightness memory, the Black Diamond Storm is a veritable menagerie of illumination options.
The Storm adapts to a wealth of low-light situations. Trail runners can use the precision beam to see far down the path ahead. Fireside campers can fire up the close-proximity LED for late-night reading and after-dark cooler diving when that last pack of hot dogs becomes a necessity. Hunters can utilize the colored LEDs to shine a dim light on their gear that won't disturb the wildlife.
Pack Safe: Two of my favorite features on the Black Diamond Storm are all about battening down the hatches.
First, the latch that closes the battery compartment is undeniably secure. I detest flimsy battery covers, so this is a welcome upgrade.
The Storm's hinged fastener requires a thick fingernail or anything that can be worked as a lever to pop it open, which I greatly appreciate. There won't be any lost batteries in the bottom of your pack or buried in the dirt of the trail when you're sporting a Storm.
Even better is the digital lock feature that prevents a simple press of the Storm's buttons from turning on the device. I've accidentally drained too many batteries in my pack during my backpacking excursions in various electronic gadgets. Not so with the Storm! A simple four-second press of the main button prevents battery burnout. Oh, joyous day!
Unfailing Dependability: The Black Diamond Storm's plastics are strong, the moving parts are beefy, and the LED lights are sure to last for many years.
Additionally, the dust and waterproof housing ensures that the elements won't easily damage the device, and it's burly enough to withstand a number of drops on mountain rocks.
The Storm is a solid piece of tech that you'll begin to admire the first time you hold one in your hand.
>Headlamp Comparison
The Black Diamond Storm is a powerhouse of a headlamp. All of its amazing capability and versatility comes at a premium price, but in our opinion it's a great value.
Still, it's not the perfect headlamp for everyone. Black Diamond manufactures several top-tier headlamp models that come in a spectrum of power and price ranges. To see the differences between Black Diamond's most popular headlamps, the Storm and the Spot, check out our comparison article that puts them head to head.
Other brands have their own headlamps with specific attributes that may better apply to you. For instance, some people prefer cutting weight above all else, and the ultralight Petzl E+Lite weighs a mere ounce.
For a full overview of the best headlamps on the market, check out our article on the Best Backpacking Headlamps to see which products reign supreme on the trail.

Conclusion
Overall, the Black Diamond Storm is a stellar headlamp for backpackers, hikers, campers, and hunters. The superb, multifaceted light output adapts to and will work well in just about every outdoor activity imaginable.
Trail runners and ultralight backpackers will likely want to find a headlamp that weighs less, and a wide array of functionality probably won't be a priority. If this sounds like you, the lighter and less-expensive Black Diamond Spot may be the headlamp you're looking for.
Though the Storm costs a few bucks more than the average headlamp on the market, we still think it should be a top consideration because it's such a well-made headlamp. The Storm is built to last, so it'll be your trusty trailside companion for years to come.
Highly useful on the trail, in camp, or at home — the Black Diamond Storm is worth its weight in trail mix (and then some).