We may earn a small commission when you make a purchase or booking through our links. It doesn't affect what we feature, but it does keep the lights on. Read our editorial policy to learn more.
---
Looking for the best gifts for hikers or outdoor enthusiasts in your life?
If you're not used to spending time on the trails, it can be difficult knowing what to get for the hiker in your life. Do they need new moisture-wicking clothing? High-tech gear?
We're taking the guesswork out of shopping so you can nab the best hiking gifts on the market for the outdoor enthusiast in your life. To make it even easier, they're broken down below by budget.
Here are our picks for the best gifts for hikers — and anyone who enjoys the great outdoors!
The Best Gifts for Hikers Under $25
1. Rite in the Rain All-Weather Notebooks
For the hiker in your life who loves to document their adventures, Rite in the Rain all-weather notebooks can withstand almost anything nature throws at them, whether that's rain, sweat, mud, or grease.
They come in various sizes, but this three-pack of 4.5 inches by 7 inches is perfect for hiking packs, even for ultralight hikers.
Check out more of the best travel notebooks.
2. Bee's Wrap Wax Food Storage Wraps
Bee's Wraps are reusable food wraps that safely store hiking snacks, sandwiches, lunches, and leftovers sustainably, without the use of plastic bags.
Bee's Wrap makes them instead out of a mix of cotton, beeswax, and natural oils, and the sheets stick to themselves with just a little bit of pressure. These bad boys come in an assorted set of three sizes, have no harsh chemicals, and can be reused for up to a year.
3. Wool Hiking Socks
If there's one thing hikers will tell you they can't live without, there's a good chance it's cushioned and sweat-wicking wool hiking socks. Two of the best brands are Smartwool or Darn Tough, both of which boast great reviews.
If you're not sure what type of sock to buy, the Smartwool Women's Striped Light Hiking Crew Sock or Darn Tough Hiker Micro Crew Cushion are both safe bets for day hikers of any ability level.
Read our Hiker Micro Crew Cushion review.
4. LifeStraw Water Filter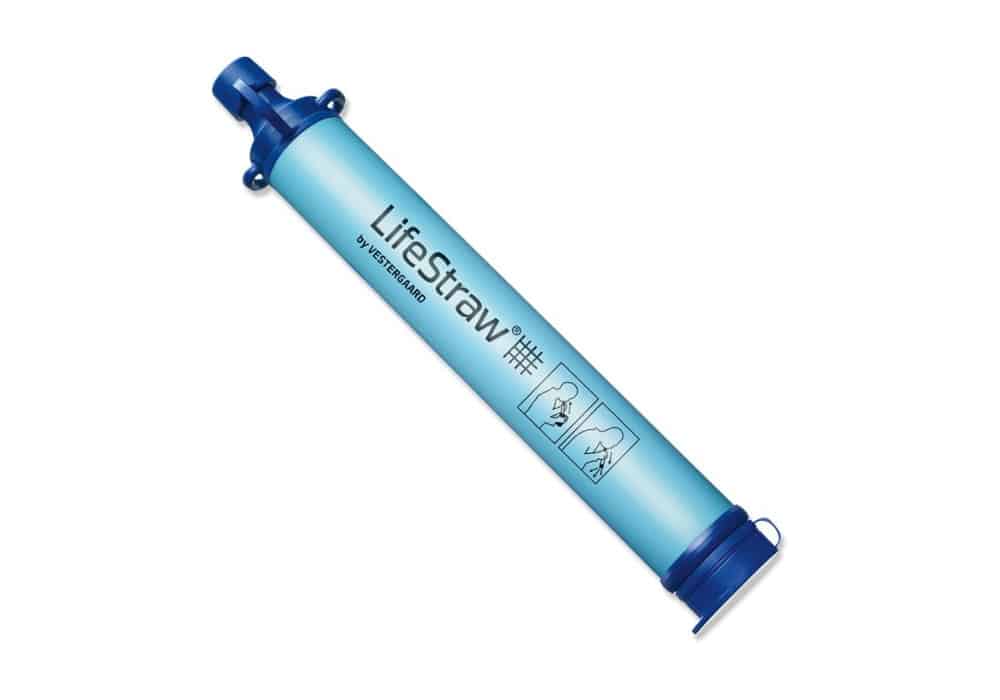 The LifeStraw is a revolutionary portable water filtration system that's super small, lightweight, and guarantees safe drinking water for 264 gallons (1,000 liters) of water. It's also an excellent gift for travelers venturing to places without reliable, safe drinking water.
It weighs just 2 ounces, so even distances hikers can spare the extra weight. A water filtration system is essential in the backcountry, and the light weight and easy use of this filter definitely makes it one of the best gifts for hikers available for under $20.
5. Campsuds Biodegradable Nature-Safe Soap
Sierra Dawn Campsuds biodegradable soap has all-natural ingredients and has been a hit with campers for more than 50 years.
But it's not just for dishes – this multi-purpose soap can be used as shampoo or body wash, too. It comes in a convenient travel size and should last for months if it's just used during camping and backpacking trips.
6. Yeti Rambler Mug
The Yeti Rambler Mug is a durable, high-quality camping mug that keeps beverages piping hot or ice cold for hours. This 14-ounce mug is double insulated and comes with a convenient sipping lid, perfect for backcountry coffee or campfire cocktails.
It's also great for use at home if the hiker in your life is also a morning dog-walker or likes to enjoy a cup of tea or coffee on his or her back porch.
Check out our favorite enamel camp mugs.
The Best Gifts for Hikers Under $50
7. REI Co-op Duck's Back Rain Cover
REI's backpack rain covers come in a variety of sizes to perfectly fit over any bag from any brand. A rain cover is essential for anyone who hikes in rainy conditions or heads out on multi-day trips when the weather could change day-to-day.
The waterproof covers weigh next to nothing and keep gear dry in heavy rain. The XS size should be sufficient for day hikers, but choose the medium if you're buying for someone with a multi-day backpacking backpack.
8. Adventure Medical Kit
Anyone venturing out into the great unknown should have a lightweight adventure medical kit on hand.
This particular one is great because it weighs only 8 ounces, is watertight and compact, and has everything needed for minor hiking injuries. Just make sure the recipient remembers to replace the supplies after each use.
Check out the best backpacking first aid kits.
9. GSI Outdoors Java Press
For hikers and campers addicted to coffee, the GSI Outdoors Java Press makes it all too easy to get a caffeine fix on the trails. It holds 30 ounces, is double-walled, and has a silicon ringed plunger to keep grounds from pouring out.
While it's well-suited to backpacking and waking up in the wilderness, it works indoors, too, making it a great back-up option if someone wants to make coffee when the power's out.
10. Matador NanoDry Towel
Made with insanely absorbent and quick-drying microfiber, the Matador NanoDry Towel is a shower-sized camping towel that comes with a silicone clip-on carrying case.
It's perfect for hikes that lead to waterfalls or swimming holes or backcountry camping trips where every ounce counts. It's also useful for people that hike or camp with their dogs, since no one wants a wet dog hopping into the backseat of their car when it's time to head home.
11. RAVPower Portable Charger
The RAVPower Portable Charger rocks a hefty power capacity that can charge any smartphone or tablet several times.
The three-output charger will last on the longest of hiking trips and keeps essential electronics charged, whether that means an Amazon Kindle for late-night reading in the tent or a GPS-enabled watch to make sure your recipient can find their way home.
Check out the best portable power supplies for camping.
12. Xenvo Pro Smartphone Lens Kit
This smartphone lens kit by Xenvo is a clip-on accessory that transforms phone cameras into something more like a DSLR camera, with both a macro and wide-angle lens that can capture the beauty of a hike.
This lens is small and works with most smartphones, even those with a phone case. It also comes with a storage case to protect the lenses and accessories when not in-use on the trails.
13. MSR PocketRocket Portable Camping Stove
Best for backcountry trekkers or frequent campers, the MSR PocketRocket stove is an excellent little tool to have on hand for campfire cooking.
This small stove can be used with a variety of pots and pans (not included) and heats water in around 4 minutes. It makes it easy to whip up a hot meal after an active day on the trails, or at least to boil enough water for their dehydrated food of choice.
Enter the debate: MSR or JetBoil?
14. America's Great Hiking Trails Coffee Table Book
As much as most people would love to hike all day, every day, it's usually not feasible (unless you're a park ranger. ) Fortunately, the America's Great Hiking Trails book brings striking landscapes into the home and can be a guide to plan future hiking vacations.
The book covers the best hiking trails in the U.S. from Appalachia and the Pacific Crest to New England and the Midwest.
Check out our favorite non-fiction adventure books.
The Best Gifts for Hikers Under $100
15. BioLite Headlamp
A headlamp is a useful item to have for morning or evening hikes as well as a safety tool for moving around camp in the dark. In particular, the BioLite Headlamp 330 is a great option as it recharges with a micro-USB cord (rather than using batteries) and weighs in at an unbelievably light 2.43 ounces.
One size fits all, but it does come in a few color choices.
16. ENO DoubleNest Hammock
This super-strong and mega-popular DoubleNest Hammock by ENO packs down into a small stuff sack and weighs less than a pound, so it should be light and small enough for most bags. It sets up in seconds and can comfortably fit two people for a cozy outdoor lounge session.
ENO makes their hammocks from fabric scraps that would otherwise end up in landfills, so it's a sustainable gift, too. Remember that you'll also need to buy hammock straps if your recipient doesn't already have a pair.
Check out our ultimate hammock camping checklist for more hammock gear ideas.
17. America the Beautiful Pass 2020-2021
Why is the America the Beautiful Pass one of the best gifts for hikers you could buy? For starters, it grants the hiker in your life entrance to all of the U.S.'s national parks, monuments, and forests managed by federal conservation departments.
The pass admits one car with up to four adult passengers for infinite hiking possibilities for a full year. And better still, REI donates 10 percent of all pass proceeds to organizations that support environmental access and education for kids across America.
18. REI Rain Jacket
The weather in the mountains can be unpredictable, so having a packable rain jacket that promises to keep hikers dry on the trails is an essential item in any day pack.
There are dozens of options on the market, but the Rainier Men's Rain Jacket from REI is a great choice for under $100, with under-arm zips to help him dump heat when he starts to sweat.  The women's version is an equally smart buy and also comes in a longer silhouette for women who want extra coverage.
19. Patagonia Nano Puff Jacket
Sometimes a rain jacket just won't cut it. If the person you're buying for hikes in chilly conditions or high-elevation terrain, he or she may need a packable jacket with insulation.
The Patagonia Nano Puff for men and women is a bit pricier than REI Co-op-made jackets, but they're thin and loose enough to ensure a full range of motion while still providing extra warmth. They zip up into their own internal pockets are are Fair Trade Certified™ sewn.
The Nano Puff is one of Patagonia's most well-known items and is likely to be a welcome addition to any hiker's closet.
Compared Patagonia's Nano Puff vs Micro Puff.
20. Black Diamond Trail Trekking Poles
Trekking poles can help any hiker hike longer and faster as they help better distribute weight and relieve excess strain on the back and legs, especially when wearing a pack.
They can also help hikers move with more confidence over lose or rocky areas as they create two extra contact points with the ground. Black Diamond makes a fabulous set of poles for under $100 that are expandable, so they can accomodate hikers of just about any height.
The Best Gifts for Hikers Over $100
21. Leatherman Signal Topo Multi-Tool
With this Leatherman Signal Topo Multi-Tool on hand, any challenge during a backcountry hiking trip will feel like a breeze. Constructed from stainless steel, the utility tool features a knife, dual pliers, carabiner, bottle/can opener, saw, awl, screwdrivers, and a fire starter.
It's a luxury buy that hikers may not splurge on for themselves but will definitely appreciate.
22. Osprey Talon 22L Day Pack
Every hiker needs a trusty and reliable day pack, and the Osprey Talon 22L features the right amount of pockets and perfect size for a day on the trails.
Osprey is known for its high-quality and durable bags and has a stellar lifetime warranty, which means they'll repair any defect or damage over the bag's useable lifespan. It's also compatible with whatever hydration pack the owner already has.
Check out our fave daypacks under $100.
23. Powertraveller Falcon 21 Solar Panel Charger
This lightweight Falcon 21 solar-powered charger by Powertraveller is a fun gadget that keeps battery-powered tech charged even in the middle of the wilderness.
Constructed from lightweight and durable materials, it folds up for easy carrying and can charge two devices at once. It's very useful for anyone camping more than a few nights in a row who can't stop updating their Instagram story.
See our favorite solar-powered camping gear.
24. REI Co-op Camp Dreamer XL Self-Inflating Deluxe Bed
This incredibly comfortable mattress is far too big and heavy for backpacking, but it makes car camping feel like the Four Seasons. The self-inflating foam mattress adds 4 inches of comfort between the bottom of the tent and a camper's sleeping bag, so lumpy or uneven campsites won't ever be a problem.
If you know someone who loves waking up in nature but has trouble getting a good night of sleep outdoors, this bed may be a game-changer.
25. Garmin inReach Explorer+ 2-Way Satellite Communicator
Sometimes a killer hiking adventure leads out of cell-service range, but with the Garmin inReach satellite communicator, hikers can stay connected with loved ones no matter how far they venture out. This handy device is a GPS tracker, two-way satellite communicator, navigation tool, and S.O.S. device all in one.
Gear Up for the Trail
Sign up for our free email to join 100,000+ readers getting epic travel, hiking, and camping ideas every month.
---