When you make a purchase through our links, we may earn commissions from Amazon, REI and other retailers. You can learn more about our editorial and affiliate policy here.
---
News flash: DoorDash can't reach you in the backcountry.
Whether you're planning a simple overnighter or a weeklong trek through the Grand Canyon, food should be at the top of your list. Clif Bars and trail mix don't count — to fill up on the nutrients you'll need to power your body through the hike, you're going to need some real food.
Roughing it cowboy-style and cooking over a campfire is certainly an option, but thanks to advancements in outdoor gear that's not your only one. With a compact and lightweight backpacking stove stashed in your pack and a solid cookware set, you can whip up a hot cup of coffee in the morning in less than five minutes.
The same versatile stove can boil water for a dehydrated dinner at night, or you can earn your backcountry gourmet merit badge and do some real cooking.
Canister Stoves
Canister stoves are the most popular choice for three-season backpacking adventures. Outside of international backpacking trips and high-altitude mountaineering, it's safe to say this is the way to go for most backpackers.
Canister stoves rely on pressurized canisters of isobutane-propane for fuel. These canisters are easy to find in your local sporting goods store, though they tend to be a little pricier than other types of fuel.
The best part about canister stoves is that they're unbelievably easy to use. When you're ready to start cooking, simply screw the stove onto the canister and light the flame. There's no need for priming, pumping, field maintenance, or cleaning. The canister self-seals when you unscrew the stove, so you don't have to worry about leaks or spills, either.
Some canister stoves include an integrated pot that snaps onto the stove. Integrated canister stoves are even more convenient and easy to use, and they provide superior wind protection. Ultralight backpackers may prefer to use their own lightweight pans and accessories, but for the average backpacker, integrated canister stoves are often the best choice.
There are two major downsides to canister stoves: fuel canisters are hard to find when you're traveling internationally or in remote areas, and they don't perform well in extreme conditions. If you're planning a winter backpacking trip or an alpine climb where temperatures will drop below 20℉, you'd need a premium canister stove with a pressure regulator.
Pros
Easy to assemble and use
Compact and lightweight
No priming, pumping, or maintenance
Boil water in five minutes or less
Adjustable flame and simmer control available on some models
Clean, odorless, smokeless burn
Cons
Don't perform well in extreme cold or high altitude without a pressure regulator
Isobutane-propane canisters are slightly more expensive
It's challenging to find isobutane-propane canisters abroad
Canister stoves with short arms may struggle to secure large pots
Impossible to know exactly how much fuel is left in the canister
We've selected three integrated canister stoves and two standard canister stoves that represent the best options on the market. If you're a three-season backpacker who sticks to trails in the United States, one of these five stoves should suit your needs perfectly.
MSR WindBurner
The MSR WindBurner is the most popular backpacking stove on the trail.
As the name implies, the WindBurner is designed to thrive in harsh, windy conditions. Thanks to an enclosed design, 100% primary air combustion, and an internal pressure regulator, the stove is virtually impervious to external conditions. The WindBurner's radiant burner and heat exchange deliver faster boil times and greater fuel efficiency, so your canisters last longer on multi-day adventures.
The WindBurner features a two-in-one secure-locking pot and personal mug wrapped in an insulated cozy. The detachable lid offers straining and drinking ports, and there's a folding canister stand to stabilize the stove. When you're ready to get back on the trail, the all-in-one system nests inside the pot (including the canister) so it's a piece of cake to pack.
MSR offers a wide variety of cooking accessories for the WindBurner, making it a versatile investment adaptable to trip length and party size. While the standard size is perfect for solo use, you can upgrade to the WindBurner Duo to cook for two, or the WindBurner Group System for larger parties.
Check Current Price
Tech Specs
Fuel: Isobutane-propane
Auto Ignition: No
Integrated Pot: Yes
Average Boil Time: 4 minutes 30 seconds
Burn Time: 95 minutes with a 110g canister
Dimensions: 8.3 in. x 4.5 in. x 4.5 in.
Weight: 15.5 ounces
Jetboil MiniMo
For the best integrated canister stove with push-button ignition and simmer control, go with the Jetboil MiniMo.
Simmer control and auto-ignition are rare features in canister stoves, so the MiniMo stands above the rest on those factors alone. Of course, this top-rated backpacking stove doesn't stop there.
The MiniMo features a fuel canister stabilizer, metal handles, a redesigned one-liter cooking cup that's optimized for spoons, and an insulated cozy. When you don't feel like eating straight from the pot, the bottom cover doubles as a bowl and measuring cup.
The MiniMo is built for convenience with a clever design that minimizes pack space. It's regulated for consistent performance down to 20℉, making it a prime choice for three-season backpacking.
Check Current Price
Tech Specs
Fuel: Isobutane-propane
Auto Ignition: Yes
Integrated Pot: Yes
Average Boil Time : 4 minutes 30 seconds
Burn Time: 60 minutes with a 100g canister
Dimensions: 5 in. x 6 in.
Weight: 14 ounces
Jetboil Flash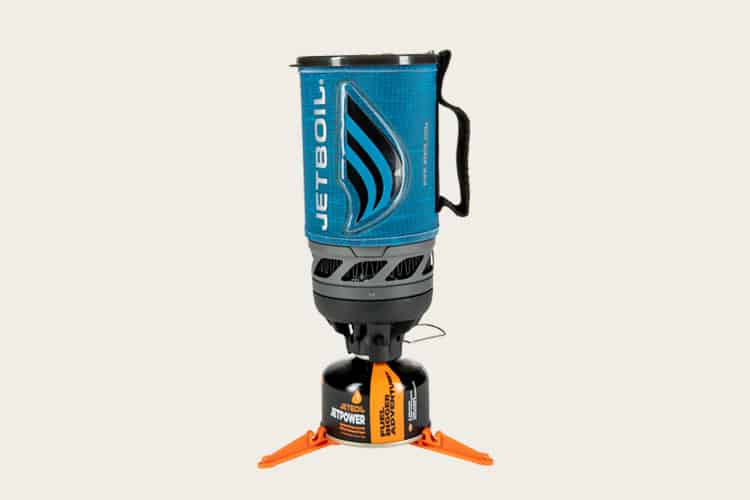 When boiling water is your #1 priority, nothing beats the Jetboil Flash.
The Jetboil Flash boasts the fastest boiling time on the market, boiling 16 ounces of water in 100 seconds. Whether you're boiling water for a dehydrated meal, melting snow, or decontaminating drinking water, the Flash will handle the task in, well, a flash.
When your water is boiling, the thermochromic logo on the Neoprene sleeve turns orange to catch your attention. Not only does this look cool in action, it also helps to avoid wasting precious fuel by letting you know when to shut off the stove.
Like the Jetboil MiniMo, the Flash keeps things simple with a push-button ignition. It doesn't offer simmer control, but it'll boil more water with less fuel. Assuming you have a 100g canister of fuel, you should be able to boil 10 liters of water on a single canister.
Check Current Price
Tech Specs
Fuel: Isobutane-propane
Auto Ignition: Yes
Integrated Pot: Yes
Average Boil Time: 3 minutes 20 seconds
Dimensions: 7.1 in. x 4.1 in.
Weight: 13.1 ounces
MSR PocketRocket 2
The MSR PocketRocket 2 is an ultralight, fast-boiling beast. It's compact, lightweight, dependable, and versatile — everything you could ask for in a canister stove.
There's no need for priming, pressurizing, or preheating with the PocketRocket 2. It can boil a liter of water in 3.5 minutes, a full minute faster than the MSR WindBurner.
The PocketRocket 2 features an adjustable flame with an easy-to-turn control valve, so you can simmer gourmet meals in the backcountry. The serrated pot-supports will keep your pot from shifting, while the WindClip wind protection and focused burner work together to deliver a persistent, solid flame.
When you're ready to pack up and hit the trail, the PocketRocket 2 folds up for compact travel. The kit also includes an ultralight hard shell carrying case that you can use to protect your cookware and separate your cooking gear from the rest of your gear.
If you're already sold on using an integrated canister stove like the Jetboil MiniMo or MSR WindBurner, consider carrying the PocketRocket 2 as a backup stove. It's compact and light enough you'll forget you're carrying it, but you'll be glad you have it in the rare case your primary stove malfunctions.
Check Current Price
Tech Specs
Fuel: Isobutane-propane
Auto Ignition: No
Integrated Pot: No
Average Boil Time: 3 minutes 30 seconds
Burn Time: 60 minutes
Dimensions: 7.25 in. x 5 in. x 4 in.
Weight: 2.6 ounces
Snow Peak LiteMax
The Snow Peak LiteMax is the perfect canister stove for the ultralight backpacker looking to shed weight and reduce pack size.
Weighing just under 1.9 ounces, you'll forget the LiteMax is even there. Even better, the stove's folding-arm design leads to an unbelievably compact pack size that's less than half the size of the MSR PocketRocket 2.
Ease-of-use is another big plus for the Snow Peak LiteMax. The stove is designed to screw onto a Snow Peak GigaPower fuel canister, so you'll never have to prime or pump. The flame control valve allows you to manipulate the heat from a slow simmer to a rolling boil, and the control wire is easy to use when you're wearing gloves.
If you're concerned that a lightweight, compact canister stove is flimsy or unstable, think again. The large pot support arms provide a stable cooking surface for a wide variety of backpacking cookware. It's also constructed with titanium — a lightweight but strong metal that you can depend on.
Check Current Price
Tech Specs
Fuel: Isobutane-propane
Auto Ignition: No
Integrated Pot: No
Average Boil Time: 4 minutes 25 seconds
Dimensions: 3 in. x 2.7 in. x 1.3 in.
Weight: 1.9 ounces
Liquid Fuel Stoves
Liquid fuel stoves are ideal in three conditions: international travels, large group expeditions, and winter/alpine backpacking.
These stoves run on a variety of different types of fuel, including white gas, kerosene, auto fuel, jet fuel, and even diesel fuel (though it depends on the stove). White gas is easy to purchase in the US, cheaper than isobutane-propane, and performs well in sub-freezing temperatures.
When you're traveling internationally where they don't offer white gas, it's pretty easy to find kerosene or auto fuel. However, unleaded fuel will quickly clog your stove due to impurities, so you'll need to clean the stove more frequently (or avoid it altogether if you can).
Refillable fuel canisters aren't pressurized, so you don't have to worry about losing pressure on high-altitude hikes. The ability to screw open the tank and peek inside also makes it easy to monitor how much fuel you have left (which you can't do with canister stoves).
Given the cheap cost of white gas, liquid fuel stoves are great for winter backpacking trips where you're melting lots of snow. It's also ideal for group trips where you'll be doing a lot of cooking, especially considering the wider base can usually handle larger pots and pans. As such, you'll see liquid fuel stoves a lot on scouting trips and guided expeditions.
The biggest downside to liquid fuel stoves is that they're complicated and require field maintenance. These stoves require pumping and priming, which can get messy and lead to spills. You'll also have to clean them to avoid clogging the stove.
Pros
Performs better in extreme cold and high elevation
Fuel is less expensive
Easier to find certain types of liquid fuel when traveling abroad
Greater stability on uneven ground and more support for larger pots
Easy to gauge fuel usage by looking into the fuel bottle
Cons
Heavier and bulkier than canister stoves
Priming and maintenance required
Louder than other backpacking stoves
Fuel spills and leaks can be dangerous
Refillable fuel bottles are more expensive (though you save money in the long run)
Fuels with impurities can clog the stove over time (stick with white gas to avoid this)
MSR is the undisputed leader in liquid fuel stoves, so we stuck with their field-proven products. The WhisperLite is the more affordable, lightweight option, perfect for boiling water in any conditions. If you're looking for flame control and simmering, go with the Dragonfly.
MSR WhisperLite International
The MSR WhisperLite International lives up to its name — it's lightweight, compact, sturdy enough for extended travel, and offers the freedom to use a variety of liquid fuels that are widely available internationally. It's the best overall liquid fuel stove, and the perfect choice for international backpackers.
The WhisperLite International runs on three types of liquid fuel: white gas, kerosene, and unleaded gasoline. You'll be able to boil a liter of water in 3.5 minutes using white gas, or 4.5 minutes using kerosene. We'd recommend against using unleaded gasoline if you can avoid it, as automotive gas will clog the stove faster.
That said, the WhisperLite International offers a pretty easy, thorough cleaning system. Using Shaker Jet technology, all you have to do is shake the stove for a quick clean.
The WhisperLite International features durable stainless steel legs and an aluminum mixer tube that keep the overall weight down. The package also includes a heat reflector, windscreen, fuel pump, small parts kit, and storage sack.
Check Current Price
Tech Specs
Fuel: Kerosene, white gas, unleaded gasoline
Average Boil Time: 3 minutes 30 seconds (white gas)
Burn Time: 110 minutes on 20 ounces of white gas
Dimensions: 6.5 in. x 5 in. x 4 in.
Weight: 10.9 ounces
MSR Dragonfly
While the WhisperLite International is lighter and more affordable, it can't hold a flame to the MSR Dragonfly when it comes to simmering backcountry cuisine.
The Dragonfly is hands-down the best liquid fuel stove for simmering. The stove offers two control valves — one to regulate the gas flow, another to dial-in a precise flame. That doesn't matter much if you're just boiling water, but it makes a hell of a difference when you're actually cooking.
In addition to offering the most adjustable flame of any liquid fuel stove on the market, the Dragonfly also offers an expansive range of liquid fuel compatibility. On top of the standard white gas, kerosene, and automotive fuel, you can use jet fuel, diesel fuel, stoddard solvent, and naphtha.
The Dragonfly's lightweight pump is durable and easy to adjust. The pump features a poppet valve, so you don't have to worry about breaking it when you remove the pump from the stove after you're finished cooking.
The legs spring open for a stable base when cooking, then fold compactly for easy storage. In fact, the entire stove fits inside an MSR cooking set (purchased separately), so it's pretty easy to stowe in your pack.
Like the WhisperLite International, the Dragonfly features a self-cleaning jet that makes it easy to maintain in the field and avoid clogs. It also comes with a heat reflector, windscreen, fuel pump, small parts kit, and storage sack.
Check Current Price
Tech Specs
Fuel: Kerosene, white gas, auto, jet, diesel
Average Boil Time: 3 minutes 30 seconds (white gas)
Burn Time: 126 minutes on 20 ounces of white gas
Dimensions: 6.5 in. x 5 in. x 3.5 in.
Weight: 14 ounces
Wood Stoves
When you're backpacking through the woods, why not let nature provide your fuel?
Wood stoves are gaining traction in the backpacking community, and for good reason. Instead of packing canisters of fuel, all you need is sticks and branches for kindling. There's no risk of fuel canisters decompressing or spilling, and you don't have to worry about a fragile stove breaking or clogging while you're on the trail. It's simple, lightweight, and affordable.
While a wood stove is fun, nostalgic, and provides you with the warmth and comfort of a fire at night, there are some drawbacks. It takes time to gather sticks, set up your stove, produce a good flame, and cook your meal — a frustratingly long process after a hard day's journey. It's also challenging to find fuel when you're above the treeline, and you'll have a really hard time igniting wet kindling during a rainstorm.
To alleviate these concerns, most backpackers carry an alcohol stove or Esbit tablets as a backup. If you're too tired to build a fire or can't find enough fuel, just put the alcohol stove or Esbit tablet inside the wood stove and let the wood stove act as a windshield and pot stand.
Pros
Fuel is free and doesn't waste pack space/weight
Renewable fuel resource
Fun and nostalgic
Cons
Slower cook times (though not as slow as alcohol or solid fuel tablets)
Heavier and bulkier
Tough to find twigs when you're above the treeline or in the rain
Blackens the bottom of your cookware
Doesn't perform as well in the wind and cold
You can't use them in a fire-ban area
Our two favorite wood stoves are the Solo Stove Lite and the Littlbug Junior, but they're not the only names in the game. If you're really into wood-burning backpacking stoves, check out our full article, Spark One: 7 of the Best Woodburning Backpacking Stoves.
Solo Stove Lite
The Solo Stove Lite is the most popular wood stove on the market. With a handful of twigs you can save the planet, save money, and never buy fuel again.
Built with durable 304 stainless steel, the Solo Stove Lite features a double-wall construction with superior insulation and stability. It's surprisingly lightweight at 9 ounces, and easy to pack by nesting the cooking ring inside the stove body for compact storage.
How does it work? First, the combustion process pulls air through the vent holes on the bottom of the stove. The air movement fuels the fire at the base, while simultaneously providing a boost of preheated air through the vent holes at the top of the burn chamber.
In the process, the ash pan catches loose ash to stop it from blocking the airflow, and also acts as a heat shield to keep from scorching the ground beneath the stove. The stove's nichrome wire gate allows oxygen to feed directly underneath the twigs and embers, helping your biofuel burn faster and hotter while catching the spent ash.
Next, the stove promotes a secondary burn through vent holes near the top of the burn chamber. As preheated oxygen fuels the flame, the stove produces a more complete combustion for a hotter fire with less smoke.
Finally, the heat proceeds up to the cooking ring where you'll center your pot for optimal heat efficiency. The cooking ring acts as a windscreen to boost performance in windy conditions, while still allowing oxygen through to fuel the flame.
Check Current Price
Tech Specs
Fuel: Wood
Average Boil Time: 8 minutes
Dimensions: 3.8" x 4.3"
Weight: 9 ounces
Littlbug Junior Stove
The Littlbug Junior Stove is the best wood-burning stove for ultralight backpackers. Weighing a hair over five ounces, the patented design is engineered to disassemble and roll into your sleeping bag without wasting any pack space.
The Littlbug Junior Stove is constructed with durable stainless steel. It provides a stable, versatile cooking platform. There's plenty of space inside to build a sizeable fire with twigs and kindling, or you can opt for a smoke-free fire by placing an alcohol burner inside the stove.
Curious how the Littlebug Junior Stove stacks up against the competition? Check out this quick study from Backpacking Light. The Littlbug Junior smashed the competition, beating out 10 other wood-burning stoves for the blue ribbon.
Littlbug also makes a slightly larger version of its popular wood-burning stove, the Littlbug Senior. If you're headed out on a backpacking trip with a larger group and need to prepare bigger meals, it may be worth the extra 14 ounces for significantly greater cooking capacity.
Check Current Price
Tech Specs
Fuel: Wood
Average Boil Time: 4 – 6 minutes
Dimensions: 6 in. x 5.5 in.
Weight: 5.1 ounces
Alcohol Stoves
Alcohol stoves once held the top spot for thru-hikers who prized their weight, compact profile, and affordability — plus it's easy to find alcohol fuel in small, remote towns. That said, they can be finicky and dangerous. Today, they're almost exclusively used by ultralight backpackers or carried as a backup for a more reliable backpacking stove.
Alcohol stoves are about as simple as they get. Pour the right type of fuel in a canister, light it, and sit back while the flame slowly heats your pot. Fuel is easy to come by, whether you go with denatured alcohol (ethanol, methylated spirits, marine stove fuel), methanol, or Heet. The stove itself is usually pretty affordable, and the fuel is even cheaper.
Alcohol stoves burn without any soot, smoke, or odors. The vapors are non-explosive, and they can be extinguished with water in an emergency. The fuel is also easy to transport and dispense in any plastic container.
Unfortunately, there are far more downsides than benefits for alcohol stoves. They cook slowly, and they don't use fuel very efficiently unless you have a windscreen. Even with a good windscreen, they perform poorly in cold, windy environments.
The biggest detractor for alcohol stoves: dangerous operation. The fuel burns blue and can be difficult to see, so you have to be extremely careful to avoid spills and burns. Always wait until the stove has fully burned out before handling it or refueling, and never use an alcohol stove in a fire ban area.
Pros
Ultralight and compact
Stoves and fuel are inexpensive
Quiet flame with no odor or smoke
No maintenance required
Easy to find fuel in the US (though it may be tough to find internationally)
Cons
Very slow cooking and boiling times
Burns through fuel quickly
No temperature/simmer control
Doesn't work in windy conditions
Doesn't heat pots well in extreme cold
Leaks and spills are a problem
You can't always see the flame very clearly
Banned from use in areas with a fire restriction
Given how easy it is to make your own alcohol stove, you'll find a ton of cheap options out there. Go with the Trail Designs Caldera Cone for the best quality and performance, or save some money with the simple, ultralight Solo Stove Alcohol Burner.
Trail Designs Caldera Cone
Thanks to its lightweight aluminum construction and fuel-sipping efficiency, the Caldera Cone has become the gold standard for ultralight backpackers.
There are a few variations of the Caldera Cone out there, but this one from Trail Designs is the best. Trail Designs handcrafts each Caldera Cone to match your specific backpacking pot, ensuring a perfect fit and optimal stability. The standard setup comes with a 12-10 alcohol stove, or you can opt for a Kojin stove.
The Caldera Cone has been hailed as the most efficient stove on the market thanks to a tailor-made design that completely encloses the pot and stove within the Cone. By uniformly transferring heat, you can milk every last BTU and maximize your fuel. Enclosing the pot and stove inside the cone also provides excellent wind protection.
The design provides a wide base with a stable support system, fully supporting your pot from the top of the cone and eliminating the need for a separate pot stand. The Caldera Cone features a bomb-proof dovetail closure system, and venting that's biased to one side for optimal use in windy conditions.
All in, the Trail Designs Caldera Stove comes with a custom-tuned stove with an integrated primer pan, a fuel bottle, a measuring cup, and a Caldera Caddy that you can also use as a mug or bowl. When you're ready to hit the trail, the Caldera Cone is a piece of cake to pack. The cone unfolds to pack flat, and the stove is small enough to easily stash anywhere in your pack.
Check Current Price
Tech Specs
Fuel: Alcohol
Average Boil Time: 5 – 7 minutes
Dimensions: varies
Weight: varies
Solo Stove Alcohol Burner
If the Solo Stove Alcohol Burner doesn't make the cut for your primary backpacking stove, it's the best choice for an ultralight backup stove.
The Solo Stove Alcohol Burner is incredibly lightweight and compact. It can boil 32 ounces of water in five to seven minutes. The Alcohol Burner is even faster when you use it inside of a Solo Stove Lite wood-burning stove, as it benefits from a more efficient air flow system. Given that, we'd highly recommend purchasing an Alcohol Burner as a backup stove if the Solo Stove Lite is your primary backpacking stove.
The Solo Stove Alcohol Burner offers a convenient flame regulator that's easy to control. The screw top cap features a rubber gasket for a tight seal, so you can store your fuel directly in the Alcohol Burner without worrying about springing a leak.
Whether the Solo Stove Alcohol Burner is your go-to backpacking stove or your backup, toss it in your emergency 72-hour kit at home when you're not on the trail.
Check Current Price
Tech Specs
Fuel: Alcohol
Average Boil Time: 5 – 7 minutes
Dimensions: 2.9 in. x 1.8 in.
Weight: 3.5 ounces
Solid Fuel Stoves
Like alcohol stoves, solid fuel stoves keep things as simple as possible. All you need to do is light a fuel tablet, prop your pot on a stand over the small flame, and wait patiently.
Solid fuel stoves run on Esbit Fuel Tablets that typically burn for about 12 minutes. They're non-toxic, environmentally safe, and don't produce any ash. There's no risk of spilling, and they're easy to extinguish for future use.
Sadly, the good news ends there. On top of long boiling times, solid fuel stoves don't perform well in the wind and cold. If your stove doesn't come with a windscreen, you'll definitely need to put together a makeshift screen for it to work. Fuel tablets are more expensive than other types of fuel, and they can be hard to find in stores. They also produce a noxious odor, and leave a sticky residue on the bottom of your cookware.
Given the pros and cons, solid fuel stoves usually don't make the best first choice. That said, they're a great backup option to throw in your pack, and an excellent choice for your emergency 72-hour kit when you're not on the trail.
Pros
Ultralight and compact
The stove itself is very affordable
Quiet operation
No risk of spills or leaks
You can extinguish a tablet and use it later
Cons
Slow cooking times
Fuel tablets can be expensive
Doesn't work well in the wind and cold
No temperature control
Leaves a residue on pots and pans
Creates an unpleasant odor
Hard to find fuel tablets when traveling
It makes sense to go with an Esbit stove when you're using Esbit tablets. Ultralight backpackers who adopt a minimalist approach will prefer the Esbit Pocket Stove for its weight and compact size. Backpackers who prefer an all-in-one solution will be better served by the Esbit Stove & Cookset.
Esbit Pocket Stove
Small, simple, and affordable, the Esbit Pocket Stove lives up to its name as a reliable pocket-size backpacking stove.
The Esbit Pocket Stove couldn't be simpler. When you're ready to cook, just unfold the stove, insert an Esbit solid fuel tablet, and position the arms for your cooking needs. The two-position design allows you to toggle between a direct flame that's ideal for boiling, and a low flame for slower, controlled cooking.
While the Esbit Pocket Stove is light, packable, and sturdy, the bare-essentials design means you'll have to construct your own windscreen to protect the flame while cooking.
Check Current Price
Tech Specs
Fuel: Esbit fuel tablets
Average Boil Time: 16 minutes
Burn Time: 12 minutes per cube
Dimensions: 4 in. x 3 in. x 0.75 in.
Weight: 3.25 ounces
Esbit Stove & Cookset
Fans of the Esbit solid fuel system who are looking for something a little more robust than the ultra-simple Esbit Pocket Stove will love the Esbit Stove & Cookset.
An all-in-one solution, the Esbit Stove & Cookset comes with a solid fuel stove, 20 fl.oz. pot, and mesh stuff sack. The hard-anodized aluminum pot and stove are lightweight, durable, and easy to pack by stacking the stove inside the pot.
Whether you're heating water or making a simple meal, you'll appreciate the pot's silicone-coated folding handles and easy to see ounce/millimeter markings. There's a small spout for smooth pouring, and a built-in windshield to protect your Esbit solid fuel tablets from windy weather.
Check Current Price
Tech Specs
Fuel: Esbit fuel tablets
Average Boil Time: 16 minutes
Burn Time: 12 minutes per cube
Dimensions: 3.4 in. x 4.4 in.
Weight: 7 ounces
How to choose the best backpacking stove
When you're shopping for backpacking gear, there usually isn't a single product that's best for everyone. Rather, there are a variety of products that may be the best choice under the right circumstances. Quality and dependability are important, but functionality is arguably the greatest factor.
Before you purchase a backpacking stove, take a few minutes to answer these questions:
Does your stove simply need a high flame to boil water for dehydrated meals, or do you need a low flame with simmer control to cook food?
What type of fuel do you prefer to use?
Will you be traveling anywhere that limits the type of fuel you'll have access to?
Are harsh winds going to be an issue when you're cooking?
Will you be cooking at high altitudes?
Will you be cooking at low temperatures?
Do you already have cookware that dictates the size and type of stove you can buy?
How important is pack size and weight?
It may take some time and thought to consider these questions, but the good news is as soon as you have your answers it should be pretty clear which backpacking stove is best for you.
For example, while canister stoves are widely popular in the United States, isobutane-propane is hard to come by abroad. As such, international backpackers are better off going with a liquid multi-fuel stove or alternative fuel stove (wood, alcohol, etc.) as these types of fuel are easily accessible all over the world.
Furthermore, international backpackers who will be camping and cooking at high elevations and colder temperatures need a backpacking stove that can handle harsh environments and altitude. Given these needs, a liquid fuel stove that uses white gas would be best.
It's important to address these issues before you purchase a stove, not after. If you jumped at a good deal on a popular canister stove before heading off to tackle Kilimanjaro, you'll quickly find yourself in hot water.
Actually, in this case you'd more aptly find yourself with a lack of hot water.
---