Sin City might be famous for its sky-high hotels and Cirque Du Soleil shows, but just outside of this unlikely desert hot spot are natural wonders galore.
Though most people probably don't think of Las Vegas as a good town for nature lovers or national park chasers, its central location between some of the most popular parks on the planet–Zion, Joshua Tree, and Grand Canyon–makes it a weekend warrior's mecca for exploring off the strip.
The parks listed below aren't all arid desert wastelands. In fact, it might surprise you that some of the parks closest to Vegas boast dense conifer forests and some of the most ancient trees on earth. That being said, the best visitation window for most of these national parks, with the exception of Great Basin and Bryce Canyon, is October through May. Especially if you want to avoid crowds and triple-digit temperatures.
Whether you're a seasoned local or a visitor hitting the slots on a five-day trip, there are plenty of phenomenal national park options for either a day trip or a quick overnight.
Related Read: 8 of the Most Beautiful National Parks in the U.S.
1. Grand Canyon National Park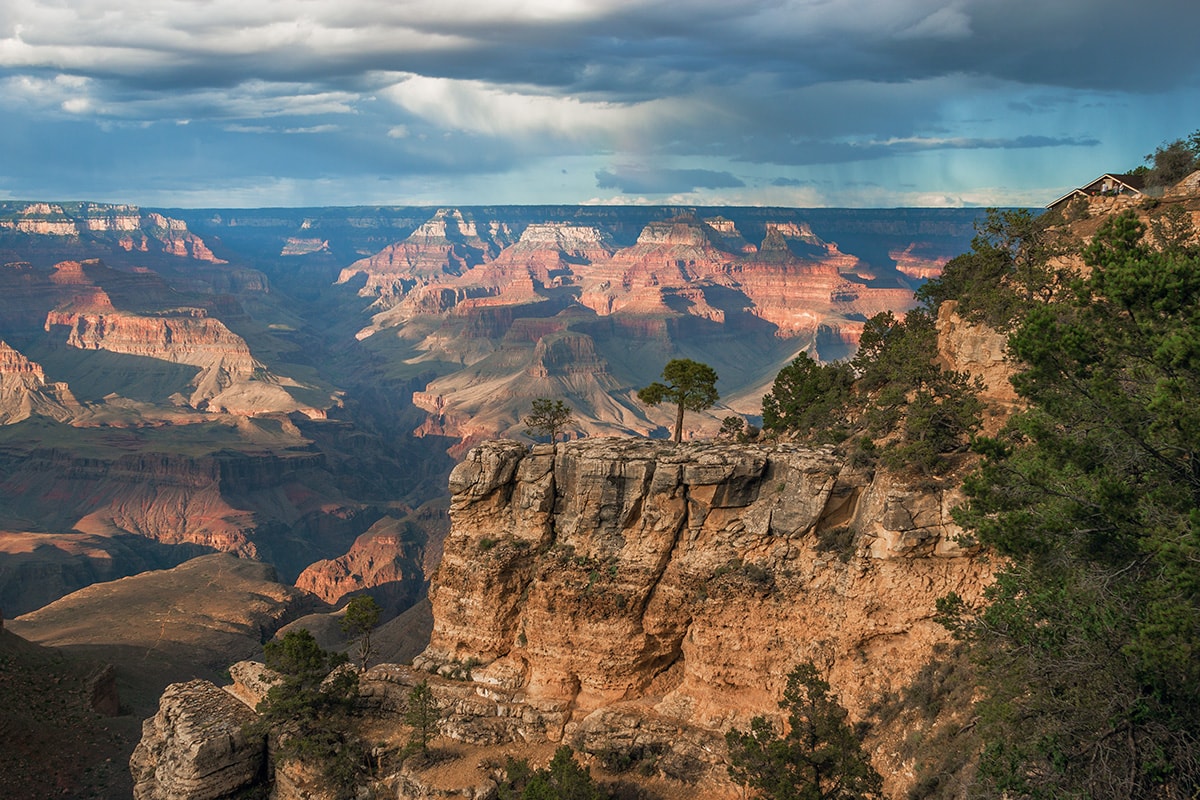 Why you should go: At just four hours' drive time from Sin City, this bucket list-worthy park is an awe-inspiring mainstay of the great American road trip.
Distance from Las Vegas: 4 hours (4.5 hours to the North Rim)
State: Arizona
Though, at first glance, four hours may seem like a schlep to get to a national park from Vegas, the drive meanders past Lake Mead, through countless flat top mesas in western Arizona, and past the heavily Route-66 influenced gateway town of Williams before landing at "The Big Ditch" itself.
However, if you're looking for a more direct route to the Grand Canyon, numerous half-day helicopter tours run directly from the Vegas Strip to the West Rim of the Grand Canyon, inside the Hualapai Indian Reservation (which is technically outside the park proper). Catching a bird's eye view of the scenery and enjoying a light lunch on the canyon floor, though, is magical no matter which rim you end up on.
Though we highly recommend spending at least one night inside the park to fully experience the wonders of the South Rim (and to make the round-trip drive time worth it), there are a few companies that book-out long day tours in luxury motorcoaches where you can snooze on the way to and from the canyon, then marvel at the mile-deep crimson red sandstone or check out the historic art at Kolb Studio.
2. Death Valley National Park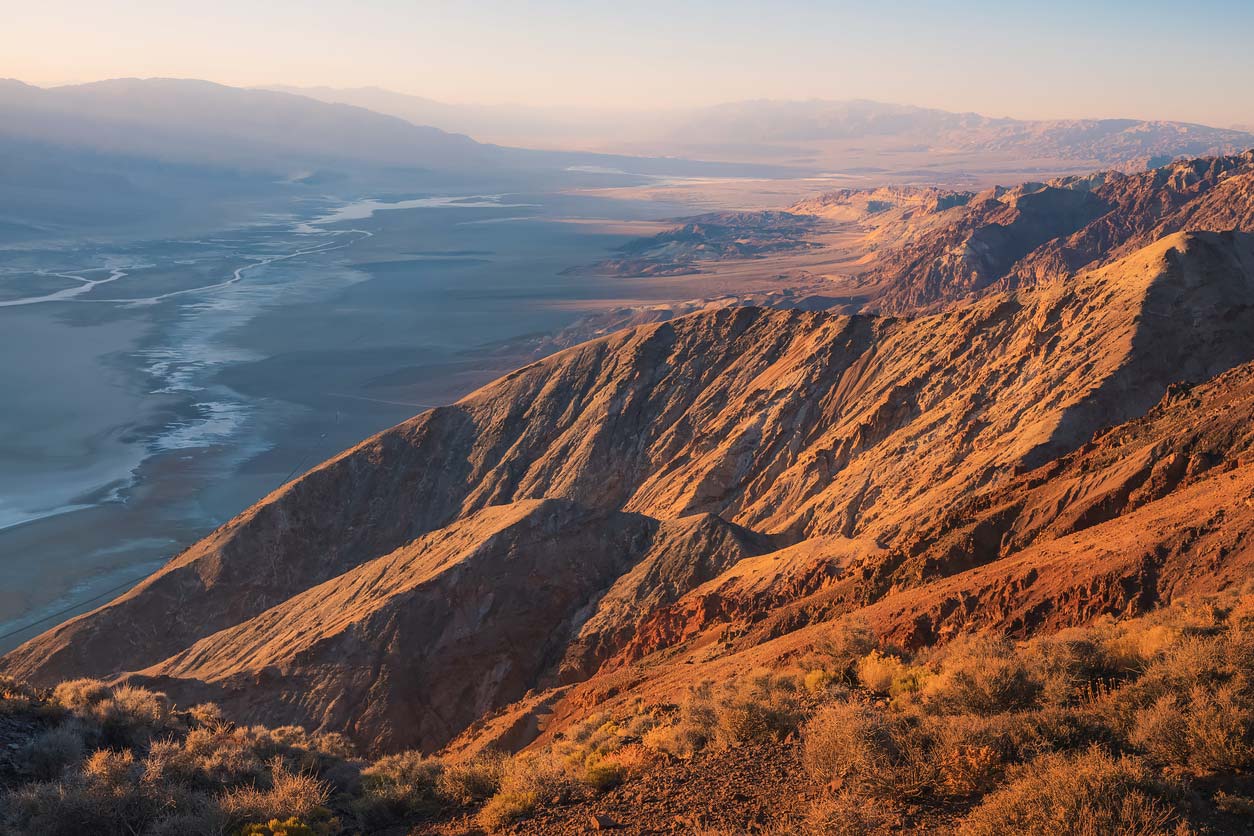 Why you should go: Experience the largest, hottest, lowest park in the contiguous United States to round out your Nevada desert experience.
Distance from Las Vegas: 1 hour 45 minutes
State:

 California and Nevada
This is not a road trip for those sweltering summer months, but if you happen to be visiting Las Vegas in late fall, winter, or spring, Death Valley is the perfect excuse to get away from the metropolis for a day or two and enjoy some of nature's most astounding geological wonders.
While it isn't a park for avid wildlife seekers, Death Valley holds its own against the best of 'em when it comes to striking mountains, colorful viewpoints, and breathtaking sunsets. Meander through hexagonal salt flats at Badwater Basin, 282 feet below sea level. Crunch your boots across salt and mineral crystals at Devils Golf Course, or drive across the massive park to tumble around on the Mesquite Flat Sand Dunes.
If you've got time to spend the night, grab a cocktail at maximalist Wild West outpost, Last Kind Words Saloon, or catch a tour and a show at the quirky Amargosa Opera House. The fabulous Oasis at Death Valley just announced their all-new Ranch Cottages, for discerning travelers who'd like a touch of privacy and class during their stay.
3. Zion National Park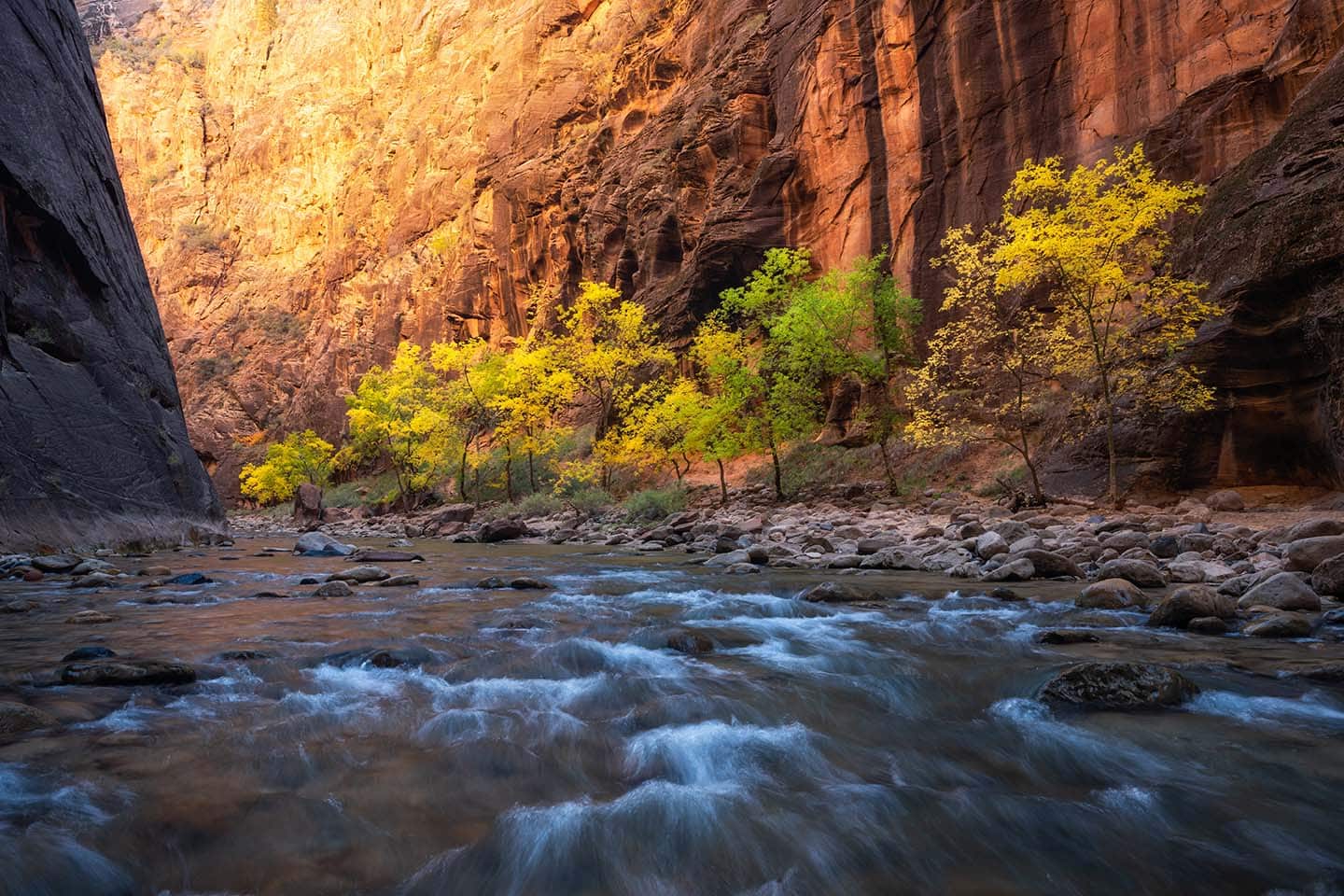 Why you should go: This striking red canyon of Navajo sandstone is full of opportunities for casual and hardcore hikers alike.
Distance from Las Vegas: 2 hours 30 minutes
State: Utah
As one of the most visited national parks in the country (the site hit number two in 2021 with just over 5 million visitors), Zion is a must-see for any public lands lover who wants to experience the most postcard-worthy red rocks out there. And, if you happen to be visiting Las Vegas during the winter season, you might even be able to drive your own car in, no shuttle required.
Most travelers to Zion National Park from Las Vegas will drive a scenic 2.5 hours through St. George, Utah, and then start their journey at the visitor center, to hitch a ride on one of the park's necessary free shuttles. From there, you can check out classic sights like The Narrows, Court of the Patriarchs, and the accessible Pa'rus Trail. If you're brave (and lucky enough to snag a permit), seasoned hikers might want to tackle the infamous Angels Landing Trail.
If you're short on time or don't want to rent a car, there are a few companies that offer day trips up to this phenomenal landscape of craggy, blood-red rock, complete with a trip out to the eastern edge of the park to gaze upon Checkerboard Mesa. Prefer a more old-timey transportation method? Zion is one of the many parks in the U.S. that allows horseback riding within its boundaries.
4. Bryce Canyon National Park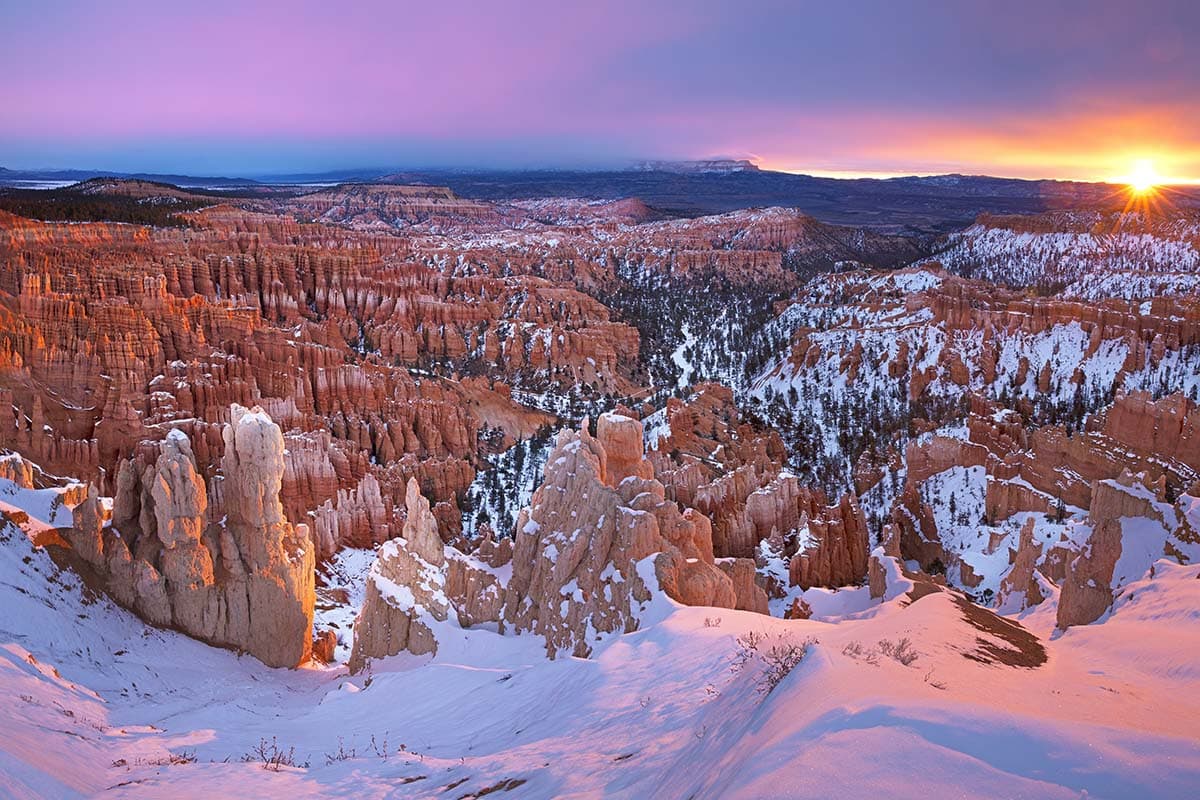 Why you should go: Perhaps even more Mars-like than Zion, Bryce Canyon is an unforgettable rust-orange landscape full of spires and rocky hoodoos.
Distance from Las Vegas: 4 hours
State: Utah
"It's a hell of a place to lose a cow" is what Ebenezer Bryce, the park's namesake Mormon immigrant, once said of the now-famous natural wonder that draws millions of visitors each year to its vermillion sandstone pinnacles and whimsical hoodoo formations.
If you're looking to tackle a couple of Utah's most notorious red rock national parks from Las Vegas, we highly recommend visiting both Zion and Bryce Canyon in a two-night road trip that's perfect for weekend warriors. From Vegas, you'll pass right by Valley of Fire State Park, then hit the adventure mecca of St. George before hitting Zion and, of course, Bryce Canyon.
Once inside the park, out-of-this-world nature awaits. Take in the sun's first rays at the aptly named Sunrise Point, then traipse across one of the park's spectacular trails that dips below its steep rim, like Queens Garden or the Peekaboo Trail. If you're not so into hiking, the park's concessioners also offer a bevy of guided scenic horseback rides.
5. Great Basin National Park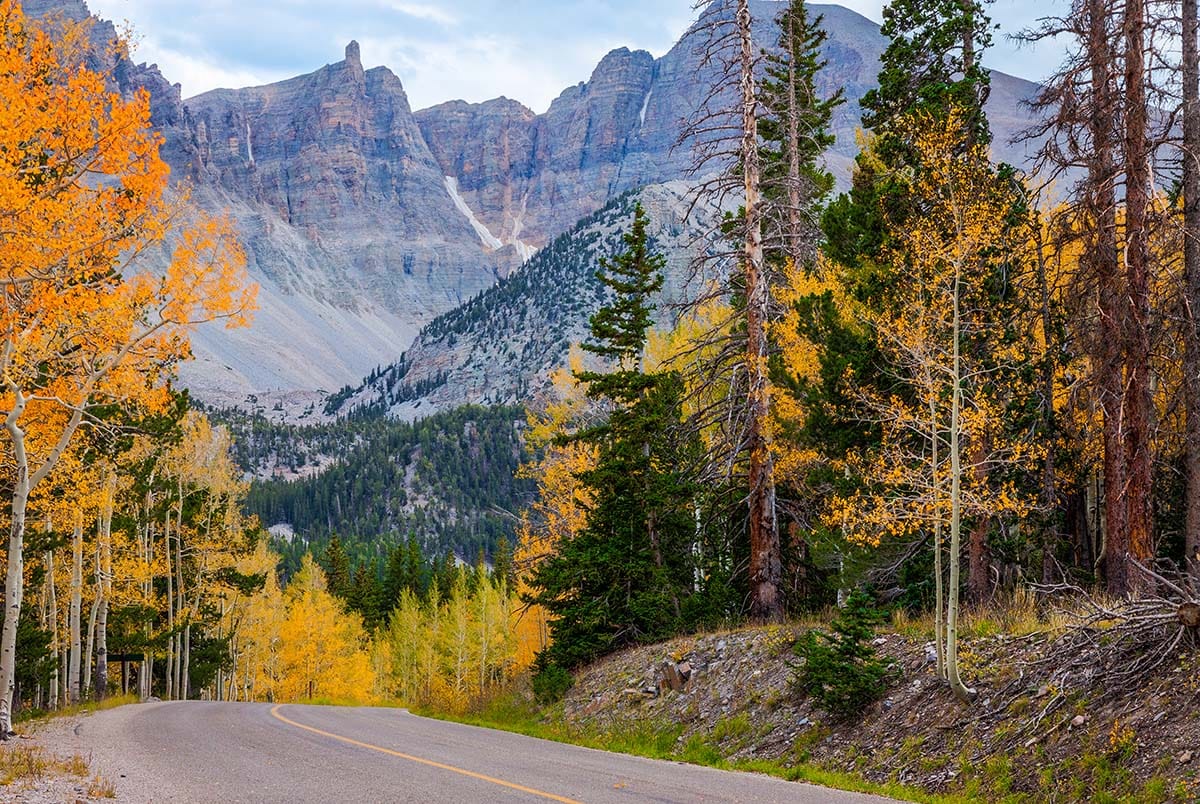 Why you should go: Nevada isn't all desert and no trees; enjoy epic views of Wheeler Peak and stroll through an ancient bristlecone pine forest.
Distance from Las Vegas: 4 hours 30 minutes
State: Nevada
Great Basin is one of those odd sleeper parks that doesn't make any sense, once you've paid it a visit. Sure, it's far out there, but the stunning night skies and lack of crowds that come from its remoteness help give intrepid travelers here a taste of what the national parks once were, before they became so Instagram-famous.
If forest bathing in a grove of some of the oldest living things on the planet sounds like a good time, then this is the national park for you. Great Basin is one of the few places on earth that boasts a healthy population of bristlecone pines, and the 2.8-mile (round trip) trek to the base of 13er Wheeler Peak and its gnarled grove of ancients is a fantastic way to introduce yourself to this storied landscape.
If you're feeling frisky, tack on an additional 1-mile (each way) to check out the only glacier in Nevada.
Because it's so far north from Vegas, Great Basin is a wonderful park to visit in tandem with one of the Utah parks on this list, as the route to get there passes right by both Zion and Bryce Canyon. If you've got the time to make it a multi-day adventure, try to nab tickets for a tour of the Lehman Caves and grab a pastry at Sugar, Salt, & Malt in the tiny town of Baker.
Related read: 7 Epic Things to Do at Great Basin National Park
6. Joshua Tree National Park
Why you should go: Home to high desert bohemian vibes, giant boulders, and great hiking trails, Joshua Tree is a decades-long favorite for a reason.
Distance from Las Vegas: 3 hours 20 minutes
State: California
Though it's more commonly hailed as a winter and spring road trip destination from the sunny city of Los Angeles, Joshua Tree is an incredibly manageable weekend-warrior distance away from Las Vegas as well. Plus, the drive there offers the opportunity to stopover at desolate (but stunning) Mojave National Preserve.
Once settled in one of Joshua Tree's funky gateway towns (Twentynine Palms and Palm Springs are very popular), you'll be free to wind your vehicle past comically massive boulders, Seussian yucca "trees," and rock climbers hoping to send the gnar. Hoping to get onto the monzogranite yourself? Many reputable companies in town guide full- and half-day climbing trips for climbers of all levels.
Of course, the hiking in J Tree is pretty stellar as well. History buffs will love the 6.7-mile journey to Lost Horse Mine, while adventurous nature lovers might prefer the 3-mile trek over to Fortynine Palms Oasis. When you're done exploring the park, sip on a local craft beer at Joshua Tree Brewing or get your high desert hippie on at the Integratron.
More National Park Adventures
Get epic travel ideas delivered to your inbox with Weekend Wanderer, our newsletter inspiring thousands of readers every week.
Was this article helpful?
---