We research, evaluate and select travel destinations based on a number of factors, including our writers' experience, user reviews and more. We may earn a commission when you book or purchase through our links. See our editorial policy to learn more.
---
Glacier National Park is one of the most beloved and most visited parks in America, and great area for glamping!
Fluffy white mountain goats, enormous grizzly bears, and car-size moose roam freely in its 1,012,837 acre expanse. Add to that the parks namesake glaciers that melt dramatically into turquoise blue lakes amidst a backdrop of sprawling, verdant mountains, and you've got a recipe for one epic, nature-centric vacation.
But because the park is so far north, its typical visitation window is short (summer through fall), and the park has recently instituted a vehicle reservation system for every car venturing into Glacier during high season. Plus, the park is surrounded by other protected areas, like the Bob Marshall Wilderness Complex and the Blackfeet Indian Reservation, making lodging close to the park hard to come by.
Luckily, we've done a bit of the heavy lifting for you and narrowed the contestants down to this list of 11 magical glampsites near Glacier National Park. They're all excellent bets for when you want to rough it, but not too rough.
1. Wander Camp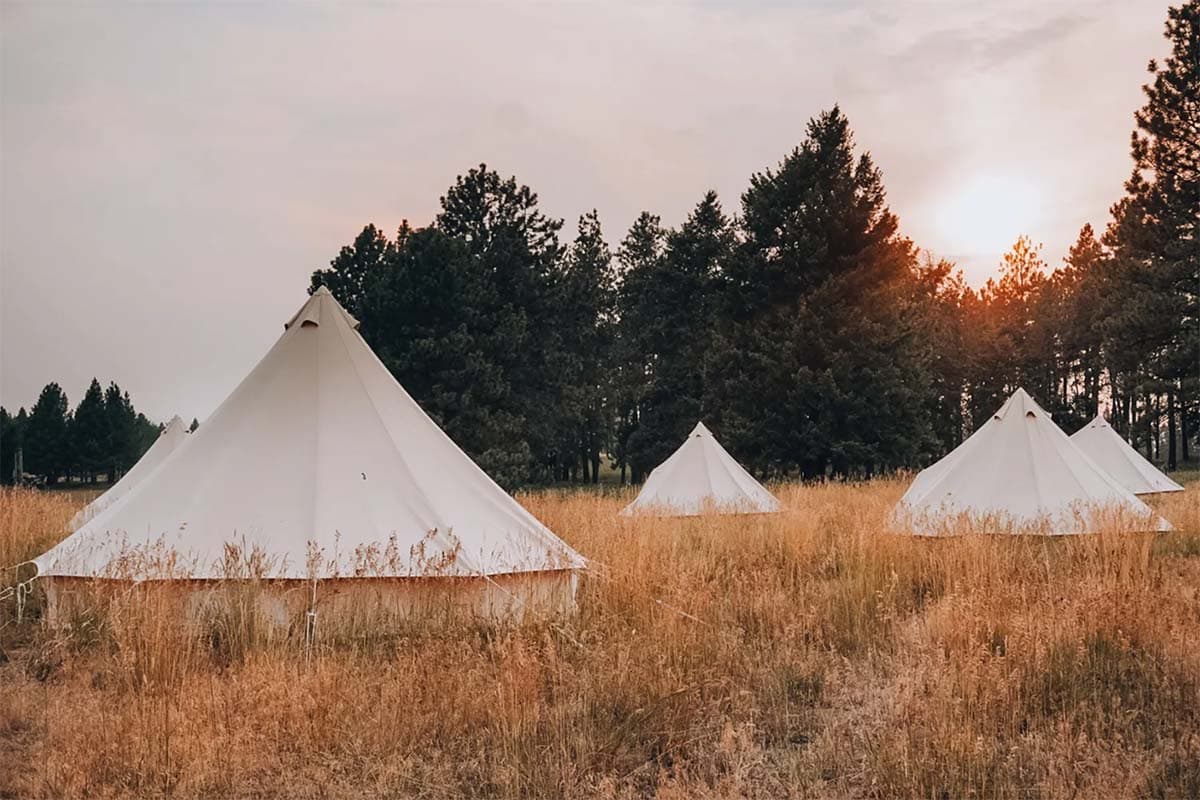 Why you should stay: Located just ten minutes from West Glacier, this enclave of cozy bell tents is a cozy, off-grid mecca.
Location: Coram
Sleeps: 2
Minimum stay: 1 night
Rates from: $139/night
Wander Camp, which offers twin, family, and king-sized canvas tents is the perfect escape for when you want to camp, but you don't want to lug around all that pesky gear.
First off, it's about as close as you can get to the park proper, a mere 10 minute drive from the sights and sounds of the western entrance of Glacier. Each tent is outfitted with real beds, plush mattresses, high thread count linens, and solar lanterns for reading and hanging after the sun goes down. The entire property is eco-friendly and off-grid.
Bathrooms at Wander Camp are shared, but do feature modern amenities like a flush toilet, sink with running water, and warm showers. Plus, with this epic location, your crew could paddleboard Lake McDonald and still be home in time for dinner!
Check Availability
Related Read: 9 Epic Glamping Sites Near Yellowstone National Park
2. Under Canvas Glacier
Why you should stay: One of the premier camping brands in the U.S., Under Canvas Glacier features luxe amenities, stylish tents, and an extraordinary location.
Location: Coram
Sleeps: 2+
Minimum stay: 1 night
Rates from: $219/night
Under Canvas is fast becoming the go-to for discerning, parks-loving travelers who want an elevated glamping experience with fabulous amenities.
Their Glacier location offers much of what you'd expect from this storied company–plush bedding, West Elm furnishings, organic bath products, wood-burning stoves, and the option to upgrade to a family-sized tent or pay extra for an ensuite bathroom. All this, just 10 minutes from the national park by car.
But the fun doesn't stop there. Under Canvas prides itself on having a bevy of communal amenities at each location. So, pull up a chair, grab a complimentary s'more, enjoy free morning yoga, or dine at the on-site Embers Café.
Check Availability
Related Read: 8 of the Most Beautiful National Parks in the U.S.
3. HeartSong Farms Vintage Airstream
Why you should stay: This chic Airstream blends excellent design, mountain views, and a bubbling hot tub to create an unforgettable stay.
Location: Kalispell
Sleeps: 4
Minimum stay: 1 night
Rates from: $130/night
When you want to commune with nature, but you don't want to sleep surrounded by canvas walls, renting a hip vintage trailer for the weekend might be just what the doctor ordered. The folks at HeartSong Farms have lovingly restored this vintage Airstream named "Cherry".
Overlooking the Swan Mountains, the trailer is bordered by greenery and views, plus a private hot tub and fire pit for guests to use. Inside, there's a cozy seating area, a small kitchen, bunk beds, and a private bathroom with hot shower (a must on those sweaty hiking days).
Check Availability
4. The Little Mossy Cabin
Why you should stay: Immerse yourself in the verdant woodlands of northern Montana at this adorable tiny cabin.
Location: Bigfork, Flathead Lake
Sleeps: 2
Minimum stay: 1 night
Rates from: $77/night
The Little Mossy Cabin is one of those rare gems that's got a great location, charming design, and won't break the bank.
Open year round, the cabin is just a stone's throw from enormous Flathead Lake, a haven for anglers and boaters. Out front, there's a screened-in porch that's perfect for cozying up with a good book, and inside the cabin, guests will find a small cold water sink, mini fridge, cooktop, and queen bed. Beyond that, there are numerous outdoor seating areas for two, including a wood-fired stove for those chilly stargazing nights.
The best part? This diamond in the rough is only 45 minutes from Glacier National Park.
Check Availability
5. Glamping Tent with Glacier Views
Why you should stay: Enjoy epic outdoor amenities, comfy beds, and views of Glacier from this two-tent retreat.
Location: Polebridge
Sleeps: 2
Minimum stay: 1 night
Rates from: $120/night
This private little glampground has two different tents available to book, both with funky bohemian design, space heaters, large plush beds — can be converted to two twins on request — and small sitting areas for unwinding after an epic day in the park. Bonus: they're pet-friendly!
Outside, visitors will find a shared outdoor dining area, a communal fire pit, and a shared bathroom with a composting toilet and hot outdoor shower. Love playing chef in the great outdoors? There's also a primitive camp kitchen with a grill, propane stove, and coolers (on request).
Soak up the quiet side of Glacier National Park and explore the epic lakes, mountains, and trails that Polebridge has to offer — just don't forget to grab a huckleberry bear claw at the Mercantile on your way out!
Check Availability
6. The Resort at Paws Up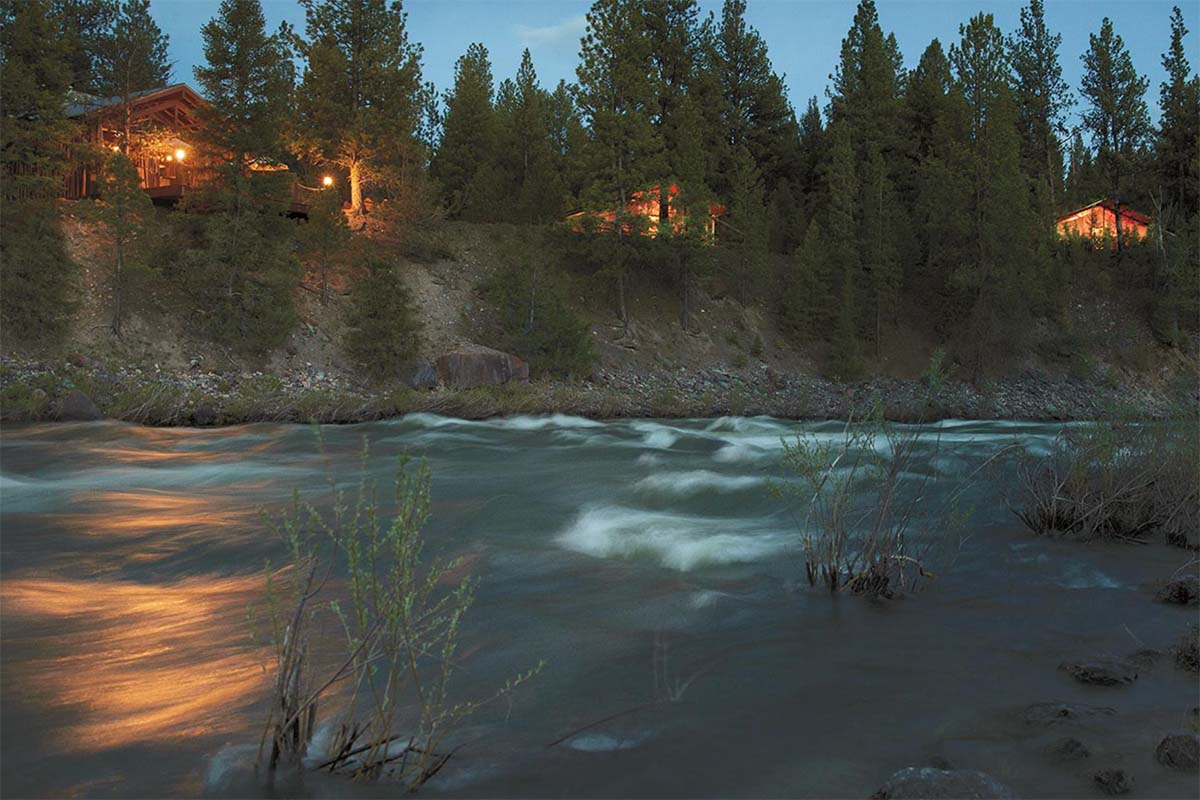 Why you should stay: Easily the most luxurious glamping resort in the entire United States, The Resort at Paws Up puts style, scenery, and service above all else.
Location: Missoula
Sleeps: 2+
Minimum stay: 3 nights
Rates from: $1,560/night (meals and drinks included)
For outdoor-loving families celebrating a special occasion or couples feeling splurgy, there's no better place to unwind than at Paws Up, a family- and pet-friendly resort which boasts epic dining, unparalleled Wild West excursions, and gorgeous safari-style tents.
Each of the location's "camps" features a communal dining pavilion, with a wood-burning fireplace, epic food and cocktail options, and nightly s'mores fiestas. A camp butler stays on site and caters to every whim of the groups staying in that cluster of tents. Each tent is tastefully adorned with gorgeous woodsy furnishings, high thread count linens, and private bathrooms with flush toilets and rain-style showerheads.
But one of the coolest things about this glamping mecca (situated 2 hours from Glacier by car) is that it is, essentially, its own private national park, with 37,000 acres for guests to explore. Go for a miles-long trail ride with experienced cowgirls or take a UTV tour to an abandoned ghost town.
Check Availability
7. The Mooseshroom Tipi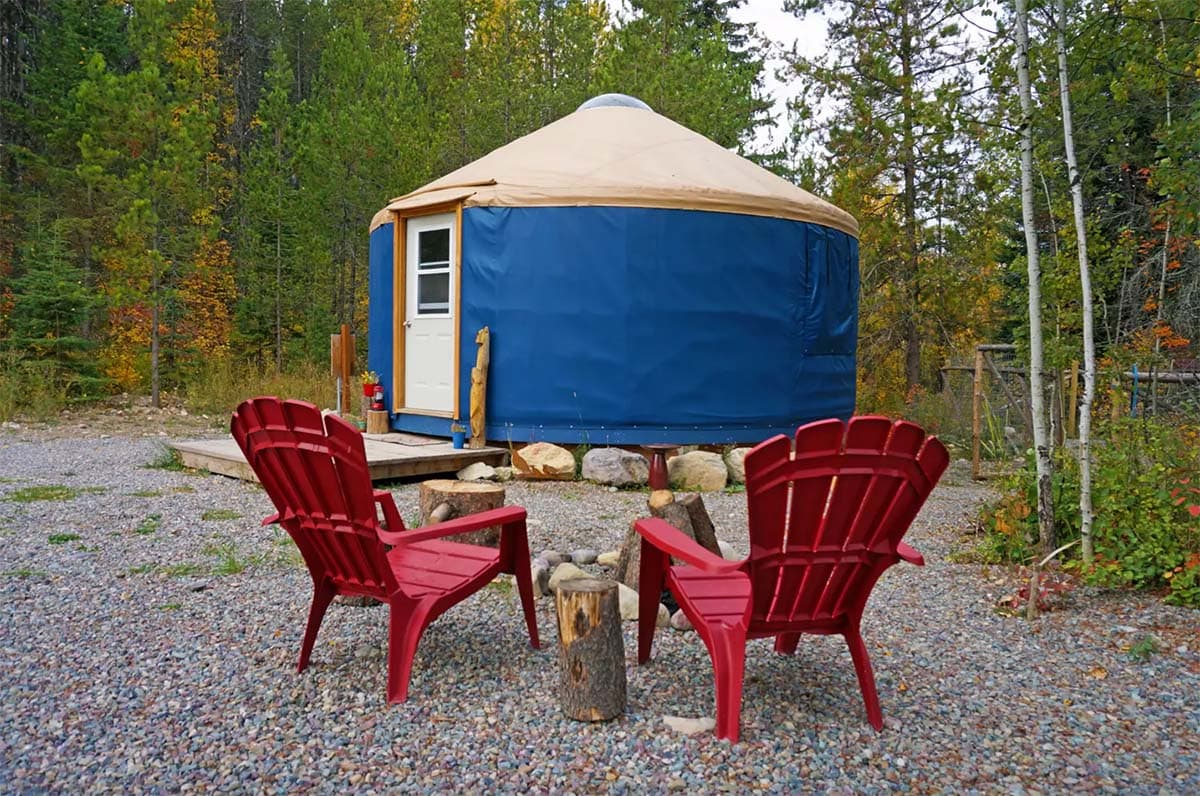 Why you should stay: This simple tipi is cozy, waterproof, and set on a property brimming with great amenities, all 10 minutes from the park.
Location: Coram
Sleeps: 2
Minimum stay: 1 night
Rates from: $99/night
The Mooseshroom is an adults-only (21+) private campground set in the cute town of Coram, about 10 minutes from Glacier's west entrance station. The area is home to several car camping sites, sure, but when you don't want to haul around a ton of gear, the host, Terri, has constructed a few glamping options like this comfortable, pet-friendly tipi for two.
Though its interior is simply designed (think twin air mattresses, a camp table, and a bean bag chair), it's the communal amenities here that make the space so worthwhile, like a shared bathhouse with hot showers, clean towels, and flush toilets, just steps away from the tipi. There's also a well-stocked kitchen, a large fire pit (wood included for free), and a s'mores bar to treat yourself after a big hike in the hills.
Check Availability
8. Penny Tiny House with Glacier Views
Why you should stay: Wake to incredible mountain views from this quaint, colorful tiny house right outside the park.
Location: Polebridge
Sleeps: 4
Minimum stay: 2 nights
Rates from: $125/night
This off-grid tiny house is the perfect escape for families or couples who want to explore the quiet side of Glacier National Park but aren't afraid to rough it a little bit.
First of all, there's minimal water and no electricity at this listing; it's a place designed for guests to truly unwind with the ebbs and flows of the sun. The host provides coffee, tea, and breakfast cereal so that you can relax and have slow mornings in bed before jetting off to visit Glacier. There's also a small cooking stove and a propane heater for evenings back at camp.
Outside, enjoy the private fire pit and the sounds of a gently burbling creek winding through the forest and feel a million miles from anywhere.
Check Availability
9. Bar W Guest Ranch Glamping Tents
Why you should stay: Enjoy a quintessential Montana dude ranch experience, all while staying a mere 45 minutes from Glacier National Park.
Location: Whitefish
Sleeps: 2+
Minimum stay: 6 nights
Rates from: $3,535/week (all-inclusive package)
Sure, it's pricey. But Bar W is a time-honored dude ranch outside of Whitefish, Montana that gives families and groups of friends the opportunity to kick back, relax, and experience a bit of authentic Wild West culture.
Each of the property's luxury glamping tents has a queen-sized bed, a private porch, a fridge, and a coffee maker, plus the rates listed on their website are inclusive of all food, horseback riding, and non-horse activities.
Hang your hat on a rustic four-poster bed and enjoy the crackle of the campfire beneath the Milky Way in Big Sky Country.
Check Availability
10. Stargazer Earthen Home
Why you should stay: Embrace your inner hobbit and snuggle up inside this tube-shaped earthen home mere minutes away from West Glacier.
Location: Coram
Sleeps: 2
Minimum stay: 1 night
Rates from: $100/night
Indulge your inner hobbit (and fuel your Instagram feed) at this completely adorable concrete earthen home. Thoughtful skylights cut into the rounded ceiling for the ultimate in-bed stargazing or forest bathing experience, all from the comfort of a lovely queen-sized memory foam bed.
Outside, guests have access to a picnic table, fire pit, and "the coolest vault toilet you'll ever see." Spoiler alert: it's got a view and an old-school crescent moon on the door. The site is nestled in the tiny town of Coram, ten minutes to Glacier by car.
Check Availability
11. The Glacier Yurt
Why you should stay: A private deck, cozy bedding, and great communal amenities make this yurt a phenomenal stay for couples visiting Glacier.
Location: Coram
Sleeps: 2
Minimum stay: 1 night
Rates from: $169/night
Yet another awesome stay from The Mooseshroom (a 21+ adults-only retreat), this private yurt is a bit more refined than the tipi mentioned earlier. Newly constructed, with a skylight and a queen bed, the 12' yurt is close to some sincerely awesome communal amenities that its host campground offers.
Cuddle up with a good book in one of the property's hammocks, enjoy the two fire pits (wood included for free), or fix up a feast at the shared kitchen. A few steps away from the yurt's private deck is a communal bathhouse, complete with clean towels, flush toilets, and hot showers.
Check Availability
More National Park Travel Inspiration
Get epic travel ideas delivered to your inbox with Weekend Wanderer, our newsletter inspiring thousands of readers every week.
---