Territory Supply is reader-supported and may earn a commission when you book or purchase using our links. Learn more about our editorial policies here.
---
Dark skies, scraggly trees, and stacked brown boulders lure rock climbers, hikers, and stargazers alike to Joshua Tree National Park.
But you can also add these great glamping spots near Joshua Tree to your list of reasons to visit.
Just a short two-hour drive from Los Angeles, Joshua Tree is ideal for a quick overnight getaway or weekend trip. And while camping under the stars is the preferred way to experience all the park has to offer, the small desert community has dozens of distinct rentals offering a bit more comfort, character, and charm.
When choosing what month to visit, know that this is a high-desert environment. Joshua Tree straddles the Mojave and Colorado deserts and experiences a wide range of temperatures. Summers routinely top 100 degrees with little shade. Winter ushers in daytime highs of 60 degrees with temperatures dipping into the 30s after nightfall. It can even snow.
So if you're looking for a little adventure (some of these listings are off-grid glamping, after all) you'll find airstreams, yurts, tents, and tipis among the many airbnb choices near Joshua Tree.
Related Read: 14 Epic Campgrounds Near Los Angeles, California
1. Magical Airstream
Why you should stay: An intimate and secluded desert hideaway.
Sleeps: 4
Minimum stay: 1 night
Rates from: $269/night
You'll likely spend more time outside on the deck grilling under the sparkle of cafe lights and gazing at the stars than you will inside this cozy 25-foot-long Flying Cloud Airstream. And that's certainly no knock on the tidy, cigar-shaped accommodation: it sleeps a small family and features all the comforts of home. You'll just want to enjoy the quiet solitude and the magic of the night sky before heading in.
Sitting on 1.5 acres and just 10 minutes from the entrance of Joshua Tree National Park, Magical Airstream is a peaceful retreat with an expansive outdoor living space that includes a gas grill, fire pit, and stock-tank dipping pool. Even if you're not a morning person, be sure to set the alarm so you can take in the stunning sunrise — with a French press coffee in hand, naturally.
Check Availability
Related Read: 9 Amazing Glamping Spots Near Los Angeles, California
2. Joshua Tree Tents
Why you should stay: Chill at a communal adults-only compound with a pool.
Sleeps: 2
Minimum stay: 1 night
Rates from: $85/night
Tent camping has always been the best way to experience Joshua Tree's glorious sunrises, fiery sunsets, and star-filled sky. For those who don't want to pitch their own, there is the opportunity to camp in safari-style comfort at Joshua Tree Tents. It's also one of the more affordable spots for glamping near Joshua Tree.
Consisting of five tents (groups can rent the property out as a single unit), it's a communal compound sharing a large pool, barbecue area, bathrooms, and showers. Individual tents are outfitted with either a queen bed or two twins and each has a kitchenette. The property sits on five acres and is just two miles from the park entrance. This is a no-smoking property and guests must be over 18.
"Joshua Tree tents is a getaway to be under the stars and forget about home for a little bit. The location is perfect and the lot is well used for the guests accommodations."
Check Availability
3. The Joshua Tree Hangout
Why you should stay: Melt away the stress in a cozy and cool igloo hut.
Sleeps: 3
Minimum stay: 2 nights
Rates from: $125/night
If you're looking for some unique glamping near Joshua Tree, the Desert Igloo is for you. The Joshua Tree Hangout is an earthy, remote escape a little off the beaten path. Located down a bumpy, dirt road (4WD isn't necessary), the earthen dome "igloo" serves as the sleeping space with an outdoor area to serve as your living space. That includes a full kitchen with a fire pit and an open-air shower. The hangout is ideal for someone looking to unplug.
Check Availability
Follow 'em: @thejoshuatreehangout
4. Marbella Lane
Why you should stay: Luxurious digs and stargazing from bed.
Sleeps: 2
Minimum stay: 3 nights
Rates from: $482/night
Now this is a bubble you won't mind staying in. After a long day hiking and exploring the park, return to Marbella Lane and fire up the barbecue before settling in to stargaze from your bed through the clear roof. This is as unique as weekend rentals come.
The off-the-grid bubble structure houses a queen bed and includes a space heater for those cool desert nights. A smaller bubble structure serves as the bathroom. While there's no hot water for the sink, you'll be relieved to know that the outdoor shower runs on propane and can provide 30 minutes of hot water.
"The glamping space they set up was wonderful. The location was up against some rocky hills with no one behind or to the side of you which was great for hiking and privacy."
Check Availability
Additional Read: 9 Airbnbs in Malibu for Your Next Beach Vacay
5. The Luna Bell Tent
Why you should stay: A Bohemian camp packed with fun and games.
Sleeps: 4
Minimum stay: 2 nights
Rates from: $115/night
Seven miles from town and twice that distance to the park entrance, this secluded camp comes with spectacular mountain views and a whole lot more. Dubbed the High Desert Hideout, it's a 2.5-acre Old West-style town, complete with a courtyard and stage, saddle bar, makeshift movie theater, above-ground swimming pool, and plenty of games to pass the time. Billiards, darts, or horseshoes, anyone? There are a handful of stays on property, but the no-frills Luna Bell Tent brings you the closest to sleeping in the wild.
Check Availability
6. Stargazing Yurt #2
Why you should stay: Treat yurt self: it's luxury lodging under the stars.
Sleeps: 4
Minimum stay: 1 night
Rates from: $150/night
Nomads in Central Asia have lived in yurt dwellings for thousands of years. Here in America, our history with the structures dates back just half a century. And even then, yurts really only gained popularity in recent years when they began popping up as quirky camp alternatives near public lands.
You can experience yurt life yourself at 29 Palms Ranch. Rent one of the ranch's five well-appointed authentic Mongolian yurts and reconnect with nature while making s'mores on your private fire pit. Following dinner and dessert, retreat to your yurt to enjoy its most magical feature: the "toono" (skylight), which lets you stare up at the star-filled night before dozing off.
"My girlfriend and I had an incredible two night stay! We were looking for a rental that would allow us to reconnect with the natural wonders around us, and it absolutely delivered."
Check Availability
Related Read: 10 Gorgeous Joshua Tree Airbnb Rentals with Pools
7. Golden Moon Tipi at Lazy Sky
Why you should stay: Enjoy blazing sunsets and starry skies while sleeping in a plains-inspired tipi.
Sleeps: 2
Minimum stay: 1 night
Rates from: $150/night
Bring a telescope and star guide: you're gonna need them. Sitting on 10 acres in the middle of a Joshua Tree forest, the Golden Moon Tipi is the perfect spot to truly immerse yourself in the unique landscape. Part of the Lazy Sky Boutique Retreat, a collection of five tents and tipis, Golden Moon is communal living with a shared indoor kitchen and picnic area with barbecue. The tipi itself is a bit bare bones – a bed, sitting area, and Yeti cooler – but the experience of spending the night in Southwest-inspired quarters is too good to pass up.
Check Availability
8. Modern Airstream
Why you should stay: Keep comfortable in a pristine, climate-controlled airstream.
Sleeps: 2
Minimum stay: 1 night
Rates from: $161/night
The temperatures in California's high desert fluctuate wildly, so it's a treat to come across an opportunity for glamping near Joshua Tree that comes with misters, a shade structure, a stock-tank dipping pool, and air conditioning. The Modern Airstream has all that plus a furnace for when it does actually get chilly.
Ideal for couples, the tidy airstream has a kitchen with a propane stove top and microwave, or you can cook outside on the outdoor grill. A library with local guide books will help you prepare for your Joshua Tree adventure, while evenings on the patio mean winding down and watching a movie on the projection screen or playing a game of giant Jenga. Up to two dogs are allowed, though you'll have to keep them off the furniture.
Check Availability
Follow 'em: @adventurejoshuatree
9. Sunset Road Trailer
Why you should stay: Go back to the '80s as you relax and stargaze from a bubbling hot tub.
Sleeps: 2
Minimum stay: 2 nights
Rates from: $217/night
Hot tub, and hammocks, and horseshoes; oh my! With an orange racing stripe down the side and fire-streaked end-of-days sunsets, the Sunset Road Trailer is a bright spot in a barren landscape. Just 15 minutes from the park's west entrance, the vintage trailer is completely modernized in spectacular fashion. So whether you want to unplug and chill with a glass of champagne in the hot tub while gazing at the Milky Way or stay connected and watch Netflix, you'll feel right at home. It's both retro and modern – the perfect quirky blend for the desert.
Check Availability
Follow 'em: @JoshuaTreeEscapes
10. Moon Camp
Why you should stay: A spacious retreat where you can take advantage of the area's Dark Sky Park status.
Sleeps: 6
Minimum stay: 1 night
Rates from: $219/night
Even though it's run by solar power and propane, the off-grid Moon Camp is anything but rustic – quite the contrary, actually. With space to comfortably sleep a decent-sized group and a dog friendly designation, the three-structure lunar-inspired camp includes the roomy dome house (a full-on apartment with a loft) and two converted shipping containers. One serves as a cheery additional sleeping space while the other is a relaxing, celestial lounge. The chill outdoor space is centered around the fire pit, a pair of hammocks, and a telescope for late-night space exploration.
Check Availability
Follow 'em: @mooncampjoshuatree
11. The Land Yacht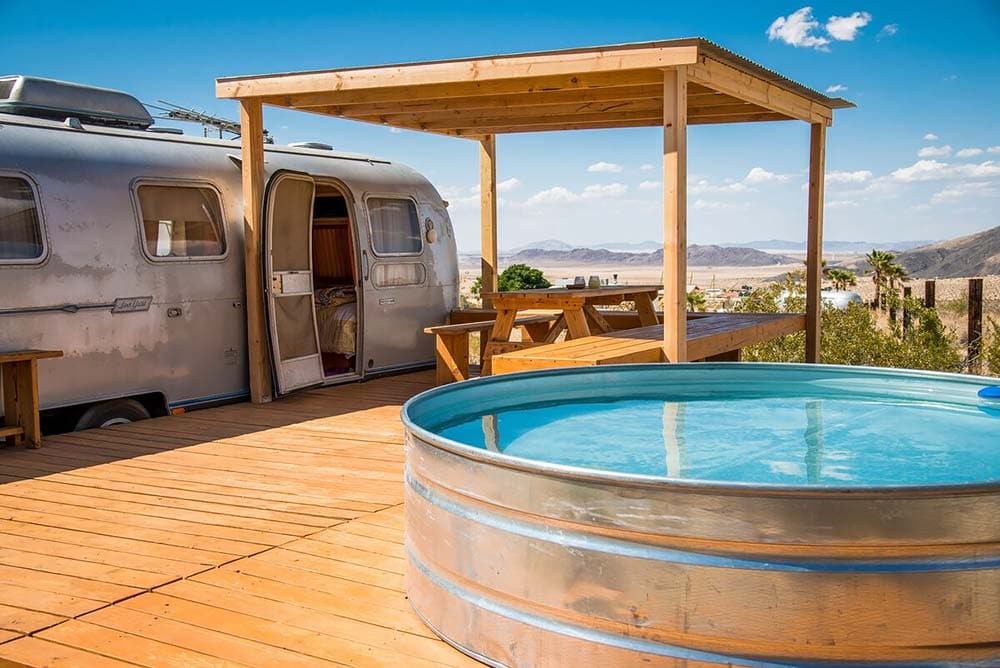 Why you should stay: There's nowhere for glamping near Joshua Tree National Park closer than this.
Sleeps: 2
Minimum stay: 1 night
Rates from: $135/night
This is as close as you can get to the park without actually being in the park. The Land Yacht borders the park and has the same jumbled rocks and Joshua trees that the park is famous for. It's in the quaint Panorama Heights neighborhood, making it ideal for people who plan to get to the park first thing in the morning and don't want a long commute home. Cool off and relieve sore muscles with a dip in the stock tank, or just relax with a book and a picnic lunch on the covered deck.
Check Availability
Follow 'em: @thejoshuatreeyachtclub 
12. Area 55 Futuro House
Why you should stay: Hello: you can say you once spent the night in a spaceship.
Sleeps: 4
Minimum stay: 1 night
Rates from: $210/night
Welcome to Area 55 and the Futuro House. Born from the mind of Finnish architect Matti Suuronen in the late 1960s, the futurist-looking pod was designed to be a portable ski chalet. While it never fulfilled that role, this odd flying saucer and its 360-degree layout did manage to touch down near Joshua Tree.
Don't expect much connectivity: this is off-grid glamping. Solar powered with an outdoor kitchen and shower, it's best to enjoy the views from the porthole windows (or flip through the space-themed books in Futuro's library) rather than stressing about checking your email.
Check Availability
Follow 'em: @Area_Fiftyfive
Explore More of California
Sign up for our free email to join thousands of readers getting epic travel and Airbnb ideas every week!
---