Ready for an adventure? Take on the epic hikes and sheer sandstone cliffs of Utah's first national park.
Massive red sandstone cliffs, legendary hikes, glowing sunrises, and fiery sunsets: Zion National Park is an awe-inspiring spiritual experience.
What Zion National Park lacks in size it makes up in beauty and visitation. Zion middles as the 36th largest national park in acreage (out of 63), but was behind only the Great Smoky Mountains and Yellowstone national park in terms of 2020 visitor numbers.
Less than three hours from Las Vegas, the popular playground attracts roughly a half-million visitors per month during peak season (April-October.) With a majority coming to see Zion Canyon, the park relies on a shuttle system to move hikers and sightseers from end to end. As a Las Vegas local and frequent visitor to the park every year, I've learned that planning a midweek trip is best — and to definitely avoid holiday weekends.
So the more time you have to explore, the more likely you'll be able to dodge the crowds and discover a slice of solitude. There are many hidden gems, off-the-beaten path hikes, and ways to experience Zion that should help you'll find your magical moment — with some advanced planning and permitting required, of course.
One of the most special moments I've had in Zion was spotting some bighorn sheep posing atop a rocky cliff in Checkerboard Mesa. Amazing.
You can get close to nature and camp under the stars or, if you're so inclined, stick to more comfortable offerings. Lodging near the park varies from well-known hotel chains to cozy cabins, yurts, and tiny houses.
Whatever you choose, it's an ideal place to ease the mind and feed the soul. Early pioneers felt that same spiritual connection to the park in the names they chose for its heaven-sent landmarks: Angel's Landing, Great White Throne, The Three Patriarchs, and Tabernacle Dome, to name a few. Click here for more info on the park's hiking maps and hike descriptions.
As for the hiking, some trails here are legendary (The Narrows, Angel's Landing) while others on the upper plateau are scenic and less visited. Here are a few of the best hikes in Zion so you can find your magical moment, too.
Related Read: 8 Amazing Day Trips From Las Vegas, Nevada
1. Angel's Landing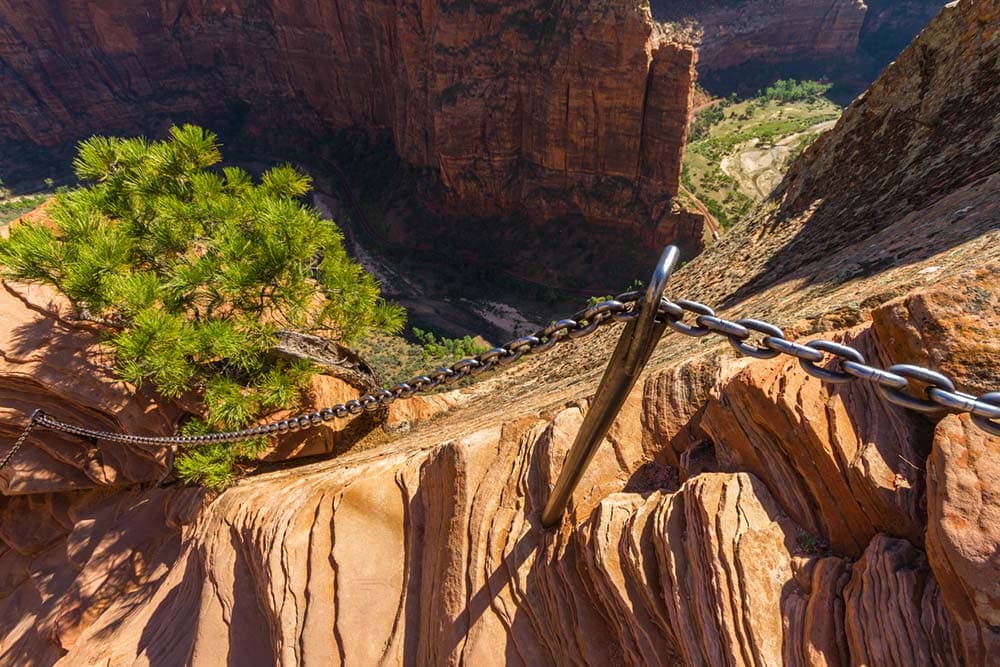 Why you should go: A challenging hike that uses chains to navigate a narrow knife's-edge cliff.
Location: Shuttle stop #6: The Grotto
Difficulty: Challenging
Distance: 5.4 miles
Elevation gain: 1,488 feet
If you've researched the park at all, you're probably already familiar with Angel's Landing. It's one of the most popular hikes in Zion — arguably the most popular — and mostly because there isn't a dull step in the several thousand you'll take along the 5.4 mile climb to the spectacular summit.
The trail begins as you cross a bridge over the Virgin River and follows along a path lined with shrubs and cottonwoods, gaining elevation quickly into Refrigerator Canyon. Next up is Walter's Wiggles – a series of 21 exhausting, leg-burning switchbacks. This is a great place to stop, catch your breath, and take a photo of trail's incredible stone work. Then it's up through a usually shaded saddle to Scout Lookout, a great picnic spot that has incredible views of the valley. It's a rewarding endpoint for many as the trail becomes much more challenging and treacherous after this.
Young children and hikers with a fear of heights should avoid the final, dangerous stretch, which has sheer 1,400-foot drop-offs on both sides as the trail traverses a knife-edge cliff. With the aid of support chains anchored in the rock, hikers slowly follow in line to reach the Temple of Aeolus (the landing's previous name) for a truly unique view.
Related Read: When is the Best Time to Visit Zion National Park?
2. Weeping Rock

Why you should go: A short stroll to a dripping waterfall for the young and young-at-heart.
Location: Shuttle stop #7: Weeping Rock
Difficulty: Easy
Distance: 0.4 miles
Elevation gain: 100 feet
This all-ages, family-friendly stroll is more of a leg-stretcher than a hike. It's also an iconic spot. What you'll see is here is water streaming through a bowl-shaped alcove feeding a hanging garden of plants.
Prone to rockfalls, it's often closed, so check ahead of time before going to the trailhead.
Related Read: 11 Beautiful Glamping Spots Near Zion National Park
3. Pa'rus Trail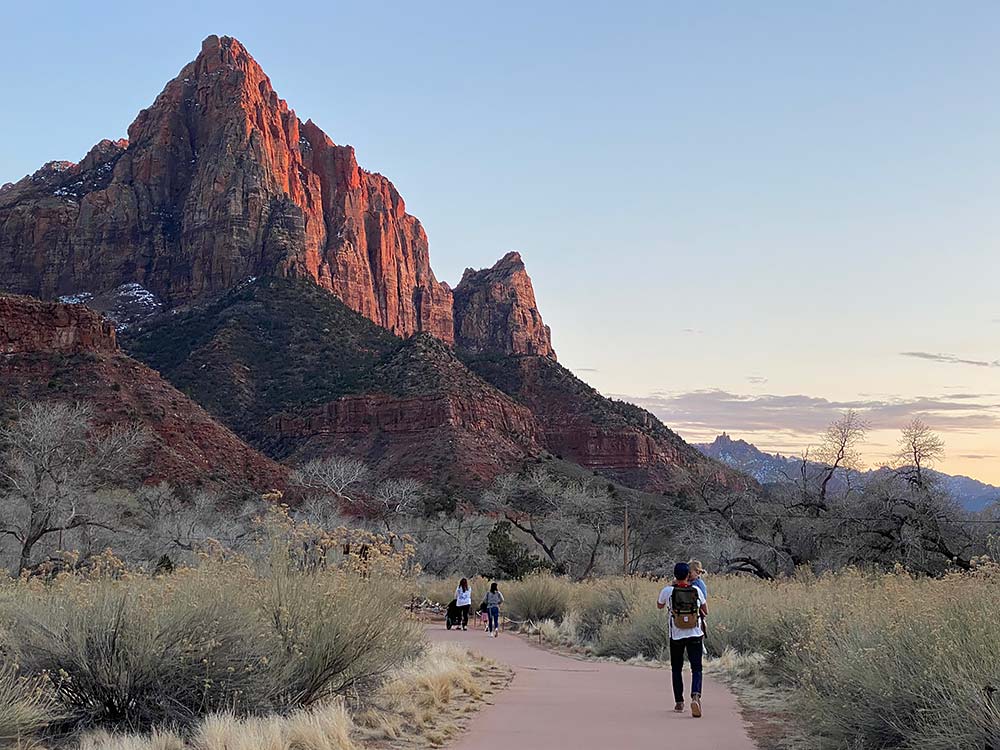 Why you should go: An easy walk with great sunset views.
Location: Shuttle stop #1: Visitors Center
Difficulty: Easy
Distance: 3.5 miles
Elevation gain: 50 feet
Mostly used by families staying in the South Campground near the Visitor Center, this paved and wheelchair-accessible path is the only one in the park that allows bikes and leashed dogs.
The trail, meaning "bubbling water" in the Paiute language, follows the Virgin River north to the Zion Human History Museum and on to Canyon Junction. Mule deer are known to graze in the area in the evening and spring usually offers a nice display of wildflowers.
Related Read: 12 Gorgeous Cabin Rentals Near Zion National Park, Utah
4. Watchman Trail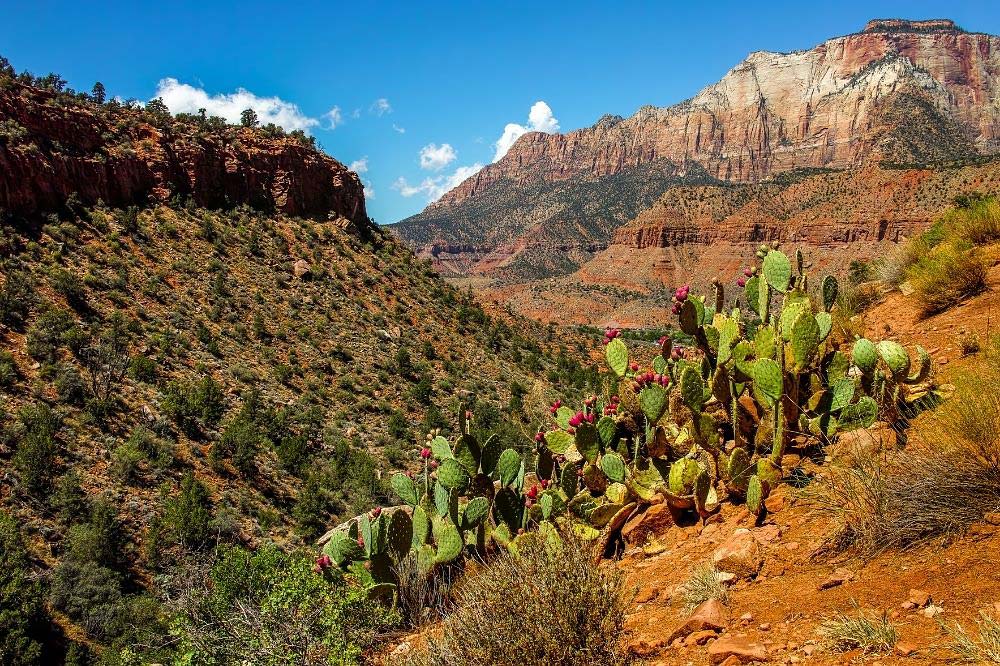 Why you should go: This moderate hike is a great introduction to the park.
Location: Shuttle stop #1: Visitors Center
Difficulty: Moderate
Distance: 3.3 miles
Elevation gain: 368 feet
Following an exposed, mostly shadeless dirt path, the trail climbs just under 400 feet to the foothills of Bridge Mountain. Here, a viewpoint offers a stunning look at the Watchman and the valley near the park's entrance including the Towers of the Virgin, West Temple, and the town of Springdale.
The trail provides excellent examples of the desert landscape you'll see throughout Zion as it winds up the hill through sagebrush, juniper and pinyon pines, and cacti (the prickly pear is very easy to spot.)
Related Read: 6 Spookiest Ghost Towns in Utah for Exploring the Old West
5. Emerald Pools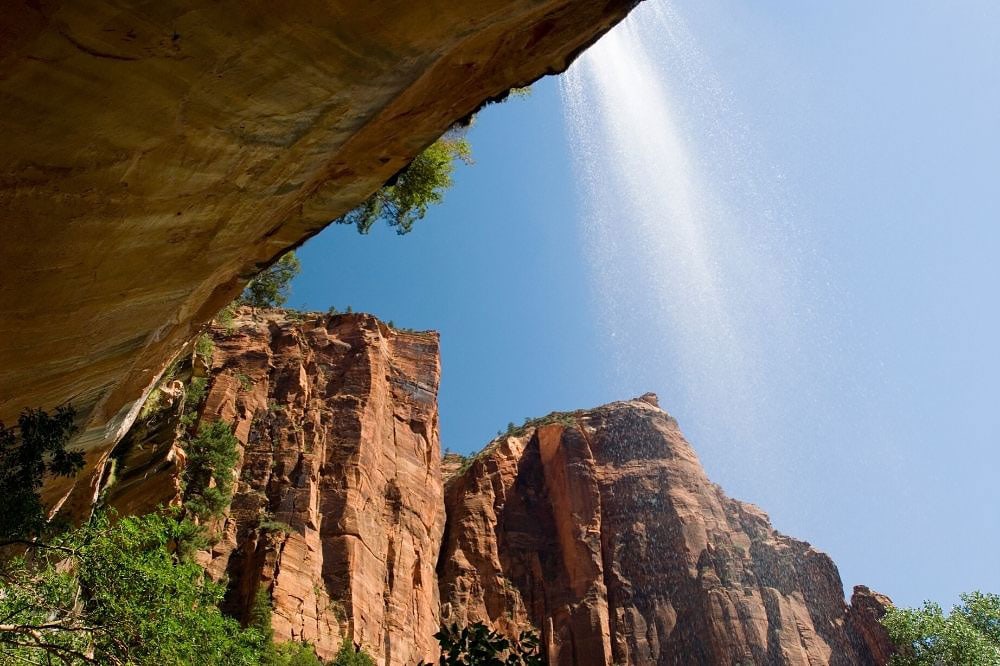 Why you should go: This easy family hike to the lower pool is a Zion classic.
Location: Shuttle stop #5: Zion Lodge
Difficulty: Easy/Moderate
Distance: 1.2 miles (lower), 2.2 miles (middle)
Elevation gain: 69 feet (lower), 150 feet (middle)
The Emerald Pools are actually three pools connected by a network of short trails. The easiest to access, the Lower Emerald Pool, leaves from Zion Lodge. It's an easy walk following a paved path a short half mile to a moss-covered alcove with a hanging garden and small waterfalls.
For a longer hike, continue to the Middle and Upper pools. The trail gets more difficult as you go up a rocky slope towards the cliff to reach the top. You can also follow the Kayenta Trail three miles from The Grotto shuttle stop to Upper Emerald Pool, should you decide to take the alternative route.
6. Riverside Walk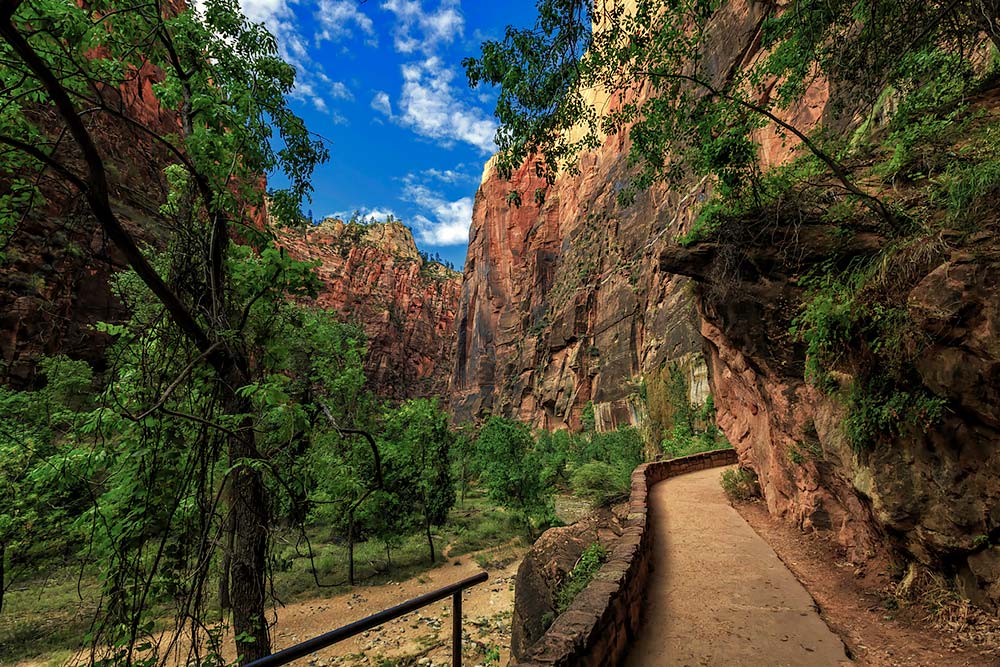 Why you should go: It's worth the short walk to see the Gateway to the Narrows.
Location: Shuttle stop #9: Temple of Sinawava
Difficulty: Easy
Distance: 2.2 miles
Elevation gain: 57 feet
Mostly paved, this trail follows the Virgin River into the very canyon it carved. It's a flat out-and-back trail that winds into the mouth of the Narrows.
The easy, relaxing walk ends at a boardwalk that leads into the river itself. So you can go as far as you like up the river through the rather chilly waters. Many people walk and wade about a mile or two into the Narrows before reversing course.
7. The Narrows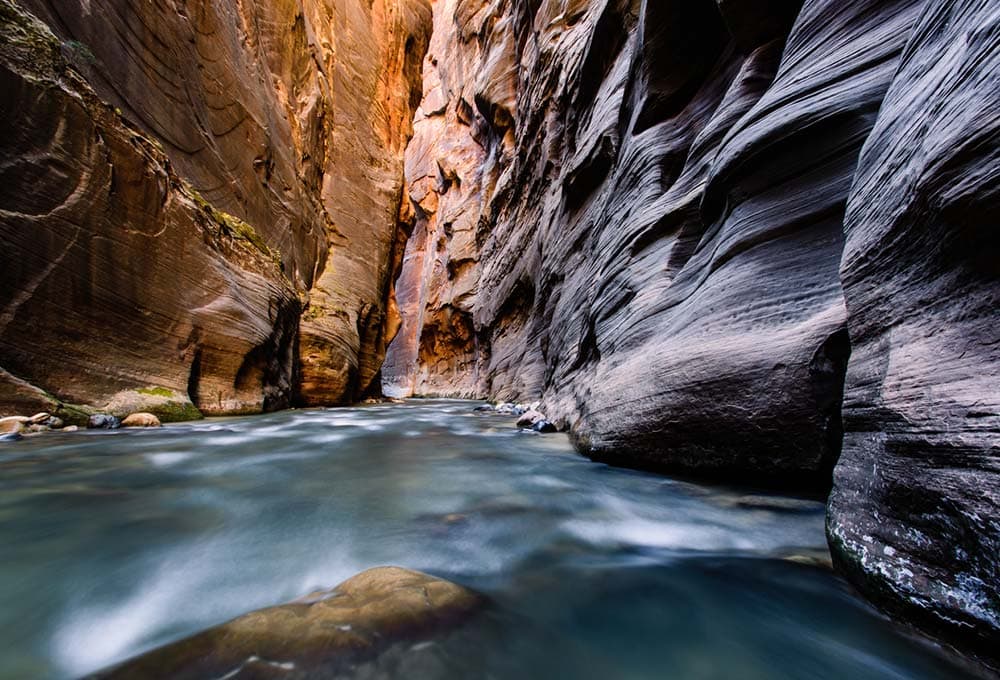 Why you should go: An unforgettable experience and one the most iconic hikes in the national park system.
Location: Chamberlain's Ranch
Difficulty: Challenging
Distance: 16 miles
Elevation gain: 1,300 feet
There are three ways to hike, slosh, and swim your way through the Narrows. The easiest to access (described above) is by taking the shuttle to the Temple of Sinawava at the end of Zion Canyon and entering the water at the end of Riverside Walk. This bottom-up method provides a nice glimpse of the Virgin River-carved canyon and allows you to walk for just a short distance, or the trudge on the entire 3.6 miles to Big Springs.
But to truly experience the Narrows, one of America's greatest trails, you have to tackle the more strenuous top-down route from Chamberlain's Ranch. It can be done as an intense 16-mile hike in a day or as an overnight, camping in the canyon.
Whichever you choose, completing in one day or two, you'll to secure a Wilderness Permit well in advance.
The single-day option is quite a haul. It's an exhausting, challenging task that (depending on fitness and stamina) can take anywhere from 10 to 14 hours.
An overnight trek allows for a more casual pace to soak in the feeling of hiking through a slot canyon with walls towering a thousand feet overhead. Obviously, this option means carrying additional gear and weight, and securing one of the 12 designated campsites. The best time to hike is from May to September when daylight is at its peak and the water isn't as frigid. Hiking the Narrows comes with risks. Flash floods are prevalent and can be deadly. Be sure to check the forecast and heed ranger warnings before setting out.
8. Observation Point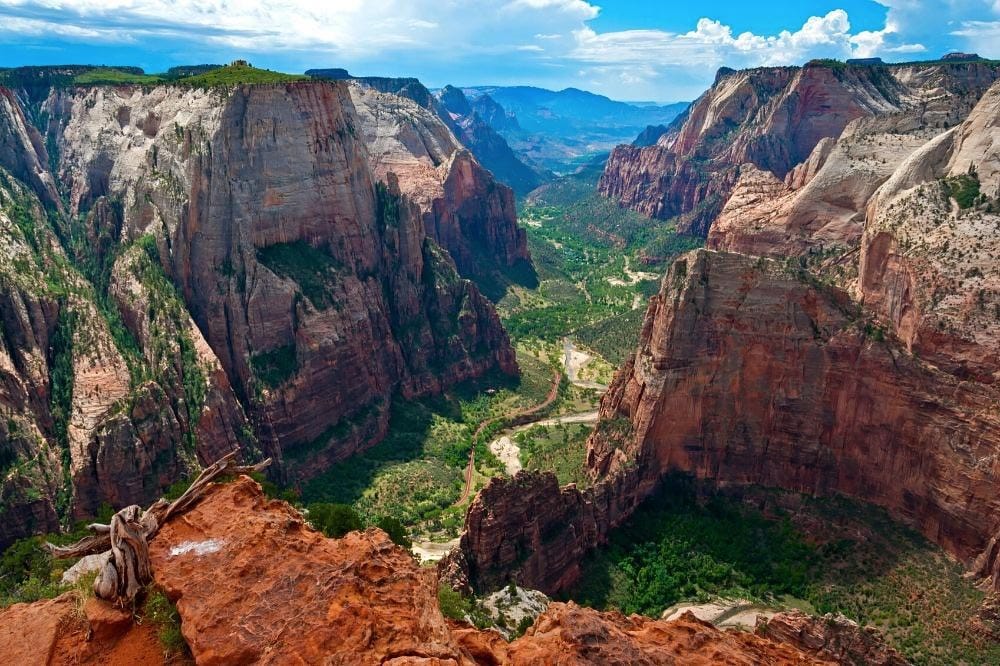 Why you should go: From river to plateau, this strenuous climb serves up gold-medal views.
Location: Shuttle stop #7: Weeping Rock
Difficulty: Challenging
Distance: 8 miles
Elevation gain: 2,148 feet
My favorite place to be in Zion is sitting atop the vista of Observation Point. Here, the entire park folds out in front of you, including the curvy pinpoint of Angel's Landing. Though the park is full of iconic hikes, Observation Point definitely earns its spot on the list. This one will test your endurance, but the end result is majestic.
It starts out easy enough, slightly uphill on a paved path climbing a few switchbacks toward Echo Canyon. Appreciate the shade of the sandstone walls while you have it as there's a long and tedious climb ahead. You'll wander methodically up until reaching the plateau for a final mile-long push through scrubland dotted in pinyon and juniper pines.
There is an alternative way to access Observation Point. It's shorter and easier but much less scenic, though it cuts your trip in half and still gets you to the same point. In a time crunch, it's ideal if you're in the neighborhood on the park's eastern edge. The East Mesa Trailhead, by way of a dirt road, actually starts outside the park. The 6.7-mile out-and-back is largely forested and unassuming. Don't expect to see much along the way, except for an occasional mule deer scavenging nearby. You'll want an AWD or 4WD vehicle to reach the start.
9. Cable Mountain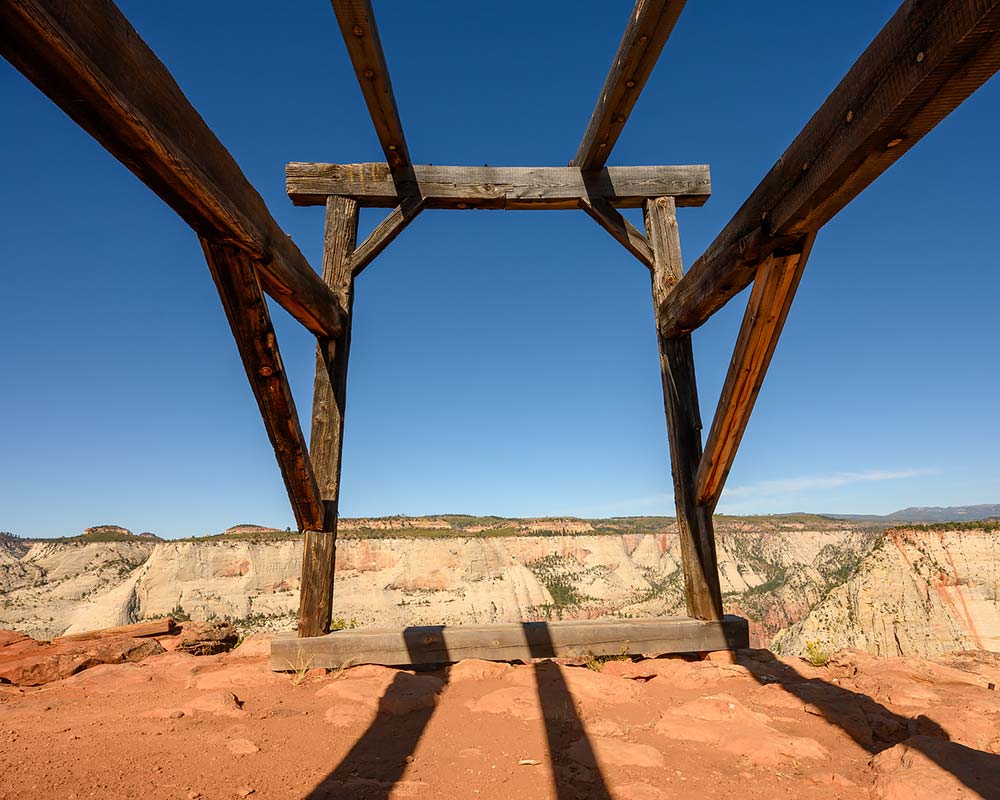 Why you should go: A tough day-long trek to a historic logging operation.
Location: Shuttle stop #7: Weeping Rock
Difficulty: Challenging
Distance: 15.5 miles
Elevation gain: 2,100 feet
If you're looking for a challenging hike with a bit of history and fairly small crowds, then Cable Mountain should be right up your alley. However, it isn't for everyone: it's an exhausting leg-burner from the Zion valley floor to the plateau. You need to start early and move fairly quickly to fit it into daylight hours.
In the early 1900's, the pulley atop Cable Mountain was used to bring timber and supplies from the canyon to the east plateau. It stopped operating in 1930, but its remnants remain. Today, it serves as an alternative lookout to Observation Point along the East Rim.
A shorter 7.5-mile route starts at the park boundary behind Zion Ponderosa Resort (the Stave Spring Trailhead), but you'll need a 4WD vehicle to reach it.
10. Canyon Overlook Trail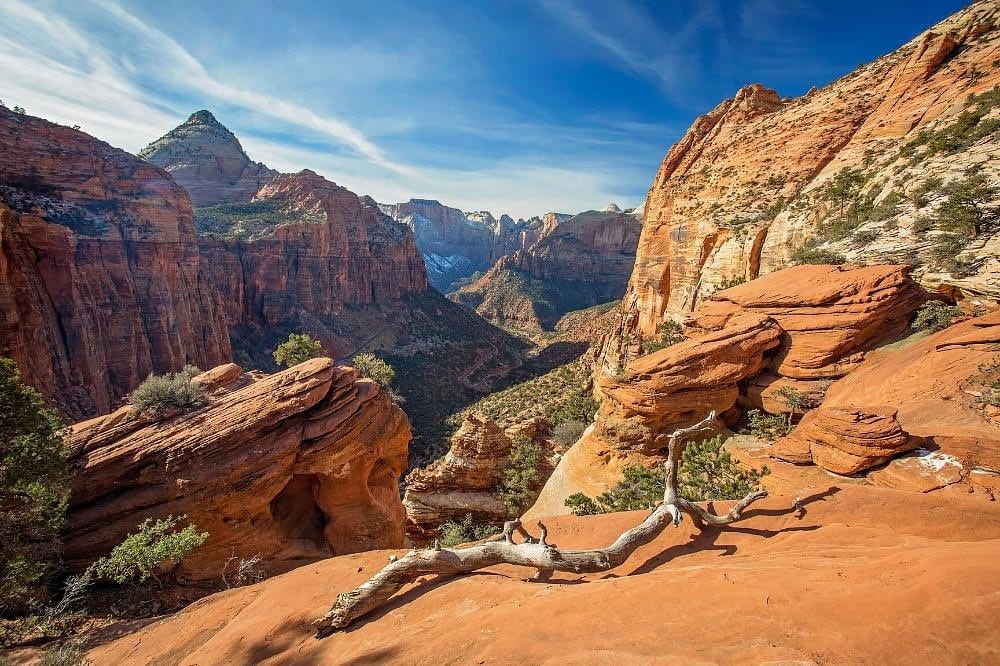 Why you should go: Little effort for a postcard-perfect view.
Location: East entrance of the Zion-Mount Carmel Tunnel
Difficulty: Moderate
Distance: 1 mile
Elevation gain: 163 feet
Like instant rewards? This is one of those spots that you might miss if you blink — I'm guilty of driving right past it myself.
On a curve near the east entrance of the Zion-Mount Carmel Tunnel, the elevated overlook involves a little bit of legwork to clamor up a series of stone stairs immediately past the trailhead. But it's a short heart racer over slickrock and through some pinyon pines to the top. Once there, you can stare into Zion Canyon.
11. Checkerboard Mesa

Why you should go: An often-overlooked plateau that reveals Zion's geological past.
Location: Checkerboard Mesa
Difficulty: Challenging
Distance: 8 miles
Elevation gain: 1,801 feet
Most people just see this area of the park from their cars while driving by. But if you appreciate rock history, this Zion hike is perfect for you. It's definitely worth exploring, whether you decide to pull over to take just a short stroll and a few photos or go trek into the Zion backcountry to stomp up the hardened, striped sandstone along the eight-mile Checkerboard Mesa Trail.
You'll find the trailhead after an impressive drive up Highway 9. The road itself climbs 1,000 feet to the top of the canyon, zigzagging along the way to the Zion-Mount Carmel Tunnel. The tunnel, completed in 1930, slices through the sandstone and exits onto a mesa that's visually different from Zion Canyon. Here, petrified sand dunes display criss-cross fissures, giving the rocky slopes its checkerboard pattern.
12. Sand Bench Loop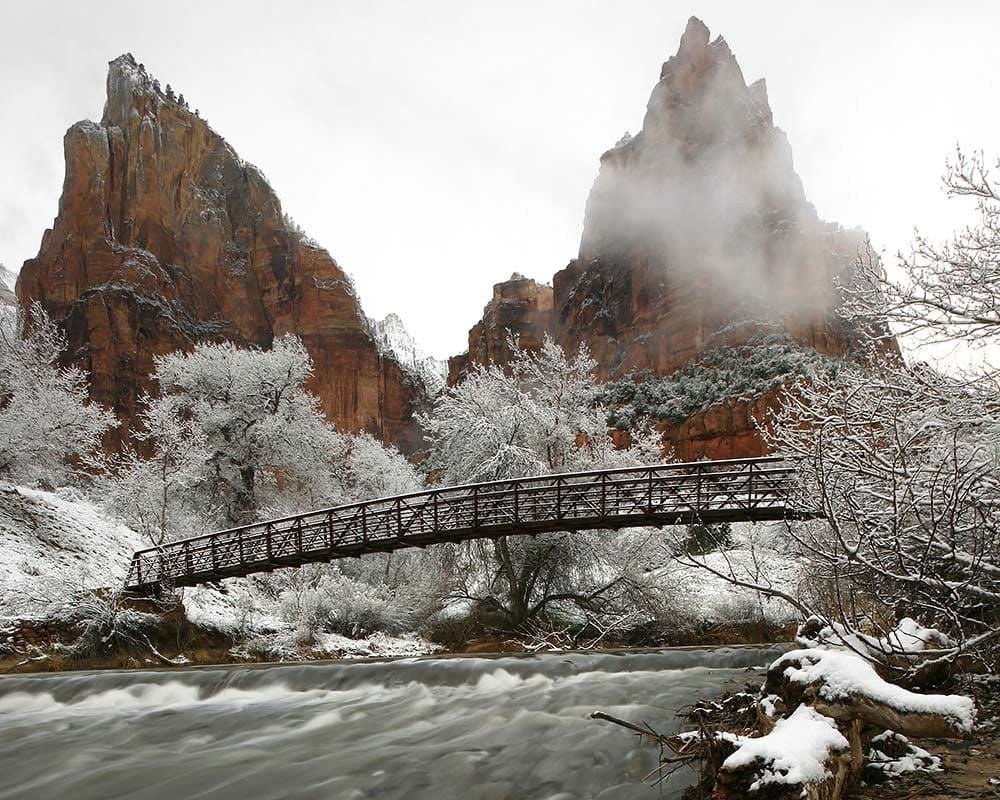 Why you should go: A horse trail shared by both riders and hikers.
Location: Shuttle stop #4: Court of the Patriarchs
Difficulty: Moderate
Distance: 3.4 miles
Elevation gain: 460 feet
This equestrian and hiking trail begins by crossing the Virgin River at the Court of the Patriarchs. It has an elevation gain of about 500 feet with sandy terrain, making it a slow go. The trail starts as a gradual climb then turns into a loop as it makes its way through the remnants of an old landslide.
Go early during peak season to avoid horses and the heat. There's no shade on this hike and summer is extremely hot. If you don't want to make the slow slog through the deep sand on foot, book a horseback riding expedition.
13. The Subway

Why you should go: Canyon carving at its best.
Location: Kolob Terrace Road
Difficulty: Challenging
Distance: 9.1 miles
Elevation gain: 1,305 feet
You'll need a permit, nerves of steel, and some canyoneering skills to tackle this beast. This Zion hike starts at the top and involves downward rock scrambling and rappelling down boulders and waterfalls, as well as wading or swimming through pools of cold water.
Those that conquer this difficult nine-mile trail through the left fork of North Creek are rewarded when they walk through the water-sculptured, circular, stone tunnel and later when passing large dinosaur tracks dating to the Jurassic Period. You might want to take a class in advance to learn the best technique for conquering this tricky trail.
14. Middle Fork of Taylor Creek

Why you should go: Experience the quieter side of Zion in less-visited Kolob Canyon.
Location: Kolob Canyon
Difficulty: Easy
Distance: 5 miles
Elevation gain: 450 feet
A more isolated section of the national park, Kolob Canyon is at Exit 40 off Interstate 15, far from Springdale and Zion's main crowds. If driving past the area, it's definitely worth a quick detour and short hike. The road is just 5.4 miles to the overlook, and with a minimal elevation gain, it doesn't take too long to reach the start.
There are several hikes in Kolob Canyon worthy of exploring. A quick hitter with immediate rewards is the Timber Creek Overlook Trail. It's just a one-mile round trip with a 100-foot elevation gain — just enough to get above the trees. There are longer options though, including the three forks of Taylor Creek. The most popular is the Middle Fork. The easy path descends some wooden stairs and follows a creek bed past two homestead log cabins, ending at a double arch alcove. Return the way you came.
Related read: 10 Refreshing Swimming Holes in Utah
Explore More Utah National Parks
Sign up for Weekend Wanderer, our free email newsletter offering thousands of readers epic travel and airbnb ideas every week.
---