Less than one percent of Grand Canyon National Park's annual visitors venture below the rim. But, for the brave few who journey down below, there are a wealth of historic and geological wonders to behold.
Feel the ice-cold splash of a cascading waterfall rippling down from the canyon's wall, cross a historic suspension bridge over the powerful current of the Colorado River, and ascend mile after mile of the most stunning trail in the country all the way to the craggy cliff's edge.
All this and more is on the menu if you're planning to hike the Grand Canyon rim-to-rim.
Here's how to get started.
Trail Details: Grand Canyon Rim-to-Rim
| Details | Rim-to-Rim |
| --- | --- |
| Distance | 24 miles (North Kaibab/Bright Angel), 20.5 miles (North Kaibab/South Kaibab) |
| Difficulty | Challenging |
| Elevation Gain | 4,380 feet (Bright Angel), 4,720 feet (South Kaibab) |
| Trail Type | Point-to-point |
| Best Seasons | Spring, fall, winter |
| Trail Map | Backcountry Hiking |
| Attractions | Canyon views, Native American history, vintage lodge, river crossing, waterfalls |
| ADA Accessibility | None |
| Dogs | No |
| Nearest amenities | Tusayan, Grand Canyon Village |
The Rim-to-Rim Hike: What to Know
Breathtaking panoramic vistas of the world's longest canyon, the churning spray of the Colorado River, storybook cabins at Phantom Ranch, and hidden waterfalls all await adventurous souls who embark on this once-in-a-lifetime hike.
It's a hiking experience that travels almost 2 billion years back in time, past ancient Vishnu Schist, as it plunges a vertical mile beneath the surface of the Kaibab Plateau before climbing back up to the lip of "the big ditch" again.
To take on a Grand Canyon rim-to-rim expedition is to challenge your fitness, mental endurance, and wilderness preparedness. The hike is long, steep, arduous, and unrelenting, plus, due to the vast differences in elevation between the canyon's rim and the river below, travelers will walk through a wide variety of different biozones and temperatures.
Ice and snow on the South Rim could easily give way to 80 degree weather and full sun down below. Plus, due to the nature of canyon hikes, day hikers will be walking downhill through the morning when temperatures are cooler and uphill in the sunshine during the punishing heat of mid-afternoon.
Check the weather, pack for multiple climates, and always carry an extra liter of water (especially in winter when the rest stations may be shut off).
Related Read: How to Avoid the Crowds at the Grand Canyon South Rim
Leave No Trace
While hiking in a place as majestic as the Grand Canyon may feel like traipsing through a postcard, it's important to follow the 7 Principles of Leave No Trace to help keep it that way for future generations.
The route is a thoroughfare for hikers, year-round, and with the park seeing nearly 6 million visitors in a normal year, the phrase "leave only footprints, take only pictures" is even more necessary.
As always, pack in and pack out your trash and human waste (or, better yet, use one of the rest stations along certain sections of trail). Camp in established campsites, never cut switchbacks (it severely increases erosion), and please remember that campfires are never allowed below the rim.
Related read: Here's Why Leave No Trace Principles are So Damn Important
The Permits
Because of its bucket-list-caliber fame in the hiking and backpacking communities, overnight permits (which we highly recommend, even for experienced trekkers) can be hard to come by.
Permit reservation requests open up roughly 6 months in advance of the dates you'd like to hike. For example, If you want any backpacking date in January, you would send in your application between August 20th and September 1st.
The same goes for corresponding months as the year goes on. It's a different and more confusing system than what you'll find at other national parks, and it's a great idea to peruse Grand Canyon's backcountry permit website for more details. The park recommends applying as early as possible, once you know your travel dates.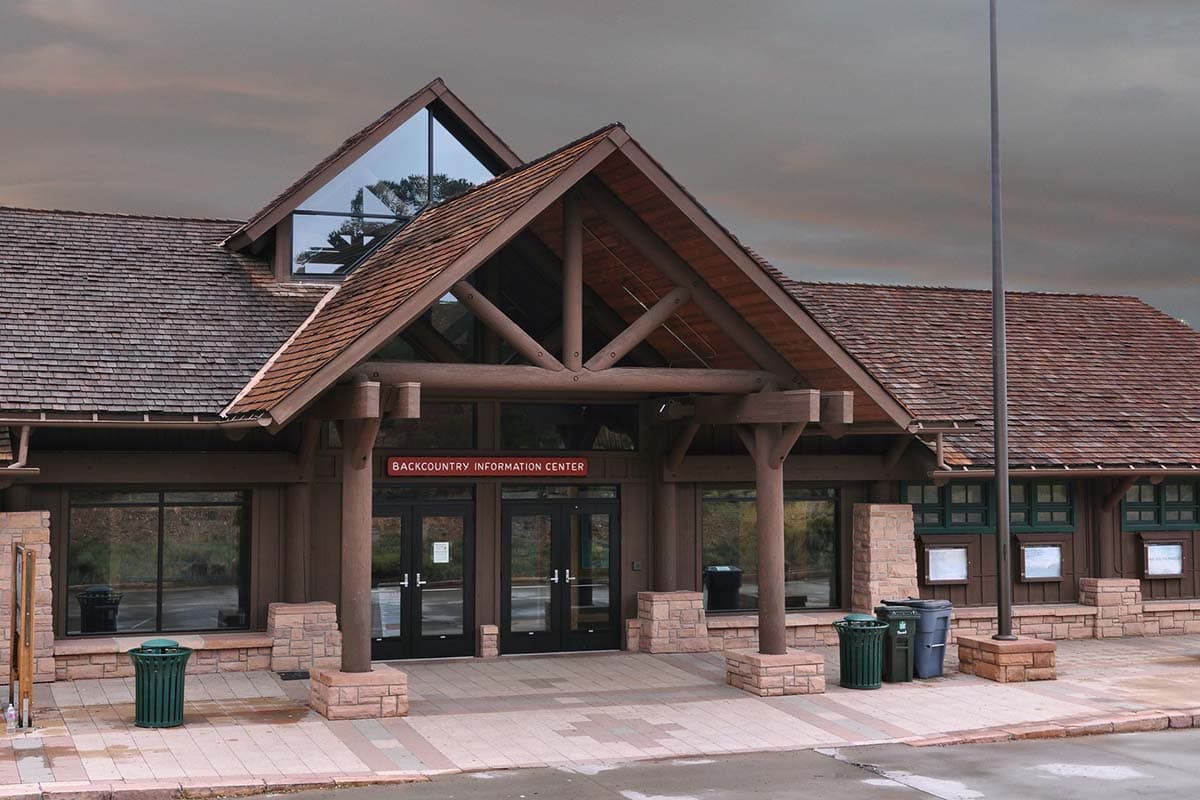 The park also saves a limited number of last-minute permits for "corridor campgrounds," the most popular sites along this infamous trail (Indian Garden, Bright Angel, and Cottonwood). They can be picked up in-person at the North Rim or South Rim Backcountry Information Center, and they cannot be purchased more than one day prior to the start of a hike. Also, be prepared with back-up plan in case the last-minute permits are gone by the time you get to the backcountry office.
If you'd rather not bother with the permit shuffle and trip organization, several reputable companies like Wildland Trekking and REI Adventures host guided rim-to-rim trips each year.
Related Read: 7 Best Grand Canyon Hiking Tour Companies
Hiking Logistics
Hiking the Grand Canyon Rim-to-Rim is a point-to-point hike, meaning that you'll end up many miles away from where you began.
This means that you'll need to leave one car at each trailhead or bribe a generous friend with pizza and arrange for them to pick you up on the opposite end of the canyon. No official shuttle service exists between the north and south ends of the Grand Canyon, but Trans-Canyon Shuttle is a well-regarded private company that transports tired hikers for a fee.
While the "as the crow flies" distance might seem scant on a map, the driving distance between the North Rim and South Rim is 212 miles and takes roughly four hours through sparsely populated Arizona desert. Add to that the fact that the road to the North Rim is often closed November-May, due to snow, and you've got one heck of a logistical nightmare.
One way to solve this problem (if you don't want to shuttle cars) is by hiking the route as a rim-to-rim-to-rim circuit, which doubles the trail miles and elevation, but allows for trekkers to hike both the Bright Angel and the South Kaibab Trails, mixing up the views a bit. The park suggests that R2R2R hikers begin and end at the South Rim.
For the purposes of this guide, we'll talk about the most popular rim-to-rim route, which is recommended by the National Park Foundation, starting with the North Kaibab Trail, crossing the Colorado River, and finishing on the Bright Angel Trail.
It's 24 miles in total, and, mile-for-mile, it packs the most punch. Hike it as a multi-day for a chance to really soak up the history and scenery.
Related read: 6 Breathtaking Hikes on the Grand Canyon's North Rim
Rim-to-Rim Trail Description
Beginning in the early morning on the North Rim, hikers should park at the North Kaibab Trailhead, lace up their boots, and get ready for a steady descent of 5,700 feet over the course of 14 miles. Trekking poles are highly recommended.
Cut into rugged walls of rust-tinted sedimentary sandstone, the North Kaibab Trail is proof that the Arizona desert isn't all rocks and sand. Lush green pines, swaying grasses, and delicate wildflowers jut out of adjacent rock faces as visitors begin their hike downhill.
Pass through Supai Tunnel at mile 3.5, an arch in the rock blasted out by the Civilian Conservation Corps in the 1930s, before pausing for a lunch break at Roaring Springs, a verdant, hanging garden bisected by a rushing waterfall that's just a .3-mile side trip off the trail.
From here, hikers can descend to Cottonwood Camp at mile 6.8 and pitch a tent, cooling down in Bright Angel Creek, or they can continue downhill, passing another short (and worthwhile) side-journey to Ribbon Falls, a towering spray of freshwater that bursts forth out of the age-old crimson rock.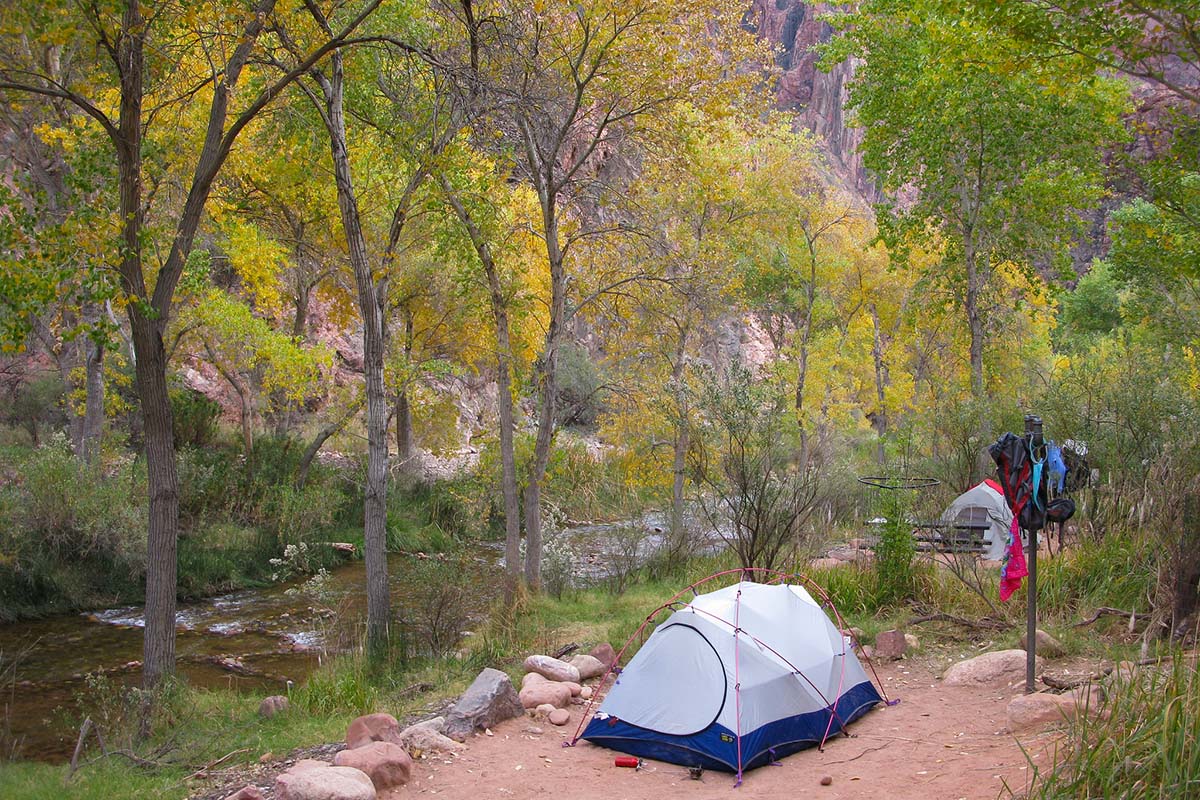 From the waterfall, it's another 5.5 miles down to Bright Angel Campground or, if you're lucky enough to win the reservation lottery, Phantom Ranch and its picturesque 1920s cabins. Either way, don't miss the opportunity to grab a beer and a home-cooked meal at their canteen.
After the creature comforts of flush toilets and picnic tables at Bright Angel Campground, backpackers will cross the impressive Silver Suspension Bridge over the rolling rapids of the mighty Colorado before beginning a series of switchbacks cut into a surprisingly lush, riparian gully in the canyon's main expanse.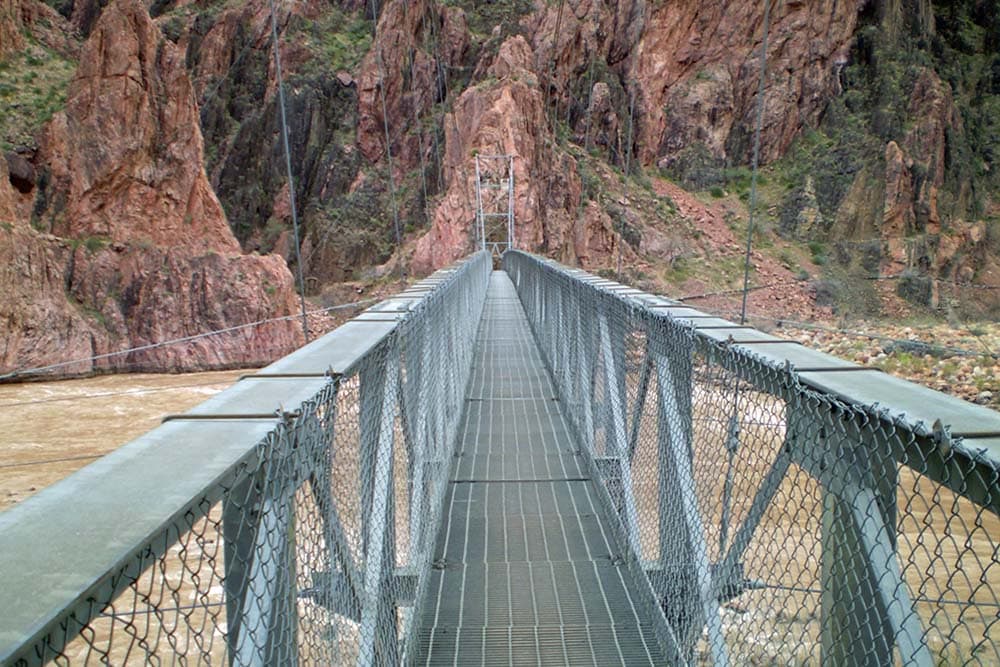 In roughly 4.5 steep, uphill miles, hikers will pass through Indian Garden Campground, which is an epic spot to eat lunch or set up camp if you're looking to break up the relentless 4,400 feet of climbing towards the South Rim.
Indian Garden is an oasis fed by a perennial spring and is home to toilets, picnic tables, and potable water for hikers and campers in need. If you're lucky, you might even spot a mule train taking a break among the golden cottonwood trees.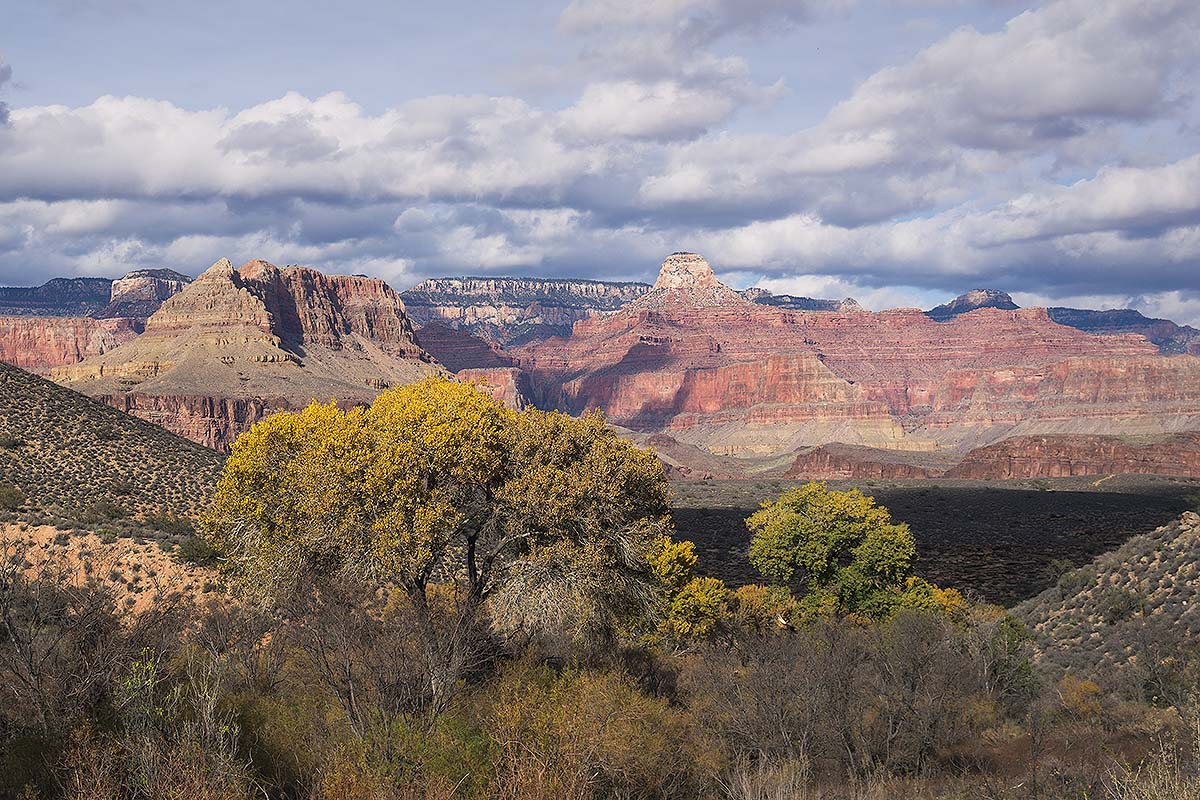 From there, hikers only have 4.8 miles and 3,000 vertical feet left to go. Start early to avoid the afternoon heat and enjoy the impeccable views as you climb past Three-Mile Resthouse and Mile-and-a-Half Resthouse, both of which have water from mid-May through mid-October.
At the top of the trail, take a deep breath and marvel at how far you've come, then soak up a little history at the Kolb Studio before grabbing a bite to eat and heading back to the North Rim, whether by car or by foot.
Related Read: 8 Best Grand Canyon Airbnbs for Adventurous Travelers
When to Hike Rim-to-Rim
Because of the North Rim's high elevation (8,297 feet above sea level), the road to and from this trailhead is only reliably open from May 15th – October 15th. This means that hikers attempting a classic Rim-to-Rim hike will be traveling during the area's warmest months.
Expect for inner canyon temperatures to be 20-25 degrees warmer than weather at either rim, and plan on starting your day in the pre-dawn hours (and taking a long break at Phantom Ranch) to allow for the weather to cool off before ascending.
Related Read: 10 Best Backpacking Trips in Grand Canyon National Park, Arizona
Grand Canyon Area Resources
Tusayan, Williams, and Grand Canyon Village are the main hubs for food, information, hotels, camping, and shuttle services on the South Rim of the Grand Canyon.
The North Rim is much quieter and less developed, with only one lodge and campground. Page, Arizona, is its closest town for big name hotels and amenities.
Related Read: The 10 Best Hotels in Flagstaff for Every Traveler
North Rim
South Rim
Find Your Next Adventure
Sign up for Weekend Wanderer to join 10,000+ readers getting epic travel ideas every week.
---