We research, evaluate and select travel destinations based on a number of factors, including our writers' experience and expertise, user reviews and more. We may earn a commission when you book or purchase through our links. See our editorial policy to learn more.
Was this article helpful?
---
Los Angeles and San Francisco — California's two primary metropolitan jewels — couldn't be more different.
The quickest way to get from LA's sunny sprawl to the breezy urban inclines of San Francisco is, of course, to head north on I-5 — that's called the 5 if you live in LA. Depending on where you start, you may be able to do the whole 385-mile trip in about six hours, give or take, if you don't hit much traffic.
Of course, what you'd gain in speed you lose out on in everything else.
The better way to road trip from Los Angeles to San Francisco is to take the scenic route on Highway 1, better known as the Pacific Coast Highway (PCH). At around nine hours, you can do it in a day if you must, but that would hardly be in the spirit of an easygoing sightseeing coastal drive.
Instead, consider splitting the trip into sections; if you have the time, four or five days is excellent. Even though the first stop of Santa Barbara is less than two hours out of Los Angeles's clutches, you'll want to give the elegant, radically different-feeling destination its due.
From there, the Big Sur region draws in just shy of six million tourists a year for a reason, while Carmel's quaint architecture is a front for one of the state's most luxurious beachfront communities. Along the way, you'll also get a beach time, a dose of redwoods, and plenty of California kitsch.
This coastal Los Angeles to San Francisco California road trip covers:
Around 450 miles
Roughly nine hours of driving
Four fantastic cities (in addition to LA and SF)
One state park
Amazing Pacific Ocean views
Related Read: 11 Breezy Oceanfront Camping Spots in California
Los Angeles to San Francisco By Section
Let's assume you're starting from Downtown Los Angeles. To do the itinerary below you'll need four nights. Some of these stops include a couple must-do destinations in one day, and you'll need to budget even more time if you're planning to explore any of the side trips or do any hiking.
Section 1: LA to Santa Barbara
How nice — ease your way in to the trip with a mere 90-minute, 95-mile drive to Santa Barbara's historic architecture, pretty bay beaches, and wine tasting rooms galore.
Distance: 95 miles
Drive time without stops: 90 minutes
Section 1 Highlight: Santa Barbara
Leave Los Angeles early to beat the traffic and give yourself a full day at your first destination. Once you arrive, get a sense of Santa Barbara's local scenery with a stroll through Chase Palm Park and a beach walk on the adjacent sandy strand. There are a several museums in town; the 3.5 million specimens and expansive outdoor space makes the Santa Barbara Museum of Natural History a good one to start with.
Come afternoon, head to Stearns Wharf to eat, drink, and shop a few local mom-and-pop shops. In the evening, keep the car parked and walk from tasting room to tasting room in the Presidio neighborhood to get a feel for the wines from Santa Barbara's ample vineyards just inland. That, obviously, makes this a good place to spend night one of your LA to San Francisco road trip.
Related Read: 11 Best Resorts in California for Rest & Relaxation
Section 1 Side Trip: Los Padres National Forest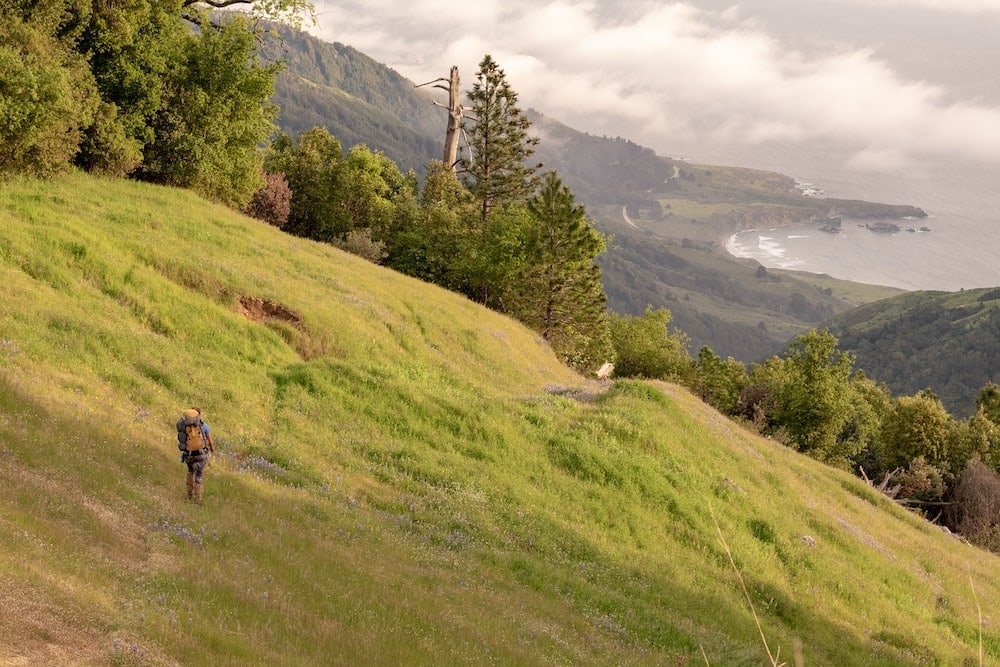 If you've got time, trade wineries and historic architecture for your hiking boots. At 1.95 million acres, Los Padres National Forest is vast but a few trails are very close to the border of downtown Santa Barbara.
Tunnel Trail to Inspiration Point is one of the easier routes: though plenty of it is uphill, the hike is only 3.5 miles round-trip. And if you'd rather extend this part of your excursion, you've got tons of campgrounds to choose from in the park.
Related Read:9 Amazing Scenic Drives Near Los Angeles, California
Section 1: Where to Stay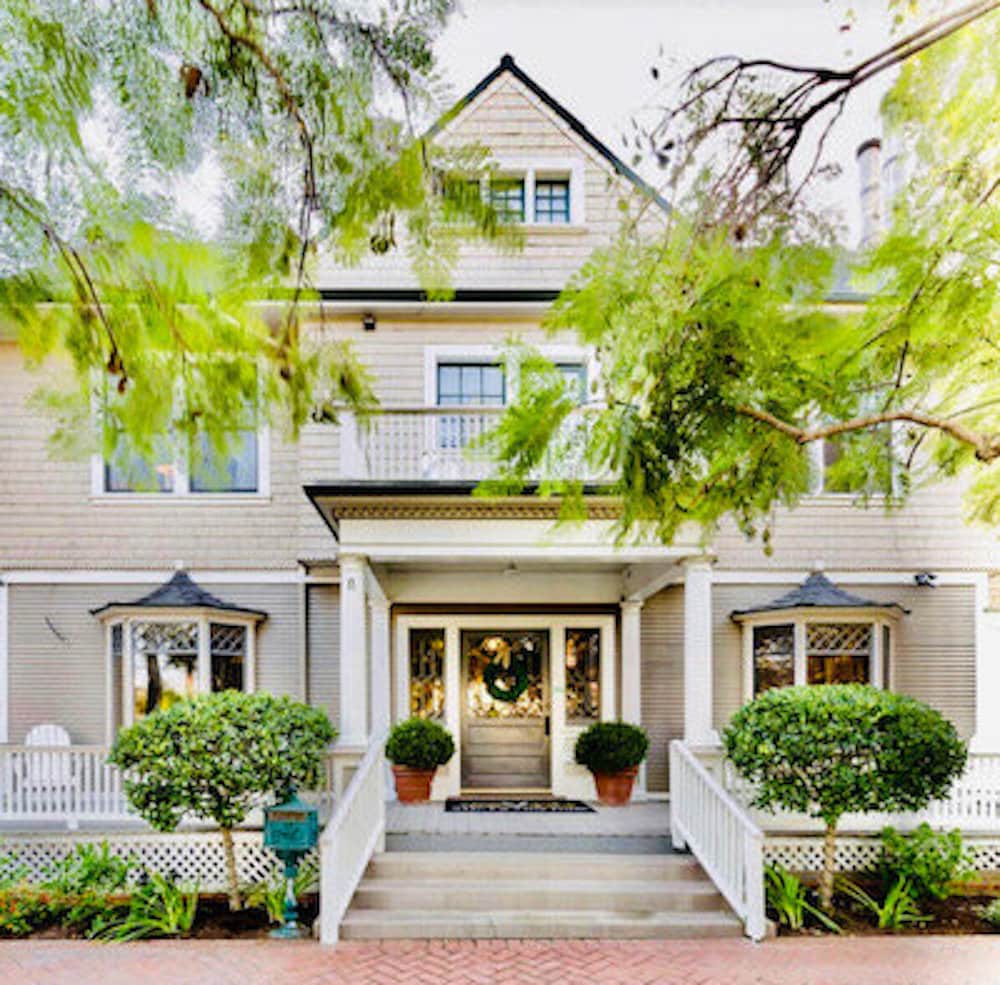 You'll find plenty of luxury hotels around downtown Santa Barbara and adjacent to Stearns Wharf. Set in an 1895 building, the De La Vina Inn offers both a bit of history along with a place to lay your head for the night. If you've done a full day of city sightseeing and would rather keep making tracks and then camp, you can set up at El Capitan State Beach, about 23 miles farther along the overall route.
Traveling in your own accommodation? There's an RV park in Santa Barbara, and plenty of great camping options. There are also some really nice glamping spots in this area.
Section 2: Santa Barbara to Big Sur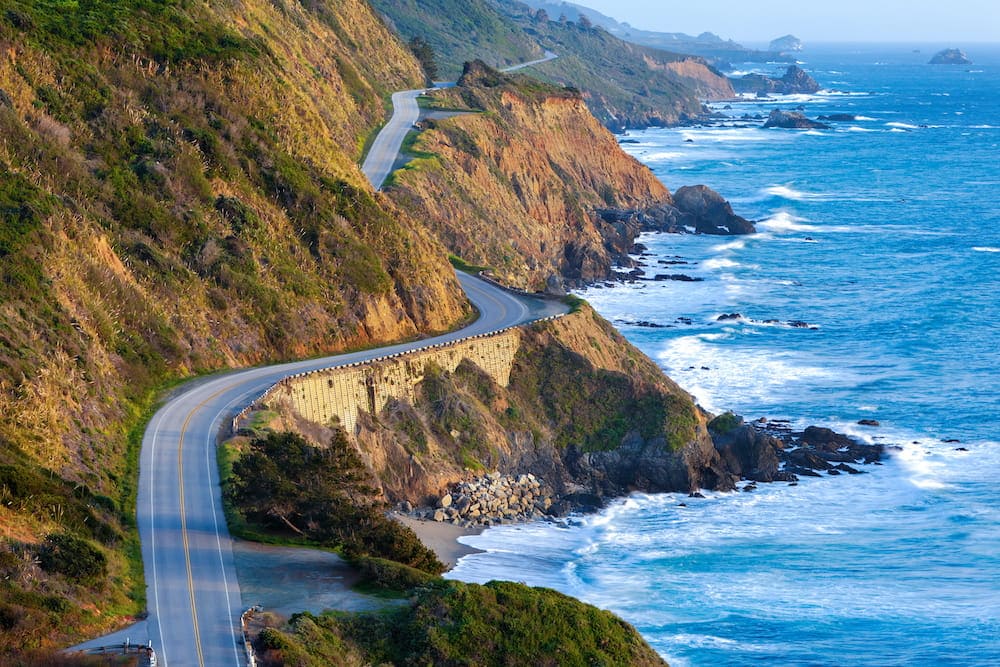 Get up early, pack some snacks, and get ready to drive. Around three hours and 170-200 miles up the coast (depending on how far you go), you'll find yourself in what feels like another planet: Big Sur.
Just keep in mind that this well-preserved wilderness is something of a victim of its own success when it comes to tourism. It sees heavy traffic even mid-week, and you'll probably see people climbing over rocks and accessing terrain they shouldn't. Be a good visitor — pick up your trash, leave the selfie sticks behind, and stay on the trails. Walking (or parking) on grass can damage the ability of plants to grow and lead to massive issues like erosion and habitat destruction. As always, leave no trace.
You're likely aware that this part of California has been besieged by increasingly frequent fires as well as occasional flooding. Be sure to check the environmental situation before you visit, especially at state parks as trail and road closures are possible.
Distance: 170 miles (give or take)
Drive time without stops: 3 hours
Related read: 6 Stunning National Parks near Los Angeles, California
Section 2 Highlight: Literally All of Highway 1 in Big Sur
There's so much to see along Highway 1 through Big Sur that the questions is more "where shouldn't you stop?" Bixby Bridge and McWay Falls, two of the area's most famous sights, and just off the side of the road on Highway 1. You can check make those two stops and then speed on through, but you'd be missing what makes this section of the LA to San Francisco drive so amazing.
In Big Sur are several different parks. For an easy start, plan some time at Julia Pfeiffer Burns State Park, home to a variety of hiking trails. The park's Waterfall Overlook Trail is an easy half-mile walk, while Partington Cove Trail is one mile roundtrip, with a pass through a historic tunnel that eventually opens onto stunning coastal views.
Related Read: 7 Stellar Campervan Rental Companies in Southern California
Section 2: Where to Stay
Despite its rugged reputation, there are several options for a Big Sur overnight beyond camping, which you can do at the Pfeiffer Big Sur campground.
Most of the hotels in the are pricey (hey, many are on the coast), but if you can swing it, you'll be wowed by hotels like Post Ranch Inn, Ventana Big Sur, and the (slightly) more affordable Big Sur Lodge.  And Treebones Resort is an amazing eco-friendly yurt resort.
Section 3: Big Sur to Monterey
Rather than making one of these two destinations into an optional side trip, it makes the most sense to start out early and visit both Carmel and Monterey in one hop, spending the night in whichever spot suits you best.
Carmel is about a 40-minute drive from the Pfeiffer Big Sur campground, and Monterey is another 15 minutes north.
Distance: 30 miles (without doing 17-Mile Drive)
Drive time without stops: 40 mins
Section 3 Highlight: Point Lobos State Park
Point Lobos is a fabulous stop for anyone traveling along the coast, but especially for beginner hikers who still want to see the amazing terrain. Most of the trails in this coastal reserve are entirely flat, save for a few beaches you can scramble down to to soak up the sun for a few minutes.
Within Point Lobos are several miles of coastal paths, a whaling museum, a nature trail, and more than a few places where you'll want to whip out the camera. Parking can be challenging, so try to get there early. There's also a $10 parking fee, and no dogs are allowed in the park.
Section 3 Highlight: Carmel-by-the-Sea
Keep cruising along Highway 1 to Carmel. It's a downright charming town with storybook houses, cobblestone streets, and a total "fancy hippie artist" vibe. Ocean Avenue is downtown Carmel's main thoroughfare, where in addition to dining and shopping, you can also check out the fairytale-like architecture made famous by early 20th-century developer Hugh Comstock. More of a Frank Lloyd Wright guy? Then walk past the oceanfront Della Walker House.
Want to soak up even more of the area? Check out the history and gardens at the Carmel Mission before taking 17-Mile Drive to Monterey.
Some fun facts about Carmel: every beach is dog friendly, high heels are illegal, and Clint Eastwood of Spaghetti Western fame is the former mayor.
Section 3 Highlight: Monterey
There's so much to do in Monterey — and so much written online about it — that you'll want to do your own research on area activities before deciding where to spend the precious time you have to spare on your LA to San Francisco road trip.
But some good places to start include the Old Fisherman's Wharf (loaded with fantastic seafood restaurants and opportunities for whale watching) the the non-profit Monterey Bay Aquarium, and the sightseeing and activities along Cannery Row (yes, it's  that Cannery Row.)
Section 3: Where to Stay
Both Monterey and Carmel are home to a number of hotels and inns, with luxury options particularly plentiful in the latter. The Forest Lodge offers eco-friendly Carmel digs and the Cypress Inn is a very dog-friendly boutique hotel once owned by Doris Day.
Rates will generally be cheaper if you drive inland a bit; hotels in Salinas can easily be half the cost of Monterey. And if you're going inland, you might as well stop at a few wineries, see the Steinbeck Museum, and visit Pinnacles National Park….yeah, there's a lot to do around here.
Section 4: Monterey to San Francisco
Almost there! But first, ease your way back into city life with a stopover in Santa Cruz, known for its offbeat vibes, surf scene, and funky boardwalk. It's just under an hour from Carmel and Monterey.
Distance: 144 miles
Drive time without stops: 1 hour, 50 mins
Section 4 Highlight: Santa Cruz
Don't conflate the Santa Cruz Beach Boardwalk (an amusement park known for its vintage rides and arcade) with the Santa Cruz Wharf, where you can shop and eat. But try to see both before taking a walk or drive along West Cliff Drive, which affords killer views of both sea and talented surfers riding the waves. Try also to stop by Pacific Avenue in downtown Santa Cruz, a walkable stretch for further drinking, dining, and sightseeing.
Prefer trees to beaches? Try heading inland for a total change of scenery at Roaring Camp Railroad. The narrow-gauge steam train is one of the most unusual way to see California's iconic redwoods.
Section 4 Highlight: San Francisco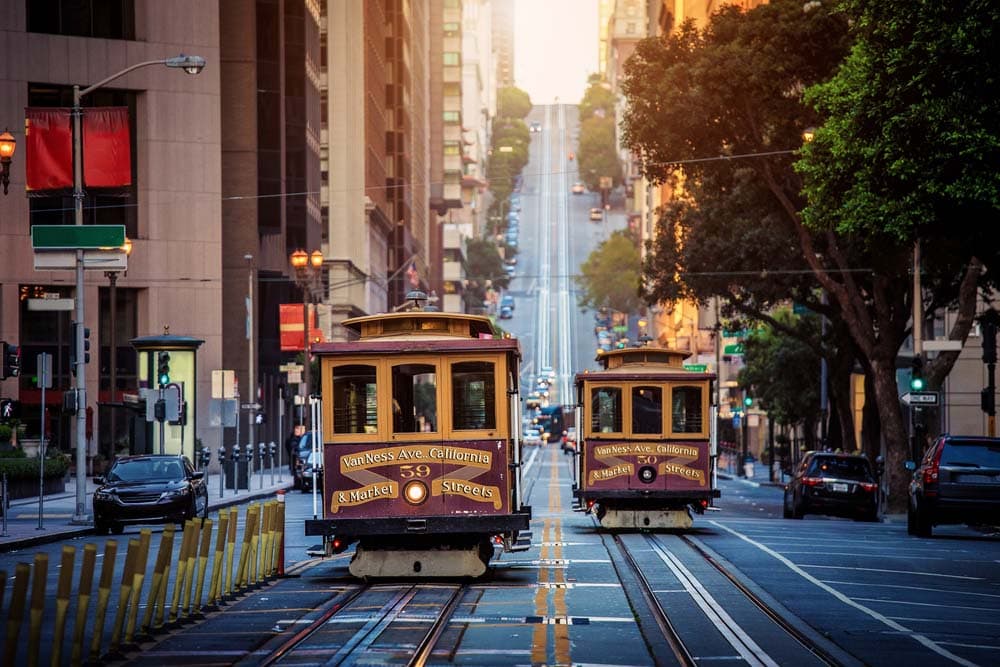 You made it! The last leg of your Los Angles to San Francisco road trip is San Francisco itself. Of the cities in the US, San Francisco has more to do than most. Hang out at the touristy but very cheesy Pier 39, loaded with shops, restaurants, arcades, stores, and plenty of unique activities. See the sea lions, then head to the Ghirardelli Chocolate Factory or take the fascinating boat trip to Alcatraz.
Hit up the Exploratorium, head to Golden Gate Park to work on your hacky-sack skills or stroll through the Botanical Garden, or grab a drink in funky Haight-Ashbury. Or visit Chinatown. Or hit a tiki bar. Or ride the trolley. Or go to one of the city's biggest flea markets. There's a lot to do within the city's seven square miles.
Section 4 Side Trip: Half Moon Bay
If you need one more hit of salty air before heading to San Francisco, make a stop at Half Moon Bay. In addition to long sandy stretches and scenic cliffs, the small coastal city offers a sweet, walkable downtown and some great multi-use trails.
It's also one of the best places between LA and San Francisco to see elephant seals, which can grow — wait for it — more than 15 feet long. Woah. 
Section 4: Where to Stay
There are hotels, motels, and inns around Santa Cruz, particularly near the wharf. It's a pricey town, but you'll find a few affordable options like the basic-but-clean Rio Sands just south of the city.  If you're hoping to camp, head inland to Henry Cowell Redwoods State Park, a scenic spot you won't likely want to miss, whether or not you've brought your own tent.
There's also a cute little KOA with basic cabins and shared bathroom facilities. Of course, in San Francisco, you'll have only about a billion options for hotels, hostels and even camping —in the Presidio.
Explore More in California
Sign up for the Weekend Wanderer to join thousands of readers getting epic travel and gear ideas every week.
Was this article helpful?
---