One day in Death Valley will never be enough, but sometimes, you have to make do with what you've got.
Instead of proposing an exact itinerary of what you should do with your day in Death Valley National Park (after all, there's no shortage of options), consider filling your day with a combination of the experiences below. That way, you can decide what you want to see and do — or change plans on the off chance a certain trailhead is too crowded.
To make your planning even easier, the ideas below are broken down by skill and experience level – or, rather, by how relaxed or adventurous you want your trip to be. However you want to shake it, these are the best things to do in Death Valley that you can get done in a day or less.
Related read: 7 Epic Things to Do at Great Basin National Park, Nevada
For the Novice or Relaxed Visitor
A visit to Death Valley need not be a death march. Take it easy, stay cool, and don't forget to hydrate.
1. Start at the Furnace Creek Visitor Center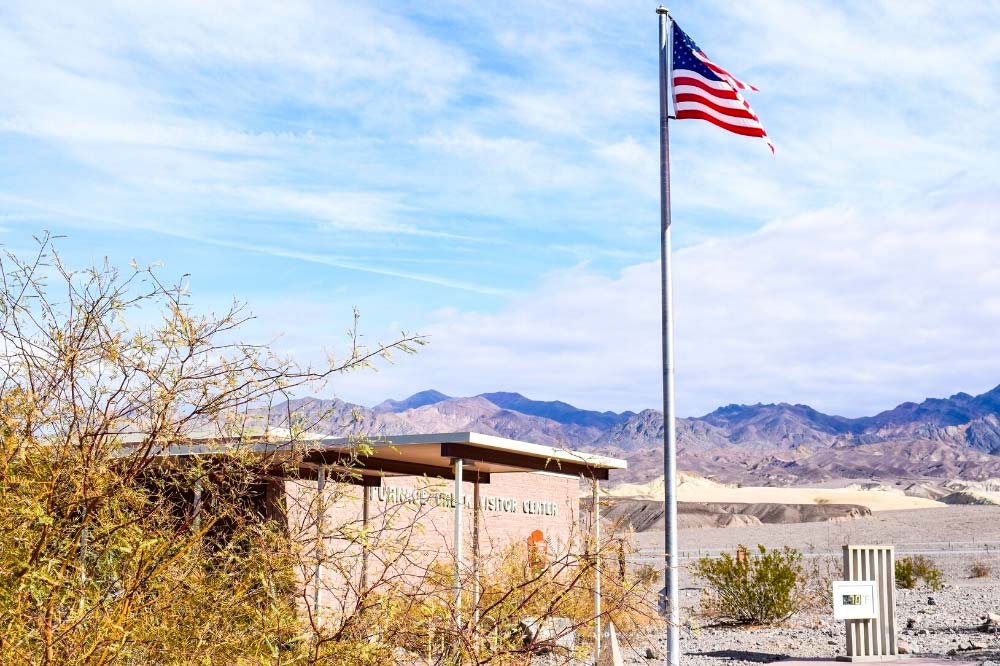 Regardless of how ambitious your Death Valley plans may be, you'll want to make it a point to visit the Furnace Creek Visitor Center. Even experienced explorers will find it to be a great place to take to a knowledgeable ranger about your plans and get the most up-to-date info on park logistics and weather predictions.
Secondly, there's much to do and see around the center. Inside, there's an air-conditioned museum about the park and outside, you'll find multiple interpretive trails, a swimming pool, and even an 18-hole golf course.
Among the many things to see near the visitor center is the popular and historic Harmony Borax Works, where a short paved path guides visitors around the ruins of the ancient plant.
2. Visit Badwater Basin
Among the most visited (and most Instagram-worthy) destinations in all of Death Valley National Park is the notorious Badwater Basin. This is the lowest elevation point in all of North America at 282 feet below sea level.
Temperatures here can reach over 130 degrees. You can drive right to the basin and take in the view from your vehicle when it's too hot to step outside. If you're feeling game, though, you can walk out onto the salt flats, grab a picture next to the iconic signpost, and marvel at the polygonal salt formations of the desert.
3. Go on a Scenic Drive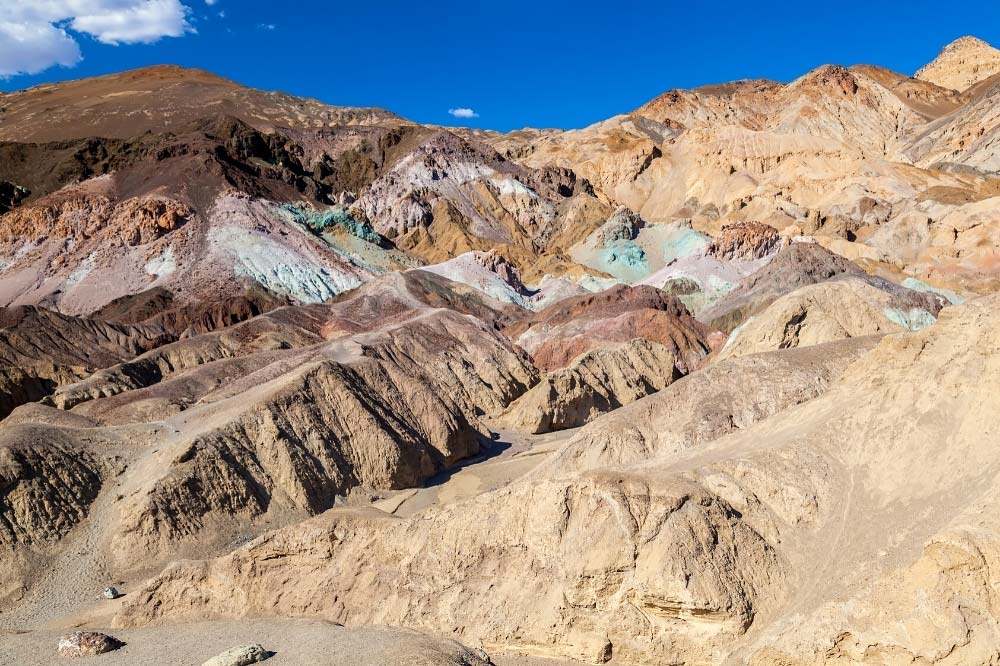 There are a number of excellent drives through Death Valley National Park. Because the weather can be so unforgiving, many people think driving is the best way to see the desolate, still beauty of the park with their own eyes.
Artists Drive is the most renowned road in the park. This paved route twists and turns through a spectacular array of geological formations. There are several great pullover points, but the most jaw-dropping is the Artists Palette, where the eroded hillsides put on a vibrant display of color.
Alternatively, the drive to Devils Golf Course is another marvelous drive filled with interesting rock formations as well as an immense field of jagged rock salt. Those interested in catching a desert sunrise or sunset will want to drive up to Zabriskie Point to take in the iconic vistas overlooking the park.
4. Take a Guided Tour
Death Valley is a dangerous place to explore. If you're inexperienced or unable to plan out your own route, there are plenty of ranger-led tours of several of Death Valley's most interesting and accessible areas. Even ultra-experienced outdoorsmen and women may enjoy taking a tour.
Tours are scheduled both day and night, so take your pick. There are several walk-and-talk guided hike options, as well as tours of Scotty's Castle or the Harmony Borax Works.
If you want to go one step further, there are several guided paleontology hikes scheduled throughout the winter where you can uncover fossilized tracks of ancient camels, horses, birds, and mastodon-like creatures from millennia gone by.
For Those Seeking More Adventure
Some people desire to see what lies beyond the pavement. Check out the adventures below if you're aching to get out and stretch your legs, as that's the only way to visit these Death Valley highlights. But there are plenty of things to do in Death Valley if you don't mind breaking a sweat.
5. Wander the Labyrinth of Golden Canyon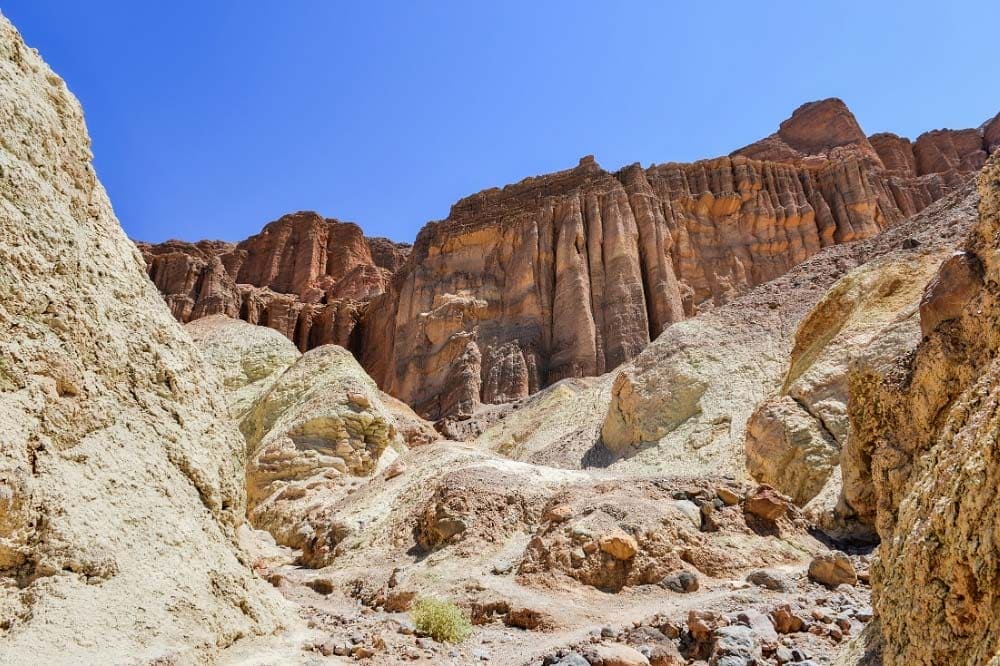 Golden Canyon is a web of circuitous hiking routes through a maze of gleaming hills that form a true choose-your-own-adventure outdoor playground.
Many of the well-defined and popular routes are easy to follow, such as the trails to Red Cathedral and Gower Gulch, but there are plenty of twists and turns that encourage off-the-beaten-path exploration. The National Park Service has GPX and KML files of the canyon to help you find your way.
6. Explore the Mesquite Flat Sand Dunes
Due to the ever-shifting nature of the landscape, there are no official trails within the Mesquite Flat Sand Dunes. There's a two-mile roundtrip route to the top of the tallest dune, but you'll be left to your own devices to navigate the dunes as you see fit.
Sunrise and sunset create dramatic shadows that stretch across the dunes. The sand can be scalding during the midday heat, so it's best to visit this area at the edges of the day or at night. There's a surprising wealth of wildlife here amid the sand and mesquite trees during the cooler hours. If you have a DSLR camera, shooting sunrise here can be one of the best things to do in Death Valley National Park.
7. Seek Out a Ghost Town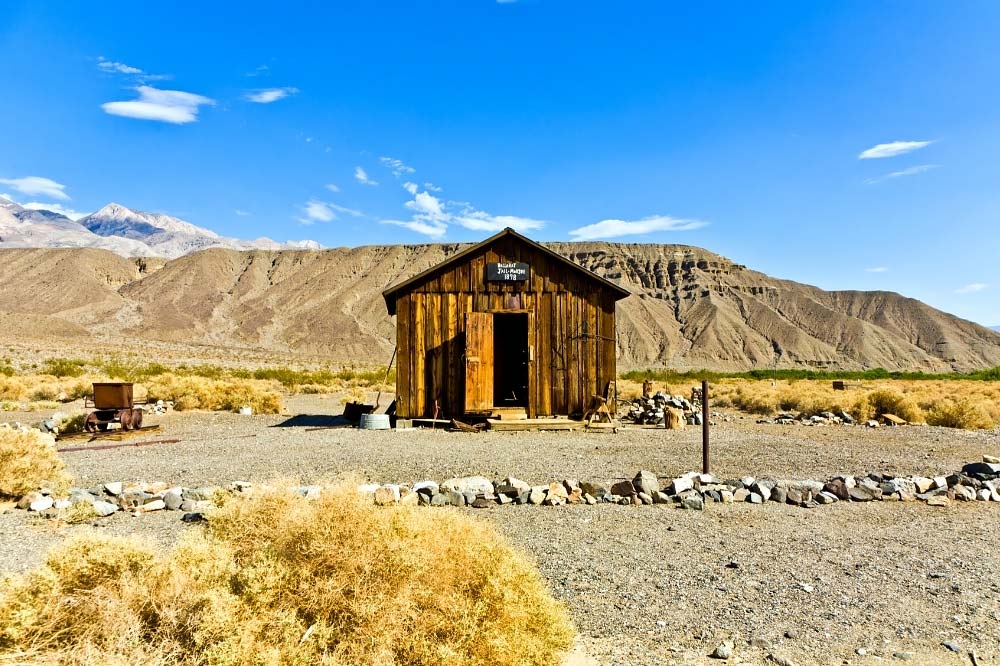 You can find nearly a dozen different ghost towns within and around Death Valley National Park. Each one has its own unique history, quirks, and mysteries to uncover.
Ballarat is located off Panamint Valley road. It was once a gold mining town at the turn of the 20th century and now is a privately owned property that visitors are welcome to explore. A few Death Valley legends have called Ballarat home over the years. In fact, a truck that belonged to Charles Manson still sits on the property.
Within the park, you'll find the ruinous remains of Panamint City, which were included within the national park's boundaries in the 1990s. This ghost town was a place where villainous outlaws escaped their pursuers and settled once prospectors found silver in the surrounding mountains.
8. Check Out the Restored Keane Wonder Mine
The Keane Wonder Mine had been closed for a decade but is now open for visitation once again after undergoing a safety-focused renovation. Hikers can take a self-guided tour of the well-preserved mining structures and tools including the aerial tramway terminals and towers.
Like most destinations in the park that aren't near a paved road, you'll want a high-clearance vehicle to get to the site's parking area. But aside from the rough road, this location is relatively accessible. Several short trails leave from the parking area toward the stabilized mining structures to make it easy to explore.
For the Ultimate Adventurer
Proper planning and preparation are crucial for these remote adventures. You're sure to find the solitude you're looking for on these Death Valley expeditions.
9. Ride the Rugged Backcountry Roads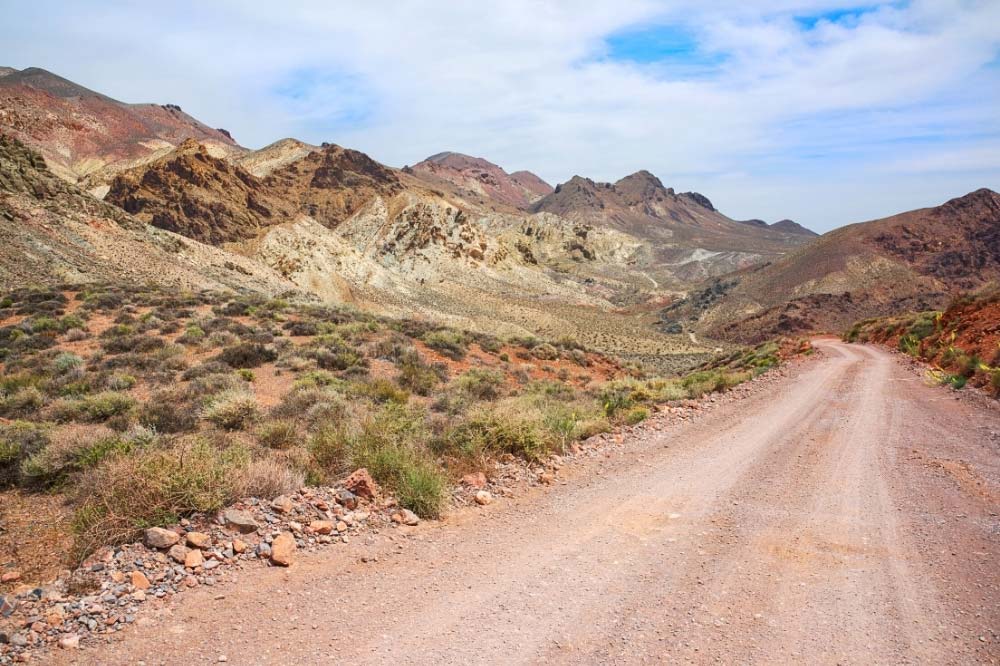 Miles of graded dirt roads and rough unmaintained roads provide access to the rarely seen corners of the national park and its surrounding desert landscape. Well-equipped, high-clearance vehicles are recommended for most of these routes, and 4WD or AWD is a must under some circumstances.
Don't bother trying to take a rental car down these rugged and secluded stretches, though rentals from  Farabee's Jeep Rentals are the notable exceptions. You can rent a rough-and-ready Jeep at the Furnace Creek location for backcountry travel. Still, make sure you're prepared to survive any obstacles that may come your way.
10. Hike to Telescope Peak
Telescope Peak is the tallest mountain in Death Valley National Park, which is reason enough for many intrepid folks to consider hiking it to be one of the best things to do in Death Valley when visiting. This 14-mile hike can be surprisingly brisk compared to the 100-plus-degree weather down in the valley below. Even snowfall isn't unheard of at these elevations.
The road to the trailhead is steep and rocky, and it gets more challenging the further up you travel. There are a few campgrounds and points of interest on the way up to park your car if it can't make the entire climb, but that also means that your hike is going to be longer.
The trailhead leaves from Mahogany Flat Campground, which can serve as a good basecamp should you need to spend the night. The views are expansive and only become more spectacular the higher you climb.
11. Bust Out Your Mountain Bike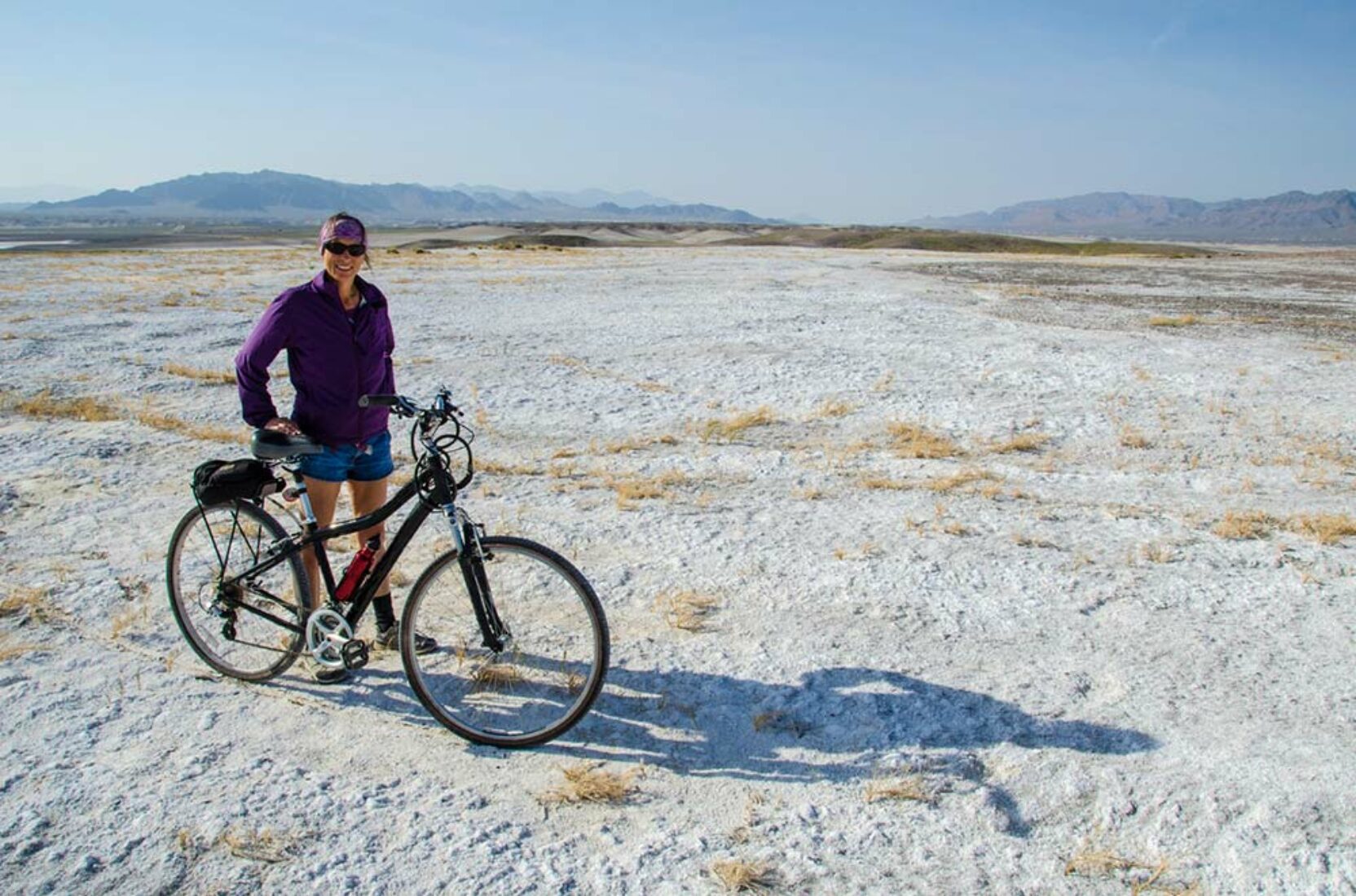 Death Valley is home to hundreds of miles of bikeable roads. Any road suitable for a vehicle is also suitable for bikes (or maybe even more suitable), and there are several suggested off-road routes designated safe for bicycle use.
The National Park Service has laid out a long list of bike-friendly roads and routes that are ripe for cruising. Each one is marked for difficulty, length, and level of use, plus any important details that a rider should know before undertaking the route. You can also search popular trail and mountain biking sites to find routes just outside the park's borders.
12. See It All at Dante's View
Though the drive to Dante's View isn't all that daring, the view at the top is utterly remarkable. The main viewpoint is accessible to anybody with a working vehicle. You'll be subjected to panoramic views overlooking the white salt flats below. If you're a Star Wars fan, you may recognize this as the location of the town of Mos Eisley — minus the sci-fi structures.
Those in search of more adventure can hike up the ridgeline to Mount Perry for even grander views with fewer people in sight. This eight-mile roundtrip route is the perfect way to wrap up your Death Valley trip. Though the beauty of the landscape is apparent during the day, the starlit sky makes for a serene vista at night.
Explore More in Southern California
Sign up for Weekend Wanderer, our free email newsletter offering thousands of readers epic travel and gear ideas every week.
---