We research, evaluate and select travel destinations based on a number of factors, including our writers' experience and expertise, user reviews and more. We may earn a commission when you book or purchase through our links. See our editorial policy to learn more.
---
There's nothing better than a road trip through sunny California — especially when you set your sights for Yosemite.
When planning an adventure to Yosemite National Park from LA, you could simply bolt up the monstrous 5 Freeway, eating at fast food joints and blowing past incredible lakes and summits, but I'm making the case that there's a better, longer, and much more fun way to travel north to John Muir's beloved valley.
This road trip itinerary is designed to be done as a loop trip in summer or fall, when Tioga Pass is open and visitors can enjoy the more scenic approach to the park along Highway 395.
In winter and spring, ignore the first three segments and expand the last two for a year-round excuse to explore some of the best natural wonders that the Golden State has to offer — and yes, the roads do get plowed, just check Caltrans before heading out.
Take this route if you want to venture into the magnificent High Sierra and bask in their wonders without the standard national park crowds. Even if you're hell bent on getting to Yosemite, enjoying the journey and visiting the quirky mountain towns along the way will just make your experience all the richer. Happy trails!
Los Angeles to Yosemite Road Trip by Section
The map above shows our recommended "most scenic" route from Los Angeles to Yosemite and back again, making for an epic 830-mile loop. You could easily spend a week on this route and soak up all the sights and adventures it has to offer.
Segment 1: Los Angeles to Lone Pine & Whitney Portal
Distance: 232 miles
Drive time without stops: 3 hours, 55 minutes
This is the day when you'll complete the lion's share of the driving towards Yosemite, passing through arid Antelope Valley, stopping for gas in the windy railroad town of Mojave, and finally getting your first glimpses of the storied Sierra Nevada mountain range as you near Olancha.
In total, the drive to Lone Pine is just over 3 hours, but taking an entire day to explore the Southern Sierra and Mount Whitney area is worth it.
Related read: 6 Stunning National Parks near Los Angeles, California
Segment 1 Highlight: Fossil Falls
Situated near a red-hued cinder cone near the southern Sierra foothills just east of Highway 395 (near the turnoff for Death Valley), Fossil Falls is an easy, .4-mile hike to a geological wonder that many people simply speed by on their way to Mammoth.
Fossil Falls is a dry, glacially-carved waterfall made of striking dark volcanic rock that seems to sprout up out of nowhere. There's a picnic area and a campground nearby, too, if you'd prefer to stay a while and scramble around.
Segment 1 Side Trip: Whitney Portal
Summiting Mount Whitney is a bucket list item for most serious hikers. As the tallest peak in the lower 48, it's got a notorious reputation and a massive fan base, so much so that climbing to its 14,505-foot summit requires a special permit.
However, the Whitney Portal area is an impressive and accessible way to drive straight into the heart of the High Sierra, whether or not you lace up your hiking boots. Plus, the 6.5-mile (round trip) day hike up to gorgeous Lone Pine Lake is one of the few sections of trail in the area that doesn't require a permit and is well worth the effort.
To get to the trailhead, simply turn left onto Whitney Portal Road (it's literally the only stop light in Lone Pine) and wind your way up breathtakingly beautiful switchbacks for about 20 minutes.
Segment 1 Highlight: Merry Go Round
After a day of hiking and sightseeing in the Sierra, you're likely to build up a massive appetite. Sure, Lone Pine might be known for its BBQ and Mexican food, but surprisingly, one of the best meals in town is at the Merry Go Round Chinese restaurant, right on the main strip.
It's also the best place around for vegan and vegetarian travelers, with tasty noodles and stir fries to satisfy even the pickiest hiker's hunger.
Related Read: 12 Unique Places to Stay in California for an Epic Escape
Segment 1: Where to Stay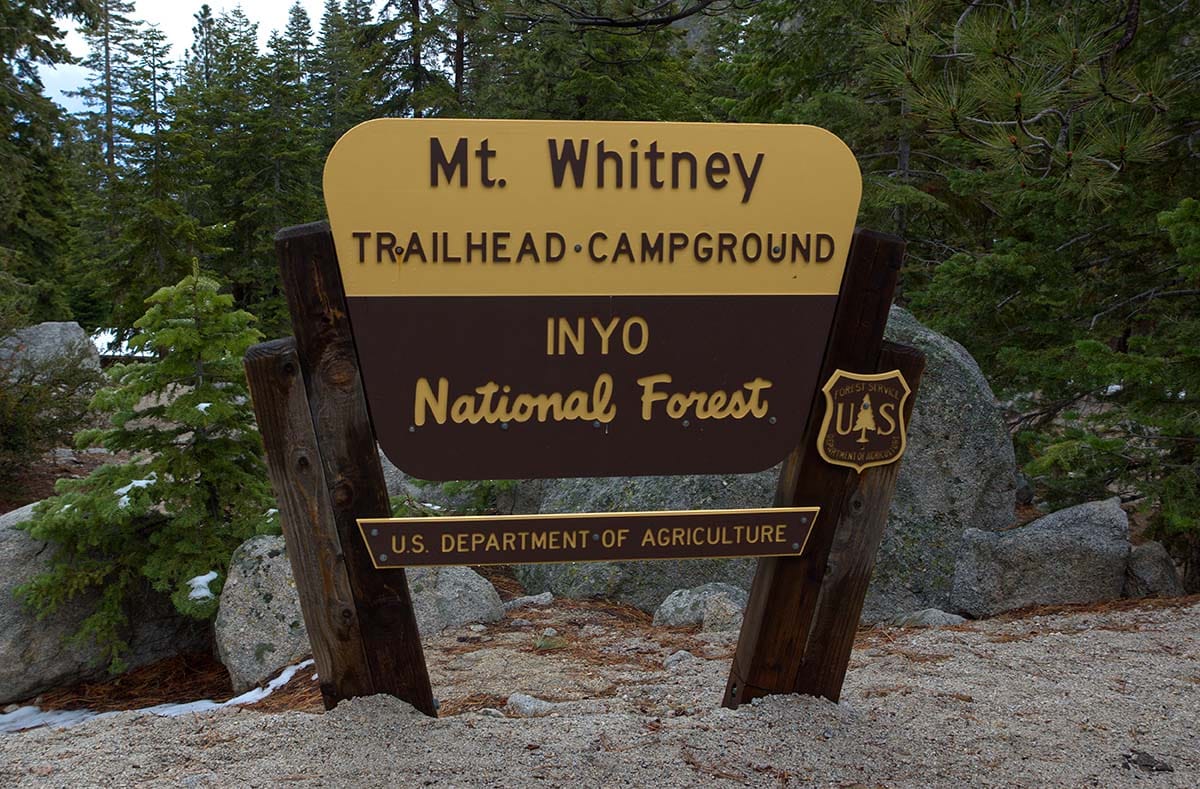 Lone Pine isn't renowned for its world-class lodging, but there are a few great spots to spend the night, if you know where to look. If you're lucky enough to snag a reservation, the shady Whitney Portal Campground is set at an elevation of 8,000 feet and is much cooler and more comfortable for summer snoozing than nearby Alabama Hills.
If you're jonesing for a proper hotel experience, the Best Western on Main Street is reliably clean, comfortable, and has a pool for those sweltering summer months. If you're feeling splurge-y or seeking a bit more solitude, consider one of the stunning cabin rentals on Airbnb.
Segment 2: Lone Pine to Mammoth Lakes
Distance: 100 miles
Drive time without stops: 1 hour, 45 minutes
Sure, you could breeze past the incredible mountain town of Mammoth Lakes and high-tail it all the way to Yosemite, but if you did, you'd be missing out on a less-crowded (and just as beautiful) slice of the Sierra Nevada.
This segment is where the drive really gets gorgeous, with historic stops, delicious eats, and lovely lakes all within arm's reach.
Segment 2 Highlight: Manzanar National Historic Site
Many national park service sites are designed to protect stunning natural landscapes, but some, like Manzanar, are set up to preserve important cultural stories so that they don't get lost in history's ever-churning narrative.
Situated just 10 miles north of Lone Pine, this former Japanese internment camp once housed thousands of immigrants and U.S. citizens at the height of World War II. Now, visitors can check out a former guard tower and barracks buildings as an important reminder of the country's troubled past.
Segment 2 Highlight: Copper Top BBQ
Recently rebuilt with a brand-new location, this delectable BBQ joint was ranked the best restaurant in the entire country on Yelp in 2015.
It's located in the tiny yet scenic town of Big Pine, and at just 42 miles north of Lone Pine, it's a great lunch stop on your way to beautiful Mammoth Lakes.
Segment 2 Highlight: Keough Hot Springs
After a hearty lunch (and a hike the day before), it's time to relax and soak your bones a bit in the soothing waters of a historic bathhouse. Keough's is a locally-owned Bishop business that's been serving up spa time since 1919. They offer multiple pools for worn out road trippers to unwind in on their way to or from the Sierra.
Related Read: 9 Soak-Worthy Hot Springs in California
Segment 2 Highlight: Convict Lake
If you're up for an easy hike (or simply want to enjoy the view), Convict Lake is a fantastic place to get out and stretch your legs on the way to Yosemite. Don't let its morbid name fool you–this is one of the Sierra Nevada's most breathtaking alpine lakes.
It's a haven for boaters, anglers, and hikers looking to complete the relatively flat 2.5-mile loop trail around its shoreline. In case Copper Top isn't your scene, there's the adorable Aspen Grill food truck here, too, which serves up breakfast and lunch.
Segment 2: Where to Stay
The good news is that there's no shortage of places to stay once you get to fetching Mammoth Lakes. Quaint hotels like the Swiss-inspired Alpenhof Lodge and the Westin Monache Resort ensure that weary travelers have a bevy of clean, cozy beds to choose from.
If you're looking to camp near town, Twin Lakes Campground is shady and near a handful of hiking trails to stroll at sunset. Plus, there are loads of adorable houses and cabins for rent, right in town.
Related Read: 5 Serene Hot Springs Near Mammoth Lakes, California
Segment 3: Mammoth Lakes to Yosemite
Distance: 114 miles
Drive time without stops: 2 hours, 50 minutes
Here's where the going really gets pretty. It may only take an hour or so to drive from Mammoth to the Yosemite park gate, but with the wealth of photo ops and scenic stops along the way, you'll want to at least double that so that you can cruise around the June Lake Loop and actually enjoy the scenery shift as you make your way up 10,000-foot Tioga Pass.
If you're heading all the way to stay in Yosemite Valley, we recommend taking a full day to get your full share of the sights along this segment.
Related Read: 7 Beautiful Camping Spots in Mammoth Lakes, California
Segment 3 Highlight: June Lake Loop
Just north of Mammoth Lakes (about 20 minutes by car) is a turn-off for the scenic June Lake Loop. Exit Highway 395 North and turn left to feel as though you've traveled back in time.
While Mammoth may feel a bit trendier and more stylish, with its LA snowboarders and hip townhouses, June Lake is more like a laid back, 1970s mountain community with some sincerely epic fishing, hiking, swimming, and dining opportunities.
Segment 3 Highlight: Silver Lake Resort
As you make your way around the June Lake Loop, you'll come to a postcard-worthy view of chilly, snowmelt-fed Silver Lake and the woodsy resort that shares its name.
Though restaurant wait times here can be a bit long in spring and summer, it's an epic spot to grab lunch and marvel at the high peaks all around.
Segment 3 Highlight: Tenaya Lake
Before the town of Lee Vining, take a left hand turn onto Tioga Road and follow it up, up, up into Yosemite National Park. Along the way, you'll pass through rust-red peaks, densely forested hills, and sky-high granite domes.
After perusing the visitor center and general store at Tuolumne Meadows, continue your scenic drive to Tenaya Lake, in the heart of the High Sierra. This sapphire tarn is jaw-droppingly beautiful, set against a backdrop of granite cliffs. Dip your toes into the goosebump-inducing water, or perhaps set off on one of the many trails that leaves from the area.
Segment 3: Where to Stay
It's tough finding great lodging in the less-trammeled northern section of Yosemite National Park, but luckily, Tuolumne Meadows has a large and well-appointed campground, that is, if you play your cards right and book early.
If you'd rather lounge in a more luxurious scene (complete with a large pool, excellent restaurant, and a sumptuous spa), head over to Rush Creek Lodge, just an hour by car from Tenaya Lake. It's a chic, family-friendly mecca for nature lovers looking to stay mere minutes from Yosemite.
In Yosemite Valley, the lodging options include historic lodges like The Ahwahnee and Curry Village. Yosemite Valley also offers a smattering of campgrounds — advance reservations recommended!
Segment 4: Yosemite Valley to Three Rivers
Distance: 212 miles
Drive time without stops: 5 hours, 10 minutes
After spending however many days your crew has planned in the valley and mountains made famous by naturalist John Muir's poetic ramblings, it's time to depart and continue the long loop drive back to Los Angeles.
If you're in a rush to return straight home, you can hop onto the 5 Freeway, heading south, and it'll take about six hours total. But, if you've got an extra day to spare, you can knock two gorgeous national parks off your list along the way.
Related read: 9 Super Scenic Hikes in Yosemite National Park, California
Segment 4 Highlight: Tunnel View
Yes, it's touristy, but no trip to Yosemite would be complete without an epic photo op at Tunnel View, with magnificent waterfalls, the cliff face of El Capitan, and the rounded curve of Half Dome all coming into view.
Pro tip: go at sunrise to avoid midday crowds.
Segment 4 Highlight: Grant Grove
Giant Sequoias have been in the news a lot recently, due to raging, climate change-fueled fires threatening their habitat year-after-year. Grant Grove, in the western corner of Kings Canyon National Park, is one of the best places on the planet to wander among these furry-barked ancients and forest bathe in bliss. There's even a campground and cabins if you'd like to extend your stay.
Related Read: 11 Sequoia National Park Cabin Rentals Fit for Forest Bathing
Segment 4 Highlight: General Sherman Tree
The drive from Kings Canyon to Sequoia National Park on Generals Highway is a thing of American road trip lore, winding through granitic peaks, towering conifers, and some seriously stunning vistas of the Great Western Divide.
Along the way, make sure to stop off and hike the short, half-mile trail leading to the General Sherman Tree, the largest on the planet.
Segment 4: Where to Stay
The quaint mountain village of Three Rivers lies in the foothills of the Sierra Nevada, just outside Sequoia National Park. If you can't snag a coveted campsite at Lodgepole or Potwisha inside the park, aim for an amenity-rich Hipcamp in nearby Three Rivers. Or, splurge on an alluring cabin rental.
Segment 5: Three Rivers to Los Angeles
Distance: 199 miles
Drive time without stops: 3 hours, 10 minutes
By now, you're probably jonesing to get back home, shower, and bask in the comforts of air conditioning and Wi-Fi. But, if you've got a bit more juice in the tank, there are a few notable spots you could stop at on the long drive back to the City of Angels.
Segment 5 Side Trip: Lake Isabella
Lake Isabella is a 55-mile detour (round trip) from the above mileage, and is a gorgeous reservoir for fishing, boating, and reveling in the natural world. Plus, it stays open in winter months, should you decide to road trip north along the 5 Freeway when Tioga Pass is closed.
Segment 5 Highlight: Pyramid Lake
Though it's yet another reservoir, Pyramid Lake is a shockingly beautiful (and easy) pit stop on the drive to or from Los Angeles. With views of steep summits and the Angeles National Forest, it's hard to believe that this body of water sits right off the 5 Freeway.
Plus, there's a large parking lot and informative visitor center that details how much of arid Southern California gets its water. And, yes, you can paddle and swim in its waters.
Explore More in California
Get epic travel ideas delivered to your inbox with Weekend Wanderer, our newsletter inspiring more than 10,000 readers every week.
---