We research, evaluate and select travel destinations based on a number of factors, including our writers' experience, user reviews and more. We may earn a commission when you book or purchase through our links. See our editorial policy to learn more.
---
Designated in 1919 as the 15th National Park, Zion marvels everyone who visits its sandstone cliffs and geological formations.
Zion averages around 4.5 million annual visitors — but only a handful of those get to see the true wild of the park's backcountry. If you elevate your adventure and head out on one of the several backpacking trails, you'll get to see a side of Zion that many visitors overlook. Whether it's the dramatic top section of The Narrows, the Southwest Desert, or the less-touristy views in Kolob Canyons. No matter where you decide to camp in the backcountry, the views will not disappoint.
As a reminder, hiking in Zion National Park has its own quirks. In this part of the desert, even on the hottest of days the nights can drop considerably so come prepared to keep warm in your tent. With high temperatures during the day, it also means that water is more essential than ever. Plan ahead of your trip to see what water sources are located along your trail of choice.
Hiking in places like The Narrows offers stunning views but potentially dangerous situations. During rainy weather — especially the July to September monsoon season — this area can be hit with flash floods at a moments notice. So take head and watch the weather around the days of your trip. Carry the gear you'll need depending on the trail you take. Ask yourself if you'll need to buy neoprene socks or trekking poles or a larger water bladder. Even the best and easiest of backpacking trips can go sour quickly if you aren't prepared with the right gear or the right information.
Pro tip: all backcountry camping requires a permit within Park boundaries. Some sites are reservable in advance, others are first come, first serve. Check out this PDF to get all the deets and follow the National Park Service's information on backpacking in the park.
Related Read: 7 Epic Things to Do at Great Basin National Park, Nevada
1. The Narrows – Top Down
Why you should go: see a stunning portion of The Narrows that day hikers can't enjoy.
Distance: 16 miles (shuttle)
Elevation loss: 1,500 feet (the entire hike is downhill)
Difficulty: challenging
Most visitors to Zion National Park see only the southern portion of The Narrows. The popular day-hike starting at the northern tip of Zion Canyon is one of the most popular day hikes within the park boundaries. However, day hikers are not allowed past Big Springs — about 4 miles from the end of the Riverside Walk and where hikers enter the water.
But anything to the upstream of Big Springs is only for those with coveted backcountry permits. This is a point-to-point backpacking excursion meaning you start at one end and finish at another. You'll need to shuttle between the two spots.
The hike starts at Chamberlain's Ranch where you walk for three miles on an easy gravel road. Then head into the Upper Narrows portion until you reach the Deep Creek Confluence. This is where the backcountry campsites are located — you'll be given a campsite when you pick up your permit. Hopefully you'll land a campsite further down so you won't have to hike as much the second day. But no matter your designated site, they pack in as many views as possible inside a slot canyon.
The campsites end at Big Springs and is where you might start to see more people in the creek. You'll know you're getting closer to the trailhead as more and more people walk by you wondering why you're wearing a huge backpack. Tourists come from all over to see the famed "Wall Street" and some are not necessarily prepared with the right footwear or gear.
Pro Tip: explore the gorgeous Orderville Canyon as a side trip if you've got time and the weather is on your side.
Related Read: 12 Gorgeous Cabin Rentals Near Zion National Park, Utah
2. Hop Valley
Why you should go: a mini–Zion Canyon without the crowds.
Distance: 14.3 miles (out and back)
Elevation gain: 1,020 feet (all uphill on the way back)
Difficulty: moderate
Hop Valley is part of an overlooked and under-appreciated side of Zion National Park: Kolob Canyons. Because area is higher in elevation than the main part of the park, it tends to be cooler — meaning this is a great place to beat the summer heat! This is also a great trail to do in the spring or fall though as wildflowers bloom and autumn leaves light up the edges of the trail.
No matter the season you head out, the trail starts with the smells of dry sagebrush —you know the smell I'm talking about! You'll pass through a private ranch (the owners graciously allow hikers/backpackers to access their land) along the sandy trail. Due to the ranch, you'll see plenty of cattle on the trail and is why Hop Valley is known to locals as "Plop Valley".
Soon enough, glimpses of Kolob Canyons appear in your view. You'll be surrounded by gamble oak (which is a true sight to see in the autumn) as you ascend the northern end of Hop Valley. There are two designated campsites along this section. After you set up camp (and if the light is on your side), then I suggest making the quick trip to Kolob Arch (the largest rock arch in Zion) before you head out the next day.
Pro tip: there is a small creek that flows through Hop Valley but it's contaminated by cattle droppings. Get your water at Beatty Spring, just off the La Verkin Creek Trail.
Related Read: 11 Beautiful Glamping Spots Near Zion National Park
3. West Rim Trail – Top Down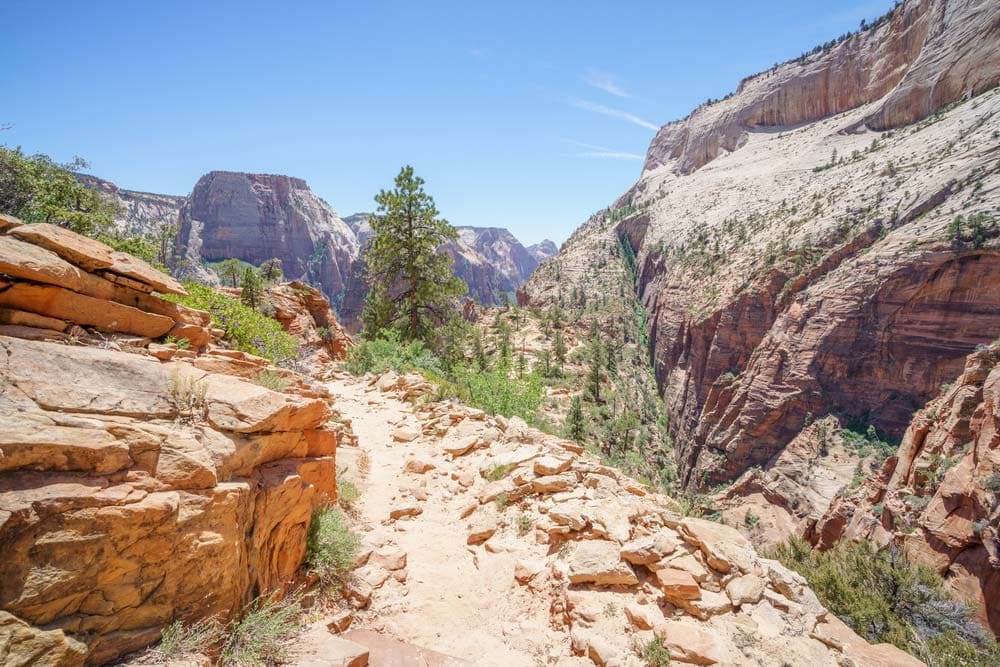 Why you should go: single-handedly the best views in the park.
Distance: 14.2 miles (shuttle)
Elevation gain: 1,748 feet
Difficulty: challenging
Without a doubt, the most popular and famous backpacking trail in Zion is the West Rim Trail. It follows along Zion's incredible and majestic West Rim before it drops into Zion Canyon, so its popularity is understandable.
There are eight campsites along this trail, but you can do this as a day hike if you're a strong hiker. This is a point-to-point hike, so you'll need to establish a shuttle/pick-up system prior to heading out on your adventure. As you hike longer and longer, the views of the dramatic sandstone peaks just get more incredible. One such sight is along a spur trail that heads west to Cabin Spring — definitely take this spur trail!
Eventually, you'll descend into Behunin Canyon and around the base of Mount Majestic and end at Scouts Lookout. But your hike is not over. If you have energy, do the final push towards Angels Landing — believe me, it's well worth the extra mileage and nerve-wracking drop-offs to get to this spot. After concluding this daring trail, simply head to the Grotto bus stop (#6 on Zion's bus route).
Pro tip: load up on water at Potato Hollow Spring — it's the only dependable water source before West (Cabin) Spring.
Related Read: When is the Best Time to Visit Zion National Park?
4. La Verkin Creek Trail
Why you should go: hike to the largest rock arch in Zion National Park.
Distance: 18 miles (out and back)
Elevation gain: 2,326 feet
Difficulty: moderate
Although this is the longest hike in the Kolob Canyons section of Zion National Park, it's a truly lovely stroll along the less visited section. The La Verkin Creek Trail starts at Lee Pass. Fun (or maybe not so fun) fact: Lee Pass is named after John D. Lee who was an early member of the Church of Latter Day Saints. He hid out in this area of Zion after he convinced a group of emigrants to surrender their weapons and property to Mormons which led to 120 of the emigrant party to be killed by Mormon militia and Paiute Indians. He was later convicted of mass murder and executed in 1877.
But this hike is so not as depressing as that story. You weave in and out of ponderosa pine forests and sagebrush ecosystems with the tall sandstone cliffs towering above you. All the campsites along the trail offer these incredible views. About seven miles in, you'll hit the spur trail for Kolob Arch which is a highlight of the trail. The arch is the largest one in Zion and one of the largest free-standing arches in the U.S.
Related Read: 11 Backpacking Trips in the U.S. That Should be on Your Bucket List
5. Chinle Trail
Why you should go: the only place in Zion you'll find petrified wood.
Distance: 15.5 miles (out and back)
Elevation gain: 1,794 feet
Difficulty: moderate
The Chinle Trail has scenery like no other in Zion National Park. So if you're tried of the slot canyons and river crossings, then look no further than this trail. The trail actually starts out off of park land to the southwest of the Zion's South Entrance. The first part of the hike meanders through a luxurious and ritzy housing development (not really my cup of tea if you ask me) before it opens up into the wild of Zion National Park.
The trail traverses Zion's lowest elevations with sweeping views of the sandstone cliffs like the ones around the base of Mount Kinesava. Make sure to stay on trail always as cacti and biological soil crust are just off trail. Geology nerds will be excited about passing Huber Wash and entering the Chinle Formation in this area. Once upon a time, Zion was a humid swamp covered in mosses, ferns, and green forest. Those trees were buried and then mineralized forming petrified wood that you can easily see along the edges of the trail today.
Remember Leave No Trace principle # 4, and leave what you find.
Explore More in Southern Utah
Sign up for Weekend Wanderer to join thousands of readers getting epic and gear travel ideas every week.
---