We research, evaluate and select travel destinations based on a number of factors, including our writers' experience, user reviews and more. We may earn a commission when you book or purchase through our links. See our editorial policy to learn more.
---
Home to Half Dome, the Merced River, groves of giant sequoias, and, perhaps most famously, El Capitan — where Alex Honnold free soloed one of the tallest sheer cliff faces on the planet — Yosemite is as diverse a park as it is adventurous.
But with great fame comes booked up campgrounds and day-use reservations. It can feel nearly impossible to find a great place to stay near this infamous national park these days, with most in-park lodging booking up six months in advance. Plus, many of these spots don't offer the creature comforts your group might want to make your wilderness getaway feel more like a vacation and less like a mosquito-filled mess.
We put in the hours and did the research for you, selecting 11 of our favorite glamping sites just outside of Yosemite. At each of these lovely locales, you'll be surrounded by the blissful nature you came to witness while also being awash in thoughtful amenities.
As always, remember to practice the seven Leave No Trace Principles and respect any fire bans that may be in place — most glamping spots list these rules on their websites. Where applicable, pack out all your trash and only walk on established trails.
Read on for the most epic glamping options for your Yosemite National Park trip.
Related read: 9 Super Scenic Hikes in Yosemite National Park, California
1. Wilderness Bridge
Why you should stay: This wooden honeymooner suite is cabin porn at its finest, just half an hour from the park.
Sleeps: 2
Minimum stay: 2 nights
Rates from: $130/night
Fifteen minutes down a secluded trail on a private farm lies the ultimate in cozy, secluded cabins. Made from reclaimed materials (including Korean War-era arches salvaged from Arctic huts and floor-to-ceiling windows), this comfy glamp site sleeps two in a large platform bed, with linens included. The hosts haul in water, so all you'll need to do is schlep in your clothes, snacks, and any gear you want on hand for a mini, cabin-style backpacking adventure. Sip a sunset glass of wine on the private porch and relax.
Back at the main farm, guests will have access to a shower, communal kitchen, composting toilet, and stunning dining area in the wood-raftered barn. This is a perfect spot to truly unplug while soaking up the majesty of Yosemite.
Check Availability
Related Read: The 10 Best Camping Spots in Santa Barbara, California
2. Romantic & Secluded Yurt
Why you should stay: Cuddle up and enjoy a private kitchen and bathroom at this large, dreamy yurt.
Sleeps: 2
Minimum stay: 1 night
Rates from: $240/night
This huge circular yurt is glamping at its finest, with plenty of space for two friends or a couple to spread out and savor the dappled light from nearby oak trees each morning, sipping coffee on the adjoining deck. The main living space is adorned with a plush, queen-sized bed, wood-burning fireplace, and a lounge area where guests can snuggle in with a good book (don't worry, the hosts provide both books and firewood).
Next door, a private cookhouse and bathroom are available for visitors to use. Gaze out at spectacular mountain and woodland views from the rear breakfast deck or fire up the BBQ after a day of hiking in the park and fix yourself a feast to remember. Then, roast a few s'mores and catch the dazzling night sky from the nearby firepit and outdoor seating area.
Check Availability
Related Read: 12 Magical Tiny House Rentals in California
3. High Garden
Why you should stay: Bed down in a retro travel trailer with access to an outdoor clawfoot tub just outside of Oakhurst.
Sleeps: 2
Minimum stay: 1 night
Rates from: $160/night
Ideal for couples who want to escape the hustle and bustle of the city, this vintage travel trailer is an epic, off-grid getaway for anyone looking to visit Yosemite without having to pitch a tent. Enjoy a private deck with stellar views, small seating area, and full-sized bed (linens and towels included), all just a thirty-minute drive from the national park.
Wander around this unique property to discover dozens of secluded hang-out areas and meditation decks, including a view-heavy platform with a clawfoot bathtub and a covered, open-air communal kitchen. Come for the views but stay for the sweet little kitties that wander through the property to keep guests company.
Check Availability
Related Read: 9 Amazing Glamping Spots Near Los Angeles, California
4. Indoor/Outdoor Cabin Inside the Park
Why you should stay: You can't get any closer to the park than this cute tiny house with attached sun deck inside the gates of Yosemite.
Sleeps: 2
Minimum stay: 3 nights
Rates from: $325/night
Okay, so this one technically isn't glamping, but we couldn't resist the indoor/outdoor porch access and the proximity to the park from this sweet little seafoam green cabin, tucked away in Foresta, one of the quieter corners of Yosemite National Park. A short hike brings guests here phenomenal views of Half Dome and El Capitan, all while enjoying creature comforts like air conditioning, a comfy couch, and a luxe king-sized bed.
A fully stocked kitchen, decked out with stainless steel appliances greets hungry hikers here, plus a small breakfast nook for two. Inside the attached, screened-in sun room, you'll find another sofa and a shady dining area with views into the neighboring oak and conifer grove.
Check Availability
Related Read: 11 Enchanted Glamping Retreats in Northern California
5. AutoCamp Yosemite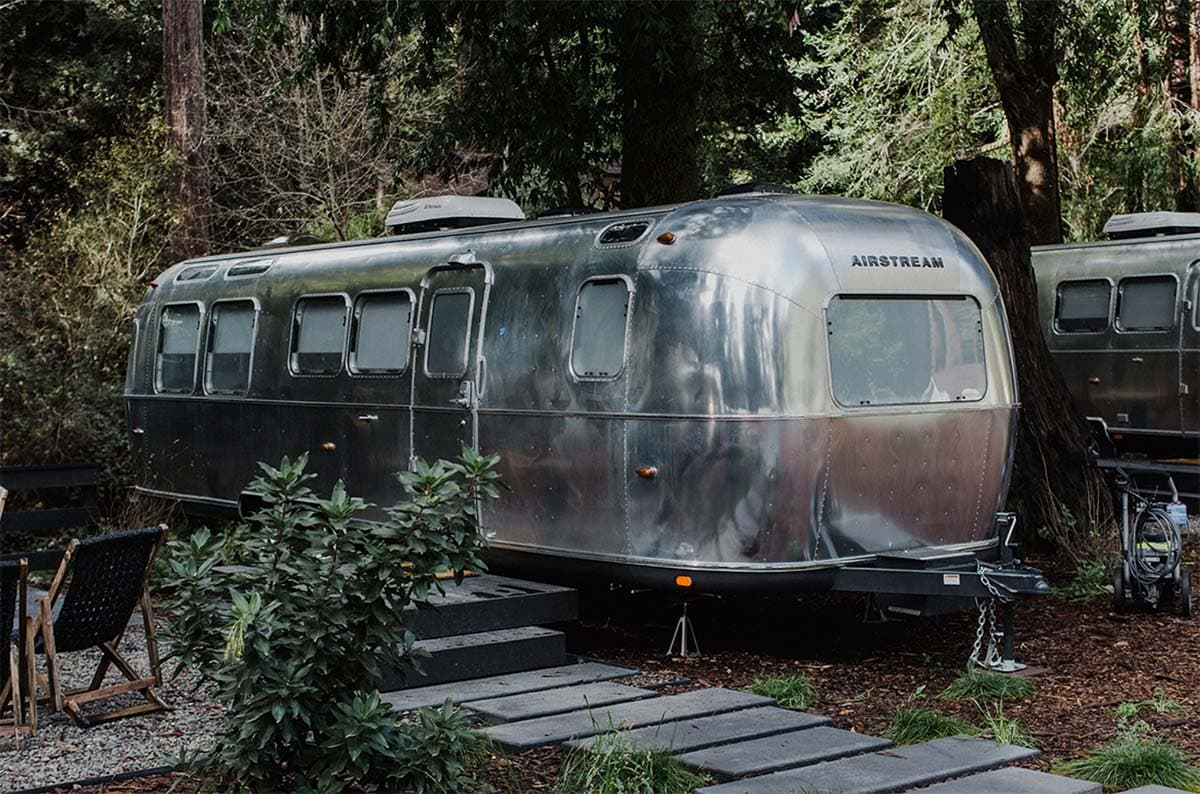 Why you should stay: Providing fully-equipped, modern Airstreams and stylish canvas tents, AutoCamp Yosemite is top of the list for discerning glampers looking to splurge.
Sleeps: 2-6
Minimum stay: 1 night
Rates from: $139/night
Amenities abound at this hip glamping mecca, located just 40 minutes west of Yosemite's Arch Rock Entrance. Every one of the property's ultra-luxurious chrome Airstream trailers features a midcentury-inspired living room area, complete with cozy blankets, and a rear bedroom with charging ports and luxe bedding. Inside the small, private interior bathroom, guests can expect hot showers, a flush toilet, and organic Ursa Major bath products. Glamping tents provide similar accommodations, but share a nearby spa-inspired bathhouse.
Outside, a private landscaped patio provides a dining area and fire pit for travelers to chill out by after a big day in the park. Guests also have access to epic shared amenities like hammocks, free mountain bikes for use on-property, a seasonal pool, and weekly activities (think yoga, beer tastings, s'mores, and live music).
Check Availability
Related Read: 11 Amazing Airstream Airbnbs Across the U.S.
6. Old Timey Conestoga Wagons
Why you should stay: Take a trip back in time and hit snooze in one of these Wild West-inspired wagons that can easily sleep a family of four.
Sleeps: 4-6
Minimum stay:
Rates from: $159/night
Yosemite Pines RV Resort's name is deceiving. For one thing, they're not just a haven for RV campers; they've got a bevy of excellent glamping options for Yosemite visitors to enjoy, from yurts to vintage trailers to these cowboy-chic Conestoga wagons. Each of the air conditioned glamping wagons comes with a large bed for mom and dad, plus a set of bunkbeds and a small indoor seating area (or two sets of bunk beds and no dining area for larger groups of up to 6).
Guests here will have an easy time accessing morning or post-hike snacks from their own private mini-fridge, and breakfast is a cinch with the included microwave and Keurig coffee maker. Just outside, each wagon has access to a private picnic table and barbecue/fire ring. The restrooms and hot showers are a short walk away, and it's BYO-towels if you intend to partake. After your day in the park is done, your family will love the property's bocce ball court, seasonal pool, or playground.
Check Availability
Related Read: 11 Breezy Oceanfront Camping Spots in California
7. The Lookout
Why you should stay: The apex of bohemian cabin décor, this tiny home created from salvaged materials is a perfect off-grid escape for two.
Sleeps: 2
Minimum stay: 1 night
Rates from: $110/night
With hippie-chic décor, a façade made of reclaimed wood, and breezy windows overlooking a working organic farm and acres of undeveloped woodlands, this tiny treehouse-style cabin near Groveland offers just enough creature comforts for guests to unwind while still feeling the lovely hum of the wilderness all around them.
A small electrical outlet allows for late-night reading or charging your devices between park visits, while a comfy full-sized bed (linens included) provides the perfect resting place for your tired hiker bones. The property also has a shared kitchen and communal dining area in its nearby barn, and guests here are welcome to use the outdoor shower and composting toilet in the farm's main area.
Check Availability
Related Read: 10 Best Glamping Spots Near Joshua Tree National Park, California
8. V&V Cottage
Why you should stay: Escape your stressors at this quaint, cottage-style tiny house that's sure to delight nature lovers and city addicts alike with its bevy of amenities.
Sleeps: 2
Minimum stay: 3 nights
Rates from: $200/night
Situated a mere two minutes from Lake Tulloch, a haven for anglers and paddlers alike, this small cabin is the definition of cottagecore. The one-room shack offers a cozy pullout sofa bed, a kitchenette with microwave and mini-fridge, plus a private deck with views for miles of verdant, rolling hillsides. The attached, interior bathroom offers a flush toilet, hot showers, and a washer/dryer.
Out front, the deck provides a comfortable, breezy dining area and a neighboring fire pit is sure to keep you toasty on cold nights spent stargazing or roasting s'mores. Sure, the site is an hour and fifteen minutes from the park proper, but with views and comfort like this, it's absolutely worth the trek.
Check Availability
Related Read: 11 Sequoia National Park Cabin Rentals Fit for Forest Bathing
9. Idyllic Tree House
Why you should stay: Hang your hat in the towering oak trees at this magical treehouse getaway that's roughly thirty minutes from Yosemite.
Sleeps: 2-4
Minimum stay: 2 nights
Rates from: $200/night
Fairy lights swing above two plush, queen-sized beds at this one-of-a-kind treehouse getaway built around lush heirloom oak trees near Yosemite National Park. Tucked away in the gateway town of Oakhurst, this nature-centric stay goes big on the comforts of home, so that guests can unwind and enjoy. Inside, a mini-fridge, microwave, and pod coffee maker sit next to a comfy couch, and a private, modern bathroom provides visitors with a flush toilet, sink, and hot showers.
The outside space will make it hard to ever leave for the park, with a shady hammock slung right above the wrap-around deck and views into idyllic neighboring forests galore. Wi-fi and all linens are included in your stay.
Check Availability
Related Read: 9 Soak-Worthy Hot Springs in California
10. Stunning Silver Airstream
Why you should stay: Enjoy some of the finest midcentury design in town at this vintage Airstream that sleeps two.
Sleeps: 2
Minimum stay: 2 nights
Rates from: $149/night
Sleep in a 24-foot Silver Streak Sabre in stunning space-age chrome located just outside of Oakhurst, one of the main gateway towns surrounding Yosemite National Park. The interior of this engineering marvel is decked out with two twin beds, a kitchen with stove, small fridge, dinette booth, and sink, plus a tiny bathroom with a toilet, warm shower, and additional sink for hand washing. The hosts generously provide wi-fi, all linens, towels, heat, and air conditioning.
The exterior space is just as dashing as the Airstream's insides, with a patio table, private deck, and propane grill ready and available for use. Sleep in and sip coffee under the shade of nearby trees or borrow one of the property's kayaks and paddleboards and set off on a grand adventure in the park.
Check Availability
Related Read: 9 Epic Glamping Sites Near Yellowstone National Park
11. Luxe Yosemite Tipi
Why you should stay: Southwest-inspired bedding and a forest-chic kitchen adorn this cozy canvas tipi for two.
Sleeps: 2
Minimum stay: 2 nights
Rates from: $221/night
Nestled under fragrant, towering pines, this spacious tipi is the ultimate glamping experience outside of Yosemite. With a super soft bed, seating area, luggage racks, stylish lighting, and heater inside, you're sure to feel right at home, even if the weather outside is frightful. Right next door to the tipi itself are handmade boho-chic private kitchen and bathroom areas, complete with hewn logs, a refrigerator, and a sink.
The adjacent bathroom nook is equally charming. Shower with a forest view or close the curtain for privacy. There's also a covered toilet and outdoor hand washing sink. When you're not out exploring the park's myriad trails, lakes, and riverbends, fire up the grill on your own private deck and watch the sunset from the rustic outdoor furniture.
Check Availability
Related Read: The Most Scenic Los Angeles to Yosemite Road Trip Itinerary
Find Your Next Adventure
Get epic travel ideas delivered to your inbox with Weekend Wanderer, our newsletter inspiring more than 10,000 readers every week.
---