There's no better way to see the wonder and magic of Zion National Park than by foot.
The most magical of spots within the park boundaries are only for those who dare to get out of the car and get their feet a little dirty. Below you'll find a "pick-your-own-adventure" rubric for just ONE beautifully epic day in the nation's 15th National Park.
Depending on your physical ability and your need for adventure, you might be setting out on just one hike to fill your day or a series of small excursions perfect for anyone. Zion will be more than what you ever dreamed or bargained for, let's just hope you brought the right shoes — Hint: they should be sturdy hiking shoes.
Also check out our guide to Zion's best hikes for a more in-depth rundown of the hiking options!
Related Read: The Perfect Road Trip Itinerary Between Zion and Bryce Canyon National Parks
For the Novice or Relaxed Visitor
If hiking 15 miles or wading through waist-high water isn't your thing, follow this itinerary to get the best of Zion without the blisters on your feet.
1. Keep Your Eyes Peeled for the Largest-Flying Bird in the World
That's right! The critically endangered California condor has taken up residence on the famed Angels Landing's cliffs! With a nine-and-a-half-foot wingspan, these flying marvels are a sight to see. Ask a park ranger for the best viewing spots and then simply wait for their effortless lift-off.
Make sure to grab a breakfast sammy and coffee from Deep Creek Coffee Company to fill your need for sustenance while waiting for the majestic birds to take flight. Oh, and bring a chair — you might be there awhile — and some binoculars to look legit.
PRO TIP: they're most likely viewed mid-morning when the sun starts warming up the cliffs.
2. Hunt for Some Hobbits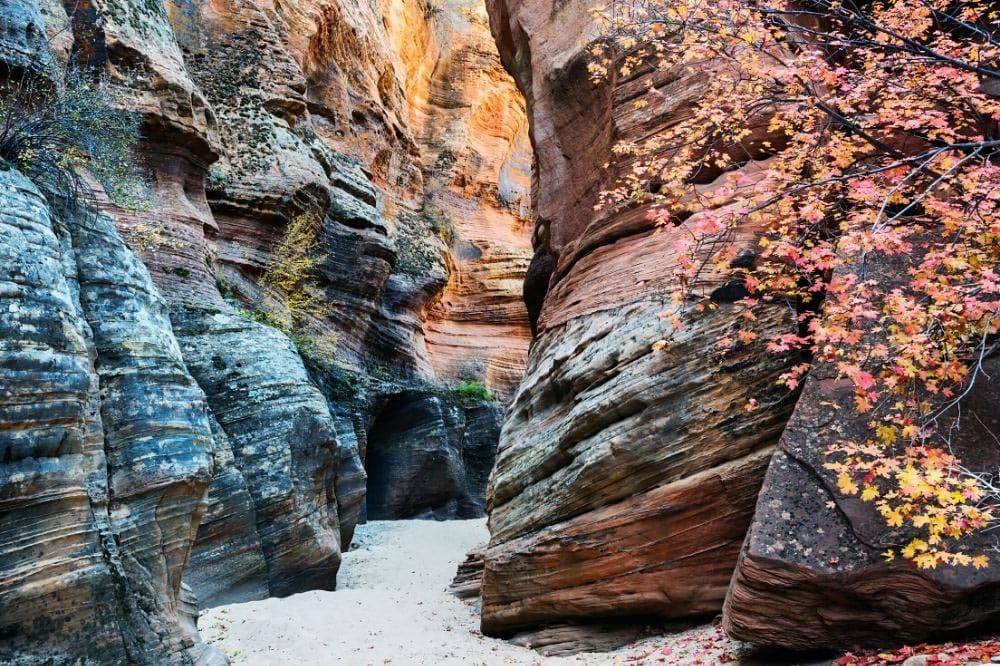 OK, OK — there aren't really hobbits here, but there is a Hobbit Hole (aka the tunnel forming the exit to this slot canyon) along the Lower Clear Creek Trail. Bonus, there's literally no tourists on this short but sweet trail since it's the same parking lot for the more popular Canyon Overlook trail — but don't do this trail yet, do it for sunset  (see below).
PRO TIP: this hike is great for kids to feed their curiosity and wander throughout the rock formations.
3. Play Some Checkers
I'm not really asking you to go play checkers but take a drive along the Zion-Mount Carmel Scenic Highway to view the aptly named Checkerboard Mesa. I know, I know, I've said that the best way to view the park is by foot, BUT the beautiful road is not to be missed.
Plus, the ten-mile excursion will bring you through a mile-long tunnel! It was originally built in 1930 and, at the time, it was the longest tunnel of its type. Throughout the tunnel, you'll be able to view the spectacular views of the canyon through the multiple "windows".
Related Read: When is the Best Time to Visit Zion National Park?
4. Sunset in the Valley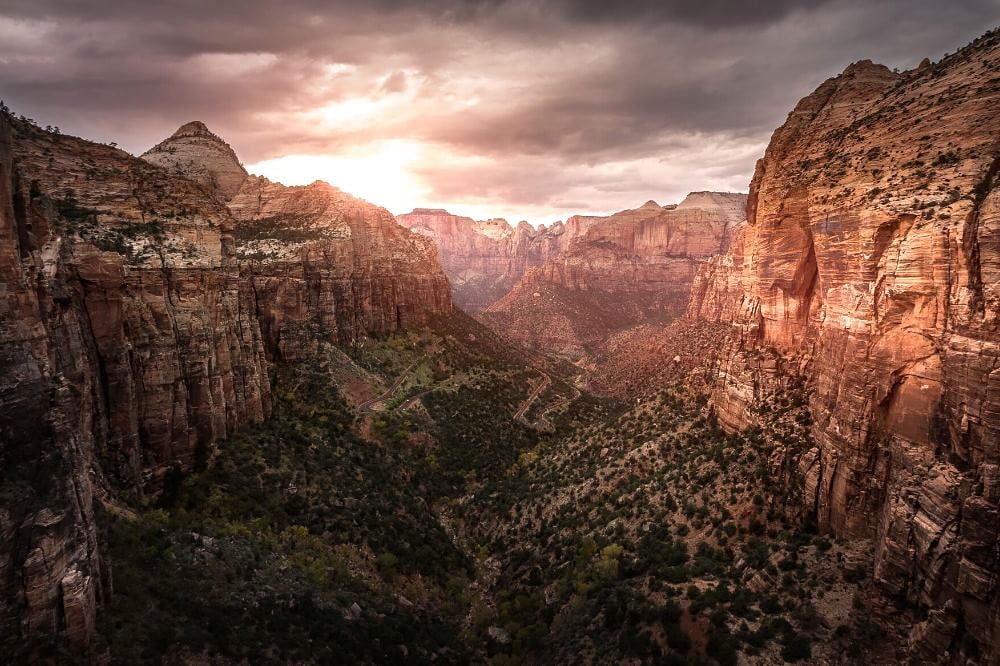 In case you haven't grown tired of the breathtaking scenery, we recommend watching the majestic sunset from the Canyon Overlook Trail. Remember, it's the same parking lot you parked in earlier to go searching for some hobbits.
This time, take the trail west for a half mile until you reach the overlook. You likely won't be alone to watch the sunset here, but luckily the overlook has a large, expansive rock where there is more than enough room for everyone. Watch your step, though, it's a long way down!
Related Read: 11 Beautiful Glamping Spots Near Zion National Park
For the One Seeking a Little More Adventure
Want to see some of the best views Zion has to offer while mixing in some adventure? Then try out this perfect itinerary.
1. Seek the Sunrise Among Giants
A favorite among photographers, the three multi-hued pillars of sandstone at the Court of the Patriarchs is best seen at sunrise. Named after the biblical figures Abraham, Isaac, and Jacob, these formations truly sing just after dawn when the sun is first rising and casts a red, radiant hue.
Whether you're a professional or amateur, the red rock will do the work for you —  just be ready to click the shutter button.
Related Read: 12 Gorgeous Cabin Rentals Near Zion National Park, Utah
2. Do Some Zig-Zagging on Some Wiggles
I'm not talking about some new TikTok challenge — I'm talking about the ascent of 21 (yup, TWENTY ONE!) steep switchbacks along the iconic trail to Angels Landing. This steep incline is overshadowed by the more famous 1,000' drops on either side of a narrow trail — sometimes only a few feet wide.
People often forget that before the height phobias kick in and start your heart racing, the blood was already flowing within your body after hiking up Walter's Wiggles. It was named after Walter Ruesch — Zion's first superintendent. Bring trekking poles — your knees will thank you.
After the hike, grab a late lunch at one of the many restaurants just outside the park in Springdale. The Superfood Veggie wrap from Café Soleil is good for herbivores and carnivores alike Can you tell I've been reading up on dinosaurs too much with my toddler?) You can also grab lunch or a quick snack right in the Park at the Zion Lodge — there's a small café there. Then give yourselves a much needed siesta.
Related Read: 11 Fun Family-Friendly Hikes Near St. George, Utah
3. Get Fancy With Dinner Plans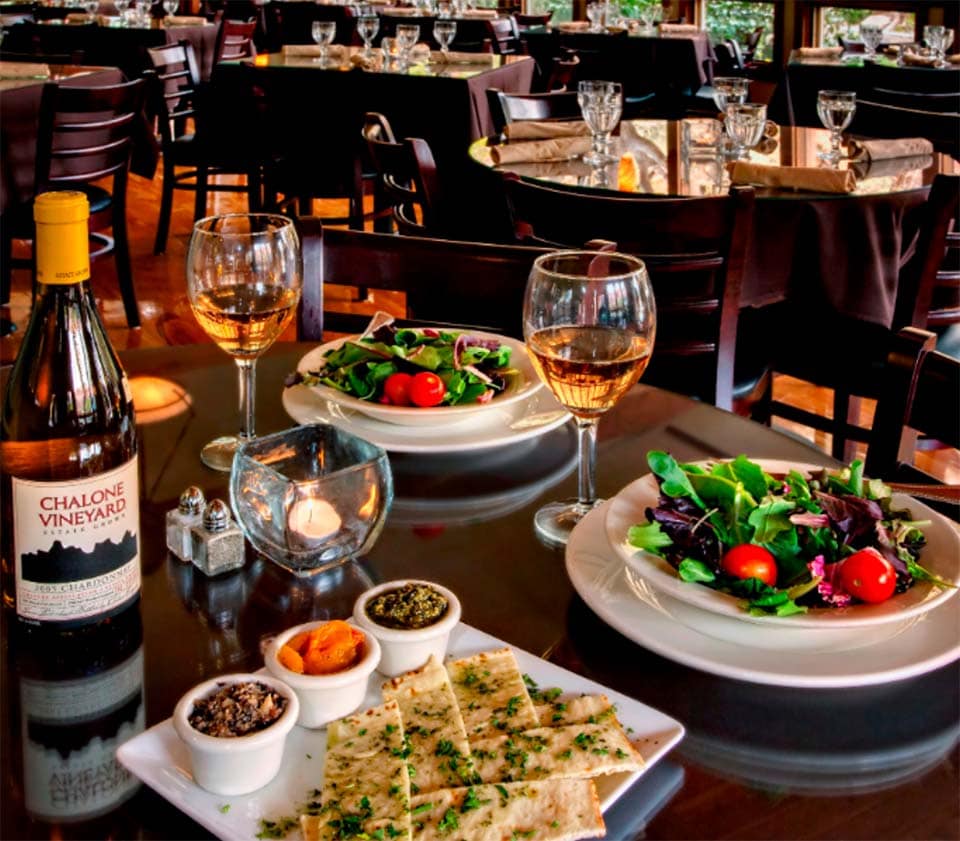 Since you've spent all day in the park, you've likely got red dirt in every crevice of your body. Head back to your vacation rental or campsite and get cleaned up because we're about to send you to some high-class dining experiences.
We suggest the elevated and elegant dining at The Spotted Dog Café within Flanigan's Inn. Order the Red Trout or the Wild Game Meatloaf for some regional flare.
PRO TIP: stay at Flanigan's Inn and feast on the all-you-can-eat breakfast the next morning.
4. See a Different View of Red at Sunset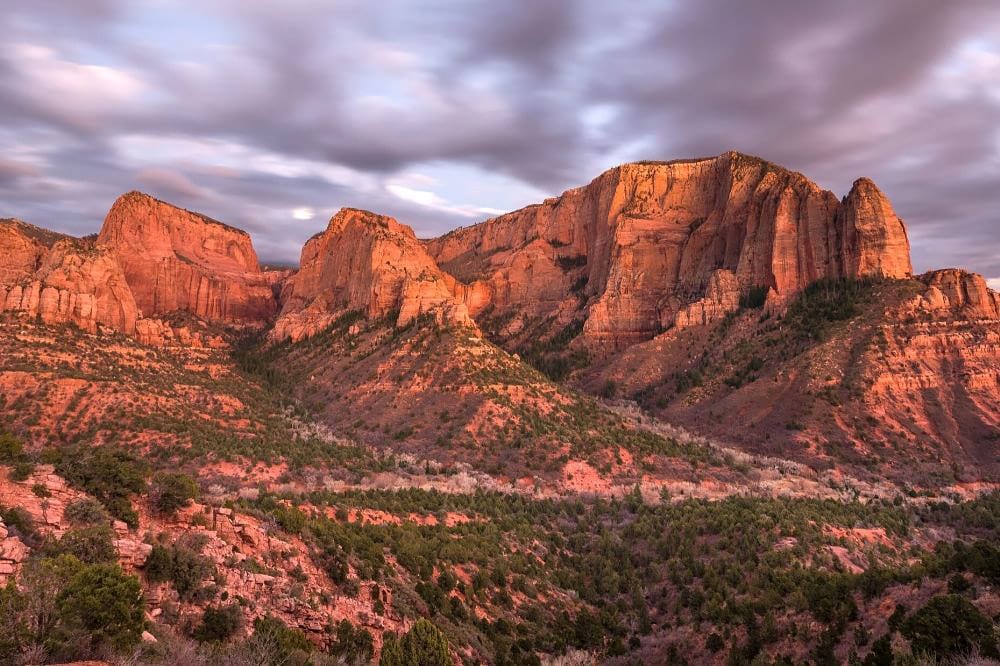 With such sweeping views along Zion Canyon, we can't in good conscience tell you to miss out on sunset. Although there are many paths to watch the "show", we suggest leaving the main part of the park (aka Zion Valley) for the lesser visited Kolob Canyons.
Found in the northwestern section of the Park, it has a series of parallel fissures guarded by tall sandstone fins that glow fiery red during sunset. Get a panoramic view of this magical show on the Timber Creek Overlook trail.
PRO TIP: stay at Flanigan's Inn and feast on the all-you-can-eat breakfast the next morning.
For the Ultimate Adventurer
Get away from the crowds and tourists by hiking some of Zion's most coveted trails. Pack breakfast, lunch, and plenty of snacks though — you'll be out adventuring all day.
1. Don't Hail a Cab, Take The Subway (No, Not That Subway)
This highly coveted hike (that's right, it's a hike!) to The Subway is a once-in-a-lifetime opportunity. If you are lucky enough to sang a permit — only 80 people are allowed per day — go and do it!
Drop everything and forget about any other itinerary — plan your entire day around this trail — or shall we say drainage? You must submit your permit entry two months in advance (although there are occasionally last-minute vacancies) so bring out the Leslie Knope in you and organize, organize, organize!
This 9-mile hike will take you all morning and afternoon to complete as you wade through mostly calf-high (sometimes waist-high) water and practice plenty of route-finding, so a GPS and a map are essential for this hike.
PRO TIP: go November through March and you won't have to worry about a permit as it's not required in these months — although you will need to come prepared for frigid water and potentially snow.
2. If The Subway is a No-Go, Wade Through The Narrows
Hike the famed Narrows from the bottom-up rather than top-bottom since that requires a permit and a full-day commitment. Go as little or as far as you like depending on your time and motivation. With the majority of tourists turning around within the first half-mile, we suggest hiking the entire thing.
The "trail" itself is almost 9 miles and slow-going as you maneuver over river rock almost the entire time. Make sure to keep an eye on the weather (find something else to do if rain is in the forecast) as this canyon is known for flash floods and can quickly become quite dangerous. This is why morning is the best time to do this hike as flash floods are less likely.
PRO TIP: bring sturdy water shoes and trekking poles.
3. Find Out What Aries, Cassiopeia, Cygnus, and Lyra All Have in Common
Hint: they're constellations. First, go grab a dinner to-go at Oscar's Cafe (I recommend the Maui Burger or the Grilled Portobello and Avocado sandwich) and head back into the Park for one last look, but bring a map of the night sky and test your stargazing skills.
If you're lucky, you'll be there during one of the many meteor showers throughout the year and might see some falling stars. Make a wish to come back for a longer stay!
What You Need to Know Before Visiting
Entrance to get into the Park stands at $35 per vehicle or an $80 annual parks pass. Permits are required for any backpacking, canyoneering, rock climbing, wilderness hikes, and some day hikes (like The Subway).
Water is a huge part of your experience in the park, whether you're trekking through it or in need of drinking it. So make sure to check the weather forecast and come prepared with gear and plenty of water to suit any adventure.
Visit in the winter during the park's low season to avoid crowds and get rewarded with the high-contrast splendor of white snow decorating red cliffs.
Avoid slot canyons during monsoon season, which is typically mid-July to mid-September.
Although you can bring a car, there is very little parking at the majority of the trailheads. Instead, the Park instituted a shuttle system that comes every few minutes each way. Just be mindful of when the last shuttle leaves your station.
As a reminder, this is a desert ecosystem. As a dirt nerd myself, it's especially important to stay on the trail no matter if you see someone else off-trail. Surrounding the dirt paths are what's called cryptobiotic crust – a living, breathing organism crucial for life in these harsh ecosystems. One step off-trail could destroy thousands of years of work. So please, tread lightly.
Explore More of Utah
Sign up for our free email to join thousands of readers getting epic travel and Airbnb ideas every week!
Was this article helpful?
---