We research, evaluate and select travel destinations based on a number of factors, including our writers' experience, user reviews and more. We may earn a commission when you book or purchase through our links. See our editorial policy to learn more.
Was this article helpful?
---
Grab your Ray Bans and brace yourself for some spectacular red rock scenery. Here are some amazing hikes in Arches National Park.
Boasting the largest concentration of natural stone arches in the world, Arches National Park delivers a breathtaking desert landscape with spectacularly unique rock formations.
Delicate Arch is the unofficial calling card for the state of Utah, but it's not just the arches that draw visitors from around the world. The park features a number of rocky towers, spires, and "fins" that come together to form mystifying destinations like the Devil's Garden and Fiery Furnace.
With sinister names like those, what kind of adventurous soul could resist the allure of this red rock wonderland?
Best Hikes in Arches National Park
We've put together a collection of the best hiking trails in Arches National Park, featuring all of the must-see attractions and a few off-the-beaten-path spots where you can ditch the crowds.
Most of these are family-friendly hikes that you can knock out in a couple hours or less, so you can easily stack a few of these trails into a single day if you're pressed for time. Grab a copy of the Arches trails map or the Moab map pack to aid in your planning and keep you orientated out in the desert!
Related Read: The Best Time to Visit Arches National Park, Utah
1. Delicate Arch Trail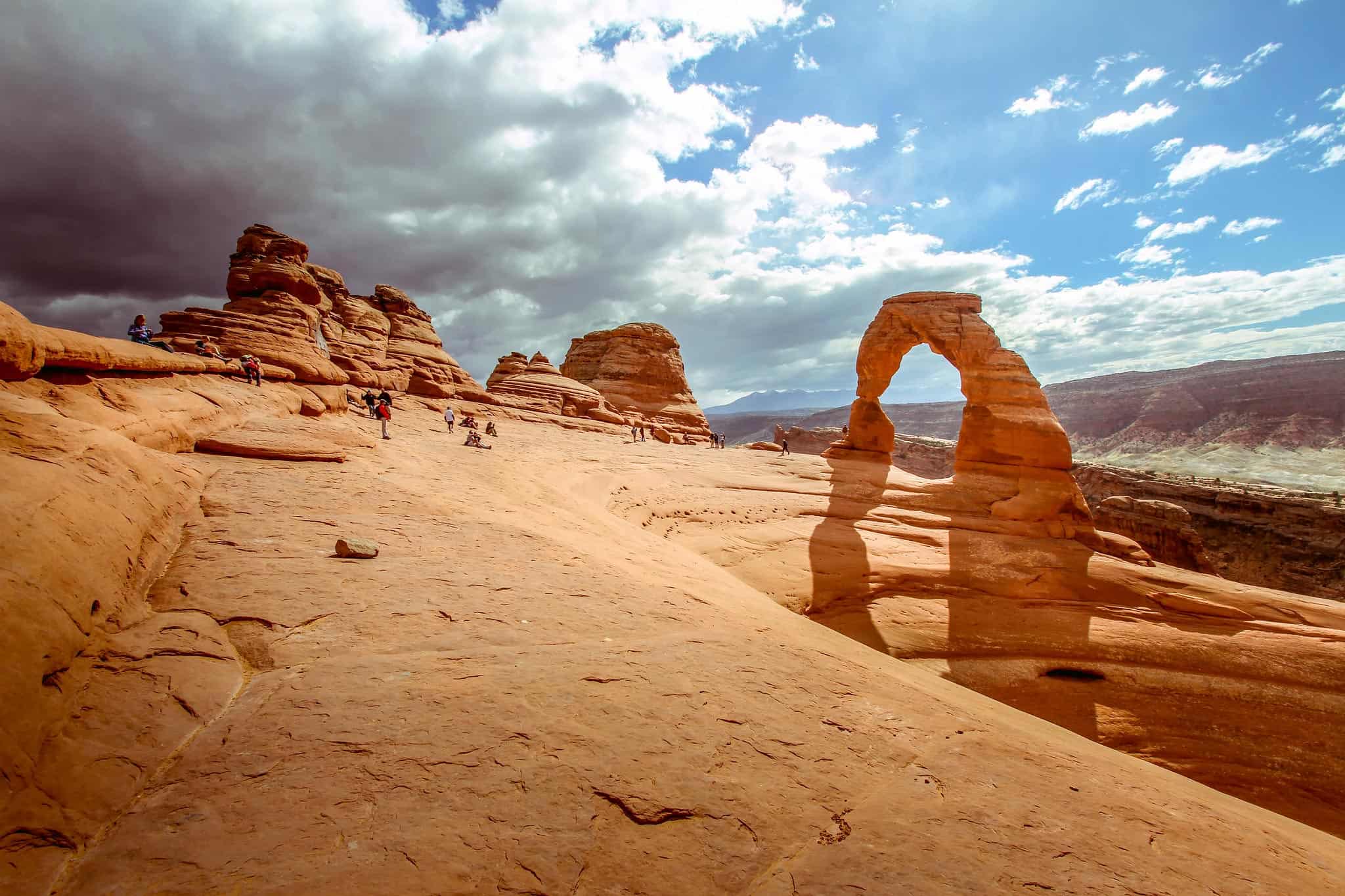 Why you should go: See the photogenic freestanding arch that's become the face of Arches National Park.
Distance: 3.1 miles
Elevation Gain: 550 feet
Difficulty: Moderate
To quote David Letterman, "my next guest needs no introduction."
Delicate Arch is the most iconic arch in Arches National Park, instantly recognized (even if they can't name it) by people around the world. Visiting Arches National Park without seeing Delicate Arch would be like visiting Disneyland and skipping Splash Mountain.
The hike to Delicate Arch begins near Wolfe Ranch, a historic site where you'll find a quick interpretive trail featuring Ute Indian petroglyphs from the 1600s. Once you've explored the Wolfe Ranch area, it's a quick 1.5-mile hike to the base of Delicate Arch.
If you're short on time but you still want to see Delicate Arch, you can opt for the upper viewpoint instead. The viewpoint is located on the cliff overlooking Delicate Arch, just a half-mile from the parking lot.
2. Devil's Garden Loop
Why you should go: A challenging hike that rewards adventurers with seven named arches, a tower, and magnificent views.
Distance: 5 miles
Elevation Gain: 550 feet
Difficulty: Moderate / Challenging
The Devil's Garden loop is the second most popular trail at Arches National Park, delivering a highlight reel of natural attractions and viewpoints. It's named for the large concentration of narrow rock walls known as "fins," and Landscape Arch is the centerpiece of the red rock garden.
Where other trails feature one or two named monuments, Devil's Garden has eight: Landscape Arch, Tunnel Arch, Pine Tree Arch, Partition Arch, Navajo Arch, Private Arch, Double O Arch, and the Dark Angel tower. All of these monuments are visible from the main trail, though it's worth taking the side trails for a closer look.
3. Landscape Arch Trail
Why you should go: A family-friendly jaunt through the Devil's Garden to one of the longest stone spans in the world.
Distance: 1.9 miles
Elevation Gain: 259 feet
Difficulty: Easy
The Landscape Arch Trail is the SparkNotes version of the Devil's Garden loop. It's shorter, easier, more family-friendly, and takes you straight to the main attraction in Devil's Garden — Landscape Arch.
Landscape Arch is one of the longest rock spans in the world, stretching just over 300 feet in length. It's also remarkably thin, measuring just 11 feet wide at its center. In fact, Landscape Arch makes a solid case to rename it Delicate Arch as it looks far more fragile than the star attraction at Arches National Park.
Along the way to Landscape Arch you'll pass Pine Tree and Tunnel Arches, and you'll have access to a number of side trails as well as the entire Devil's Garden loop should you wish to extend your hike.
More Information: National Park Service
4. Double Arch Trail
Why you should go: See two massive sandstone arches joined at the hip.
Distance: 0.5 miles
Elevation Gain: 30 feet
Difficulty: Easy
If you're looking for a quick-and-easy hike with epic arches, this is it. The Double Arch Trail is only a quarter-mile hike to the viewpoint, and it requires about as much elevation gain as two flights of stairs.
Perhaps one of the most interesting geological features in the park, Double Arch boasts the tallest natural arch around at 112 feet tall. Combined with the smaller arch, Double Arch is over 200 feet wide. It's a truly fascinating natural marvel that's well worth the short walk.
5. The Fiery Furnace
Why you should go: Navigate a labyrinth of rocky fins and discover Surprise Arch.
Distance: 2 miles
Elevation Gain: 45 feet
Difficulty: Moderate
There are two ways you can explore the infamous Fiery Furnace: on a ranger-guided tour, or on your own with a permit. The maze of jagged fins and narrow slot canyons is almost impossible to navigate if you're unfamiliar with the territory, so the ranger-led tour is the way to go for most people.
The Fiery Furnace is an extension of the Devil's Garden, turning the Garden's token fins into a maze of towering rock walls and narrow passages. The hike is an otherworldly experience like nothing you've seen before, featuring massive arches and bridges like Surprise Arch and Crawl-through Arch (yep, you actually get to climb through the latter).
With uneven terrain, tight passages, and plenty of scrambling, you'll need a healthy set of legs and lungs for this hike. Children under age five aren't allowed on the trail, so keep the kids at home for this one.
6. Windows Loop
Why you should go: A gentle trail with three magnificent arches.
Distance: 1 mile
Elevation Gain: 160 feet
Difficulty: Easy
The Window Arches are the centerpiece of the Windows Loop trail. The North and South Window Arches formed from the same gigantic sandstone fin. They're sometimes called "the Spectacles" because they resemble a pair of eyeglasses when viewed from the southwest.
If you're up for a quick detour, follow the short side trail to Turret Arch to see another well-known arch on your way back to the parking lot.
7. Balanced Rock Trail
Why you should go: see a sandstone formation that seemingly defies gravity
Distance: 0.3 miles
Elevation Gain: 30 feet
Difficulty: Easy
The Balanced Rock Trail might be the easiest hike in Arches National Park. The 0.3-mile loop wraps around a curious rock formation called Balanced Rock that, as the name suggests, features a boulder precariously perched on a sandstone spire.
8. Park Avenue Trail
Why you should go: Descend into a spectacular canyon that's lined with breathtaking rock formations.
Distance: 1.8 miles
Elevation Gain: 298 feet
Difficulty: Easy
The Park Avenue Trail is often the first hike on visitors' itineraries thanks to its prime location near the entrance to Arches National Park. That means it can get pretty crowded during the day, so we'd recommend a sunrise or sunset hike to avoid the masses.
The Park Avenue Trail drops into a canyon and follows a wash past some of the most epic red rock formations in the park, including the Courthouse Towers, Queen Nefertiti, Queen Victoria Rock, the Three Gossips, the Tower of Babel, and the Organ.
9. Broken Arch Trail
Why you should go: Get a close-up view of the park's unique rocky fins and a cracked (not broken) arch.
Distance: 1.4 miles
Elevation Gain: 175 feet
Difficulty: Easy
The Broken Arch Trail is a family-friendly hike that traverses fin canyons, small ravines, and sheets of slickrock in a short 1.4-mile loop. The main attraction is Broken Arch, though the name is a bit deceiving. It's not actually broken — just cracked.
If you'd like to extend your desert stroll consider taking the side paths to Tapestry Arch and Sand Dune Arch, both of which are worth the quick detour.
10. Tower Arch Trail
Why you should go: Enjoy sweeping views of nearby natural wonders and a close-up look at the distinctive Tower Arch.
Distance: 1.6 miles
Elevation Gain: 290 feet
Difficulty: Moderate
The Tower Arch Trail is a point-to-point trail that most people tackle as an out-and-back adventure from the Klondike Bluffs parking area. After a steep initial climb, you'll enjoy sweeping views of the Salt Valley, Klondike Bluffs, and the sandstone spires known as the Marching Men in the distance.
You'll quickly see the imposing Tower Arch after passing Parallel Arch. Tower Arch is only 92 feet long, but the knobby tower on the northern end makes it seem much larger.
11. Skyline Arch Trail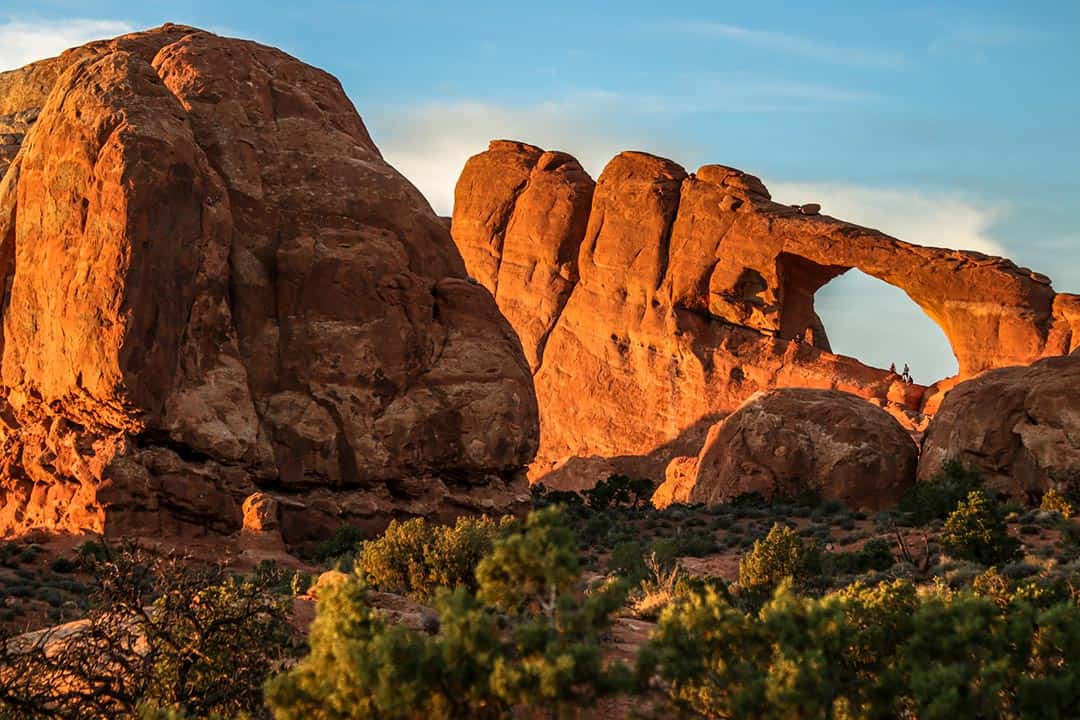 Why you should go: A short stroll to a photogenic arch that looks amazing at sunset.
Distance: 0.2 miles
Elevation Gain: 50 feet
Difficulty: Easy
The Skyline Arch Trail is so short it barely qualifies as a hike, but it's absolutely worthy of a spot in your late-afternoon itinerary. Prepare to be awestruck when the setting sun hits Skyline Arch, and have your camera ready.
More Information: Hiking Project
12. Grandstaff Canyon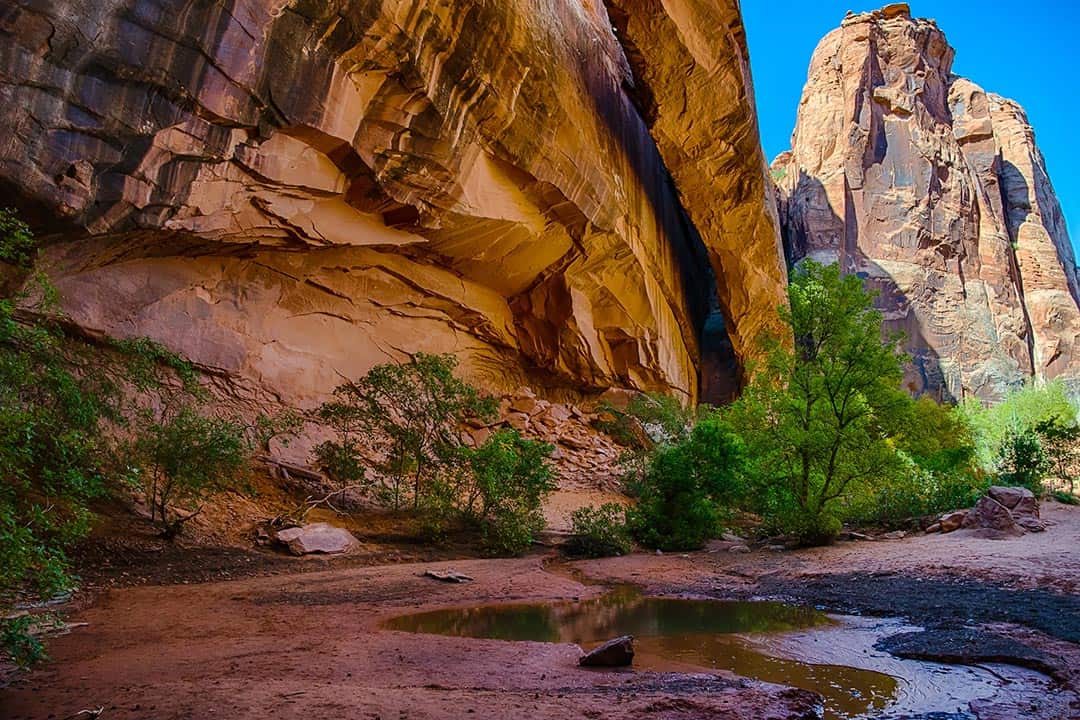 Why you should go: A gorgeous canyon, a babbling brook, and one of the longest natural bridges in North America.
Distance: 4.1 miles
Elevation Gain: 300 feet
Difficulty: Moderate
Grandstaff Canyon is technically outside of Arches National Park, but it's less than three miles from the border so we're gonna round up.
The trail follows a stream through picturesque Grandstaff Canyon for about 1.5 miles, then climbs up the canyon for a half-mile to Morning Glory Natural Bridge. At 243 feet long, it's the sixth longest natural bridge in North America. If you think the view from the ground looks neat, bring your climbing gear and try rappelling down.
More Information: Hiking Project
More Moab Trip-Planning Guides
Sign up for the Weekend Wanderer to join thousands of readers getting epic travel ideas every week.
Was this article helpful?
---