Grand Teton National Park is a place of extremes, where serene alpine lakes and dramatic granite mountain peaks draw in hikers from all directions.
Located 10 miles south of Yellowstone National Park, Grand Teton National Park lies somewhat in the shadow of its more famed sister park. The park's boundaries hug the 40-mile long Teton Range and the scenic Jackson Lake at the base of the mountains.
Though small by comparison to many other national parks, Grand Teton National Park is absolutely packed with stunning scenery and exceptional hikes. The Teton Range is as impressive as it is unforgettable.
The park is open year-round, and each season is a stark contrast from all the others. No matter what time of year you visit Grand Teton National Park, there will be plenty to explore. The scenery, the wildlife, and the available activities shift with the seasons. You'll have to make multiple trips to see it all.
Because of its compact nature, you could say that every hike in the park is one of the best hikes in Grand Teton National Park, and you wouldn't be wrong. They're all remarkable.
Though the park is mostly comprised of skyscraping granite mountains, not all of the trails are calf burners. Along with Jackson Lake, there are a number of beautiful lakes, waterfalls, and streams at the base of the mountain range with easy hiking trails that offer sensational views.
Related: How to Spend One Day in Grand Teton National Park, Wyoming
1. Hermitage Point Loop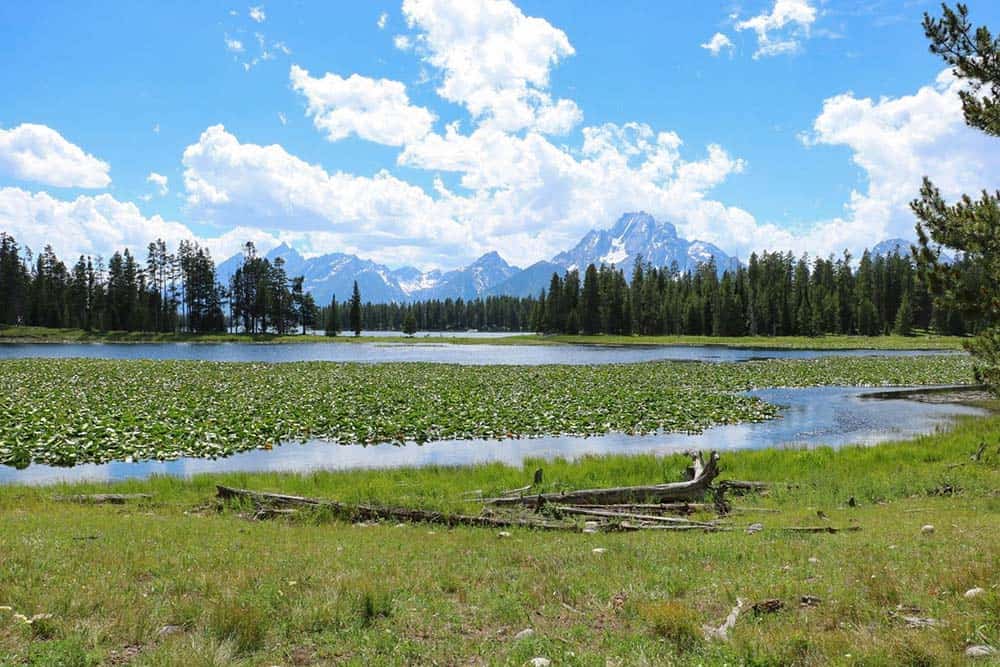 Why you should go: Wildlife sightings and a grand view of Jackson Lake and the Teton Range.
Difficulty: Easy
Distance: 10.2 miles
Elevation gain: 438 feet
Starting at the edge of Colter Bay Village, the Hermitage Point Loop is an easy to access trail through the forest along Jackson Lake. The area is loaded with wildlife. Sightings of eagles, bears, and moose are common along this route. Wherever you travel in this park, be sure to be bear-aware (and moose-aware) and carry a can of bear spray.
This entire hike may be a bit long for some, but there are several points where this loop intersects itself, providing convenient turnarounds by forming numerous smaller loop hikes. Those who want to make this a shorter hike will still get to take in some spectacular scenery.
The big draw of this trail is the view at Hermitage Point, which lies at this loop's far out midpoint. Hikers who make the journey will be presented with an outstanding view of Mount Moran and the rest of the Teton Range rising high above Jackson Lake.
2. Hidden Falls Trail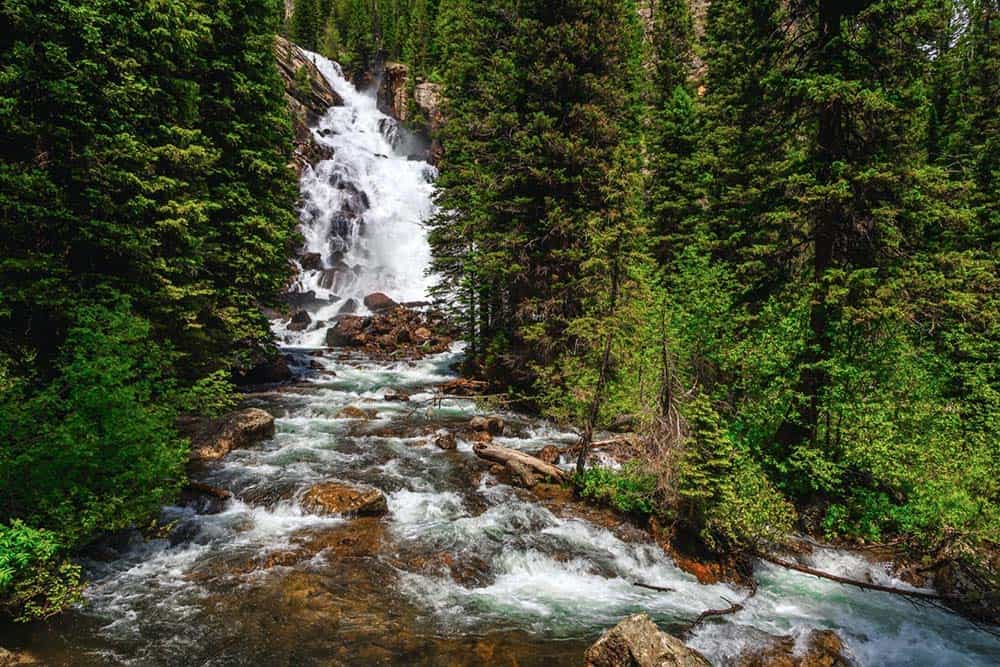 Why you should go: t's the most popular hiking destination in the entire park for a reason.
Difficulty: Easy
Distance: 4.9 miles (1 mile with boat shuttle)
Elevation gain: 590 feet
There are two ways to access Hidden Falls, both of which are easily accessible and offer amazing scenery. The falls themselves are an awe-inspiring treat, but the journey is just as special.
First, hikers who want to put in some miles can opt for the entire 4.9-mile Hidden Falls Trail that starts near the Jenny Lake Ranger Station. This route hugs the southern banks of the lake and wraps around the eastern side to where the 100-foot cascading falls lie.
Secondly, those short on time or who cannot walk for as long can take a boat shuttle across Jenny Lake. Boaters will be dropped off at the base of Mount Teewinot where they can then hike a gentle half-mile trail to Hidden Falls.
3. Jenny Lake Loop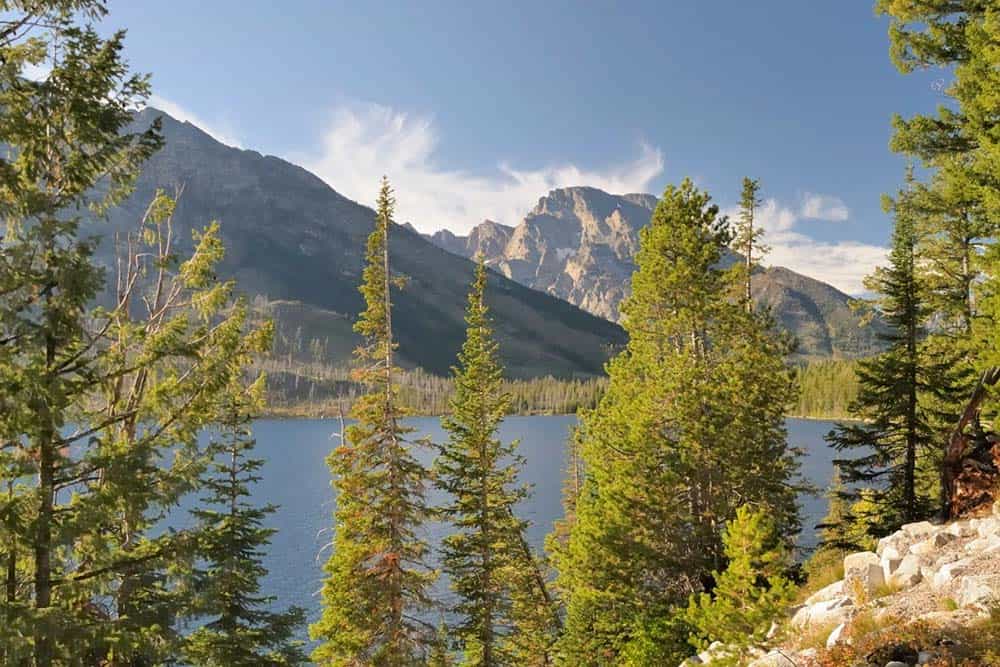 Why you should go: Awesome views from every angle and continuous lake access.
Difficulty: Easy
Distance: 7.3 miles
Elevation gain: 385 feet
One of the most popular trails in Grand Teton National Park, Jenny Lake Loop is a well-maintained and heavily-trafficked trail that provides excellent views and access to many other popular routes.
This is a fantastic trail for adventurers of all types. It is easily accessible and easy to walk. Families will find this to be one of the best trails in the park for kids. The consistent lake access, amazing scenery, and never-far-away facility conveniences make this trail enjoyable for the entire family.
The Jenny Lake Lodge, Ranger Station, and Boat Shuttle are all directly on the trail, as are the mesmerizing Hidden Falls and Jenny Lake Overlook viewpoint. Intrepid explorers can use this trail to access even longer day hikers and backpacking routes.
Additional Read: 11 Amazing Wyoming Cabin Rentals To Warm Your Soul
4. Taggart Lake Loop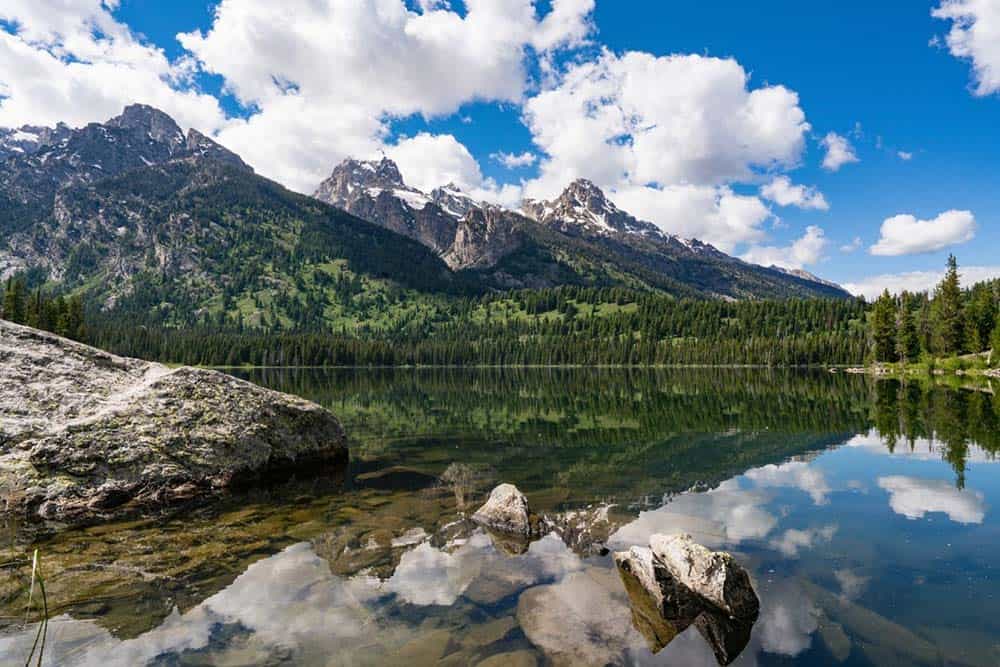 Why you should go: Take a walk through enchanting forests and meadows beneath the Grand Teton peaks.
Difficulty: Easy
Distance: 4.5 miles
Elevation gain: 439 feet
An iconic Grand Teton trail, the Taggart Lake Loop winds through pine and aspen forests en route to Taggart Lake. On a calm and sunny day, the lake water has a magnificent mirrored surface that reflects the staggering beauty of the nearby snow-covered peaks.
Babbling mountain streams and meadows brimming with wildflowers are other attractive sights along the trail. Wildlife abounds in the area. Mating moose are frequently seen in the meadows during spring and summer. Be alert and keep your distance.
This loop can be extended by continuing north of Taggart Lake to Bradley Lake for a double-dose of alpine lake action. This extends the trip to 6.2 miles and increases the difficulty a smidgen.
5. Cascade Canyon Trail
Why you should go: Trek through the Grand Teton giants through this glacier-formed canyon.
Difficulty: Moderate
Distance: 9 miles (3 miles to and from Inspiration Point)
Elevation gain: 1100 feet
The Cascade Canyon Trail may at first appear imposing, but it becomes quite an easy hike after the first 1.5 miles of switchbacks. You'll ascend from the eastern shore of Jenny Lake, past Hidden Falls, and climb up to the breathtaking Inspiration Point. Once at the point, this trail is a simple walk in the park.
Inspiration Point is the most glorious part of this hike and is a fine turnaround point for those who do not want to make the entire journey. This viewpoint overlooks Jenny Lake and the western side of the national park. You'll be able to clearly see the Cathedral Group of mountains. This is where most people will turn around.
Continuing onward up the canyon, there is ample evidence to discover of the canyon's glacial past including hanging cirques and glacial erratics. This trail provides access to and intersects the Grand Teton Trail at its end.
Additional Read: The 11 Best Airbnbs Near Grand Teton National Park
6. Phelps Lake Loop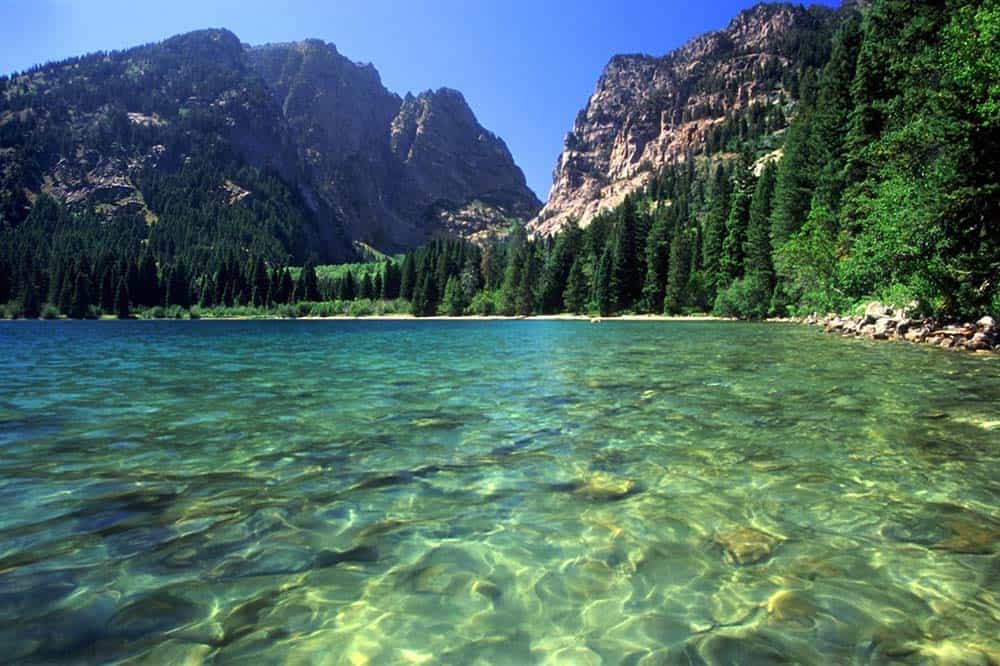 Why you should go: It's less crowded than Jenny Lake, but just as awesome.
Difficulty: Moderate
Distance: 8.4 miles
Elevation gain: 787 feet
Residing at the southern end of Grand Teton National Park, Phelps Lake Loop circumnavigates its namesake lake and is home to some of the park's best mountain views. The experiences to be found here are much like that of Jenny Lake, but much less crowded.
Phelps' Beach rests on the lake's northern end and is a great place to lounge and have a picnic. All along this route are stellar views of the southern Tetons, and the lake, especially because it is less crowded than the other low areas of the park, is a reliable source of wildlife sightings.
What makes Phelps Lake even more special is its proximity to the Jackson Hole Airport. If you happen to be on your way out of the area and have some hours to spare, this route is conveniently close to Teton Village and several nearby travel options.
7. String Lake Loop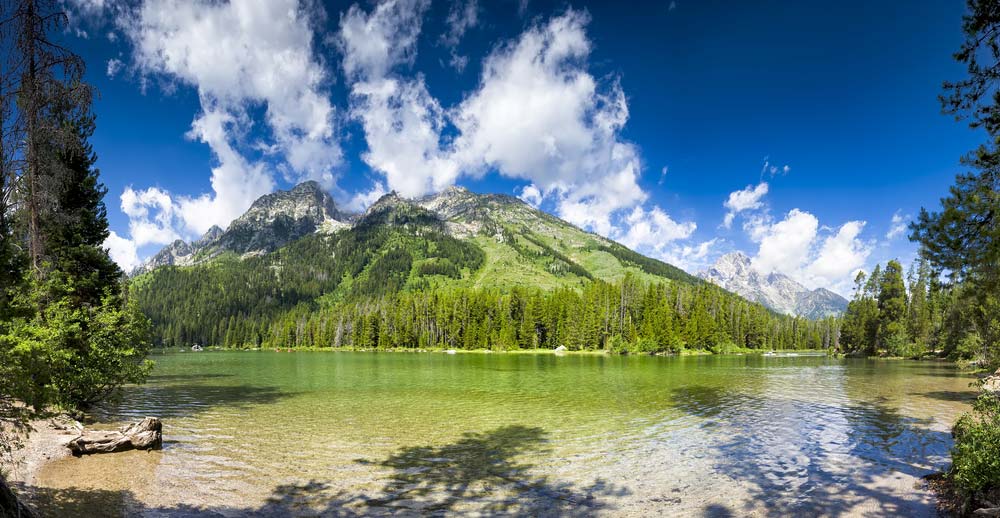 Why you should go: A relaxing trail overlooking three lakes with supreme views of the Grand Tetons.
Difficulty: Moderate
Distance: 3 miles
Elevation gain: 243 feet
The String Lake Loop circumnavigates String Lake, a thin body of water that connects Jenny Lake and Leigh Lake. String lake is great for swimming and kayaking, and this trail is also popular due to its accessibility. The lake tends to freeze over during the winter months.
This loop is flat and easy to walk for most of its length. A half-mile portion has been made accessible for wheelchairs and strollers, and much of the rest of the trail is well-compacted for easy walking. There is a single uphill climb to make on the northwest corner of the loop, but it provides a fine viewpoint that overlooks the lakes in the vicinity.
All three aforementioned lakes can be accessed from this trail, as can a short spur to Laurel Lake and a side trip into Paintbrush Canyon. The loop itself is wondrous, though, and holds up well as a scenic trail on its own.
Related Read: 12 Best Airbnbs in Wyoming for a Taste of the American West
8. Amphitheater Lake Trail
Why you should go: Climb to a high alpine lake beneath the towering monolith of Disappointment Peak.
Difficulty: Challenging
Distance: 9.9 miles
Elevation gain: 2949 feet
Offering hard-earned solitude and quintessential alpine beauty, the Amphitheater Lake Trail is a tough hike with big rewards. Amphitheater Lake isn't the only highlight of this trail, however, as Disappointment Peak certainly will not disappoint, and Surprise Lake is a welcome surprise.
There are no two ways about it, this trail is full of switchbacks. You'll have to climb around 3000 feet of glacial wash to reach your destination. The trail weaves in and out of the forest and passes by boulder fields and meadows that are flush with wildflowers at the right time of year.
The views from all of these lakes are outstanding. Backcountry camping is available at Surprise Lake with the proper permit, and there is a side trail to Delta Lake that is worth checking out as well.
9. Death Canyon Loop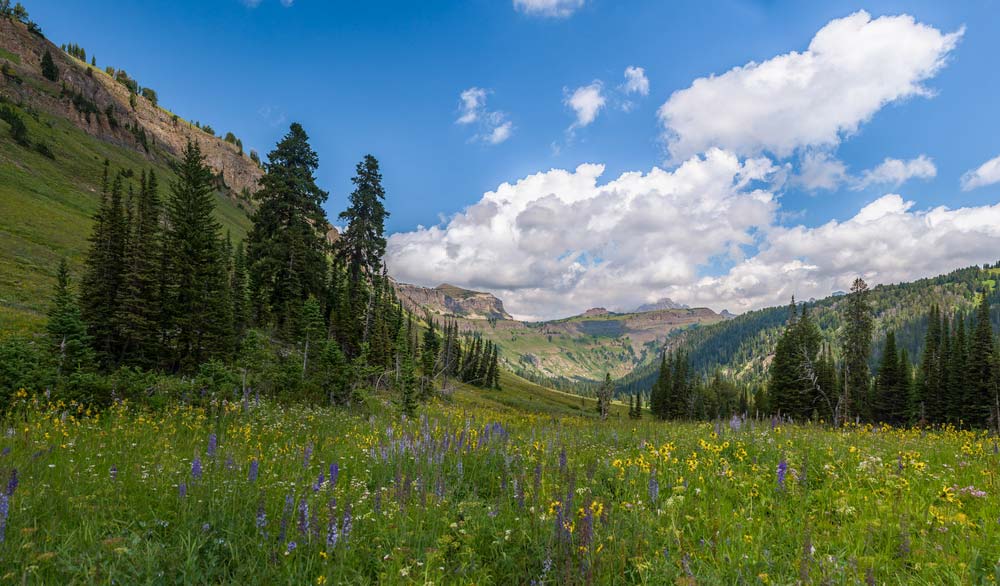 Why you should go: Find backcountry solitude and nab an 11,000-foot peak.
Difficulty: Challenging
Distance: 28.2 miles
Elevation gain: 6020 feet
Death Canyon Loop is a multi-day backpacking trail that features a dramatic canyon, high-mountain ridge walking, and a glacial lake basin. You'll start off at Death Canyon Trailhead and skirt around Phelps Lake before plunging into the canyon.
Despite its morbid name, Death Canyon is full of life. There are evergreen trees, berry bushes, swaths of Indian paintbrush, and wildflowers galore. The sheer granite walls of the canyon are frequented by mountain climbers, and there is a backcountry ranger cabin among the many backcountry camping areas.
You'll scale the head of the canyon and see it from high above on the Death Canyon Shelf before descending the Sheep Steps to the Alaska Basin. From there, the trail climbs to Buck Mountain Divide where you can opt to take a short spur to Static Divide's 11,303-foot summit. From there, it's all downhill to the trailhead.
10. Lake Solitude Trail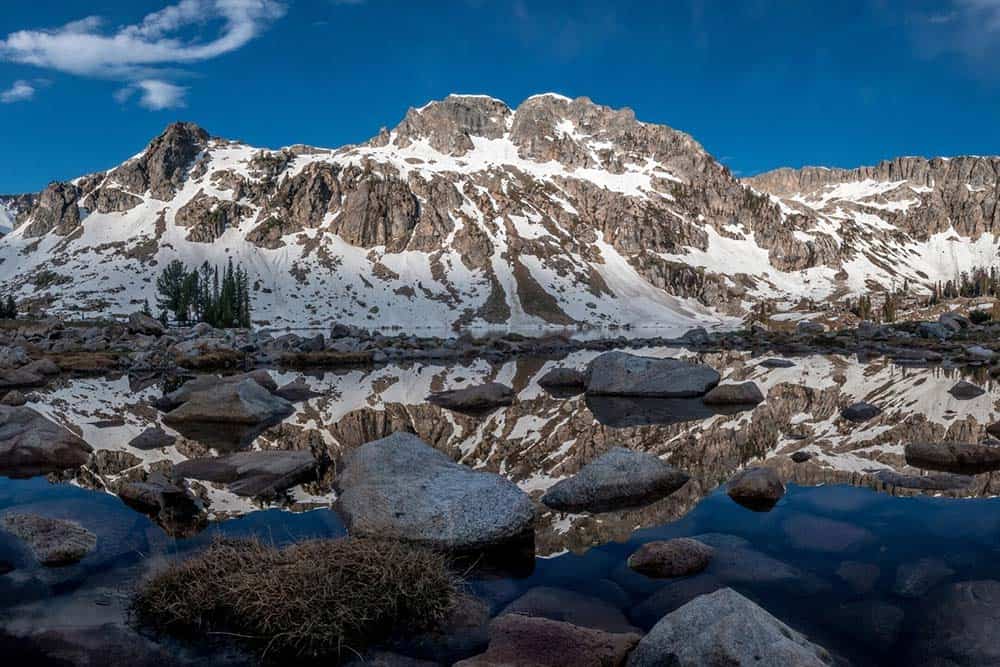 Why you should go: A stunning hike from start to finish deep in the park's iconic mountains.
Difficulty: Challenging
Distance: 14.2 miles
Elevation gain: 2246 feet
Leaving from the eastern shore of Jenny Lake, the Lake Solitude Trail can be accessed by a boat shuttle or made longer by walking around Jenny Lake. It's an absolutely jaw-dropping hike sandwiched between Teewinot Mountain, Mount Owen, The Jaw, Mount Saint John, and more iconic peaks.
This hike includes the Cascade Canyon Trail and continues northwest to Lake Solitude, climbing to 9035 feet. The views are stupendous. Many of the Grand Tetons' infamous peaks tower over the trail.
You'll also encounter the best of what the entire park has to offer. Everything from lazy meadow streams to rushing glacial rivers will cross your path. There are untold wildflowers, all sorts of wildlife, and endless geological wonders to be seen along this route. It's definitely one of the best in the park.
11. Teton Crest Trail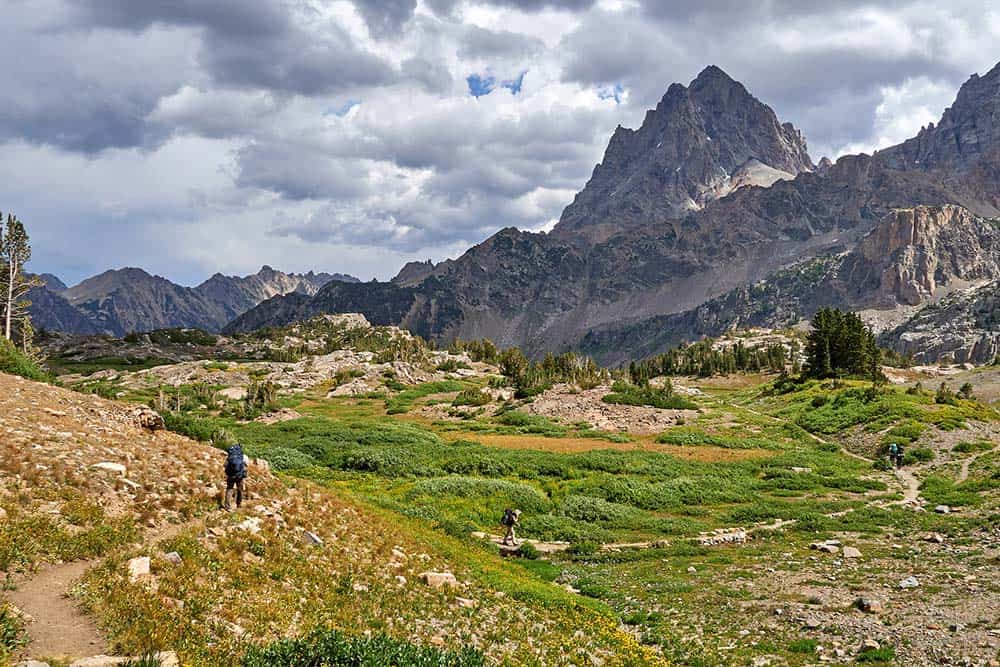 Why you should go: Take a grand tour of Grand Teton National Park and its most spectacular wonders.
Difficulty: Challenging
Distance: 39 miles
Elevation gain: 8061 feet
The Teton Crest Trail is a paragon of national park backcountry trails. It's a legendary backpacking route that crosses the Teton Range from north to south, passing by its most famous peaks and through every type of ecological zone that exists within the park.
Many of the trails we have already detailed in this article either cross or are a part of the Teton Crest Trail at some point. The near-constant exposure to expansive mountain views will saturate your brain with dopamine, while the spectacular lakes, canyons, glaciers, and granite shelves will all attempt to draw your attention downward.
Words simply cannot describe the awe that this hike will inspire. It'll take most people two to four days to travel through the Teton Range, and you'll want to savor every minute of your time. The journey is certainly going to be difficult, and it absolutely will be worth it.
Explore the West
Sign up for our free email to join thousands of readers getting epic travel, hiking, camping and gear ideas every week.
---