With intricate caverns, glaciers that feed alpine lakes, centuries-old bristlecone pines and dark skies for stargazers, Great Basin National Park is a gem worth exploring.
Right off the bat: yes, getting to Great Basin National Park is quite a chore. There is a reason why fewer than 100,000 visitors go each year. Saying it's remote is an understatement. The park is roughly a five-hour, 300-plus-mile drive from Las Vegas up a lonely road (US-93) short on scenic value. If pressed for time in Vegas, you may be better off with a closer day trip out of Sin City. It's only a cool four hours from Salt Lake City, Utah, however.
Those that make the trek to this sparsely visited national park are greatly rewarded. There are caves to explore, stunning hikes past ancient bristlecone pines, suburb fishing in icy alpine lakes and a not-too-shabby view from the state's second tallest peak: a 13'er with a helluva view. It's also home to Nevada's only active glacier. Here's what to plan for on a trip to Great Basin.
Related Read: 9 Best National Parks to Visit in December
1. You Can Sleep Under the Stars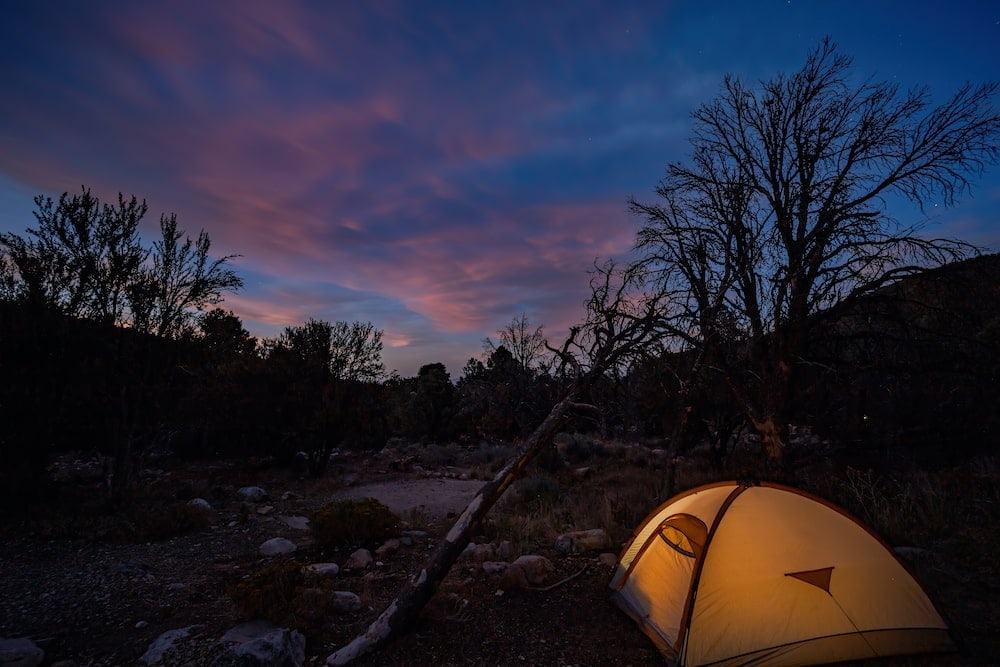 Skip the hotels and inns just outside the park in Baker, Nevada, and plan on camping. Great Basin is best experienced under the stars. The park has six campgrounds with a total of 136 campsites. During peak season (summer), these can fill up quickly (especially on weekends) so be sure to check ahead.
Lower Lehman Creek is the only campground open year-round. The others are generally open May through October, depending on snowfall. You can reserve a spot at some campgrounds online during the peak season, though Lower Lehman Creek is all first-come, first-served in the winter.
Related Read: 6 Epic National Parks Near Las Vegas, Nevada
2. Get Ready to Marvel at the Night Sky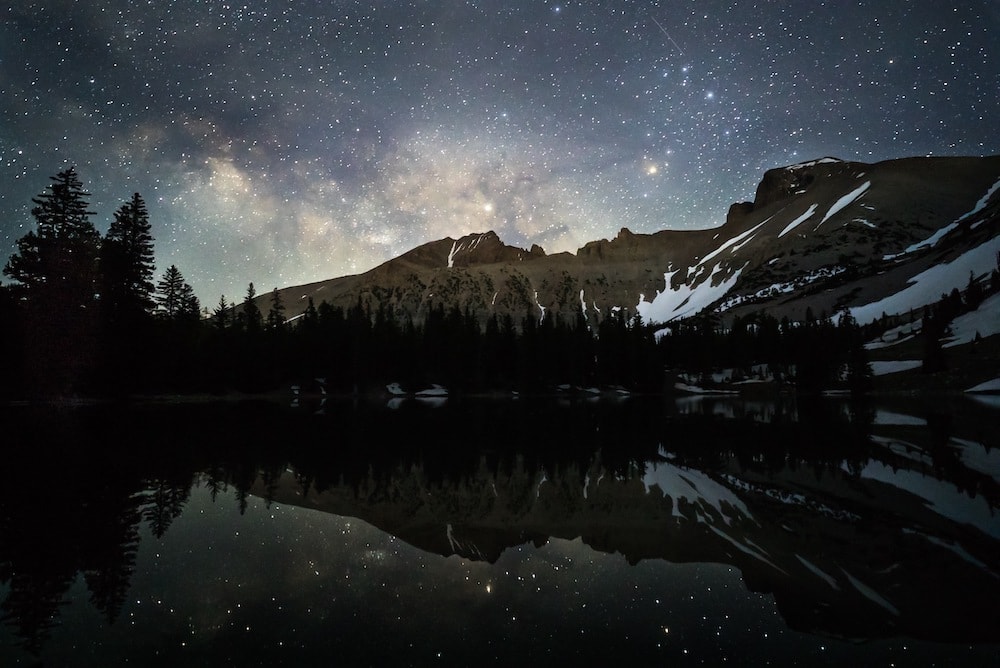 Photo: Beth Ruggiero-York / Shutterstock
Bring your binoculars (or a telescope) and pack a star chart. With zero light pollution, the park is a stargazer's dream. What to look for, of course, depends on the time of year. On any clear night you'll see the silver steak of the Milky Way, Andromeda Galaxy, planets and a sky full of diamond-like stars. Plan ahead to catch a Leonids or Geminids meteor shower.
The park takes pride in its International Dark Sky designation, offering several night sky programs worth a look. The park's astronomy experts, affectionately called "dark rangers," lead amphitheater talks, full moon hikes and serve as night sky guides on star train treks. 
You may want to download a star app in advance for your smartphone, which can help you identify constellations, comets, and even space trash. StarTracker Lite is free and easy to use.
Related Read: 8 Wildly Scenic Drives in Nevada to Explore this Year
3. Explore Lehman Caves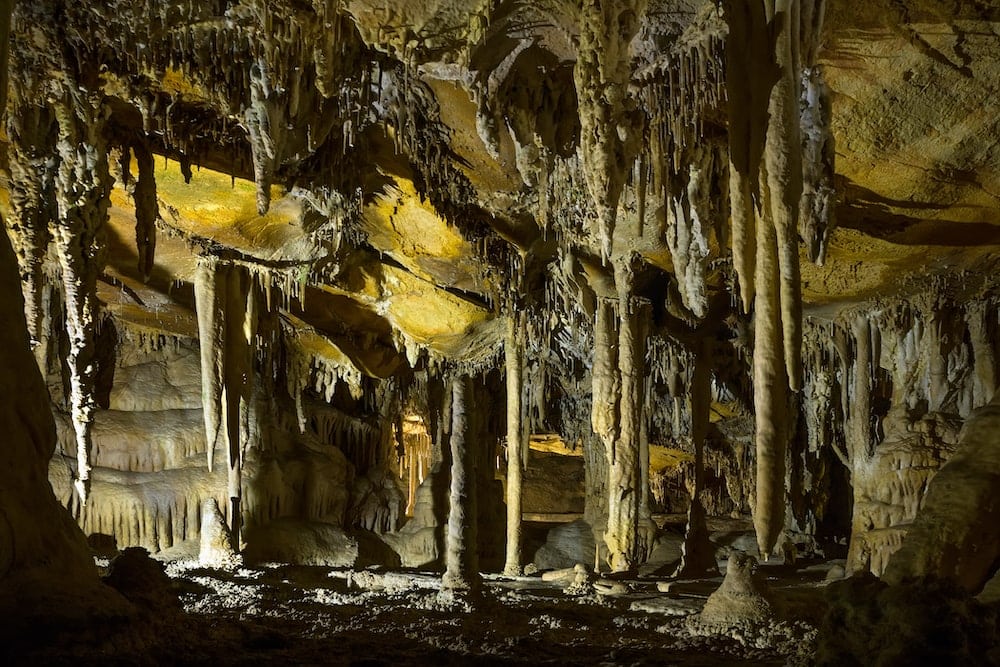 At Great Basin National Park, you can go from staring at the heavens to exploring the depths of Lehman Caves. The caves are, after all, how the park was discovered and why it's protected.
You can only enter Lehman Caves via a guided cave tour. Led by park rangers, tours of the Lodge Room and the Grand Palace show off one of the most unique caverns in the world, which contain rare formations known as cave shields and cave turnips.
You can reserve your tour up to a month in advance, which you should try to do. Groups are small and they sell out pretty regularly, especially on weekends in the summer.
Remember: do your part to protect bats. White Nose Syndrome may be a cute name but it's a deadly disease. Follow instructions on what to wear and where to not step or walk to help protect the cave's flying friends.
Related Read: 8 Amazing Las Vegas Airbnbs for an Unforgettable Sin City Vacation
4. Take a Hike
The hiking season here is relatively short in Great Basin National Park. Snow can start falling in early fall and linger into very late spring. Most hikers hit the park's 60 miles of hiking trails between June and September. Some popular options include the Bristlecone Pine Trail, Alpine Lakes Loop and the trail to Baker Lake.
Remember: although Great Basin National Park is in Nevada, it's not just desert. You'll pass through all kind of environments and need to pack accordingly — i.e. don't expect it to be sweltering hot the whole time. In fact, the park can get pretty chilly, even in the summer.
The park is also a habitat for plenty of small creatures like mice and marmots, so you'll need to ensure you always close your food and correctly pack up your bags unless you want nibble marks on your food. By the way, you may even see coyotes or mountain lions!
Related Read: 12 Best National Parks to Visit in October
5. Visit a Bristlecone Forest 
Laying eyes on a bristlecone pine for the first time can be a bit of a surreal experience. These twisted, warped pines with contorted trunks and gnarled branches are among some of the toughest and oldest trees on the planet.
Growing at an elevation above 10,000 feet, the bristlecones have survived harsh winters here for thousands of years. The ones in Great Basin National Park are estimated to be 5,000 years old. To see the pines, hike the Bristlecone and Glacier Trail. It's roughly 4.5 miles round trip and leaves from the upper parking lot, winding up into the strand.
Related Read: 11 Best Hot Springs in Nevada That Promise Nature-Based Relaxation
6. Summit Wheeler Peak
Why not bag a high peak while you're in Great Basin National Park? Wheeler Peak isn't as hard as a Colorado 14'er, but making the eight-mile trek up to the 13,063-foot peak is no easy task. The air is thin and the route is steep. Other factors that could come into play include intense wind on the ridge and the threat of afternoon thunderstorms — which is why an early start is recommended.
The trail starts at the Summit Trail parking area at an elevation of 10,160 feet and has a total elevation gain of 2,900 feet. It starts out simple enough as it goes through an alpine meadow and into a forest of spruce and fir. Soon after, however, the trail begins to climb with a series of rocky switchbacks as you approach and follow a scree-covered ridge to the summit. From the top of Wheeler Peak, you'll have a 360-degree view of the park and can peer over the edge to see the glacier. Oh, and you can also drive most of it if you're not up for the hike.
Related Read: 10 Adventurous Campervan Rentals in Las Vegas, Nevada
7. Collect Pine Nuts
Every autumn in Great Basin National Park, pine nuts are ripe for picking. That's right: these healthy and nutritious nuts are fair game as long as you leave some for the Clark's nutcrackers, pinyon jays and ground squirrels you're competing with.
Unlike most parks that encourage you to "take only photos," you actually can take pine nuts home from Great Basin, so grab your gunny sacks. You're allowed to fill three or collect up to 25 pounds of cones (not 25 pounds of nuts!) per household per year. Be sure to check the regulations and rules in advance as you can be fined if you exceed your quota or don't follow the specific rules.
When to Visit Great Basin National Park
The elevation at Great Basin National Park ranges from 6,825 feet at the visitor center to the 13,063-foot summit of Wheeler Peak. A majority of visitors see the park between Memorial Day through Labor Day with leaf chasers coming in to check out the fall foliage in September and October. Visitors who like solitude (or snowshoeing) could make the adventurous trek to visit in winter. 
Explore More in Nevada
---